10 Foods for Glowing Skin
Healthy skin is a reflection of how healthy you are on the inside. While we can all spend hours moisturizing from the outside, there are other things that can help to give you a glowing complexion. Thankfully, there are several foods for glowing skin that will keep you radiant.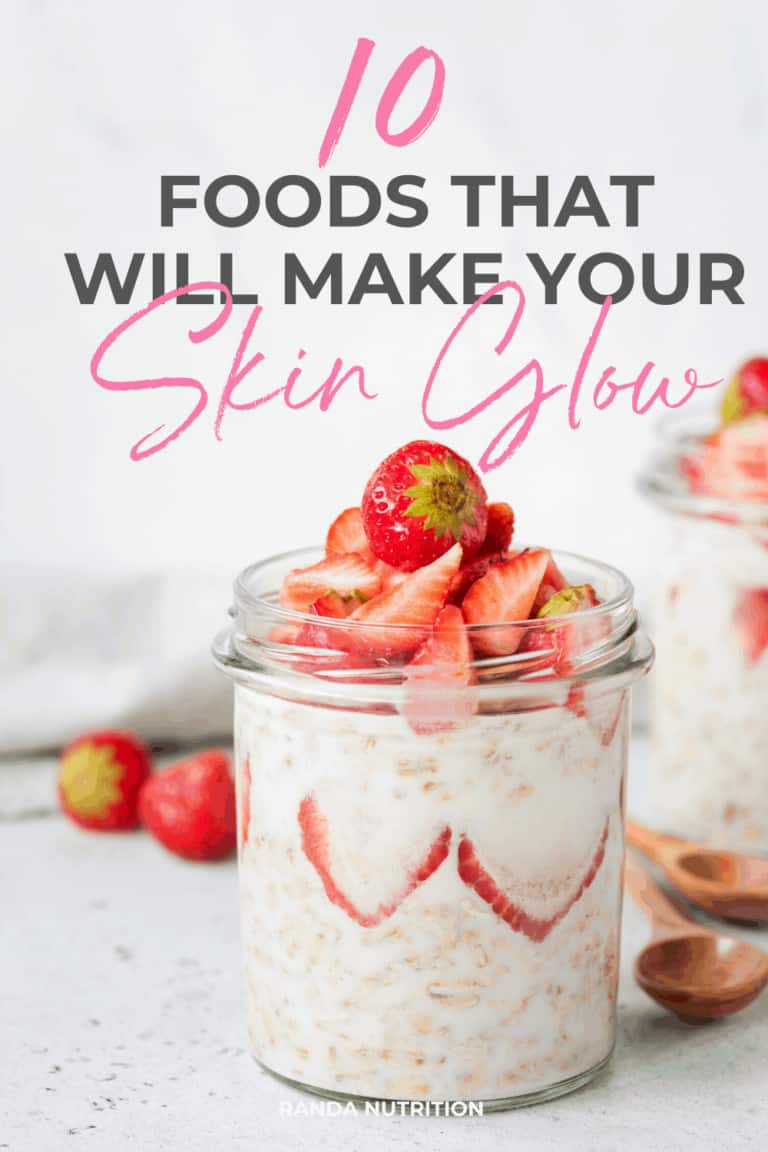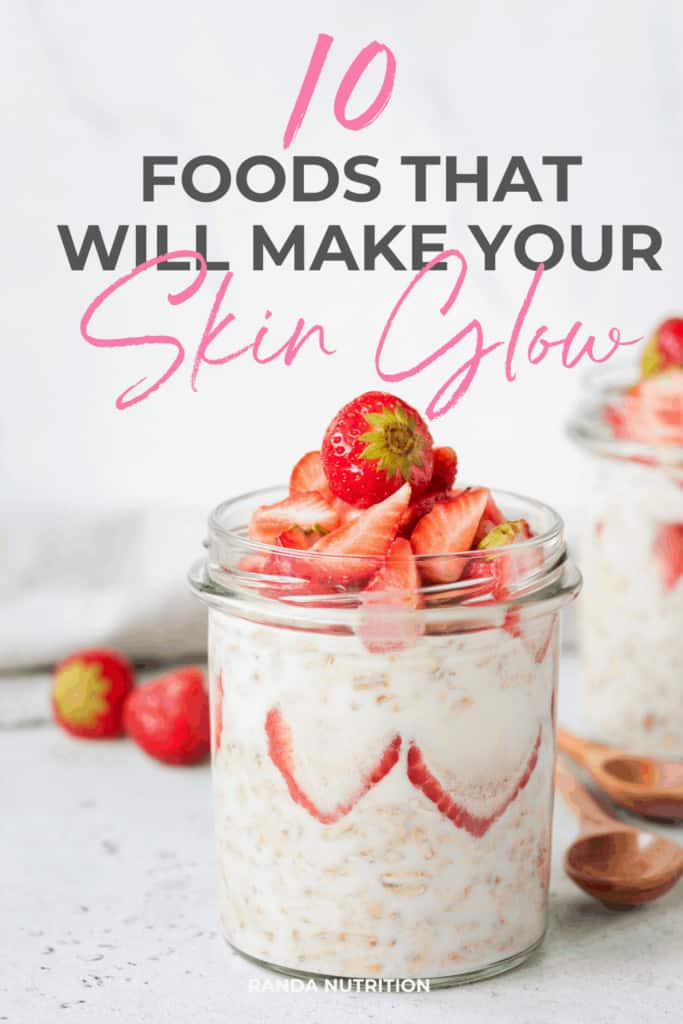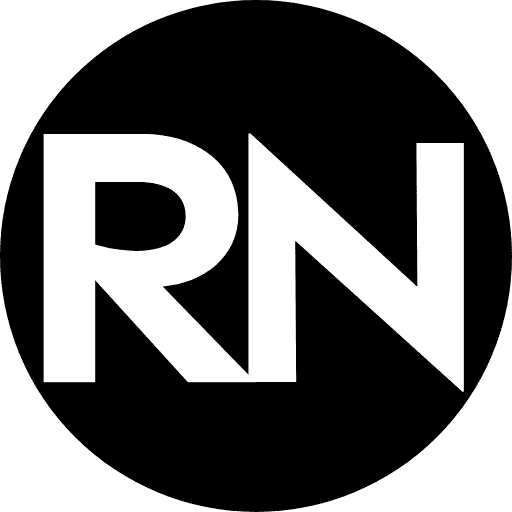 Save This Recipe!
Enter your email below & I'll send it straight to your inbox. Plus you'll get great new recipes every week!

Foods for Glowing Skin
Your skin can always use a boost from within. It will help it to remain glowing and fresh. The way you nourish your body will have a huge impact on the way your skin looks. Beautiful skin starts from within.
1. Cooked Tomatoes
Tomato paste and other cooked tomatoes have an amazing effect on your skin. This is because the phytochemical Lycopene, which makes tomatoes red, can help to boost collagen strength.
Cooking tomatoes actually increases the Lycopene levels they contain. If you want healthier-looking skin, eat lots of gazpachos, tomato sauces and other delicious dishes that contain cooked tomatoes.
Recipes to try:
2. Sweet Potatoes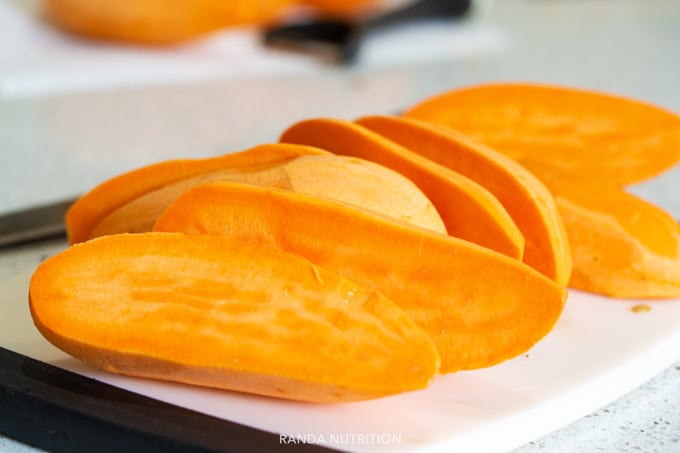 Consuming larger portions of orange and red vegetables each day can give you a beautiful, glowing complexion.
The reason for this are compounds called Carotenoids. These compounds give these vegetables their orange color. If you want to improve the appearance of your skin, even half a medium sweet potato can provide about 200 percent of your daily recommended intake.
Recipes to try:
3. Salmon
Salmon is a fantastic source of Omega 3s, which means that it is wonderful for its anti-inflammatory properties. Not only that, but Salmon also contains Dimethylaminoethanol, also known as DMAE.
DMAE helps to promote healthy skin as it helps to protect the integrity of the cell membranes. This will help to guard against premature aging. It also helps to prevent the production of arachidonic acid that can lead to more wrinkle formation. DMAE can also help to keep your skin firm and healthy. Eating Salmon is a fantastic way to make your skin more healthy.
4. Green Tea
While not neccisarly a food as much as it is a drink, Green tea is the perfect addition to your diet if you want healthy happy skin.
This is because Green tea contains catechins, which is an extremely powerful anti-inflammatory property. In fact, drinking 5-6 cups a day can rapidly repair damaged DNA, prevent skin cancer, and make your skin glow bright.
5. Kale
Kale has rightfully earned its spot as a superfood. This delicious vegetable is loaded with some amazing anti-aging vitamins like A, C, E, and K. These leafy greens are actually one of the richest sources of Vitamin K that can help with faster healing, especially when ingested.
Kale recipes to try:
6. Oats
Oats are not just delicious and healthy. They are also amazing when it comes to your skin.
Did you know that high fiber foods can help to reduce inflammation-causing gut bacteria? Plus oats ca minimize spikes in blood sugar that can cause skin issues.
Oats are also a high source of silicon, which helps skin to retain elasticity and slow the signs of aging.
Recipes with Oats
7. Almonds
Almonds are chock full of vitamins that are great for skincare. Especially Vitamin E.
Not only does consuming vitamin E help to protect and defend against sun damage but it also acts as an antioxidant. It works hard to keep your skin void of dangerous free radicals.
Adding Almonds to your diet is a great way to take care of your skin from within.
How to add almonds to your diet:
Sprinkle a few over your salads and stir-fries.
Use almond butter on toast or in your smoothies
Make romesco sauce.
8. Carrots
Carrots are a fantastic source of beta-carotene, which can prevent the overproduction of cells in the skins outer later. This means that you will experience fewer dead skin cells that can clog your pores.
Carrots also have plenty of Vitamin A as well that can also help to reduce the creation of negative skin cells. Eat more carrots if you want healthier skin.
Recipes Using Carrots:
9. Turmeric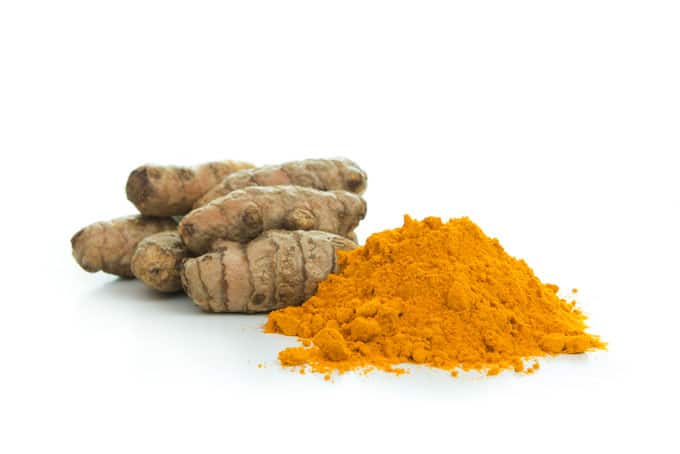 Turmeric is an amazing spice but it can also protect your skin. This is because it is packed with curcumin and it can be one of the effective anti-inflammatory options out there.
Add turmeric to all your favorite dishes and reap the benefits.
Recipes Using Turmeric:
10. Blueberries
One of nature's best superfoods, Blueberries are an amazing addition to your diet. Not only can they help your body get rid of skin aging, cell-damaging free radicals, but they also boost the strength of collagen fibers due to their high concentration of anthocyanins, which are phytonutrients that give the berries their color.
Blueberries are also great because they are a great source of prebiotics that can help to heal your immune system and reduce skin conditions caused by inflammation.
How to eat more blueberries:
Enjoy them in your oatmeal.
Add a cup to your smoothies.
Eat them by themselves as a satisfying snack.
When it comes to 10 Foods for Glowing Skin, these ones can make a huge difference. In no time you will find your skin is healthier, happier and glowing.