This simple romesco sauce is everything! In my 10 years of blogging, this very well could be the best sauce I have ever made. It's so good! Thrown together in a blender, this healthy sauce goes amazing with chicken meatballs, veggies, and pasta.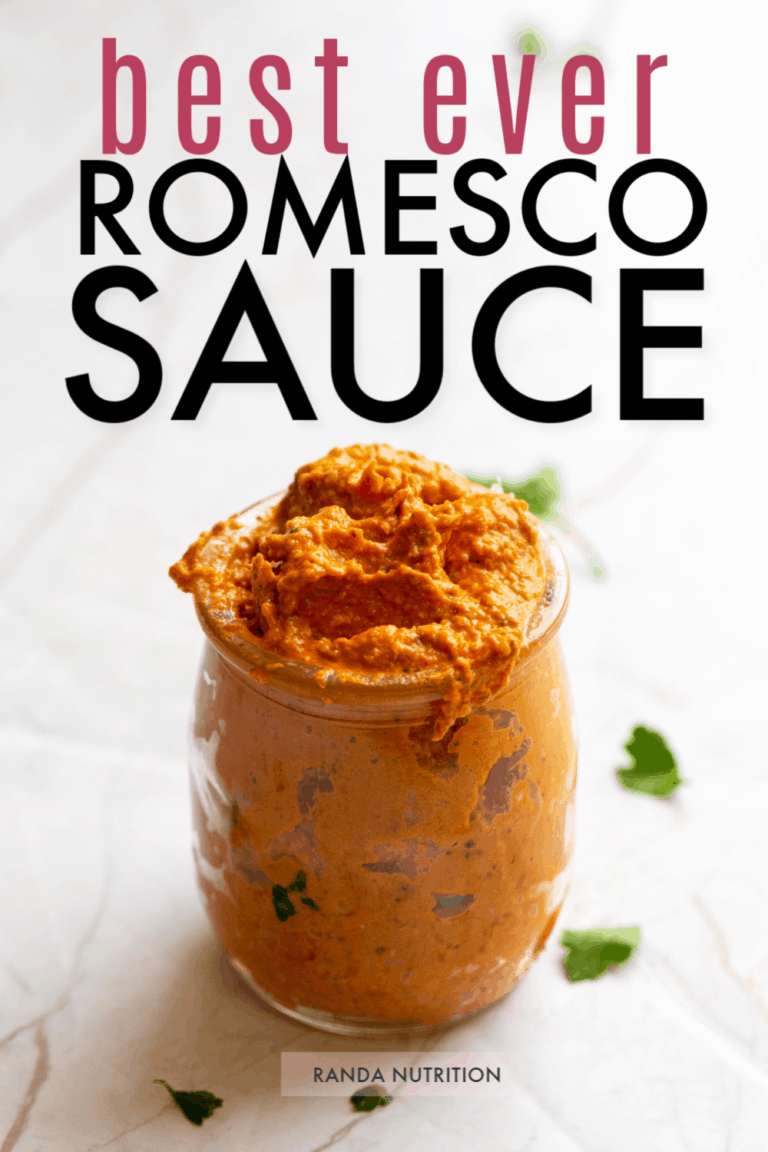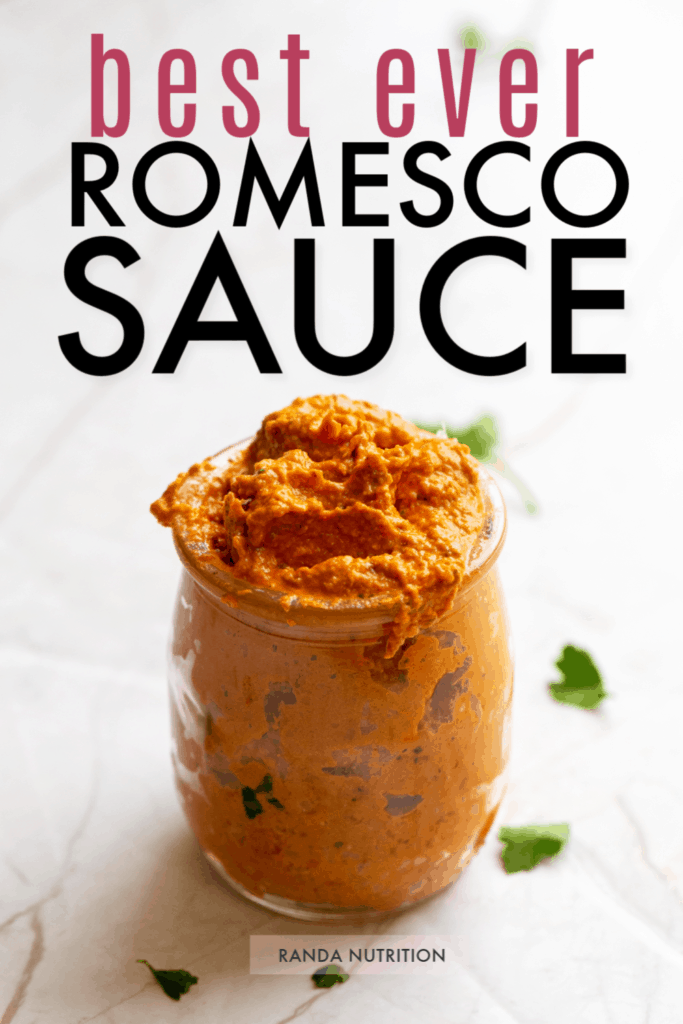 Disclosure: This post contains affiliate links for your convenience. As an Amazon Associate, I earn from qualifying purchases.
What is Romesco Sauce
Romesco sauce has a base of red peppers, tomatoes, nuts (almonds, pine nuts, or hazelnuts), garlic, and olive oil. I have seen some recipes adding lemon juice, red wine vinegar, or sherry vinegar.
It's traditionally served with seafood but it seriously goes with everything.
It's pure magic. I love it.
The recipe originates from Spain but varies on who makes it. Anyone can add their own special twist with their own heritage to make it their own. It has Mediterranean roots full of healthy fats and vegetables.
What Goes with Romesco Sauce
I originally made this simple easy romesco sauce recipe for my Romesco Chicken Meatballs with Zucchini Noodles over on The Bewitchin' Kitchen.
I had some leftovers and started serving it with quinoa bowls, tofu bowls, and as a dip for my chicken.
Traditionally, I believe this red pepper based sauce is served with fish. However, I can see this also being delicious with steak and broccolini.
You can also use this in place of hummus to serve with carrots and other veggies as well.
Oh and let's not forget the bread…pita, sourdough, or crackers (like this quinoa crackers recipe).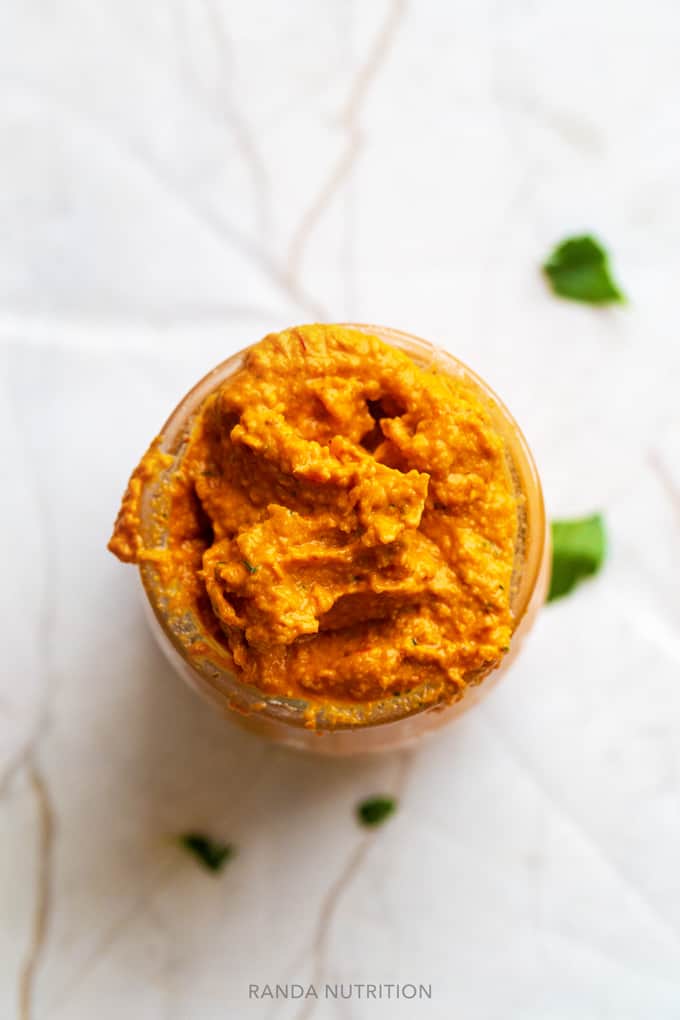 What do I need to make Romesco Sauce?
Aside from the ingredients, you don't need much to put together this Mediterranean sauce recipe.
I used my Vitamix, but you could also try a food processor if you don't have a high powered blender.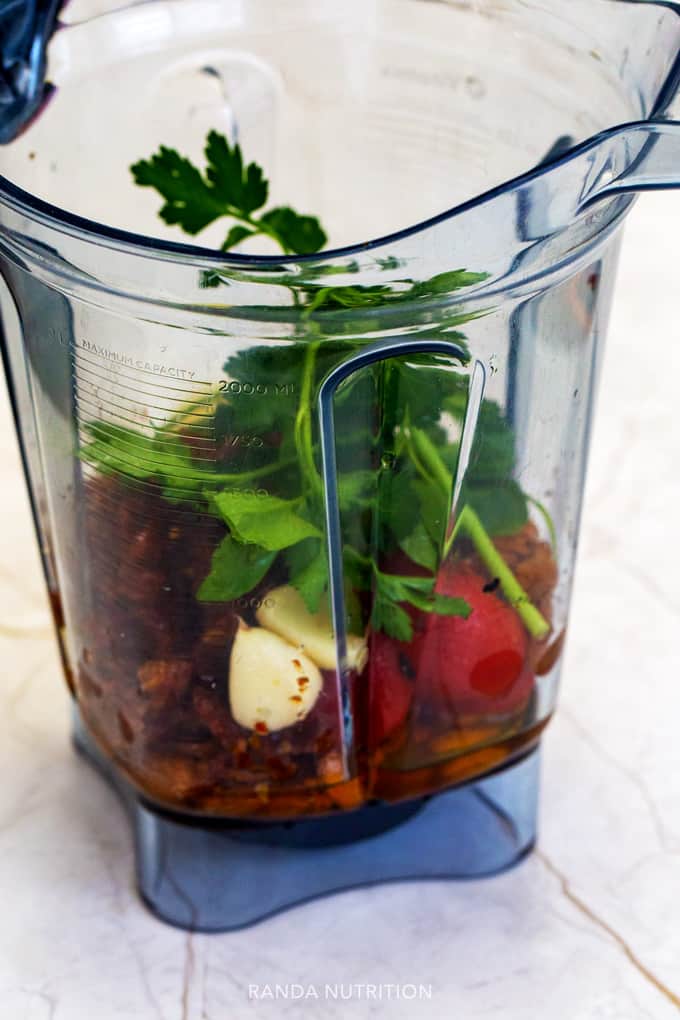 Ingredients for the blender romesco sauce:
Roasted red pepper (I used the Scarpone's brand but you could also roast a bell pepper yourself, but I appreciated the shortcut).
Garlic
Fresh Parsley
Is this Mediterranean Sauce Spicy?
I've only had it once before I made it, and it wasn't spicy but the wonderful thing about cooking is that you can do whatever you want.
I've seen recipes with cayenne pepper or fresh chile peppers but I used red pepper flakes to give it a little kick. This is totally optional (or you can add more).
I also added three cloves of garlic to this recipe because I love garlic for so many reasons (the health benefits, the taste) but especially the extra bite it provides.
Not a fan of garlic? Add one clove and taste and adjust as you blend.
Do you heat romesco sauce?
You can if you want, but it's good cold too.
When the chicken meatballs zoodle recipe I mentioned earlier, I added the sauce to the hot dish and let it melt over the warm food. It's delicious warm.
That being said, I've dipped carrot sticks in it cold and loved that too.
It's totally up to you!
Is Romesco Sauce Healthy?
Romesco sauce has vegetables, raw garlic, and healthy fats (olive oil) so yes it is healthy!
1/8th of the recipe is 222 calories and you can find the macronutrient information at the bottom of the recipe card.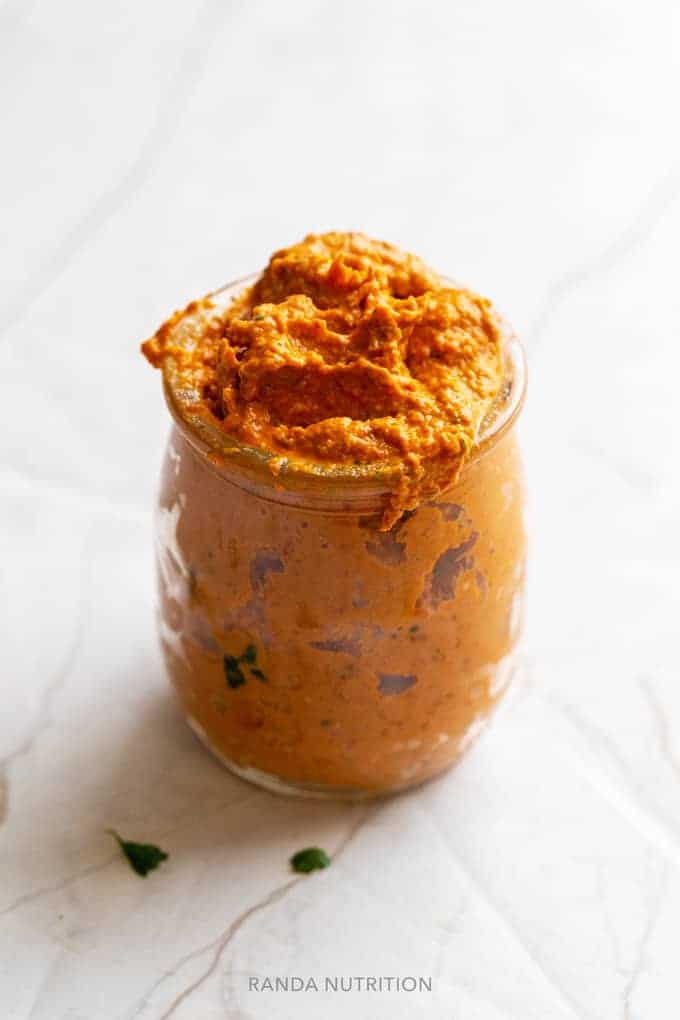 21 Day Fix Counts
As per request, I am now including the counts on my recipes for Ultimate Portion Fix (for the 21 Day Fix and other Beachbody programs).
Full recipe: 2 green, 6 blue, 24 tsps.
Per serving: 1/4 green, 3/4 blue, 3 tsps.
Romesco Sauce Recipe
I am so excited for you to make this magic sauce!
Make sure you let me know what you served it with!
More recipes you'll love:
Don't forget, if you're looking to establish healthy habits (like adding more vegetables to your diet in fun and tasty ways) be sure to secure a spot in the 30 Days to a Healthy Habits Challenge.
Romesco Sauce
If you're looking for the best sauce for chicken, steak, and fish then you have to make this healthy and easy romesco sauce recipe! Made in a blender, this healthy and low carb sauce recipe is a must! Perfect on pasta, zucchini noodles, or as a dip for vegetables for Whole30.
Ingredients
1 12

oz

jar roasted red pepper

drained

3/4

cup

almonds

1/2

cup

olive oil

add more if you want a saucier consistency for pasta

1/2

cup

marinated sun-dried tomatoes in olive oil

drained

3

cloves

garlic

1

tbsp

red wine vinegar

1/4

cup

fresh parsley

1/4

tsp

salt

1/4

tsp

red pepper flakes
Instructions
Add all of the ingredients to a high powered blender or food processor. Blend until smooth.

If you would like the sauce a little runnier for pasta, you can add more olive oil.
Notes
The jar of roasted red peppers I used had one whole pepper in, so if you would rather roasted your own pepper you can do that.
Nutrition Information
All calorie and macronutrient information is based on 1/8th of the recipe.
21 Day Fix Counts
As per request, I am now including the counts on my recipes for Ultimate Portion Fix (for the 21 Day Fix and other Beachbody programs).
Full recipe: 2 green, 6 blue, 24 tsps.
Per serving: 1/4 green, 3/4 blue, 3 tsps.
Nutrition
Serving:
1
serving
|
Calories:
222
kcal
|
Carbohydrates:
7
g
|
Protein:
4
g
|
Fat:
21
g
|
Saturated Fat:
3
g
|
Sodium:
724
mg
|
Potassium:
284
mg
|
Fiber:
3
g
|
Sugar:
1
g
|
Vitamin A:
504
IU
|
Vitamin C:
31
mg
|
Calcium:
62
mg
|
Iron:
1
mg
The nutrition information is calculated using a third party resource. The accuracy varies on the brands used, weight, portions, etc. This resource should be used as a guide. If you want more accurate information, weigh in grams and log in MFP.