This super quick recipe for pickled onions uses red onions (aka purple onions) and a simple brine with salt, vinegar, water, and sugar. You can have this from idea to table in about forty minutes.
Pickled Onions
Disclosure: This post contains affiliate links for your convenience. As an Amazon Associate, I earn from qualifying purchases.
I love pickled anything: pickled beets, pickled carrots, and pickled onions.
I wanted to make these pickled red onions because I was planning on publishing a recipe for rotisserie chicken tacos and pickled onions are bomb on them.
Yes, I said bomb like the young kids. Pickled foods make you feel hip okay?
Before today I have never really pickled anything, aside from easy refrigerate pickling (where I just add vinegar and throw it in the fridge). So I ran to Google and the book, The Handmade Home.
I found difference recipes: some had water, some half 50/50 water/vinegar mixture, some had apple cider vinegar, and some didn't.
A few used lots of sugar, some used honey.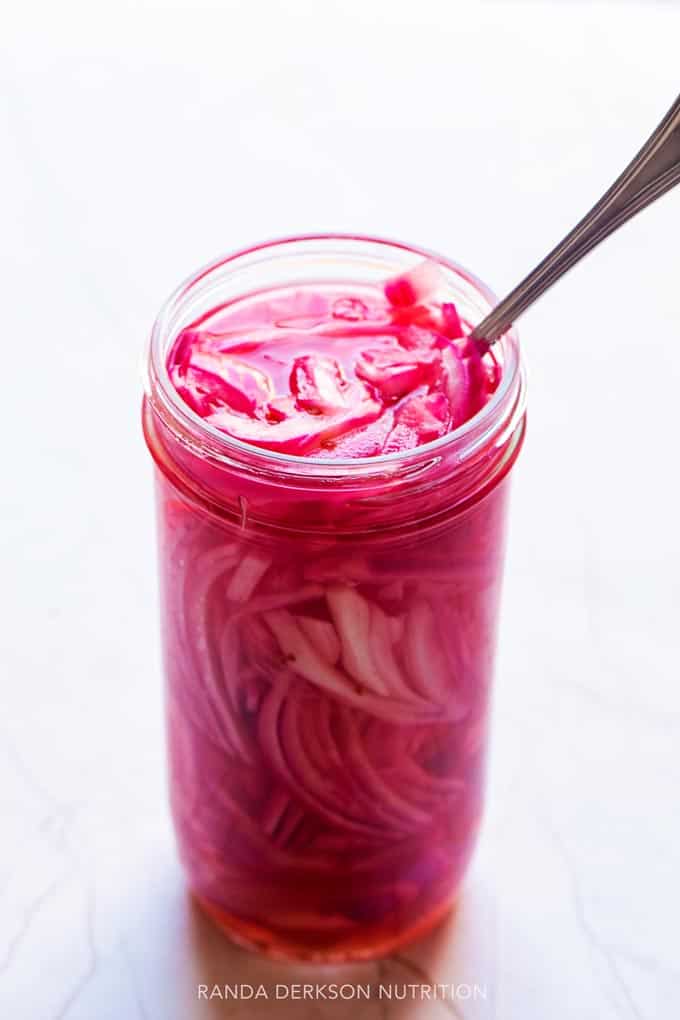 I figured this was truly a recipe that was flexible and something a person could make their own easily.
That being said, I did take something from Cookie and Kate and used her idea to add red pepper flakes. Such a genius idea, especially since I know my littles won't eat this (well, maybe the baby she eats all the things).
Herbs for pickling and other brine add ins
Dill
Sliced garlic
Turmeric
Cloves
Pepper
Play around and see what you come up with.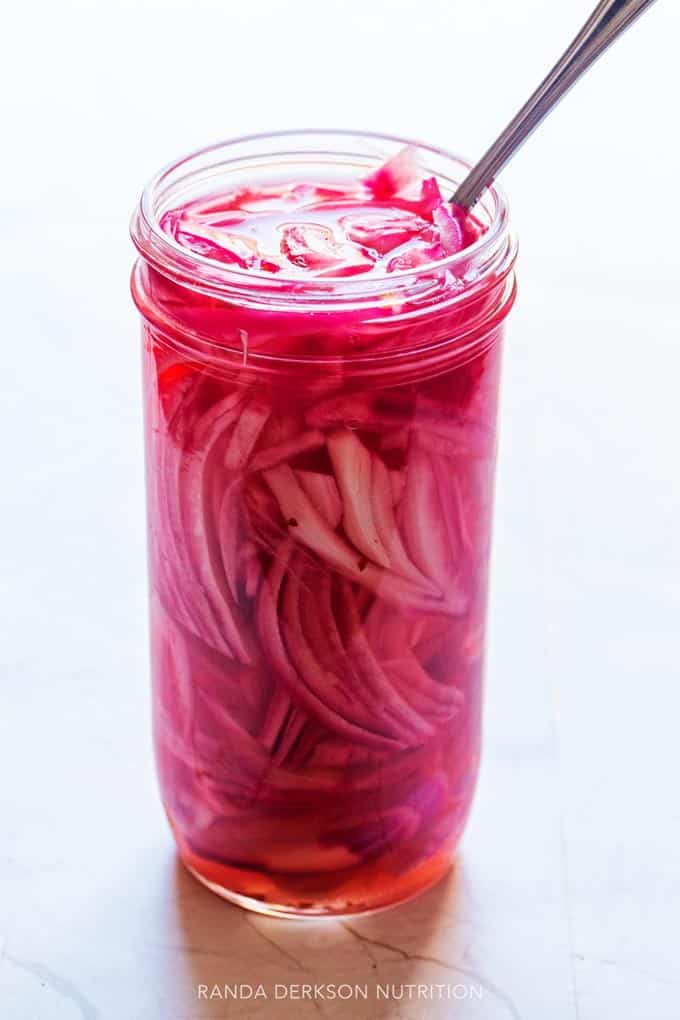 It's important to note that this is not a canning recipe. It does not follow the proper ratios for preserving.
What goes well with pickled onions?
I remember as a kid, that at Christmas my grandma would have pickled pearl onions out on a platter. So you could definitely add them to a charcuterie board.
Here are a few more ideas:
Easy rotisserie chicken tacos (what I originally made them for)
A topping for burgers (both chicken or beef).
Pizza (anything can go on a pizza).
Various salads and stir fries
Beet and carrot salad (add it to the mix, I bet it would be amazing).
Add it to brisket, potatoes, anything that could use a kick.
I prefer pickled vegetables on spicy stir-fries or dishes. I often add chopped dill pickles to drunken noodles and similar dishes.
PS: if you're looking for a delicious zoodle recipe you have to check out this Whole30 Drunken Noodle recipe from my friend Monica from The Movement Menu. I've made it twice, it's delicious!
How to Make Pickled Red Onions
First things first, you will need the following supplies:
Saucepan (I prefer one with a lip for easy pouring)
A red onion
Vinegar (I used white)
Pickled Red Onions
Instructions
Slice the onions and pack into a glass mason jar. I used a tall 750ml jar (which is about 25oz for my US friends, or you can divide them between two smaller jars). I used a Vitamix tamper to pack it down, but a spoon works too.

Add the rest of the ingredients into a saucepan and bring to a boil. Once the sugar and salt are dissolved, remove from heat and slowly pour into the jar.

You'll have some liquid left over, tamper the onions in a little further and add a little more of the brine.

Let cool to room temperature (about 30-40 minutes), put a lid on it and serve.
Notes
This keeps in the fridge for about a week. Add it to your salads, tacos, burgers, sandwiches, and stir fries!
Nutrition
Serving:
0.25
g
|
Calories:
51
kcal
|
Carbohydrates:
8
g
|
Protein:
1
g
|
Fat:
1
g
|
Saturated Fat:
1
g
|
Sodium:
2334
mg
|
Potassium:
80
mg
|
Fiber:
1
g
|
Sugar:
5
g
|
Vitamin C:
4
mg
|
Calcium:
18
mg
|
Iron:
1
mg