Healthy Pumpkin Breakfast Bars
You are going to love these healthy pumpkin breakfast bars. Made with simple and wholesome ingredients, they're refined sugar-free and oh so tasty.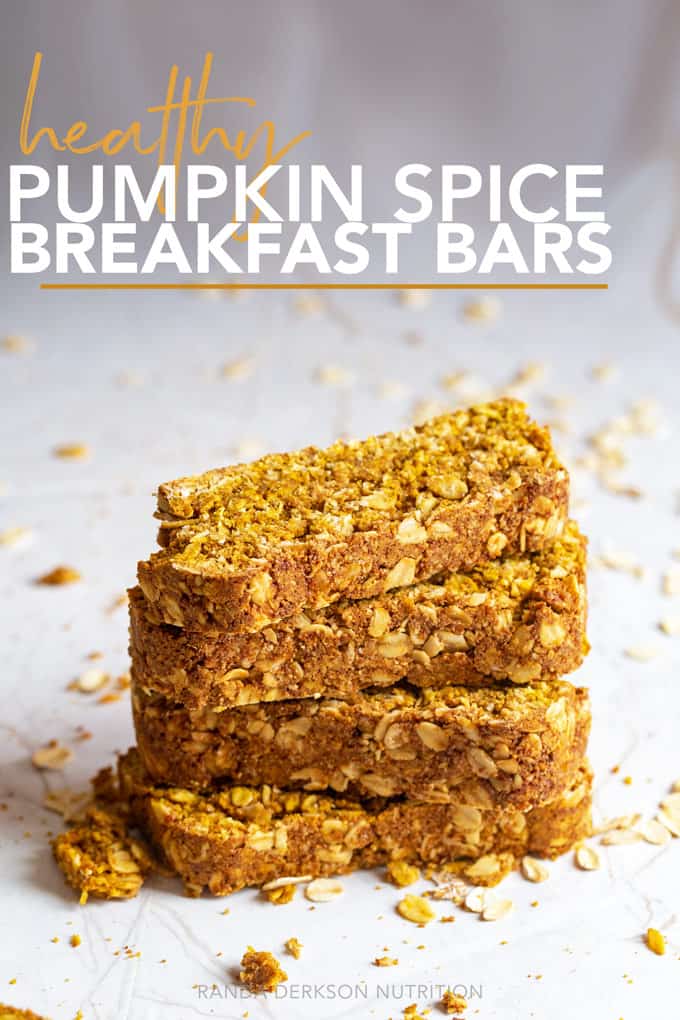 Healthy Pumpkin Breakfast Bars
Disclosure: This post contains affiliate links for your convenience. As an Amazon Associate, I earn from qualifying purchases.
This healthy breakfast bars recipe is a game-changer.
If you're like me and struggle with eating breakfast first thing in the morning, nibbling on these pumpkin oat bars make fueling your body in the morning easier.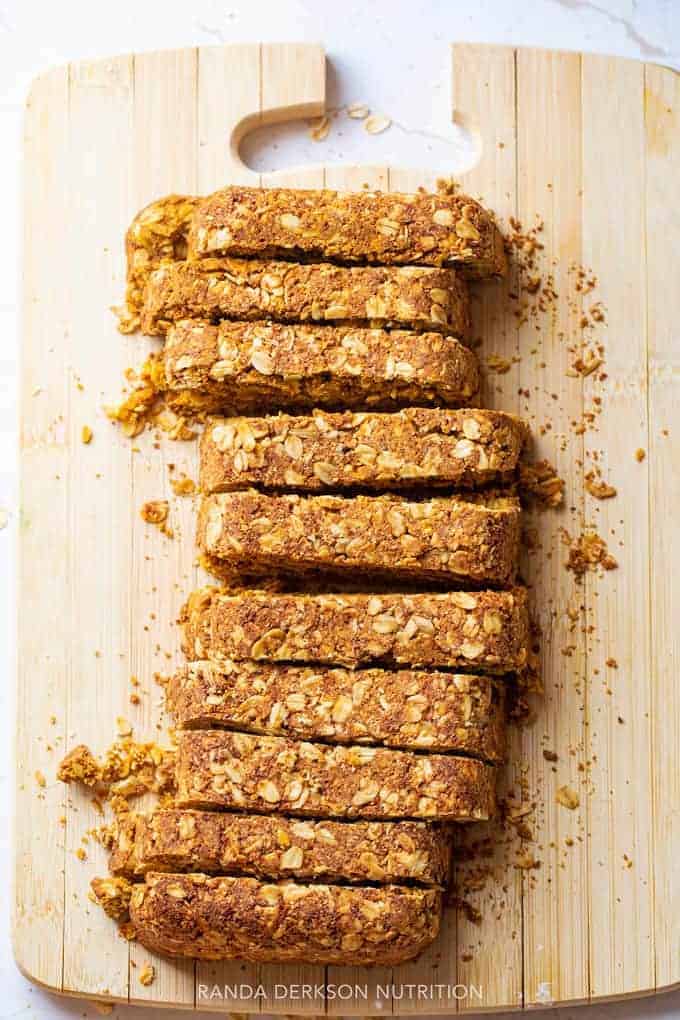 I'm a fan of pumpkin spice (yes, I love me a pumpkin spice latte as a treat every now and then) so making these pumpkin spice breakfast bars were a no brainer.
Sugar Free Breakfast Bars
I wanted to health up the recipe by creating a sugar-free (or refined sugar-free) oatmeal breakfast bars recipe.
This is easy enough to do with any recipe, simply swap white sugar with coconut sugar. The ratio is a 1:1 swap, which means for every cup of white sugar you can swap it for coconut sugar.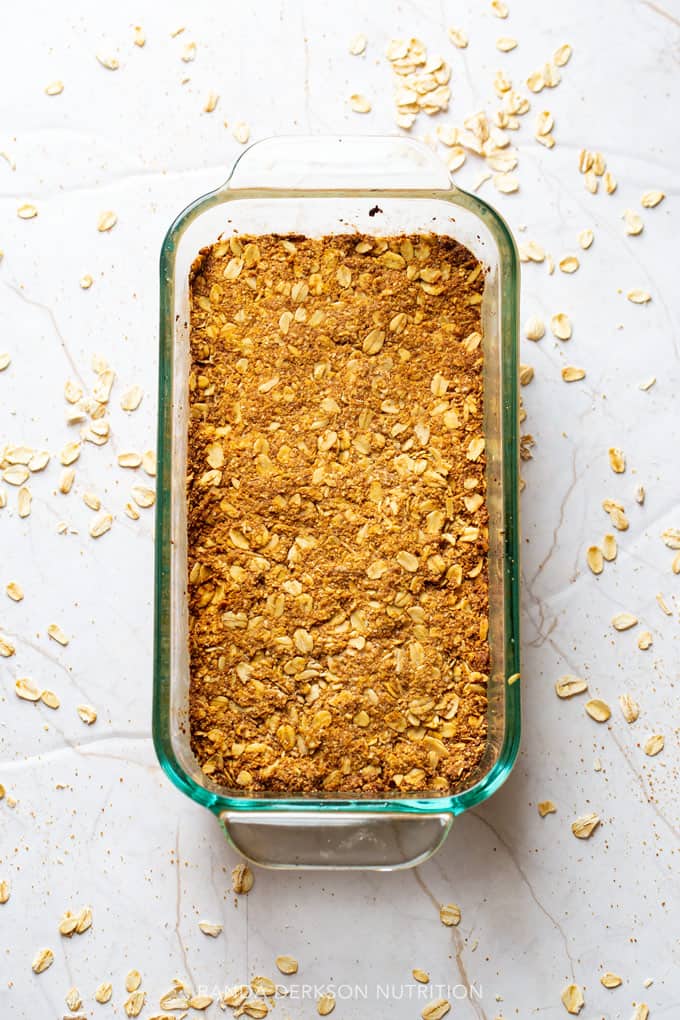 Another option is to use maple syrup and the ratio for that is for every cup of sugar, swap it or 3/4 cup maple syrup (you may need to lower the coconut oil a bit).
Play around with the recipe and see what works best for you.
Can granola bars help you lose weight?
The answer to this is: it depends.
Weight loss is a calorie in vs calorie out equation so it depends on your total calorie intake and caloric burn.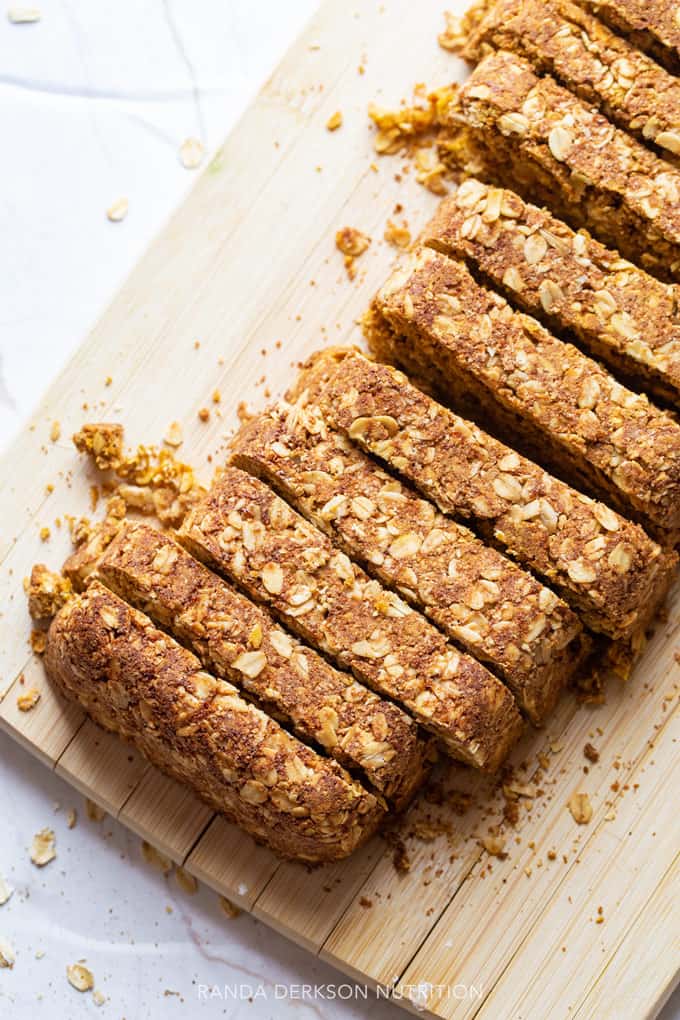 That being said, this recipe for homemade granola bars (or oatmeal bars) can help you lose weight for the following reasons:
They're made with wholesome ingredients and no fillers, excess sugar.
One serving is quite large, so yes it is "higher" in calories but it's filling and will keep you satisfied longer.
You won't feel deprived. You'll feel like you're enjoying a treat with these healthy granola bars and won't be reaching for chocolate immediately after.
If you're concerned about losing weight but think food is the enemy and that you can't enjoy foods that taste good. Let me help you.
How to make pumpkin spice breakfast bars
I know you are going to love these homemade oatmeal breakfast bars because they are so easy!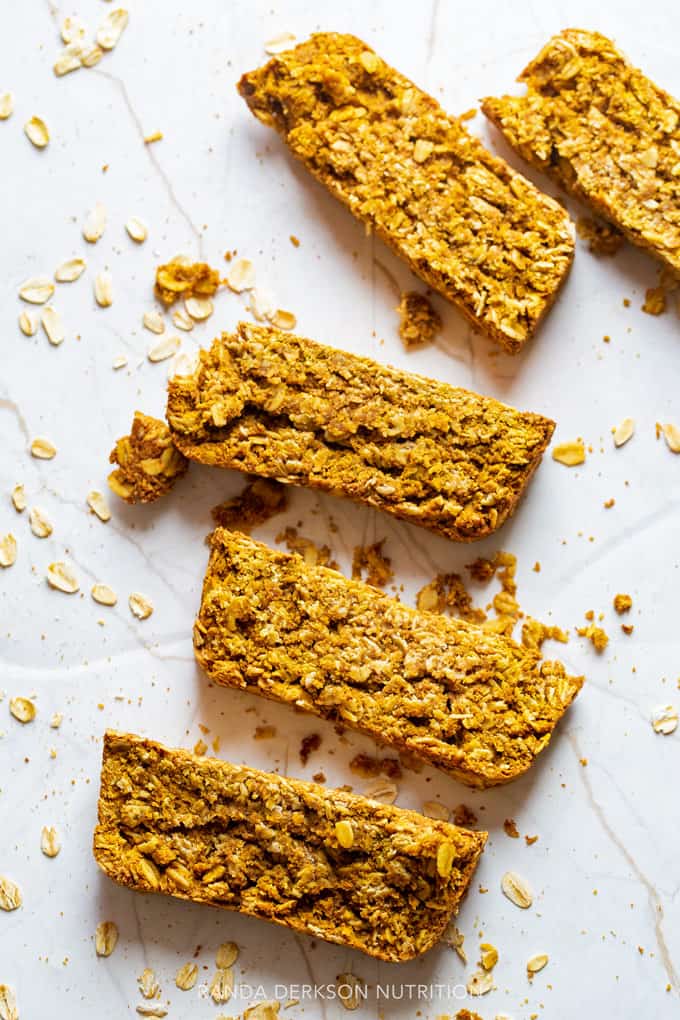 The pumpkin pie spice gives it a rich, fall flavor, that goes amazing with your morning coffee.
Pumpkin spice is simply a combination of ground cinnamon, nutmeg, all spice, cloves, and ginger.
You can make it yourself or buy a pumpkin spice blend.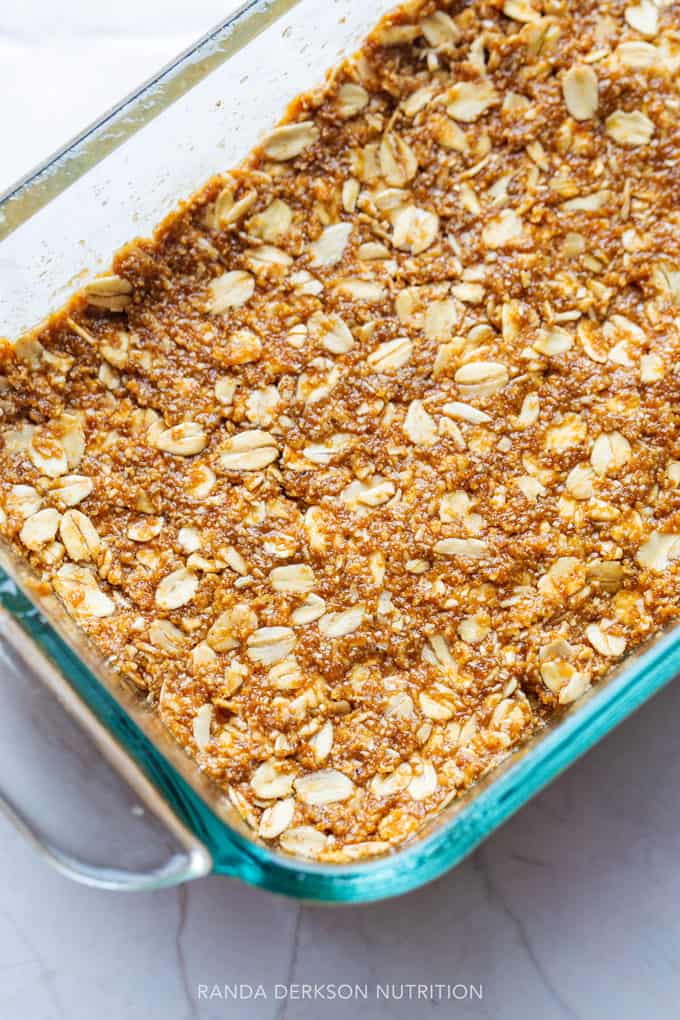 Hot Tip for homemade granola bars:
Make sure you push the oat mixture firmly into the pan. You want to pack it tight to make sure there are not any air gaps, otherwise, it will crumble.
Looking for more ideas for breakfast bars?
Stay tuned, I have a whole series coming up (plus a printable PDF I'm working on right now).
Recipes like: chocolate banana breakfast bars, apple cinnamon breakfast bars, and more.
Don't forget to try this Strawberry Rhubarb Baked Oatmeal recipe.
Get notified when the recipes are up and sign up for my emails. As a thank you, I'll send you a 5 day meal plan.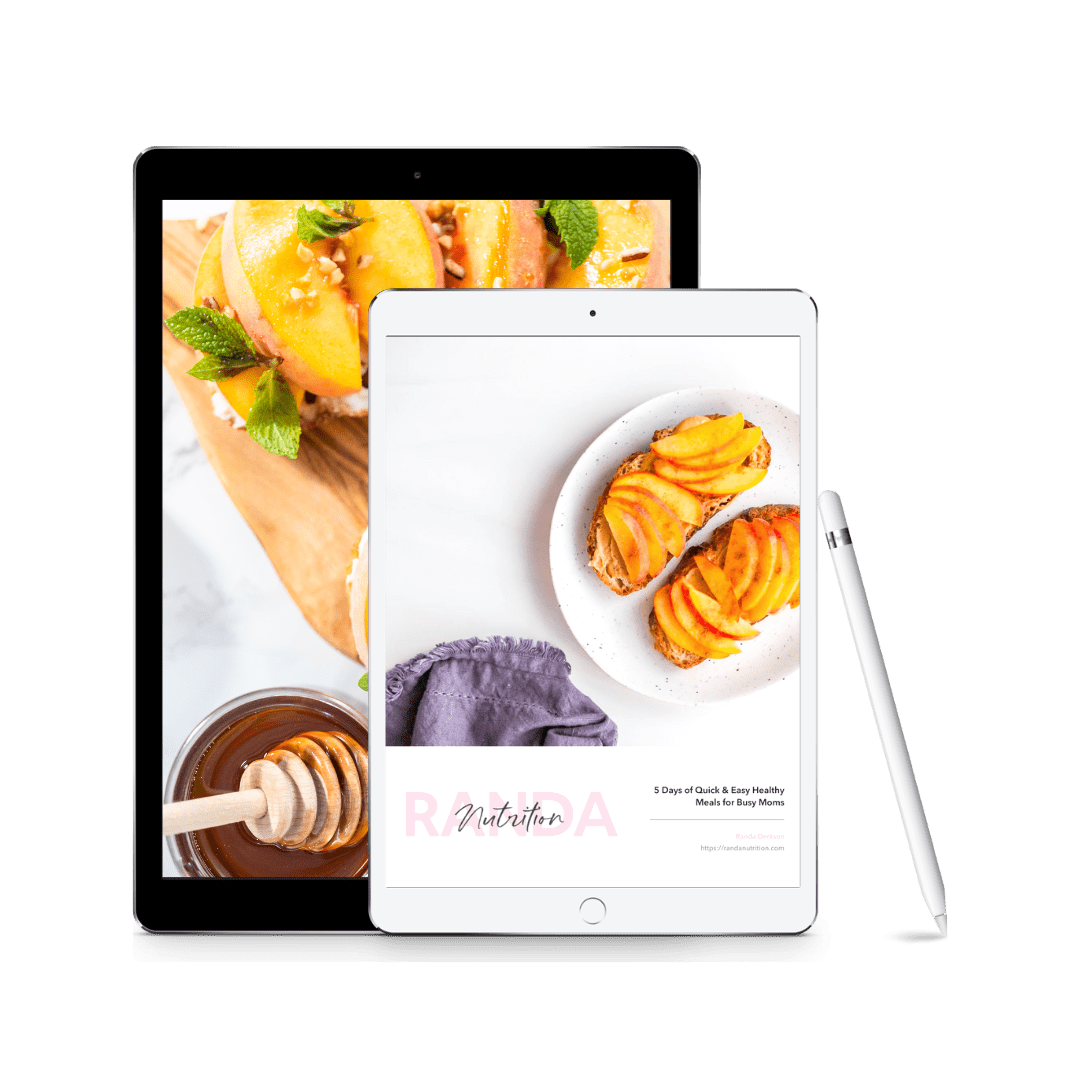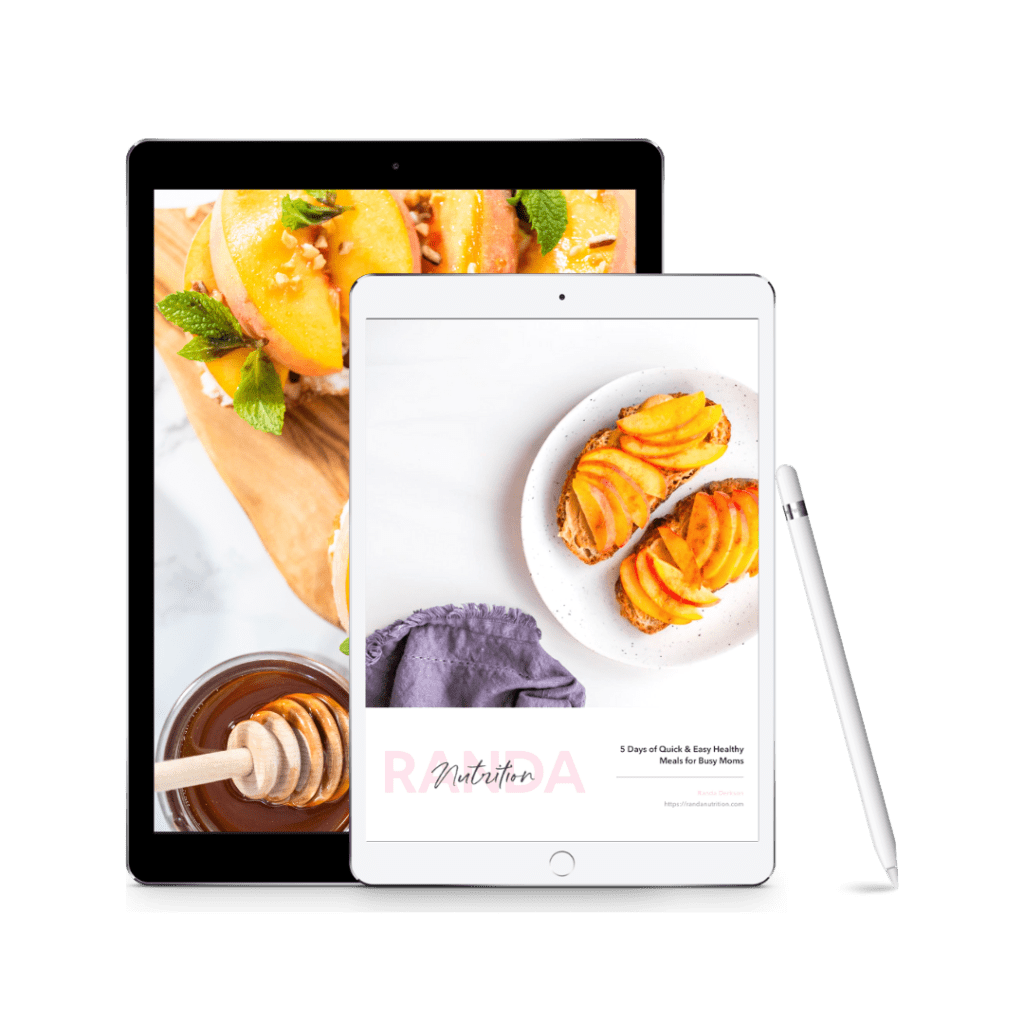 5 Day Meal Plan for Busy Moms
Download the free 5 day meal plan for busy moms by signing up for the Randa Nutrition email list.
Healthy Pumpkin Breakfast Bars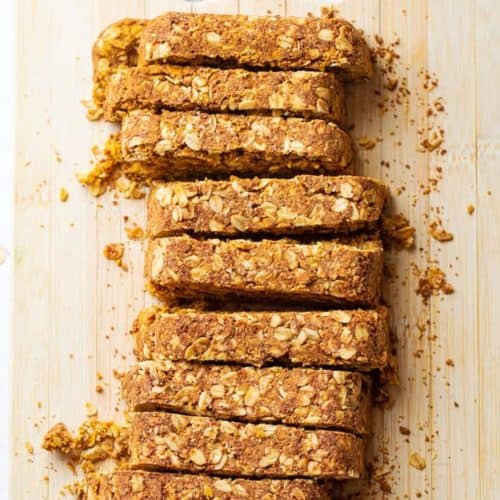 Made with simple and wholesome ingredients, these healthy pumpkin breakfast bars are refined sugar-free and oh so tasty.
Instructions
Preheat the oven to 350 degrees. Line a baking pan (I used a glass loaf pan) with parchment paper or rub down with coconut oil. Set aside.

Place half of the rolled oats in the glass of a blender and pulse until you have a ground meal. Pour into a bowl.

Add the rest of the rolled oats, coconut sugar, and pumpkin spice and mix until well incorporated.

Mix in butter/coconut oil and pumpkin puree, it should resemble coarse sand and stick together when pressed.

Press the mix into prepared pan with the back of a spoon, making sure it's packed in tight.

Bake for 45 minutes. Remove from the oven and let it cool for ten minutes. Run a knife along the edges, then flip onto a cutting board. Let cool completely and slice into bars.
Nutrition
Serving:
1
bar
Calories:
344
kcal
Carbohydrates:
46
g
Protein:
6
g
Fat:
16
g
Saturated Fat:
12
g
Sodium:
43
mg
Potassium:
178
mg
Fiber:
5
g
Sugar:
14
g
Vitamin A:
2383
IU
Vitamin C:
1
mg
Calcium:
29
mg
Iron:
2
mg
More breakfast recipes: