Healthy Egg Casserole with Veggies and Sweet Potatoes
If you're looking for healthy egg recipes for breakfast, I have it right here. This healthy egg casserole is so easy, so simple, and it so damn good.
However, eggs are not just for the morning.
In addition to healthy breakfast recipes, you can have eggs anytime during the day! I LOVE eating eggs for lunch. They're quick, easy, and are versatile (so I never get bored).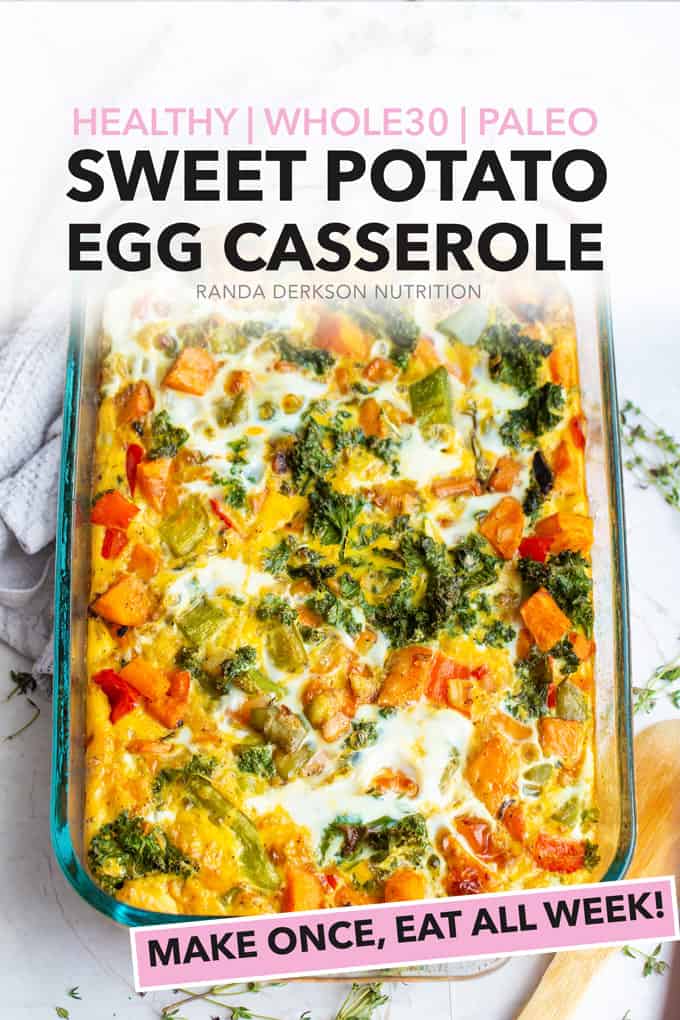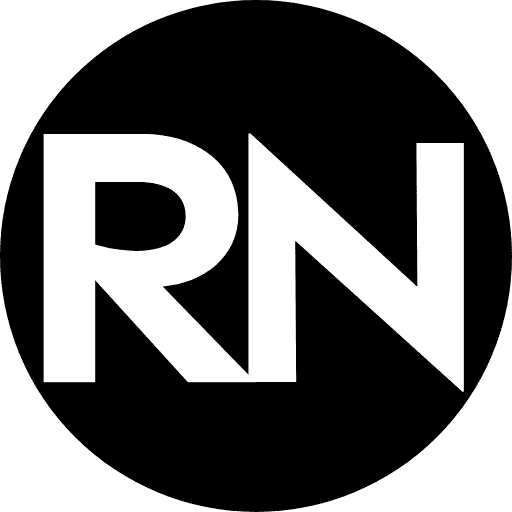 Save This Recipe!
Enter your email below & I'll send it straight to your inbox. Plus you'll get great new recipes every week!

Disclosure: This post contains affiliate links for your convenience. As an Amazon Associate, I earn from qualifying purchases.
Healthy Breakfast for Weight Loss
This healthy egg bake is a top pick of mine for the best breakfast to lose weight and to maintain energy.
What this means is if you eat this, you're going to stay satisfied for a few hours. You won't be running for the snacks within 30 minutes, and you'll be able to keep up with your kids.
Healthy Egg Casserole Ingredients
Again, eggs are versatile. What I put in the recipe, is just a guideline.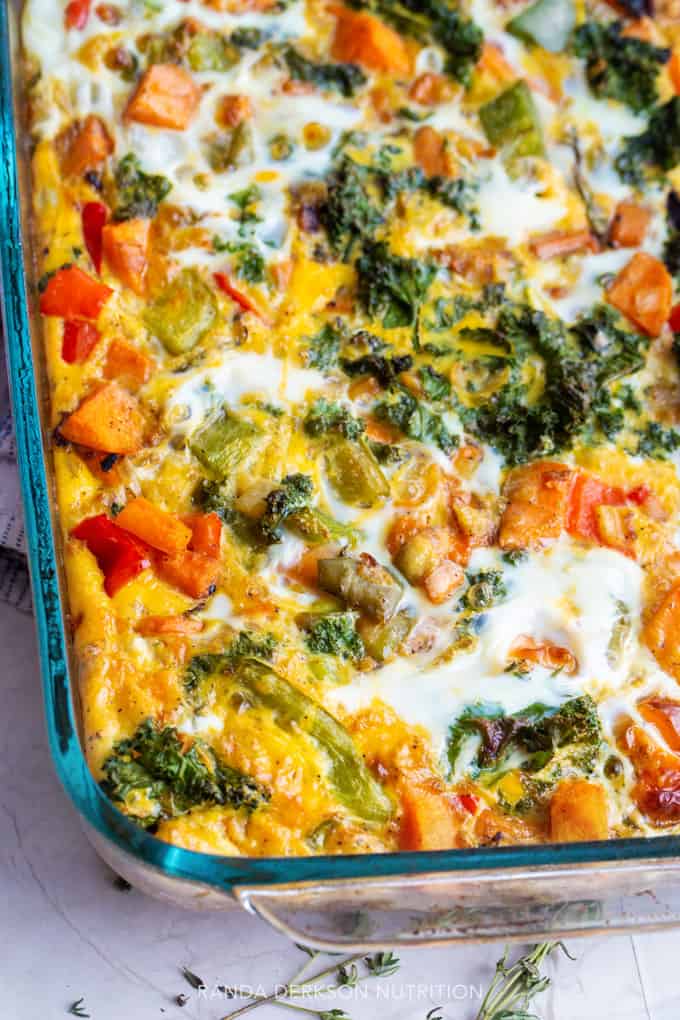 It's easy to make this recipe your own to work for your tastes.
I started simple with a sweet potato egg casserole and added kale, peppers, and onions but here are a few other ideas on what you can add to your own healthy egg casserole bake:
Mushrooms
Spinach
Kale
Sweet potatoes
White/red potatoes
Hashbrowns
Leeks
Carrots
Broccoli
Cauliflower
Onions
Bell peppers
Jalapenos
Poblano peppers
Black beans
Sausage
Bacon
As you can see, the options are truly endless. So start with this recipe and adjust to your own liking.
Is this egg bake Whole30? Paleo?
This simple twist sweet potato egg bake has whole foods as ingredients. It's dairy-free, gluten-free, paleo, etc.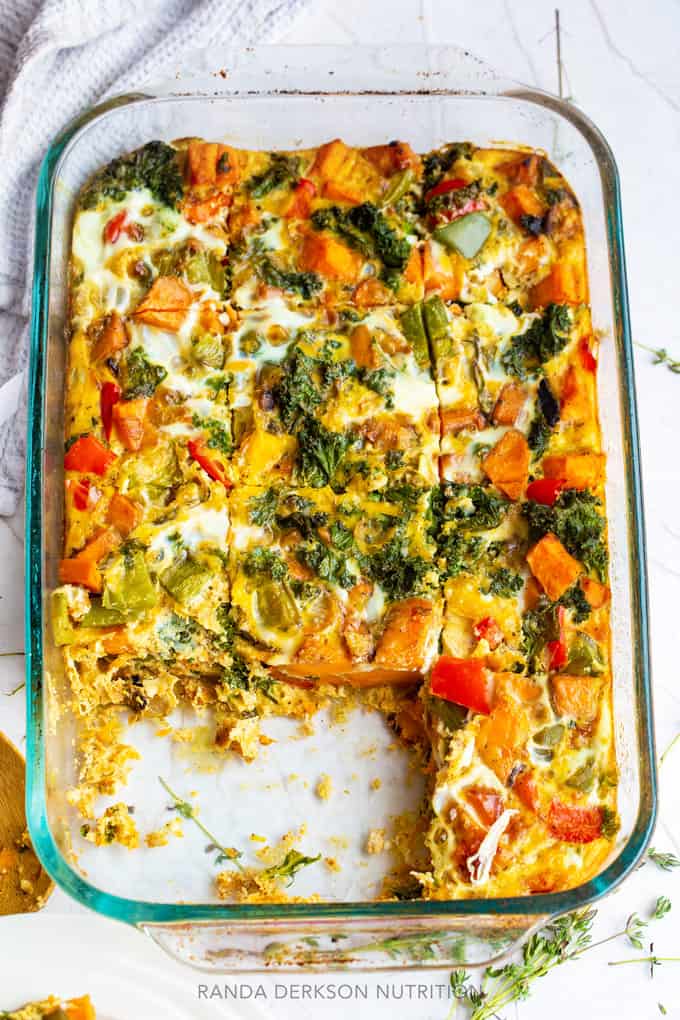 It basically checks the majority of the lifestyles and diets out there.
You should never feel like you're doing something wrong if you're eating whole foods that make you feel good.
If it doesn't fit your lifestyle due to allergies or whatever, just customize it!
Every recipe I have is customizable and can be individualized, always. This is something I will teach you how to do during my personalized nutrition coaching.
However, the list above is a great starter. Swap out the foods you don't like or what doesn't work for you for ones that do.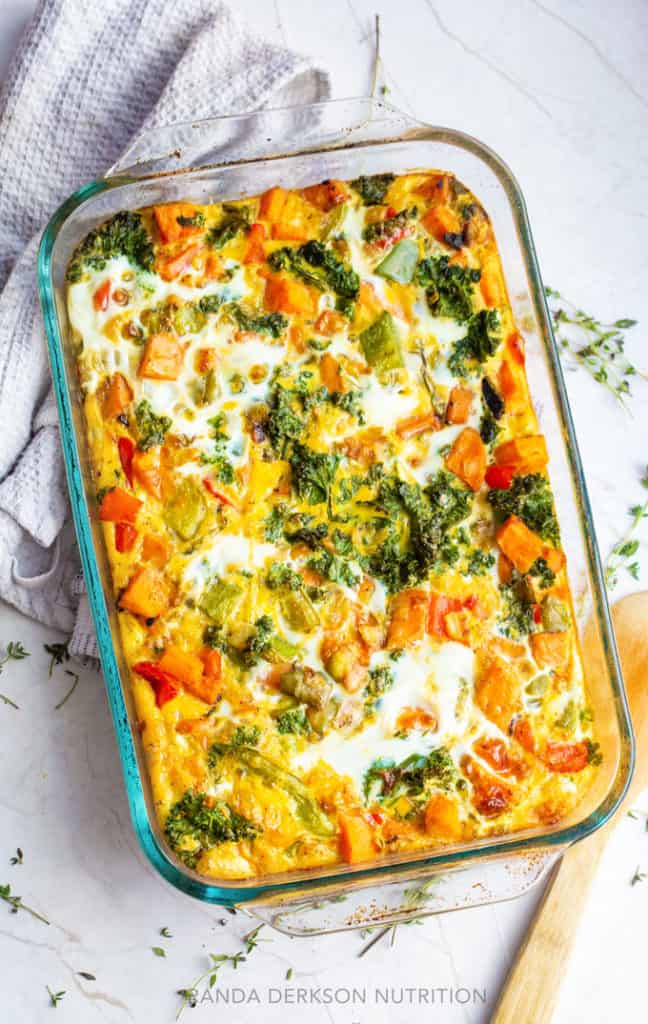 Meal Prep Egg Bake Ideas
I made this in a 9×13 casserole dish and left it at that.
I cut out a portion and had that throughout the week but another option you can play with for meal prep breakfasts are meal prep egg muffins.
Another option is to allow the breakfast casserole completely cool, divide it up and portion it out into separate containers for the days you need them. Store them in the fridge and simply grab, heat, and go.
How to turn this paleo egg casserole into muffin cups
Grease a muffin tin (or line it with these awesome liners) and portion out the ingredients. Bake for 20ish minutes, but check with a fork if they're done or need a little more time.
Heads up: This recipe will probably make more than 12 if done in a muffin tin.
Here are a few more easy breakfasts for meal prep and meal planning.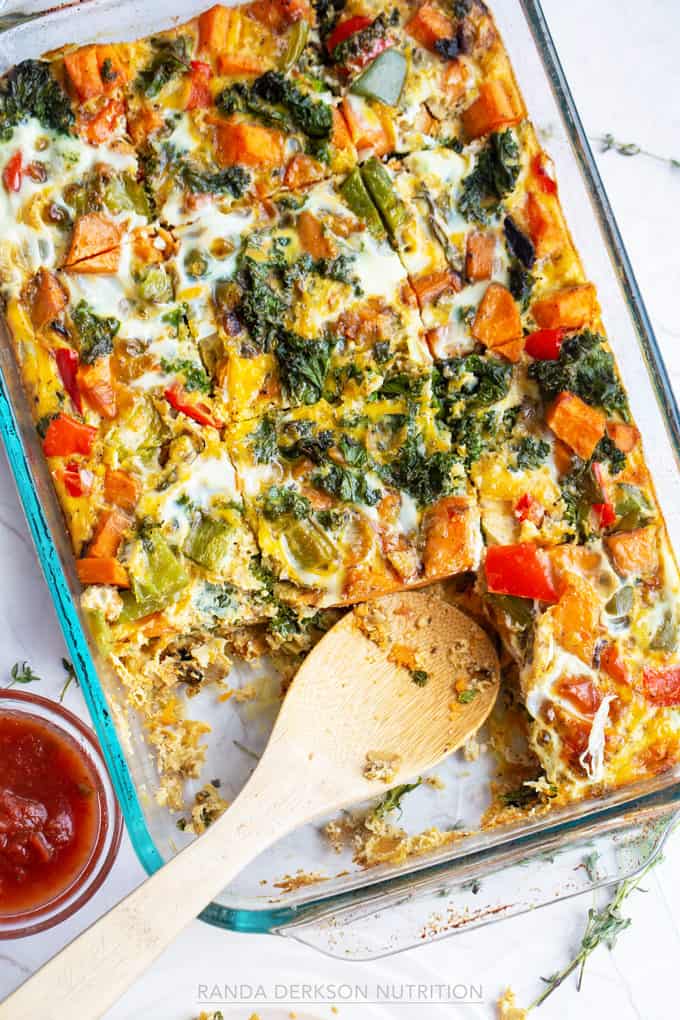 How to make a healthy egg casserole bake
This couldn't be easier! Even the beginner cook can master this sweet potato egg casserole.
You can serve it with some salsa, hot sauce (Valentina is my all-time favorite), or good old fashioned ketchup.
PS: If you're looking for more delicious recipes that help you get in more veggies try these fan favorites:
Is this 21 Day Fix Approved?
Yes, this healthy breakfast casserole is something you can totally use this recipe for a 21 Day Fix breakfast idea!
The whole recipe is 7 Green, 6 Red, 8 Yellow, 6 Tsps.
So if you have 1/6th of this the counts are: 1 green, 1 red, 1 1/3 yellow, 1 tsp.
How many calories are in this breakfast casserole?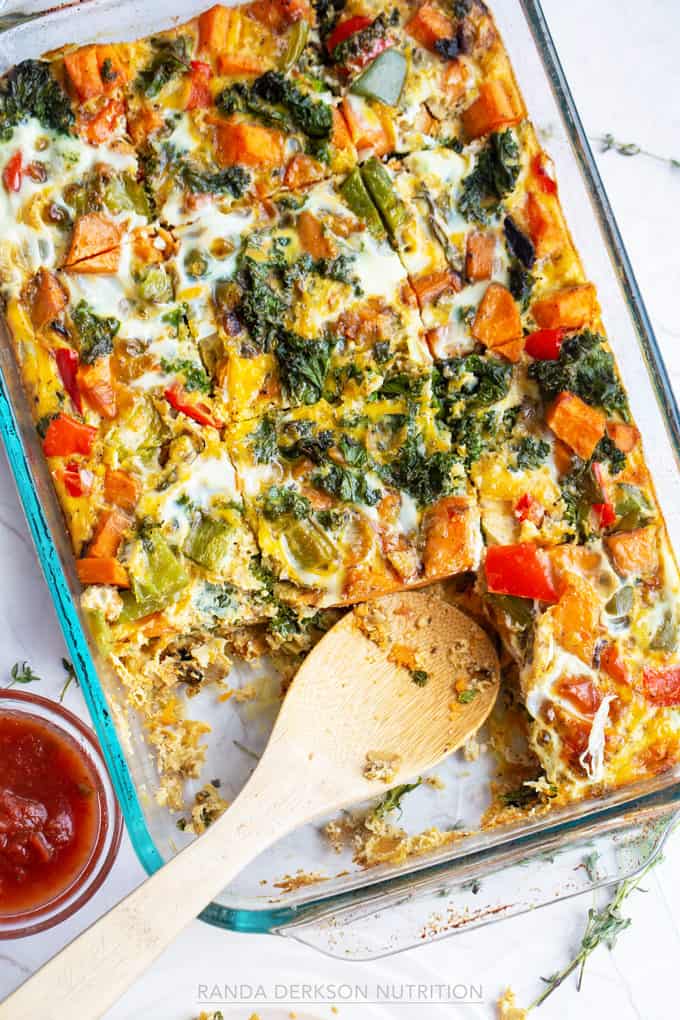 The full estimated nutritional information at the bottom of the recipe card but 1/12 of the recipe has only 143 calories, 14g carbs, 7g protein, 7g fat.
It's a low-calorie breakfast recipe that I recommend having two pieces or serve one slice sprouted bread and avocado. Yum!
Healthy Egg Casserole with Sweet Potatoes, Kale, and Peppers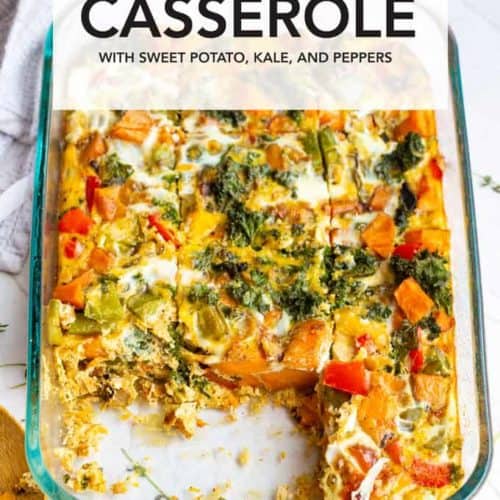 Talk about your breakfast for dinner! This healthy egg casserole is amazing! Made with sweet potatoes, kale, and bell peppers this Whole30 and Paleo recipe check all the boxes.
Instructions
In a large cast-iron pan (or whatever large pan you have at home) melt the coconut oil over medium heat and add the cubed sweet potato. Fry it up until almost soft (about 5-6 minutes).

Add the bell peppers, onions, first set of salt and pepper, plus garlic powder. Stir until onion is translucent and sweet potatoes are soft.

Next, add the kale leaves (tear them up as you add them to the pan). Stir around another 3-4 minutes. You know it's done when the leaves are bright green, the onions are starting to brown, and the sweet potatoes are soft.

Spray a 9×13 casserole dish with avocado oil spray (or whatever you have on hand) and spoon the sweet potato mix in.

In a medium bowl whisk together the eggs, second batch of salt and pepper, plus 1/2 tsp of fresh thyme leaves. Pour over the vegetables.

Bake in the oven for 30-35 minutes. Let cool. Serve with an optional side of toast, avocado, or salsa.
Notes
Don't have a large cast iron skillet? Use two small ones.
Container Counts for 21 Day Fix/Ultimate Portion Fix:
The whole recipe is 7 Green, 6 Red, 8 Yellow, 6 Tsps.
So if you have 1/6th of this the counts are: 1 green, 1 red, 1 1/3 yellow, 1 tsp.
Nutrition
Serving:
1
slice
Calories:
143
kcal
Carbohydrates:
14
g
Protein:
7
g
Fat:
7
g
Saturated Fat:
3
g
Cholesterol:
164
mg
Sodium:
386
mg
Potassium:
369
mg
Fiber:
2
g
Sugar:
4
g
Vitamin A:
8721
IU
Vitamin C:
53
mg
Calcium:
69
mg
Iron:
1
mg