Sneak in some extra veggies with these oven baked cauliflower hashbrown patties. Made with cauliflower, spices, and cheddar cheese this low carb hashbrowns recipe not only makes a delicious breakfast side but a healthy snack as well.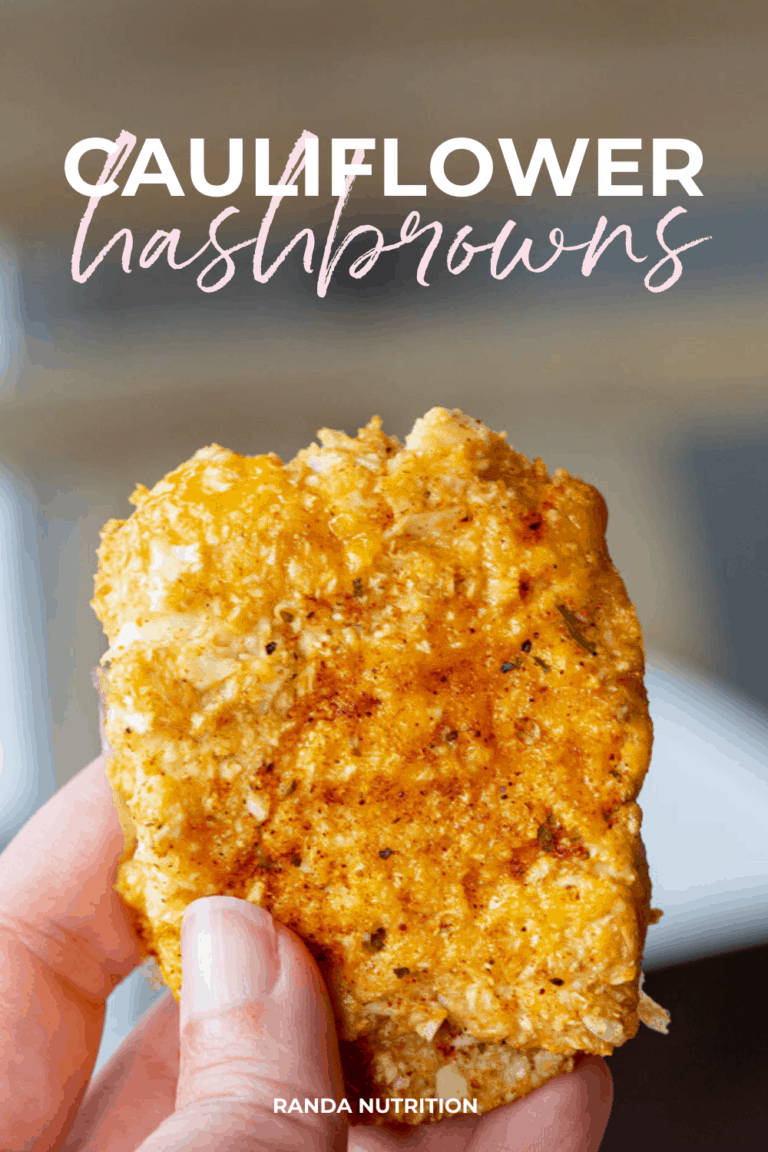 Disclosure: This post contains affiliate links for your convenience. As an Amazon Associate, I earn from qualifying purchases.
Why You'll Love This Recipe
Is there anything cauliflower can't do? I've seen it in smoothies, used in place for rice and mashed potatoes, and sneakily added to kids' favorite dishes to make sure they're eating their veggies.
These homemade hash brown patties are made from cauliflower, making them a great way to get in an extra serving of vegetables at breakfast time. you won't be able to tell the difference!
Looking for more cauliflower recipes? Check out these 25+ Healthy Recipes Using Cauliflower Rice That are Both Easy and Delicious!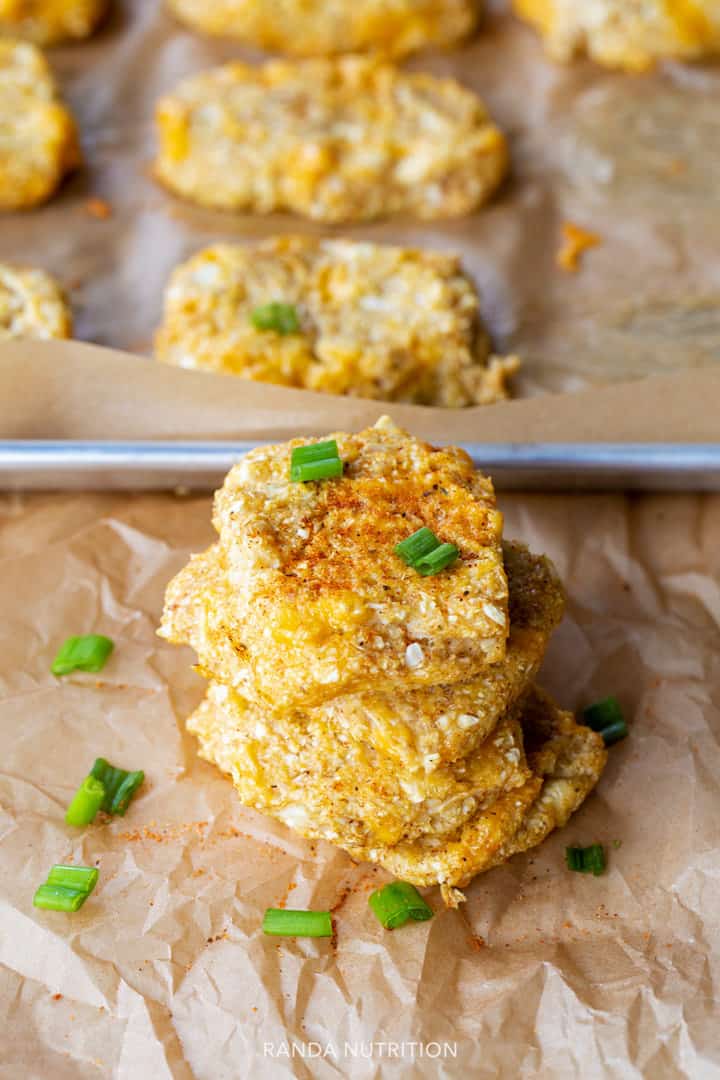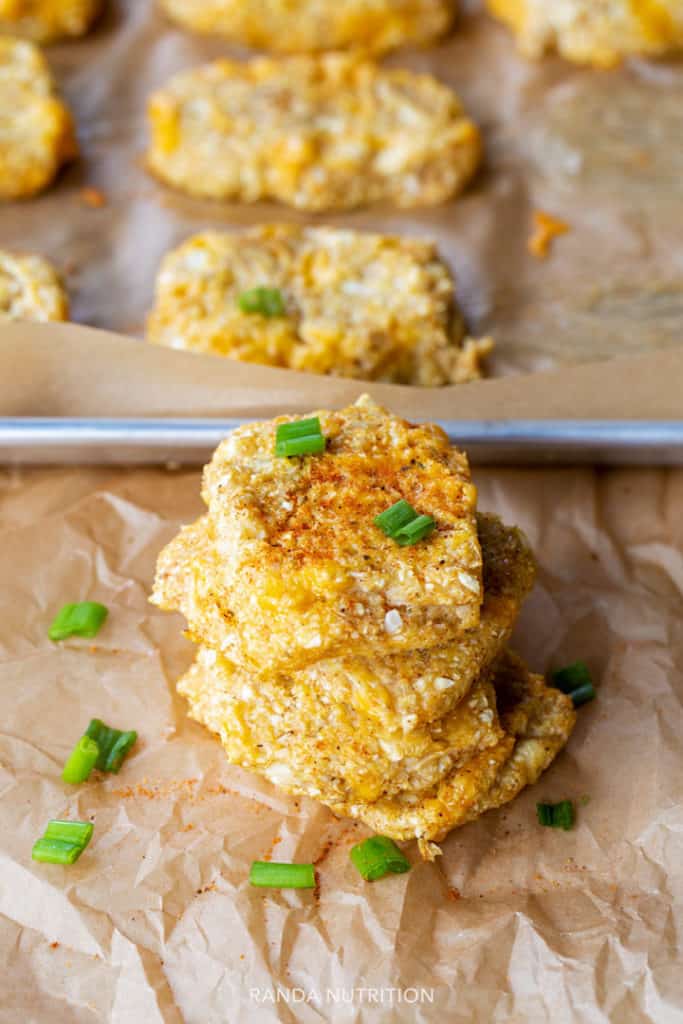 Key Ingredients
Cauliflower: You'll need a whole heat of cauliflower for this homemade cauliflower hash browns patties recipe. Pick it over and remove any dark spots, and remove the core. You can also buy riced cauliflower, if that's easier.
Coconut Flour: This serves as the binding agent. Plus, it's gluten-free! Not a fan of coconut flour? Use any Paleo flour you like. Almond flour would also work well.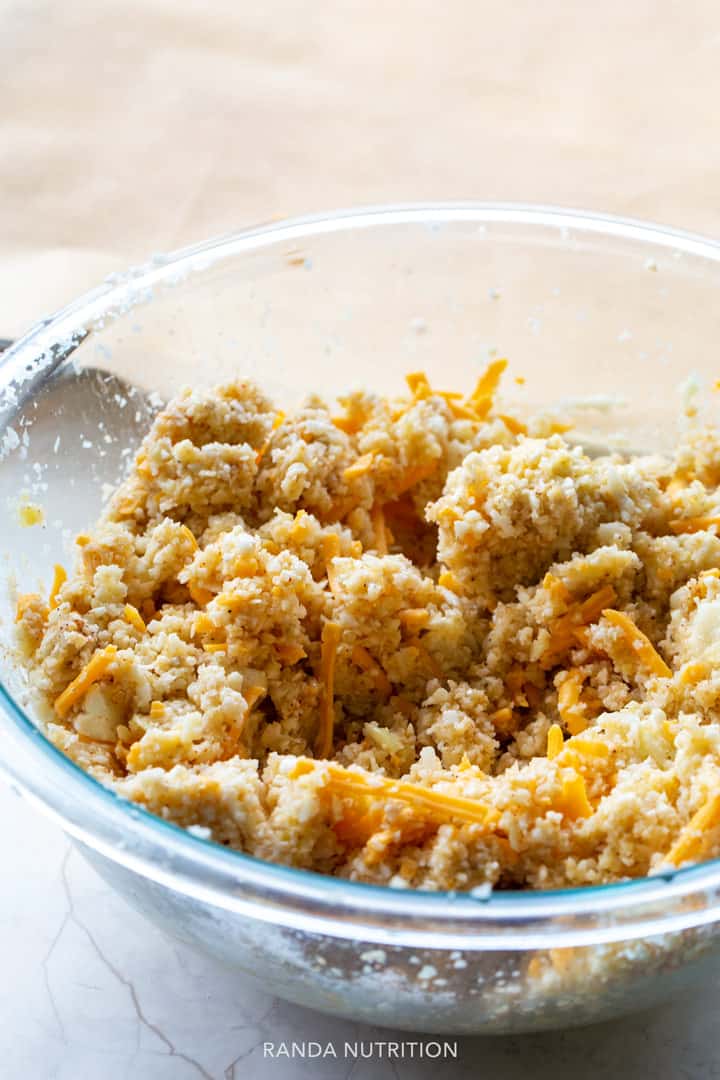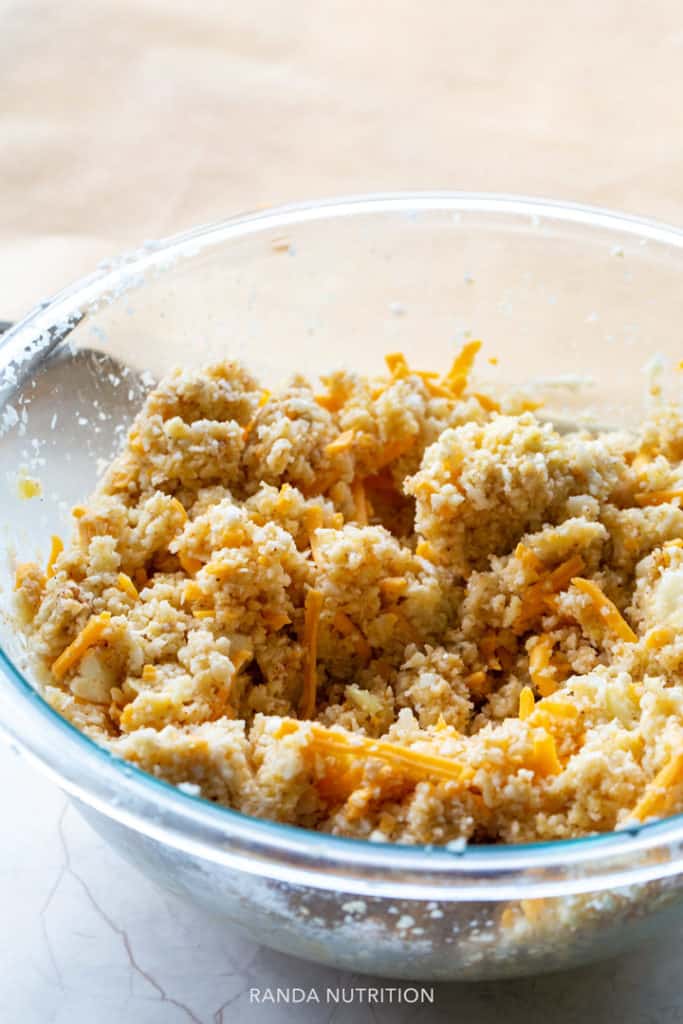 Dairy-Free Options
This recipe for cauliflower hashbrowns uses cheddar cheese. If you're vegan or looking for a dairy free alternative, experiment with the following ingredients:
Dairy free cheese (like Daiya).
Nutritional yeast
I personally haven't tried the above recommendations, but they should make for easy swaps!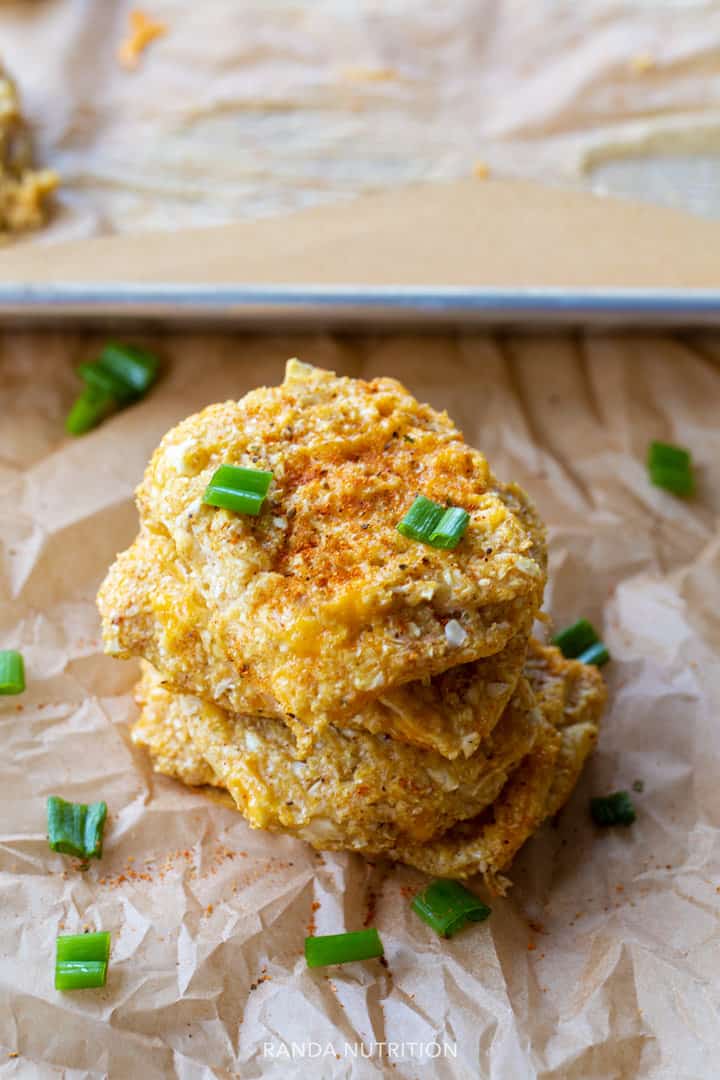 How To Make Them
These patties couldn't be any easier to work with. The secret is to really work at getting all the moisture out of the cauliflower. You can use a paper towel, tea towel, cheesecloth, etc.
Squeeze that baby good and get every last drop of water out. This is key to ensuring that these cauliflower hashbrown patties hold together. Otherwise you'll end up with a soggy mess.
Then, you'll simply mix all the ingredients together and form them into patties. They will be soft and you'll be questioning the recipe but they do hold up when they're fully baked.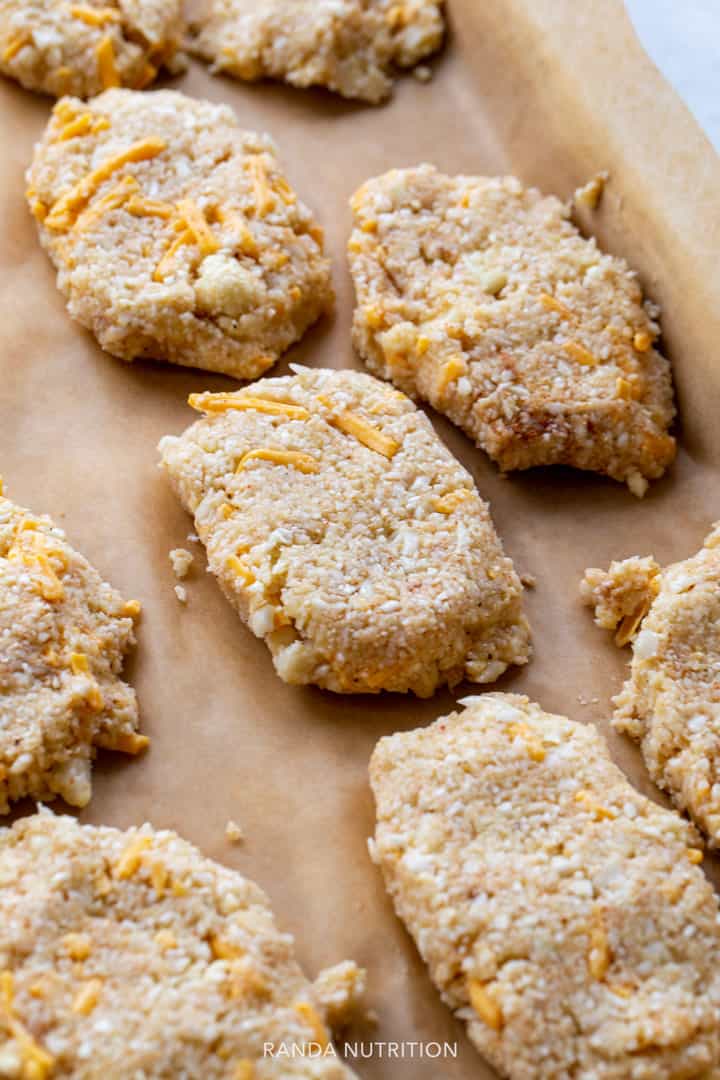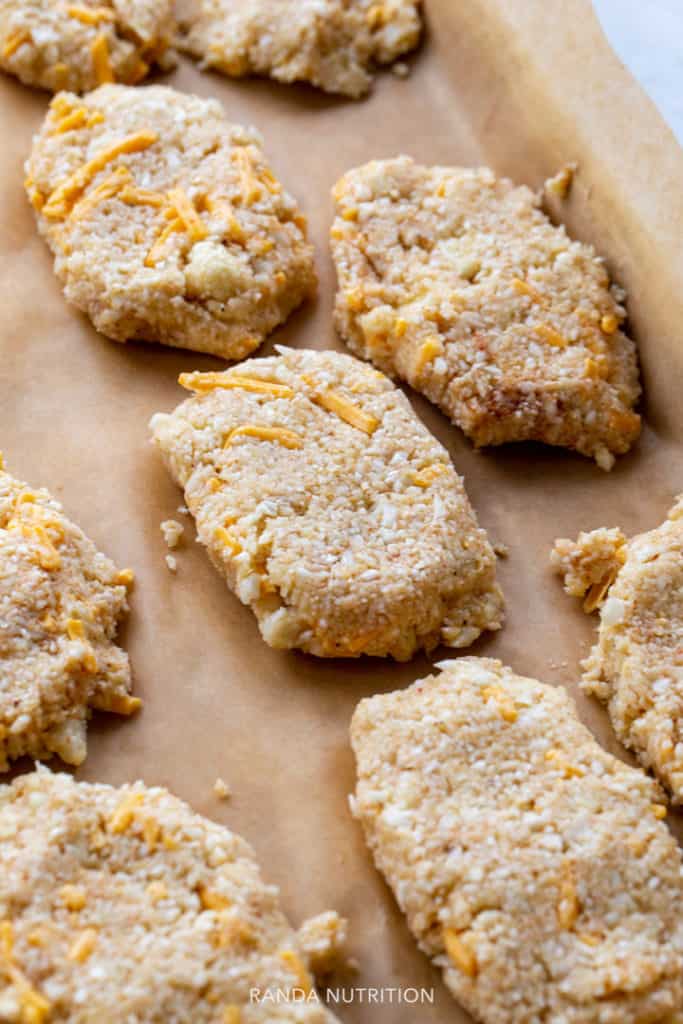 Serving Suggestions
Serve these potato free hash browns with your eggs, pancakes, or as a treat in the day (I totally did this). I liked them with a little bit of Valentina Hot Sauce, the kids preferred it with ketchup.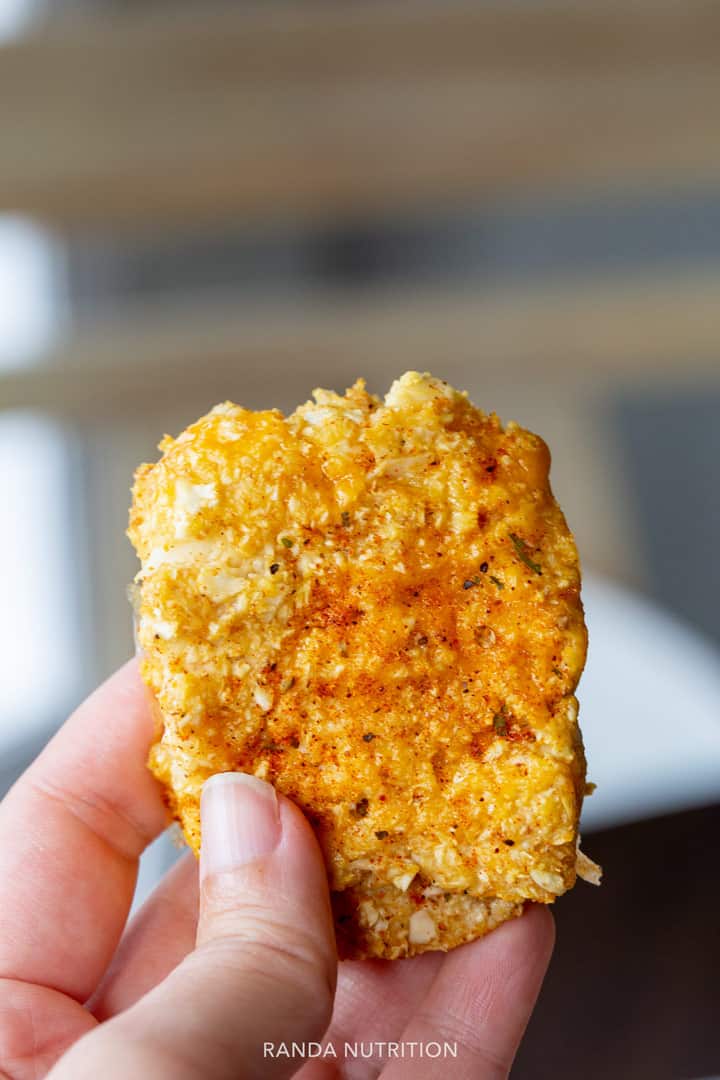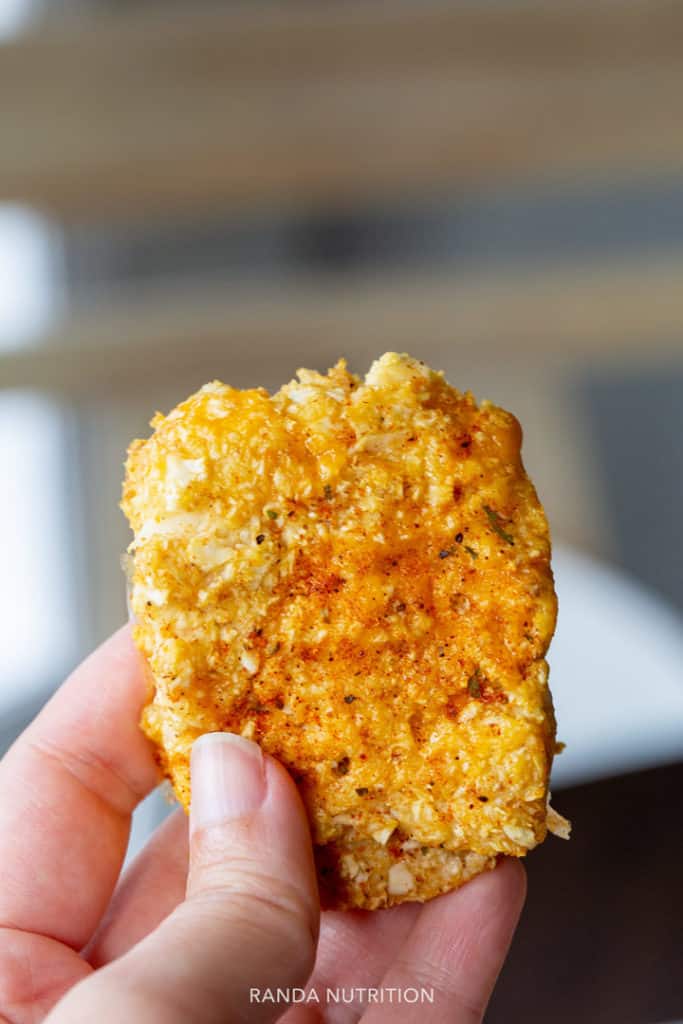 FAQs
How do I store the leftover hashbrown patties?
Store in an airtight container (I like these ones) in the fridge for 3-4 days.
How do I hear cauliflower hash browns?
You can reheat these in the microwave, but they will be softer and could fall apart. If you would like them to hold their original shape, reheat them in the oven or on a frying pan.
Do these freeze well?
Yes, they can be stored in the freezer for a month. I recommend flash freezing them.
How do you flash freeze hashbrown patties?
Place the hashbrowns on a baking sheet and freeze. Then remove them, place them in a resealable bag, and place them back in the freezer. This prevents them from sticking together.
Are these homemade hashbrown patties crispy?
The baked cauliflower hashbrown patties are not crispy, but they do hold their shape and can be picked up. If yours are crumbling, try cooking for a little longer and let cool completely.If you want them to be crispy, try baking them for longer, or cooking them in an air fryer.
More Healthy Breakfast Recipes
I'm curious, do you prefer sweet or savoury breakfasts? Let me know in the comments!
Cauliflower Hashbrown Patties
Sneak in some extra veggies with these oven baked cauliflower hashbrown patties. Made with cauliflower, spices, and cheddar cheese this low carb hashbrowns recipe not only makes a delicious breakfast side but a healthy snack too.
Instructions
Heat the oven to 350F. Line a sheet pan with parchment paper.

Chop the cauliflower into pieces and add those pieces to a high powered blender or food processor. Pulse until it becomes cauliflower rice.

Squeeze the cauliflower rice in a nut milk bag, paper towel, or tea towel to remove the liquid. Take time to do this step other wise the patties will fall apart.

In a large bowl add all of the ingredients. Mix until combined.

Form the mixture into hash brown patties on the sheet pan.

Bake for 25 minutes, turning them over at the half way mark. Remove from the oven and cool.
Notes
Save time: buy pre-made cauliflower rice.
Nutrition
Serving:
1
hashbrown
|
Calories:
85
kcal
|
Carbohydrates:
7
g
|
Protein:
5
g
|
Fat:
5
g
|
Saturated Fat:
3
g
|
Cholesterol:
48
mg
|
Sodium:
384
mg
|
Potassium:
246
mg
|
Fiber:
3
g
|
Sugar:
2
g
|
Vitamin A:
221
IU
|
Vitamin C:
35
mg
|
Calcium:
73
mg
|
Iron:
1
mg
The nutrition information is calculated using a third party resource. The accuracy varies on the brands used, weight, portions, etc. This resource should be used as a guide. If you want more accurate information, weigh in grams and log in MFP.