Easy Chicken Fried Cauliflower Rice Recipe
This healthy version of chicken fried rice (or maybe I should say chicken fried cauliflower rice) may be one of the easiest recipes I have on the blog.
Not only does it take minutes to prepare but it's full of fiber and quality vegetables to help fuel your day.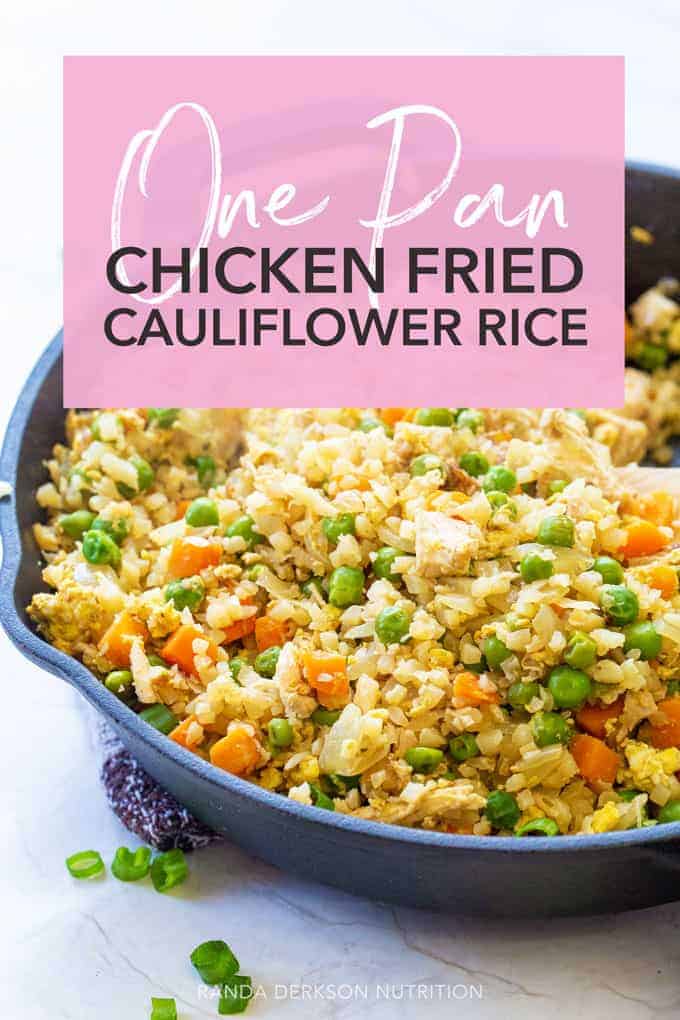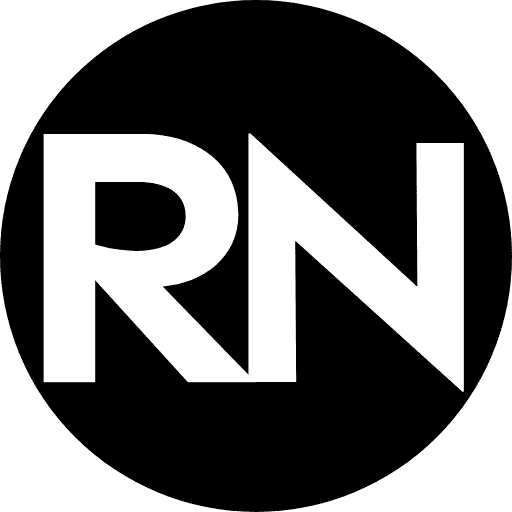 Save This Recipe!
Enter your email below & I'll send it straight to your inbox. Plus you'll get great new recipes every week!

Chicken Fried Cauliflower Rice
Disclosure: This post contains affiliate links for your convenience. As an Amazon Associate, I earn from qualifying purchases.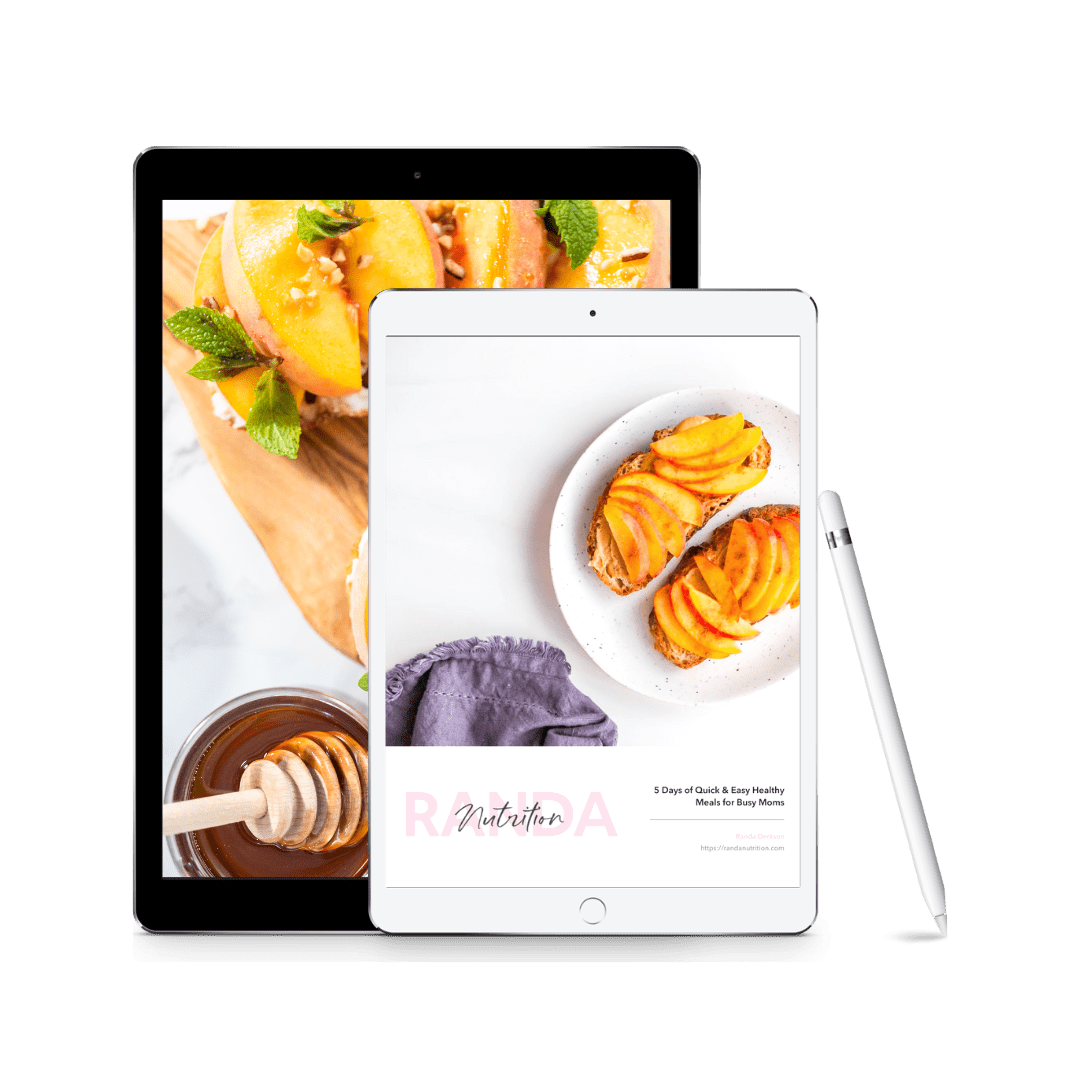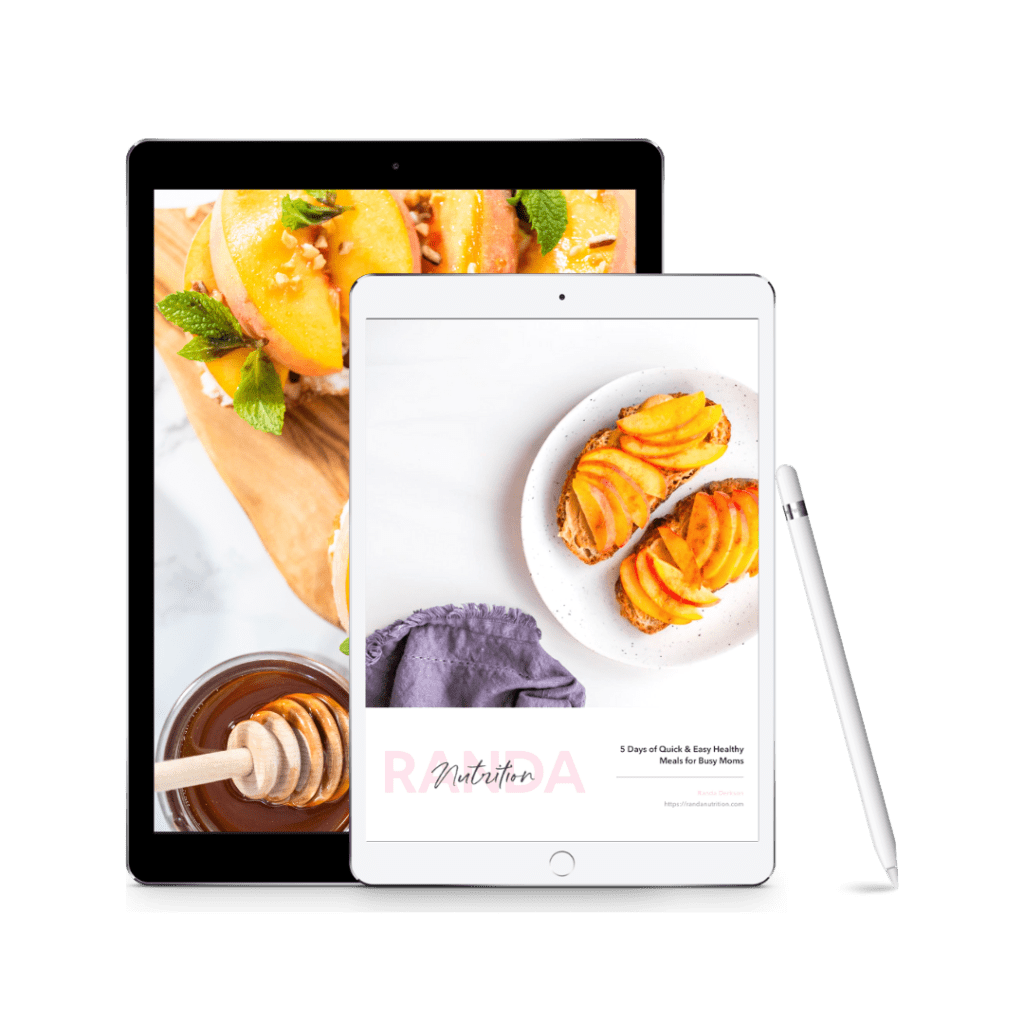 5 Day Meal Plan for Busy Moms
Download the free 5 day meal plan for busy moms by signing up for the Randa Nutrition email list.
Okay, full disclosure I never order chicken fried rice when I go for Chinese. I go for the sweet and sour pork, chicken chow mein, ginger beef, and maybe some broccoli and baby corn (soaked in extra garlic).
Yeah, I don't always associate Western Chinese Food with health, but I also make the decision. I have it once or twice a year when the craving hits.
However, you can totally health up Chinese food at home easily and this version is much better than takeout.
What vegetables are in chicken fried rice?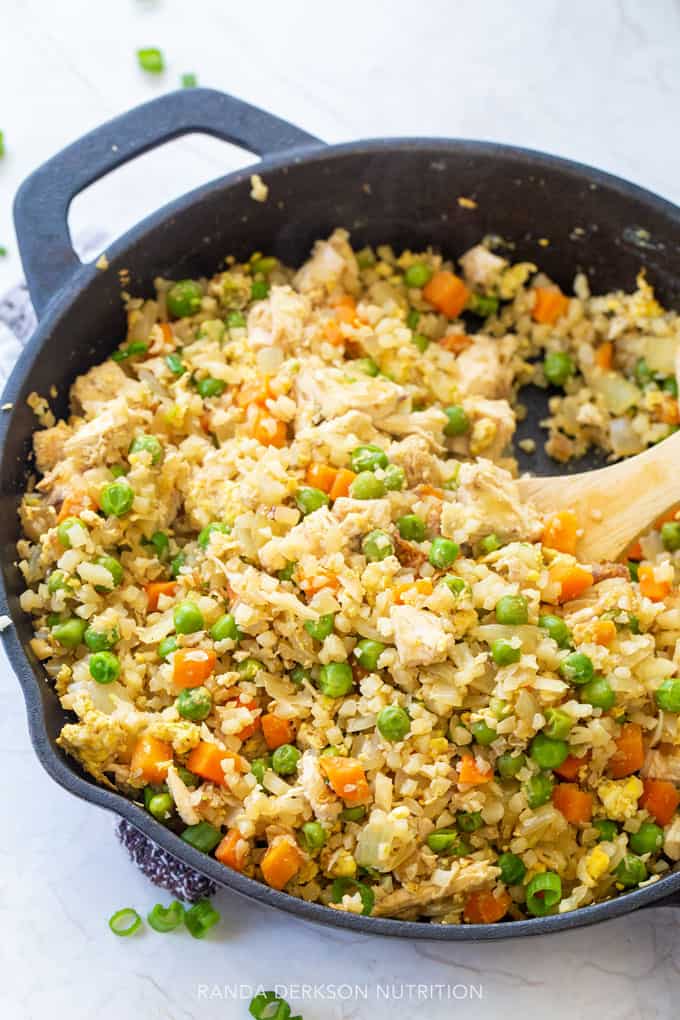 This healthy chicken fried rice recipe uses cauliflower rice in place of white rice as an added vegetable.
Is there anything cauliflower can't do?
I used the bagged frozen riced cauliflower in the freezer section. It's the Green Giant brand.
This ingredient is something I always have on hand for filler or added convenience when I'm feeling too tired to cook. The kind of Costco is also good.
Tip: I microwaved the cauliflower for five minutes while I cooked the peas and carrots since I add the cauliflower at the end of the recipe.
I also used frozen peas and carrots for an added convenience (you can totally use fresh, but there's no chopping with frozen).
As for the onion, I chopped it fresh, but again – some stores sell diced onion frozen.
If you use all frozen vegetables. This dish is ready in mere minutes!
Is Cauliflower Fried Rice Whole30?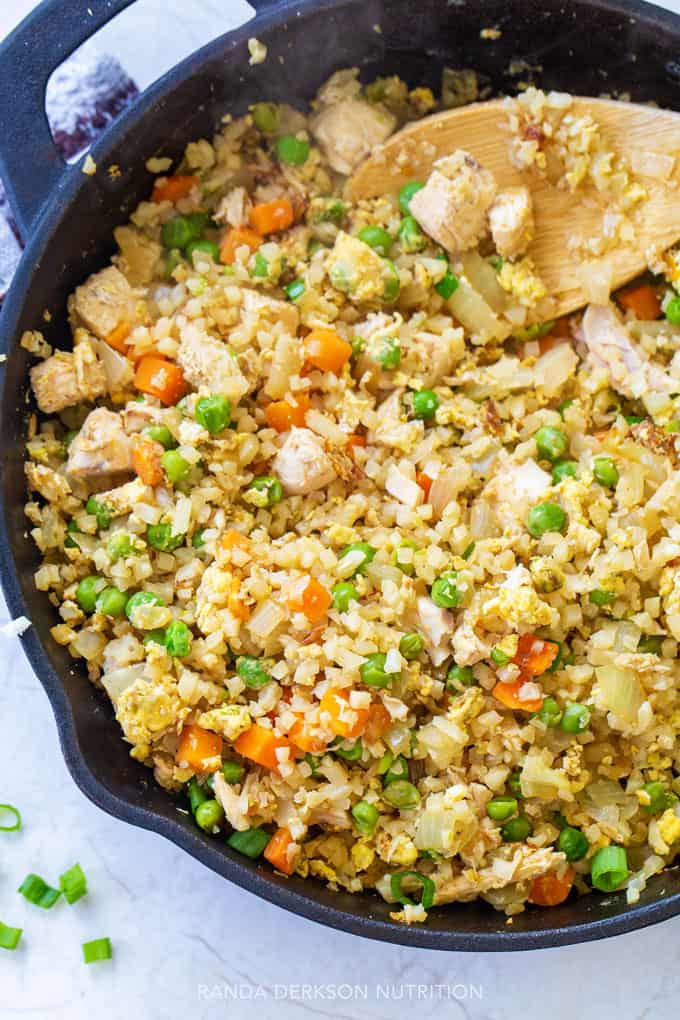 Because this recipe has peas, it is not Whole30 as legumes are not allowed during the 30 days of elimination.
However, you can swap out the peas for vegetables like broccoli or celery and have it be compliant if you're doing Whole30.
It is, however, a paleo recipe.
Container Counts
By popular request, I am slowly adding container counts for those of you following the Ultimate Portion Fix. This way you can see if it works for your plan for Beachbody programs like 21 Day Fix, LIIFT4, 80 Day Obsession, and 10 Rounds.
Full recipe: 6 green, 1 red, 1 yellow, 6 tsps.
Per serving: 1 green, 1/6th red, 1/6th yellow, 1 tsp.
I do not personally count anything below 1/4 of a container.
What's needed for the recipe?
To make this healthy fried rice recipe, you don't need many supplies.
I used a simple wooden spoon and this cast iron skillet.
Ingredients for chicken fried rice with cauliflower rice
toasted sesame oil
onion
frozen peas and carrots

eggs

cooked chicken breasts

frozen cauliflower rice

coconut aminos or soy sauce or tamari* (whatever you have on hand is fine)
green onion
If you need this to be a gluten-free recipe then I go with the tamari or coconut aminos (Canadians, this is known as coconut sauce and you can find it in the natural section). Always read the labels, especially if it's an allergy.
Macros and Nutrition Information
You can't go wrong with this recipe. It's healthy as it's full of protein and veggies.
1/6th of this recipe is only 174 calories (I'd use that as a side dish, not a meal).
It has 11 grams of carbs, 14 grams of protein, 9 grams of fat, and 3 grams of fiber.
To eat it as a meal I would up the serving to 1/4 of the recipe and maybe add some regular rice to up the carb and fiber and maybe add a little extra chicken.
How to make Chicken Cauliflower Fried Rice
You are going to love this low-carb dish. It's essentially like a chicken stir fry with cauliflower rice and I love how it nourishes you with a ton of veggies.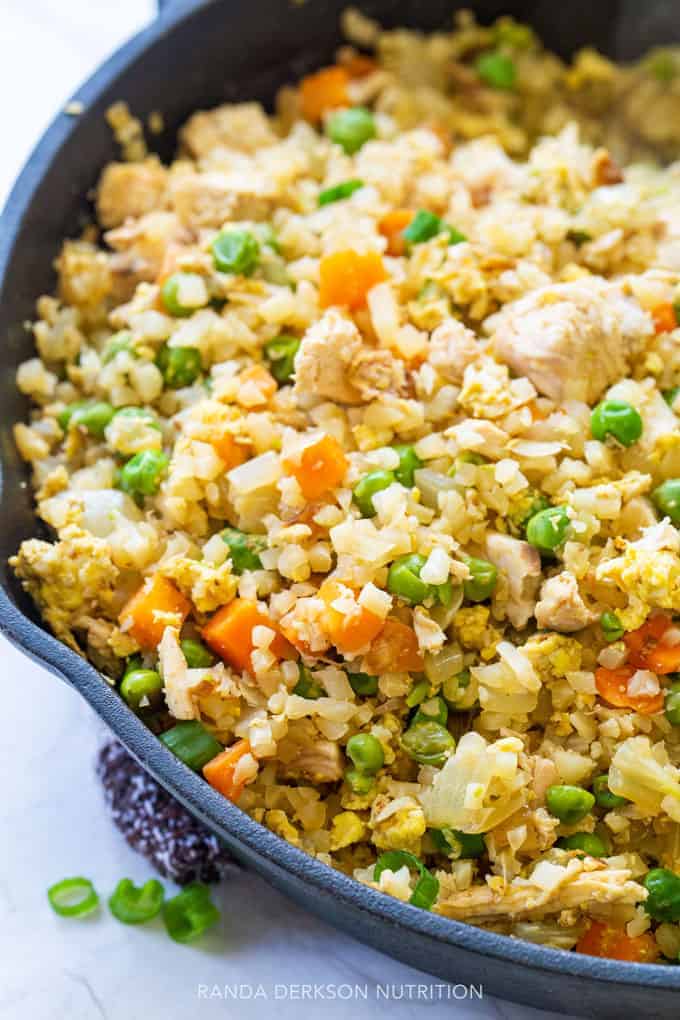 One of my favorite things about this dish is that it's a one pot meal! I cooked it in a cast iron pan and there was only one dish to wash.
Talk about a win!
Another tip would be to buy a rotisserie chicken from the deli and use this recipe with the leftovers.
Healthy recipes on the blog and don't forget these healthy cooking swaps.
PS: this is awesome when you add peanut sauce to it too.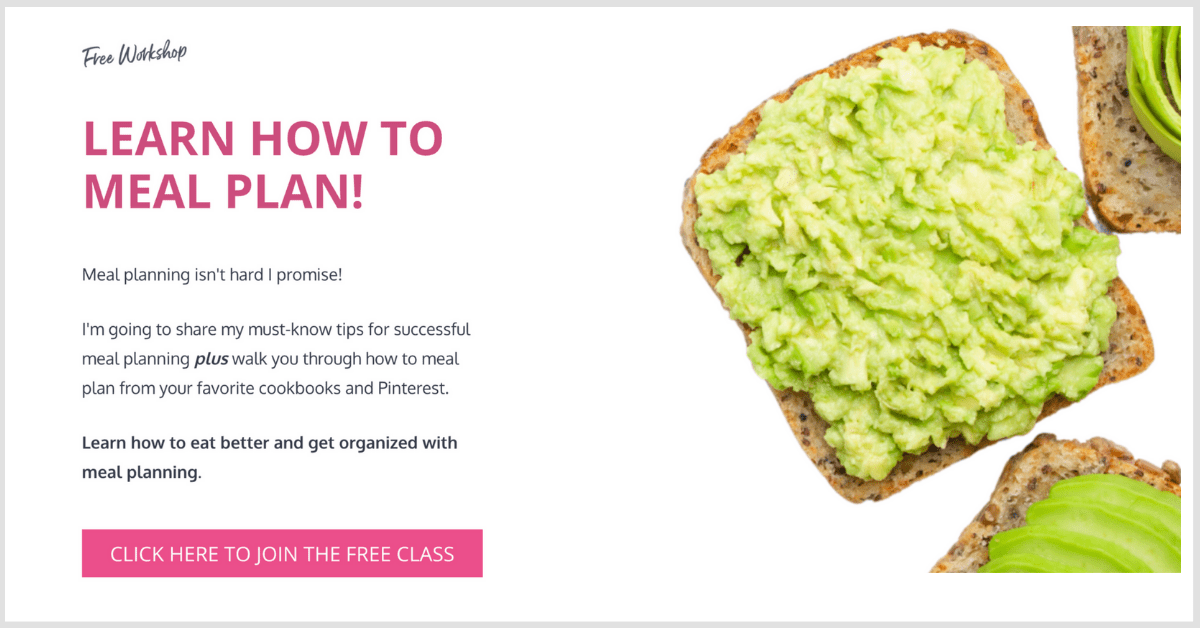 Cauliflower Chicken Fried Rice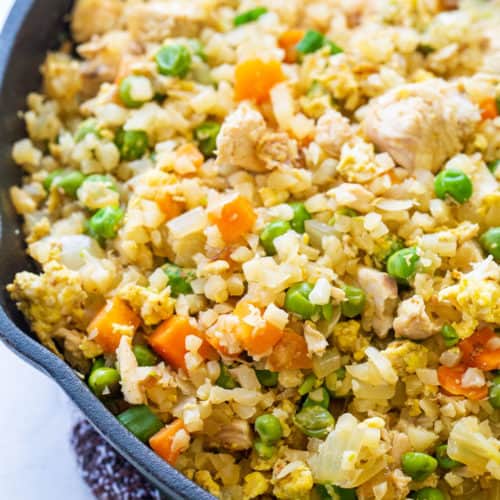 A quick and easy chicken fried cauliflower rice recipe uses cauliflower rice instead of white rice, healthing up this popular Chinese dish by adding in more vegeteables.
Ingredients
2

tbsps

sesame oil

1

onion

diced

1.5

cups

peas and carrots

frozen

2

eggs

1 1/2

cups

cooked diced chicken

3

cups

cauliflower rice

roughly 1 bag of the Green Giant riced cauliflower

1

tsp

garlic powder

2

tbsps

coconut aminos

or soy sauce

1

green onion

diced
Instructions
Heat the sesame oil in a cast iron pan over medium heat. Wait until it's nice and hot.

Add the onion and frozen peas and carrots vegetables and saute for 5-7 minutes or until vegetables are soft and onion is translucent. If you're using frozen cauliflower, microwave it now while the vegetables cook.

Add the egg and scramble it together until cooked.

Add the diced chicken, garlic powder, cauliflower, and coconut aminos. Stir together untli there's no liquid at the bottom from the soy sauce. Taste and adjust seasonings.

Top with green onions and serve.
Notes
This dish is perfect for meal prep. So make it ahead of time and eat it all week.
Container Counts
Full recipe: 6 green, 1 red, 1 yellow, 6 tsps.
Per serving: 1 green, 1/6th red, 1/6th yellow, 1 tsp.
I do not personally count anything below 1/4 of a container
Nutrition
Serving:
1
g
Calories:
174
kcal
Carbohydrates:
11
g
Protein:
14
g
Fat:
9
g
Saturated Fat:
2
g
Cholesterol:
81
mg
Sodium:
213
mg
Potassium:
440
mg
Fiber:
3
g
Sugar:
2
g
Vitamin A:
3437
IU
Vitamin C:
44
mg
Calcium:
44
mg
Iron:
1
mg