Mediterranean Salad with Falafel
Are you stuck in a salad rut? Try this Mediterranean salad recipe with falafel. This plant-based protein dish is perfect for vegetarians or for anyone looking to switch it up for a healthy lunch or dinner recipe.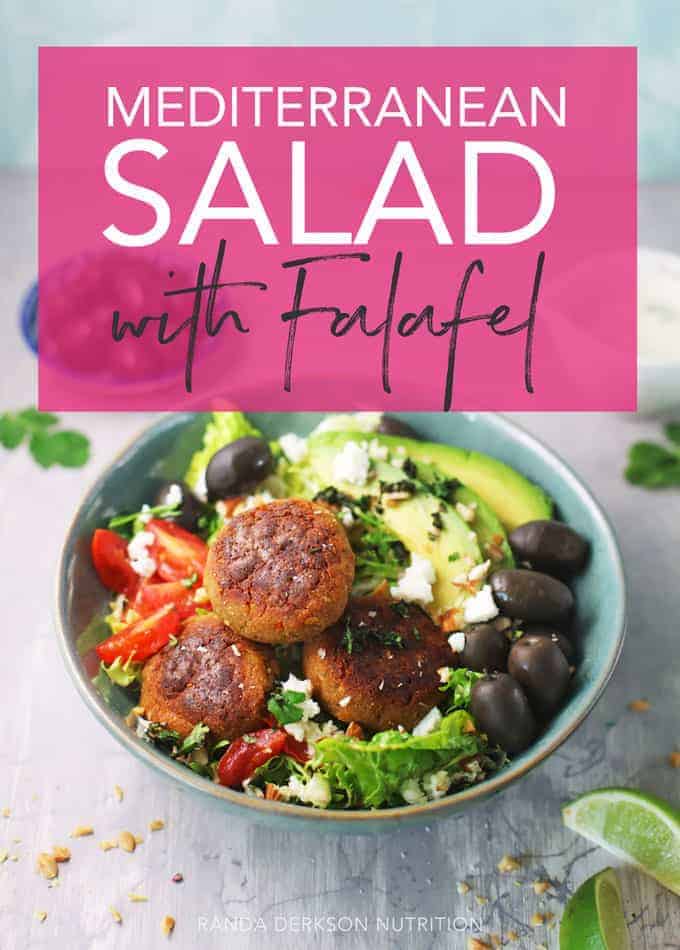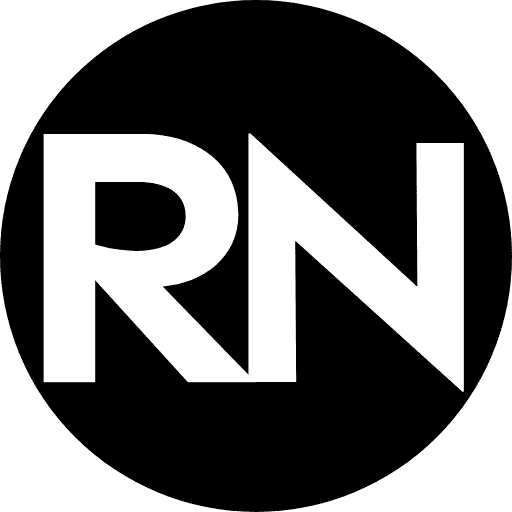 Save This Recipe!
Enter your email below & I'll send it straight to your inbox. Plus you'll get great new recipes every week!

Mediterranean Salad with Falafel
Disclosure: This post contains affiliate links for your convenience. As an Amazon Associate, I earn from qualifying purchases.
Although I'm not a vegetarian (I love me some steak, chicken, kebabs, bbq…) I do my best to incorporate more plant-based protein into my diet.
Whether it's supplementation with protein powders (I like this one) or with whole foods (chickpeas, black beans, or falafels), I find the easiest way to do this is by making salads or stir-fries.
Homemade Falafel
I understand that making a homemade falafel is one of those things that seem super complicated to make, but trust me, it's actually incredibly simple.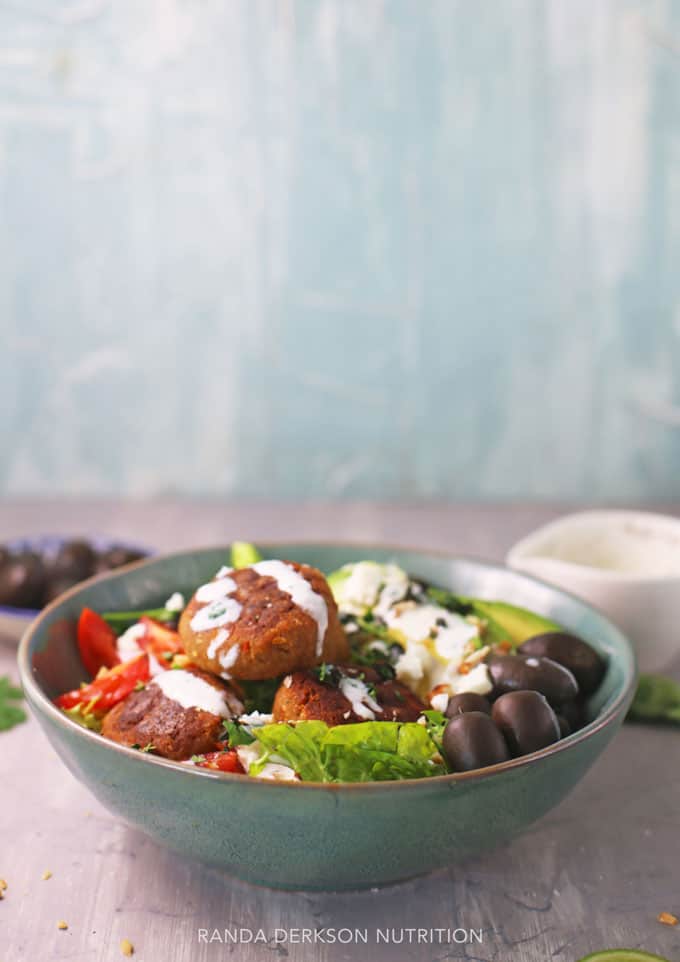 How long does falafel last?
This falafel recipe will last in the refrigerator for up to a week (that's if your family doesn't eat them all by then).
When you go to reheat them, simply pop them in the oven real quick before serving. Doing this keeps them crispy, and they shouldn't fall apart (like they would if you microwaved them).
They're perfect for meal prep, because they last so long! Make sure you add them to your meal prep menu.
Is falafel healthy?
Traditionally, falafel is deep fried, however, our healthier recipe has the falafel baked in the oven.
Container Counts
By popular request, I am slowly adding container counts for those of you following the Ultimate Portion Fix. This way you can see if it works for your plan for Beachbody programs like 21 Day Fix, LIIFT4, 80 Day Obsession, and 10 Rounds.
Full recipe: 4 green, 2/3 red, 3 yellow, 2 blue, 4 orange, 12 tsps.
Per serving: 1 green, trace red, 3/4 yellow, 1/2 blue, 1 orange, 3 tsps.
Tip: If you want more red, add some chicken to this recipe.
Creamy Yogurt Dressing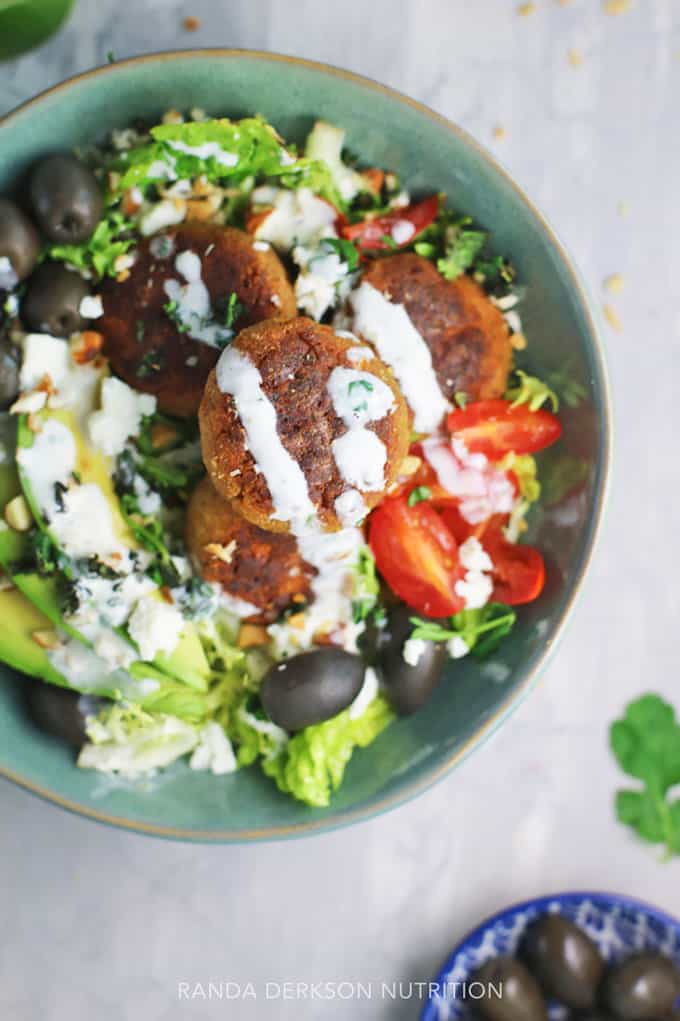 I served the salad with a creamy dressing made with Greek yogurt, tahini, and a little lemon juice.
The creaming greek yogurt based dressing so damn good. It's tangy, zesty, and it really brings the whole salad bowl to life.
For a little extra zing, add some chopped parsley. This gives it some extra color and a little boost of extra flavor (this is totally optional so feel free to skip it).

How to make Vegetarian Mediterranean Salad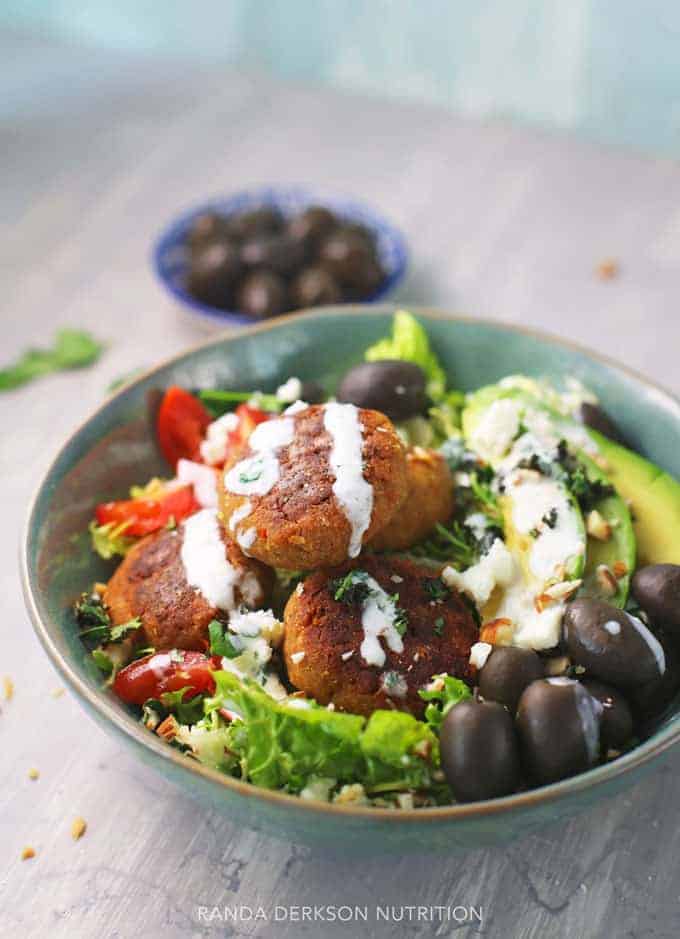 Healthy salad recipes you're sure to love
Prefer meat protein? Add your favorite in place of the falafel: chicken, lamb, or pork would be delicious!
If you like this recipe, don't forget to pin it and share it with your friends!
Mediterranean salad with Falafel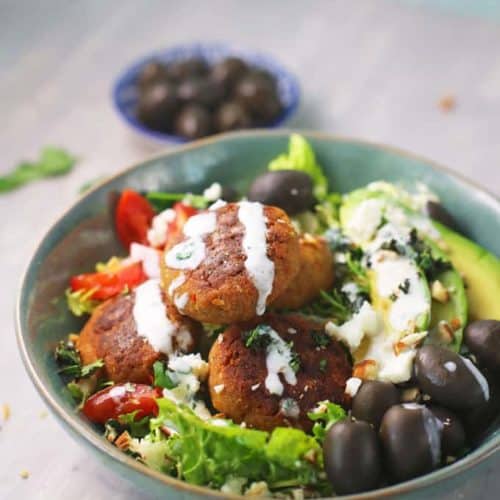 Stuck in a salad rut? Try this Mediterranean salad with baked falafel. Switch it up with this plant-based protein and healthy vegetarian recipe.
Ingredients
Salad
4

Cups

mixed greens

½

Cup

cherry tomatoes

quartered

½

Cup

kalamata olives

¼

Cup

feta cheese

crumbled

1

Avocado

sliced

Fresh parsley and cilantro

for garnish
Instructions
Falafel:
Add all the ingredients except the flour to a food processor and pulse until blended but not yet pure.

Add the flour and pulse until a dough is formed. Refrigerate for 1 hour.

Preheat the oven to 350 degrees. Line a baking sheet with parchment paper.

With the help of a spoon form small balls, around the size of a golf ball. Place in the baking sheet.

Brush the tops with olive oil and bake for 25 minutes or until golden. Remove from oven.
Salad:
Prepare the creamy dressing. In a small bowl whisk together the Greek yogurt with tahini, add lemon juice and mix until well incorporated.

Assembly the salad. Start with a bed of greens, arrange the cherry tomatoes, kalamata olives, and avocado. Crumble feta cheese and top with baked falafel. Decorate with fresh parsley and cilantro.

Drizzle with the mediterranean creamy dressing and serve.
Notes
Additional ingredients you can add:
quinoa
cucumber
chicken, lamb, or pork if you don't want it to be vegetarian Container Counts

Full recipe: 4 green, 2/3 red, 3 yellow, 2 blue, 4 orange, 12 tsps.

Per serving: 1 green, trace red, 3/4 yellow, 1/2 blue, 1 orange, 3 tsps.

Tip: If you want more red, add some chicken to this recipe.
Nutrition
Serving:
1
serving
Calories:
343
kcal
Carbohydrates:
34
g
Protein:
13
g
Fat:
19
g
Saturated Fat:
4
g
Cholesterol:
10
mg
Sodium:
403
mg
Potassium:
658
mg
Fiber:
9
g
Sugar:
6
g
Vitamin A:
965
IU
Vitamin C:
30.6
mg
Calcium:
149
mg
Iron:
3.5
mg