If you're visiting Disneyland or California Adventure for a day, you might be wondering what type of food to eat. The choices are plentiful, but the healthy options can be hard to find, especially if your goal is to stay on track with your diet. This blog post will give you some great tips and tricks for finding the right food that will keep you satisfied while still maintaining your health goals!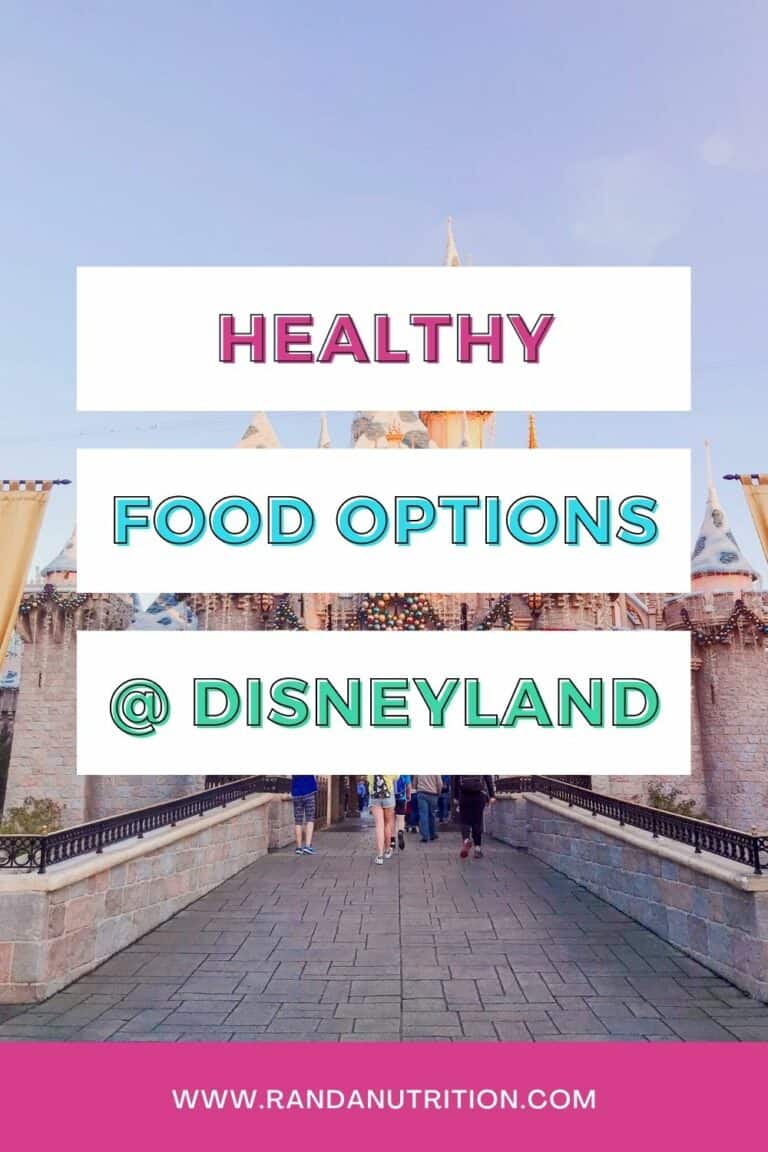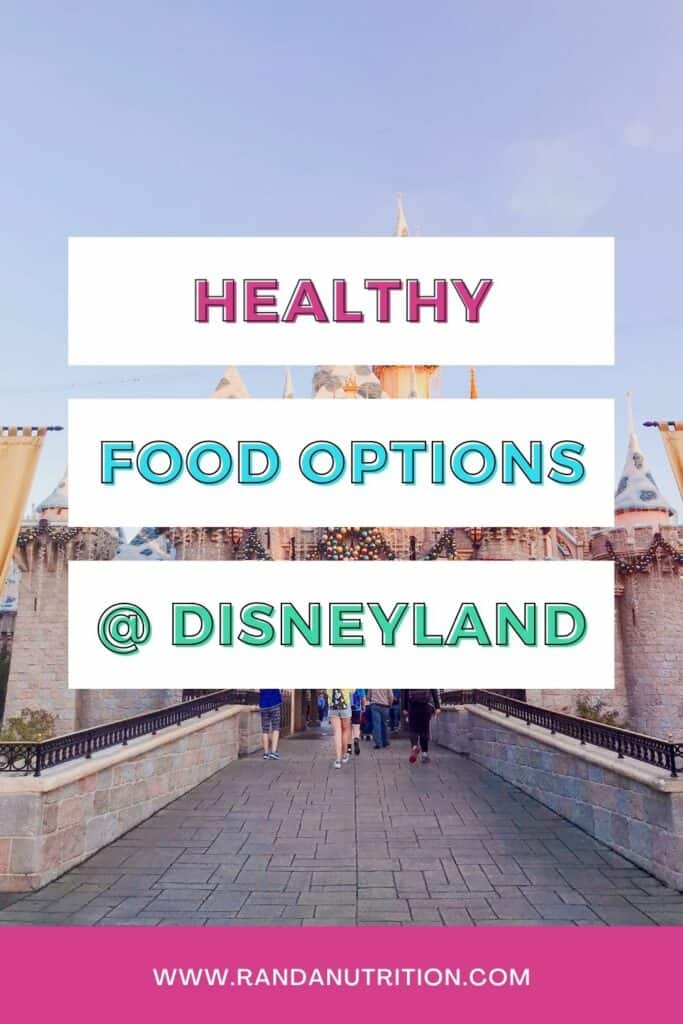 Although there are many different ways to define healthy eating, we're focusing on nutrient dense options. Lots of veggies, lean proteins (an occasional steak dinner as long as it's paired with sides are not super heavy). Yes even, pasta is healthy as long as it's in portion size.
Remember, we don't cut out food groups, but incorporate more vegetables and healthy cooking options like baked or grilled dishes and raw veggie options.
Healthy Options at Disneyland Park
At Disneyland Park, you'll find a wide variety of healthy options in every restaurant. For instance, at the Carnation Cafe, there's grilled salmon and vegetarian protein bowls. At Café Orleans, try the pan-seared chicken salad with roasted veggies. Or the vegan stir fry featuring tofu marinated in an orange ginger soy sauce.
For those on Disney dining plans (which includes two quick-service credits), it can be more difficult to have balanced meals as one credit is worth either a counter item like chili or hot dog or a sandwich/wrap that isn't always filled with vegetables. Look for items labeled "allergy-friendly" which will include fresh fruit and vegetable sides but also has some carbs from gluten-free breads if needed!
Some of the best dishes that are healthy include: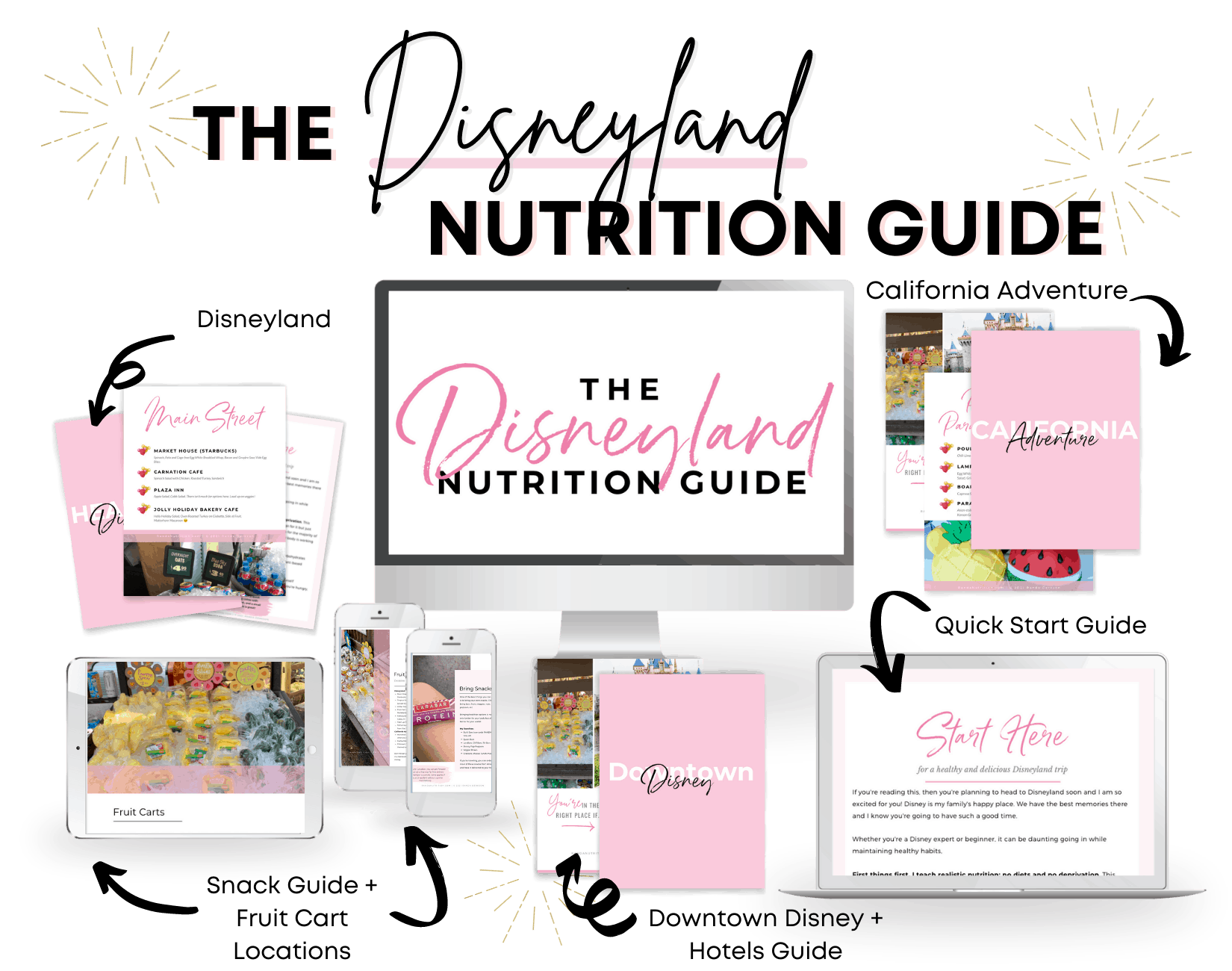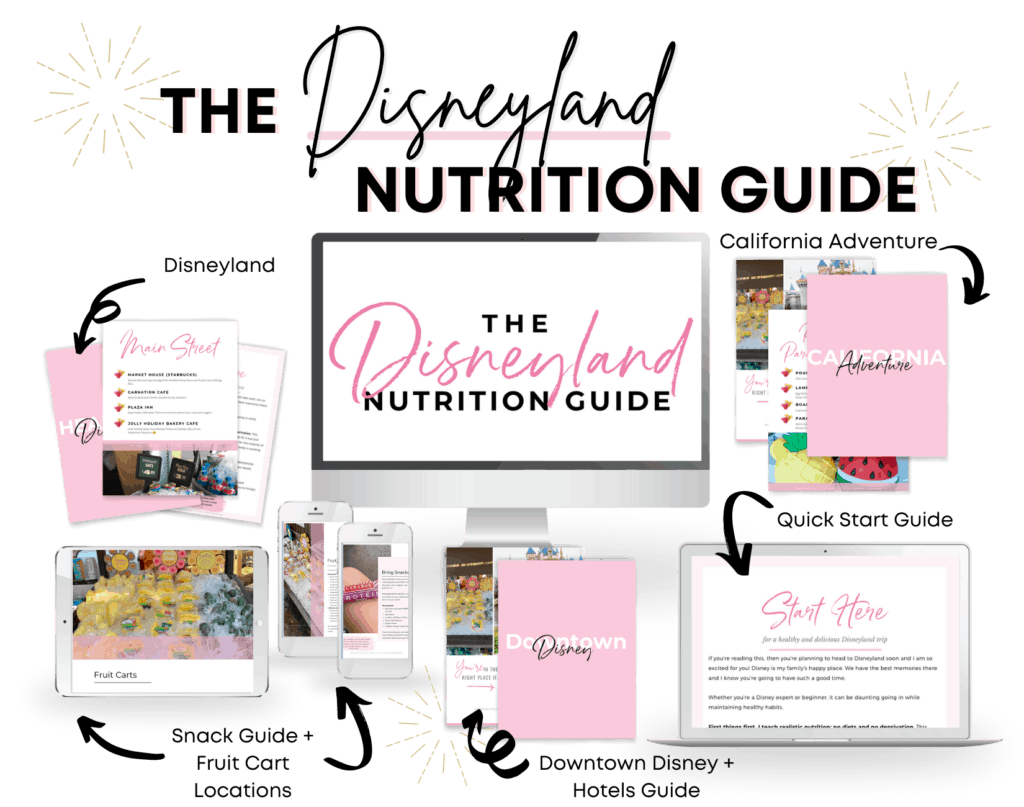 These are just a few examples there are more than listed below, if you want a full list of healthy options at every restaurant at Disneyland, DCA, Downtown Disney, and the hotels check out the Disneyland Nutrition Guide.
Shawarma Place (Avengers Campus)
Impossible Victory Falafel- Plant-based-falafel and cauliflower wrap, garlic spread, hummus and coconut yogurt-tahini sauce with pickled vegetables
Carnation Café (Main Street USA)
Chef's vegan burger- house-made bean and vegetable patty, tomato, lettuce, pickled red onions, and vegan chipotle-mayonnaise on a wheat roll
Spinach salad with grilled chicken
Romaine salad with shrimp
Carthay Circle (Buena Vista Street)
Grilled Petite Filet- with Calabrian Harissa Green Garbanzo Hummus, spicy Red Bell Pepper Vinaigrette
Flo's V-8 Café (Carsland)
Fin-tastic Tuna Sandwich- Albacore tuna salad, lettuce and tomato on toasted wheat bread with fresh fruit
Rancho del Zocalo (Frontierland)
Cauliflower tacos with cabbage slaw
Baked fish tacos
Tiki Juice Bar (Adventureland)
Bengal Barbecue (Adventureland)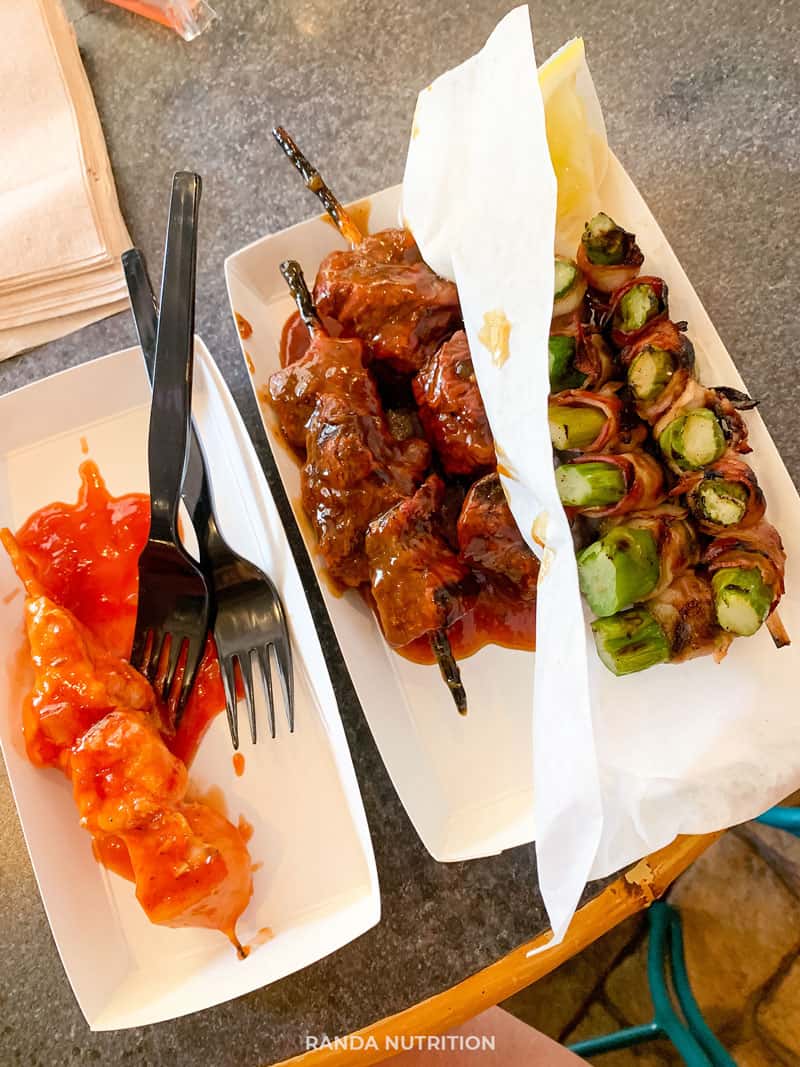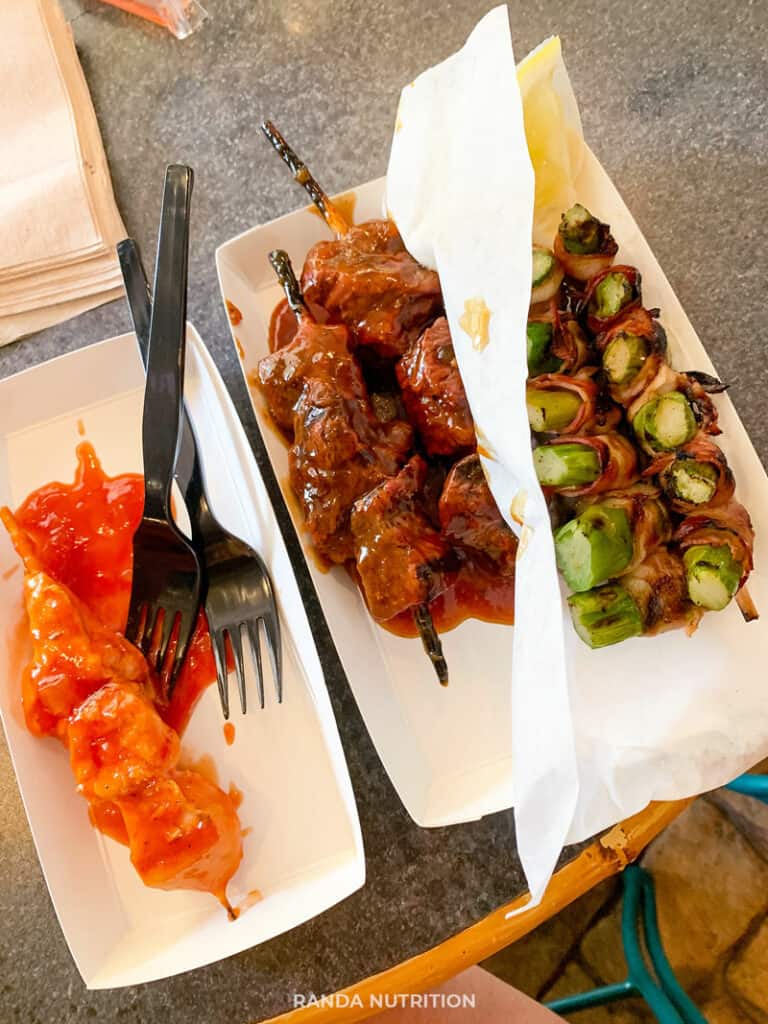 House-made seasonal hummus served with fresh vegetables
Poke bowl- sushi-grade ahi tuna with edamame-cucumber slaw, sesame-seaweed salad, pickled ginger, fresh avocado, garnished with crispy fried wonton strips & green onions served with spicy mayo & ginger-lemongrass soy dressing
Outback vegetable skewer, chicken or beef skewer without sauce
Ronto Roasters (Star Wars Galaxy Edge)
Ronto-less Garden Wrap: plant-based sausage, spicy kimchi slaw, sweet pickled cucumber, and Gochujang spread all wrapped in pita
Lamplight Lounge (Pixar Pier)
Ratatouille- Roasted eggplant and bell pepper ragout with zucchini noodles, warm Burrata cheese, smoked tomato sauce, and basil aioli.
Grilled Chicken Salad- Grilled romaine, marinated tomato and cucumbers, feta, piquillo pepper hummus, olive tapenade, and green dressing.
Galactic Grill (Tomorrowland)
Veggie Wrap– sun-dried tomato spread, black beans, mixed greens, cucumber, corn tomato relish, and feta cheese with pesto aioli served with greek yogurt and fries
So here are a few healthy options you'll love while you're at Disneyland Park, especially if you're looking for something more than the typical salad.
Don't forget to pin this post so you can find it easily later and share it with your Disney health-conscience friends to help make their vacation planning a success!