You're going to love these homemade protein peanut butter cups! The ingredients are simple, which makes it an easy no-bake dessert that's ready in no time to help curb those chocolate and peanut butter cravings.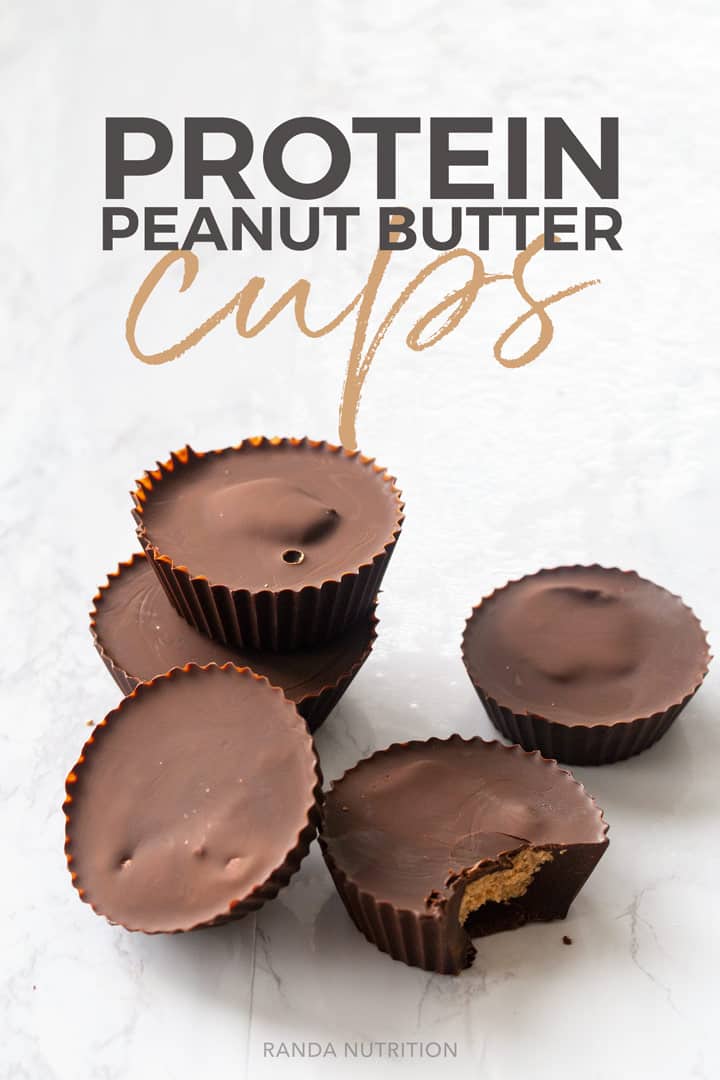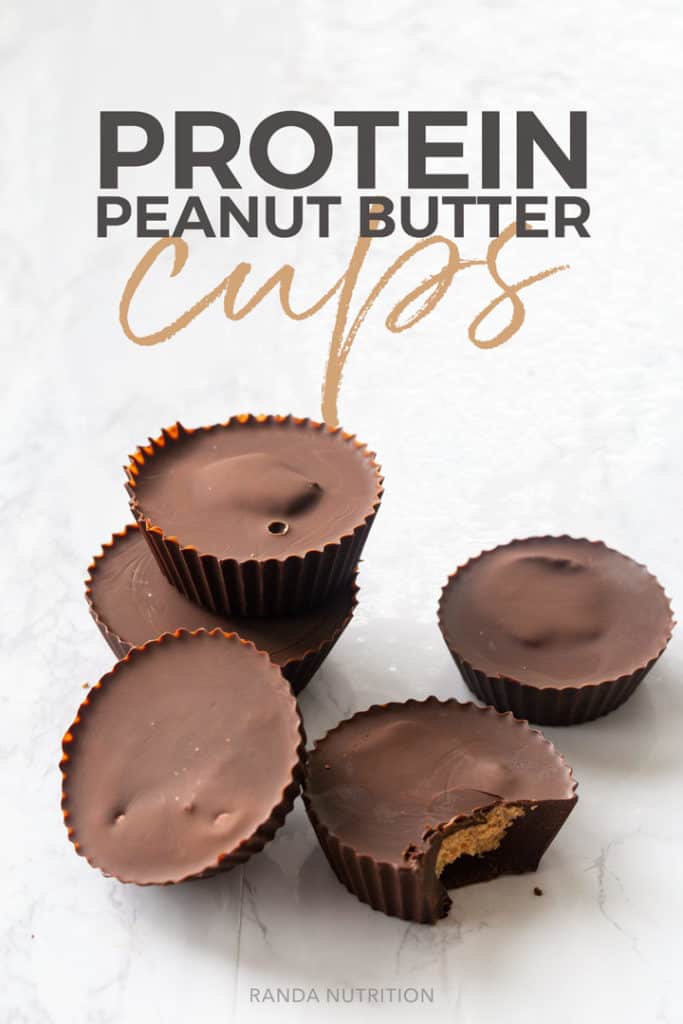 Disclosure: This post contains affiliate links for your convenience. As an Amazon Associate, I earn from qualifying purchases.
Why You'll Love This Recipe
This recipe for peanut butter cups is so stinkin' easy, you are going to love me for it.
You can make the cups in a full-sized muffin tin or a mini muffin tin for smaller portion sizes (which is what I prefer because this recipe is rich).
If you're as much of a peanut butter and chocolate love as I am, these will be right up your alley.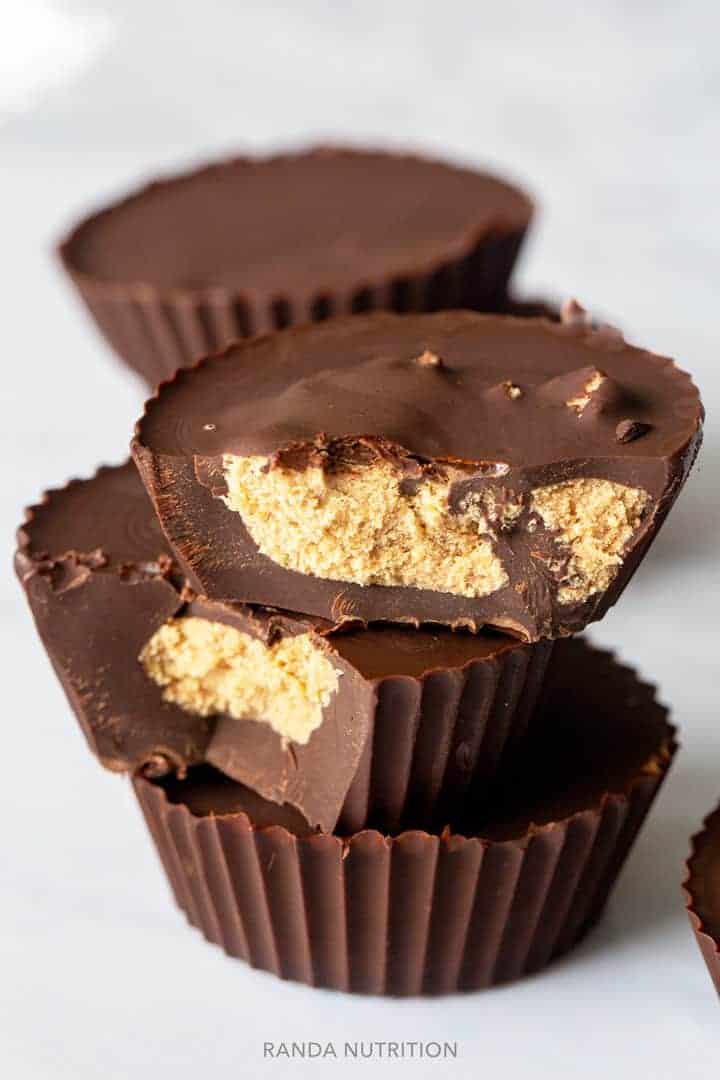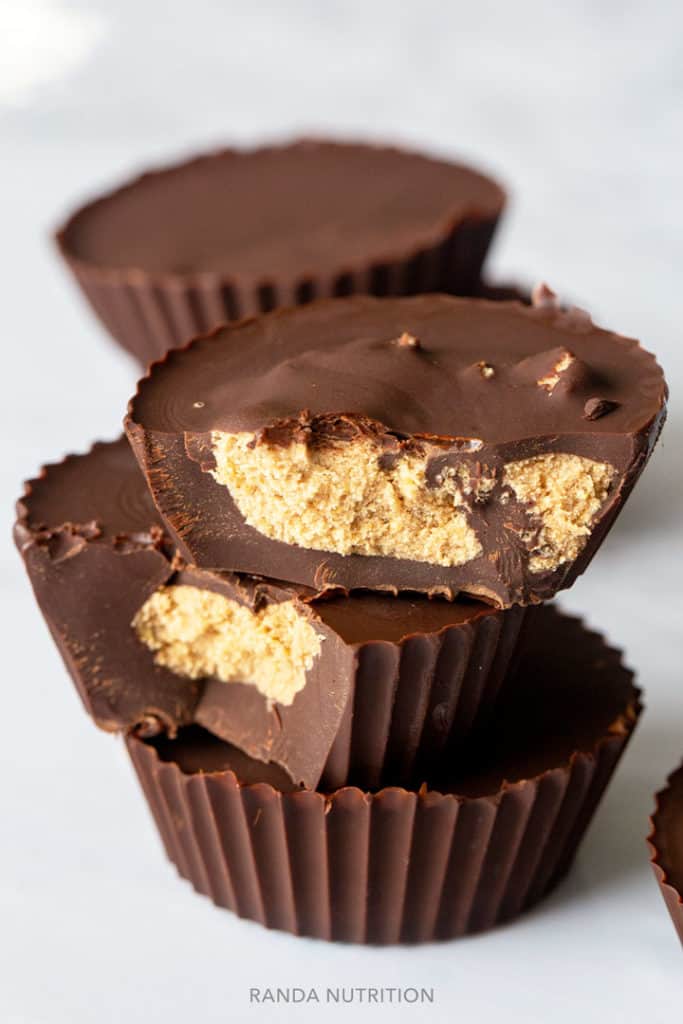 What kind of chocolate to use?
I used 8 oz of dark chocolate. In all honesty, I mixed together what I had in my cupboard which was 70% Lindt chocolate and Dark Bakers Chocolate (in the gold package).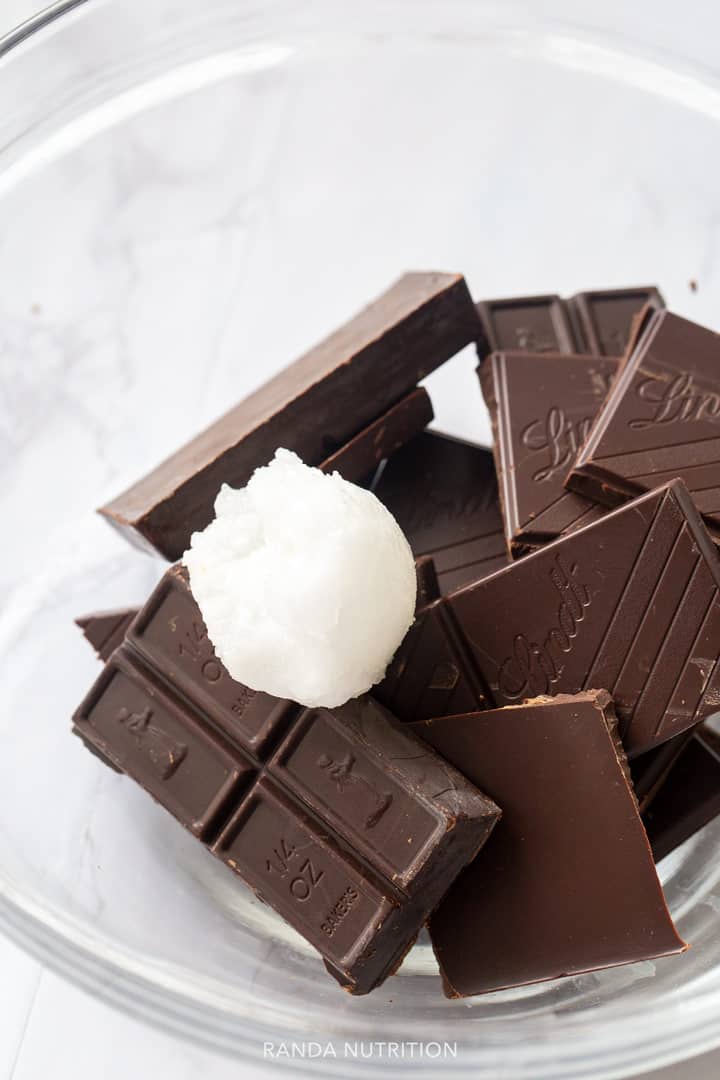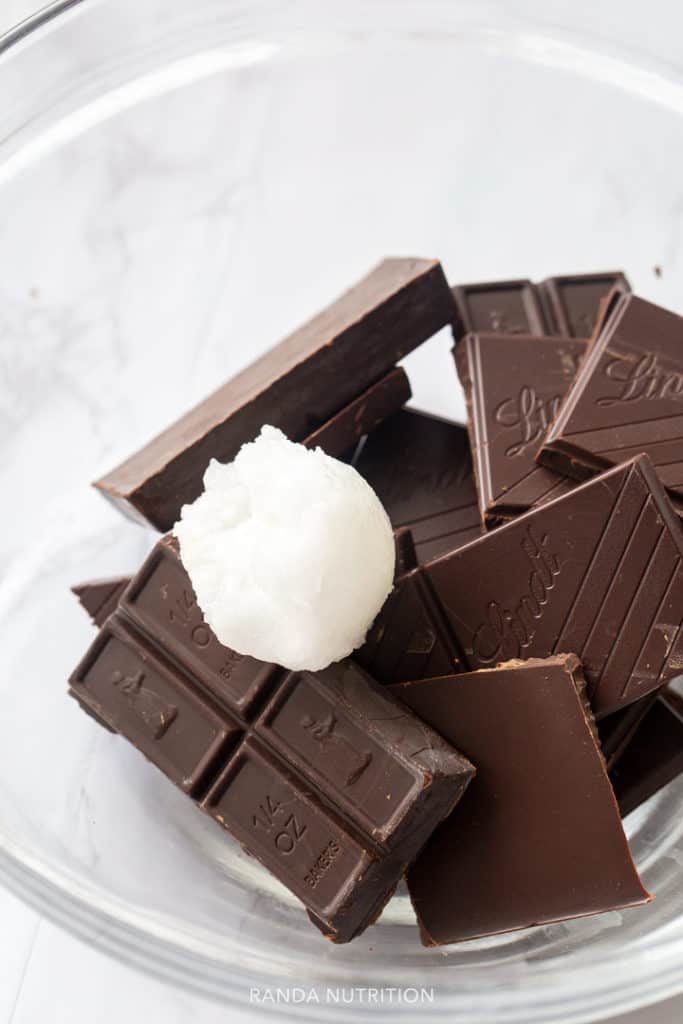 What kind of protein powder to use?
Whey protein blends better with the peanut butter and is less gritty then plant based pea protein powder.
The flavors I prefer for the protein powder peanut butter cups are either:
vanilla protein powder
peanut butter protein powder.
If you have an unflavored protein powder, that's also a good option.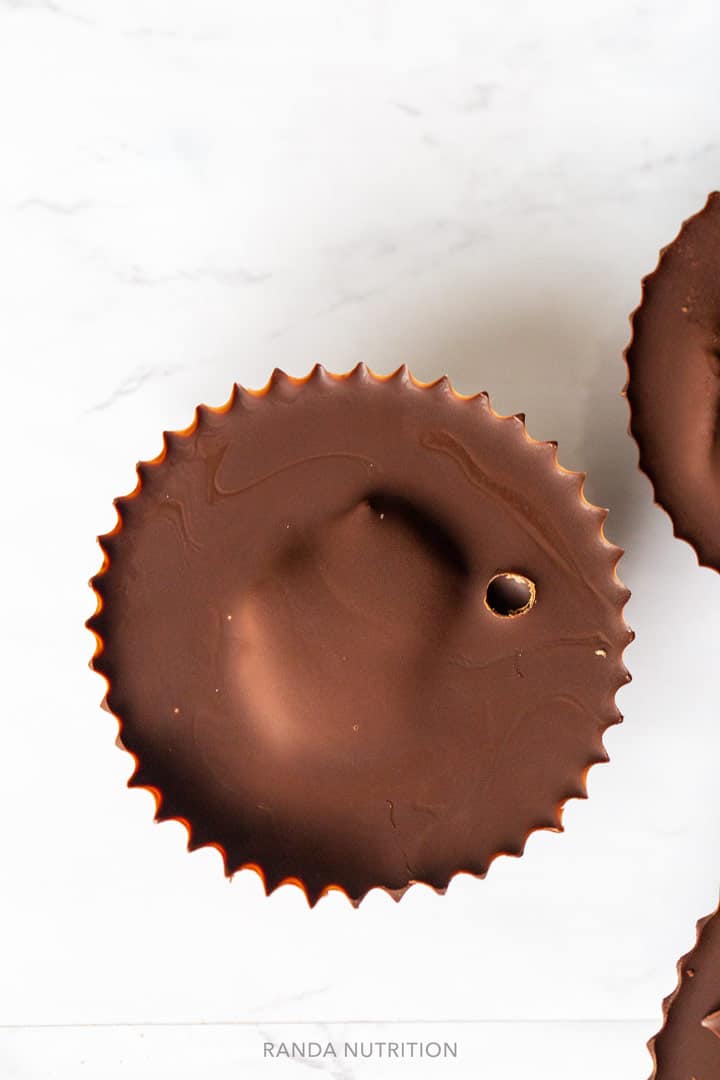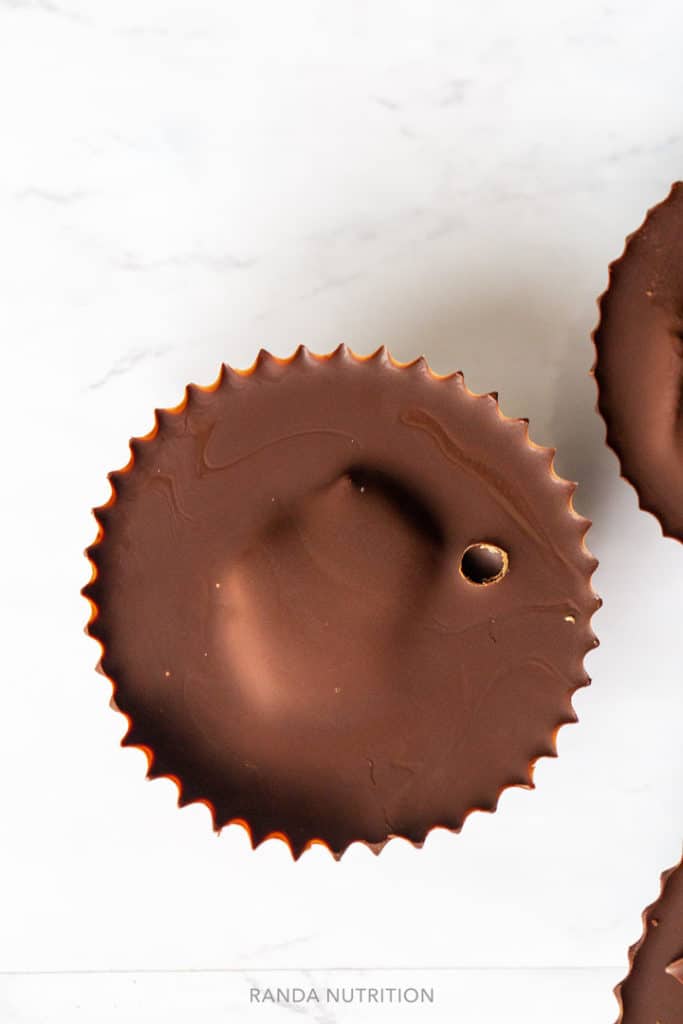 Ingredients
The ingredients for the healthy peanut butter cups are simple. You can find them at your local grocery store or Amazon.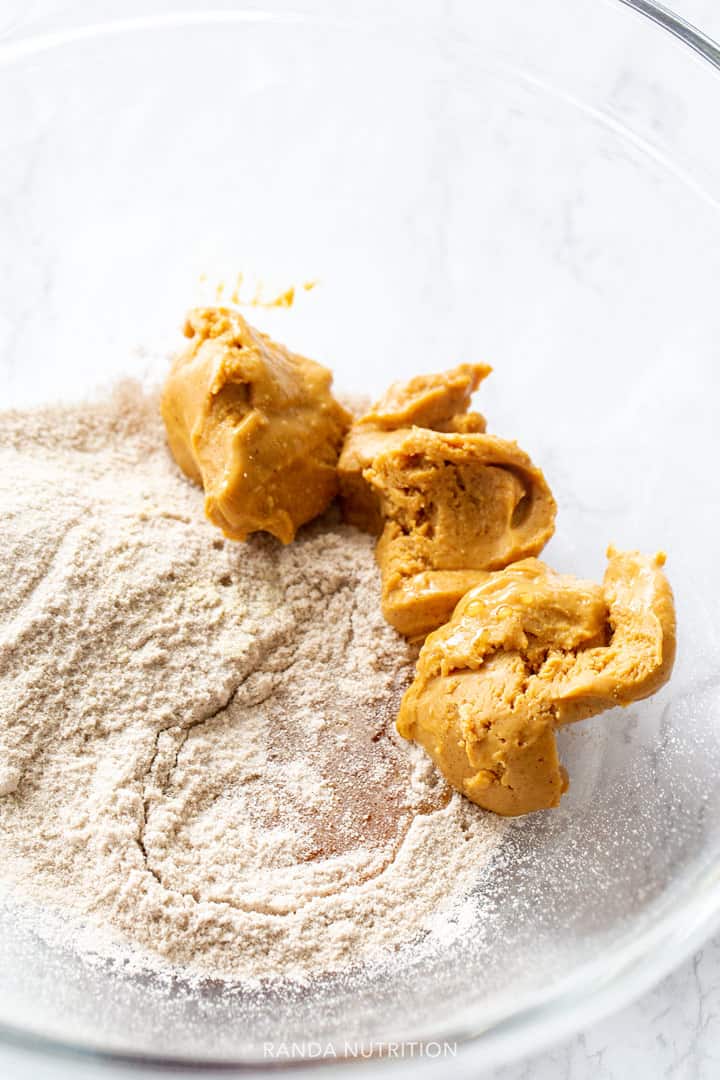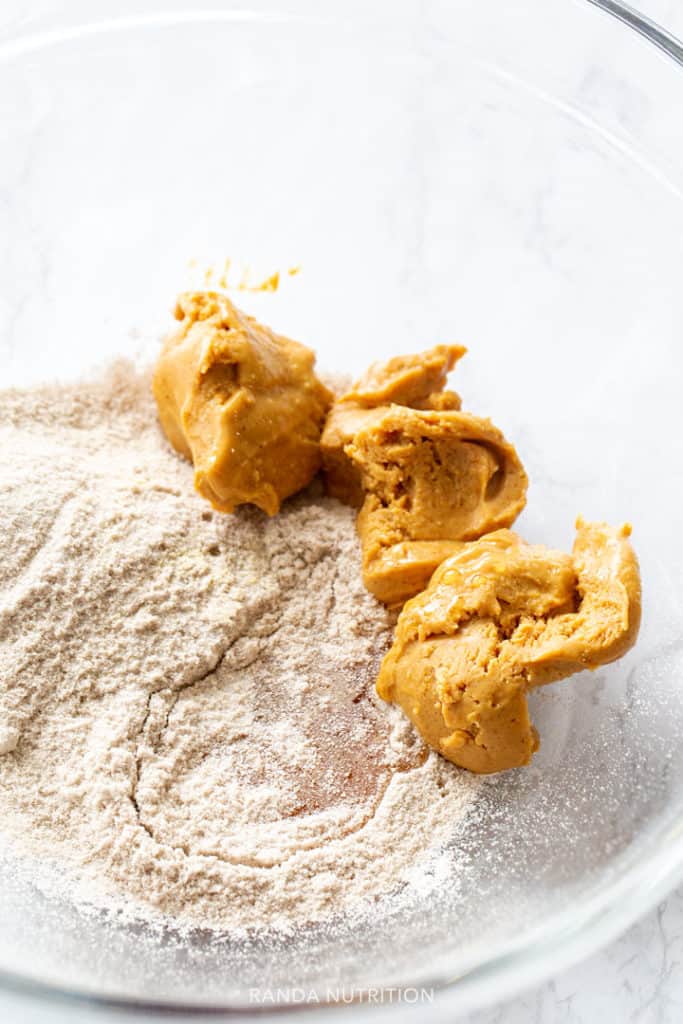 How Do You Make Protein Peanut Butter Cups From Scratch?
The steps to this recipe are simple:
Melt the chocolate
Make the peanut butter dough
Put it together.
A quick note on the peanut butter filling is you want it to look like a dough. If it's looking a little too dry, add a little bit more maple syrup (like a teaspoon, you don't want to add too much).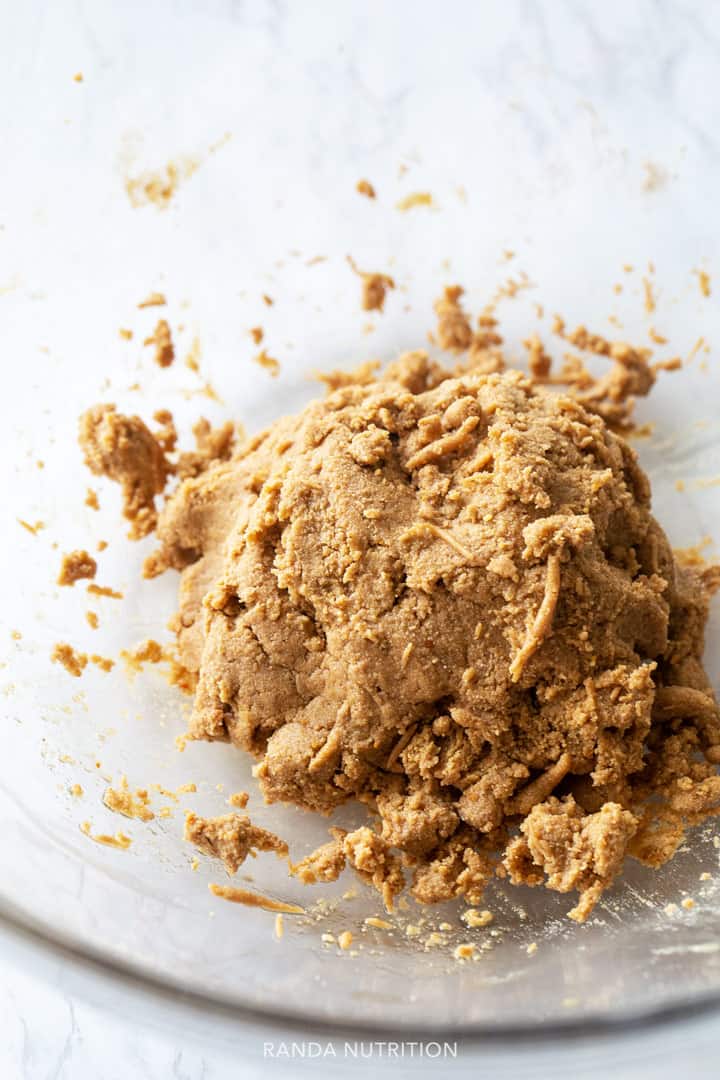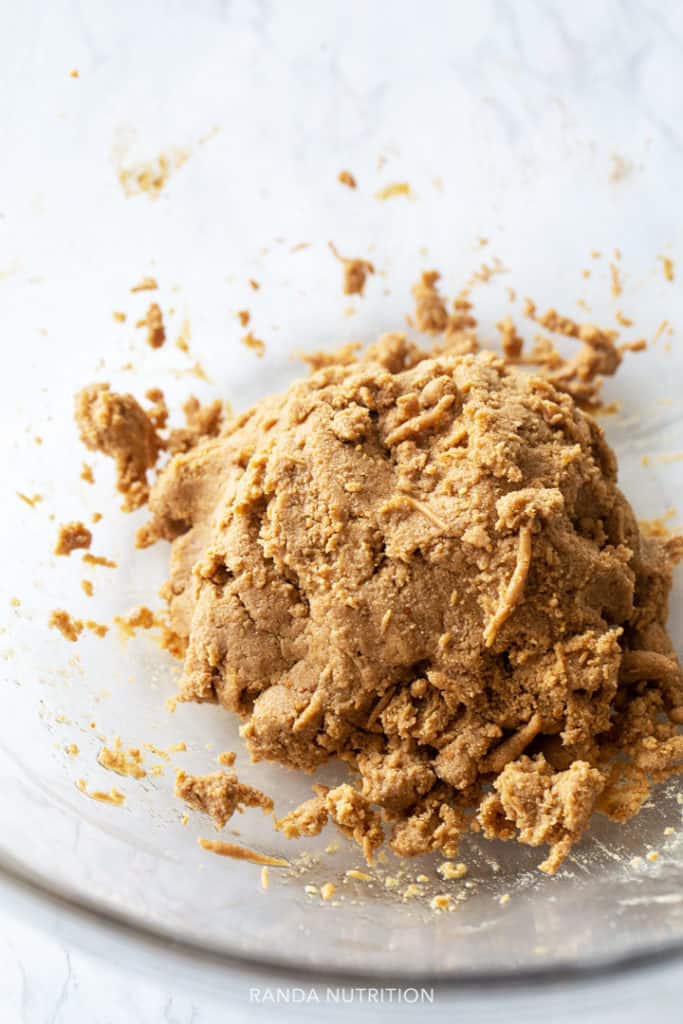 Make it Vegan
To make these healthy homemade peanut butter cups vegan, you'll want to swap out the whey protein powder for a plant based option.
I'm not typically a huge fan of Vega protein powder, but I did try the brand in this recipe and it worked great.
It's easy to find vegan dark chocolate, Enjoy Life Foods is my favorite vegan and dairy-free dark chocolate.
As for the peanut butter, it should be made with one ingredient: peanuts (and maybe salt), so you'll be good there.
The recipe itself is gluten free, dairy free, and just a whole lot of yum.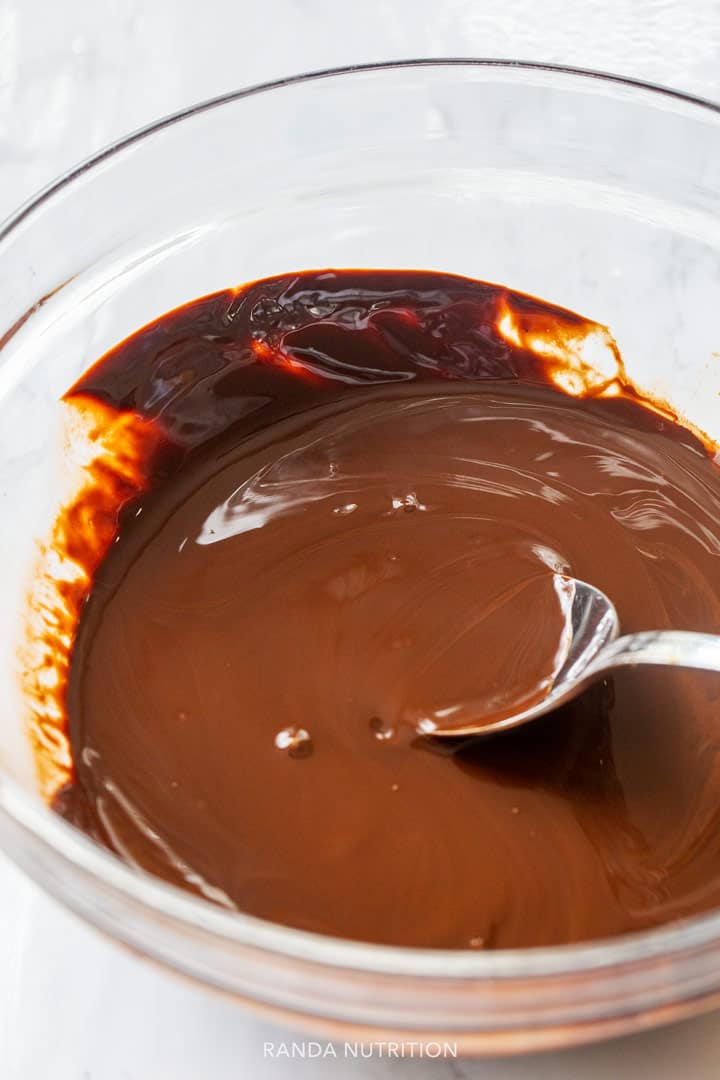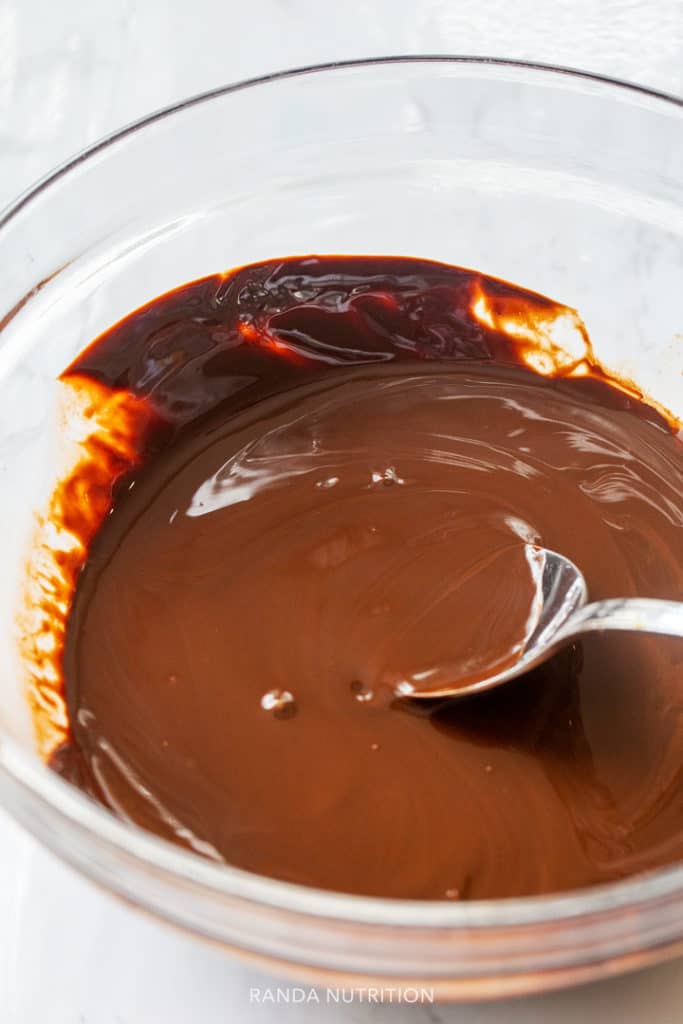 Supplies Needed
You don't need much for this recipe:
If you would like them to have the crisp imprints on the sides like Reeses has, use these silicone liners. You will love the liners because they save on clean up and they're easy to pop out of the pan.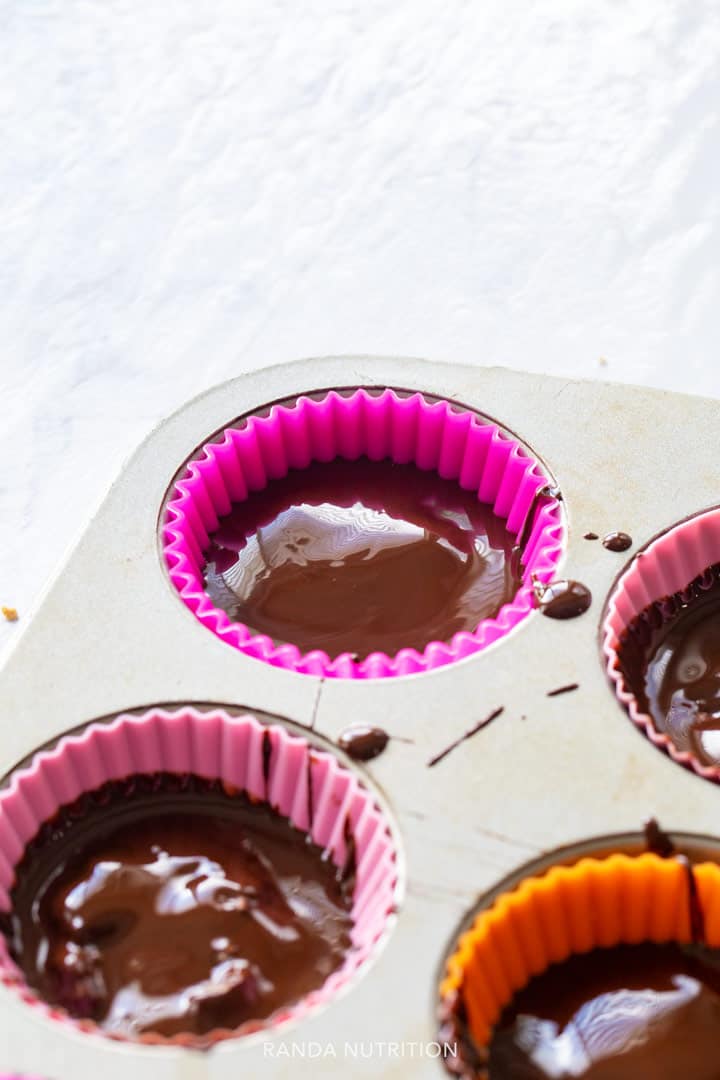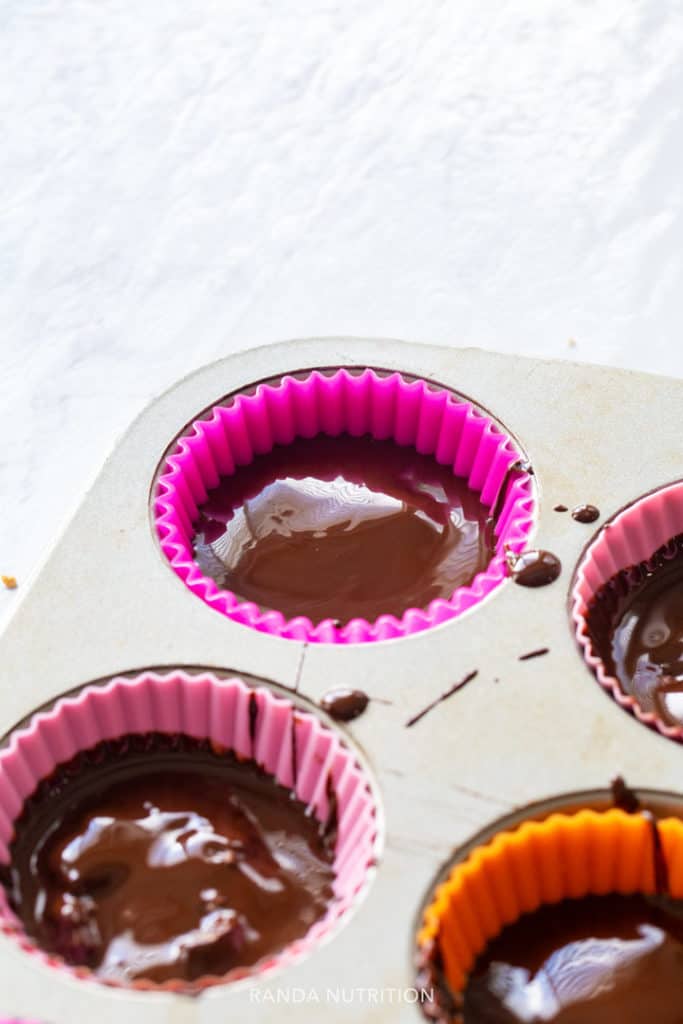 How do I store them?
You can set the no bake peanut butter cups in the freezer and keep them in the fridge so they don't melt.
Then, after the recipe is hardened, you can pop them out of the muffin tins and store them in a resealable bag in the fridge or freezer.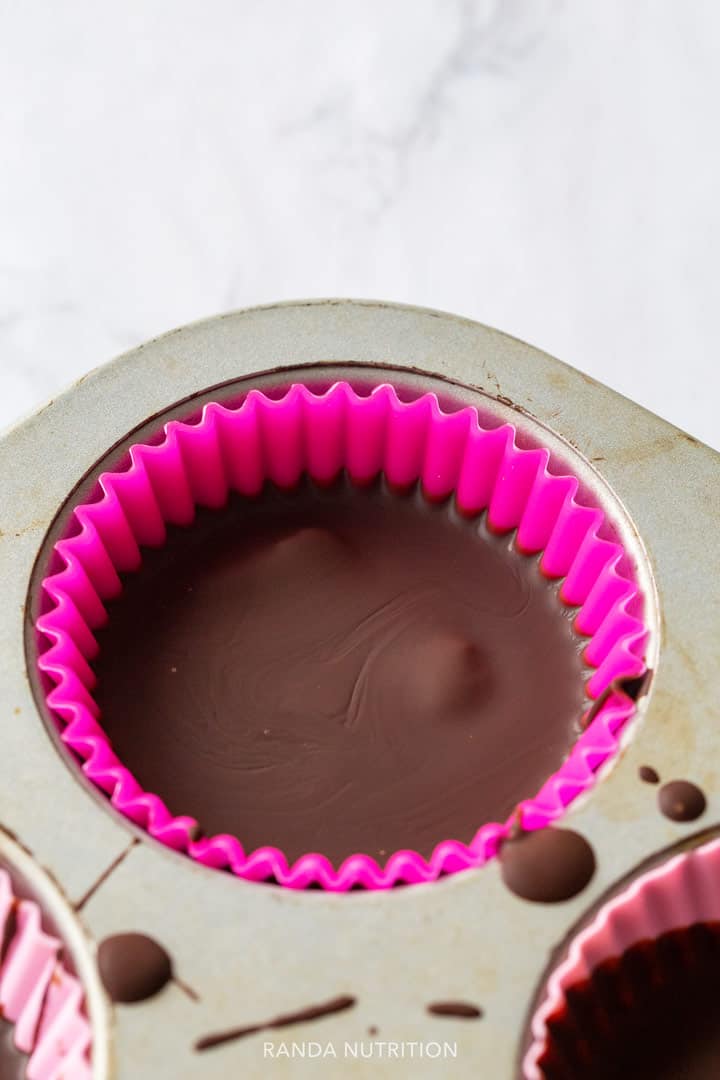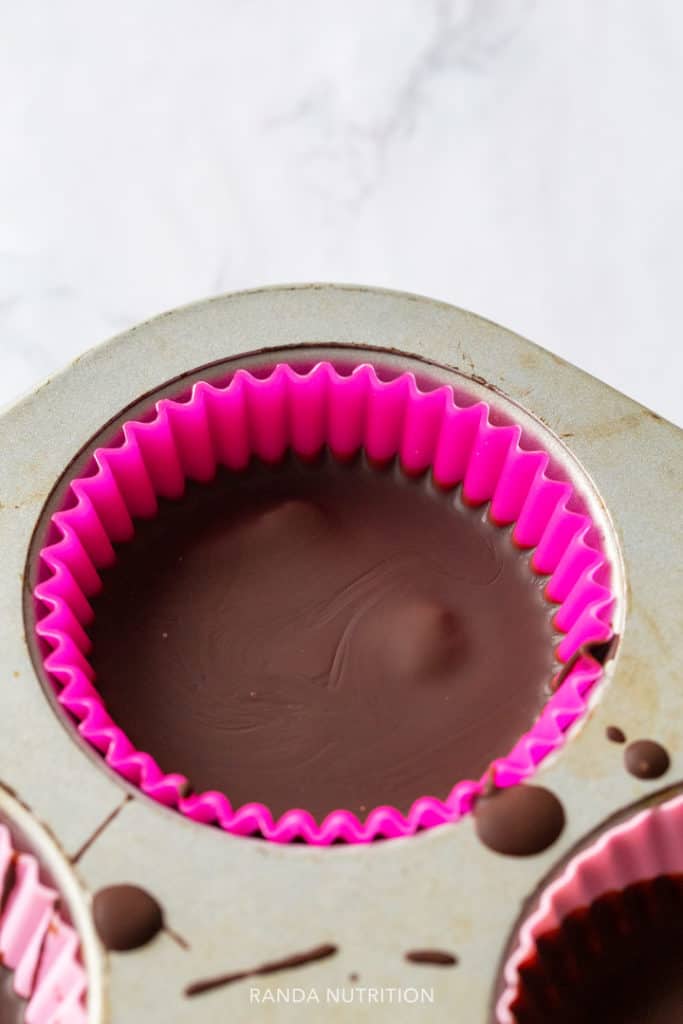 More Healthy Chocolate Recipes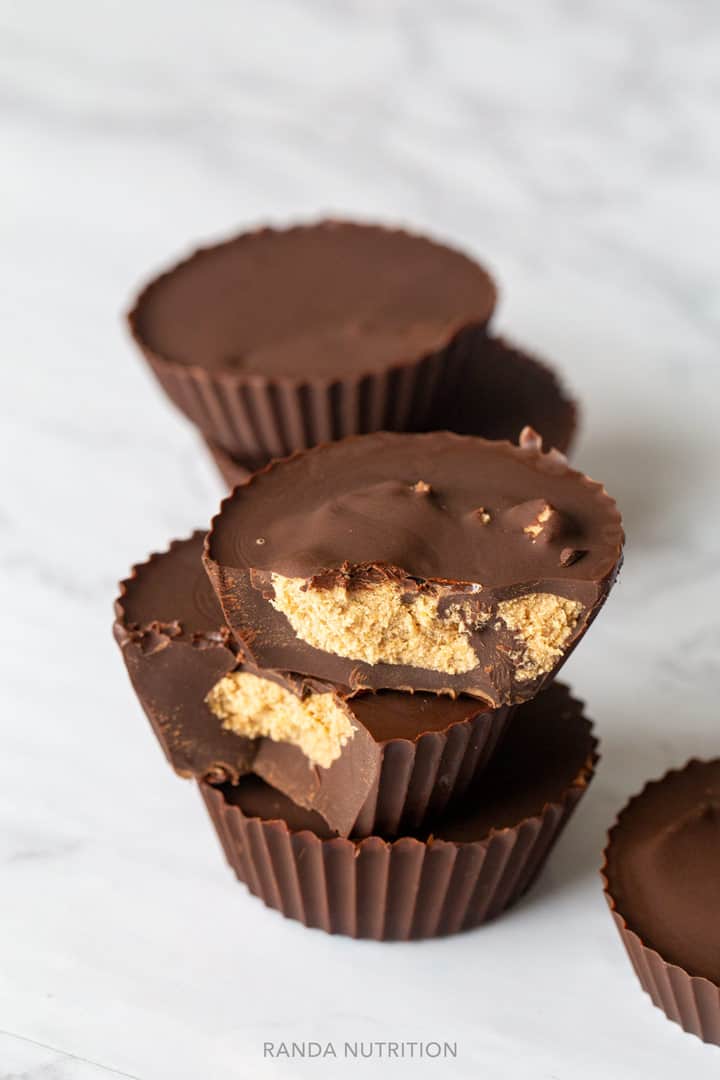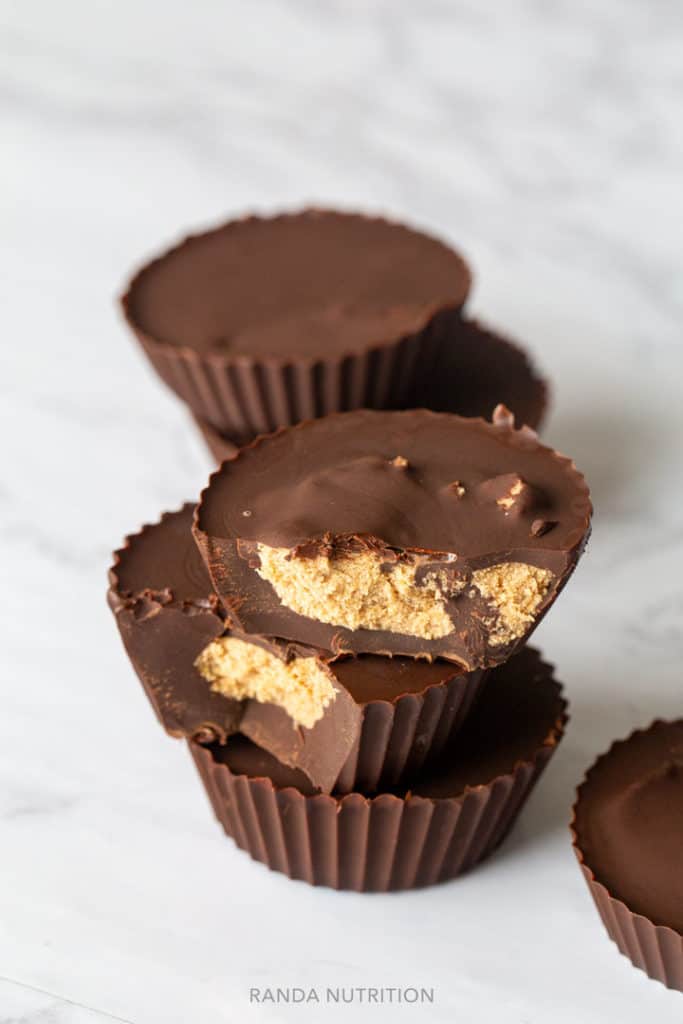 Tip: For a better portion size, you can make mini protein peanut butter cups by using a mini muffin pan. The nutritional information is in the notes of the recipe card.
Another option is to do two layers (dark chocolate then the peanut butter) and freeze. You don't have to top it with chocolate if you don't want. I like this option because it's not as rich if you're using a full muffin pan.
This dark chocolate peanut butter cups recipe is featured as an almond butter peanut butter cup in the Real Food Real Life Nutrition Guide.
Protein Peanut Butter Cups
You're going to love these homemade protein peanut butter cups. The ingredients are so simple, which makes it an easy no bake dessert that's ready in no time to help curb those chocolate and peanut butter cravings.
Instructions
In a medium sized bowl, microwave the dark chocolate and coconut oil for 30 seconds at a time until melted. Stir.

In a mini muffin tin, spoon the chocolate in just to cover the bottoms. Freeze for 5 minutes.

Add all of the filling ingredients into another bowl and mix until it's a playdough consistency.

Remove the muffin tin from the freezer. Roll the dough into little balls and place on the frozen chocolate. Pat down with your fingers to flatten a bit.

Pour the remaining chocolate over the filling. Freeze for 10 minutes.
Notes
For mini peanut butter cups.
Makes 16 bites, 113 calories per bite.
Nutrition
Serving:
1
cup
|
Calories:
241
kcal
|
Carbohydrates:
17
g
|
Protein:
6
g
|
Fat:
17
g
|
Saturated Fat:
9
g
|
Cholesterol:
8
mg
|
Sodium:
15
mg
|
Potassium:
267
mg
|
Fiber:
4
g
|
Sugar:
9
g
|
Vitamin A:
11
IU
|
Calcium:
62
mg
|
Iron:
4
mg
The nutrition information is calculated using a third party resource. The accuracy varies on the brands used, weight, portions, etc. This resource should be used as a guide. If you want more accurate information, weigh in grams and log in MFP.