I am so excited to bring you a real deal Single Serve Paleo Brownie!
Real deal meaning that it tastes just like a normal brownie and isn't one of those 1 minute mug brownie/cake hybrid things that go bonkers all over the internet. No, this brownie is cooked in the oven which yields that classic chewy outside crust with a gooey middle. You're welcome.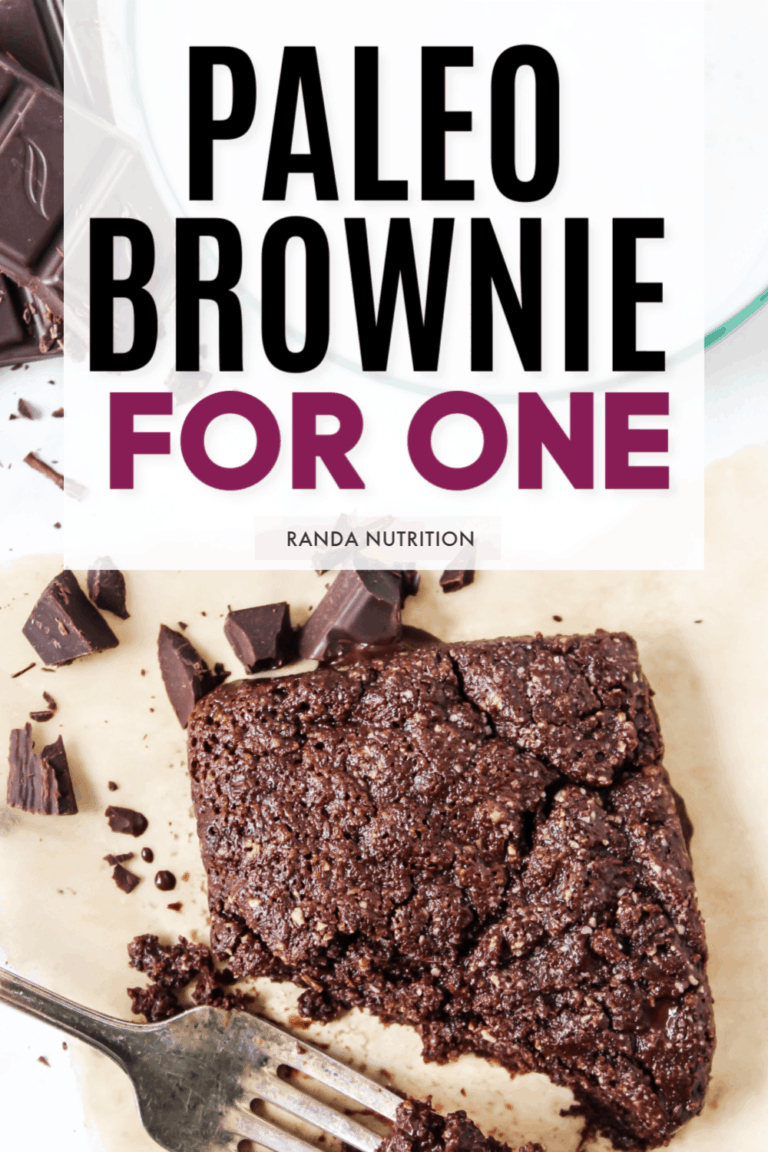 Single Serve Paleo Brownie
Disclosure: This post contains affiliate links for your convenience. As an Amazon Associate, I earn from qualifying purchases.
Just a few simple ingredients are all you need plus a few minutes of chilling time, a few minutes of cooking time, and a few minutes of cooling time. All in all, it takes me about thirty-five – forty minutes to make.
Don't forget, if you're looking to establish healthy habits (like adding more vegetables to your diet in fun and tasty ways) be sure to secure a spot in the 30 Days to a Healthy Habits Challenge.
How to keep brownies from falling apart
The chilling time sets the shape of the brownie so it won't all spread out during the baking, don't skip this step. The cooling time after it's baked let's the center harden up a bit so you can pick it up without it falling apart.
You want that first bite to be slightly warm and totally gooey in the middle, AKA perfection.
If you're anything like me this recipe will keep you from making a pan of brownies and eating the entire thing in one day.
Please tell me I'm not the only one who does this???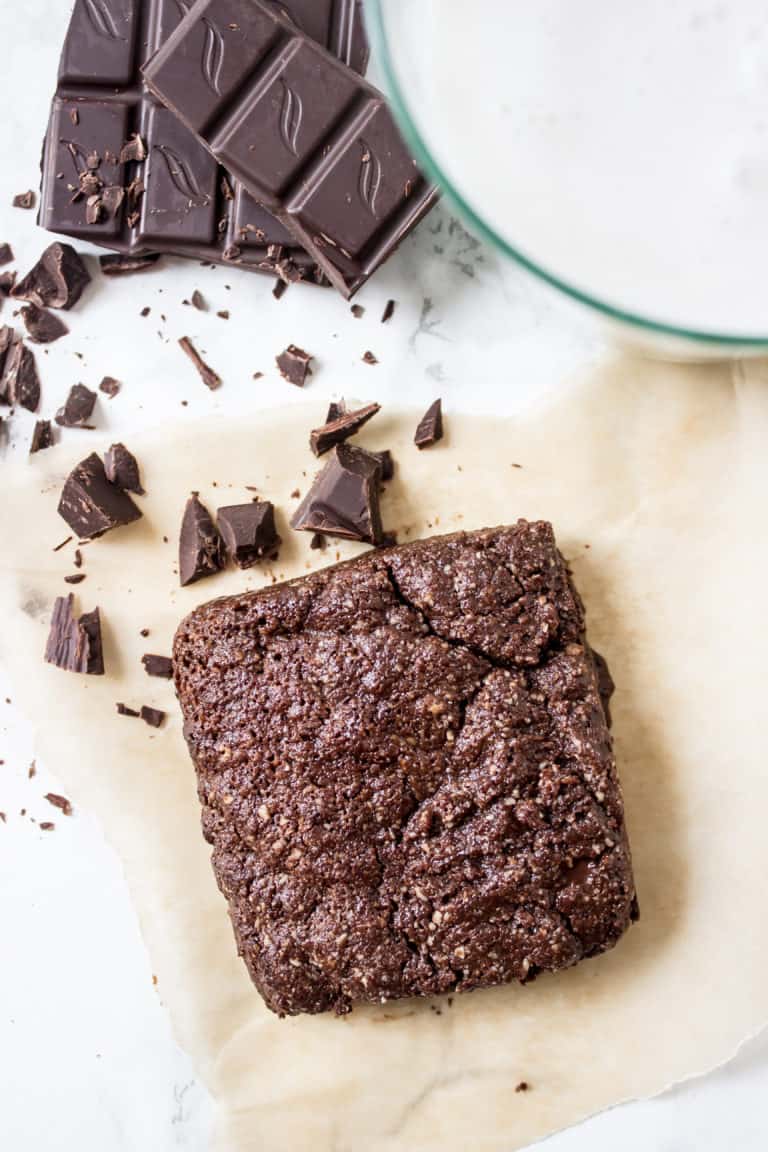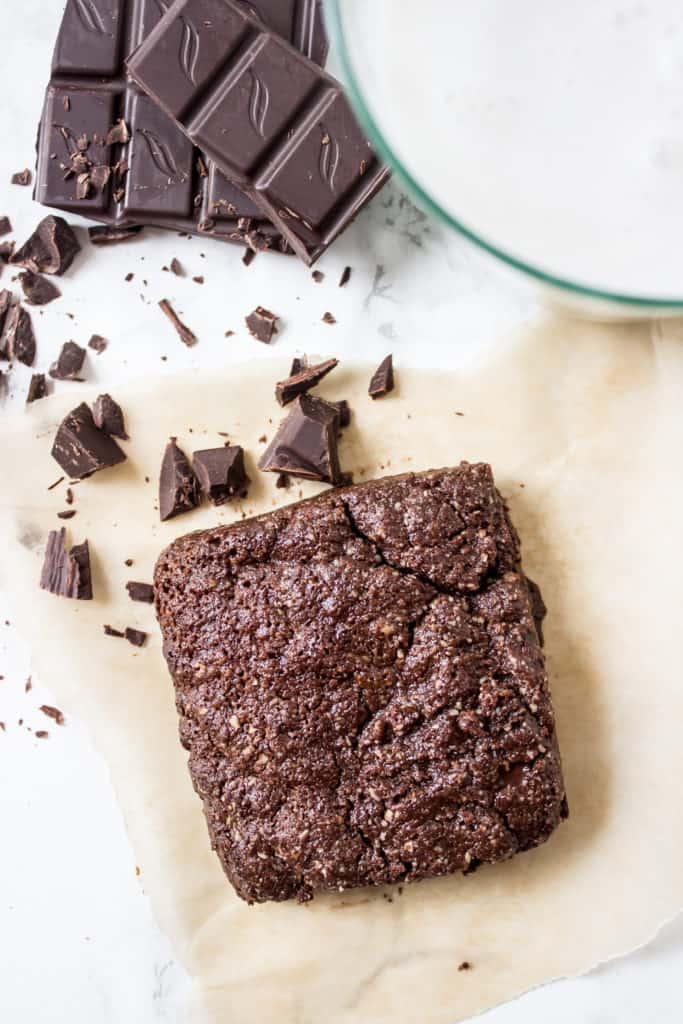 Now you can literally indulge in an entire pan (albeit a very small one) and not feel one ounce of guilt or regret. It's easy to incorporate into your meal plan for the day.
My Tip: Make a few and toss them in the freezer for moments where you need a healthy chocolate treat recipe fast!
Are Paleo Brownies Healthy?
Just like anything, too much of a good thing can be a bad thing.
However, that's why these single serving brownies are so amazing – it's already portioned controlled for you.
Brownies for one but made with wholesome and refined sugar-free ingredients? Yeah…sold.
The full caloric and macronutrient information is available at the bottom of the recipe card.
21 Day Fix Container Count
These brownies will count as a treat swap.
The serving equals to one yellow.
Easy peasy.
How to Make Brownies Vegan
If you're vegan, I have a simple switch for you.
Just swap the honey for pure maple syrup (like this one).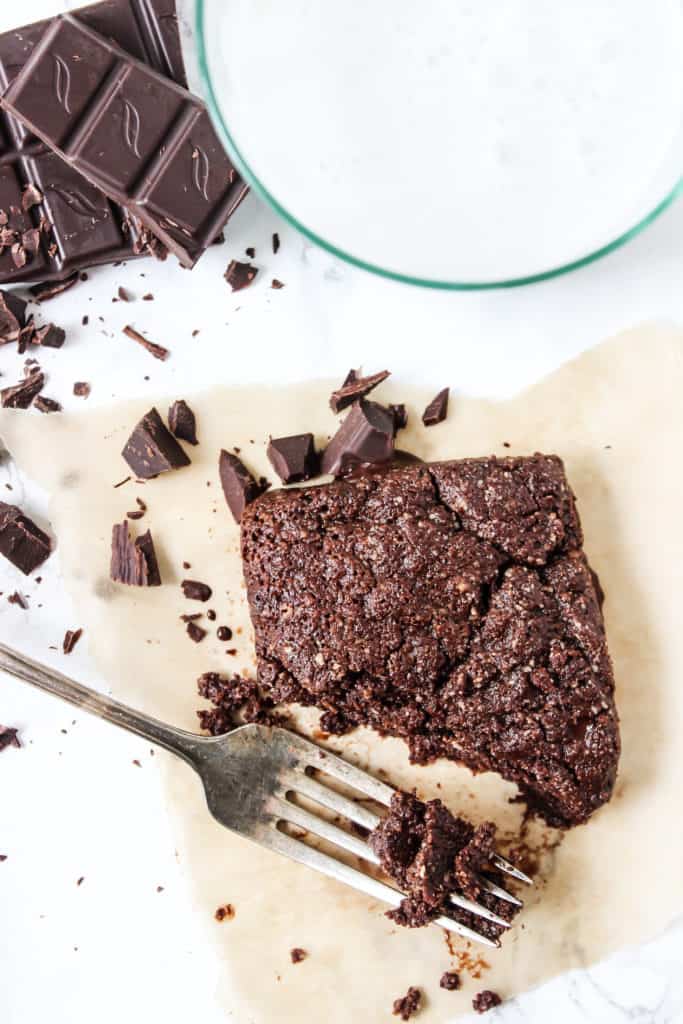 Supplies for Individual Brownies
How to Make a Small Batch Brownie for One
If you haven't read the tips above, do that there are some helpful hints and why, but if you're scrolling on through and just want to get to the point – I get it.
I have included the full instructions in the recipe card below. Enjoy this single serve paleo brownie, you're going to love it!
More healthy dessert recipes you'll love:
Single Serve Paleo Brownie
You're going to love this single serve paleo brownie! It has everything – classic chewy outside crust with a gooey middle yet made with whole food ingredients and refined sugar free sweeteners. Yum!
Instructions
Mix all ingredients in a small bowl and place into the corner of a small baking dish. Pack it into a square shaped brownie. You can also use a small ramekin if you don't care about it being round.

Freeze for 10-15 minutes.

Preheat oven to 350° F. Bake the brownie for about 15 minutes or until the edges are crispy but the middle is still slightly gooey. If you want a crackle top place it under the broiler for 1-2 minutes at the end. Remove from oven and let cool about 10 minutes so it will set
Notes
21 Day Fix Container Count
These brownies will count as a treat swap.
The serving equals to one yellow.
Easy peasy.
Nutrition
Serving:
1
brownie
|
Calories:
383
kcal
|
Carbohydrates:
39
g
|
Protein:
5
g
|
Fat:
26
g
|
Saturated Fat:
17
g
|
Cholesterol:
1
mg
|
Sodium:
18
mg
|
Potassium:
171
mg
|
Fiber:
4
g
|
Sugar:
23
g
|
Calcium:
75
mg
|
Iron:
1
mg
The nutrition information is calculated using a third party resource. The accuracy varies on the brands used, weight, portions, etc. This resource should be used as a guide. If you want more accurate information, weigh in grams and log in MFP.
If you like this single batch brownie recipe then please share it with your friends on Facebook and Pinterest.