Whether gluten or wheat is a new or long-time sensitivity to you, it can be tricky during the Christmas cookie season. That's why I am so excited to share these gluten free shortbread cookies with almond flour with you!
The best part? You only need five ingredients! Talk about a simple cookie recipe!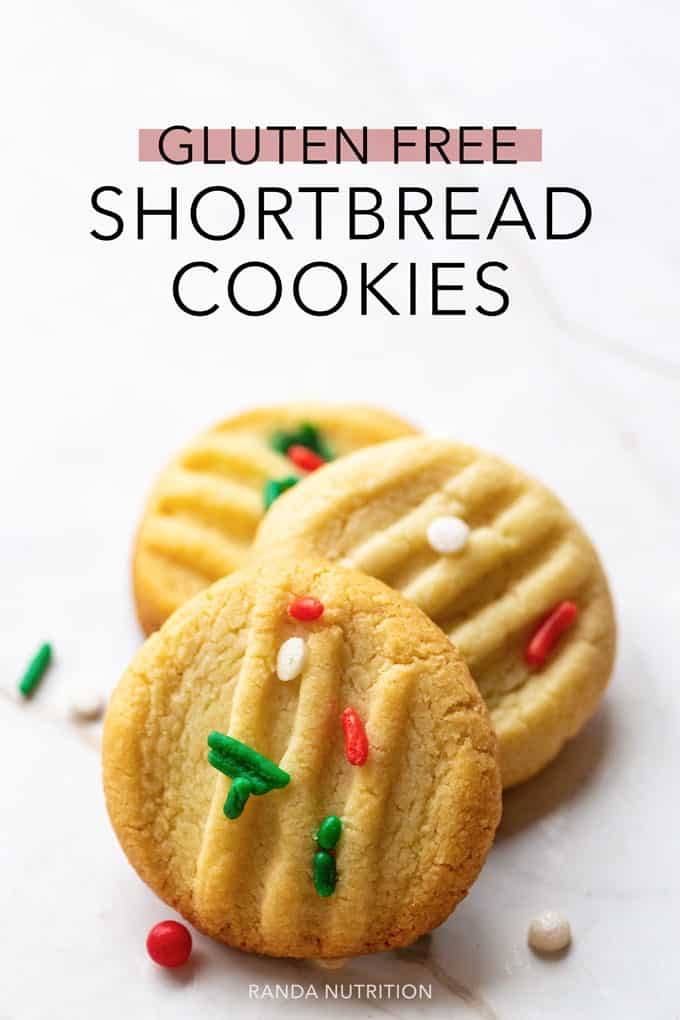 Gluten Free Shortbread Cookies
Disclosure: This post contains affiliate links for your convenience. As an Amazon Associate, I earn from qualifying purchases.
My favorite Christmas cookies are buttery shortbread. I make them every year.
I'm gluten intolerance and for many years I just suffered through my chronic hives because I loved Christmas baking too much to skip out of it entirely. I tried many gluten free shortbread recipes but they were lacking something.
Then I attempted to make my own.
I kept the recipe simple with the pantry staples I had one hand and went for it.
I wasn't trying to make the perfect recipe, I was just baking for enjoyment (something I don't do enough of) and voila…these low sugar shortbread cookies (which just happen to be made with almond flour) came about.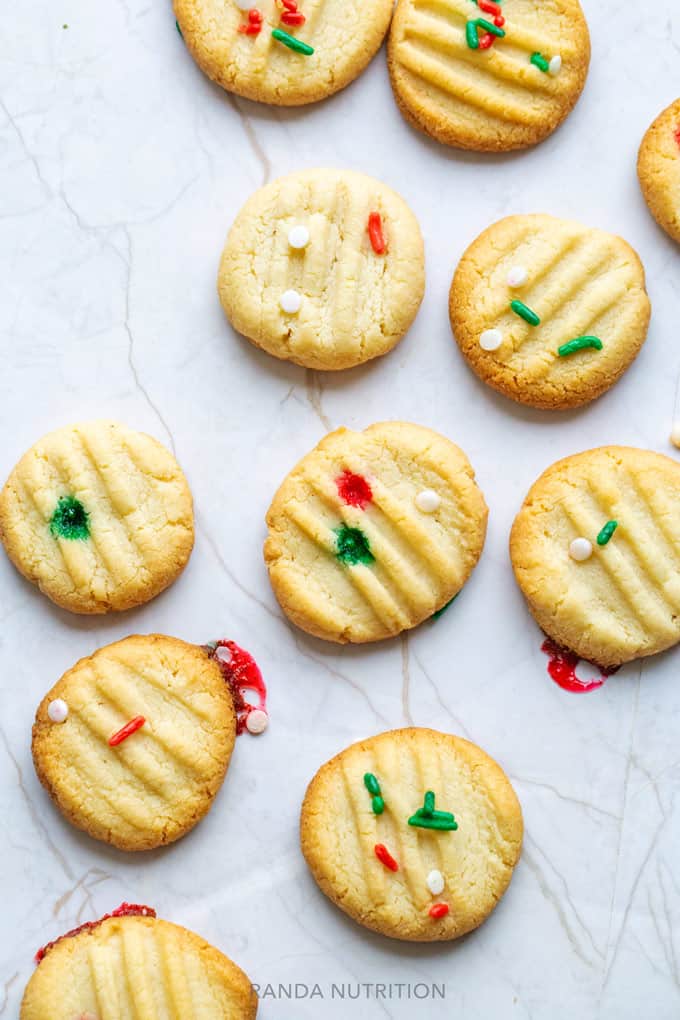 Keep in mind that they're not gluten free whipped shortbread cookies but I'll keep experimenting to see if I can come up with something for next Christmas.
Does Shortbread Contain Gluten?
Traditional shortbread does have gluten in it because of the flour that is typically added.
Which Gluten Free Flours are Best for Cookies?
This isn't a question that has a definite right or wrong answer. There are a number of different flours you can use for a number of different cookie recipes. Here are a few I recommend experimenting with:
Almond flour
Coconut flour
Gluten-free all-purpose blend (Bob's 1:1 is my favorite).
Buckwheat flour
Oat flour
Brown rice flour
Amaranth flour
How to turn a classic recipe healthy
I believe the key to revamping a classic recipe, like shortbread, and making it healthier is to adjust a little at a time (especially if you're a beginner – you'll need time for your tastebuds to get used to these newer tastes).
You could try creating gluten-free, sugar-free, dairy-free Christmas cookies but you know what? You may not like them. Especially if you're used to super-sweet, high-fat cookies. It takes time.
My best advice? Make little changes as you go.
These are not 100% healthy shortbread cookies in the sense of them being sugar-free. There is sugar in them, but a small amount. As you know, this is what I'm about.
Realistic nutrition without deprivation.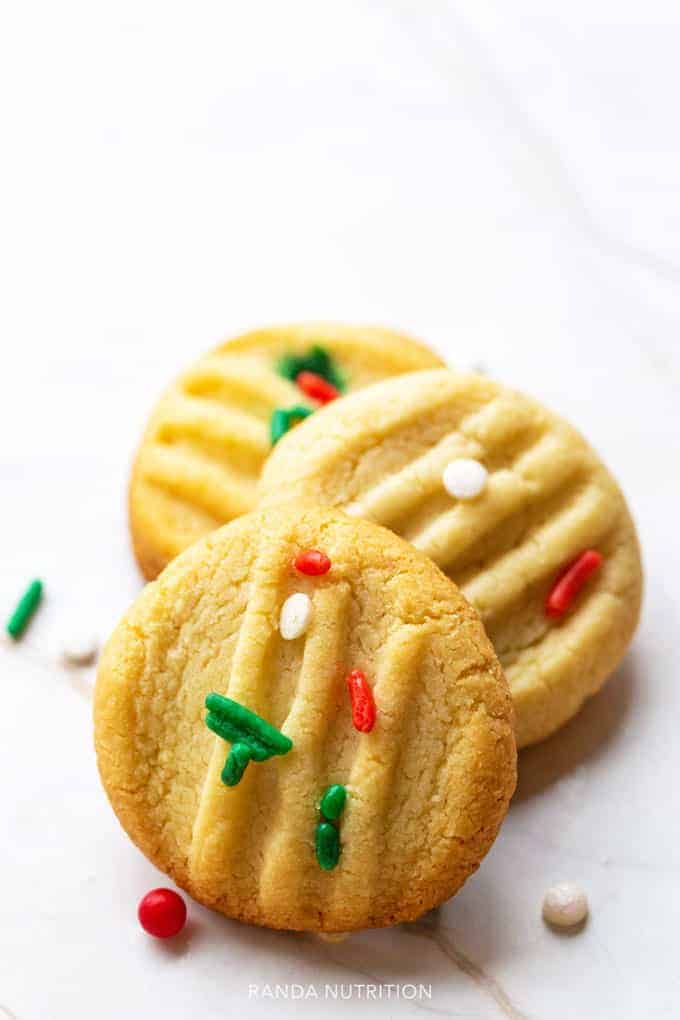 I swapped all-purpose flour for the almond flour because it's what I had on hand. I looked at a few of my old whipped shortbread recipes, made some notes and adjustments and gave it a whirl.
Since I was lowering the sugar content a bit (but not eliminating it completely) I kept the fat high with the butter to keep our tastebuds happy.
Note: Not every recipe can be simply swapped for almond flour or coconut flour but…that's the fun of it. Experimenting and seeing what works.
Can I Use Granulated Sugar Instead of Powdered Sugar?
I have only ever made this recipe with powdered sugar, so I can't personally say how it will turn out.
Give it a whirl and let me know in the comments.
How to Make Powdered Sugar
Another option is to take the granulated sugar and process it in a blender or food processor to a find powder.
Container Counts
By popular request, I am slowly adding container counts for those of you following the Ultimate Portion Fix. This way you can see if it works for your plan for Beachbody programs like 21 Day Fix, LIIFT4, 80 Day Obsession, and 10 Rounds.
Full recipe: 2 yellow, 16 blue, 24 tsps.
Per serving (2 cookies): trace yellow, 1 blue, 1 1/2 tsps.
Supplies and ingredients needed
To make these gluten free Christmas cookies you'll need the following supplies (that you may not already have in your pantry):
Almond flour. I buy mine at Costco but I found a similar brand for you on Amazon.
Vanilla Extract. Vanilla has gotten so expensive but I find the 365 Everyday brand is reasonably priced.
Parchment paper. You don't need to grease the pan if you use this and it makes clean up a breeze.
Order those on Amazon now so you'll have them on hand before you start baking.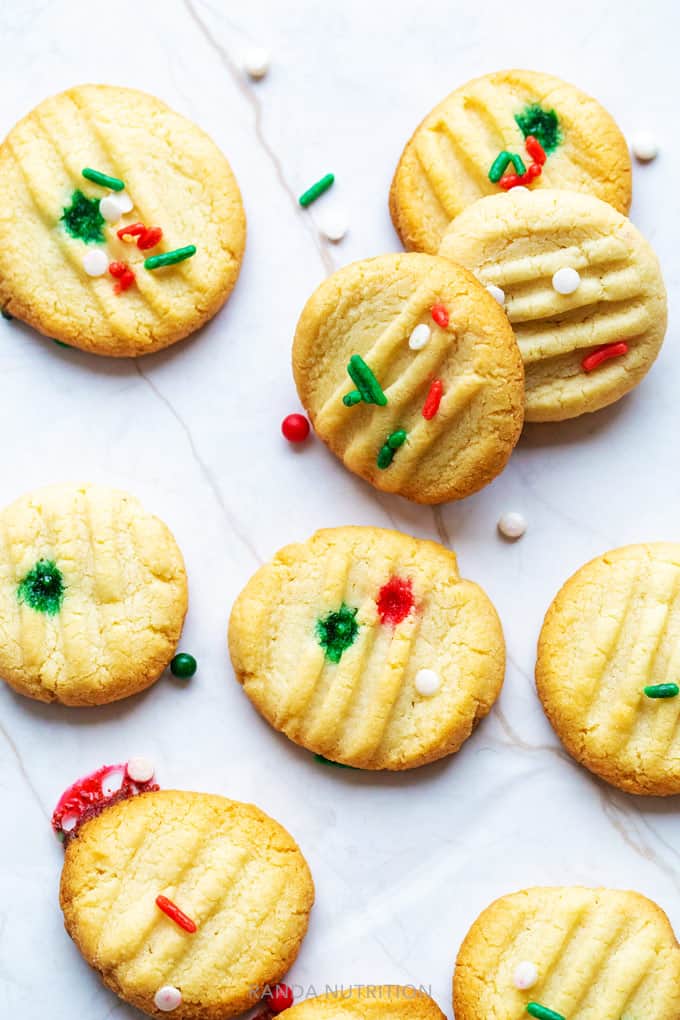 You also have the option of adding sprinkles. As you can see in the image above the sprinkles melted a bit because of the hot oven (duh) so they weren't as pretty but they were still tasty!
How to Freeze Shortbread Cookies
Before you add the shortbread to the freezer, ensure that the cookies have cooled.
Bag them in a reusable container with a layer of parchment paper in between each cookie.
Or you can bag them in a reusable bag with a sheet of parchment paper between each layer to keep them from sticking.
How to Keep Almond Flour from Crumbling in Cookies
Working with gluten free flours can be tricky sometimes. If your cookies are crumbling, your kitchen may be a little warm. Try refrigerating the cookies for at least 30 minutes before you pop them in the oven.
I have not done this but my kitchen is always cold in our Canadian winters and I haven't had a problem with the dough. However, if you're from the south and experiencing a crumbly shortbread, this is the solution.
You are seriously going to love this recipe for gluten free shortbread cookies. Using only 5 ingredients and they're a gluten free cookie recipe without xantham gum!
You'll be able to create a quick and easy small batch recipe to enjoy with your hot cocoa.
There isn't a ton of sugar in it, but yet they taste sweet (a huge win right there).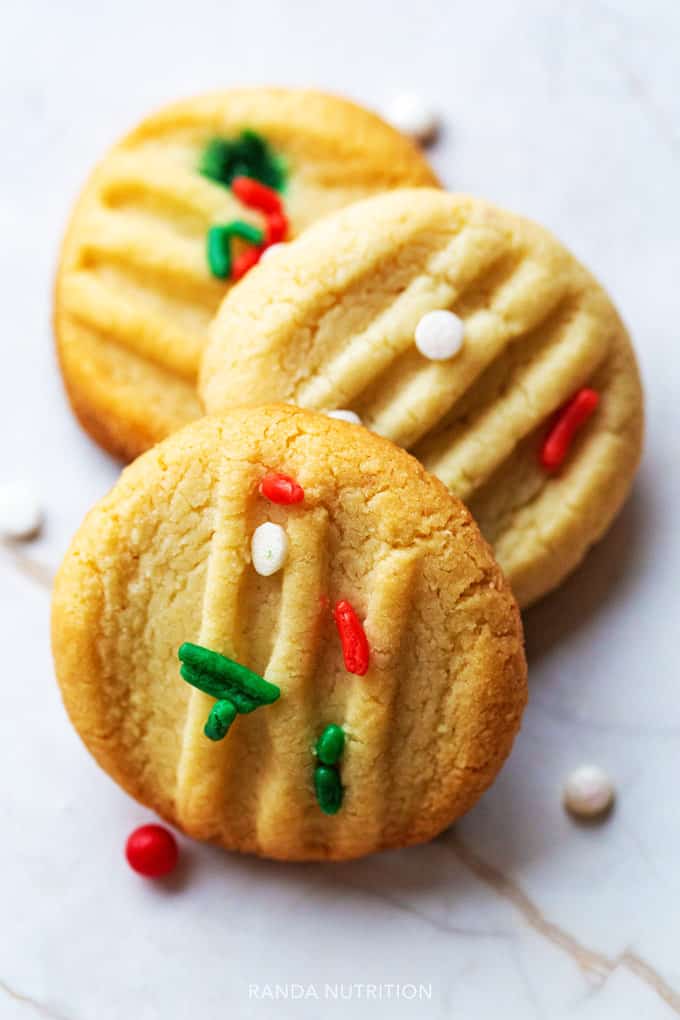 Just don't do what I am doing as I write this, and eat 5-6 (hey, it's my job. I'm "recipe testing").
Gluten Free Christmas Baking Recipes:
I have a few amazing gluten-free Christmas baking recipes coming your way! I'll update this list as they go live.
Don't forget to read how to stay healthy during the holidays.
Gluten Free Shortbread Cookies
These buttery gluten-free shortbread cookies use almond flour instead of traditional all-purpose for a low sugar cookie with a sweet and nutty taste.
Instructions
In a stand mixer (or in a bowl and using a handheld mixer) beat together the butter, sugar, salt, and vanilla for 2-3 minutes or until soft and combined.

Slowly add in the almond flour and mix until combined.

Line a large baking sheet (or multiple if you're cooking it in one go) with parchment paper.

Take a small spoon and scoop the batter, roll into a ball (the size you roll it into will determine how many it makes). I used 1/2 tbsp. Lightly press with a fork. If you want to add festive sprinkles, add a couple now.

Bake for 10 minutes. Let cool.
Notes
Crumbly Cookies?
If you're in a southern climate or you have a warm kitchen, refrigerate the cookie dough for at least 30 minutes before you bake them. This will help prevent the almond flour from falling apart.
Container Counts
Full recipe: 2 yellow, 16 blue, 24 tsps.
Per serving (2 cookies): trace yellow, 1 blue, 1 1/2 tsps.
Nutrition
Serving:
1
cookie
|
Calories:
72
kcal
|
Carbohydrates:
3
g
|
Protein:
2
g
|
Fat:
6
g
|
Saturated Fat:
2
g
|
Cholesterol:
8
mg
|
Sodium:
37
mg
|
Fiber:
1
g
|
Sugar:
2
g
|
Vitamin A:
89
IU
|
Calcium:
16
mg
|
Iron:
1
mg
The nutrition information is calculated using a third party resource. The accuracy varies on the brands used, weight, portions, etc. This resource should be used as a guide. If you want more accurate information, weigh in grams and log in MFP.
If you like this recipe, please share it with your friends on Facebook and Pinterest.