If you love spiralized vegetables as much as I do then you're going to love this Thai Chicken Veggie Noodle Salad. It's made with a creamy peanut dressing that takes seconds to whip up and is a great make ahead meal for meal prep.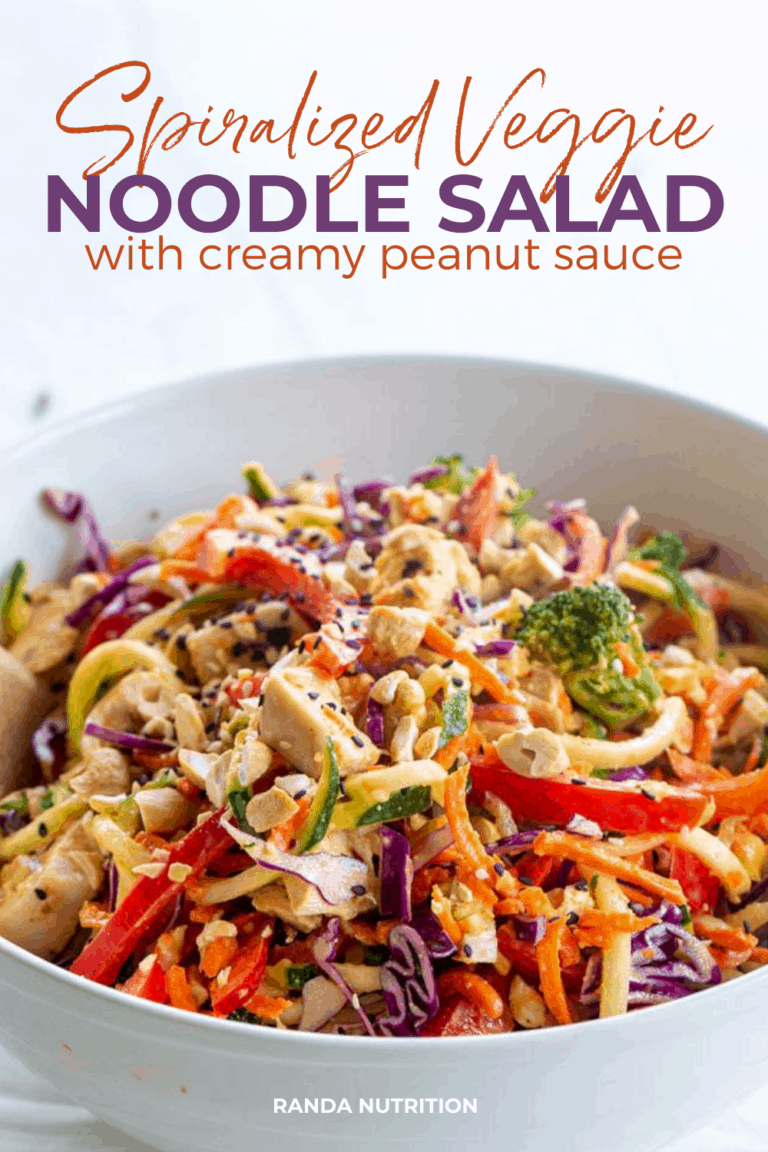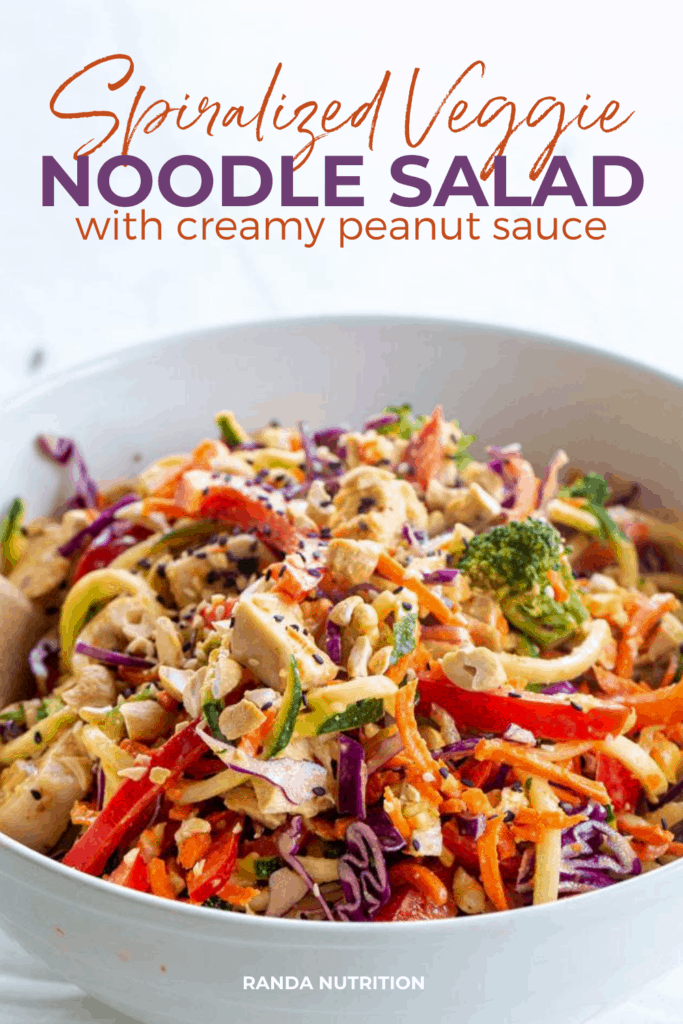 Disclosure: This post contains affiliate links for your convenience. As an Amazon Associate, I earn from qualifying purchases.
Chicken and Veggie Noodle Salad
I've had a few recipes on my to-do list for a while: a Thai chicken salad with peanut dressing and a spiralized zucchini noodle salad (or zoodle salad).
So I combined them.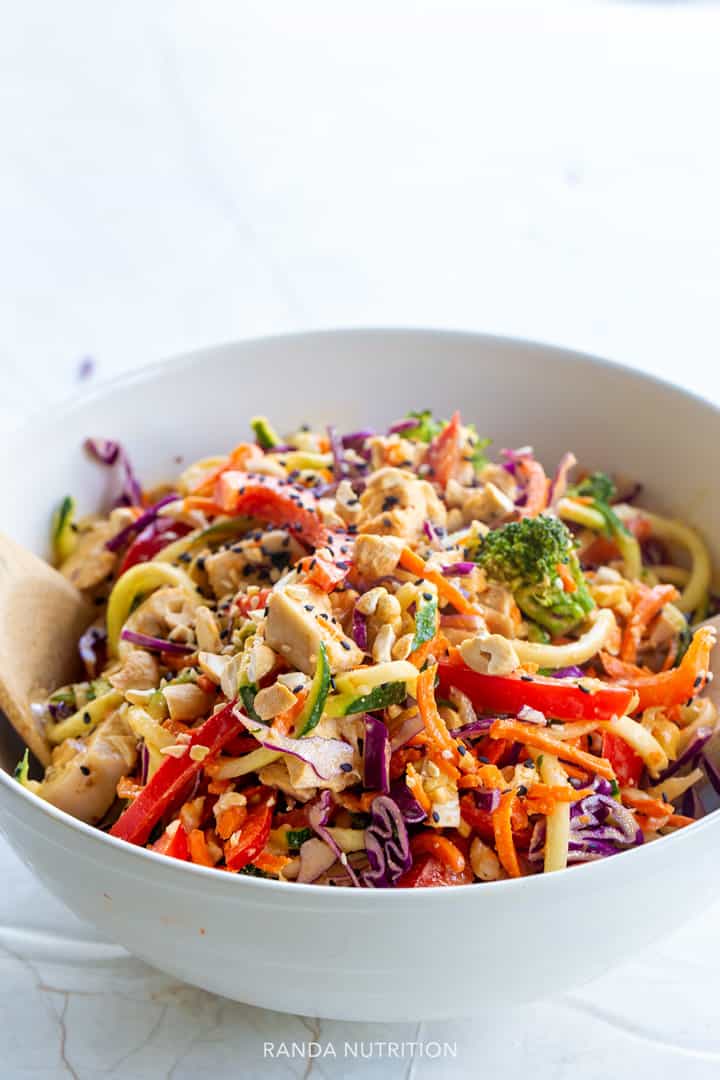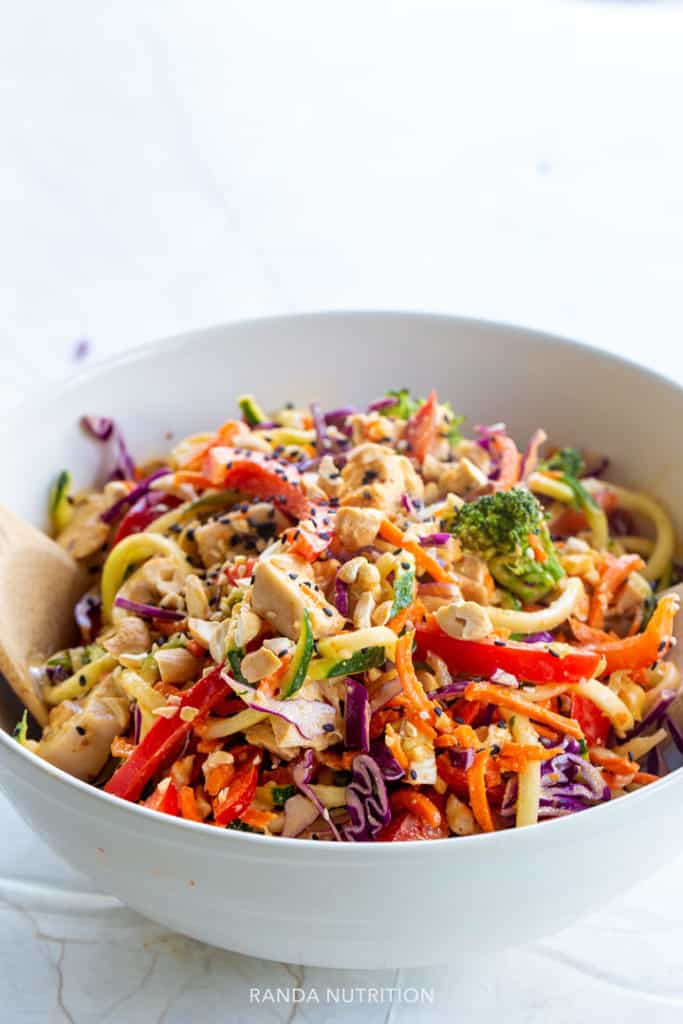 Instead of a straight up zucchini noodles, I wanted color (especially since the peanut sauce isn't super pretty) so I was inspired by the colors of the rainbow:
Spiralized carrot for orange
Sliced red pepper for red
Purple Cabbage for purple (I love the look of purple in salads)
Chopped broccoli for a deeper green
I also added diced, cooked chicken and cashews to round it out into a full meal.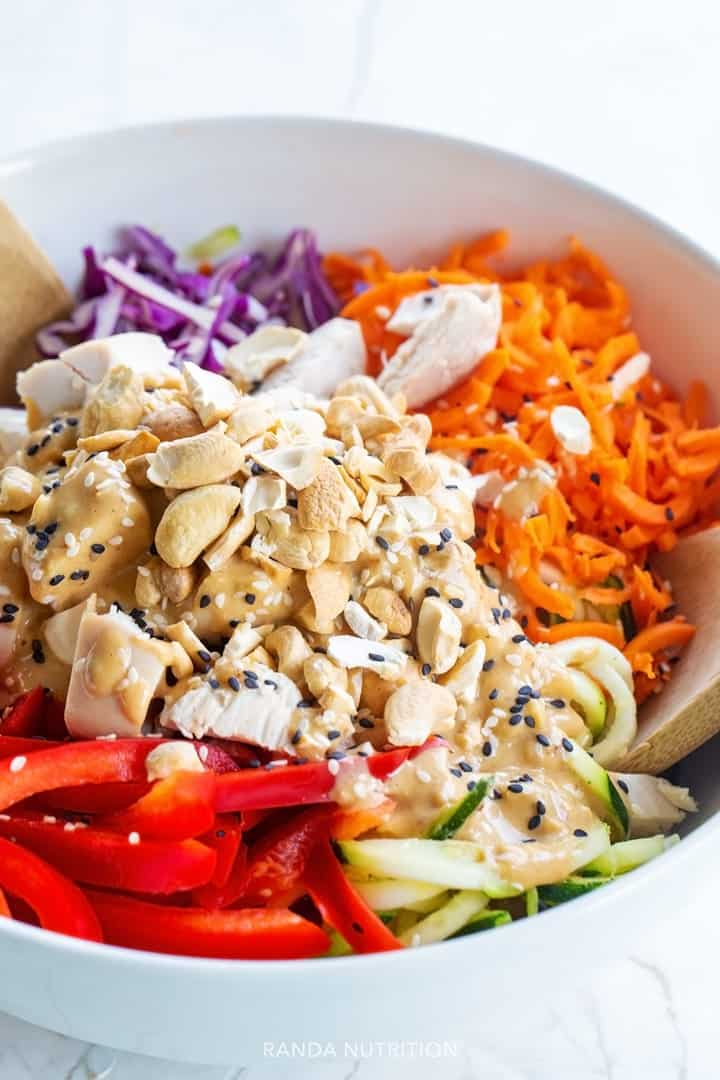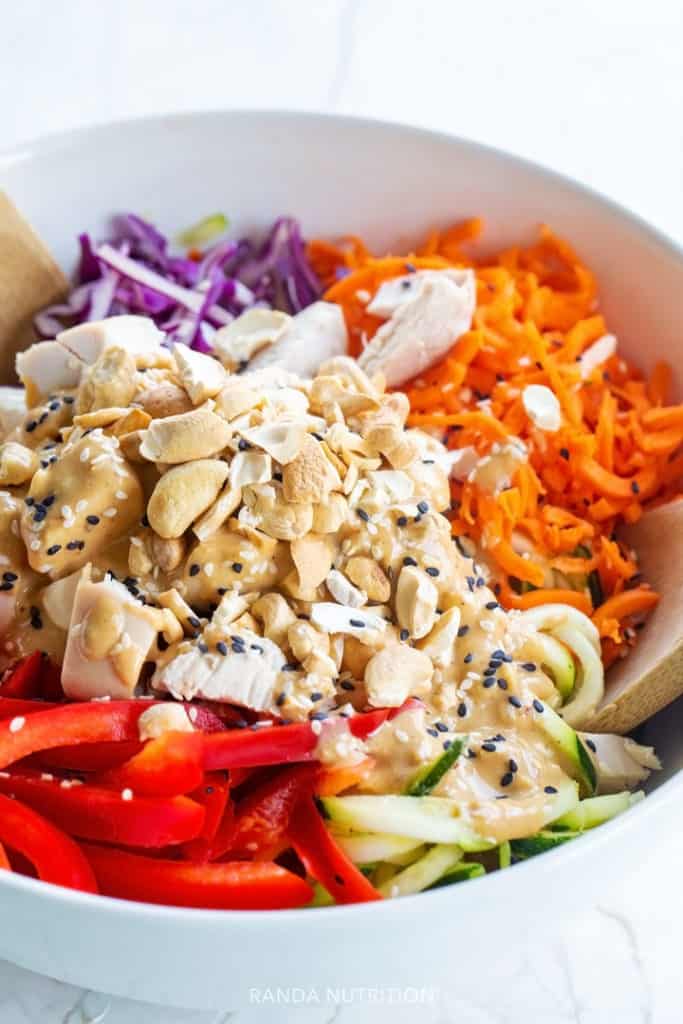 Spiralized Vegetable Noodles
I'm constantly thinking up recipes for spiralized vegetables, they're so much fun to make and eat. Turn anything into a noodle and my picky eaters are down for it, which as a mom, takes one less worry off my plate.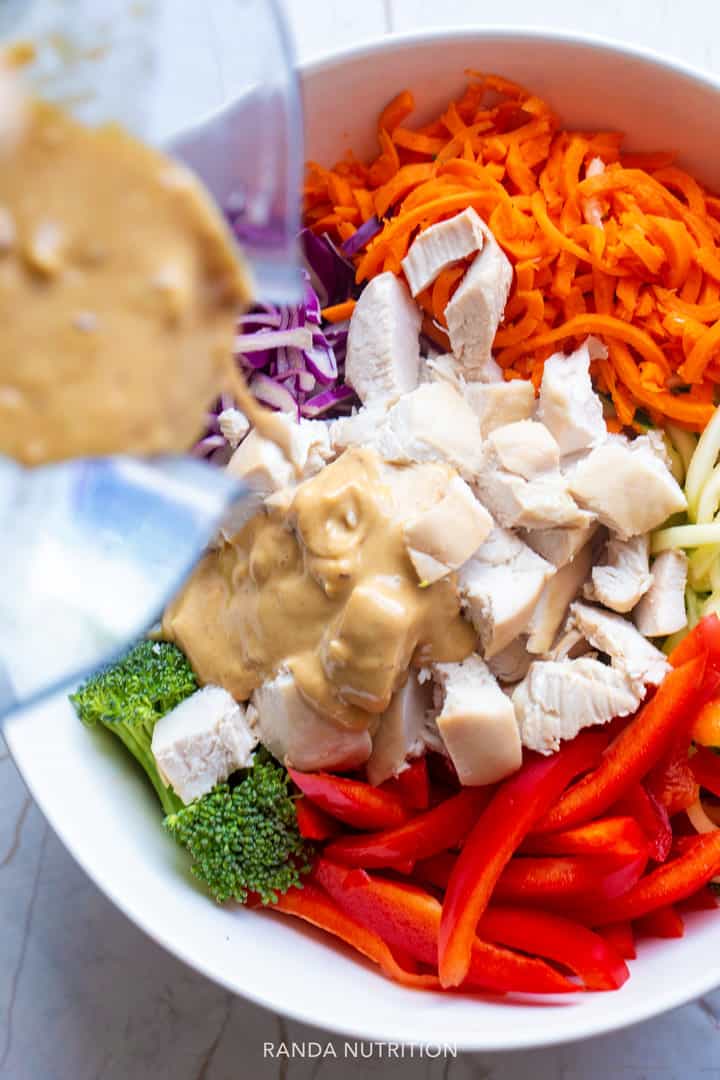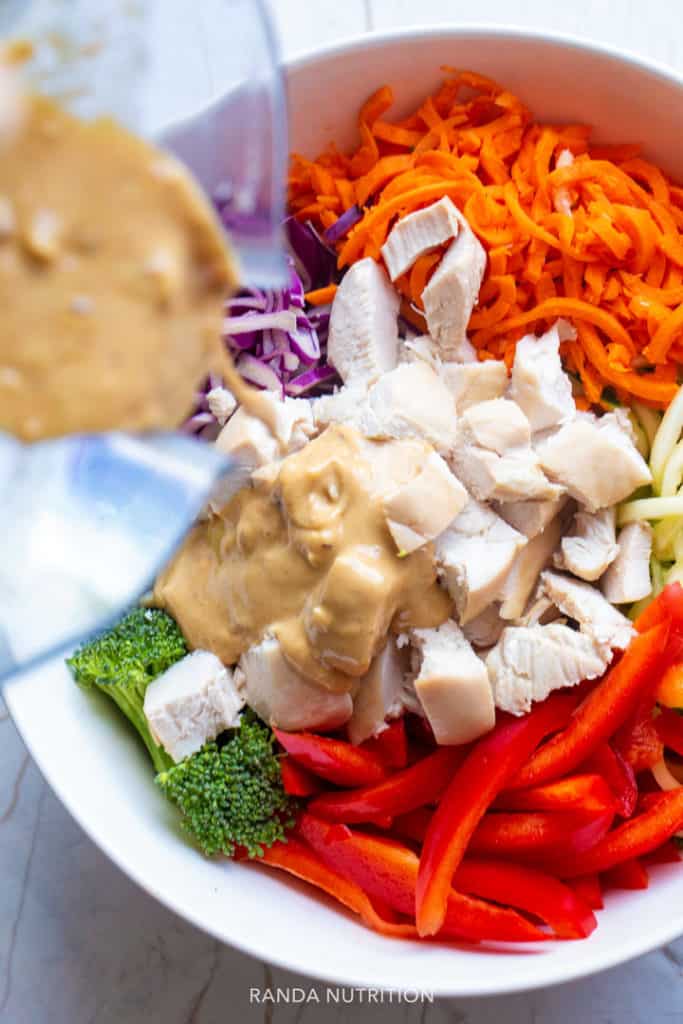 I'm going to say something really important about veggie noodles, and I want you to pay attention.
It's not about taking away pasta, wheat products, or extra calories. It's about adding more vegetables in.
Trust me, I will never let go of pasta – ever. I probably had it for dinner that night. However, I balance it out with getting extra servings of veggies in.
When it comes to spiralized vegetables in place of pasta: It's not about taking away pasta, wheat products, or "extra calories/carbs". It's about adding more vegetables in to our diets in a fun way.

— Randa Nutrition (@randanutrition) August 2, 2020
How long does it last in the fridge?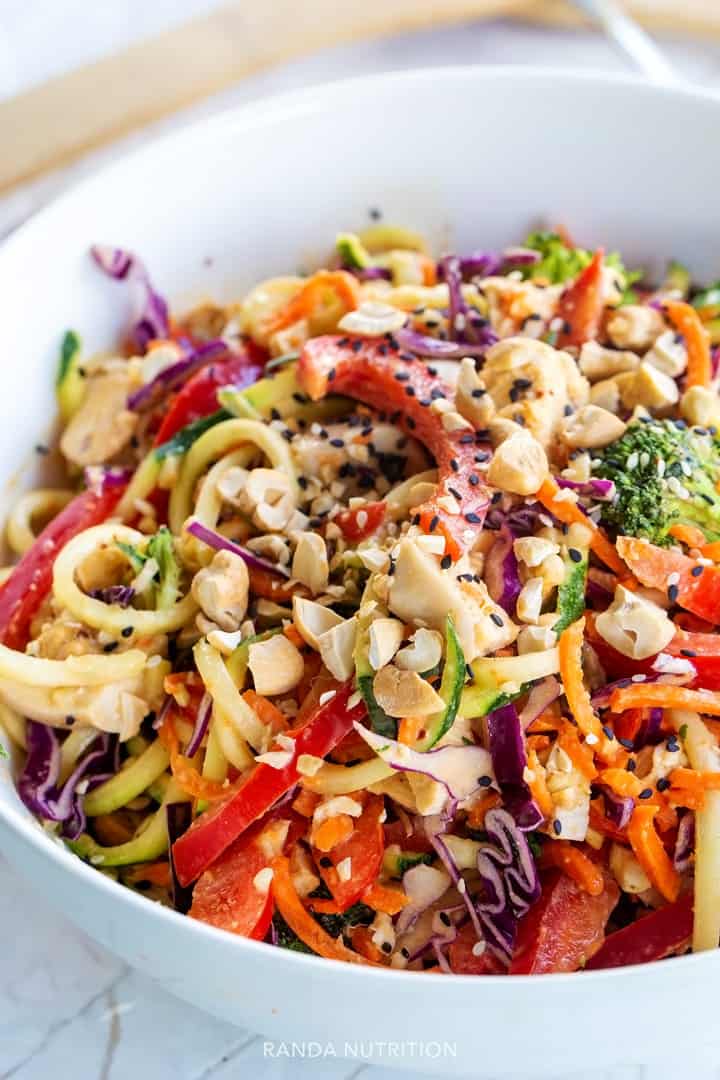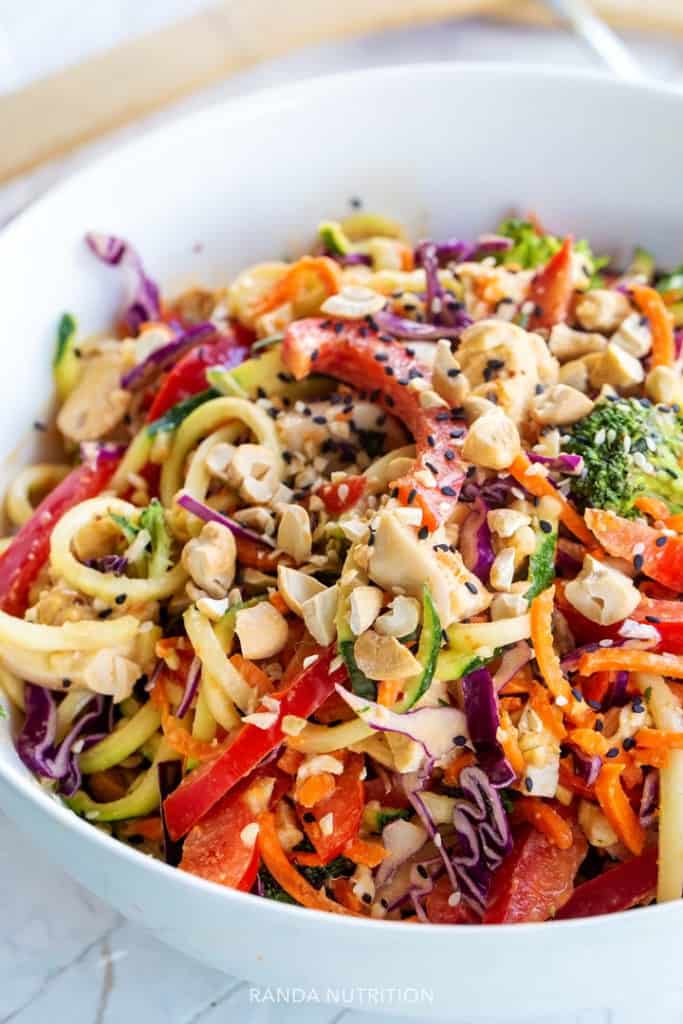 I kept this salad in the fridge for 3 days and it kept well, so I feel that this is a great option for meal prepping. Whether it's for dinner or a healthy lunch you can take to work or school, it keeps well in the fridge.
Another option would be to refrigerate your vegetable noodles and veggies separately and toss them together for a fresh salad daily.
Whatever works for you and your routine best.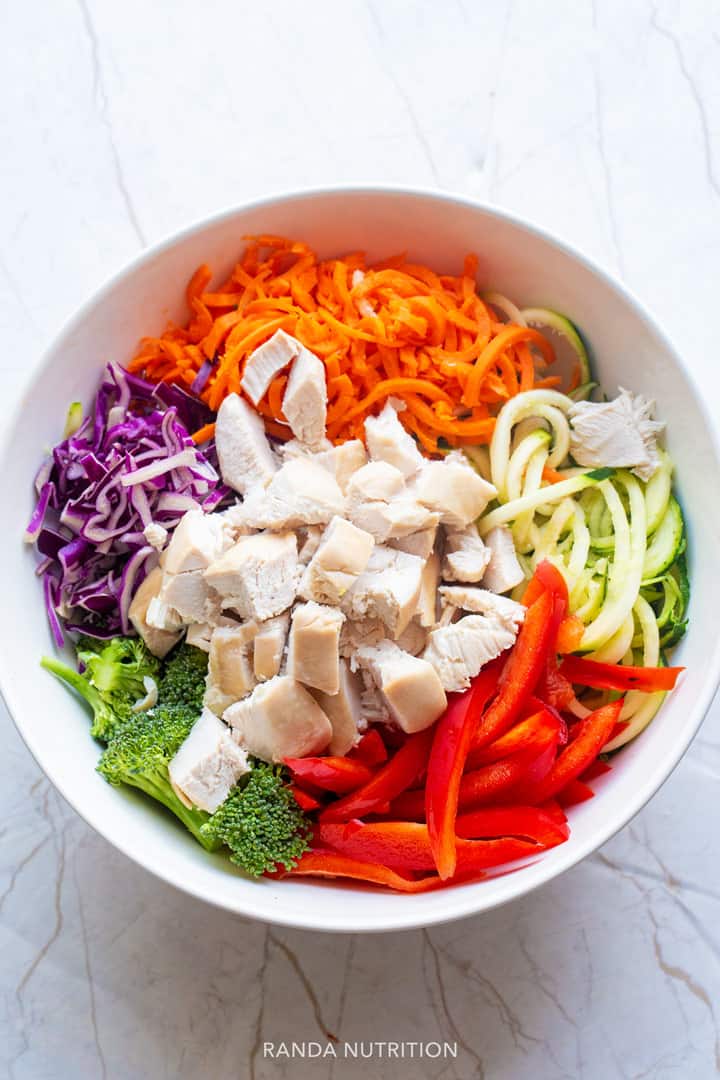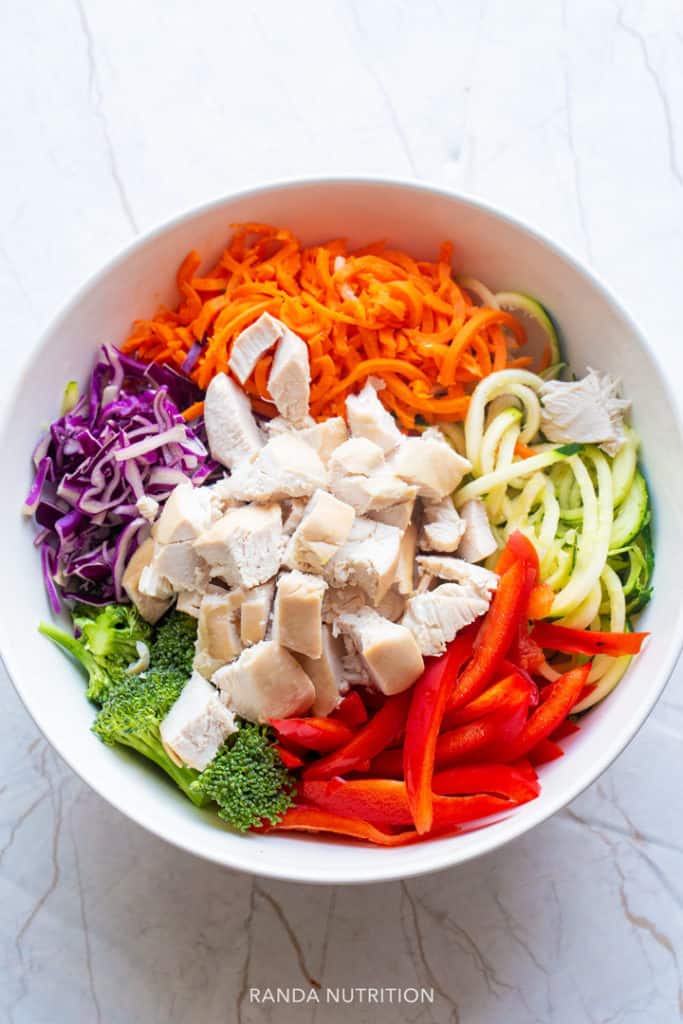 Veggie Noodles F.A.Q's
Are veggie noodles healthy?
Yes! Vegetable noodles are exactly that – vegetables in the shape of noodles. You can't go wrong by adding them to your meals, it will up your vegetable and fiber intake.
What recipes can I use spiralized vegetable noodles in?
Veggie noodles are perfect for stir-fries, in place of pasta, or in addition to the noodles to up your vegetable intake (think spaghetti or dishes with marinara or alfredo – yum). Of course, there are also salads (like this Thai Chicken recipe ) and you can also add them to soups (like this chicken zoodle soup).
Can I eat vegetable noodles raw?
Absolutely! If you can eat the veggie raw, you can eat the noodle raw. You can cook them if you want but this recipe uses the raw vegetables.
Can I freeze spiralized zucchini and other vegetables?
I wouldn't recommend freezing zucchini noodles to make this salad later. The zucchini could lose some of the flavor and get mushy when thawing. While that's fine for baking, it's not for this salad.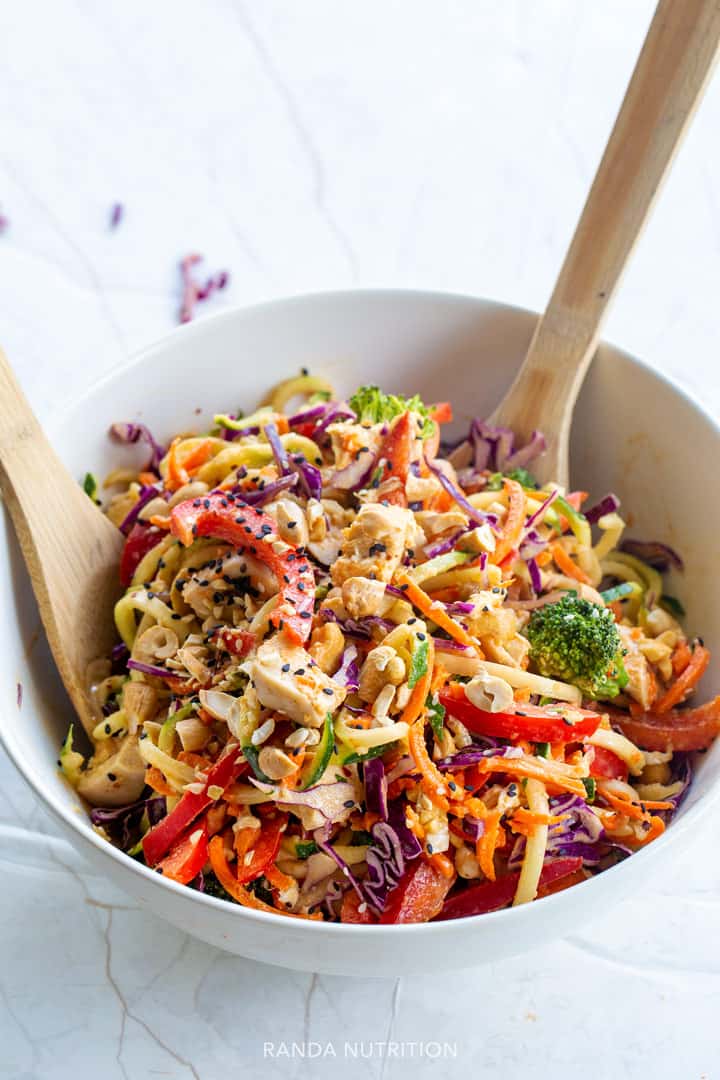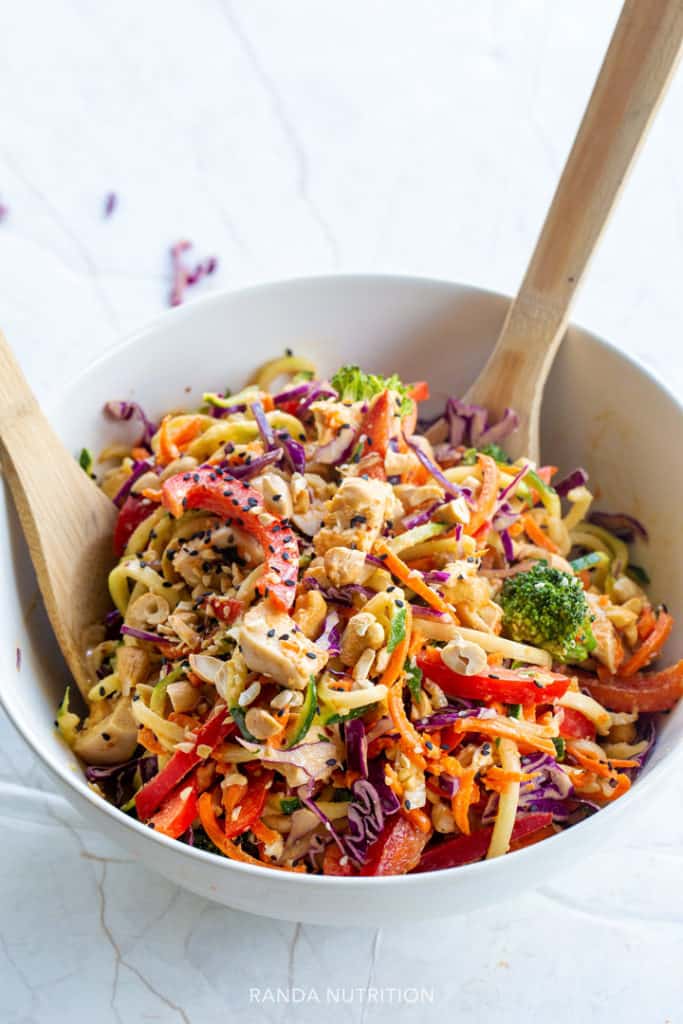 How to Make Veggie Noodle Salad with Chicken and Peanut Sauce
You are going to love how easy it is to throw this recipe together.
As long as you have the chicken pre-cooked (grab a rotisserie chicken or cook some extra breasts up during your meal prep), this is a no-cook recipe and it takes just a few minutes to throw it together.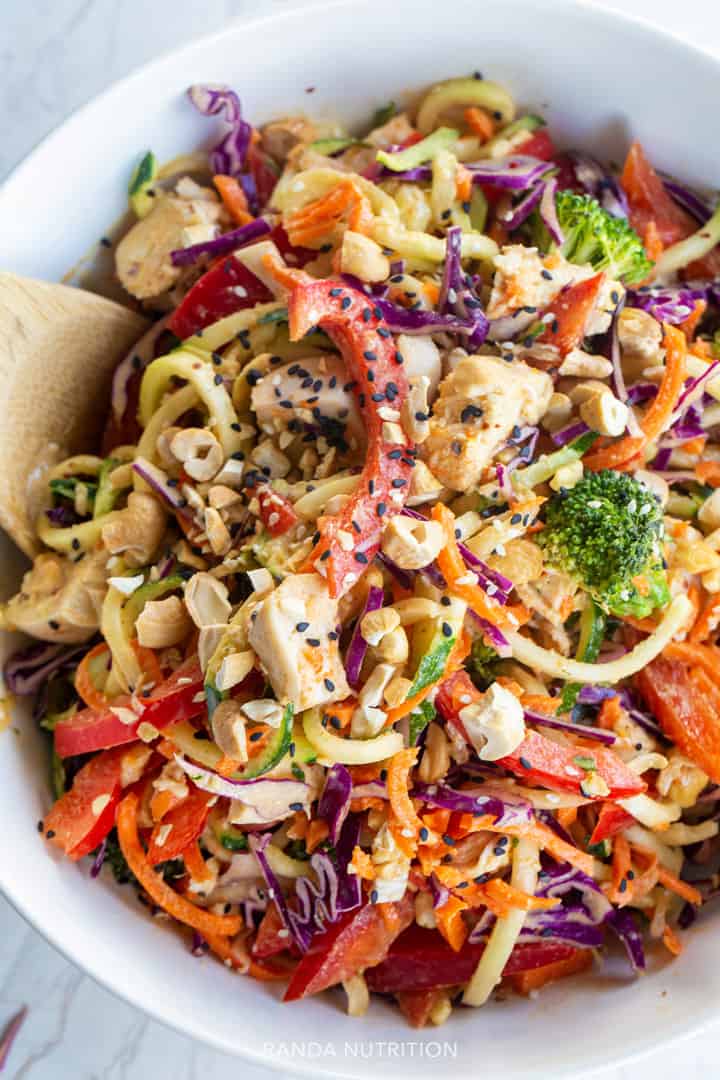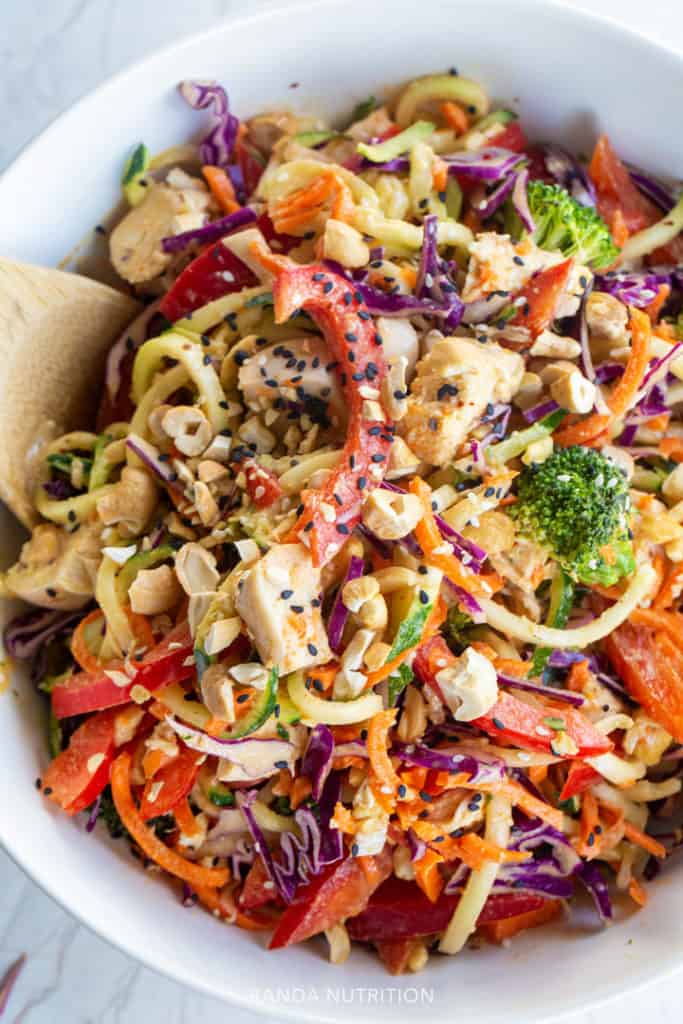 If you're looking for more tasty ways to add more vegetables to your diet here are some great recipes:
Thai Chicken Veggie Noodle Salad with Peanut Sauce
If you love spiralized vegetable pasta then you're going to love this Thai Chicken Veggie Noodle Salad. It's made with a creamy peanut sauce that is quick and easy to whip up. Made with zoodles, carrot noodles, plus more veggies this healthy salad recipe is full of goodness! Perfect for work lunches or a quick dinner idea.
Ingredients
1

medium zucchini

1

medium carrot

1

red bell pepper

thinly sliced

2

cooked chicken breasts

sliced

1 1/2

cups

purple cabbage

thinly sliced

1

cup

chopped broccoli
Toppings
1/4

cup

chopped cashews

2

teaspoons

black and white sesame seeds
Instructions
Spiralize the zucchini and carrots using a spiralizer or attachment on a food processor. Add to a bowl, along with the rest of the salad ingredients.
Peanut Sauce
Add all the peanut sauce ingredients in a blender. Blend until smooth.
Put it together
Pour the peanut sauce over the salad ingredients and toss. Top with cashews.
Nutrition
Serving:
1
serving
|
Calories:
316
kcal
|
Carbohydrates:
20
g
|
Protein:
28
g
|
Fat:
15
g
|
Saturated Fat:
3
g
|
Cholesterol:
55
mg
|
Sodium:
245
mg
|
Potassium:
727
mg
|
Fiber:
4
g
|
Sugar:
10
g
|
Vitamin A:
4179
IU
|
Vitamin C:
90
mg
|
Calcium:
76
mg
|
Iron:
2
mg
The nutrition information is calculated using a third party resource. The accuracy varies on the brands used, weight, portions, etc. This resource should be used as a guide. If you want more accurate information, weigh in grams and log in MFP.