I've been wanting to create a healthy strawberry rhubarb sauce recipe for years now. I finally got around to it and I'm thrilled that I was able to get a delicious sauce that's paleo-friendly because there is no refined sugar.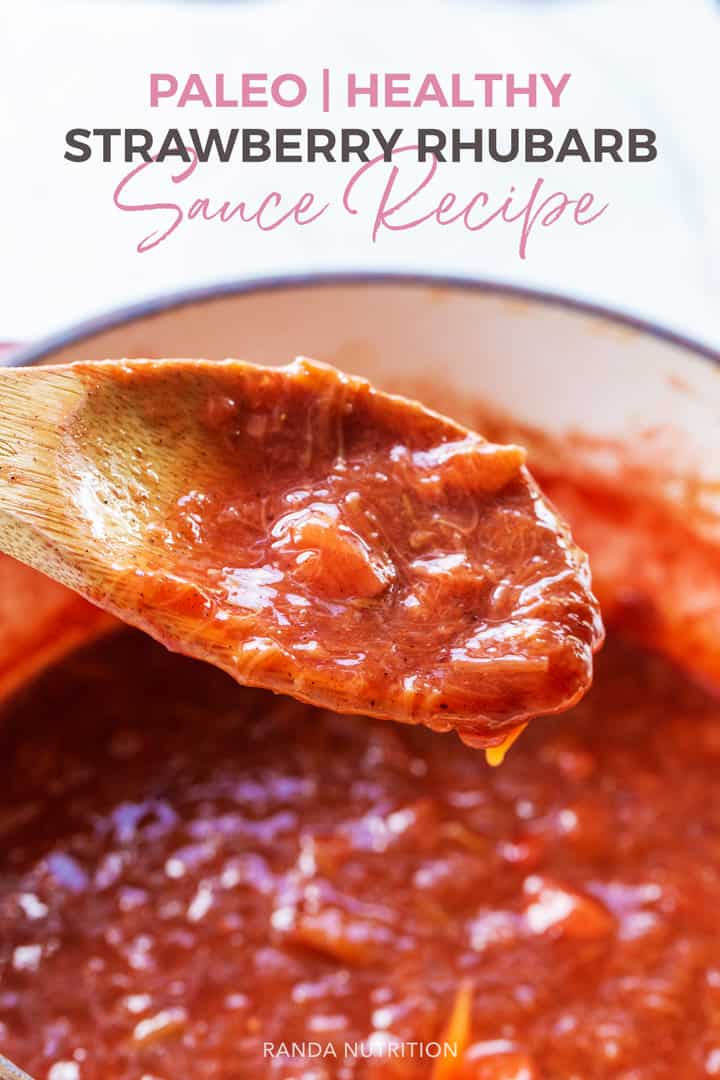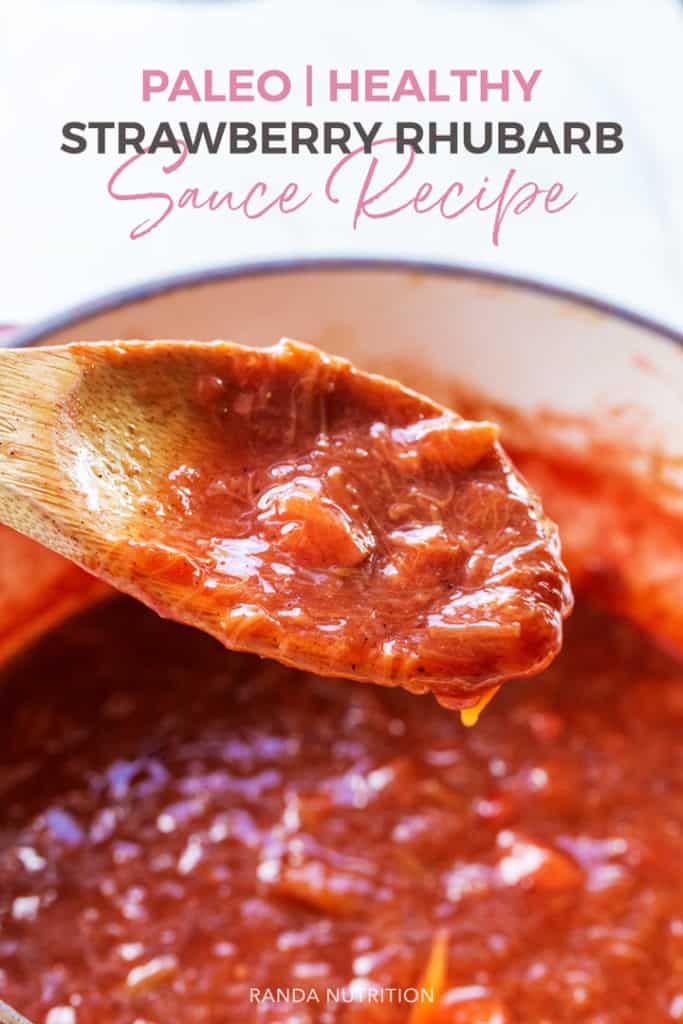 Disclosure: This post contains affiliate links for your convenience. As an Amazon Associate, I earn from qualifying purchases.
Healthy Strawberry Rhubarb Sauce Recipe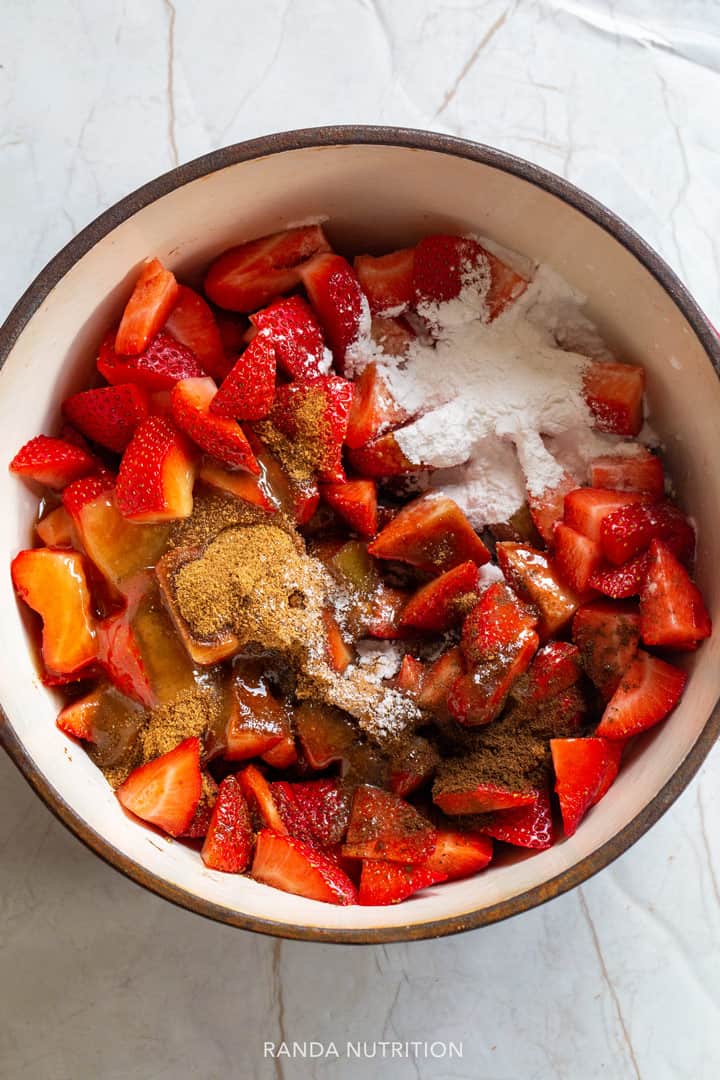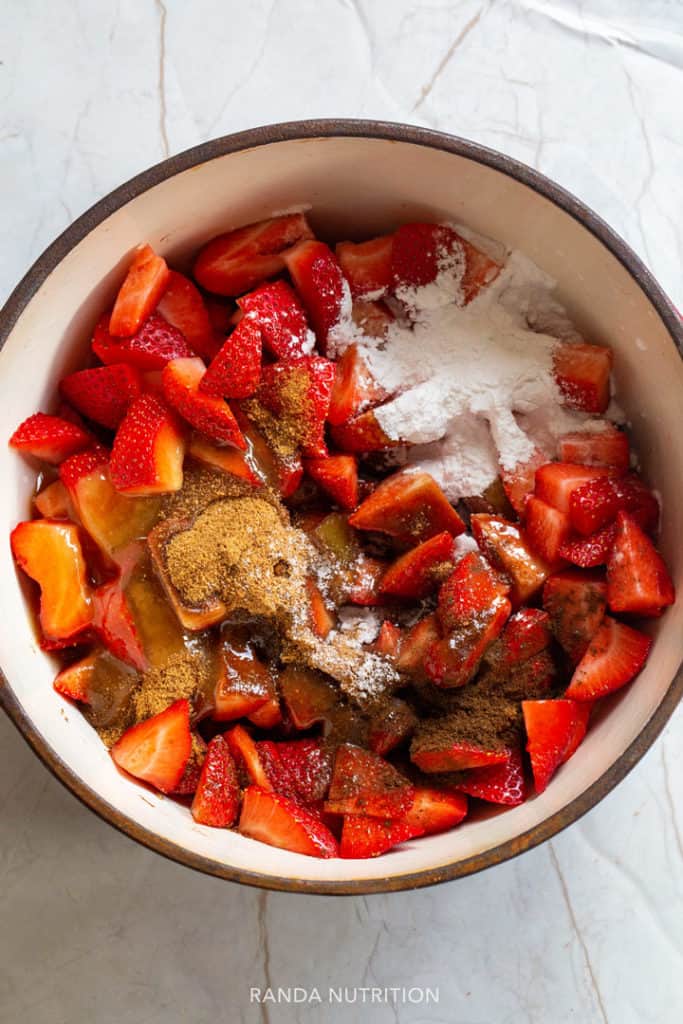 This one pot recipe for strawberry rhubarb sauce is super easy.
You simple toss everything in the pot and stir. That's it. There's no multiple steps. It's really just one, because who has time for a difficult recipe? Not me.
How is it healthy? I made it refined sugar free by using natural sugars like honey and coconut sugar, but you could also try maple syrup to make it vegan.
Compote vs Sauce
Wondering if this is a strawberry rhubarb compote or a sauce? I looked into it and here's what I learned:
A compote is a fruit sauce that has a little texture (this is my nice way of saying chunks). You are able to eat it with a spoon, but it's runnier than a jam.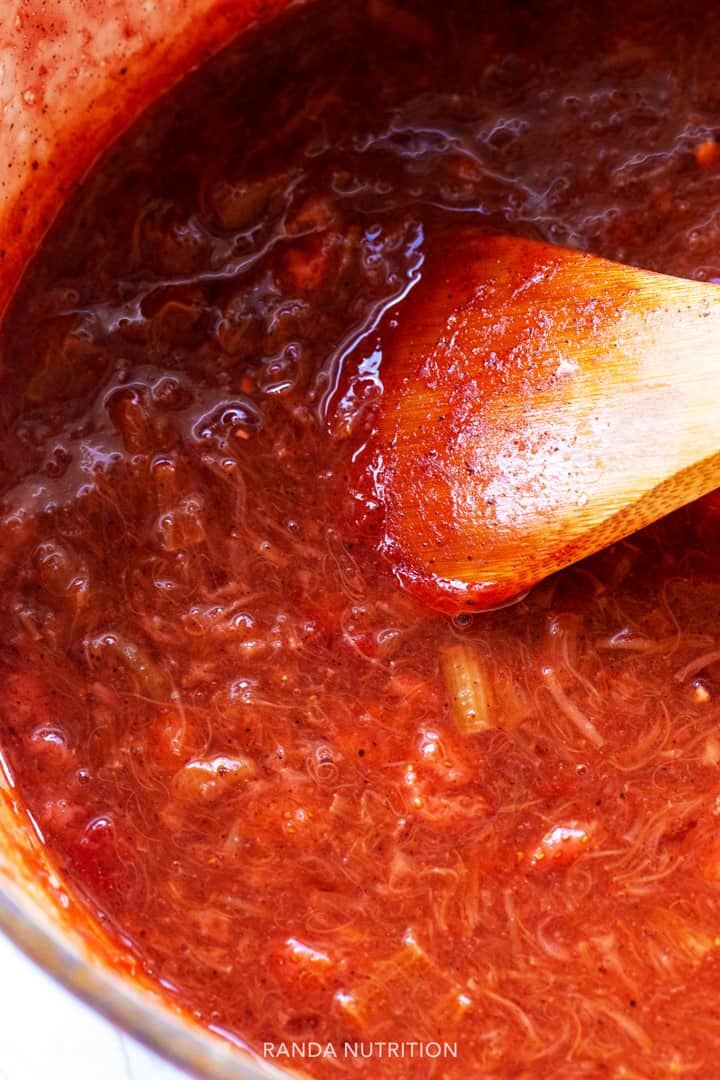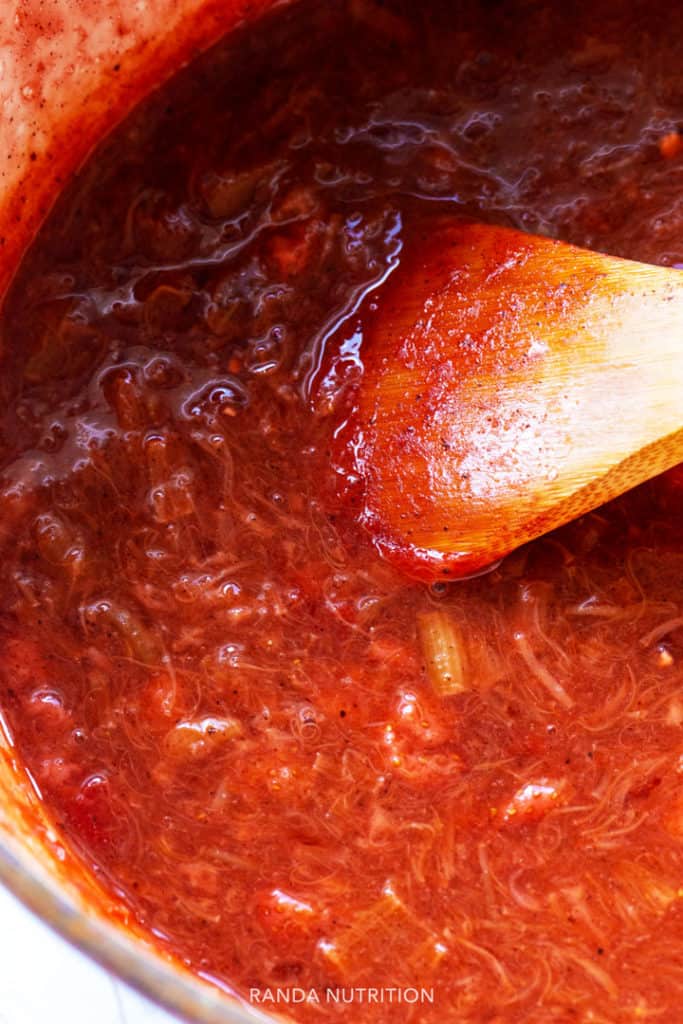 What Can You Use with This Sauce?
Originally I put together this recipe for a chia seed pudding I was working on for the nutrition guide. Here a few other ideas:
Layer it with your overnight oats or top your warm oatmeal with it.
Mix it in with greek yogurt.
Top your cheesecake with it (both dairy or cashew based).
Another fun idea? You can use this paleo strawberry rhubarb sauce for ice cream (traditional or "nice cream").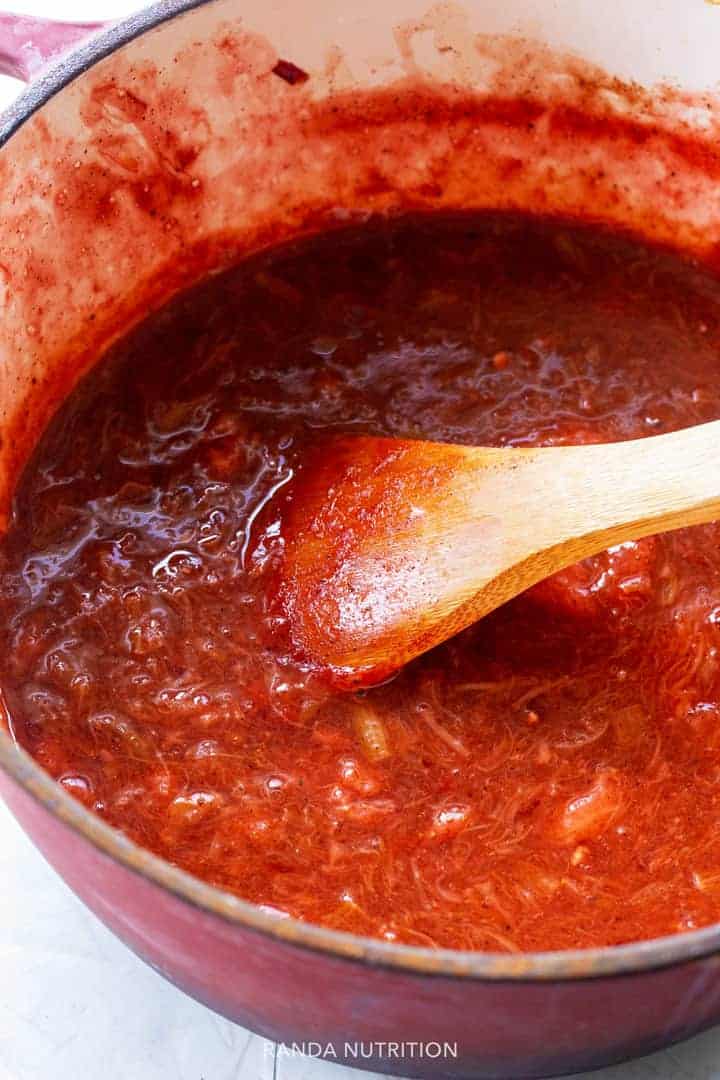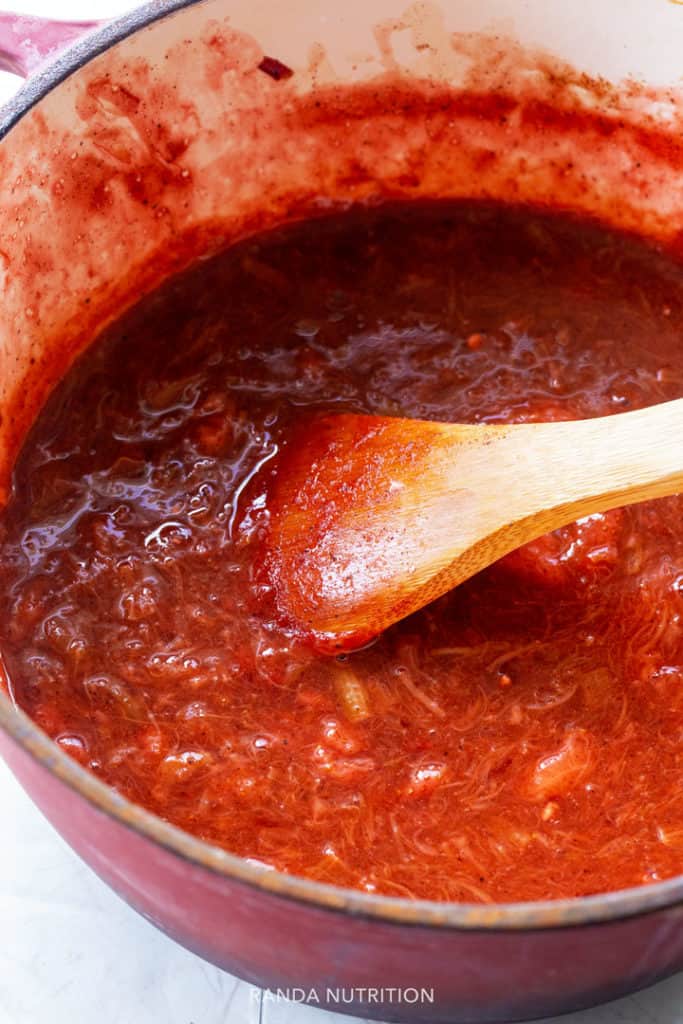 Turn it Into Pie Filling
This is a multipurpose recipe. Not only can you use it as a dessert sauce, you can also use this sauce recipe for strawberry rhubarb pie filling.
How to make it into turn it into a healthy strawberry rhubarb pie filling:
Follow the recipe as directed, but instead of reducing it down into a sauce. Reduce the filling until the fruit is soft, but still has shape (this means it's not completely mush).
Pour it into a pre-cooked pie shell and bake.
Another option is to make tarts and use tart shells.
Voila! A paleo strawberry rhubarb pie filling recipe.
This sauce is so versatile you can really do anything with it.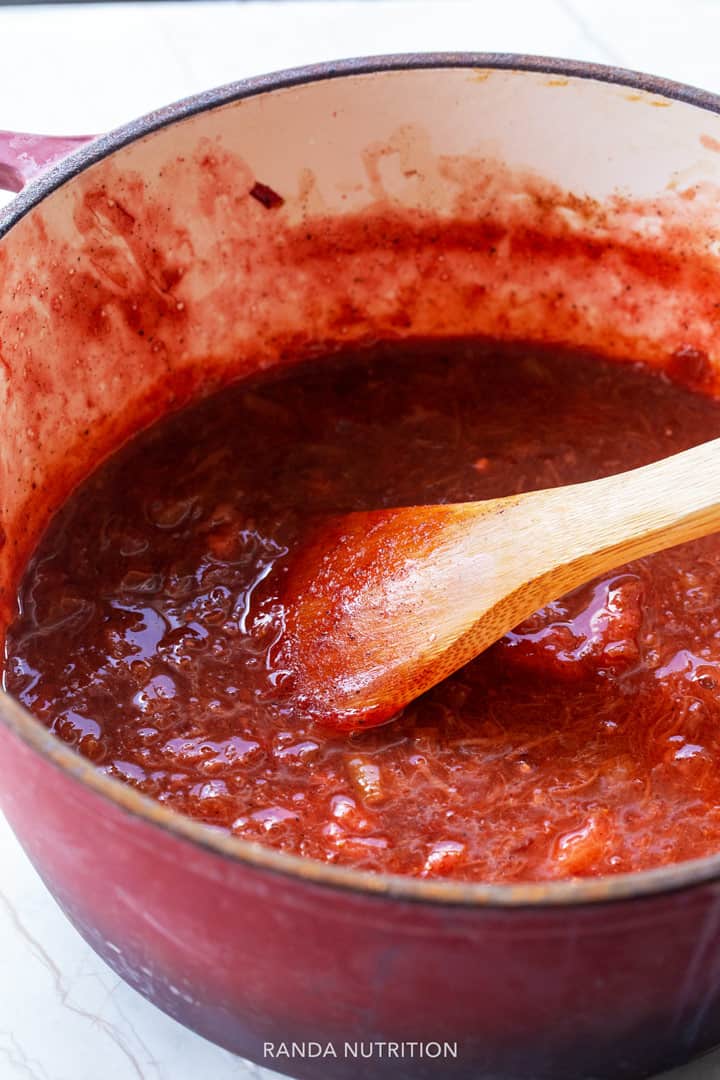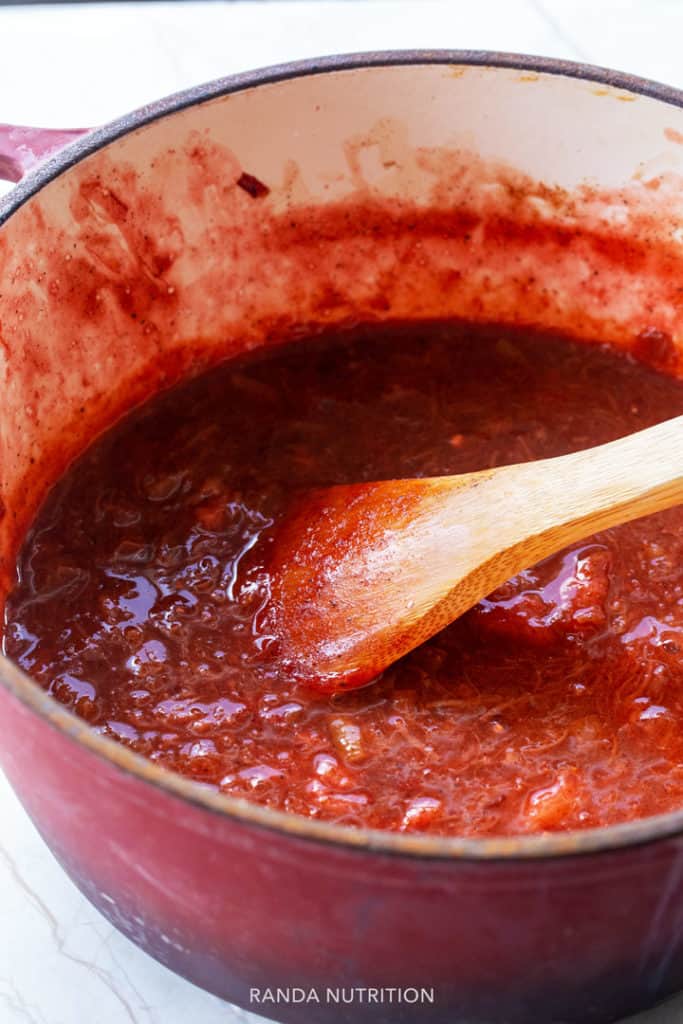 How long does rhubarb sauce last in the fridge?
This sauce will last 1-2 weeks in the fridge if stored properly.
I recommend storing it in a resealable container like a mason jar (I prefer a wide mouth mason jar for easy pouring) or something like this.
You can serve it cold or reheat it in the microwave for a few seconds before you top your desserts.
Can you freeze strawberry rhubarb sauce?
Yes, you can freeze this sauce. Here are a few methods:
Freeze it in a resealable bag.
Place it in a reusable container, but lay a piece of parchment paper over it to help reduce freezer burn.
Use a tool like a FoodSaver to remove all the air.
How to Make Strawberry Rhubarb Sauce
I know you're going to love this recipe for two reasons:
It's delicious.
It's easy.
We moms don't have time to be sitting around the stovetop all day for recipes with multiple steps (am I right?). So dump it all in a pot on its own and let it do its magic.
I used a dutch oven to simmer the sauce together but you can use whatever pot you have laying around. I find the ceramic dutch oven is easier to clean.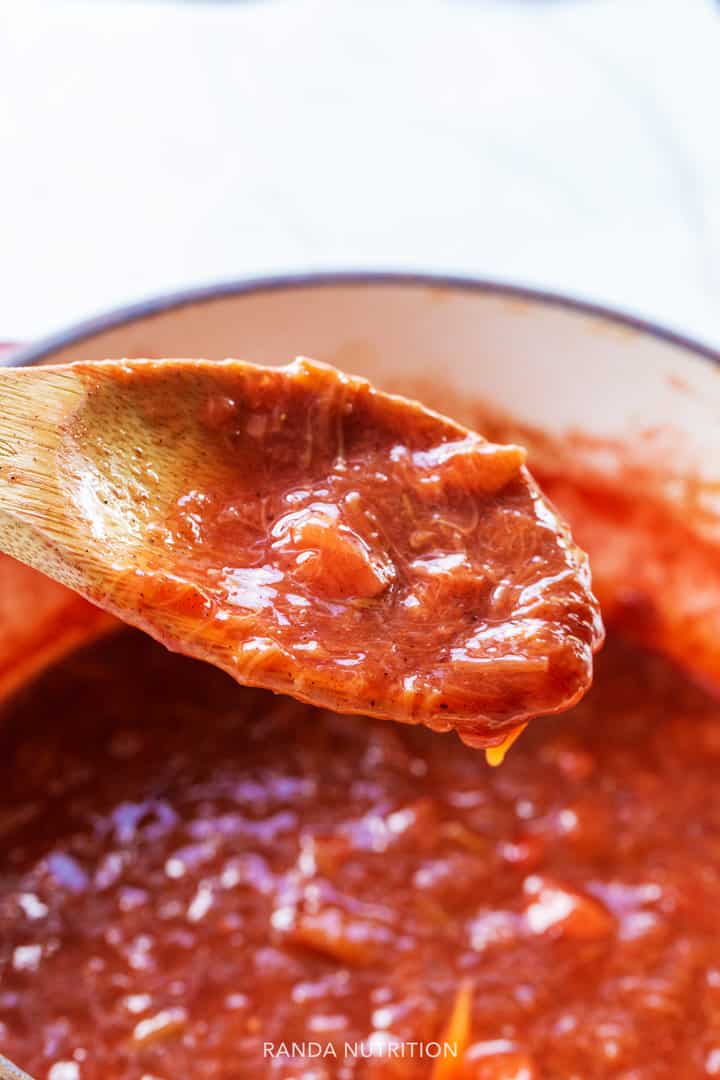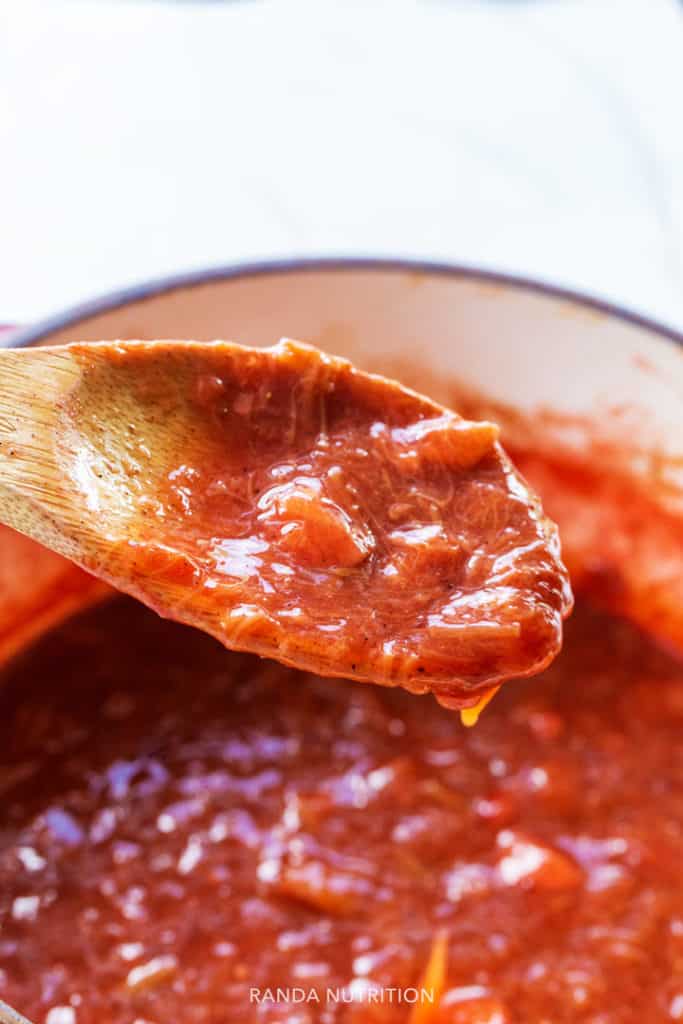 More strawberry rhubarb recipes:
If you're looking for more healthy strawberry rhubarb desserts, I have a few below that I know you'll love.
If you like this recipe, please don't forget to leave me a star rating and a comment! I'd love to hear how you served this sauce for your family and if you did anything different (PS: this is amazing with CocoWhip).
Also..if you want another summery treat try this Dairy Free Pina Colada Ice Cream.
Healthy Strawberry Rhubarb Sauce
This tasty recipe for strawberry rhubarb sauce has a healthy twist by using no refined sugar. Serve it with chia pudding, overnight oats, over ice cream or cook it for five minutes less and use it as strawberry rhubarb pie filling.
Instructions
In medium to large pot (I used a ceramic dutch oven) add all of the ingredients. Turn heat to medium and let it reduce for 25-30 minutes (or until it's the consistancy you want), stirring often.

At about the 15 minute mark it may start to get sticky. If it's sticking to the pot add water as needed (I did about 3/4 of a cup in total).
For Pie Filling
If you would like a healthier strawberry rhubarb pie filling, you want to cook it enough where the fruit is soft but there is still texture (around the 20-22 minute mark).
Notes
The calorie and nutritional information are for 1/8th of the recipe.
Nutrition
Serving:
1
serving
|
Calories:
103
kcal
|
Carbohydrates:
26
g
|
Protein:
1
g
|
Fat:
1
g
|
Saturated Fat:
1
g
|
Sodium:
89
mg
|
Potassium:
215
mg
|
Fiber:
2
g
|
Sugar:
19
g
|
Vitamin A:
47
IU
|
Vitamin C:
34
mg
|
Calcium:
47
mg
|
Iron:
1
mg
The nutrition information is calculated using a third party resource. The accuracy varies on the brands used, weight, portions, etc. This resource should be used as a guide. If you want more accurate information, weigh in grams and log in MFP.