You're going to love how easy these quick pickled carrots are. Whether you have a harvest from your garden or you want to experiment with a few carrots from your fridge, give this recipe a try. You'll be pickling in no time!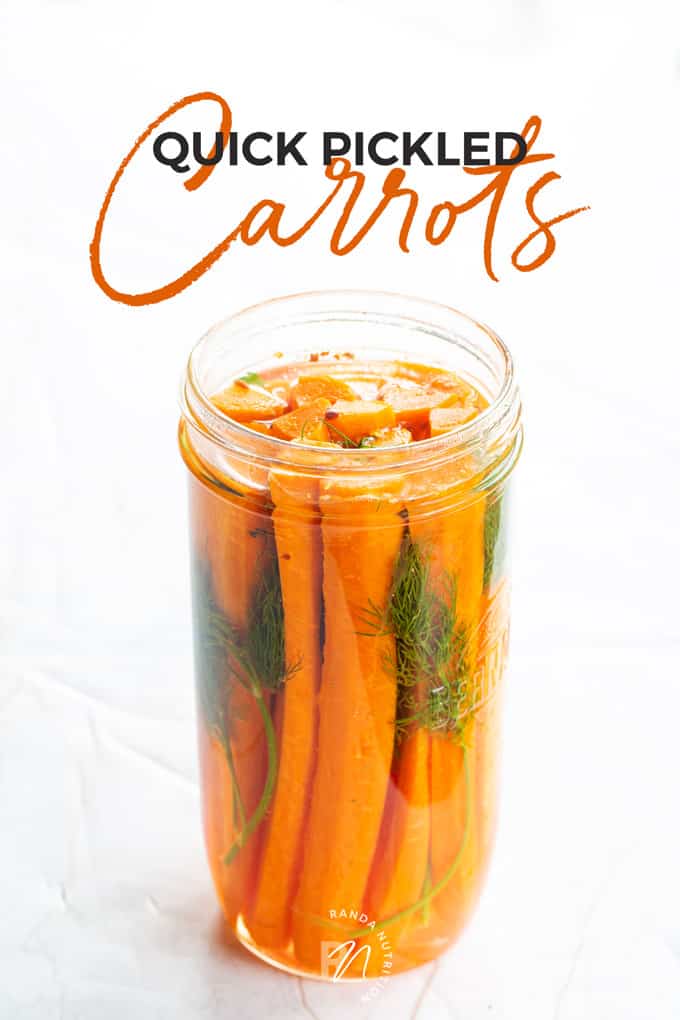 Disclosure: This post contains affiliate links for your convenience. As an Amazon Associate, I earn from qualifying purchases.
Easy Pickled Carrots
There is nothing easier than pickling vegetables. I've been on a little bit of pickling kick because I love pickled anything on basically any food available.
Anyone can do this. I was intimidated at first, because I related pickling to canning but trust me, if I can do this so can you.
The recipe I have listed a mini batch of pickled carrots, so give it a try. If you love it as much as I do, double or triple the recipe.
I love these because it's a tasty way to get more veggies in my diet. If this is something that you struggle with, I have 8 easy ways to add more vegetables to your diet that I encourage you to read.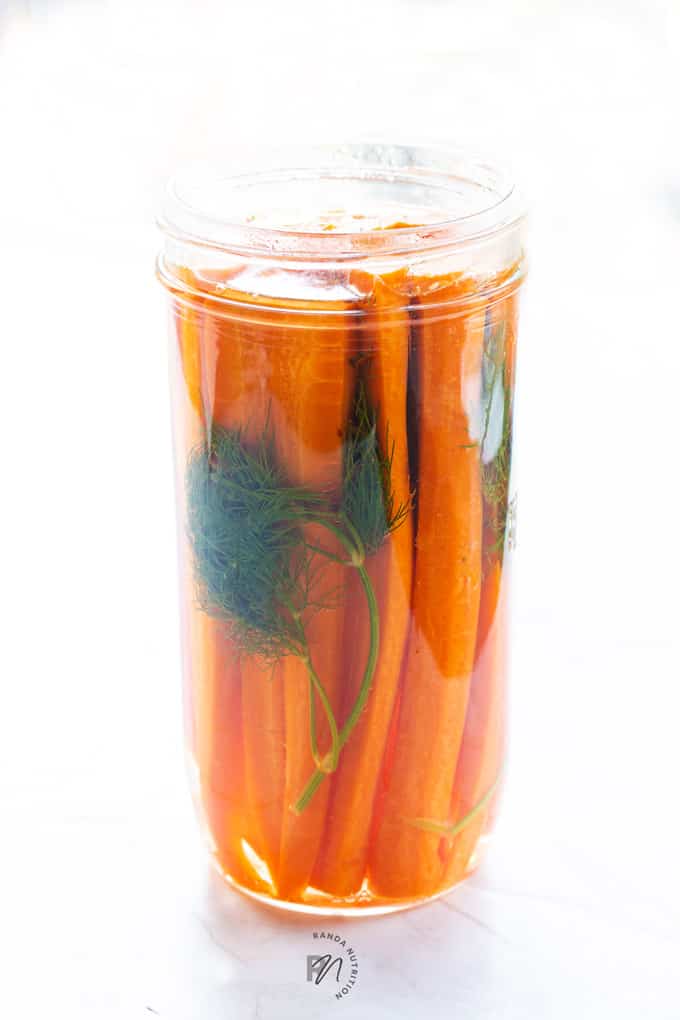 What Does it Mean to Quick Pickle?
Quick pickling is when you create a brine to pickle vegetables in the fridge. You do not use a water bath canning method, so they don't last as long.
How does it take to pickle vegetables in the fridge?
The longer the vegetables sit, undisturbed, in the refrigerator the better. Every day infuses more on that vinegar taste we all love.
It's recommended to wait 3-4 weeks but I have noticed a change in just 24 hours.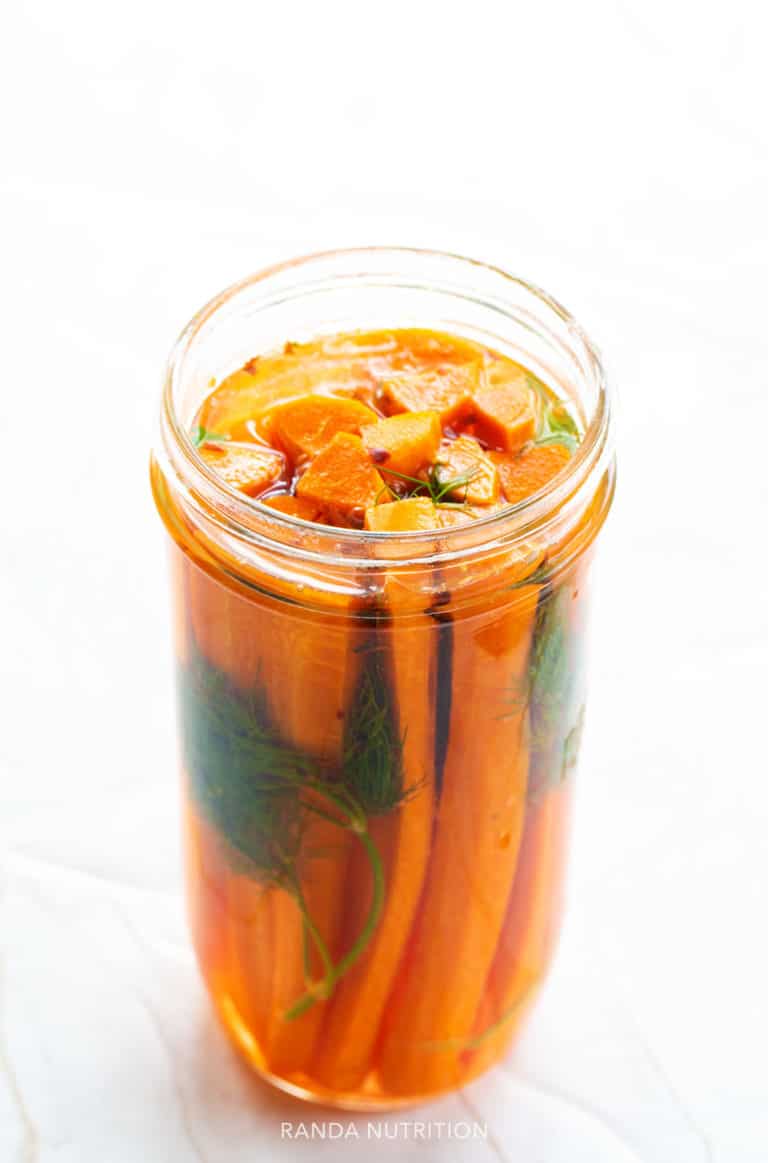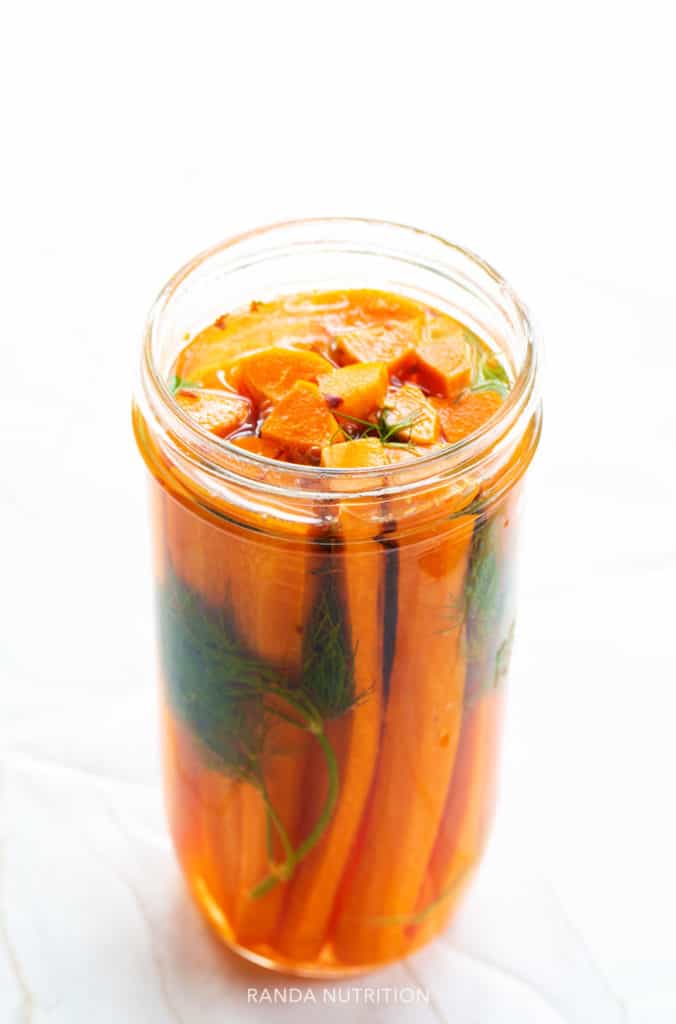 How Long Do Quick Pickles Last?
Quick (or refrigerator) pickles don't last as long as canned pickles because they're not sealed.
However they can last up to two months in the fridge.
What Kind of Vinegar to Use for Pickling
White distilled vinegar is the best for pickling. It's the variety our grandma's used before us and it's tried and true. It's because of the acidity, which is 5% for the conventional vinegar from the store.
Most vinegars will have the acidity percentage on the label so check that out. You will want to look for 5% or higher. Keep in mind that if you use a dark vinegar (like malt) it will discolor your food.
Pickling Add-Ins and Flavor Enhancers
If you're want to change it up and add a few different flavours to your refrigerator pickled carrots why not give these a shot?
Dill
Garlic
Red pepper flakes
Ginger
Jalapeno
Cilantro
Are Pickled Foods Healthy?
There is a large misconception that pickled foods are unhealthy.
That's mostly because the store-bought varieties are loaded with sodium, so it could be something to limit if you have high blood pressure.
This particular recipe only has two teaspoons and most of that will be in the brine (which you won't be drinking out of the jar, or maybe you will – no judgment).
Calorie Count
For 1/4th of the recipe it's only 54 calories, so eat to your heart's content.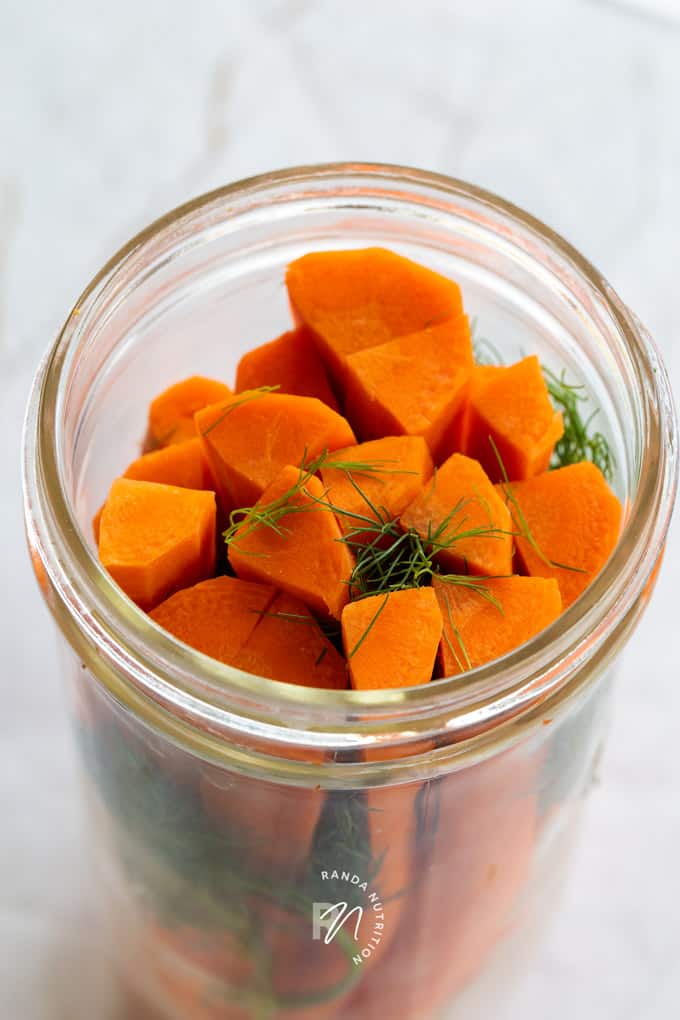 What to Do with Pickled Carrots
Aside from snacking straight out of the jar, here are a few ways I like to cook with pickled vegetables:
Add to stir-fries.
Top your salads with them.
Finish your pasta with pickled carrots (it's so odd but it's so good on drunken noodles and spaghetti).
Use as a topping for tacos.
Put them on a sandwich (pita sandwiches are perfect).
Dip them in hummus.
Supplies Needed
You won't need much to make this small batch pickled carrots.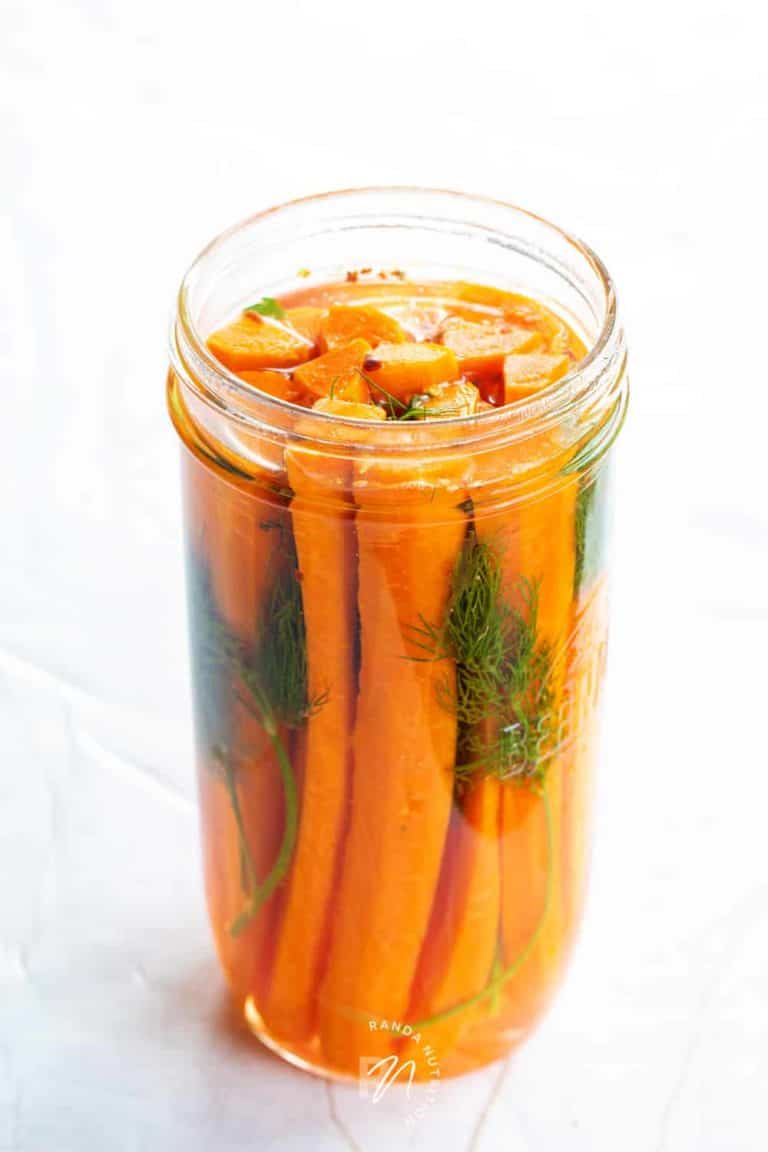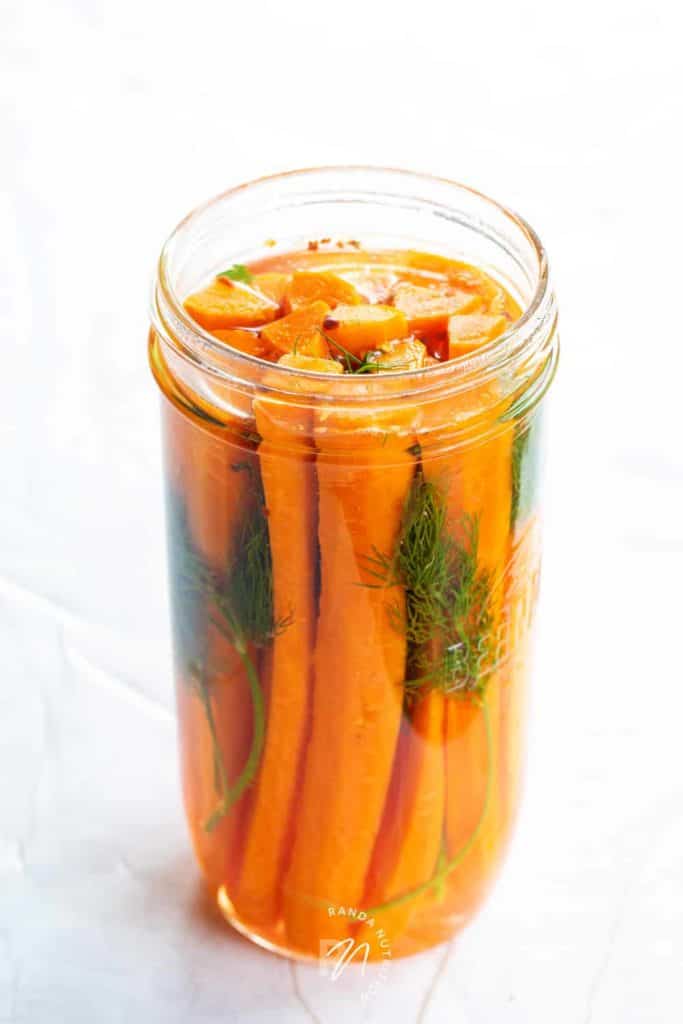 How to Make Pickled Carrots
The instructions below are laid out simple for you to make refrigerator pickled carrots.
Don't just stop at carrots either! Try this method with cauliflower, beets, asparagus, and more.
If you like this, then try this recipe for pickled onions.
Quick Pickled Carrots
You're going to love how easy these quick pickled carrots are. Whether you have a harvest from your garden or you want to experiment with a few carrots in your fridge, give this recipe a try. You'll be pickling in no time!
Ingredients
6-8

carrots

peeled and sliced lengthwise into fourths.

6

springs dill

1

garlic clove

3/4

cup

water

3/4

cup

vinegar

2

tsps

sea salt

1 1/2

tsps

cane sugar

pinch

red pepper flakes optional
Instructions
After peeling and trimming the carrots to fit, pack them into a glass mason jar. I used a tall 750ml jar (which is about 25oz for my US friends, or you can divide them between two smaller jars).

I packed as many as I could (about 6) while still having room to add the whole clove of garlic and dill.

Add the rest of the ingredients into a saucepan and bring to a boil. Once the sugar and salt are dissolved, remove from heat and carefully pour into the jar.

Let cool to room temperature (about 30-40 minutes), put a lid on the jar and move to the refrigerator.
Nutrition
Serving:
1
serving
|
Calories:
54
kcal
|
Carbohydrates:
11
g
|
Protein:
1
g
|
Fat:
1
g
|
Saturated Fat:
1
g
|
Sodium:
1230
mg
|
Potassium:
304
mg
|
Fiber:
3
g
|
Sugar:
6
g
|
Vitamin A:
15402
IU
|
Vitamin C:
7
mg
|
Calcium:
36
mg
|
Iron:
1
mg
The nutrition information is calculated using a third party resource. The accuracy varies on the brands used, weight, portions, etc. This resource should be used as a guide. If you want more accurate information, weigh in grams and log in MFP.