Sweet, salty, and oh so satisfying. This prosciutto wrapped cashew cream cheese stuffed dates recipe ticks all the boxes. Drizzled with a balsamic glaze and you have an easy dairy free party food idea that will be talked about for years to come.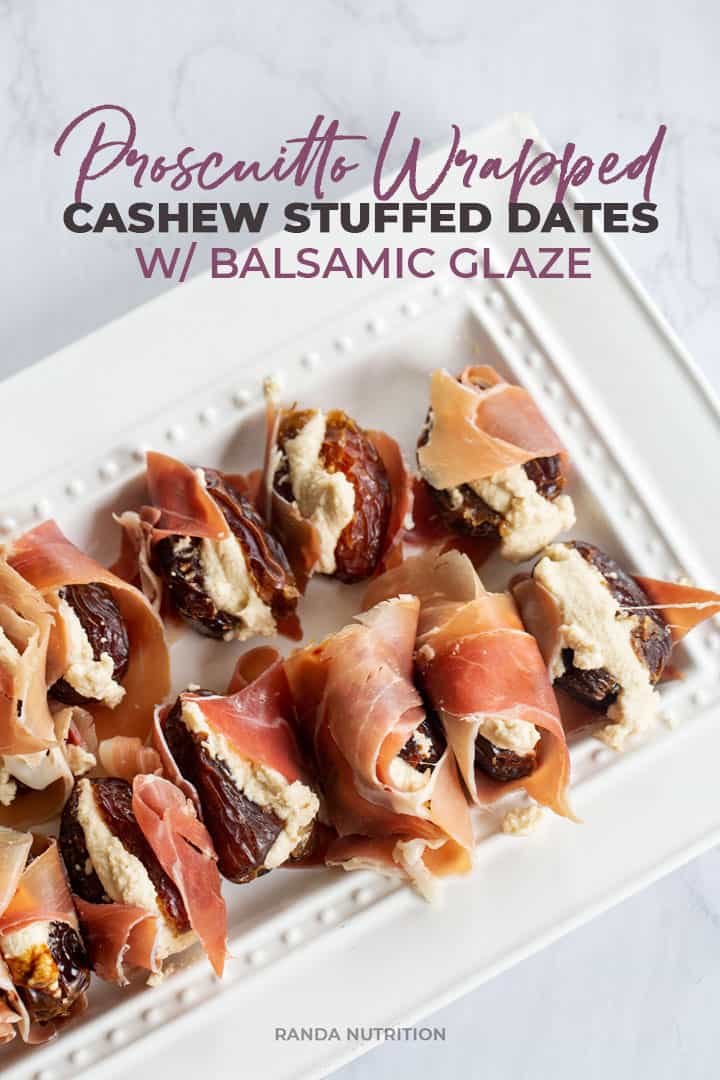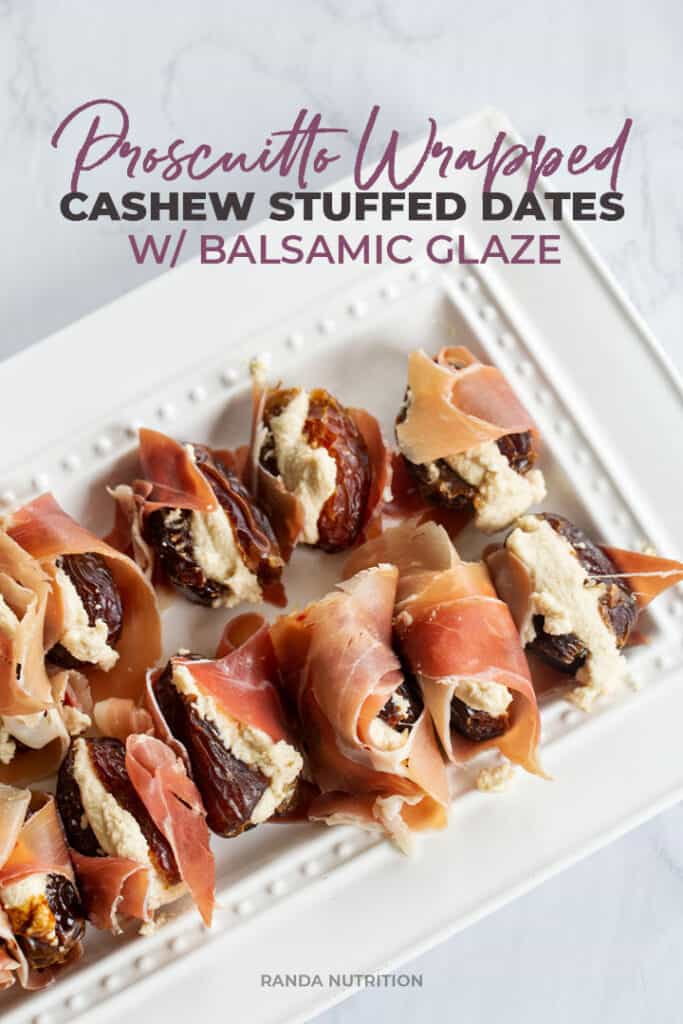 Disclosure: This post contains affiliate links for your convenience. As an Amazon Associate, I earn from qualifying purchases.
Prosciutto Wrapped Cashew Cream Cheese Stuffed Dates with Balsamic Glaze
Let's call it what it is. I can cook but I can't name recipes that well, hence why this stuffed dates recipe title is a mouthful.
When I originally made these, it was right before Canadian Thanksgiving to recipe test for a healthy appetizer for Christmas and a New Years Ever recipe.
My best friend was over while I was preparing and I totally wung it.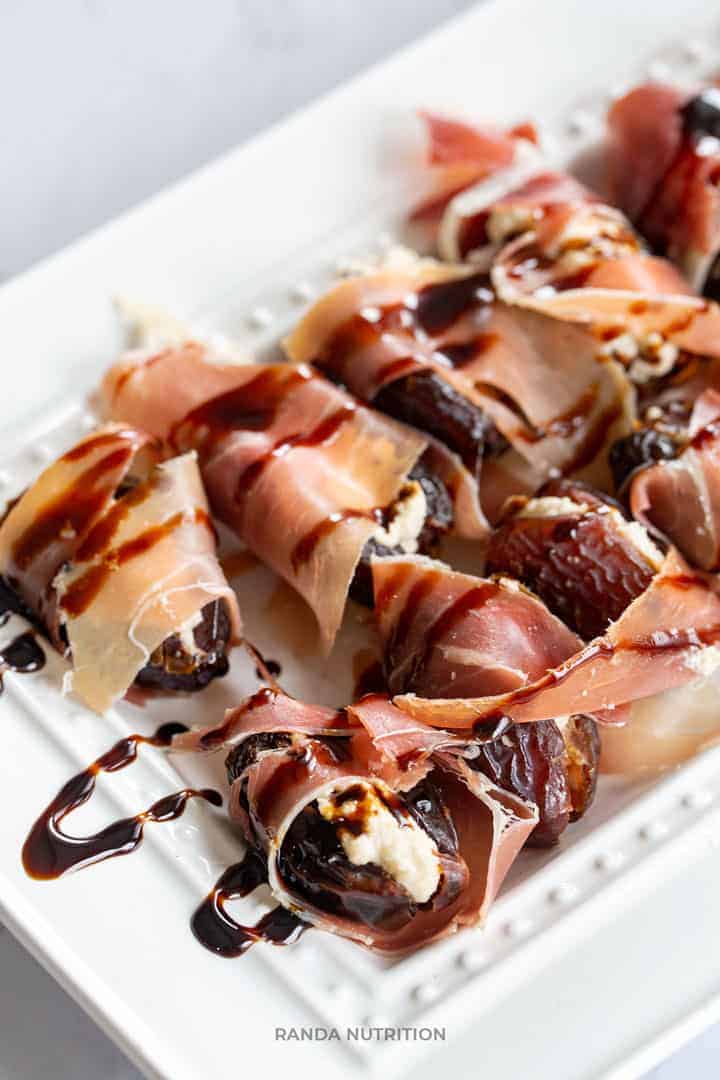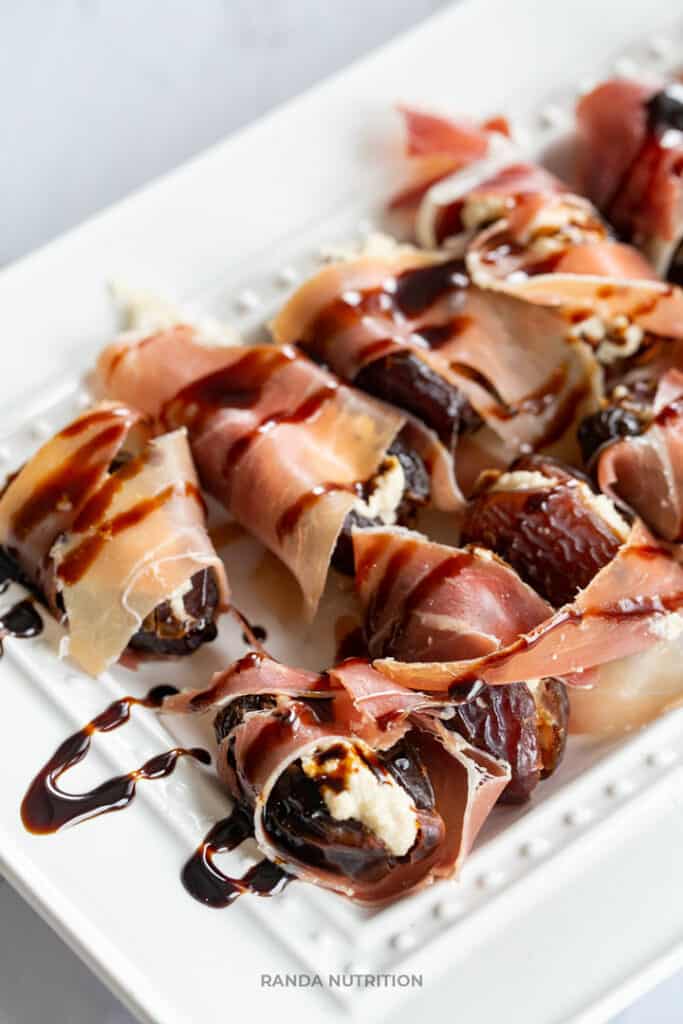 Originally the recipe was going to be just prosciutto wrapped stuffed dates but after making my Balsamic Beet Dip I was in a balsamic glaze state of mine.
I tried it out on one date and I was hooked.
I used the Nonna Pia's Original Balsamic Glaze, but you can make your own if you'd like.
Soaking the Cashews
I do recommend soaking the cashews to make them easier to blend.
Cashews are smooth as they are but soaking makes it that much creamier.
Did you forget to soak them overnight? No problem. Boil some water, then pour over the cashews. Let soak for an hour.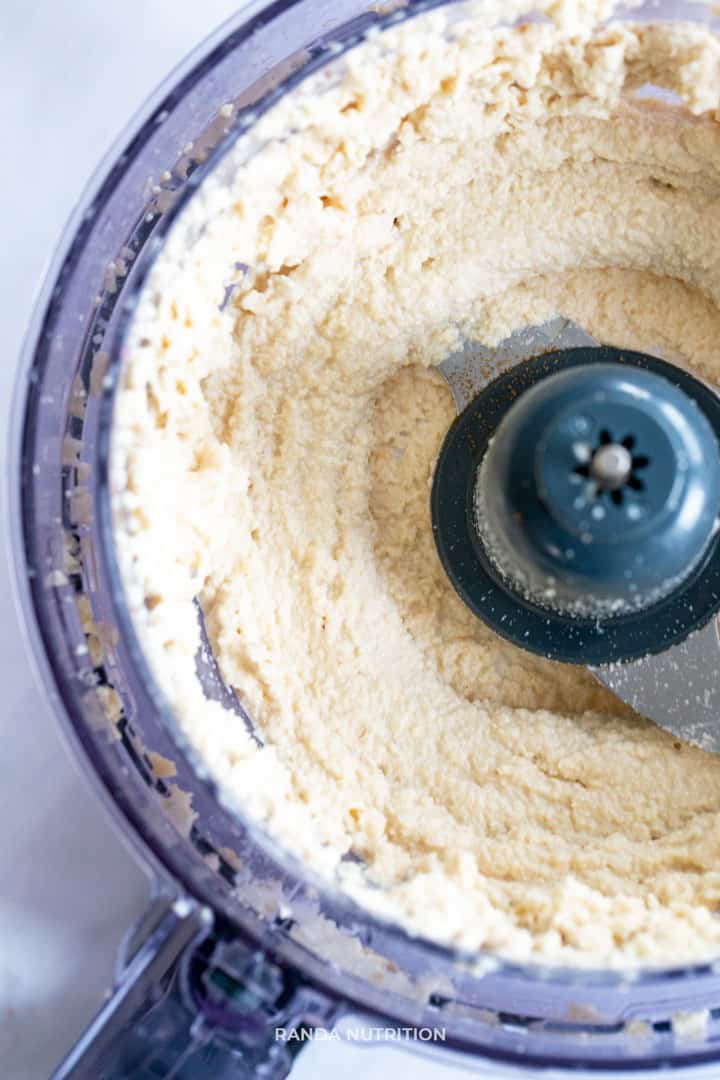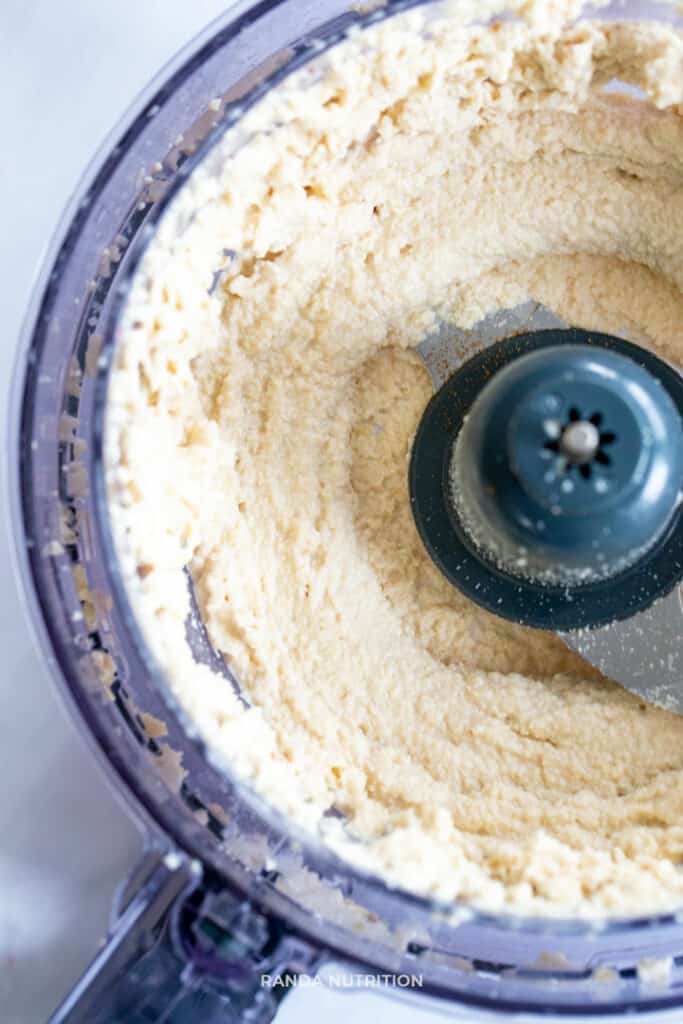 I find it's easier to use a food processor for cashew cream cheese vs a blender. However, if you use a blender you may have to scoop down the sides and bottom often and let it go for longer.
Blend until you reach your desired texture.
Bacon Vs Prosciutto for Wrapping Dates
I was debating between prosciutto or bacon wrapped stuffed dates but opted for a dry cured meat because I found traditional bacon to be too greasy.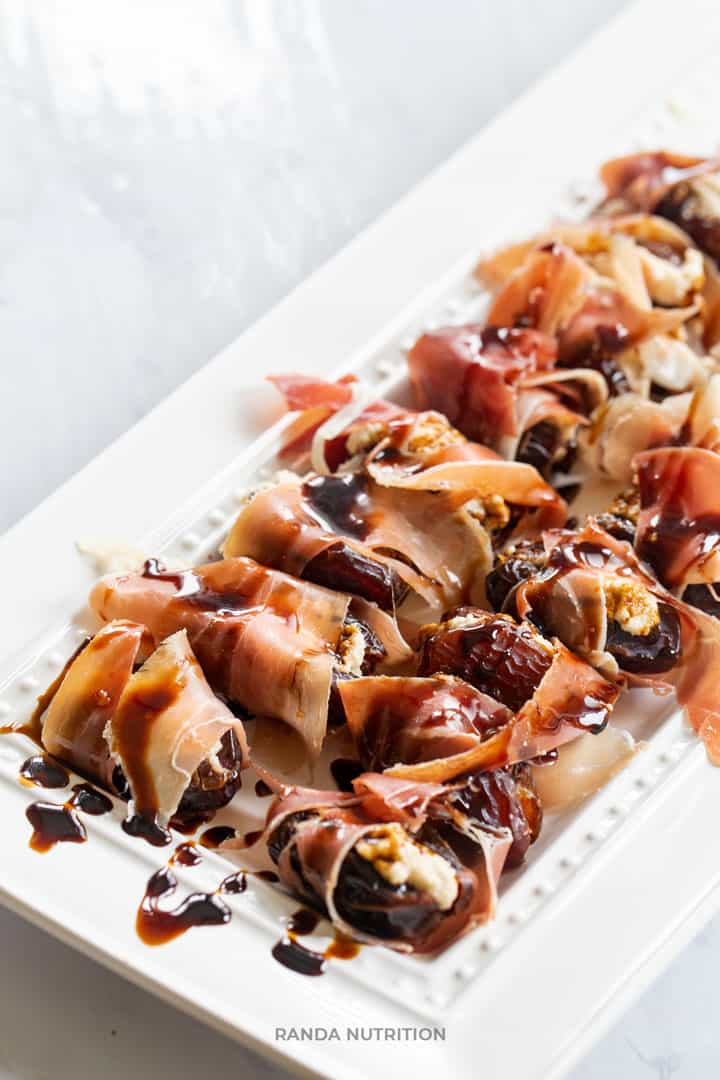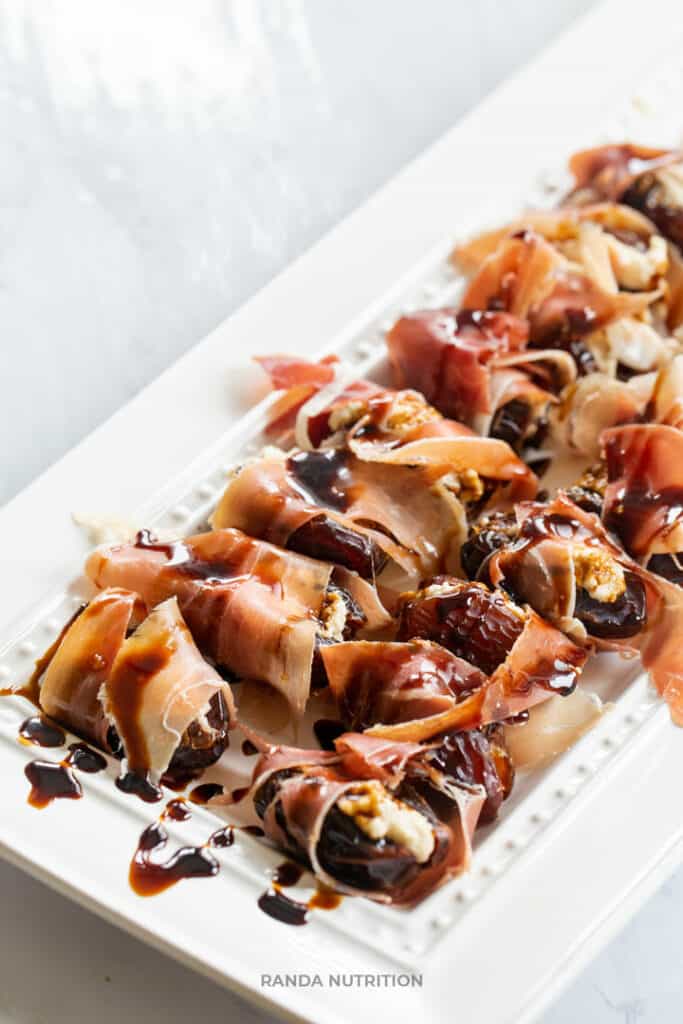 I want you to feel satisfied after a date or two, not yucky.
Also, let's face it it's never just 1 or 2 foods at an appetizer table either. You'll be sampling the whole table (or you will if you're anything like me). So I wanted to make it a little bit lighter and for it to be easier on your stomach.
Are Stuffed Dates Healthy?
For the most part, the ingredients are whole foods based. Yes there is a little added sugar in the balsamic glaze and the prosciutto is heavily salted but it's not the worst thing to have as a healthy party snack idea.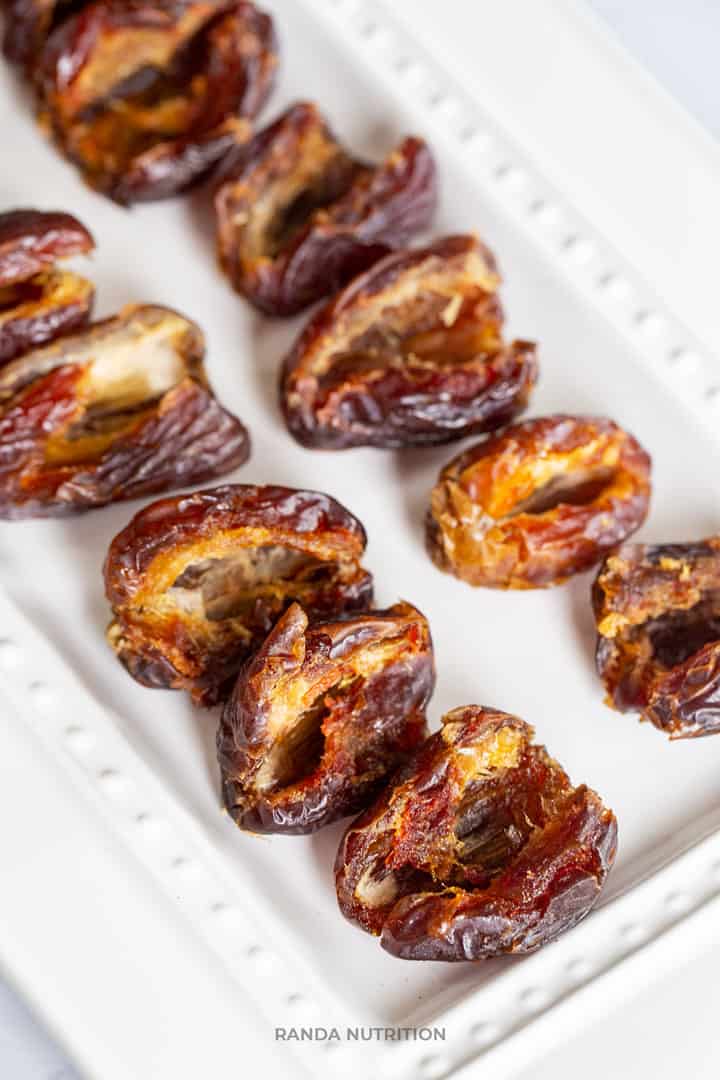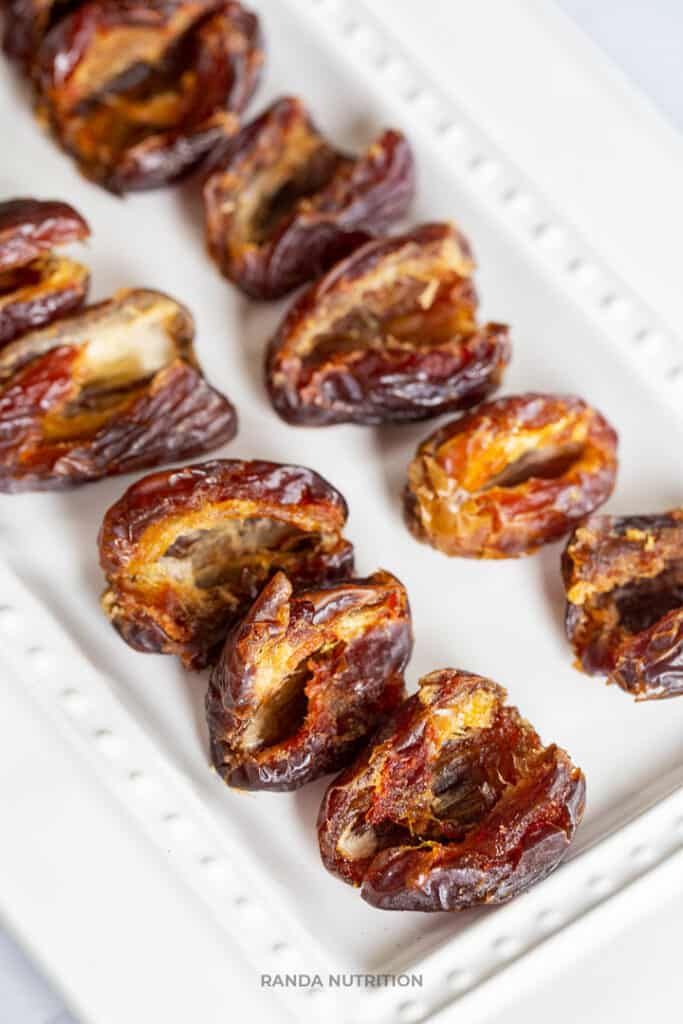 I wouldn't recommend eating them one after one, due to the fact that dates are high in sugar and the fact that the dairy free cream cheese is made from cashews. The calories would add up quick.
That being said, it's hard to overeat this recipe. It's rich and ticks both the sweet and savory tastebuds that you'll be satisfied after only one or two.
How to Store Leftover Stuffed Dates
You can cover the leftovers with plastic wrap and place them in the fridge.
They held up well and my mom dove into them the next day with no complaints.
To have them keep, just ensure they're covered.
How to Make Vegan Stuffed Dates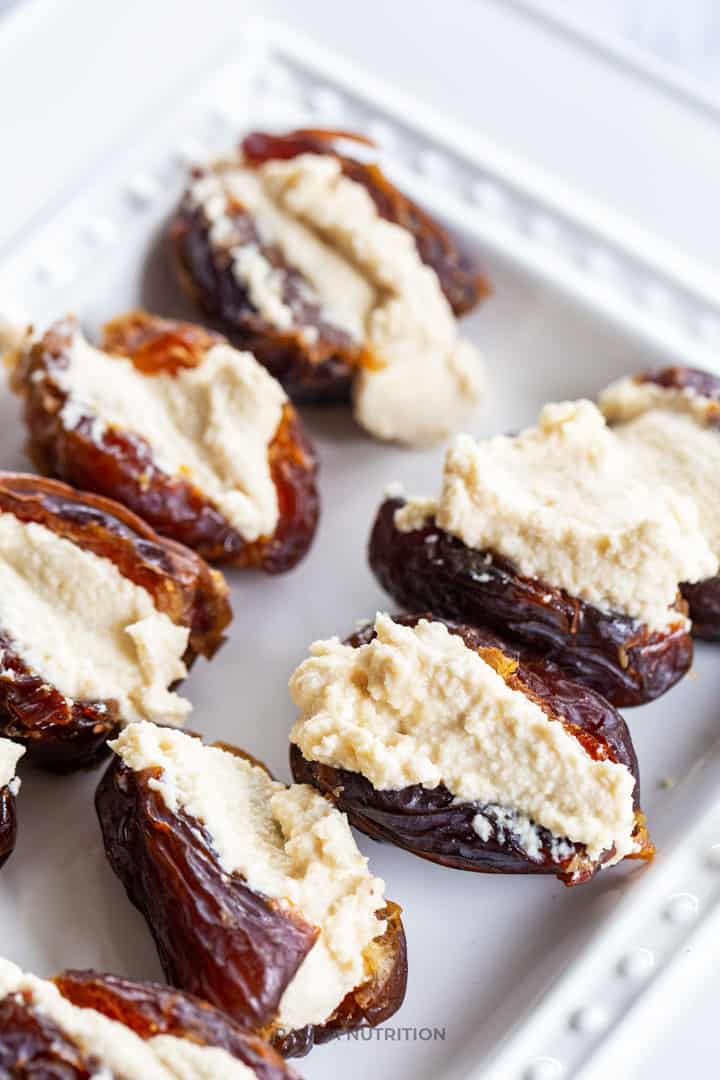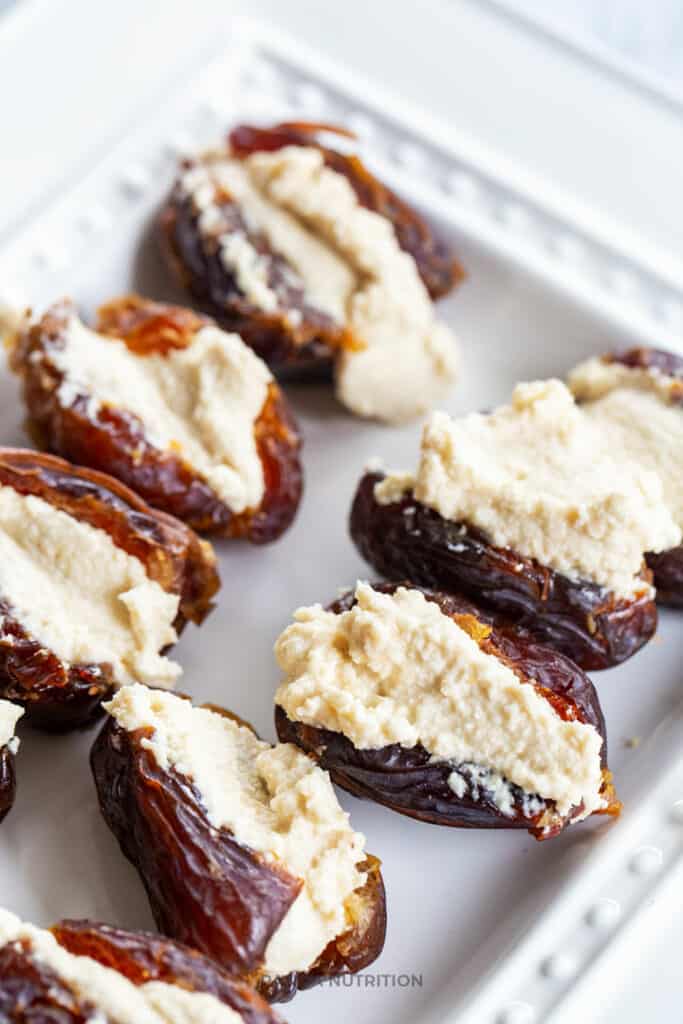 Obviously, the prosciutto is not vegan or vegetarian. Simply omit the prosciutto.
You cold try wrapping it in smokey tempeh "bacon" to get a similar taste.
How to Make Dairy Free Stuffed Dates
I'm so excited to share this recipe for stuffed dates because it's incredibly easy to throw together.
The most work is mixing up the cashew cream cheese and even that takes a minute or two.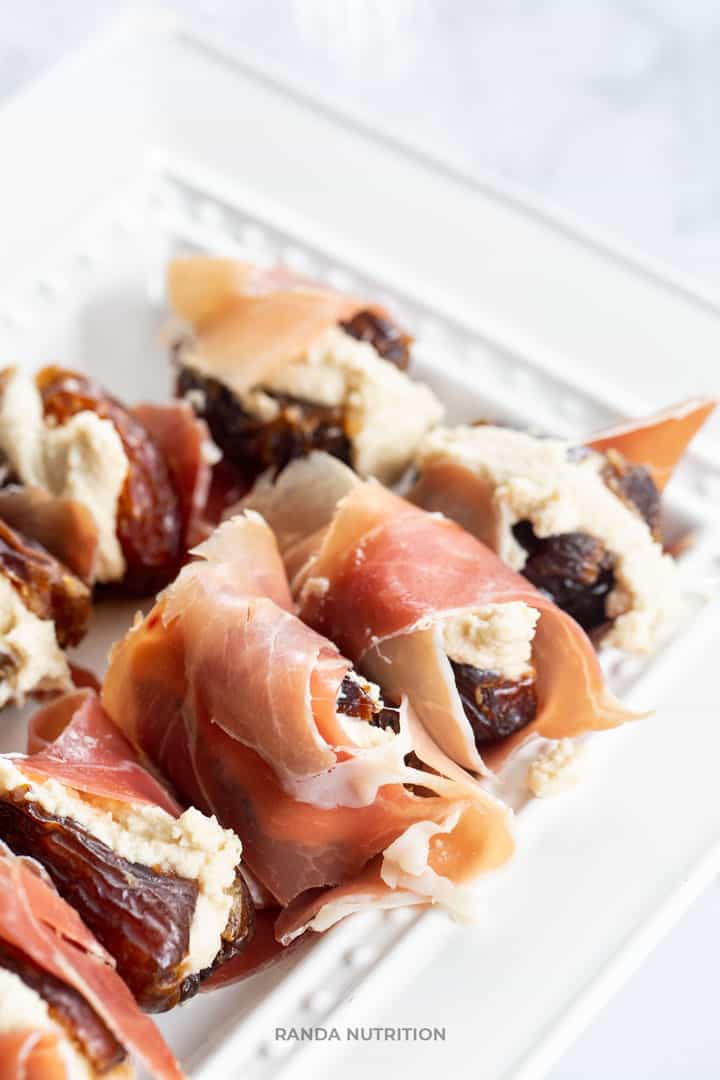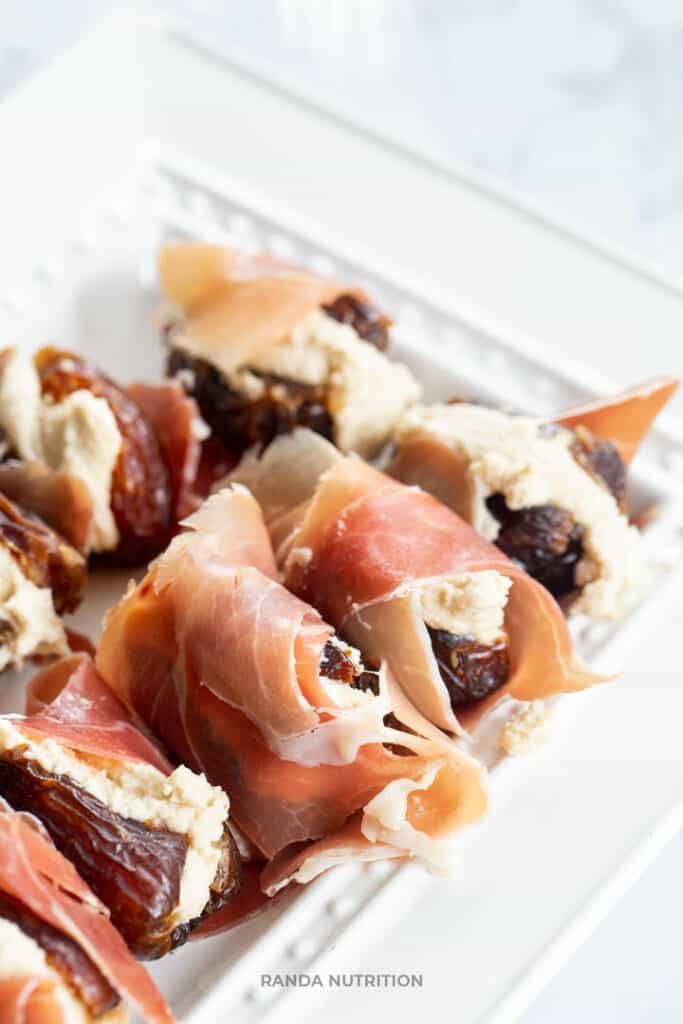 I didn't use toothpicks to hold the prosciutto over the cashew stuffed dates and it held together fine.
The trick was cutting the prosciutto. In the heat of recipe development (this means I rushed because I wanted to eat) I ripped the prosciutto but it wasn't in uniform strips, which you can tell in the photos.
Whatever…it tastes the same just not as pretty.
I then took the store bought balsamic glaze and drizzled as much as my heart desired. It was probably about 1-2 tablespoons. I didn't measure it out.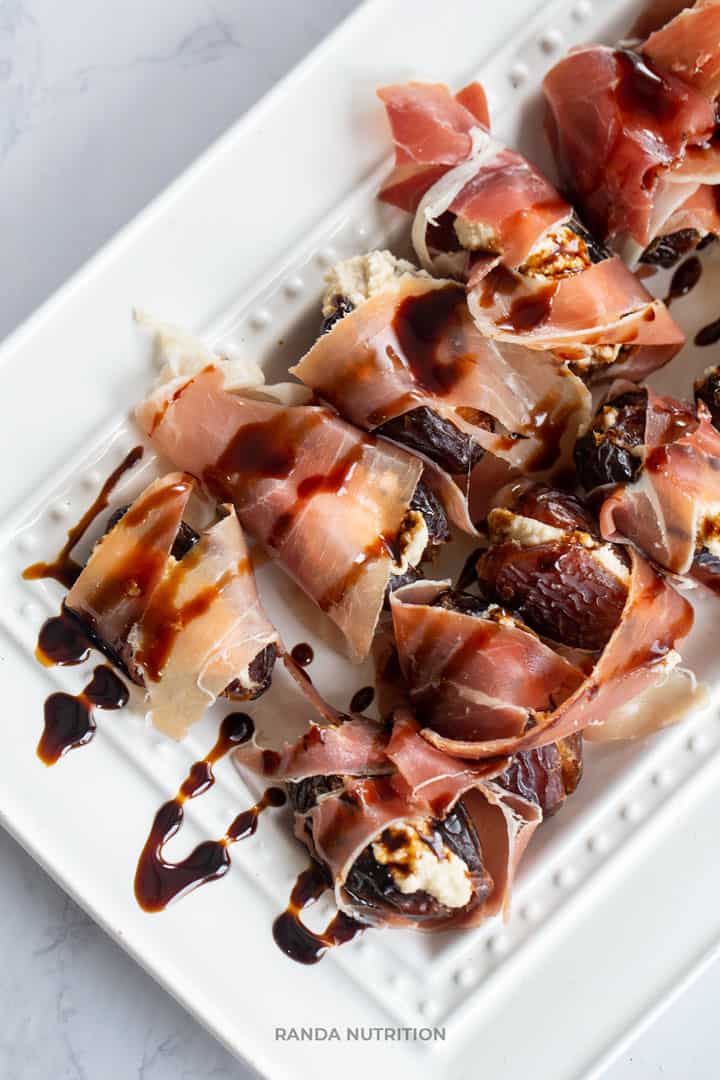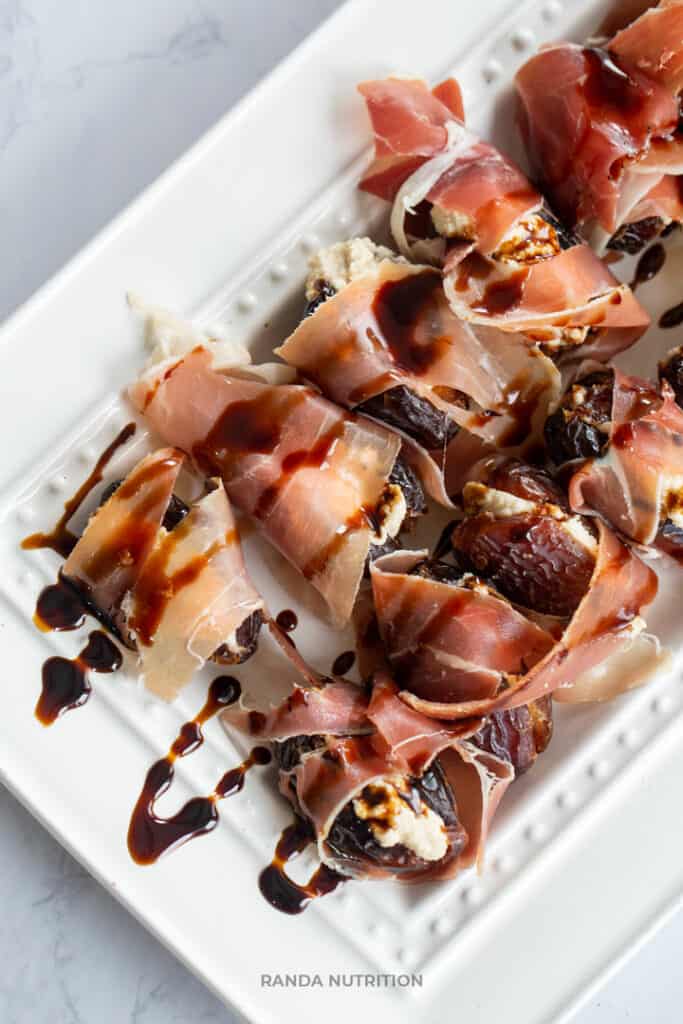 More Healthy Holiday Appetizer Recipes
Prosciutto Wrapped Cashew Cream Cheese Stuffed Dates with Balsamic Glaze
These prosciutto wrapped cashew cream cheese stuffed dates with balsamic glaze are the perfect party appetizer. They're dairy free and so easy to make.
Servings
21
stuffed dates
Ingredients
21

dates

pitted

10

sliced

prosciutto

sliced into smaller pieces

1

tablespoon

balsamic glaze

for drizzling
Instructions
Cashew Cream Cheese
Add all over the ingredients into a food processor and process on high until smooth and creamy. Taste and adjust seasonings. You don't want it too sweet as the dates will be very sweet.
Assembly
Stuffed each date with a spoonful of cashew cream cheese. Wrap the prosciutto around each date invividually. When finished drizzle the balsamic glaze over the dates.
Notes
Make it Vegan
Obviously, the prosciutto is not vegan or vegetarian. Simply omit the prosciutto.
You cold try wrapping it in smokey tempeh "bacon" to get a similar taste.
Nutrition
Serving:
1
date
|
Calories:
71
kcal
|
Carbohydrates:
8
g
|
Protein:
2
g
|
Fat:
4
g
|
Saturated Fat:
1
g
|
Cholesterol:
3
mg
|
Sodium:
137
mg
|
Potassium:
94
mg
|
Fiber:
1
g
|
Sugar:
5
g
|
Vitamin C:
1
mg
|
Calcium:
5
mg
|
Iron:
1
mg
The nutrition information is calculated using a third party resource. The accuracy varies on the brands used, weight, portions, etc. This resource should be used as a guide. If you want more accurate information, weigh in grams and log in MFP.