Sheet Pan Roasted Red Pepper Chicken and Vegetables
There is something about sheet pan chicken and potatoes that makes a perfect summer chicken dinner. This roasted red pepper chicken and vegetables takes one pan chicken and transforms it into a flavorful (yet easy) supper that your whole family will love.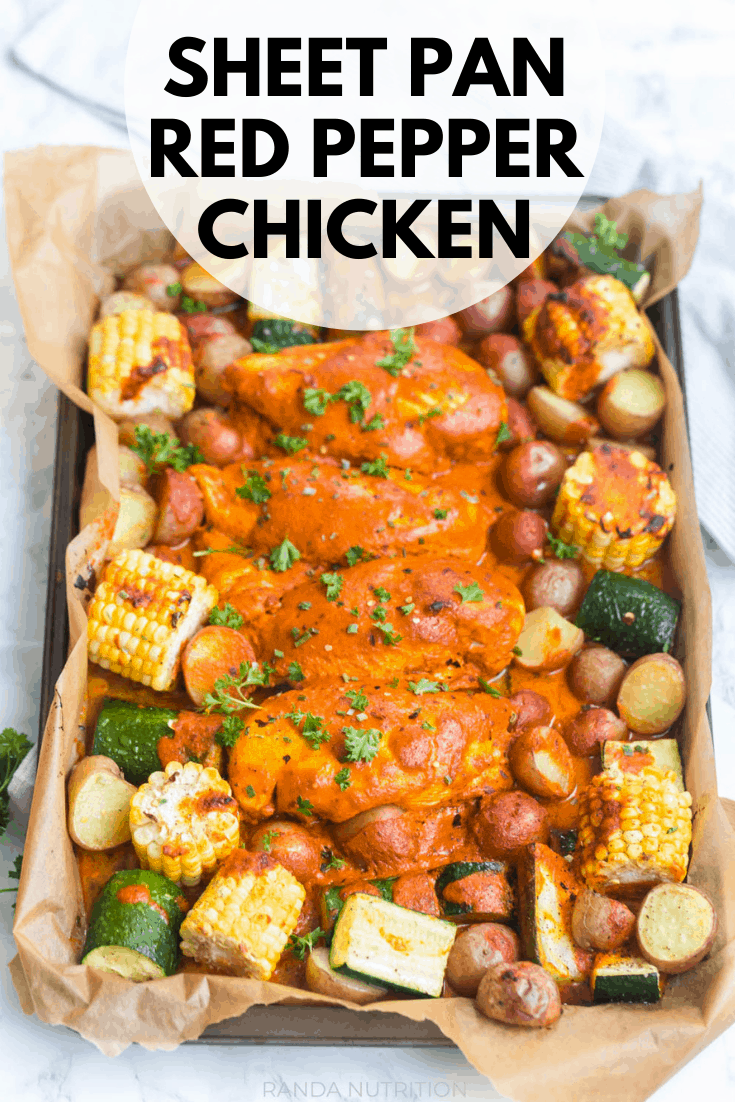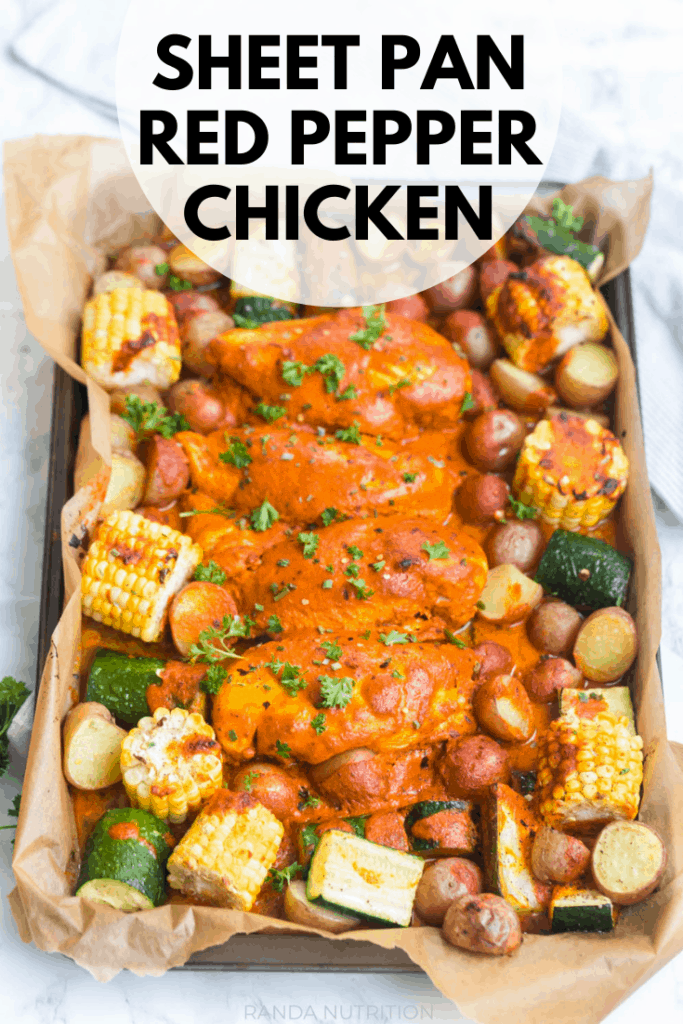 Disclosure: This post contains affiliate links for your convenience. As an Amazon Associate, I earn from qualifying purchases.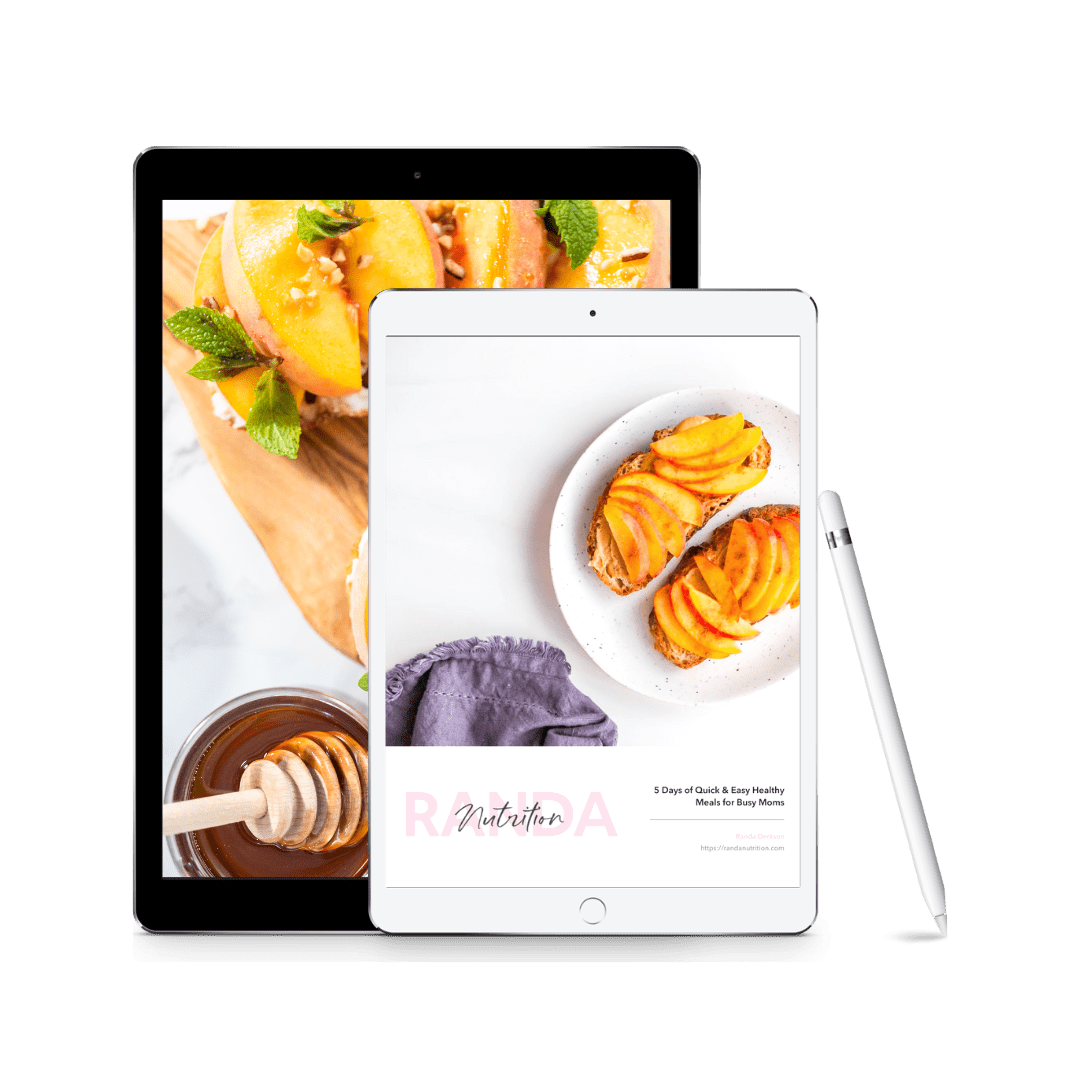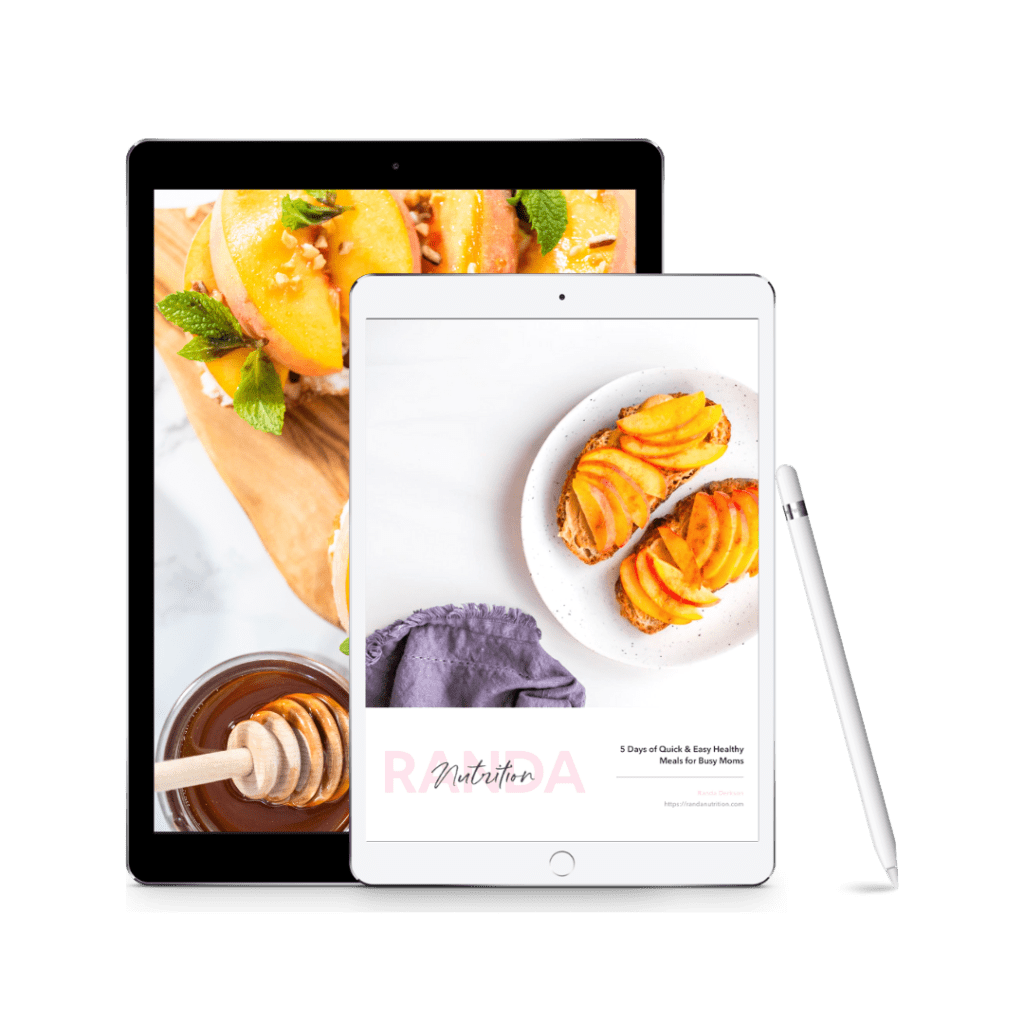 5 Day Meal Plan for Busy Moms
Download the free 5 day meal plan for busy moms by signing up for the Randa Nutrition email list.
Sheet Pan Roasted Red Pepper Chicken and Veggies
There is a red pepper chicken recipe that my clients love when they take my one on one nutrition program.
I took that recipe and "beefed it up" a bit by adding more vegetables and a little more oomph to the roasted red pepper sauce.
The results are phenomenal, even my picky eight year old ate this. It's safe to say that this roasted red pepper chicken recipe is here to stay in my family's recipe rotation.
Roasted Red Pepper Sauce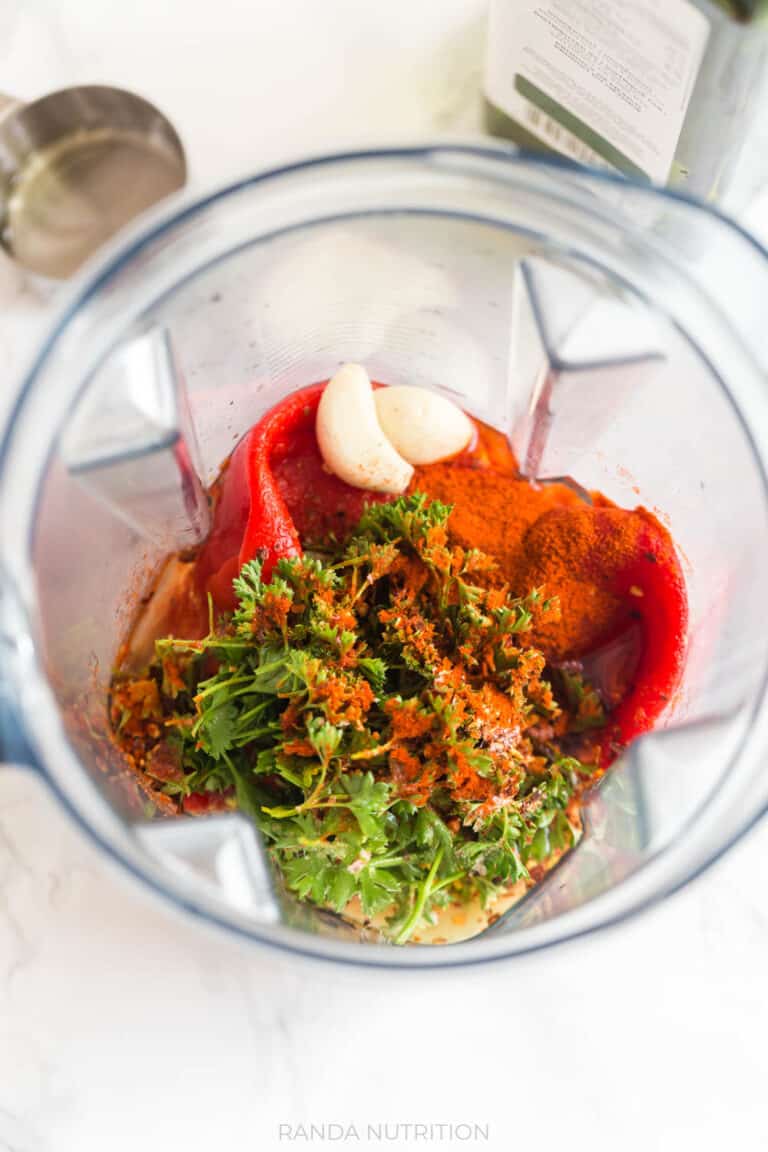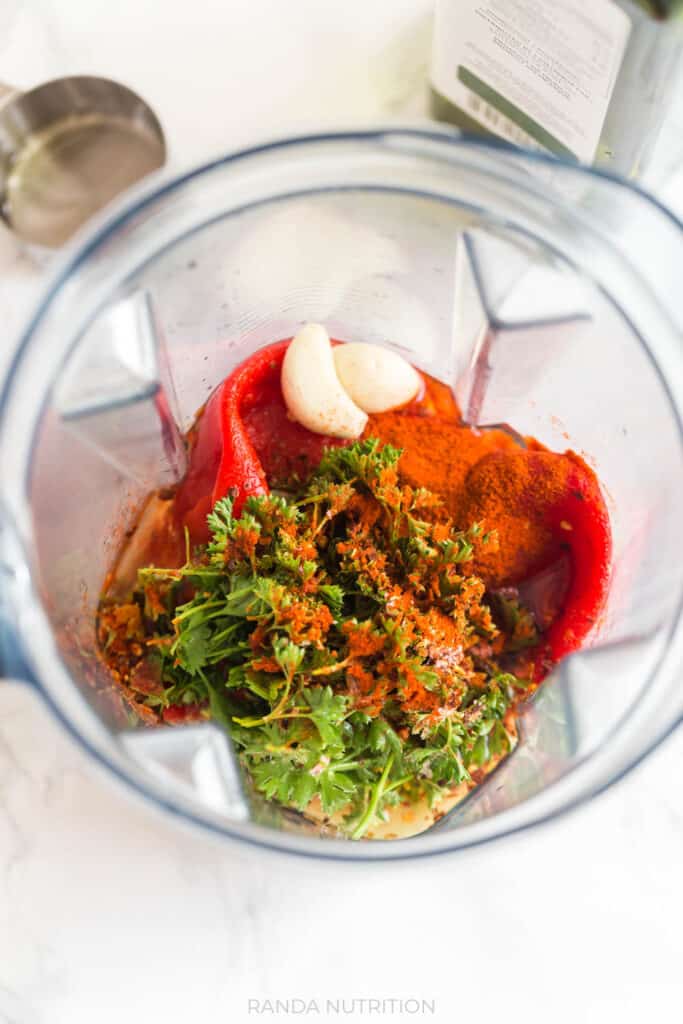 This red pepper sauce is incredible, but you don't have to just use it for this sheet pan dinner.
Here are a few other ideas on how you can utilize this sauce for your family meals:
Try it in a roasted red pepper chicken pasta.
Use it as a dip for grilled chicken (or in place of a BBQ sauce).
Two words: salad dressing. You could have it as is it add some olive oil or water to thin it out a bit.
Those are just a few ideas because trust me, you'll want this again and with it being so easy to whip up in the blender, you'll be making it all the time.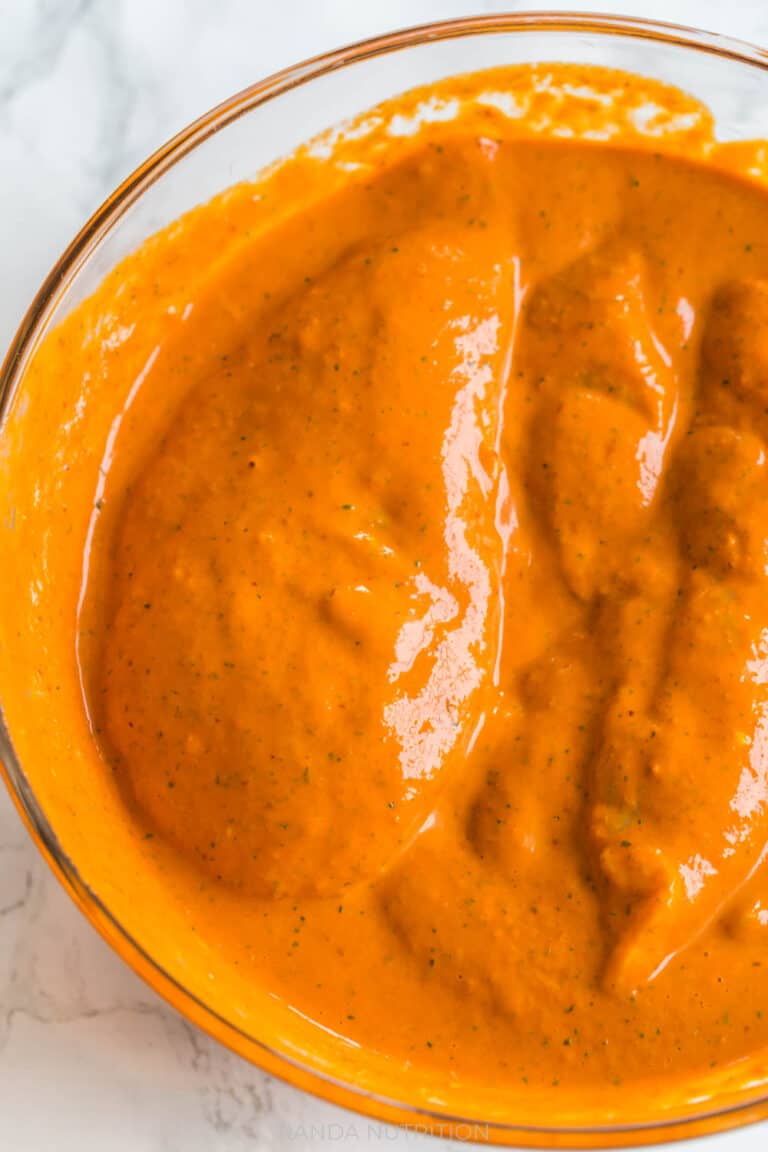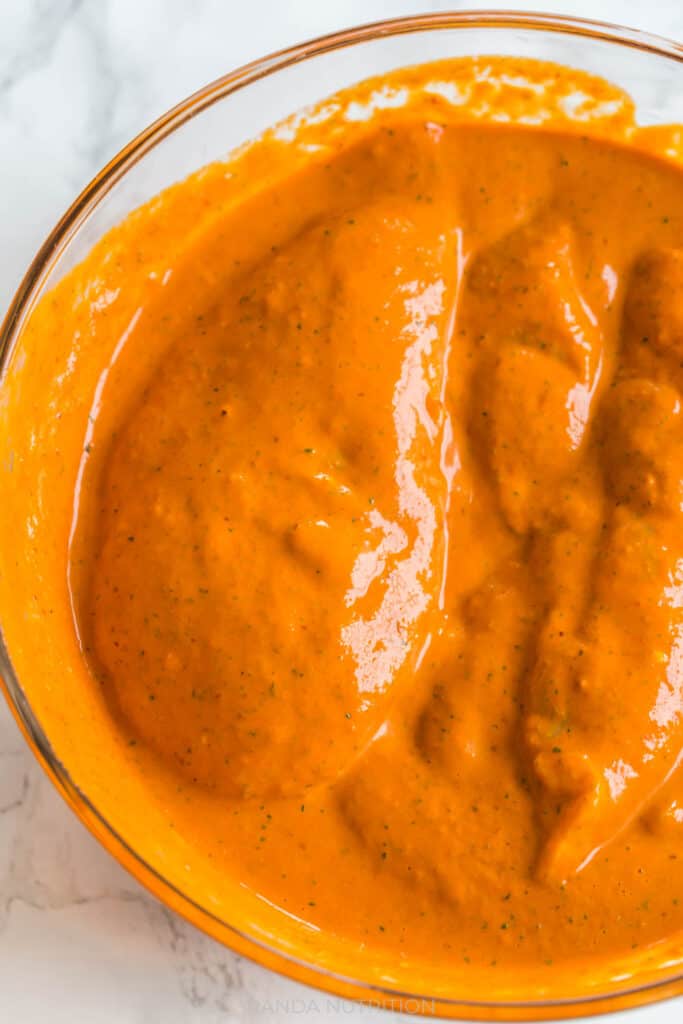 This sauce has two uses in this recipe:
Sheet pan marinade
Chicken and veggie sauce
I buy roasted red peppers in a jar, drain and rinse them. This particular recipe I used the President's Choice brand but I've used multiple brands and they all are similar.
If you don't have any jarred peppers, you can roast your own. There is equivalent of two red peppers in this recipe.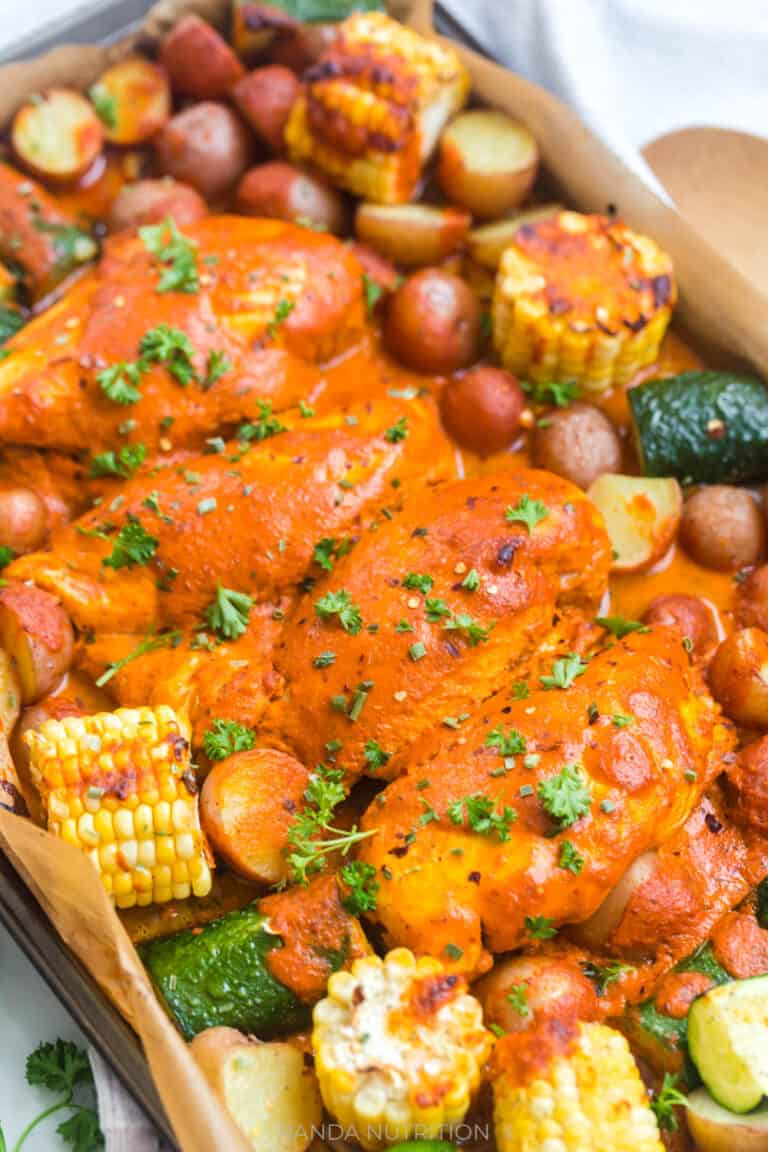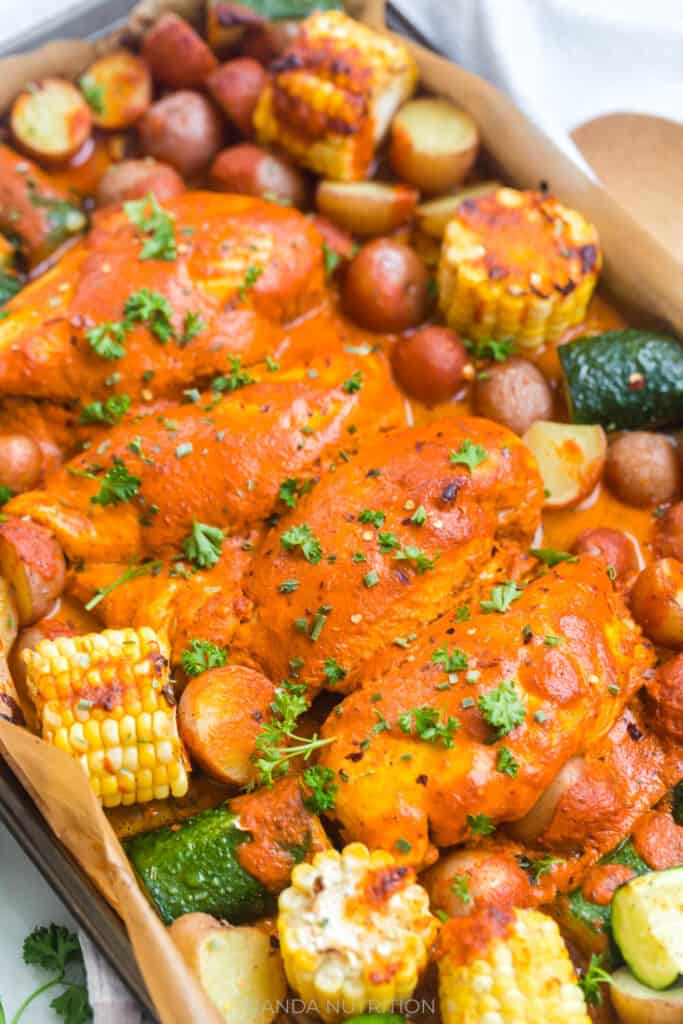 How to Prevent Zucchini from Getting Mushy
Zucchini holds a lot of moisture, which can lead to mushy zucchini. Here are some stips to prevent zucchini from getting soggy.
After you slice up the zucchini, sprinkle it with salt and let it sit for 30 minutes. Salt will draw out the excess moisture.
Cut it into smaller pieces. I found the pieces that were smaller turned out best in this recipe.
Roast the skin side down, this allowed the zucchini to crisp up better.
Sheet Pan Veggies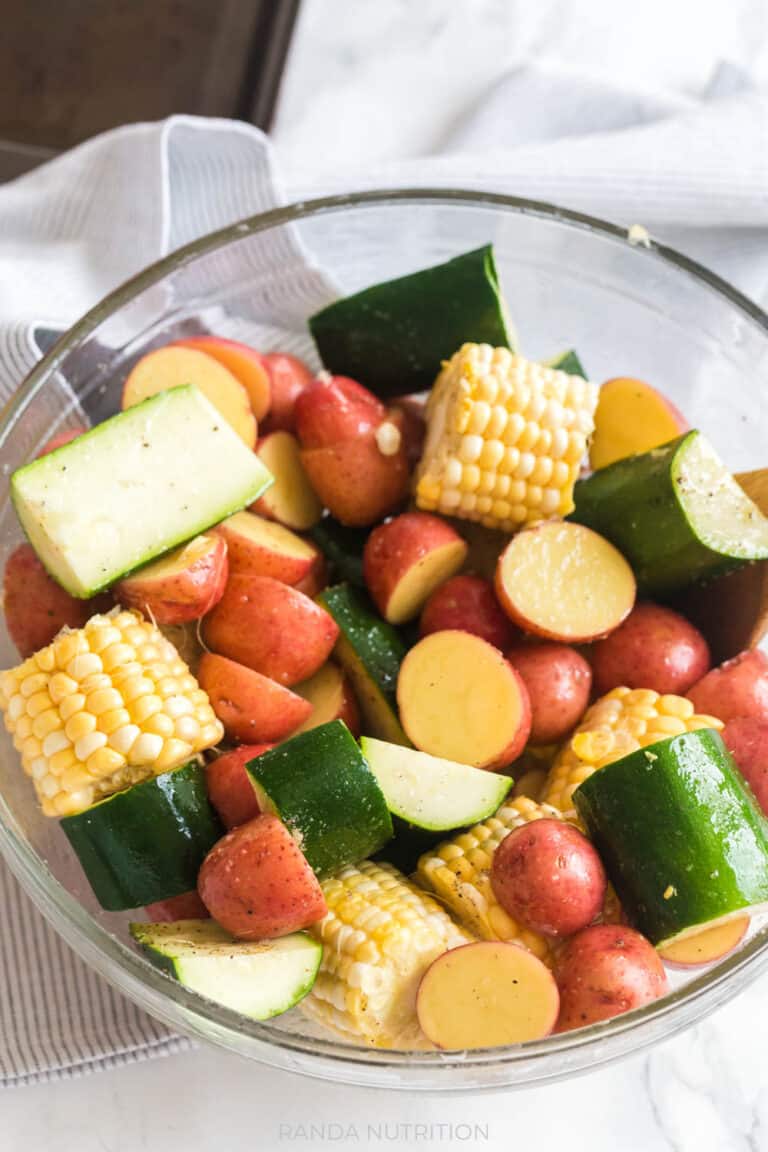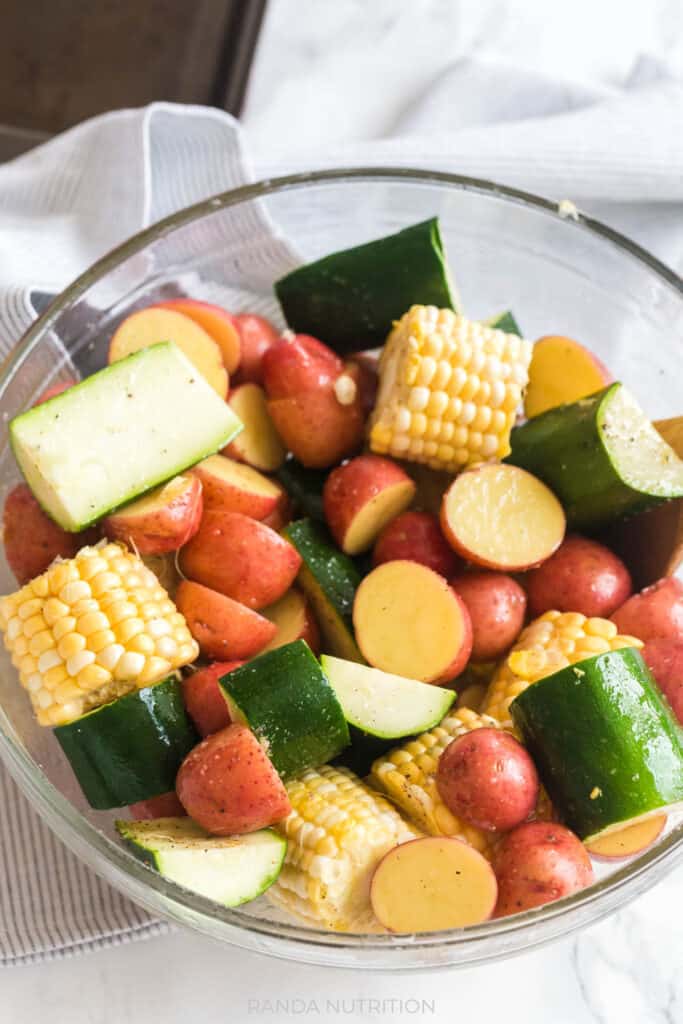 If you're a picky eater, like I am, then you may want to substitute the zucchini and/or corn. Here is a list of delicious vegetables to cook on a sheet pan.
Bell peppers
Poblano Peppers
Carrots
Beets
Fennel
Turnips, Sweet Potatoes, Potatoes
Asparagus (this needs less time to cook, add it in the past 10-12 minutes)
Broccoli
Cauliflower
As you can see, you can roast almost every vegetable (I would stay away from lettuce and leafy greens).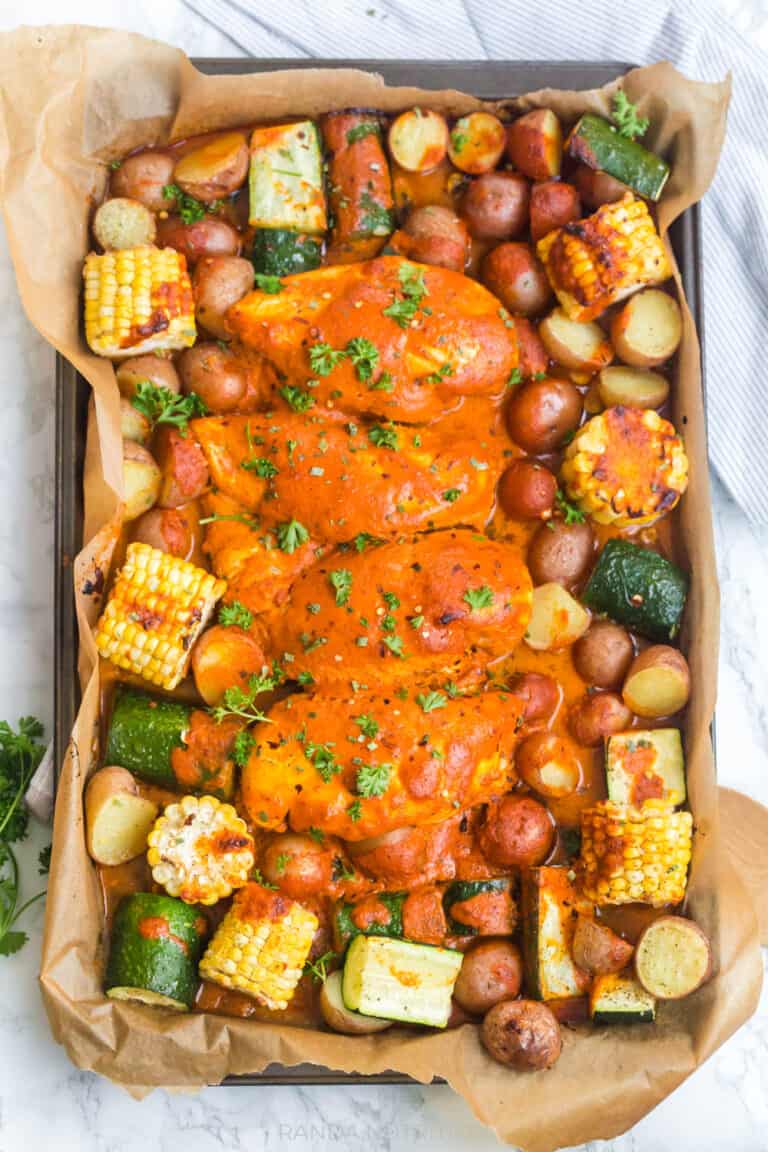 Sheet Pan Dinner Questions
What is the best pan to use to roast vegetables?
A rimmed baking sheet works just fine. I like to line mine with parchment paper for easy clean-up.
Why do you use avocado oil? Can I use olive oil?
Avocado oil has a higher smoke point than olive oil. You're not supposed to cook with olive oil on such high heat. If you don't have avocado oil, melted coconut oil will work as well. Learn more on this quick guide to healthy cooking oils.
What temperature is best for roasting vegetables?
I vary my oven temperature with my recipes from 400-450F. This recipe is 425F and it worked perfectly when I was also cooking chicken with it for a true one-pan meal.
What can I use instead of a sheet pan?
If you don't have a sheet pan (cookie or baking sheet) you can use the biggest pan you have. A 9×13 will work too, but there may be some crowding. Simply make sure you stir it during cooking times to make sure all the vegetables cook evenly.
Is it safe to marinate the chicken and pour the sauce over the veggies?
Yes it is because the oven will kill all the raw chicken juices out of the sauce, just like how it cooks the chicken.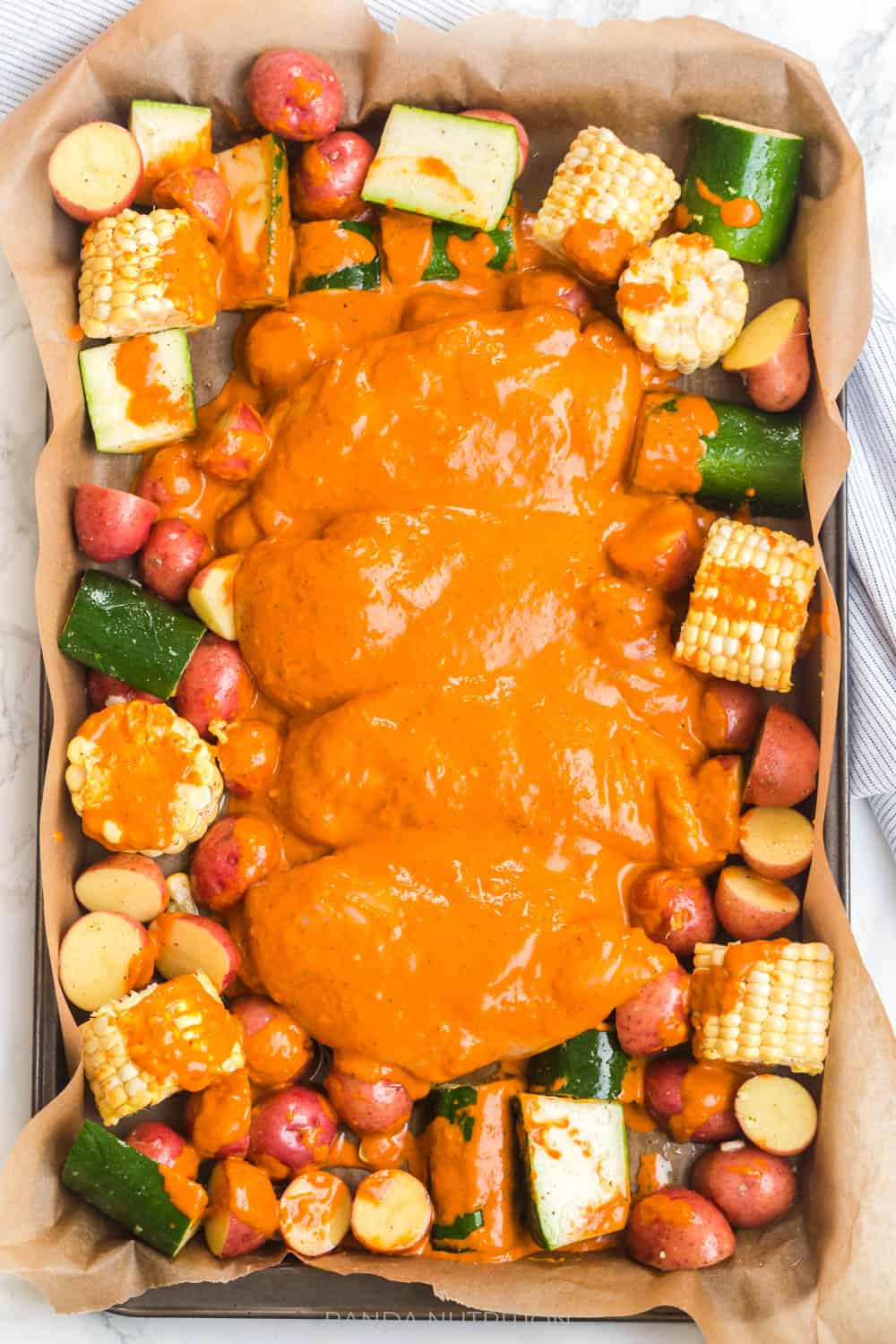 Pin
Sheet Pan Chicken and Veggies with a Roasted Red Pepper Sauce
How do you make a sheet pan dinner? It's one of the easiest cooking practices out there, and perfect for weeknight meals. Simply line your sheet pan, add your ingredients, and bake.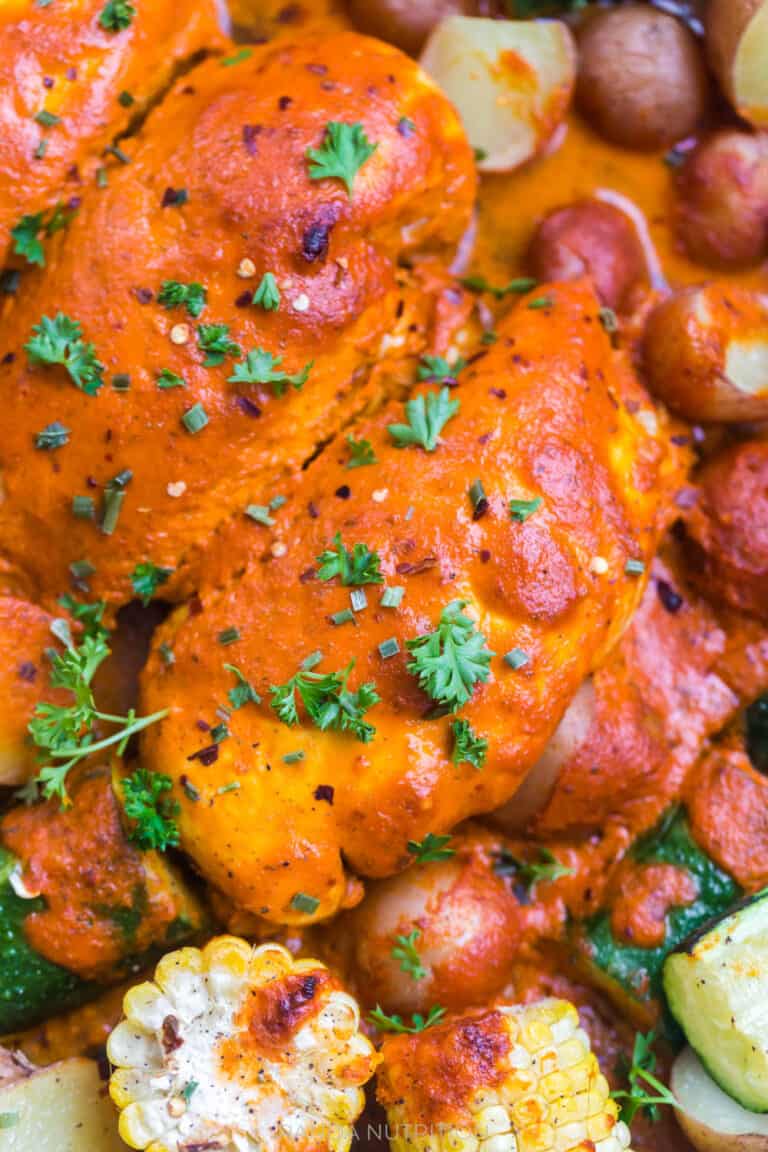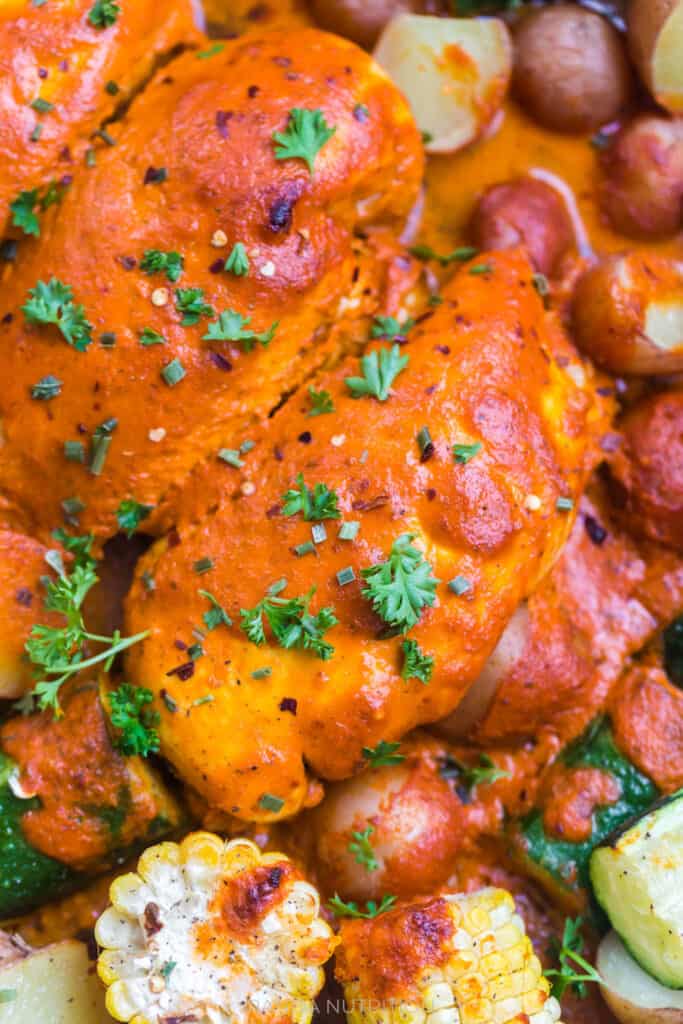 The benefits to sheet pan meals are that you only have one pan to wash (not including mixing bowls if you throw sauces together) and one thing cooking at once.
It's a busy mom's dinnertime best friend.
More Summer Recipes on Randa Nutrition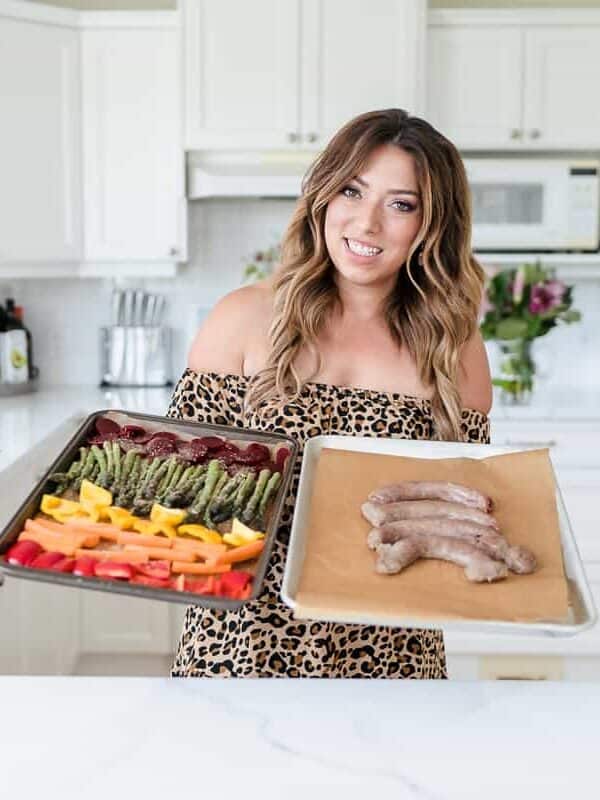 Get Your Nutrition Back On Track
Sign up for FREE 3 Day Challenge
Learn the customized nutrition for your specific needs.
How much you should really be eating.
and so much more.
Sheet Pan Roasted Red Pepper Chicken and Vegetables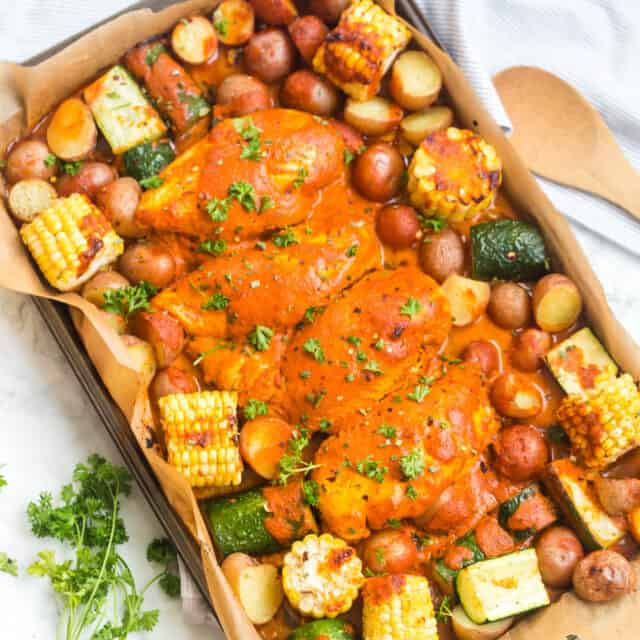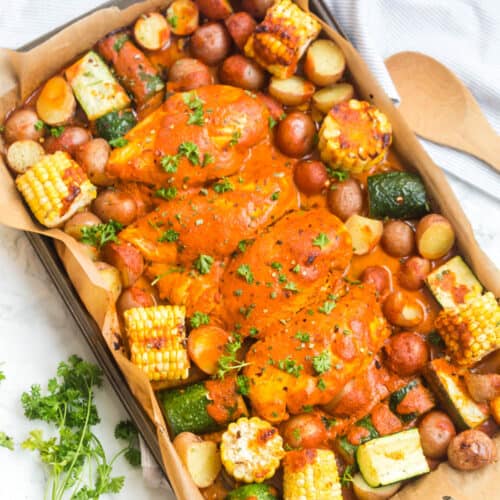 This healthy recipe for roasted red pepper chicken and vegetables takes one pan chicken and transforms it into a flavorful (yet easy) dinner.
Ingredients
For the Sheet Pan Dinner
4

chicken breasts

4

cups

baby red potatoes

2

zucchini

sliced lengthwise and then into thirds

2

corn cobs

sliced into quarters

2

tablespoons

avocado oil

1

teaspoon

sea salt

1/4

teaspoon

black pepper
Instructions
Roasted Red Pepper Sauce
Add all of the ingredients into a blender and blend until smooth. Set aside.
Putting it together
In a medium bowl, add the chicken breasts and pour the marinade over the chicken. Let sit for at least 30 minutes. While the chicken is marinading, prepare the vegetables.

Preheat the oven to 425F. Line a sheet pan with parchment paper.

In a large bowl, add all of the vegetables, toss with avocado oil and season with salt and pepper.

Arrange the vegetables on the sheet pan leave space in the middle for the chicken breast.

Once the chicken is done marinating, add the chicken to the center of the sheet pan and pour any remaining sauce over the chicken and the vegetables. Bake for 30 minutes, or until chicken is done (165F) and vegetables are tender, yet crisp.
Notes
I used a jar of roasted red peppers, 285ml approximately 10 ounces. It's roughly 2 red peppers, roasted, if you would like to make your own.
Nutrition
Serving:
1
serving
Calories:
567
kcal
Carbohydrates:
42
g
Protein:
43
g
Fat:
27
g
Saturated Fat:
4
g
Trans Fat:
1
g
Cholesterol:
109
mg
Sodium:
1883
mg
Potassium:
1779
mg
Fiber:
7
g
Sugar:
7
g
Vitamin A:
1623
IU
Vitamin C:
80
mg
Calcium:
74
mg
Iron:
3
mg
I personally loved this combination and will be creating more red pepper and chicken recipes on Randa Nutrition.