Bored of the same old side dishes during your summer bbq? Switch it up with this Roasted Sweet Potato Salad that uses whole food ingredients that are Whole30 and clean eating compliant.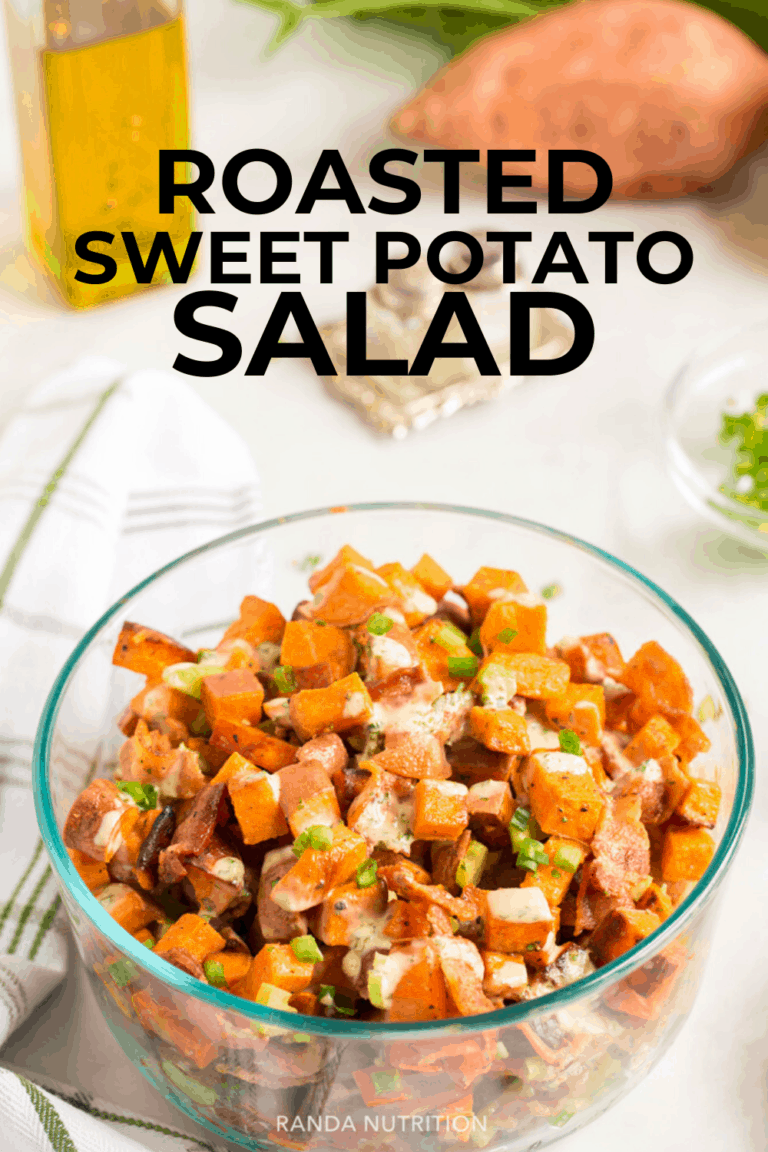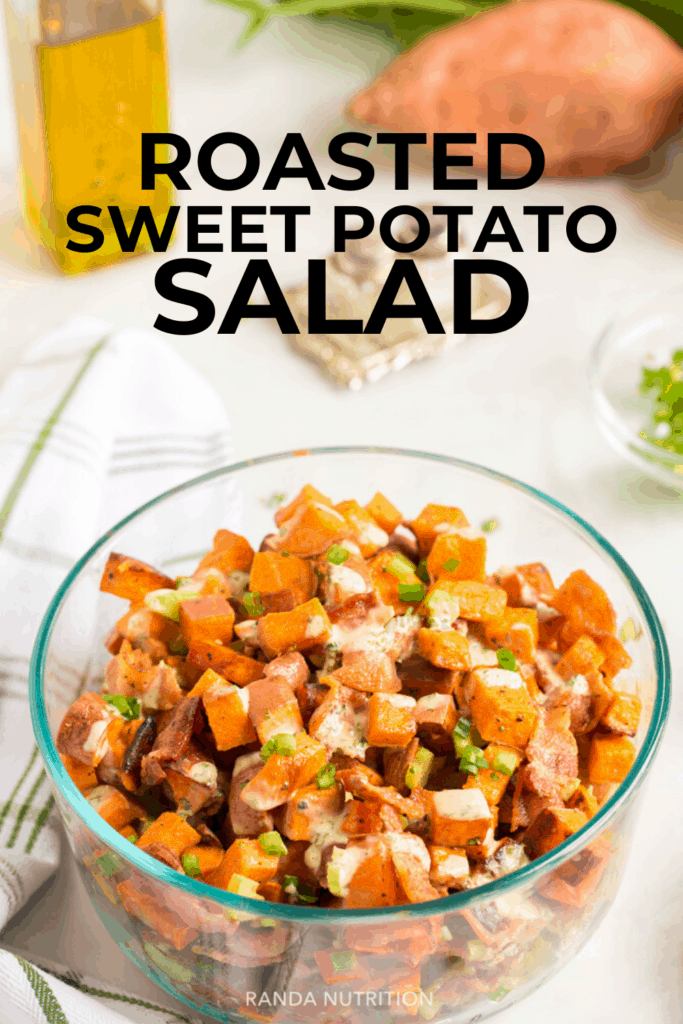 Disclosure: This post contains affiliate links for your convenience. As an Amazon Associate, I earn from qualifying purchases.
Roasted Sweet Potato Salad
Summer is here. That means backyard bbqs and your favorite summer foods. Today I'm sharing a twist on the traditional potato salad with this creamy sweet potato salad made with a healthier mayonnaise.
What I like about this recipe is it has some zest and a ton of flavor (thanks to the dijon mustard and bacon). It's not a sweet potato salad (aside from the sweet potatoes) which works best for my personal tastes.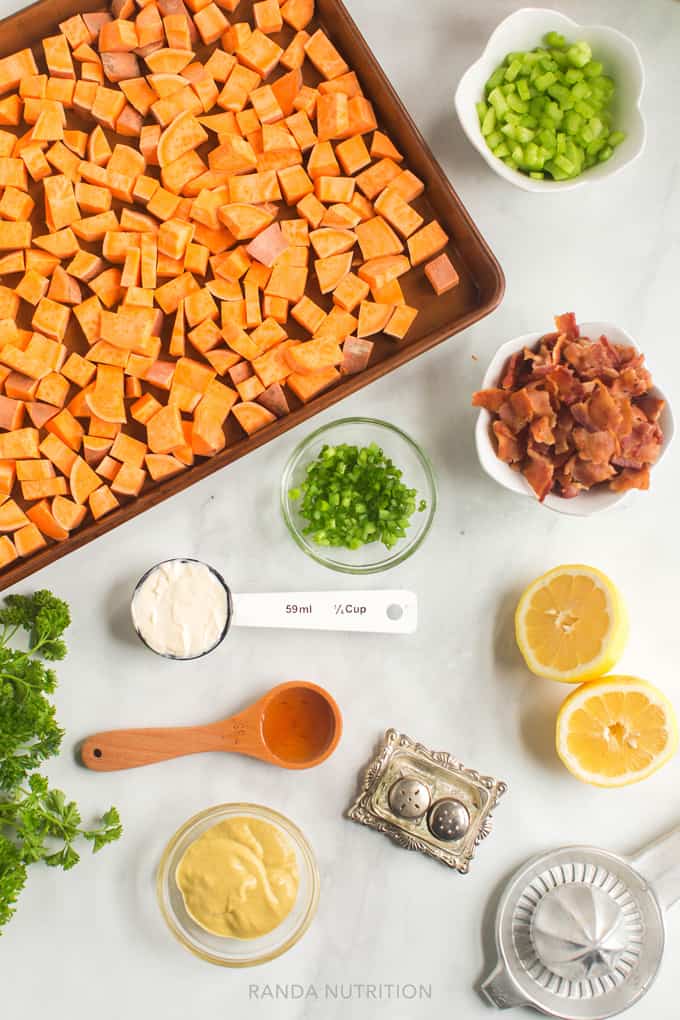 Potatoes vs Sweet Potatoes
There is a misconception out that that sweet potatoes are healthy version or potatoes. This is not true. Potatoes are a healthy option, most people just over eat them.
The calorie, carbohydrate, protein, and fat count are near identical.
Health Benefits of Sweet Potatoes
Health Benefits of Potatoes
You can find more here: Sweet Potatoes VS Potatoes: What's The Healthier Option?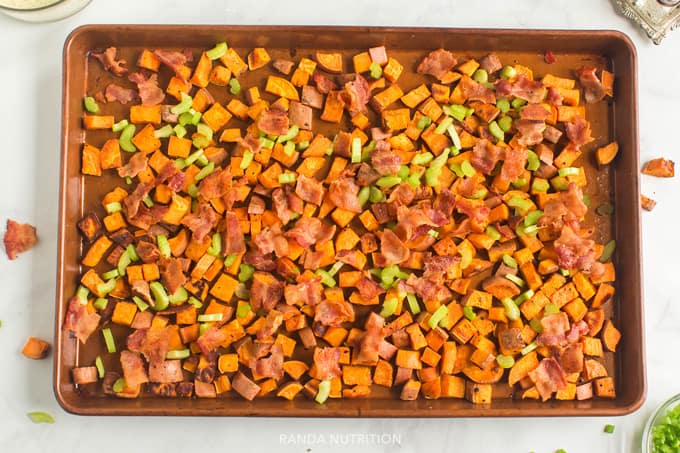 Do You Have to Peel Sweet Potatoes?
You don't have to peel sweet potatoes. The skin of the potatoes actually contains a lot of nutrients like additional fiber, vitamins, minerals, and antioxidants.
Just ensure you give them a good scrub (I recommend using a vegetable cleaning brush).
In this sweet potato salad recipe, two out of the three potatoes are peeled. The third one just adds a little dimension and texture, presentation wise.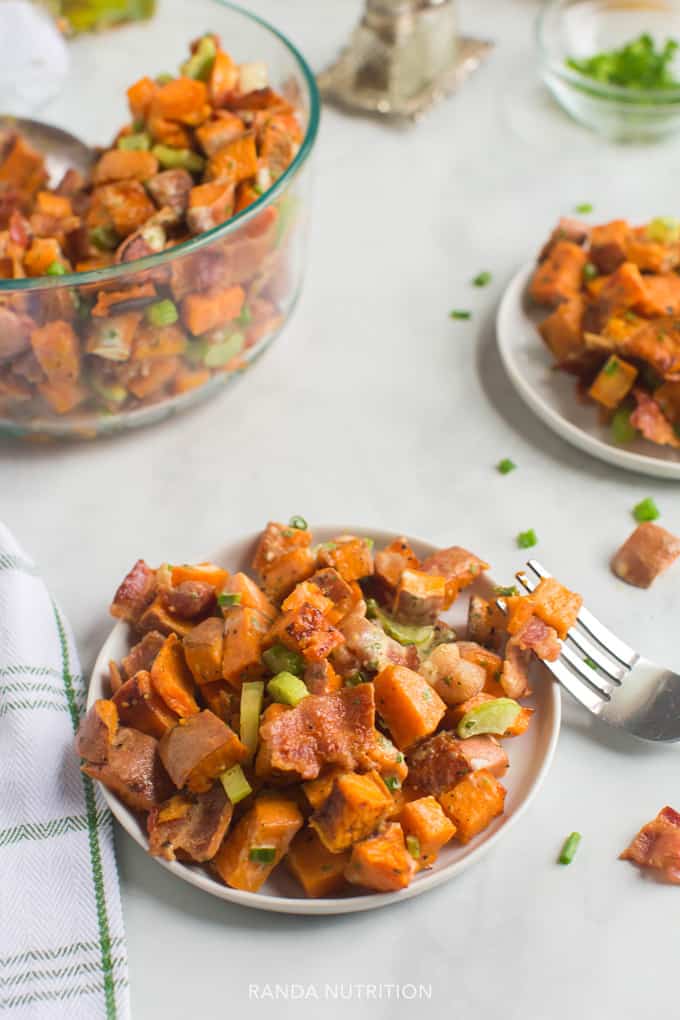 Is Potato Salad Healthy?
Potato salad can be a healthy side dish if you do it the right way.
This recipe uses whole food ingredients that will add nourishment and help sustain your blood sugar levels so you don't have a massive spike an hour later.
The key to being "healthy" with any meal is portion control. Remember, this is a side dish, not the whole event.
This recipe for sweet potato salad makes six servings, but even then it can be a lot if you're having a massive main course. Make the decision best for your situation, maybe you'll have to only have a few spoonfuls or 1/8th of the recipe instead.
Does Potato Salad Make You Gain Weight?
The short answer is no. A calorie surplus makes you gain weight. Most potato salads are higher in calories because of the added mayonnaise, potatoes, and additional fillings.
Just remember, you wouldn't eat 3 potatoes at once so don't eat the equivalent in potato salad.
Another good reminder: potato salad is a side dish, not the main event. Portion it out and enjoy yourself. You don't have to deprive yourself from your favorite foods, just make them work for you and your goals.
Whole30 Mayo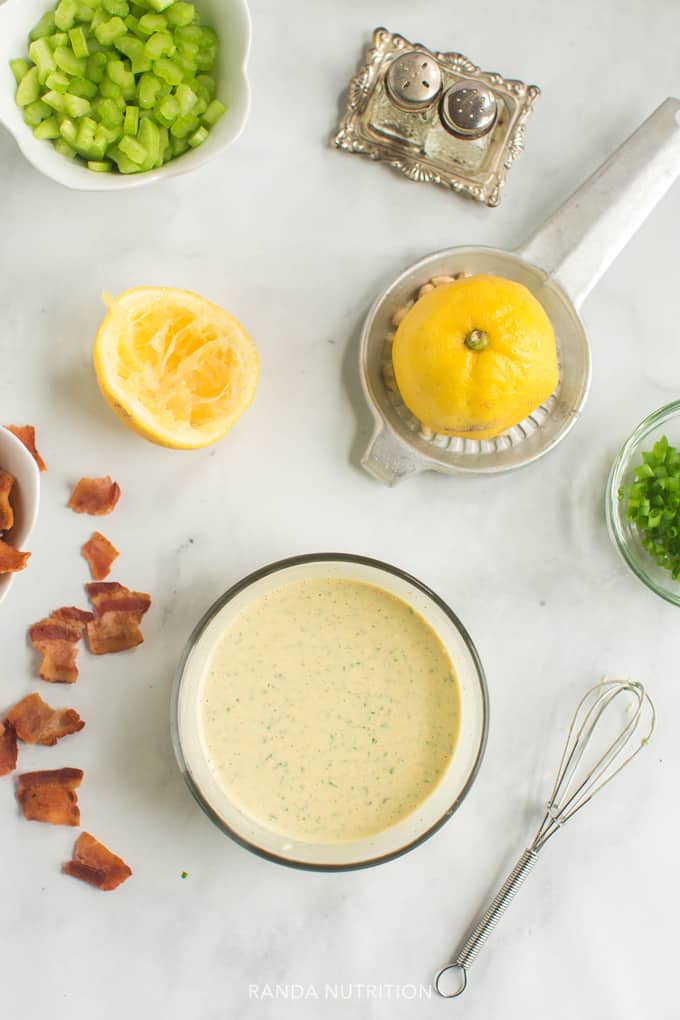 If you're following the Whole30 guidelines, regular mayoniase from the grocery store is not compliant. You have to options:
Make your own
Find a Whole30 compliant mayo (Primal Kitchen makes a good one). Chosen Foods is another brand and you can buy this in a large jar at Costco (at least you can here in Canada).
The same goes for the dijon mustard. You'll have to look at the ingredients to ensure there is no added sugar, white wine, or other unnecessary ingredients. Here's a Whole30 dijon mustard to check out.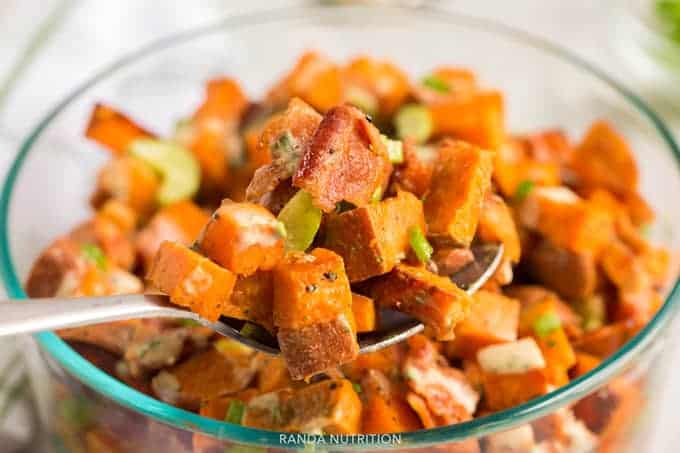 One more note about being Whole30 compliant is to watch for the bacon you purchase. Read the labels to ensure that it is truly Whole30 compliant. There are some out there (I have read that Costco USA has compliant bacon).
Lower Calorie Sweet Potato Salad
The recipe I'm sharing in the recipe card is fairly high in calories for 1/6th of the recipe as a side dish, but that's because it uses thick sliced bacon.
If you would like to shave off an additional 150 calories, use regular or turkey bacon (for even more of a calorie buster).
I wanted to give multiple options for your situation.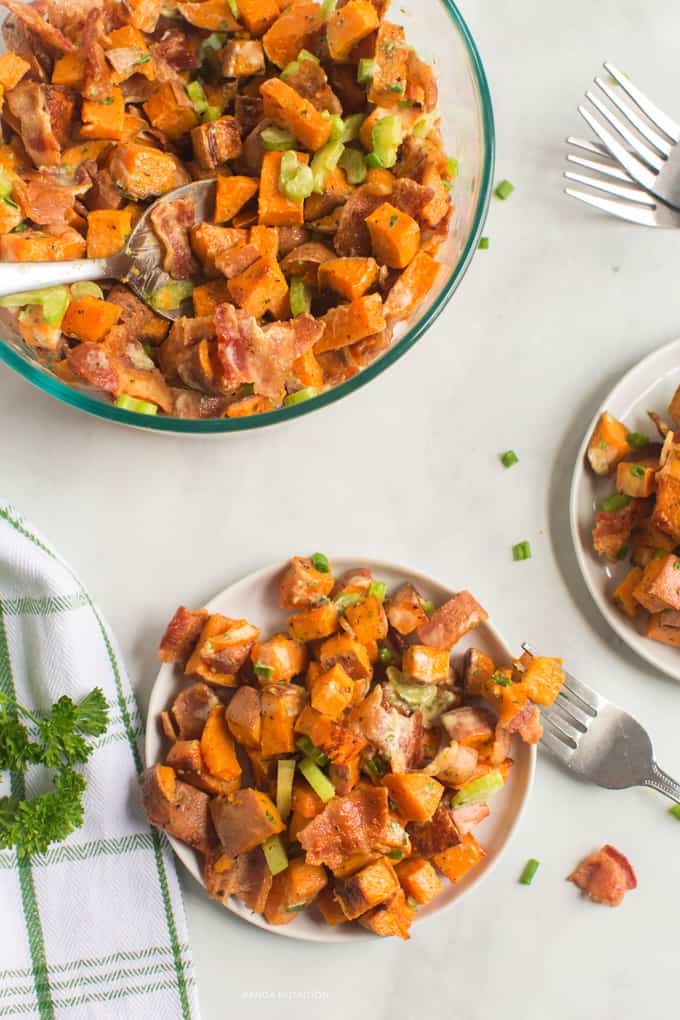 Vegan Sweet Potato Salad
To make this recipe vegan, you'll have to swap the mayonnaise for vegan mayonnaise and leave out the bacon (or you can substitute it with tempeh bacon, Lightlife has a good one and it's available at most grocery stores).
Vegan Mayo Brands to Try:
I personally have not tried these brands but all three of them had good reviews online.
Please keep in mind that none of these options are Whole30 compliant as they all have added sugar (Sir Kensington's uses coconut sugar).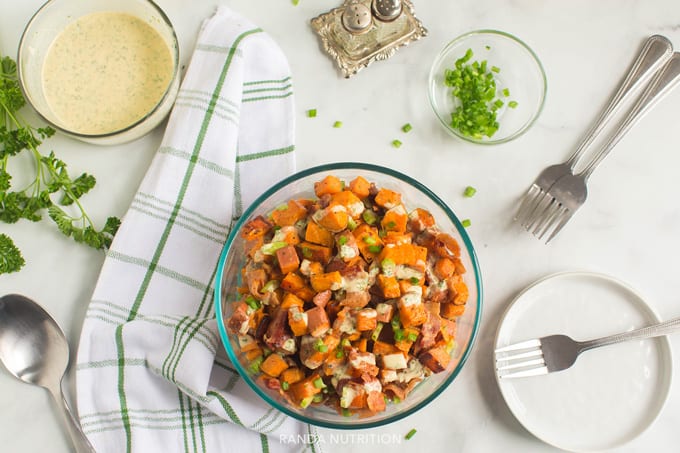 How to Make Sweet Potato Salad
You're going to be thrilled with how easy this roasted sweet potato salad recipe is to make.
Simply roasted the sweet potatoes, cook up some bacon, make a dressing, and throw it all together.
More sweet potato recipes:
If you made this recipe, please don't forget to leave me a comment and give this a star rating. This helps more people see it and enjoy it with their families.
PS if you're looking for an out of the box Whole30 recipe, try these Oven Baked Crab Cakes.
Roasted Sweet Potato Salad
This Roasted Sweet Potato Salad not only is Whole30 compliant but adds a healthy twist to the traditional bbq side dish.
Ingredients
3

large

sweet potatoes

diced (I scrubbed them all and only peeled one)

¼

cup

olive oil

8

slices

thick cut bacon

4

green onions

diced

2

stalks

celery
Instructions
Preheat the oven to 450.

Scrub your sweet potatoes and dice them. I only peeled one of the sweet potatoes. Not only does the skin offer an additional texture to the salad but sweet potato skins are a good source of fiber and rich in antioxidants and nutrients. Dice them and then drizzle olive oil over them and toss to coat. Season with salt and pepper. Then roast your sweet potatoes for 25-30 minutes, flipping them ½ way through.

While your sweet potatoes are roasting, cook your bacon so that it is crunchy but won't crumble. Once cooked, I tore the bacon to be big pieces so you can pick up all your ingredients with your fork. I love the saltiness the bacon gives and wanted that extra crunch and filling bite.

Dice up your green onions and celery and set aside.

Mix up your dressing. Combine the lemon juice, mayonnaise (I use the Primal mayonnaise made with avocado oil), dijon mustard, apple cider vinegar, salt, pepper, and parsley. I actually only used ½ of the dressing that this made, for this salad. The rest I use on chicken, pork chops, or as a green salad dressing. It is so versatile you will be glad you have left overs!

Once your sweet potatoes are done roasting and your bacon is cooked, combine all the ingredients and ½ of your dressing. This salad could be served immediately while warm or is just as good chilled or reheated for up to 4 days after making. The only difference is the bacon does not hold its crunch in the following day/s. Now the flavor is still there, and the celery picks up that crunch and I love it for leftovers.
Notes
Nutritional information if you use regular sliced bacon:
Vegan Option
To make this recipe vegan, you'll have to swap the mayonnaise for vegan mayonnaise and leave out the bacon (or you can substitute it with tempeh bacon, Lightlife has a good one and it's available at most grocery stores).
Nutrition
Serving:
1
serving
|
Calories:
502
kcal
|
Carbohydrates:
39
g
|
Protein:
10
g
|
Fat:
35
g
|
Saturated Fat:
8
g
|
Cholesterol:
32
mg
|
Sodium:
660
mg
|
Potassium:
767
mg
|
Fiber:
6
g
|
Sugar:
8
g
|
Vitamin A:
24388
IU
|
Vitamin C:
17
mg
|
Calcium:
75
mg
|
Iron:
2
mg
The nutrition information is calculated using a third party resource. The accuracy varies on the brands used, weight, portions, etc. This resource should be used as a guide. If you want more accurate information, weigh in grams and log in MFP.