Ugh, hives. Those itchy (and sometimes painful) wheals that randomly appear can be life-altering but they don't have to be. I have come to your rescue with not only a delicious recipe for Turmeric Chicken Stir Fry but also the 5 foods to eat to ease chronic urticaria (aka chronic hives).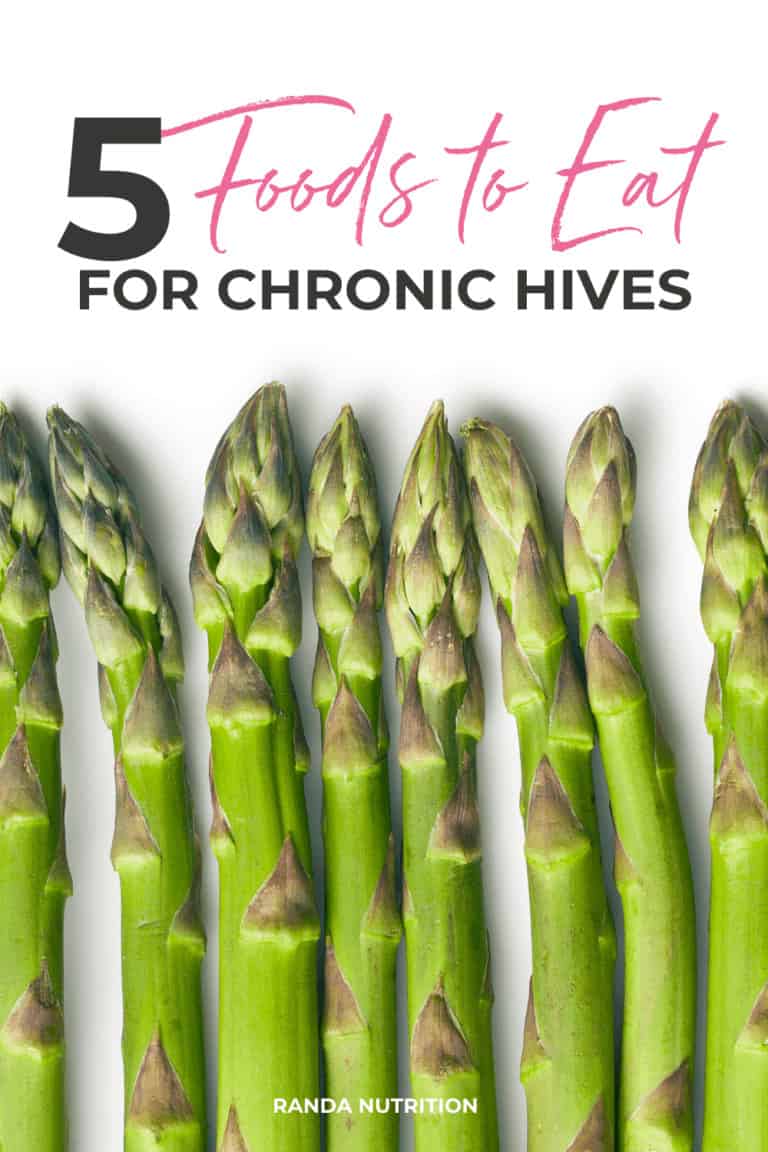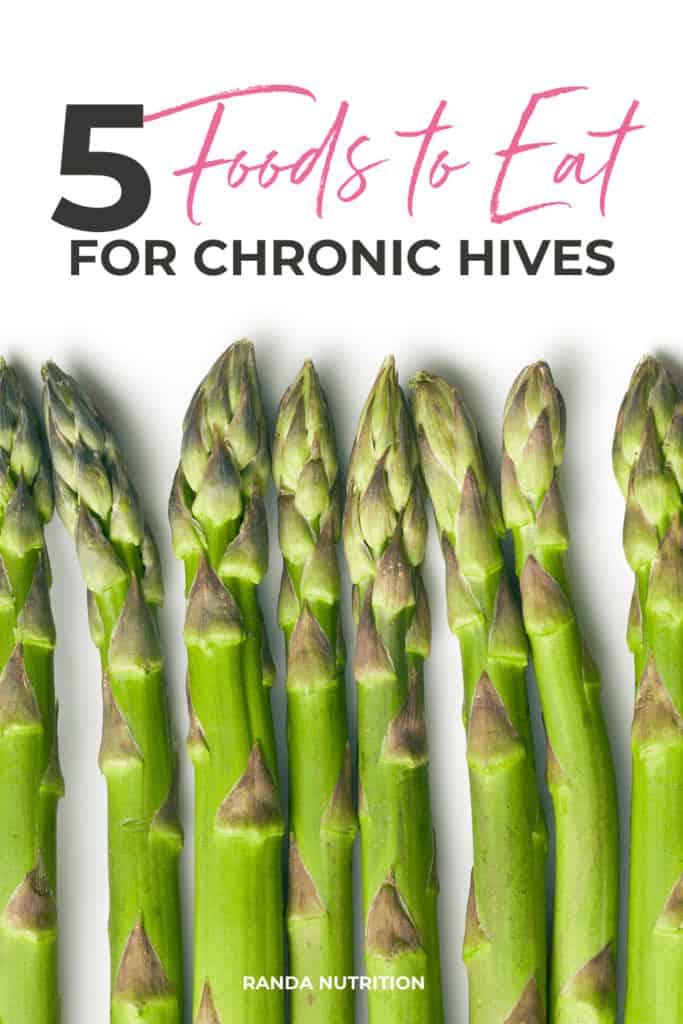 Disclosure: This post contains affiliate links for your convenience. As an Amazon Associate, I earn from qualifying purchases.
What Causes Chronic Hives?
Chronic Urticaria is a condition that the medical community is still figuring out. There are many causes, such as [1]:

● External forces such as soaps, sun, pressure, scratching, and heat.
● Stress.
● Food sensitivities and allergies.
● Exercise.
● Infections
● Medications.
● Underlying health conditions (such as thyroid disease) . [2]
What Gets Rid of Hives Fast?
I've been there too, desperate to get rid of hives fast and searching the internet for anything that will help relieve itchy hives.
If your doctor has okayed it pop an antihistamine (I find Reactine works better for me personally then Benadryl) and do a few things to make yourself more comfortable.
Wear loose clothing.
Use a cool cloth to take the burn away and ease the itch. This also helps take away the swelling.
Take a bath with colloidal oatmeal. This will help with the itch (however if you're sensitive to heat, you may want to avoid this). I have used this Aveeno oatmeal bath in the past.
Avoid lotions (especially if they're fragranced).
Occupy yourself (crossword puzzles help).
How long does it take for hives to disappear?
Time is the best thing for hives. Some cases can last a few hours, others a few days. I'm sorry to be the bearer of bad news.
Remember to drink lots of water. Long term hydration will help regular histamine levels (along with a huge list of other health benefits). Here's some tips to drink more water.
5 Foods The Help Chronic Urticaria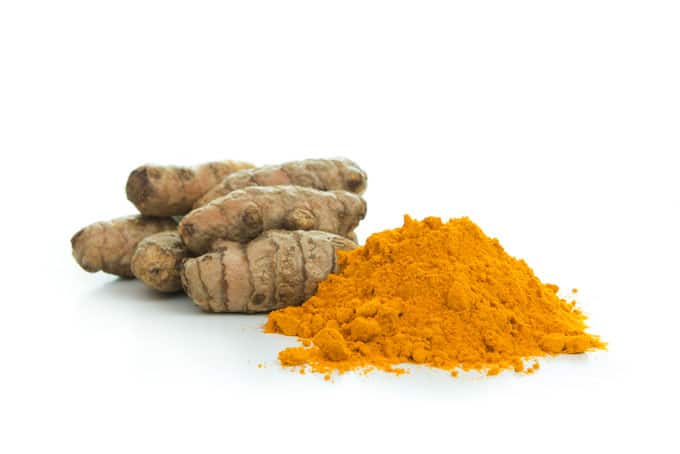 The foods that help chronic hives are the following:
Turmeric

Turmeric is an anti-inflammatory spice that can be found in your neighborhood grocery store. You can add turmeric to dishes that have a fat source (like coconut oil) and a pinch of black pepper to help absorption of this power food. It's nature's anti-inflammatory.

Parsley

Parsley isn't just a pretty garnish that you ignore. Sure it looks pretty on top of your main dish but did you know that it's a cleansing herb? Yup! Parsley is so powerful, it inhibits production of histamines (which helps with the development of hives).
Asparagus

Asparagus is one of my favorite vegetables. In the spring and summer, my family enjoys this hearty vegetable every Friday night as a side to our steak dinners. Asparagus is high in Quercetin which stabilizes membranes in the cell that release histamine [3].
Coconut Oil

Natural makeup remover, heat sensitive (perfect for sauteeing), diaper barrier cream, and a healing food, what doesn't coconut oil do? Coconut oil is not only a low histamine food but it's also antimicrobial and antifungal!
Sweet Potatoes

Sweet potatoes are awesome. From stuffed sweet potatoes, sweet potato apple scramble, or sweet potato noodles these low histamine "power carbs" can do so much to boost your meal, nutritionally. In addition to bein low histamine, they're also a source of Vitamin C, an antioxidant helpful for hives [4].
One of my favorite low histamine snacks is roasted sweet potato fries! Yes, I said fries. Simply slice up a sweet potato, drizzle with some avocado oil, and roast until tender. I like to top them with sea salt, pepper, and garlic powder.

There are so many foods that will help you kickstart healing hives. You want to find foods that are low in histamine and have anti-inflammatory properties. Some other foods to check out are apples, broccoli, garlic, and fresh ground flax seed (thanks to the Omega 3s). Powerful, everyday foods, that you can find at your local supermarket.
Health doesn't have to be complicated!
Recipes to help with Chronic Hives:
Low Histamine Recipes
One of my favorite foods to eat to heal chronic hives? Stir fry!
This Turmeric Chicken Stir Fry that I'm about to share with you. It's usually for members only but it's too good not to share.
---
Turmeric Chicken Stir Fry Recipe
This anti inflammatory and low histamine recipe is a keeper! You're going to love it! It's the perfect recipe addition for a chronic hives diet.
You want to avoid foods that cause inflammation such as:
Processed foods (if it's in a box, can, or bag).
White flour (think breads, cakes, bagels).
Chips.
Added sugar.
Alcohol.
Some people may also react to nightshades (tomatoes, potatoes, eggplant, bell peppers). This varies from person to person.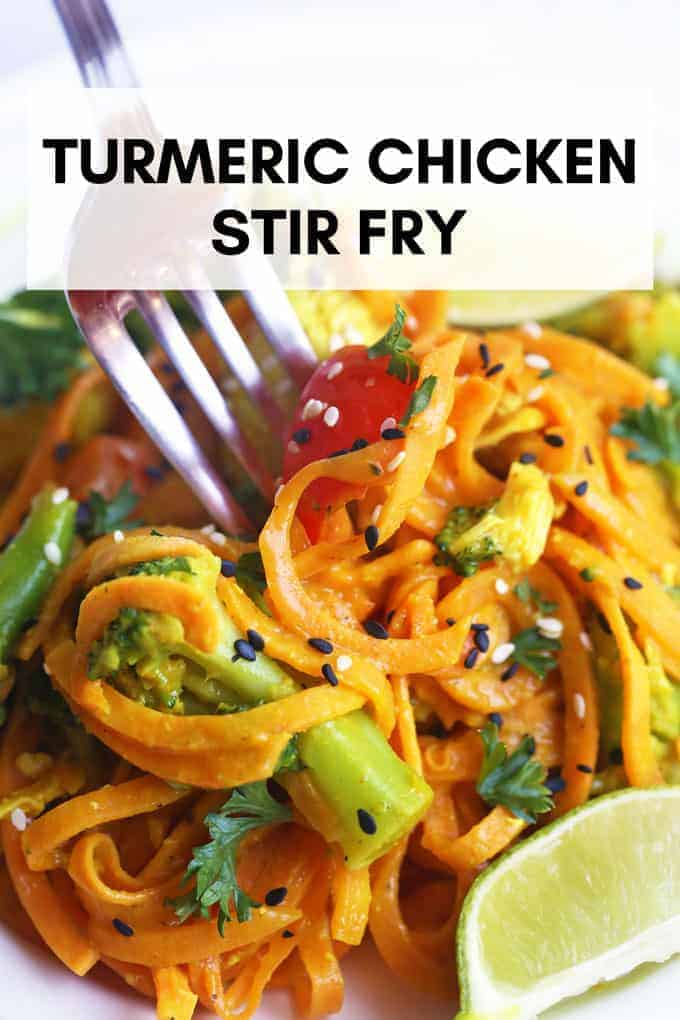 Turmeric Chicken Stir Fry
This amazing, healthy, and POWERFUL turmeric chicken stir fry is an anti-inflammatory and low histamine recipe. Perfect for those dealing with chronic hives, inflammation, allergies, and are gluten and dairy free.
Ingredients
Ingredients
1

tbsp

coconut oil

2

chicken breasts

cubed

1

red bell pepper

diced

1

cup

broccoli florets

1

large

sweet potato

spiralized or shredded

2

tbsps

chopped parsley

1

tbsp

sesame seeds

1

lime for garnish

wedged
Instructions
In a large skillet or wok heat the coconut oil over medium-high heat

Add the chicken breasts and cook for 3-4 minutes per side or until chicken is cooked,

but not browned.

Add the peppers, broccoli, and sweet potato noodles and stir for 2-3 minutes. You still

want the veggies to have a little crunch.

While the chicken is cooking, whisk together the ingredients for the sauce. Tip: I

added a little more than half a can of the coconut liquid from the milk (roughly

an extra tablespoon to give it a little more liquid).

Toss the mix with your spoon or tongs for 2-3 minutes. Enough for the sauce to heat

up and coat the noodles

Taste and adjust seasonings to your liking.


Top with parsley and sesame seeds. Serve with lime wedges.

Nutrition
Serving:
1
serving
|
Calories:
634
kcal
|
Carbohydrates:
17
g
|
Protein:
54
g
|
Fat:
40
g
|
Saturated Fat:
25
g
|
Cholesterol:
144
mg
|
Sodium:
1457
mg
|
Potassium:
1458
mg
|
Fiber:
5
g
|
Sugar:
4
g
|
Vitamin A:
2285
IU
|
Vitamin C:
130.9
mg
|
Calcium:
138
mg
|
Iron:
6.2
mg
The nutrition information is calculated using a third party resource. The accuracy varies on the brands used, weight, portions, etc. This resource should be used as a guide. If you want more accurate information, weigh in grams and log in MFP.
---
References
[1] Chronic Hives." Mayo Clinic, Mayo Foundation for Medical Education and Research, 6 Mar. 2018, 3 www.mayoclinic.org/diseases-conditions/chronic-hives/symptoms-causes/syc-20352719.
[2] Swierzewski, III, Stanley J. "Hives Causes and Risk Factors." Hives Causes and Risk Factors – Hives – 4 HealthCommunities.com, www.healthcommunities.com/hives/causes-risk-factors.shtml.
[3] Nishimuro, Haruno, et al. Nutrients, MDPI, Apr. 2015, www.ncbi.nlm.nih.gov/pmc/articles/PMC4425148/.
[4] Maintz, et al. "Histamine and Histamine Intolerance | The American Journal of Clinical Nutrition | Oxford Academic." OUP Academic, Oxford University Press, 1 May 2007, academic.oup.com/ajcn/article/85/5/1185/4633007.