This vegan recipe for roasted cauliflower soup is a healthy way to sneak in multiple servings of veggies. It's simple and can be easily made on the stovetop, Instant Pot, or slow cooker.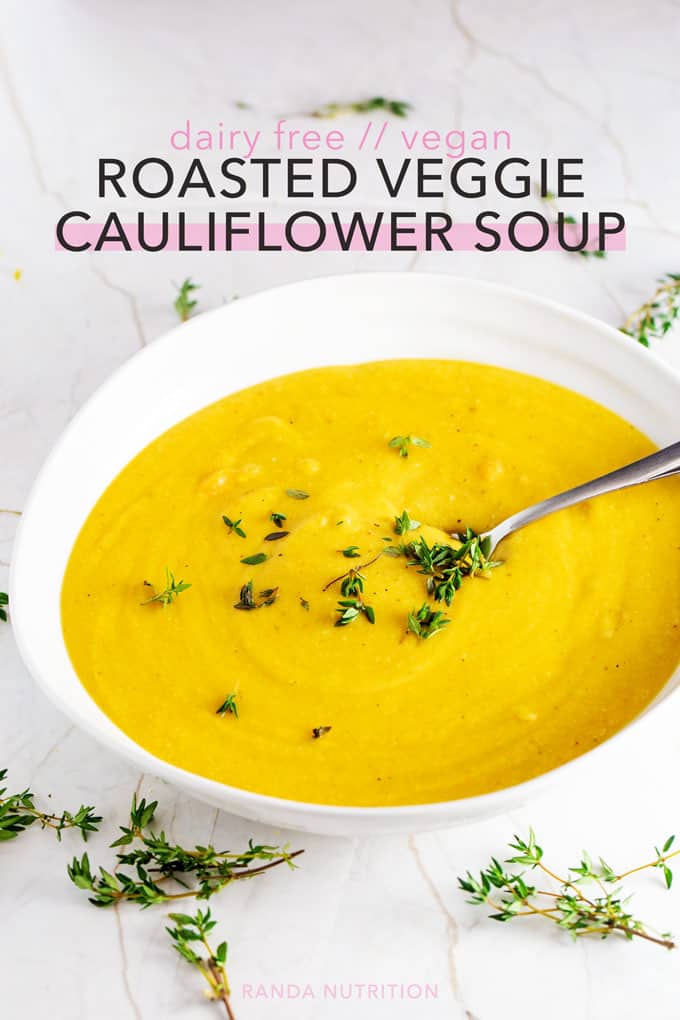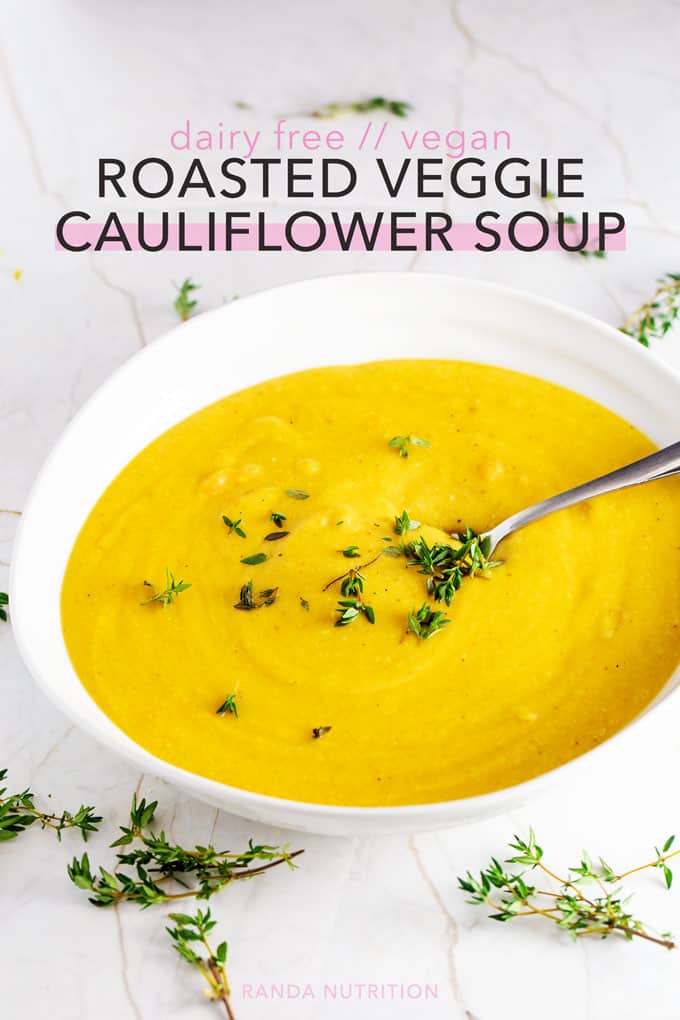 Roasted Cauliflower Soup
Disclosure: This post contains affiliate links for your convenience. As an Amazon Associate, I earn from qualifying purchases.
The key to this recipe: roasting the vegetables.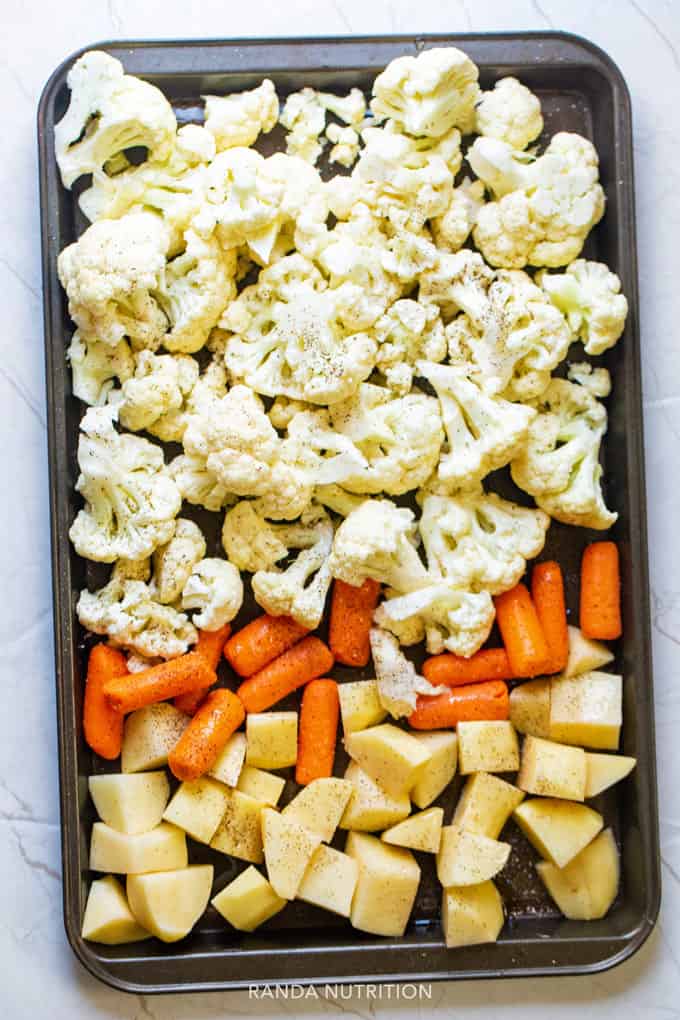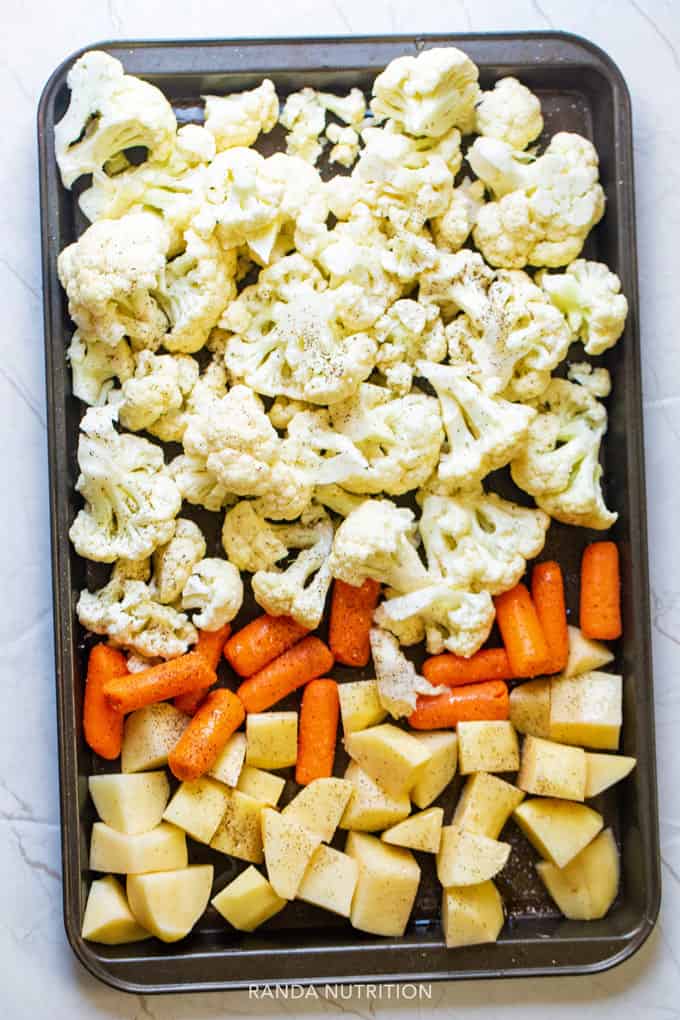 Roasting veggies brings out the ingredient's natural sweetness.
I snuck in a few more servings of vegetables on top of the cauliflower for a variety of nutrients. Each vegetable provides your body nourishment.
The fact that it's pureed helps hide the veggies, so if you or someone in your family is not generally a fan – they won't know the wiser. You cannot taste anything specific so it's the perfect way to add in more nutrition to your day.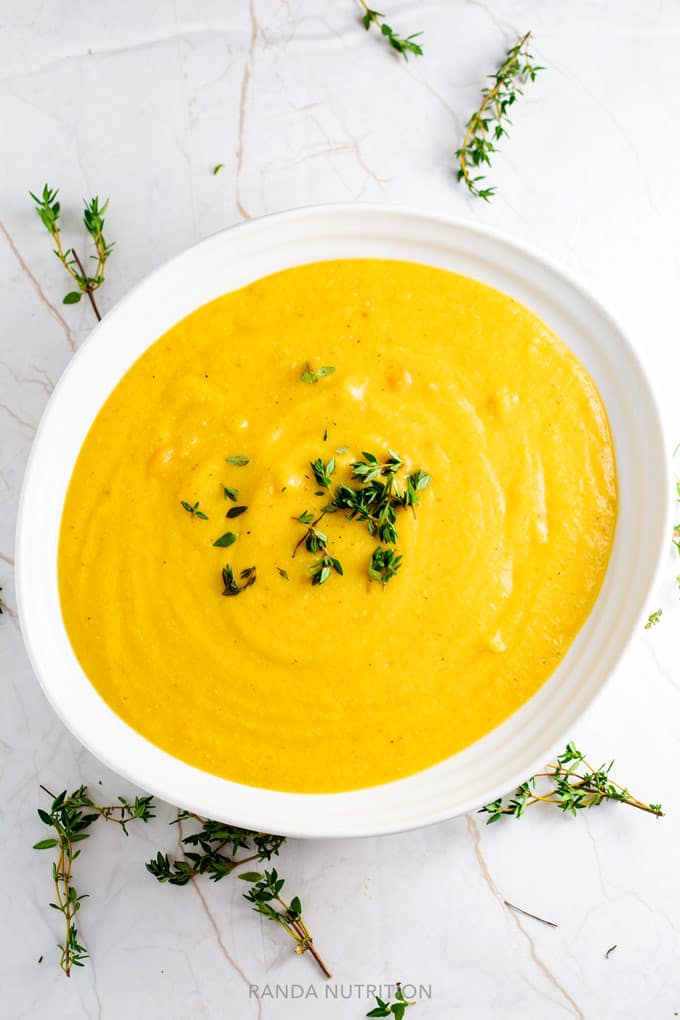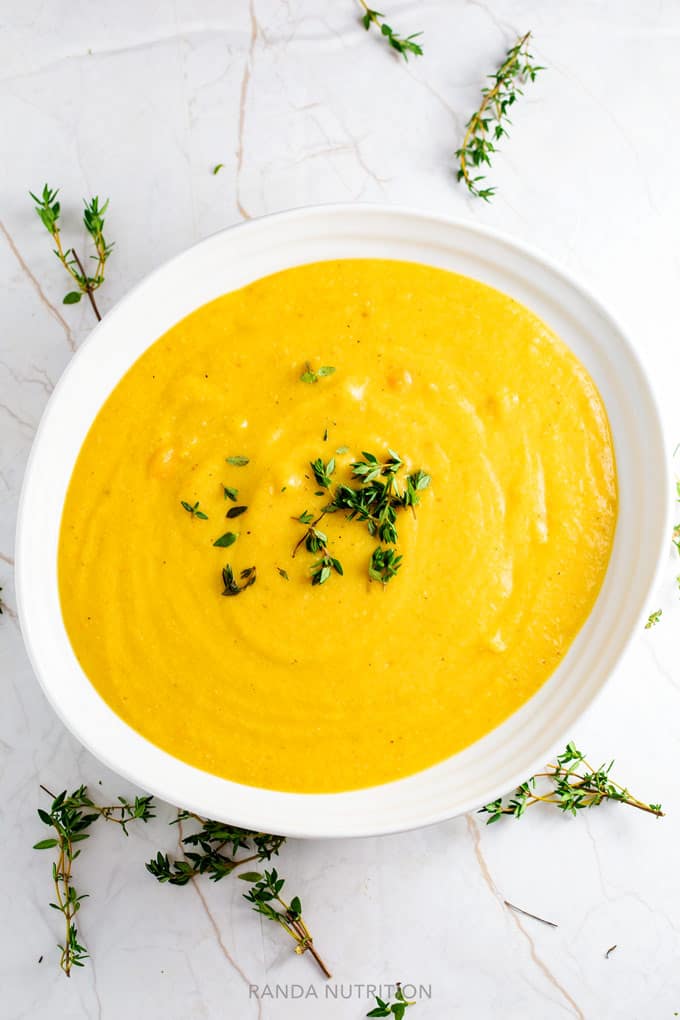 Benefits of Cauliflower
In the 30 Days to a Healthier You challenge, I mentioned that cauliflower is the best sneaky veggie out there.
You can add cauliflower to soups, smoothies, stir-fries, even cake! It blends in with most dishes undetected.
Here are a few benefits of cauliflower:
High in B vitamins.
A great source of fiber.
High in vitamin C (a powerful antioxidant).
Easy to add to your recipes and meals.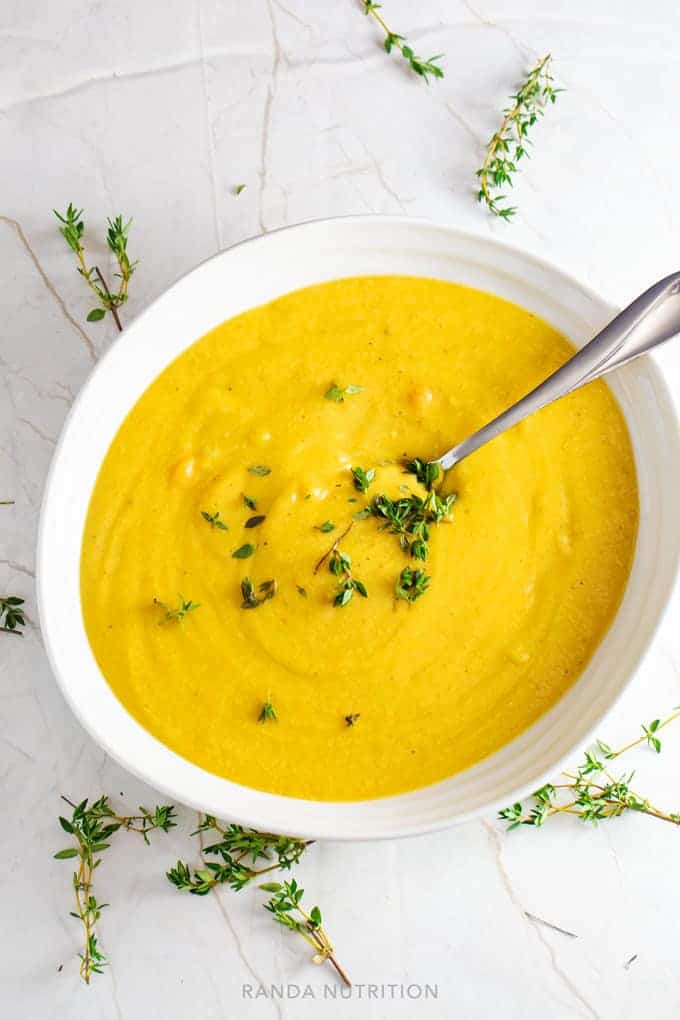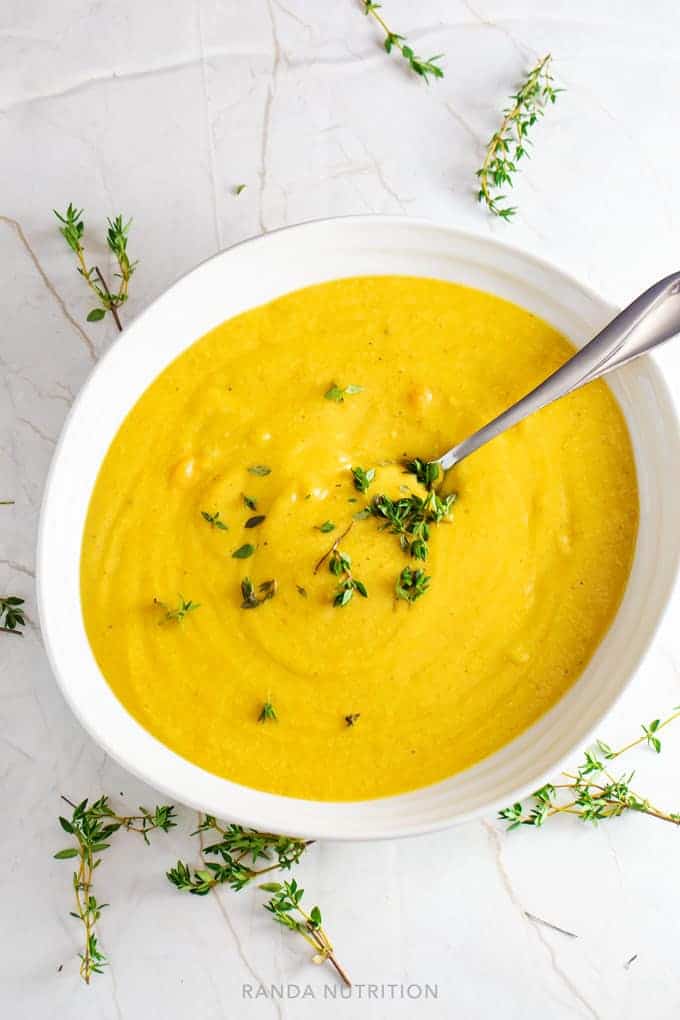 Can you freeze cauliflower soup?
Yes! Since this is a dairy free cauliflower soup recipe, it will freeze well.
Store it in reusable glass containers and it should last for up to 6 months.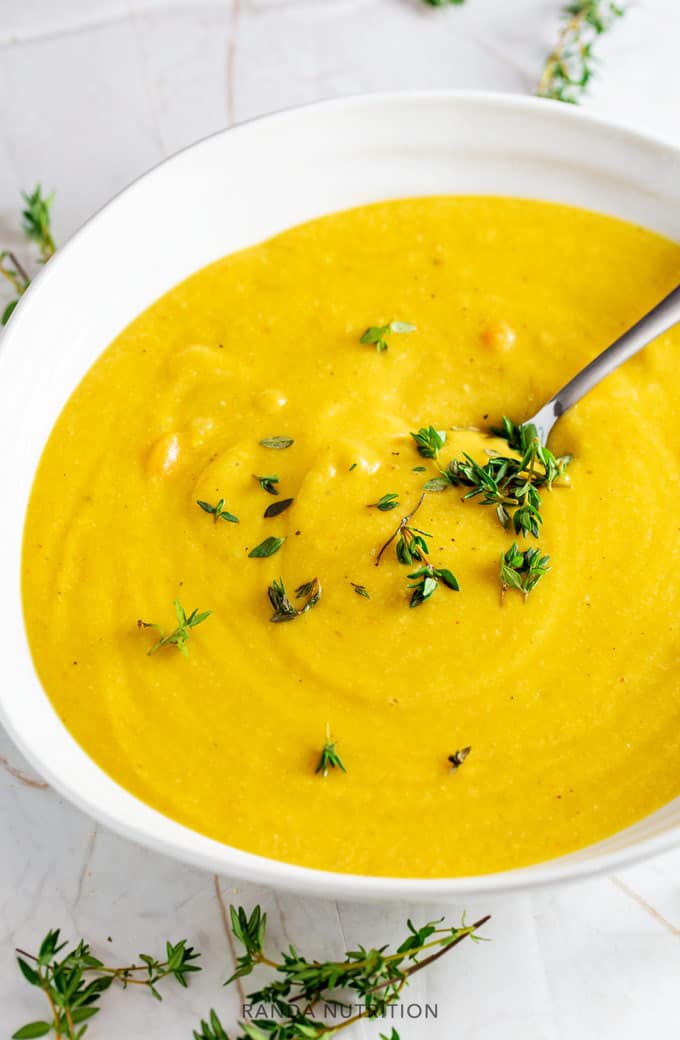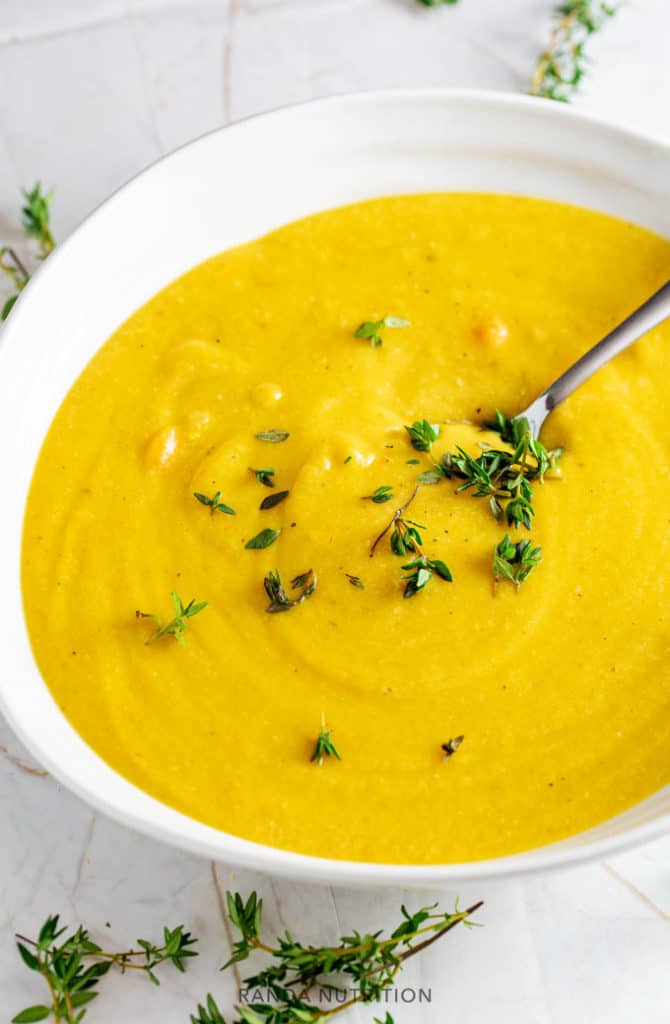 Supplies Needed for this soup
The key to this pureed roasted cauliflower soup recipe is having something to make it soup. You can get an inexpensive immersion blender anywhere (I linked one below). I couldn't find mine (well, I had the baby proof locks on the cupboards and couldn't be bothered to undo the death latches) so I used my Vitamix.
If you're using a blender, ladle it into the jug (do not pour, you could burn yourself).
Do this in batches, transfer some to the blender, puree, then pour back into the pot. Continue this until you have the consistency you want.
Here are a few of the supplies I used:
Container Counts
By popular request, I am slowly adding container counts for those of you following the Ultimate Portion Fix. This way you can see if it works for your plan for Beachbody programs like 21 Day Fix, LIIFT4, 80 Day Obsession, and 10 Rounds.
Full recipe: 8 green, 4 yellow, 8 tsps.
Per serving: 3/4 green, 1/4 yellow, 3/4 tsp.
Serving is 1 cup out of 10 cup servings.
How to make roasted cauliflower vegetable soup
I loved making this soup because it was so easy (actually, come to think of it all soups are easy).
All you do is roast veggies, saute celery and onions, then simmer everything in a vegetable stock. Blend in a blender and you're done.
Sometimes the best recipes are the simplest ones.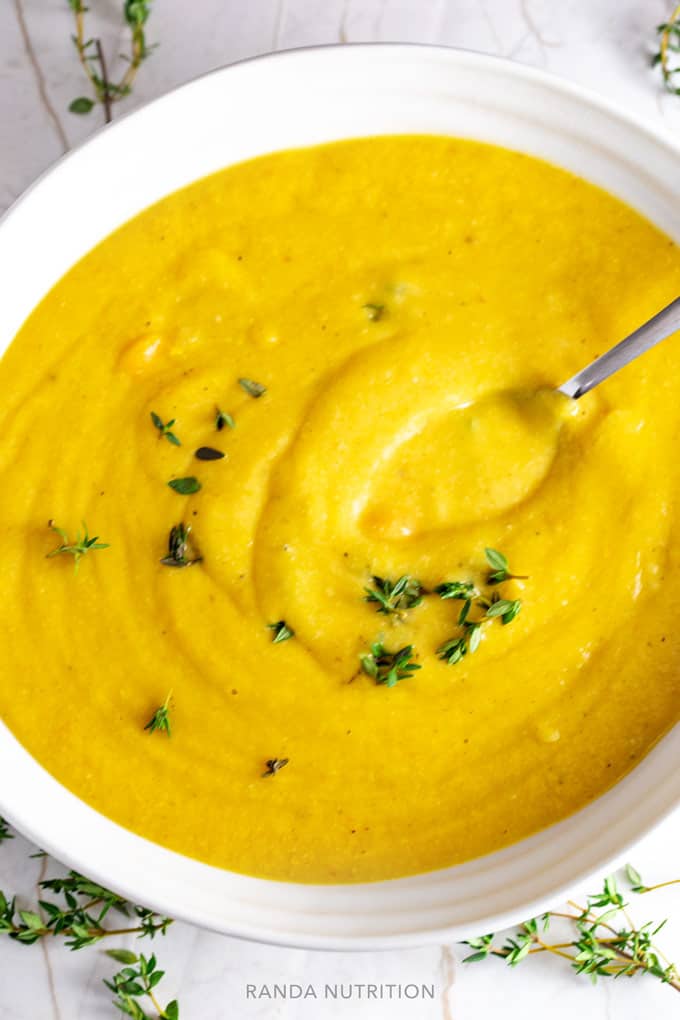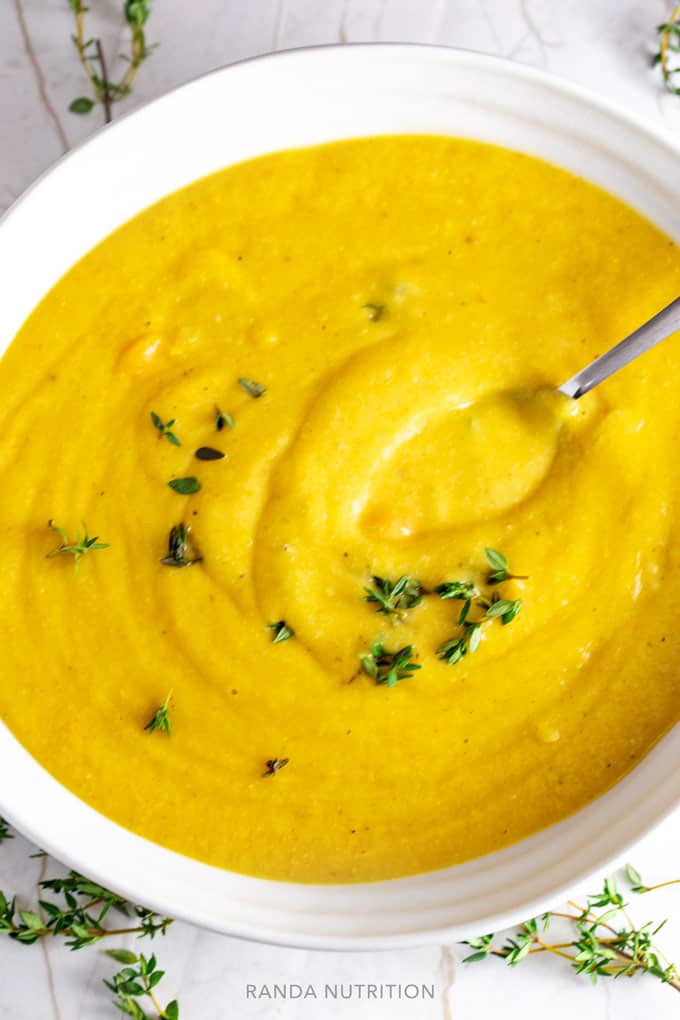 More recipes you may like:
Randa's tip: It may sound odd but add a tablespoon of dijon mustard to the soup before serving. It adds an extra oomph (professional term) that gives the soup that "secret" something.
How many calories are in vegan cauliflower soup?
1/10th of this recipe has only 109 calories! The full nutritional information (including macronutrients) is found at the bottom of the recipe card.
This healthy cauliflower soup's caloric information may vary a little bit when you make it as potato sizes, the brand of vegetable stock, etc may be different.
Roasted Cauliflower Veggie Soup
This dairy free, Whole30 recipe for roasted cauliflower soup is perfect for dinner. It's a great way to add to a meatless Monday and to eat more vegan recipes. The key? Roasting the vegetables first.
Ingredients
For the roasted veggies
1

tbsp

avocado oil

2

russet potatoes

peeled and quartered

1

cup

baby carrots

1

large

cauliflower

broken into pieces

1

tsp

sea salt

1/2

tsp

pepper
Instructions
For the roasted veggies
Line the veggies on a sheet pan, drizzle with avocado oil, sprinkle with salt and pepper and roast for 30 minutes (stirring at the 15-minute mark). Let cool
Putting it together
In a large stockpot heat a tablespoon of avocado oil over medium-high heat and add the onion and celery. Saute for about 3-4 minutes or until onion is translucent.

Add the garlic, and the cooled roasted veggies. Give it a stir until garlic is fragrant, about a minute.

Add the vegetable stock and bring to a boil.

Reduce heat, cover with a lid and simmer for 20-25 minutes.

Blend the soup with an immersion blender, or ladle into a high powered blender in batches.

Once the soup is blended, add the nutritional yeast, thyme. and dijon. Taste and adjust seasoning.
Notes
Container Counts
Full recipe: 8 green, 4 yellow, 8 tsps.
Per serving: 3/4 green, 1/4 yellow, 3/4 tsp.
Serving is 1 cup out of 10 cup servings.
Nutrition
Serving:
1
cup
|
Calories:
109
kcal
|
Carbohydrates:
18
g
|
Protein:
4
g
|
Fat:
3
g
|
Saturated Fat:
1
g
|
Sodium:
1023
mg
|
Potassium:
525
mg
|
Fiber:
3
g
|
Sugar:
5
g
|
Vitamin A:
2185
IU
|
Vitamin C:
45
mg
|
Calcium:
35
mg
|
Iron:
1
mg
If you like this recipe for cauliflower soup please share it with your friends. You can do that by pinning it or sharing it to Facebook.