You are going to love this recipe for gluten free biscuits. Nothing beats homemade biscuits, especially when they're topped with some butter and served with a hot bowl of super on a winter's day.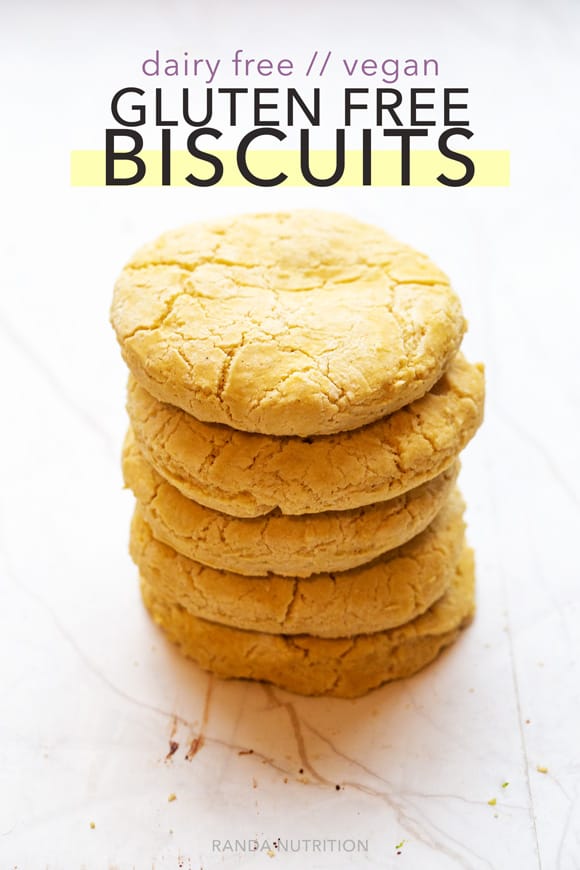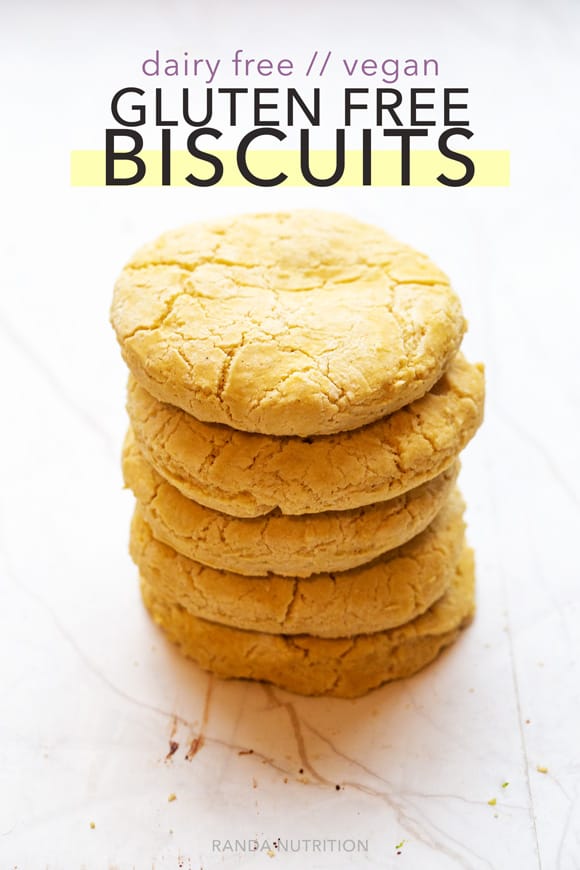 Gluten Free Biscuits
Disclosure: This post contains affiliate links for your convenience. As an Amazon Associate, I earn from qualifying purchases.
The phrase "gluten free" has come such a long way over the past ten years. When I used to hear gluten free I thought of gritty, cardboard-like foods that you wanted to avoid.
Now, you get fluffy pancakes, delicious pizza, and easy gluten free biscuits.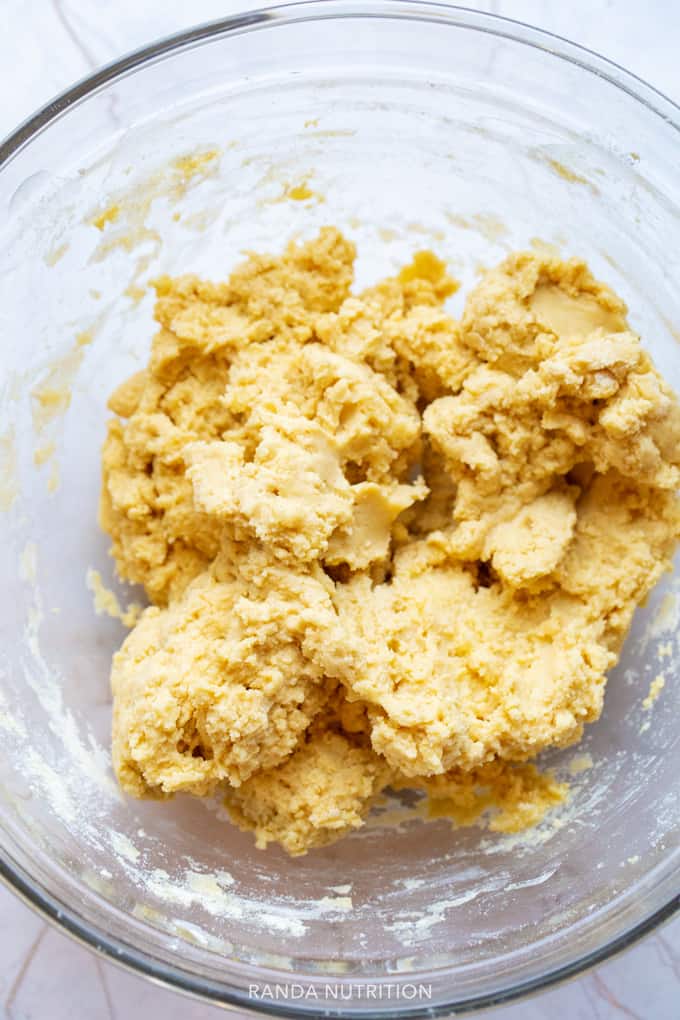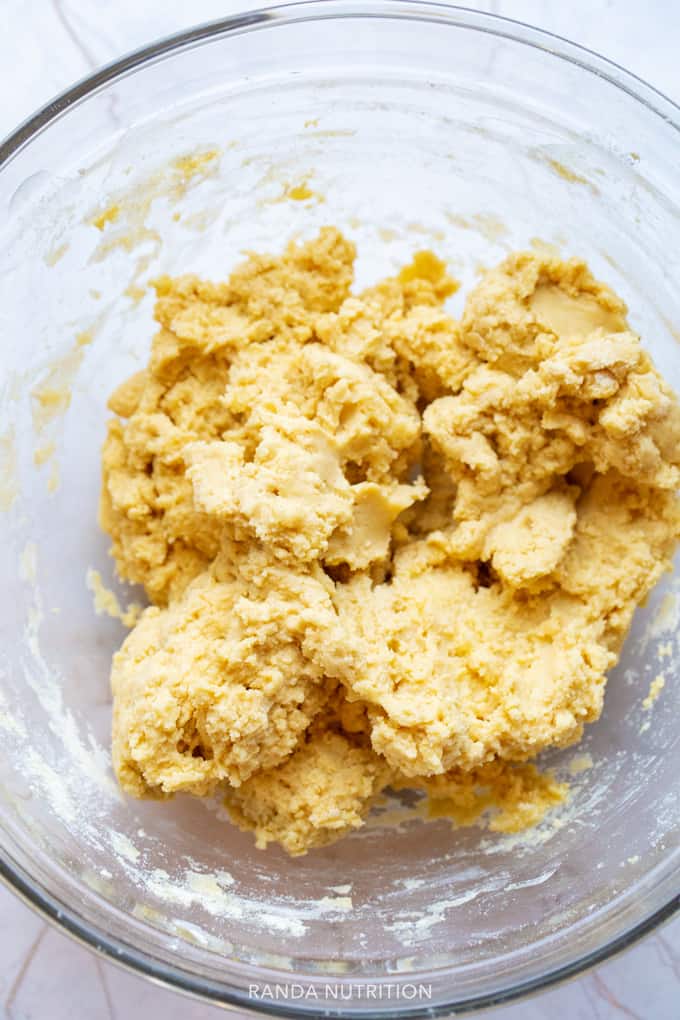 As you can see with the above photo, the dough is very soft. It reminds me of that kinetic sand that my son used to have when he was young (cloud sand I think it was called). It will be soft! This is normal.
Tips for the recipe
Although this recipe was created by my amazing contributor, Ana, I didn't have photos and wanted to make them myself.
Here are some tips I found along the way:
When I rolled out the dough with my marble rolling pin, it was sticking. If this happens to you, this is totally normal.
I recommend pushing it down with your hands. They don't have to be perfect. When I think of biscuits, I think of them being rustic anyway.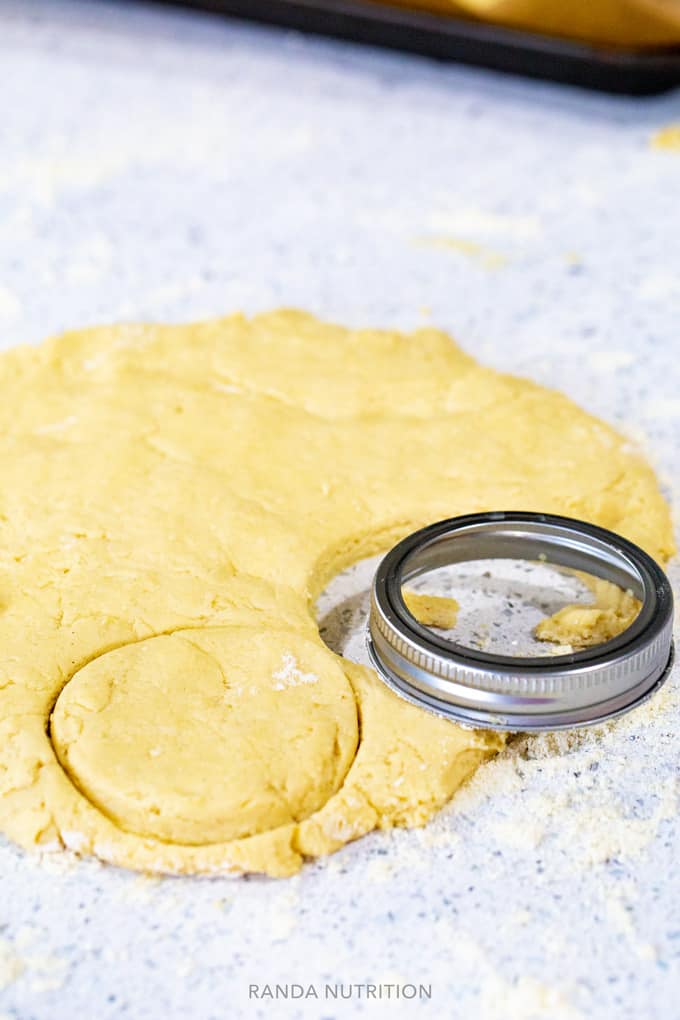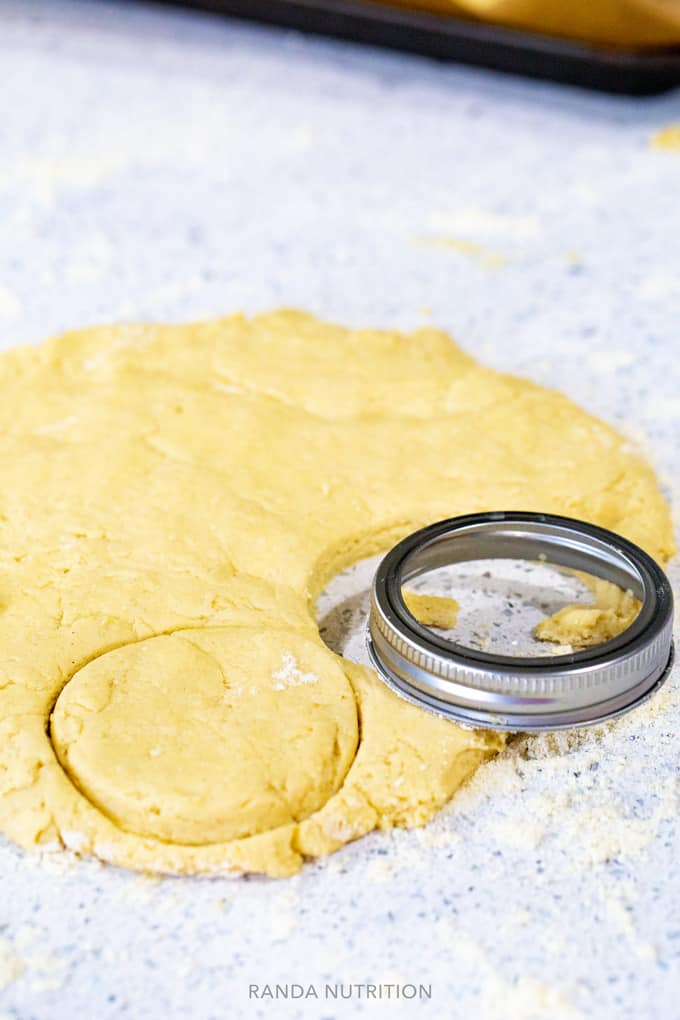 I don't have a cookie or biscuit cutter that would work out to be the right size. I don't make them enough to buy one.
What I did was use a small mason jar lid. It was still a little too large, so I had to push the dough flatter (which is why they resemble cookies rather than biscuits, but hey – work with what you have).
Can I freeze gluten free biscuits?
This recipe was developed but one of my amazing team members, Ana, and here's what she has to say:
Yes! You can totally freeze this biscuit recipe, just freeze them unbaked (raw).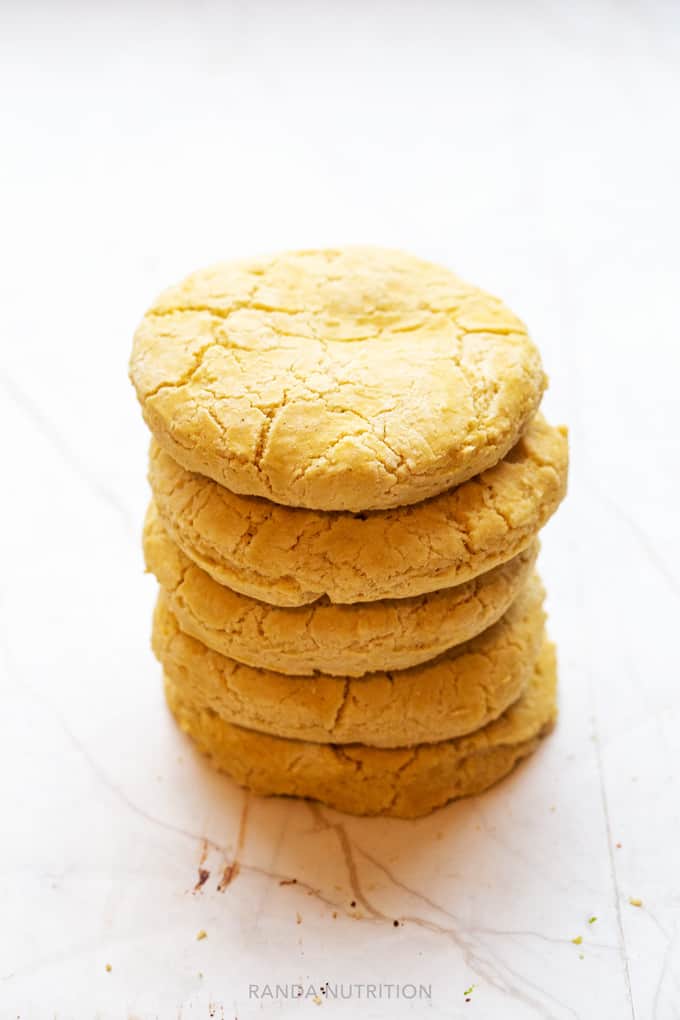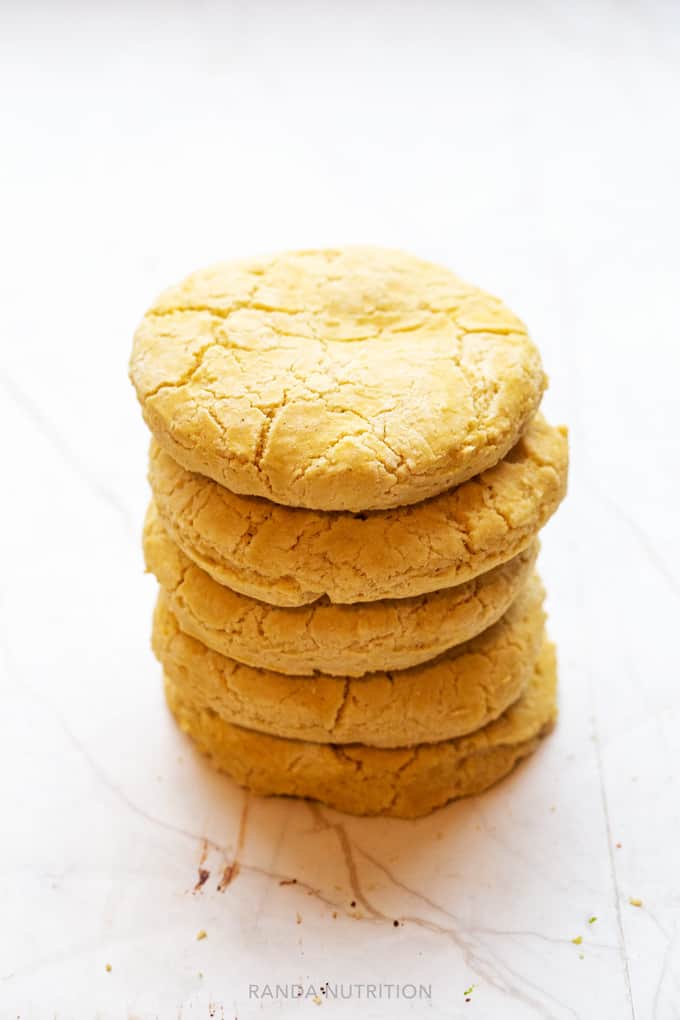 I make these once a month and freeze as I go. Then once I'm ready to eat them just take them to the oven (frozen) and bake them for around 10 more minutes than what the recipe calls for.

If you do that, this a 30-minute meal perfect for hectic weekdays when you are craving a cozy soup.
Container Counts
By popular request, I am slowly adding container counts for those of you following the Ultimate Portion Fix. This way you can see if it works for your plan for Beachbody programs like 21 Day Fix, LIIFT4, 80 Day Obsession, and 10 Rounds.
Full recipe: 6 yellow, 9 1/2 tsps
Per serving: 2/3 yellow, 1 tsp.
What to serve with biscuits:
How to make biscuits dairy free
The recipe card will have my dairy free suggestions, but if you're not dairy free then read the notes.
I used this butter flavored coconut oil in place of butter for traditional biscuits.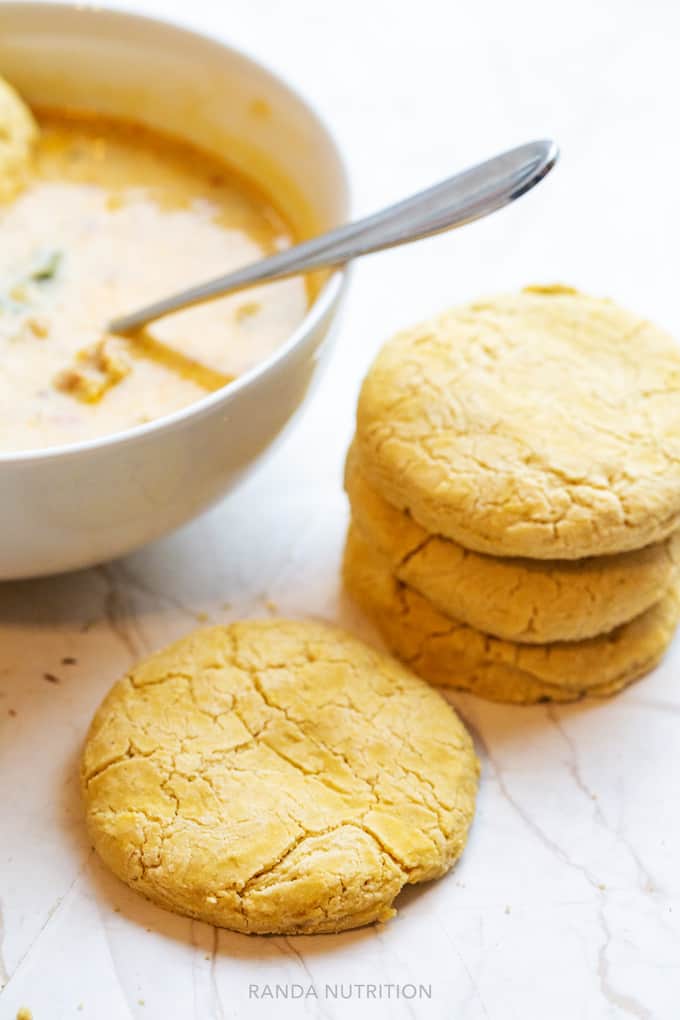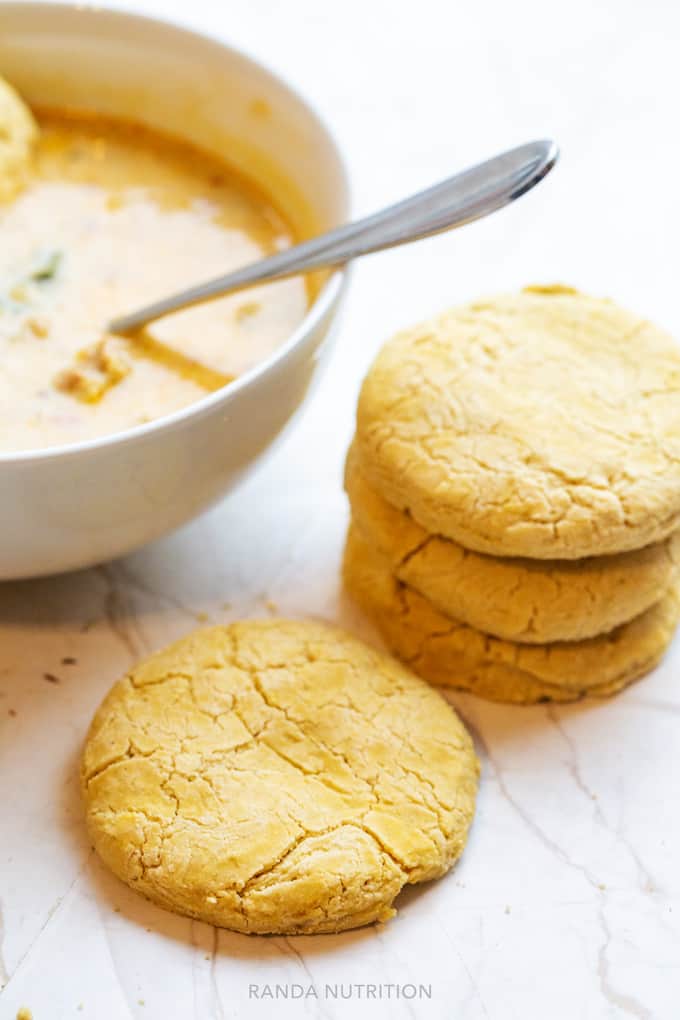 I also used unsweetened almond milk in place of cow's milk. Make sure you grab unsweetened regular almond milk. I have made the mistake many times in the past of grabbing vanilla and it's always an odd taste (not bad, just different).
Mind you, you could easily make these a sweet biscuit by doing that and adding some chocolate chips
Tip: I don't have a biscuit cutter so I used a small mason jar lid. They were still pretty wide, so I made the dough a little thinner (which is why the biscuits look like a cookie in the photo). Do whatever works for you.
One last tip. I used Bob's Gluten-Free Flour Blend. It does not have xanthan gum added and I found the recipe worked without adding it. Sure, maybe it crumbled a little bit but barely. If you would like to add it, feel free.
Gluten Free Biscuits
Instructions
Preheat oven to 350 degrees. Grease a baking pan and set aside.

In a bowl combine flour, baking powder, and salt. Add flour and crumble until the mixture resembles coarse sand. Slowly incorporate milk and coconut oil, mixing until you have a smooth dough.

Take to a floured surface and roll until the dough is around ¾" thick. With the help of a cookie cutter, cut out the biscuits. Take to the prepared baking pan and to the oven.

Bake for 20 minutes.
Notes
Not dairy free?
Feel free to sub almond milk for milk and the coconut oil for butter.
Container Counts
Full recipe: 6 yellow, 9 1/2 tsps
Per serving: 2/3 yellow, 1 tsp.
Nutrition
Serving:
1
biscuit
|
Calories:
99
kcal
|
Carbohydrates:
13
g
|
Protein:
2
g
|
Fat:
5
g
|
Saturated Fat:
4
g
|
Sodium:
133
mg
|
Potassium:
81
mg
|
Fiber:
2
g
|
Sugar:
1
g
|
Calcium:
62
mg
|
Iron:
1
mg
Tried this recipe and love it? Share a photo on IG
Tag me at @RandaDerkson