While many people think fresh when it comes to eating healthy, that isn't always possible. In fact, it is extremely important to know how to stock a healthy pantry for emergencies.
Whether you are preparing for bad weather, blizzards, or even a viral or bacterial outbreak, a well-stocked, healthy pantry is vital when it comes to helping you stay fueled and healthy. There are a few items you will want to have on hand, if you find yourself stuck inside.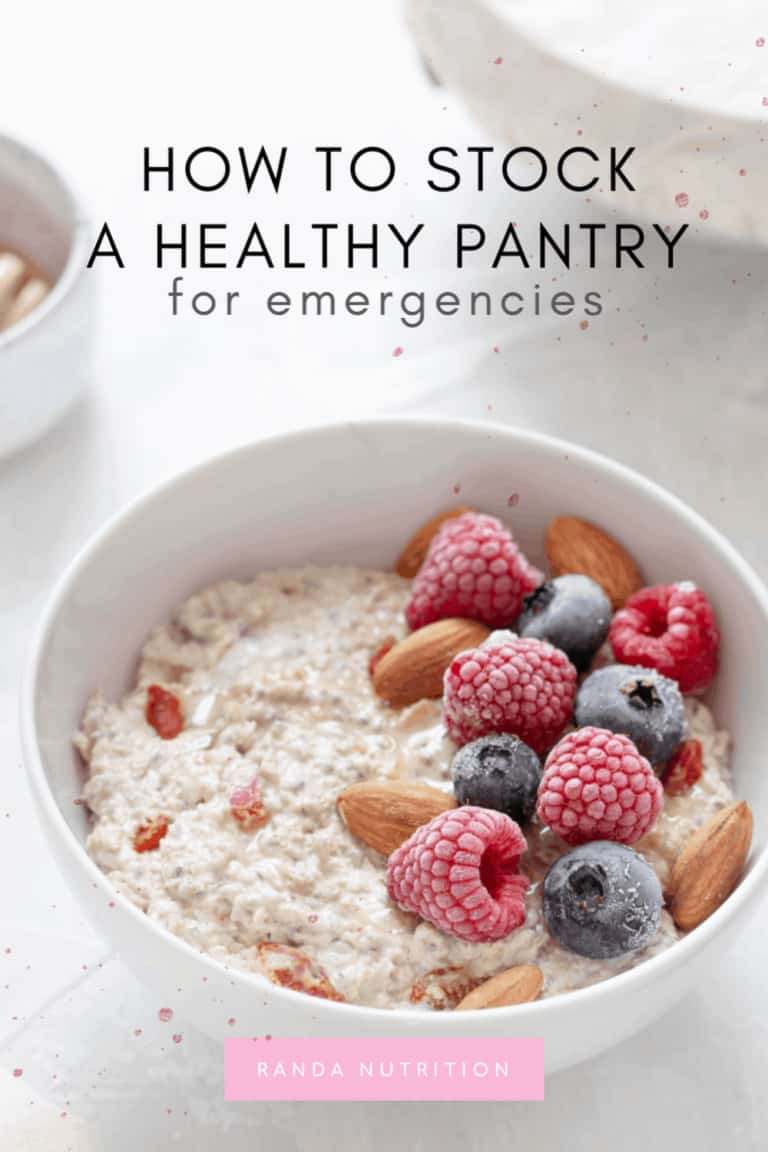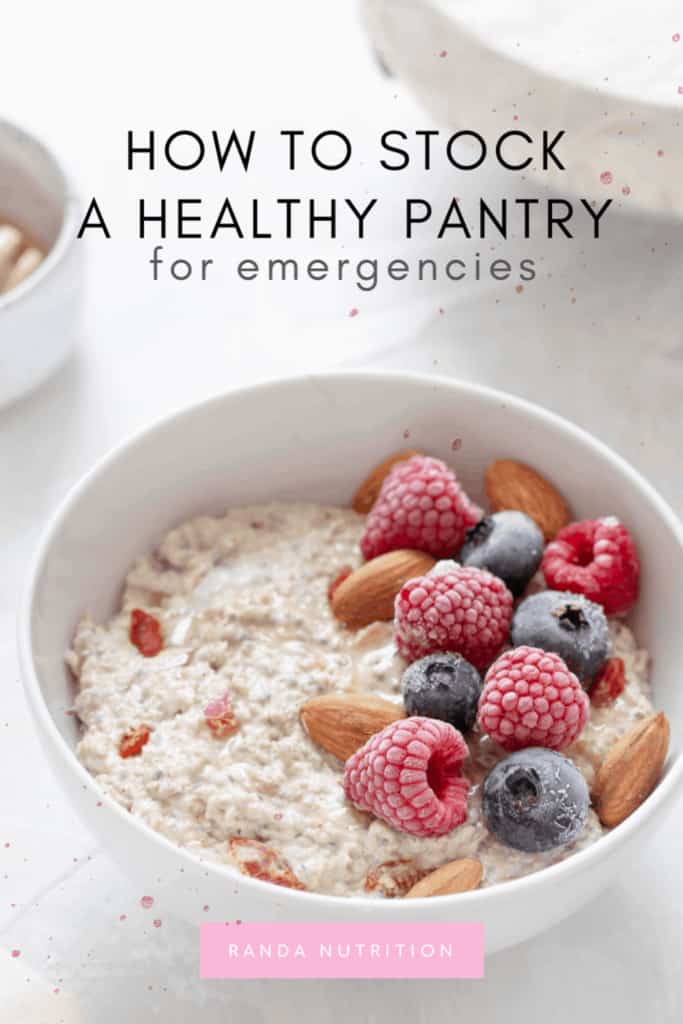 While many of us prefer to be in complete control of the world around us, unexpected things like weather and illness outbreaks are beyond our control. While we can't control things directly, we can always take more appropriate steps to be prepared for these emergencies.
Disclosure: This post contains affiliate links for your convenience. As an Amazon Associate, I earn from qualifying purchases.
What to Consider When Stocking Your Healthy Pantry
When it comes to stocking your pantry, there are a few items that can come in handy during power outages, weather events and other unexpected developments.
There are also some important details to take into consideration when you stock your pantry.
First, make sure to choose food items that your family will eat. This means skipping things that you would not normally consume to cut down on food waste.
It is also important that you take note of any food allergies or other dietary restrictions that you may encounter when stocking your healthy emergency pantry.
It is also vital to note that while you are stocking your pantry with food items, you also have to pay attention to other emergency health items. This means taking into account any prescriptions you may need to refill, over the counter medicines you may require to use and any vitamins and supplements your family uses.
Disclosure: This post contains affiliate links for your convenience. As an Amazon Associate, I earn from qualifying purchases.
What to Use to Stock Your Pantry For Emergencies
Protein
Many people know that protein is essential for us when it comes to building and maintaining muscles, regulating our hormones and more. Protein also has the ability to help us stay fuller longer, making it a great pantry staple for emergencies.
While many people get their proteins from fish and meat sources, but there are also many plant based options that can be stored in your pantry.
When it comes to items that are high in protein many don't think pantry items can offer them the nutritional value they need. There are, however, many items that truly can.
Chickpeas are an excellent source of protein and fiber and can be found canned or dried for a low budget protein option for your pantry.
Stock your pantry with the following:
Protein powder – Protein powder is a great pantry staple in case of emergencies. It can be added to smoothies with frozen fruit or even mixed into oatmeal for an extra protein boost. Here's a variety to choose from.

Beans and Legumes – These can either be dried beans or canned and used in a variety of different recipes. Things like soups, salads, rice, pasta, and even chilis. Beans are extremely versatile so stock up on chickpeas, lentils, kidney beans, and more. Then make this turkey taco skillet or butternut squash turkey chili.

Canned fish – Canned fish is fantastic to have on hand in case of emergencies, this is because they are an excellent source of protein. Stock up on canned tuna, sardines, anchovies and salmon. Just make sure that you pay attention to the mercury content before consuming too much canned fish.

Frozen meat – If you have room in your freezer, use it to store an overstock of meat. Freezing meats will extend how long it is good for, allowing it to last for months. Just make sure when you freeze it to take as much air out as possible. The FoodSaver does a decent job at this.
Carbohydrates
Carbohydrates are a readily available source of energy within the human body. In fact, we burn carbs when we breathe, walk, exercise and even think. There are many different sources of carbohydrates that store well in your pantry and can last for several months.
Dried grains – There are many different dried grains that can be purchased at your local grocery store. We love to stock up on quinoa, buckwheat, barley, and long grain rice. These items can be used in salads or even to create really delicious side dishes.

Oatmeal or Polenta – Oatmeal and polenta can be made into several different dishes. In fact, they are quite versatile as they can be made to be sweet or savory, depending on your mood.

Whole Grain Pasta – There are many different whole grain pasta on the market that can be added to any dish you desire. It goes great with other pantry staple items like sauces, canned fish, beans, and even frozen vegetables. You can even purchase some canned tomatoes to make your own homemade tomato sauce.
Healthy Fats
Healthy fats are critical when it comes to keeping us full. They can also help to regulate our blood pressure and cholesterol levels. When it comes to stocking your healthy emergency pantry, including healthy fats is a great idea.
Oils – Oils are considered a versatile fat source. They can be used in just about anything to add health and flavour to any meal. Choose oils like Extra Virgin Olive Oil, Avocado, or Coconut oils to really reap the benefits.

Nuts or Nut Butters – These are another fantastic source of healthy fats, minerals, and vitamins. Whether you are using almond butter to spread on whole-grain crackers (or these quinoa flour crackers) or snacking on pistachios throughout the day, having these items stocked in your pantry is a great idea.

Seeds – Seeds can also be a fantastic source of healthy fats. Stock up your pantry with hemp seeds (read here for the health benefits of hemp hearts), flax seeds, and chia seeds (health benefits of chia seeds). They are versatile and can be used in smoothies, sprinkled on salads, or even just enjoyed as a snack.
Vegetables and Fruits
It may be difficult to get fresh vegetables if you are avoiding the store or can't get to one. Thankfully though, there are other ways to get some vegetables and fruits into your diet, even during an emergency.
Canned or Frozen Vegetables and Fruits – Choose to purchase canned or frozen vegetables and fruits. Believe it or not, these usually retain quite a bit of their healthy nutritional content as they are often frozen or canned while they are at their peak. Grab some frozen coconut chunks, pineapple and more as they can be used in smoothies and taste delicious. Frozen or canned vegetables are also fantastic in casseroles, stir fry's and more, so having a variety on hand is beneficial. Just look for reduced-sodium for canned items (and that they're canned in water, not syrup). I also rinse them before I cook with them.

Fresh Long Lasting Vegetables – It is also a good idea to stock up on garlic and onions as they last quite a bit longer than other nonfrozen or canned vegetables and they also add delicious flavor to any dish.

Fermented or Pickled Vegetables – Fermented or pickled veggies can add some great punch to any dish that you are creating. Think, pickles, cauliflower, and even carrots. If you want to get creative, you can even make your own like these pickled onions.
Spices and Flavourings
Stocking up an emergency pantry does not mean that you have to compromise on flavour. Make sure that you stock up of spices and flavorings that can add an extra punch to any healthy dish you cook.
Dried Spices – It is a good idea to stock up on dried spices as they last an exceptionally long time. Not only that but they are actually good for you and can help to elevate any dish that you create.

Whether you use spices to make a dry rub for your proteins, to create dressing or sauces, or simply sprinkle them over some frozen vegetables while cooking, they can elevate almost anything you have in your pantry.

Vinegar – Different kinds of vinegar can add acid to any dish you create, whether you are making a dressing or a sauce, stocking up on vinegar is a great idea. Think balsamic vinegar to drizzle over tomatoes or apple cider vinegar to create a brine for your favorite proteins.
When it comes to how to stock a healthy pantry for emergencies, you just have to pay attention to detail. There are many delicious meals that can be made using pantry staples and it is important to ensure that your pantry is well rounded and stocked with healthy items to keep you all safe.