Homemade Tomato Sauce with Hidden Veggies [Stovetop & InstantPot]
This homemade tomato sauce is filled with hidden vegetables such as zucchini, carrots, peppers, and celery. Not only does this beef up this sauce to serve more, but it also adds some hidden nutrition for picky eaters.
I have included instructions for cooking it on the stove or in the Instant Pot for your convenience.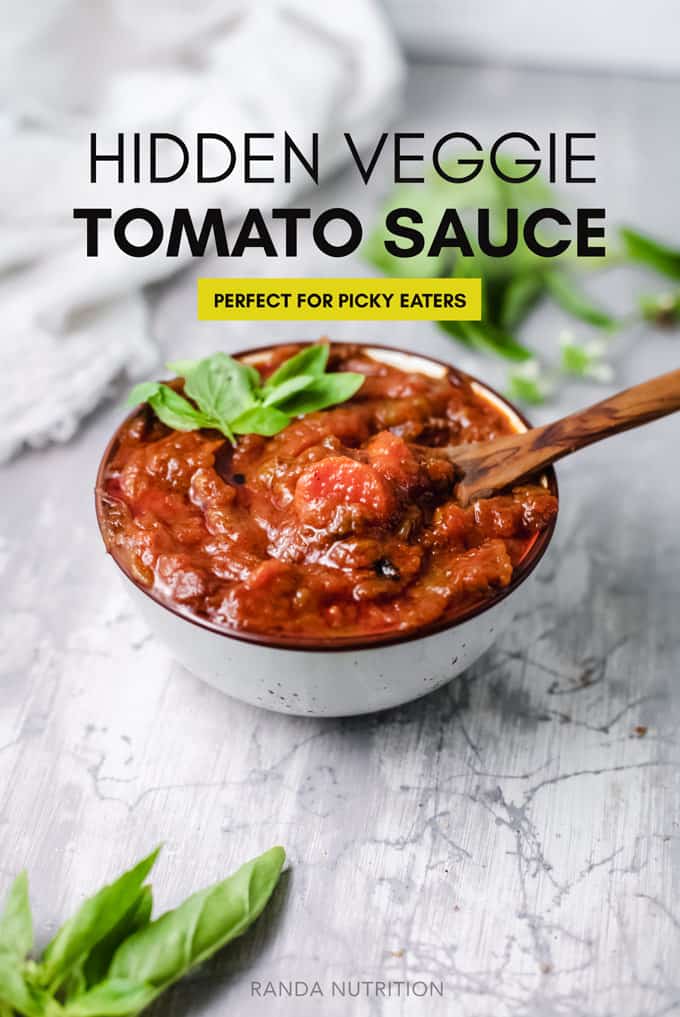 Homemade Tomato Sauce
Disclosure: This post contains affiliate links for your convenience. As an Amazon Associate, I earn from qualifying purchases.
I'm the first to admit that I often cut corners and use a jarred sugar free tomato sauce from Costco when I'm short on time.
With that being said, there is nothing better than a homemade tomato sauce and this healthy tomato sauce recipe is worth the wait (or if you use an Instant Pot, worth the 15 minutes).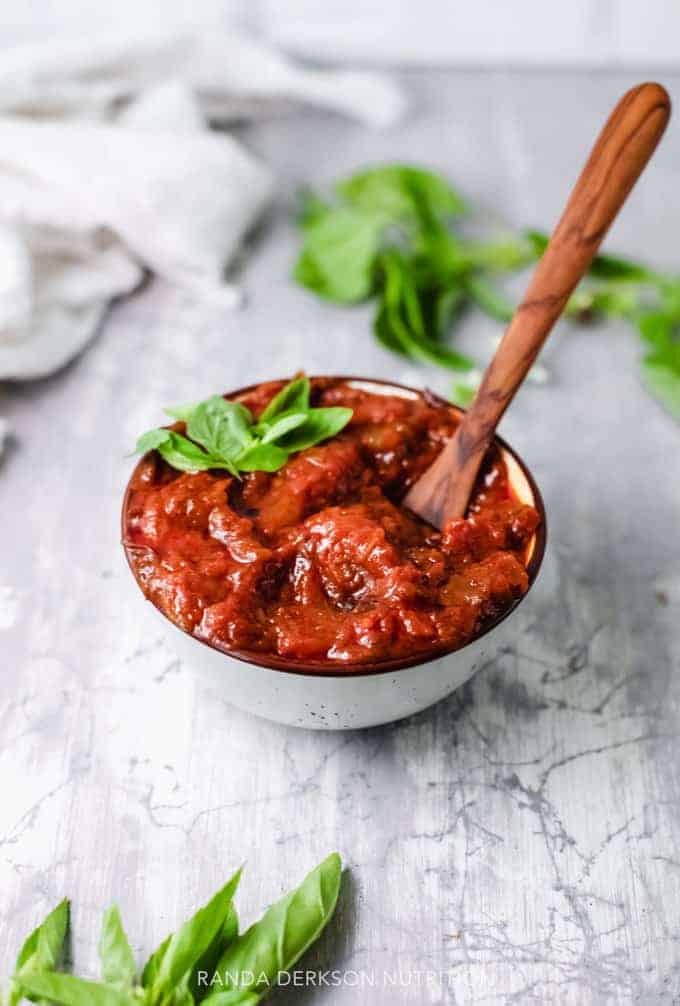 How to make tomato sauce in the Instant Pot
To make this healthy tomato sauce in the Instant Pot (or whatever pressure cooker you have on hand) is simple.
You'll want to use the saute option to work with the vegetables and then bring it to pressure for only 15 minutes.
You could let it release naturally if you're running around and chasing your toddler (which is probably what I'm doing, she's into EVERYTHING these days) or you can manually release if you're hangry and need food right now.
What to serve with tomato sauce
This healthy tomato sauce recipe is fantastic for meal prep. Make it ahead and serve over a variety of foods for the week.
Randa's Tip: Store the veggie tomato sauce in glass container so it doesn't leech the plastic. I use these ones.
Serve the sauce over Healthy meatballs with hidden veggies. You can add it to pasta, a meatball sandwich, or eat them straight up.
Serve it over chicken breaded with almond flour for chicken parmesan.
Use it as a homemade pizza sauce.
Add any leftovers to soups to give it an extra oomph.
If you're going with a pasta dinner, I recommend loading your plate with even more roasted vegetables to stay full (and it keeps you from gorging on pasta while still enjoying it). Try this marinated 3 pepper kale salad as a side dish.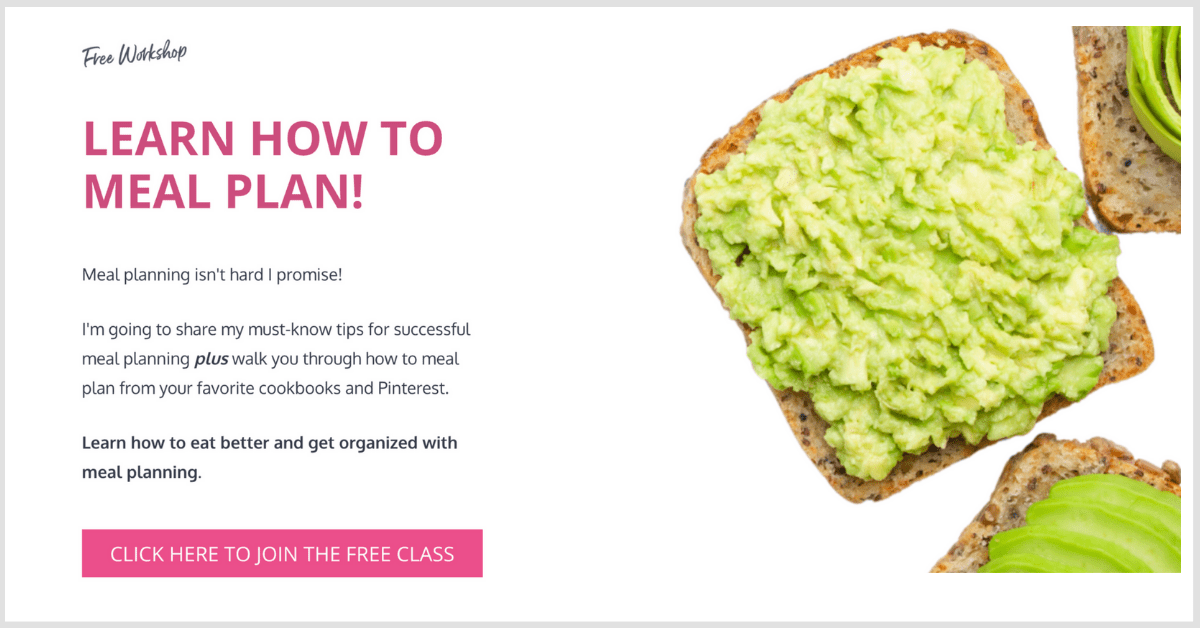 Container Counts
By popular request, I am slowly adding container counts for those of you following the Ultimate Portion Fix. This way you can see if it works for your plan for Beachbody programs like 21 Day Fix, LIIFT4, 80 Day Obsession, and 10 Rounds.
Full recipe: 10 greens, 12 tsps.
Per 1 cup serving: 1 1/4 green, 1 1/2 tsp.
How to make homemade pasta sauce
You're not going to believe how easy it is to make this recipe for homemade tomato sauce.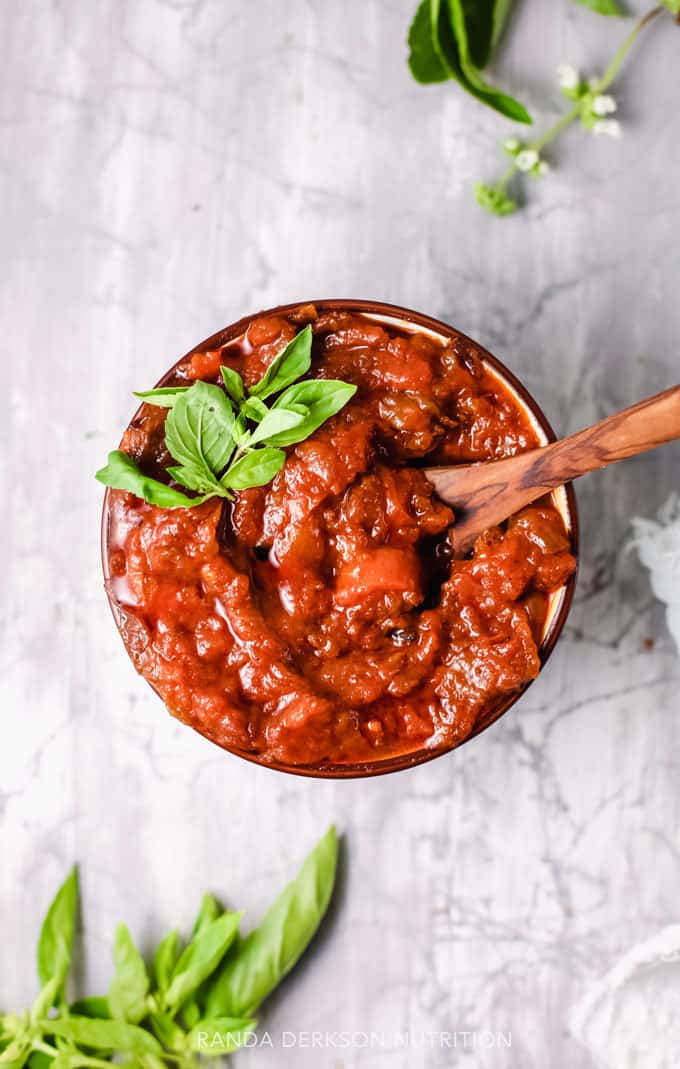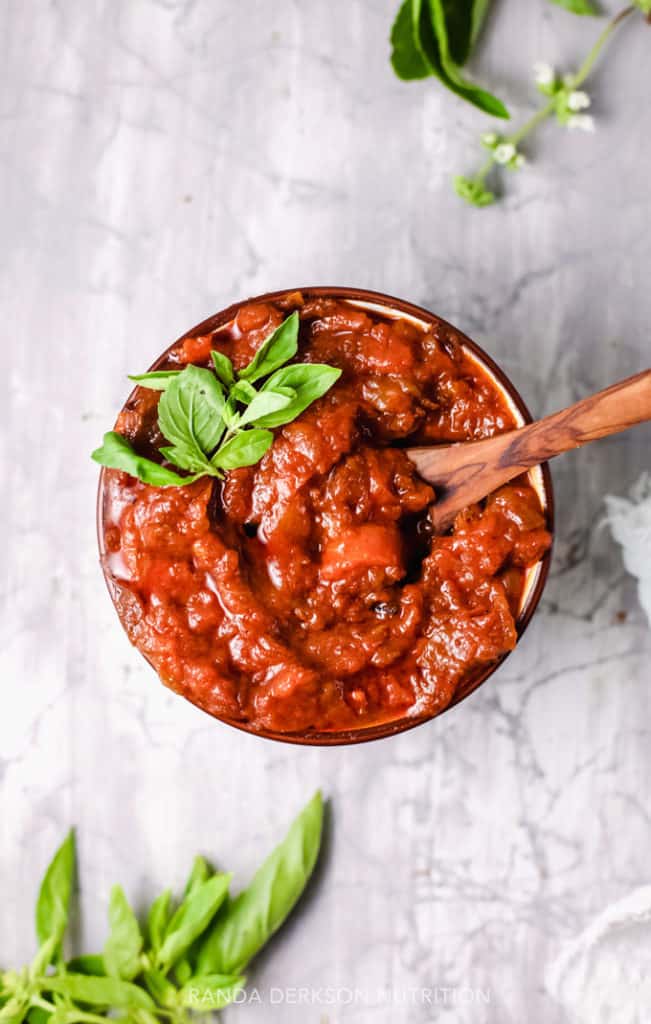 To make the sauce smooth:
If you don't like a chunky sauce and smashing it isn't enough, simply ladle it into a blender in batches to make it a puree.
Looking for another idea to serve it besides spaghetti or pasta? Try these spaghetti squash nests recipe.
Fresh tomatoes vs canned tomatoes
You can use either or. It's all about convenience and what you have on hand.
My preference is canned because it's easier and the color is more vibrant.
I love using San Marzano tomatoes for homemade sauces. It makes all the difference.
If you're looking for more ways to hide some extra veggies in your meals or learn healthy habits that aren't overwhelming. I encourage you to learn more about the 30 Days to a Healthier You Challenge.
Don't forget to join the free Nutrition Resource Library (click the image below).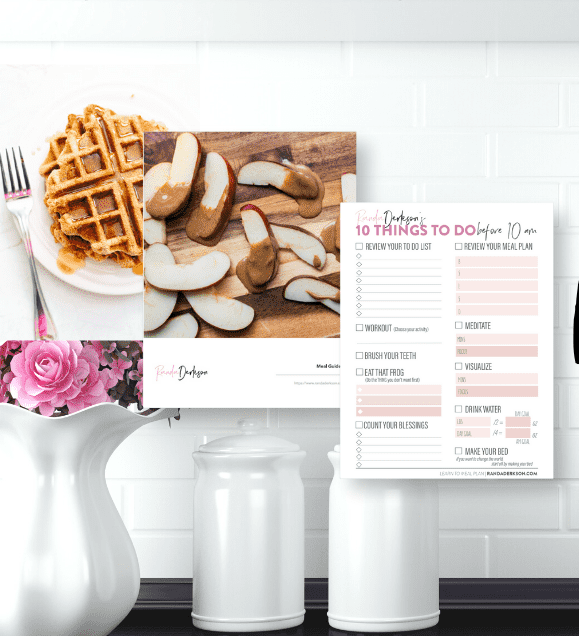 Get Access Free
Exclusive Nutrition and Healthy Living Library
Have you ever added extra vegetables in tomato sauce? What are your favorite veggies to sneak in? Let me know in the comments.
Healthy Homemade Tomato Sauce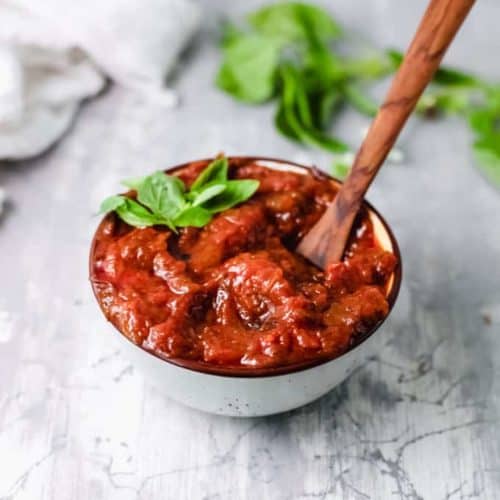 You're going to LOVE this homemade tomato sauce! Made either on the stovetop or fast in the Instant Pot, this healthy tomato sauce recipe has a ton of hidden vegetables that's perfect for picky eaters.
Ingredients
1

onion

chopped

1

garlic clove

minced

4

celery stalks

chopped

4

carrots

roughly chopped

1

red bell pepper

chopped

1

zucchini

shredded

2

lbs

tomatoes

chopped

2

cups

vegetable stock

4

tbsp

olive oil

1

tsp

dried oregano

1

tsp

dried rosemary

½

tsp

dried thyme

salt and pepper to taste
Instructions
InstantPot Instructions:
Select the sautee option. Add olive oil and onion and cook until transparent (around 3 minutes). Add garlic and cook until fragrant or around 1 more minute.

Add celery, carrots, red bell peppers, zucchini, tomatoes, stock and spices. Close the lid and set on high pressure for 15 minutes.

Manually release steam, open and season to taste with salt and pepper.

With the help of a wooden spoon, lightly mash any big chuck of veggie.
Stovetop Instructions:
Heat the olive oil in a large saucepan over medium heat. Add onion and cook until transparent, around 4 minutes. Add garlic and cook for 1 more minute or until fragrant.

Add remaining vegetables, except the tomatoes, and spices and cook for around 15 minutes or until vegetables are soft.

Add tomatoes and stock and bring to a simmer. Reduce heat and cook for around 30 minutes or until everything is soft.

With the help of a wooden spoon, lightly mash any big chuck of veggie.
Notes
Container Counts
Full recipe: 10 greens, 12 tsps.
Per 1 cup serving: 1 1/4 green, 1 1/2 tsp.
Nutrition
Serving:
1
cup
Calories:
114
kcal
Carbohydrates:
11
g
Protein:
2
g
Fat:
7
g
Saturated Fat:
1
g
Sodium:
267
mg
Potassium:
487
mg
Fiber:
3
g
Sugar:
7
g
Vitamin A:
6689
IU
Vitamin C:
42
mg
Calcium:
32
mg
Iron:
1
mg
If you like this recipe, then please share it with your friends and pin it.