If you have a picky eater (or you are a picky eater), you're going to love this recipe for healthy meatballs that are loaded with hidden veggies.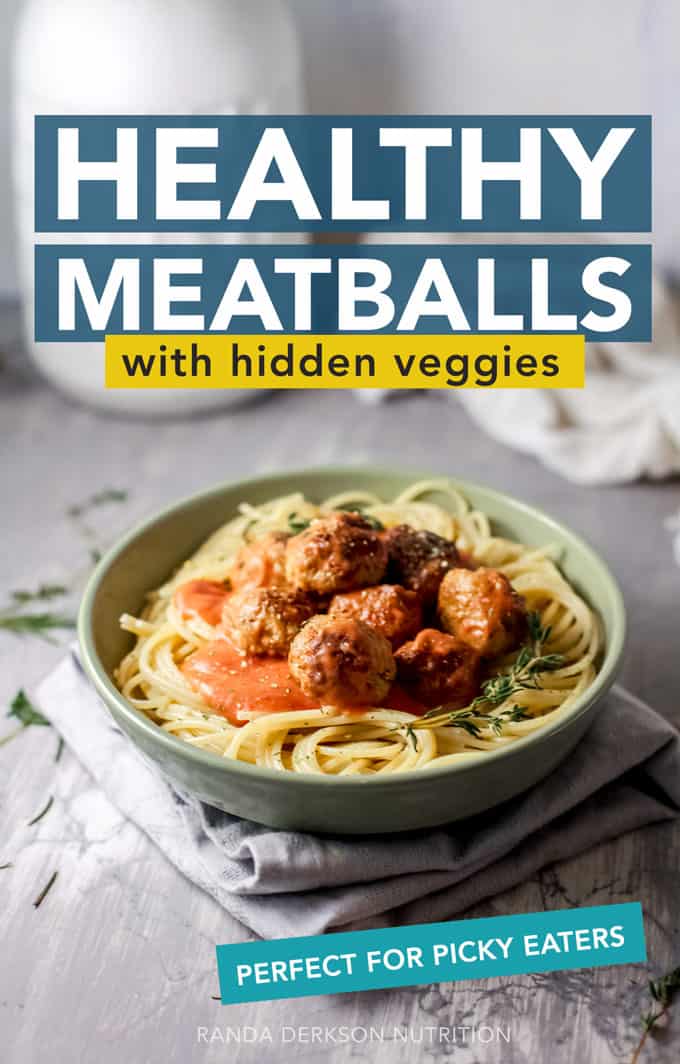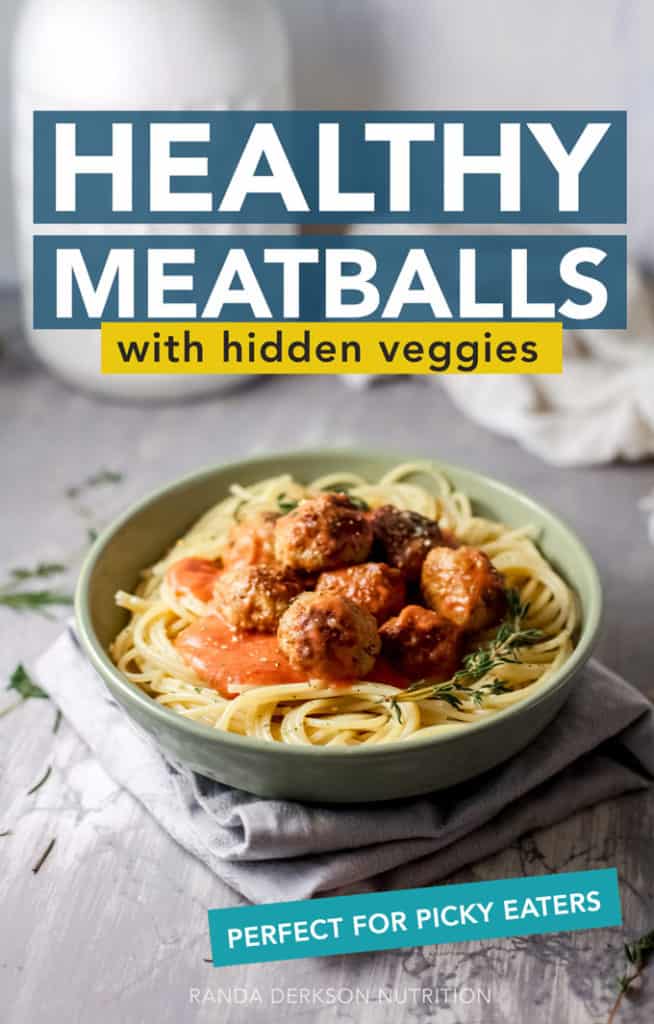 Healthy Meatballs
Disclosure: This post contains affiliate links for your convenience. As an Amazon Associate, I earn from qualifying purchases.
This healthy meatballs recipe is so simple, that you won't believe how such basic ingredients can pack a big punch.
It's always the simple recipes that taste the best.
I love sneaking in vegetables because it's not easy trying to get picky eaters (and picky adults) to eat them.
I get it.
I remember sitting at the dinner table with my son, crying and begging him to just eat. It was such a stressful time. I had to hide vegetables in his food at first, at least until he was willing to try a bite or two of the real deal. I talk about sneaking in vegetables in the 30 Days to a Healthier You Challenge. It's one of the daily actionable steps to a healthier lifestyle.
I would offer a bite of side veggies with every meal, but it didn't go over well in the beginning. I kept trying and felt a little relief knowing that at least he was getting some vegetables in his meatballs and his smoothies.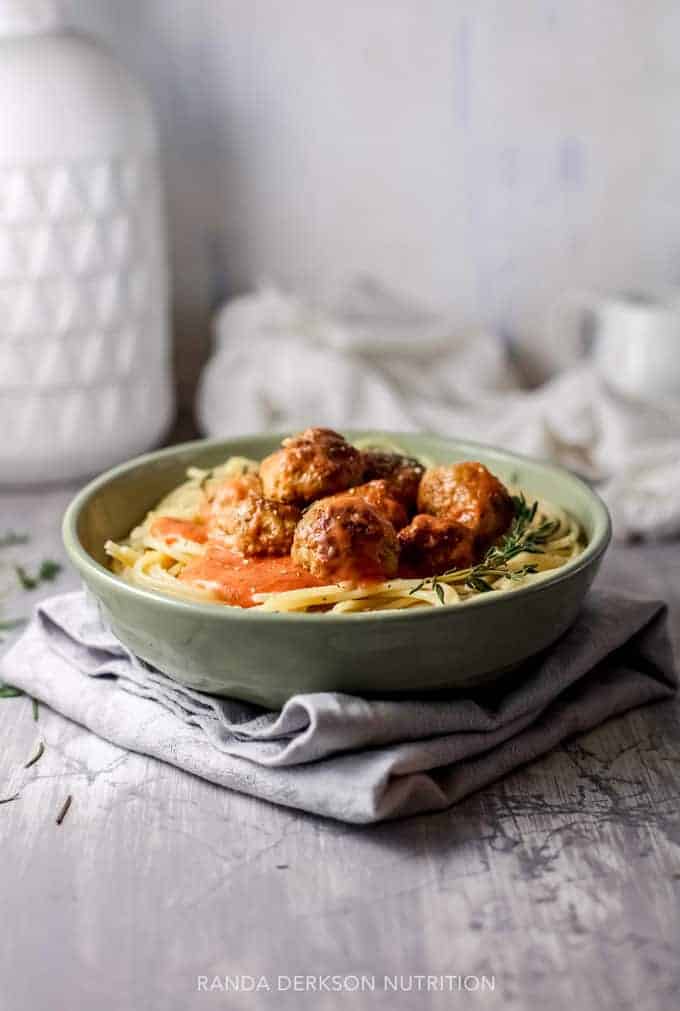 What vegetables can you hide in meatballs?
These veggie filled meatballs have the basic carrot, zucchini, and onion but you can switch it up to whatever vegetables you have on hand.
Cauliflower (there is nothing this vegetable can't do).
Broccoli
Leeks
Bell peppers
Celery
Olives
Mushrooms
I made a variation with these paleo turkey meatballs on The Bewitchin' Kitchen as well. I think you'll like them. In fact, all my chicken meatballs also have veggies hidden in them.
Are meatballs healthy?
Short answer? Yup!
You can do so much with meatballs, make them with ground beef, pork, chicken, turkey, etc. You can hide vegetables in them easily as the taste either enhances the meatballs or is hidden by the herbs and spices.
Vegetables are easy to hide in meatballs because it's all a mince. You can toss everything in a blender or a food processor to leave no evidence for picky eaters!
What makes meatballs unhealthy are thee factors:
Portion size. If you eat have the batch, you're overdoing it. Stick to about 3-4.
Sauces. If you're loading these bad boys with gravy, ketchup, bbq sauce, or other sugar-loaded flavors. The calories and sugar are adding up fast and you can easily overdo it. If you are using a BBQ sauce look for a better ingredient-based one (like these ones) and stick to 1-2 tbsps.
Container Counts
By popular request, I am slowly adding container counts for those of you following the Ultimate Portion Fix. This way you can see if it works for your plan for Beachbody programs like 21 Day Fix, LIIFT4, 80 Day Obsession, and 10 Rounds.
Full recipes: 2 greens, 4 1/2 red, 2 yellow, 1 blue.
Per serving: 1/2 green, 1 red, 1/2 yellow, 1/4 blue.
How to make healthy meatballs loaded with veggies
To hide the vegetables you can either shred them with a grater, dice them finely or use a food processor or high powered blender to turn them into a fine mince.
Serve these meatballs with:
Healthy Meatballs with Hidden Vegetables
This healthy meatballs recipe is made with ground beef and hidden vegetables. Your picky eater won't know there are veggies in dinner because you can't see or taste them! Baked in the oven, or you can cook them on the stove top (or toss them in the slow cooker). Either way they're a homemade family favorite (and toddlers love them).
Ingredients
1

lb

ground beef

½

cup

bread

cubed ( use gluten free)

3

tbsp

milk

1

Egg

½

cup

carrot

shredded

½

cup

zucchini

shredded

1

Onion

grated

¼

cup

parmesan cheese

1

tsp

oregano

½

tsp

garlic powder

Salt and pepper to taste
Instructions
Preheat oven to 350 degrees.

In a small bowl soak bread with milk. Set aside.

In another bowl mix ground beef with oregano, garlic powder, salt and pepper.

Add egg, zucchini, carrot and onion and mix until incorporated.

Add the soaked bread and milk and parmesan cheese.

With the help of your hands shape small balls. Place in a baking pan and drizzle with olive oil.

Take to the oven and bake for 25 minutes or until golden brown and done.
Notes
Serve with marinara and your favorite pasta
Or serve with rice, some soy sauce and veggies. You can use these anywhere.
Container Counts
Full recipes: 2 greens, 4 1/2 red, 2 yellow, 1 blue.
Per serving: 1/2 green, 1 red, 1/2 yellow, 1/4 blue.
Nutrition
Serving:
1
serving
|
Calories:
367.33
kcal
|
Carbohydrates:
7.75
g
|
Protein:
24.55
g
|
Fat:
25.97
g
|
Saturated Fat:
10.35
g
|
Cholesterol:
126.81
mg
|
Sodium:
228.46
mg
|
Potassium:
468.01
mg
|
Fiber:
1.43
g
|
Sugar:
3.21
g
|
Vitamin A:
2830.4
IU
|
Vitamin C:
5.75
mg
|
Calcium:
137.71
mg
|
Iron:
2.92
mg
The nutrition information is calculated using a third party resource. The accuracy varies on the brands used, weight, portions, etc. This resource should be used as a guide. If you want more accurate information, weigh in grams and log in MFP.