Peanut Butter Oatmeal Bars with Chocolate Chips
These peanut butter oatmeal bars are going to save your busy mornings. Not only are they gluten free (to help with any allergies or intolerances you may have) but they also have chocolate chips sprinkled in.
Chocolate for breakfast? Yes!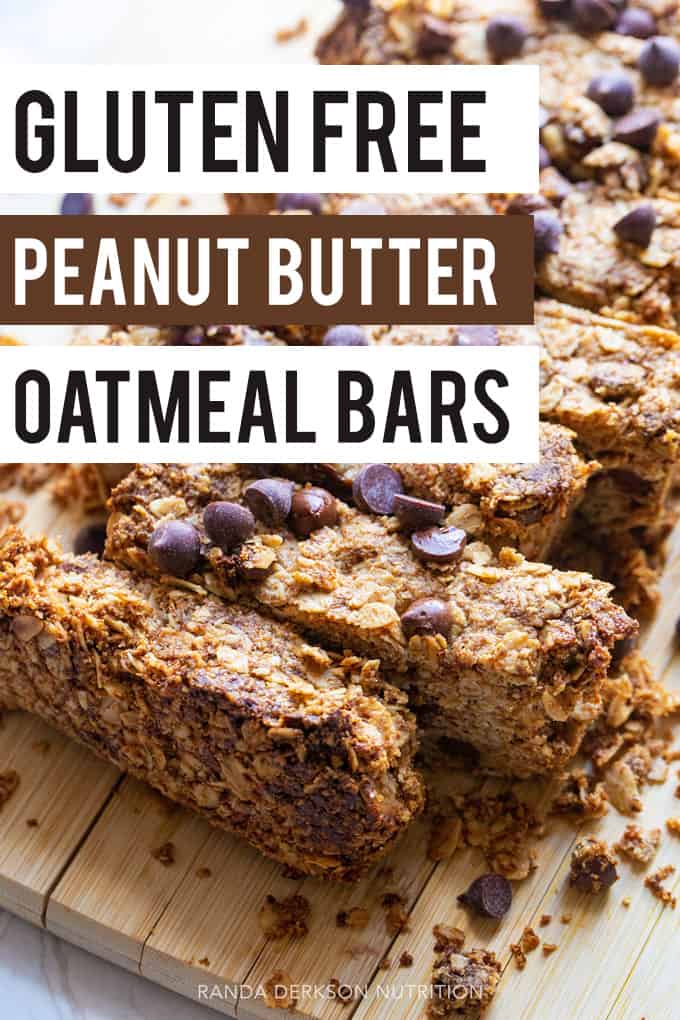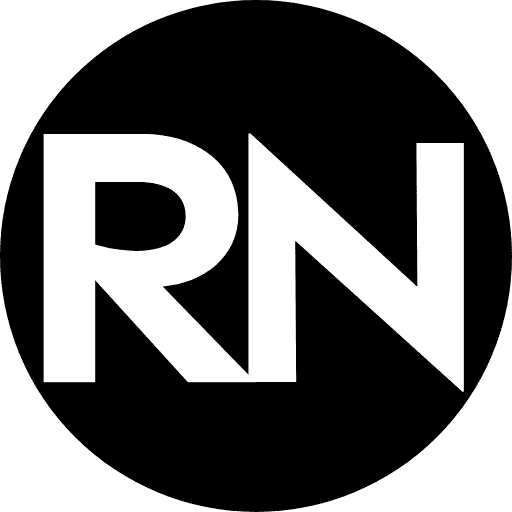 Save This Recipe!
Enter your email below & I'll send it straight to your inbox. Plus you'll get great new recipes every week!

Peanut Butter Oatmeal Bars
Disclosure: This post contains affiliate links for your convenience. As an Amazon Associate, I earn from qualifying purchases.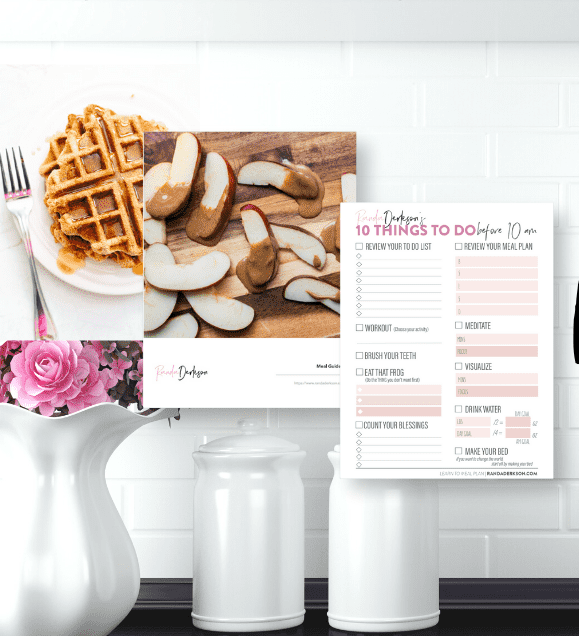 Get Access Free
Exclusive Nutrition and Healthy Living Library
One of my guilty pleasures are chocolate peanut butter bars. The issue with that is when I purchase the store-bought variety – I tend to eat more than a serving (more like 2-3 servings) because all though they taste good, they're not satiating.
These peanut butter oatmeal bars are incredibly filling. One serving keeps you going until your next meal and they're a low glycemic recipe.
Peanut Butter Breakfast Bars Ingredients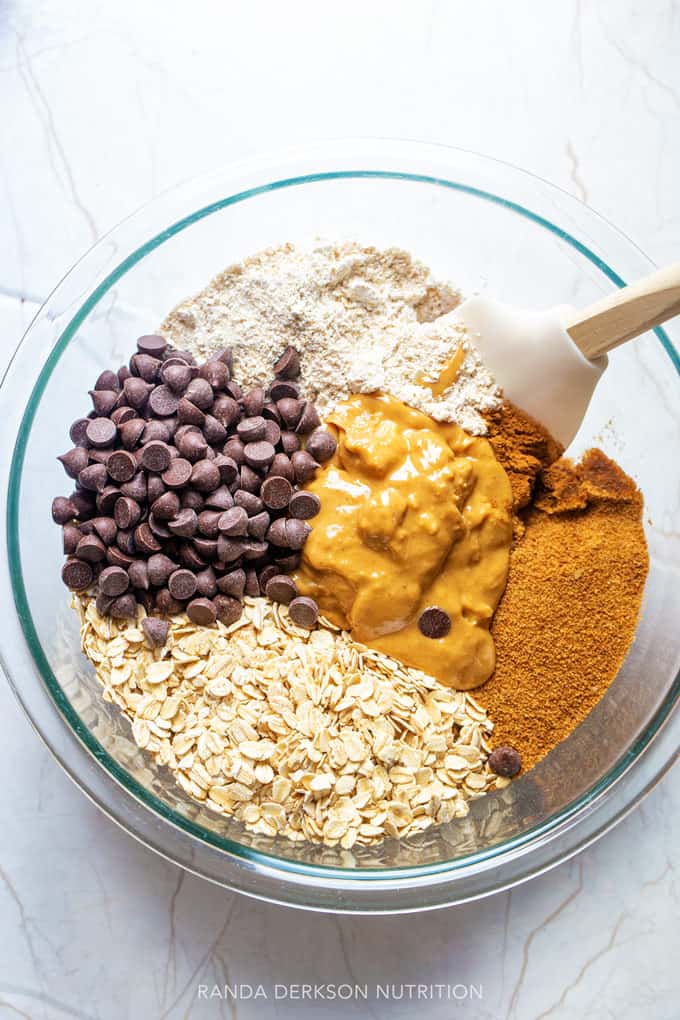 As you will see from the ingredient list below, you probably have everything you need to make these bars in your pantry right now!
coconut oil
natural peanut butter (make sure it's stirred so it's not an oily mess when you add it to the bowl)
dark chocolate chips (I like the Enjoy Life Brand if you want dairy-free)
cinnamon (I like to add cinnamon when I lower sugar in recipes).
Peanut butter substitutions
If you're not a fan of peanut butter, you can substitute for any nut of sunflower seed butter. The taste will be a bit different from each variation but they're still delicious.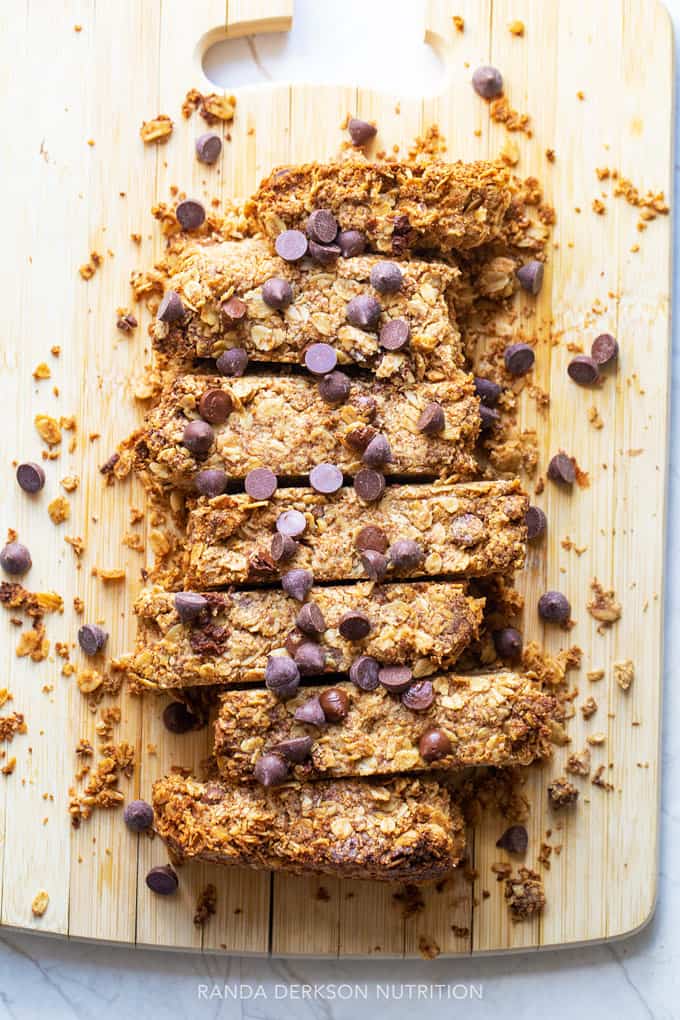 If you're child's school is nut free or nut aware, try swapping the peanut butter with this allergy friendly, nut free butter.
Another option is to not put any nut butter in and enjoy this healthy snack idea as chocolate chip oatmeal bars.
How to make peanut butter oatmeal bars
You are going to be excited to hear that these peanut butter breakfast bars are incredibly simple.
There are only 5 minutes of prep involved. They're so quick and take little effort.
If you've introduced peanut butter to your toddler and all is well, I can't speak highly enough of these for toddler oatmeal bars.
I'm not a get up and get 'em mom. Coffee is essential before I parent, so I like to have some of these homemade peanut butter bars on hand so I can toss them in their direction while I escape with my coffee.
If you're looking to mix things up, try adding your favorite jam in addition to the peanut butter (team raspberry over here). I made peanut butter jam bars a few years ago on The Bewitchin' Kitchen and it's such a simple recipe (just three ingredients).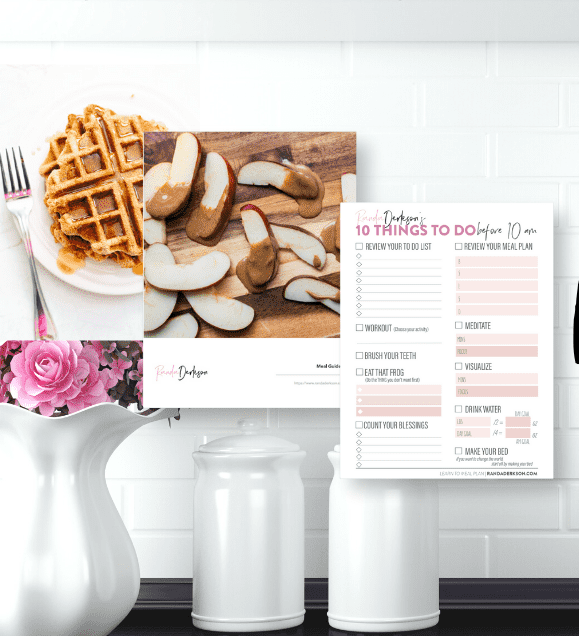 Get Access Free
Exclusive Nutrition and Healthy Living Library
Container Counts
By popular request, I am slowly adding container counts for those of you following the Ultimate Portion Fix. This way you can see if it works for your plan for Beachbody programs like 21 Day Fix, LIIFT4, 80 Day Obsession, and 10 Rounds.
This recipe would be a treat swap. So 1 serving would be a swap for one yellow.
Oatmeal Bar Recipes I think you'll like
I've been on a bit of a breakfast bar/oatmeal bar recipe kick lately. Here are a few deliciousnesses that you may have missed (my favorite are the apple breakfast bars).
In addition to these peanut butter oat bars, all the oatmeal bars are gluten-free, dairy-free (if you use dairy-free chocolate chips), and have no refined sugar.
If you're a big chocolate and peanut butter fan like me, try these protein peanut butter cups.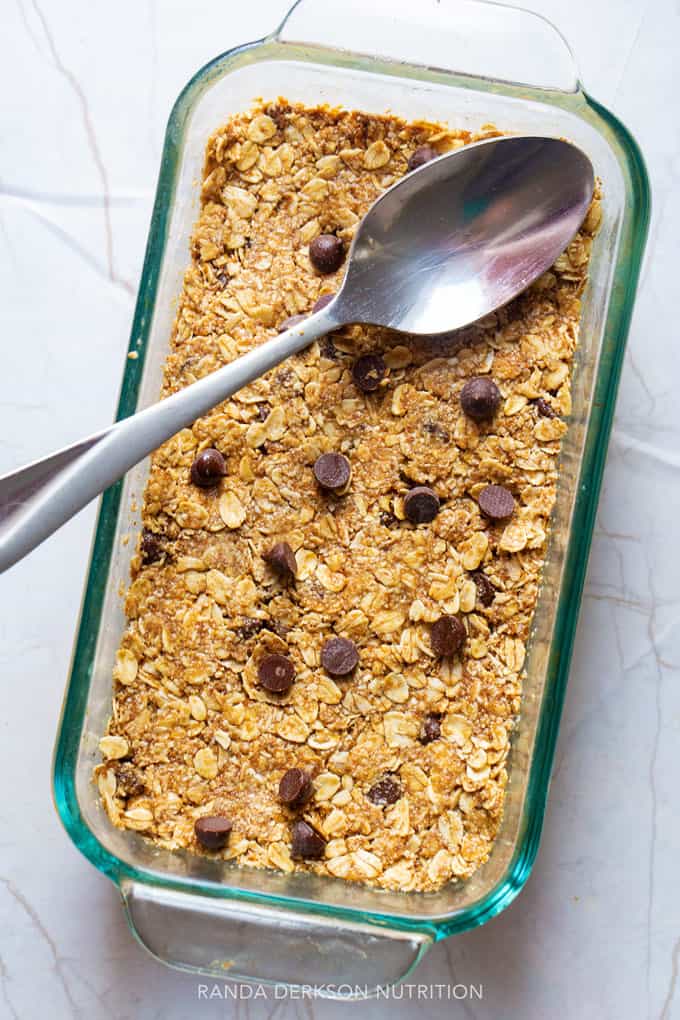 Randa's Tip: When adding the mixed "batter" to the loaf pan, press down hard with the back of a spoon multiple times. This reduces the air pockets and any space in the pan so the bars stay together.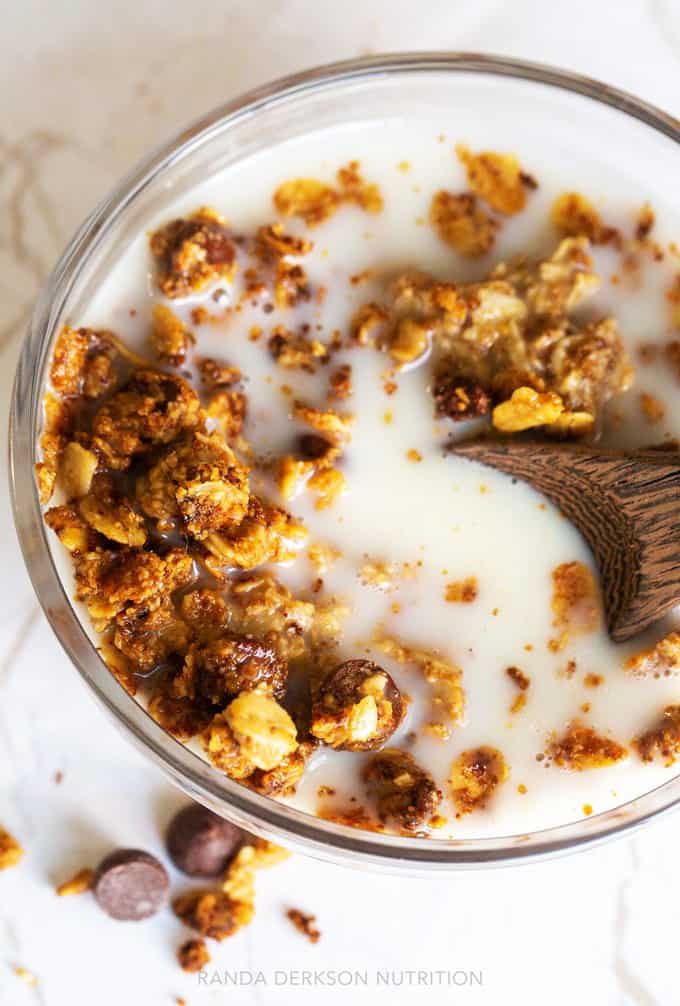 If you don't press the peanut butter granola bars tight enough into the loaf pan, you'll have crumbles. Which is totally fine!
Simply take the crumbled pieces and eat it as granola. Add almond milk or top your morning yogurt with it. Either way, it's all good!
I mention below that this makes 10 bars, but in all reality, if you want it just for a snack you can cut it into 8 across and then half that for 16.
If you love chocolate and peanut butter as much as I do, then try these protein peanut butter cups.
Peanut Butter Oatmeal Bars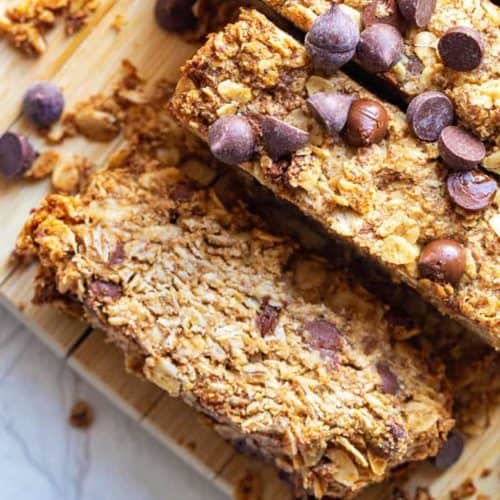 Made with simple and wholesome ingredients, these healthy pumpkin breakfast bars are refined sugar-free and oh so tasty.
Instructions
Preheat the oven to 350 degrees. Line a baking pan (I used a glass loaf pan) with parchment paper or rub down with coconut oil. Set aside.

Place half of the rolled oats in the glass of a blender and pulse until you have a ground meal. Pour into a bowl.

Add the rest of the rolled oats, chocolate chips, coconut sugar, cinnamon, and mix until well incorporated.

Mix in butter/coconut oil and peanut butter, it should resemble coarse sand and stick together when pressed.

Press the mix into prepared pan with the back of a spoon, making sure it's packed in tight.

Bake for 45 minutes. Remove from the oven and let it cool for ten minutes. Run a knife along the edges, then flip onto a cutting board. Let cool completely and slice into bars.
Notes
Container Counts
This recipe would be a treat swap. So 1 serving would be a swap for one yellow.
Nutrition
Serving:
1
bar
Calories:
367.78
kcal
Carbohydrates:
36.64
g
Protein:
8.24
g
Fat:
22.34
g
Saturated Fat:
13.76
g
Cholesterol:
0.09
mg
Sodium:
202.76
mg
Potassium:
257.98
mg
Fiber:
4.49
g
Sugar:
9.8
g
Calcium:
51.67
mg
Iron:
1.73
mg