I'm on a bit of a homemade granola bar kick. Along with these apple breakfast bars, I have been experimenting with other gluten free bar recipes that are perfect for toddlers. They have no refined sugar and use wholesome, natural ingredients.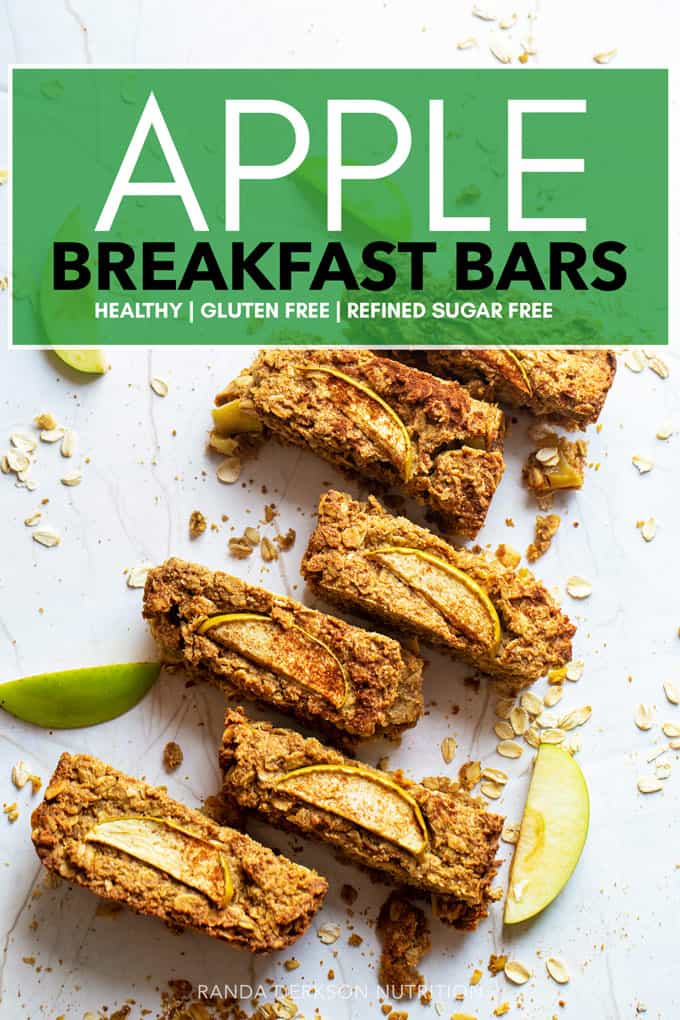 Apple Breakfast Bars
Disclosure: This post for apple cinnamon granola bars contains affiliate links for your convenience. As an Amazon Associate, I earn from qualifying purchases.
These apple oatmeal bars are perfect for breakfast!
I personally have a difficult time sitting down to breakfast first thing in the morning. My stomach just isn't ready for it. So I find that having a little square of the apple oat bars helps get my body ready for the day.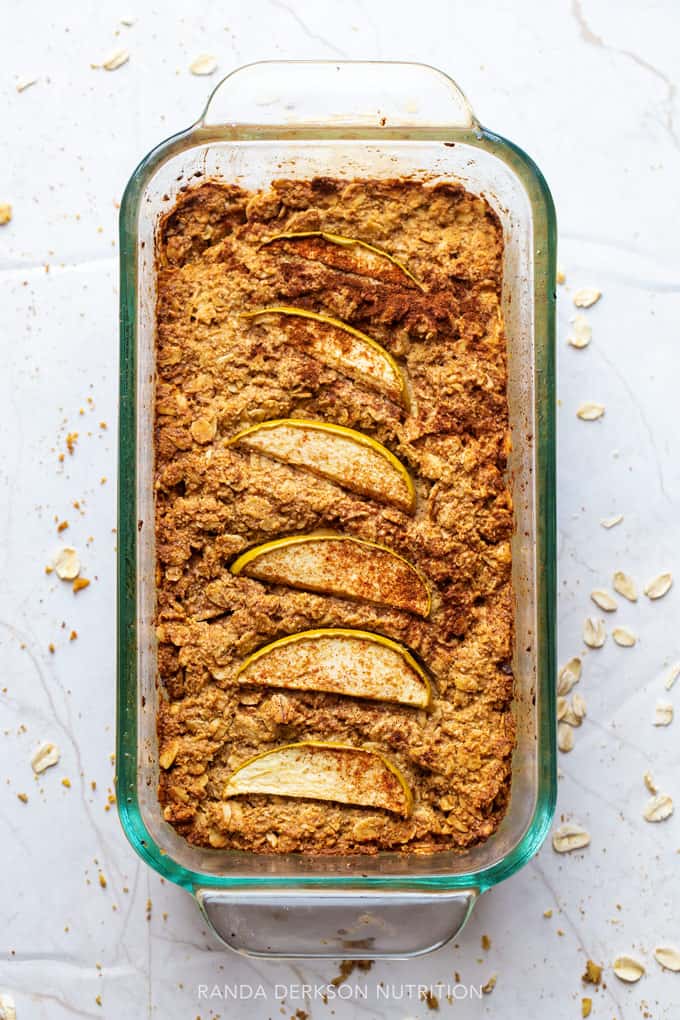 The best part is that they're perfect for on the go.
If I have a bunch of errands to run in the morning, I can bring breakfast bars with me for when I'm hungry.
They also make a delicious and healthy snack for my toddler.
What is a good binder for granola bars?
Whether you're making apple oatmeal breakfast bars or apple granola bars the tricky part is binding them.
To prevent the bars from falling apart in this recipe, the secret is the oat flour. I've made similar oat bars with and without oat flour with the whole oats and they stick together much better with the ground oat flour.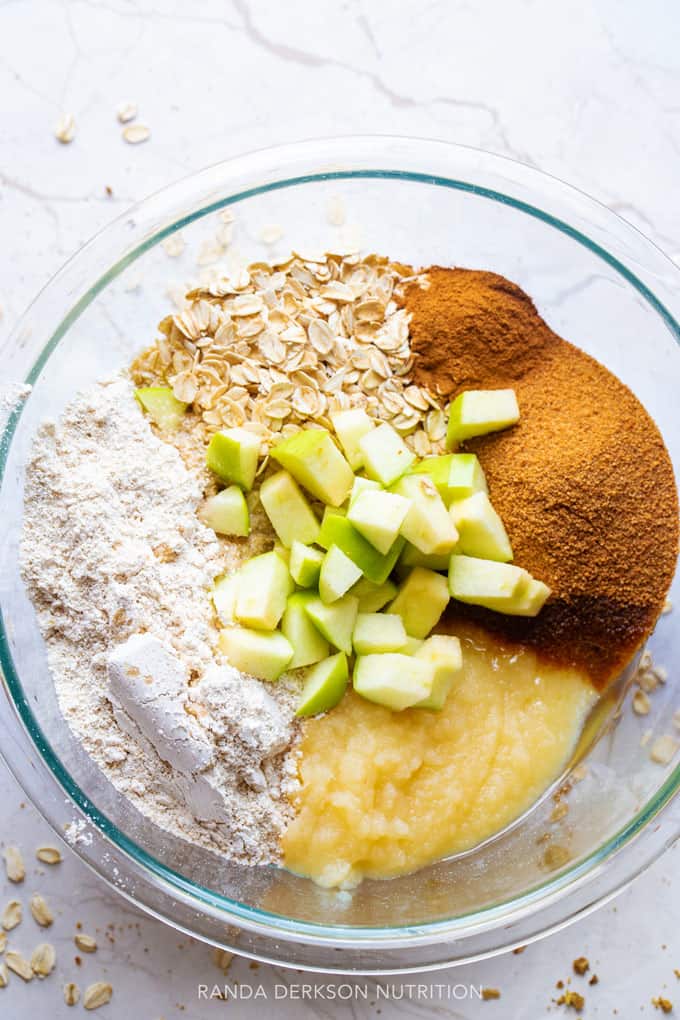 You can buy oat flour here or simply make it yourself by tossing some in a blender (the full tutorial is in the recipe card).
Another tip is to press the bars into the pan as much as possible.
You can also add honey or maple syrup (in place or addition to the coconut sugar) to add a bit of stickiness to help them bind as well. If you do this the texture will change a bit.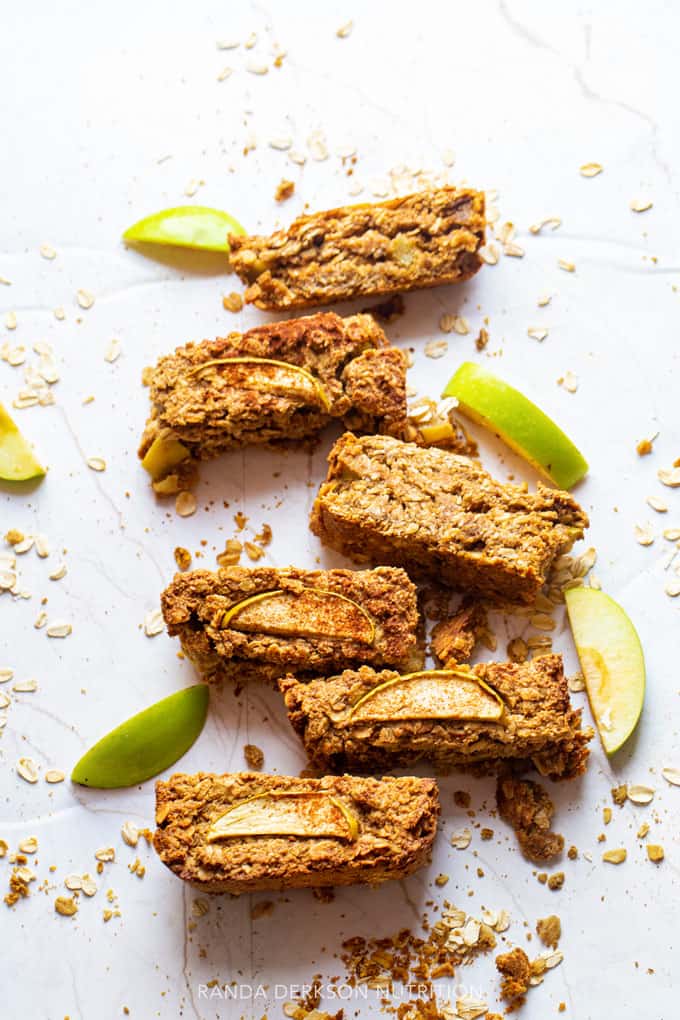 Healthy Breakfast Bars
I'm on a bit of a breakfast bar kick (also known as oatmeal bars). If you're looking for more healthy breakfasts on the go ideas or a healthy toddler snack here are some recipes:
How to make apple oatmeal bars
If you want the 411 on how to make apple cinnamon breakfast bars, you're going to be thrilled to hear that they're super simple (and the prep is fast because no one has the time to be slaving in the kitchen all day).
These breakfast bars are very filling and although I originally cut it into 8 servings, I found that this could easily serve 10 (12 if it's a snack).
Supplies used to make these homemade oatmeal bars: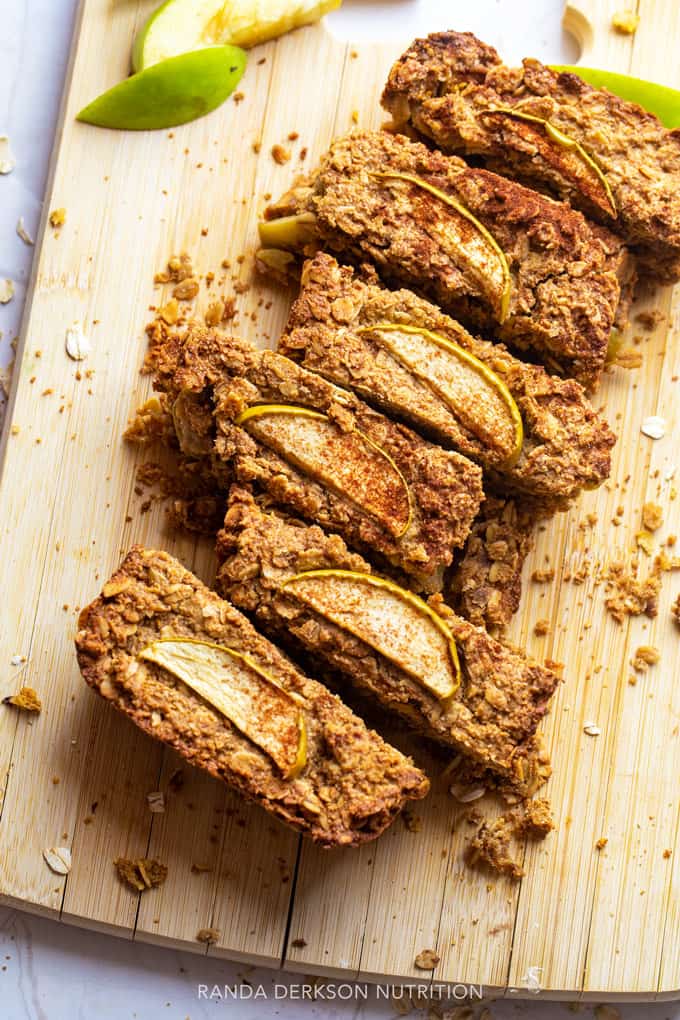 If you made this recipe and loved it, could you please leave a quick 5 star review? I would appreciate it and so would others reading this recipe!
Looking for more guidance on top of recipes to help you start a healthy lifestyle? Let me help you.
Check out my 30 Days to a Healthier You Challenge
Apple Breakfast Bars
These healthy apple breakfast bars are and easy and delicious snack recipe that are gluten free, vegan, and refined sugar free.
Instructions
Preheat the oven to 350 degrees. Line a baking pan (I used a glass loaf pan) with parchment paper or rub down with coconut oil (coconut or avocado oil spray works too). Set aside.

Place half of the rolled oats in the glass of a blender and pulse until you have fine powder. Add to a medium bowl.

Add the rest of the rolled oats, coconut oil, coconut sugar, cinnamon, apple sauce, and most of the cubed apples (save 1/4 cup) and mix until well incorporated.

Press the mix into prepared pan with the back of a spoon, be sure that it's packed in tight. Top with remaining cubed apples. Press in a bit so they stick. You can also use sliced apples to make it "fancy".

Bake for 45 minutes. Remove from the oven and let it cool for ten minutes. Run a knife along the edges, then flip onto a cutting board. Let cool completely and slice into bars.
Nutrition
Serving:
1
bar
|
Calories:
259
kcal
|
Carbohydrates:
33
g
|
Protein:
4
g
|
Fat:
13
g
|
Saturated Fat:
10
g
|
Sodium:
18
mg
|
Potassium:
146
mg
|
Fiber:
4
g
|
Sugar:
9
g
|
Vitamin A:
10
IU
|
Vitamin C:
1
mg
|
Calcium:
23
mg
|
Iron:
1
mg
The nutrition information is calculated using a third party resource. The accuracy varies on the brands used, weight, portions, etc. This resource should be used as a guide. If you want more accurate information, weigh in grams and log in MFP.