Strawberry Rhubarb Baked Oatmeal Recipe (Dairy Free and Gluten Free)
There is nothing I like more in the summer that strawberry rhubarb recipes. I wanted to expand on the well-loved pie and explore more options with this flavor combination. This strawberry rhubarb baked oatmeal recipe is my new favorite way to start the day and one of my favorite healthy breakfast ideas.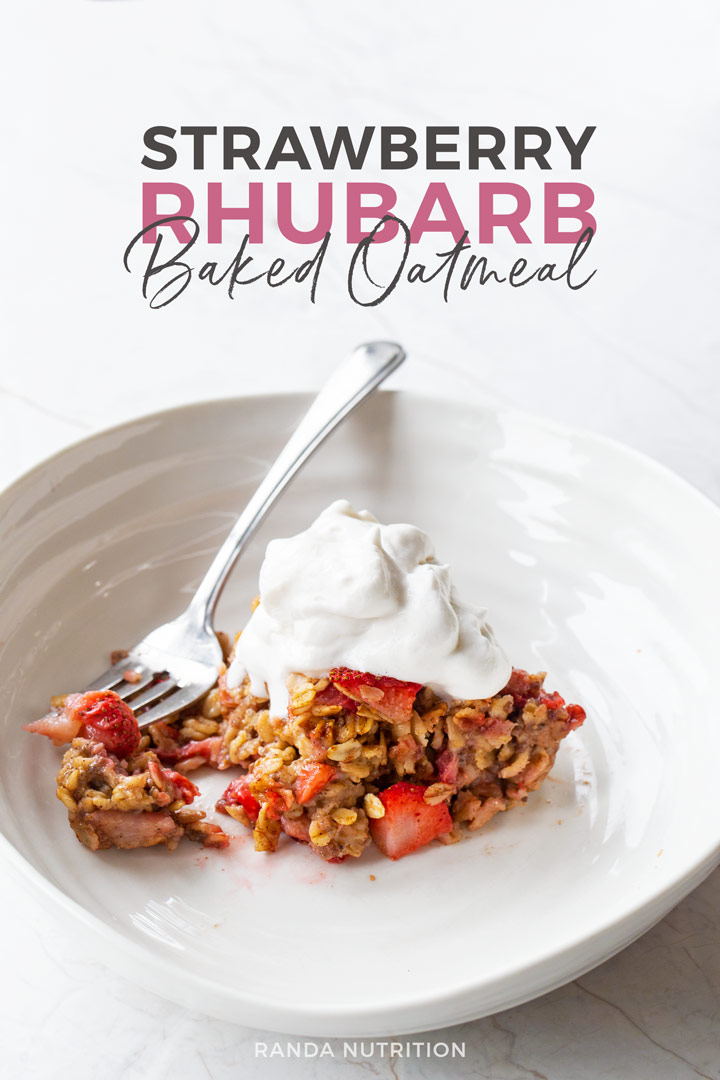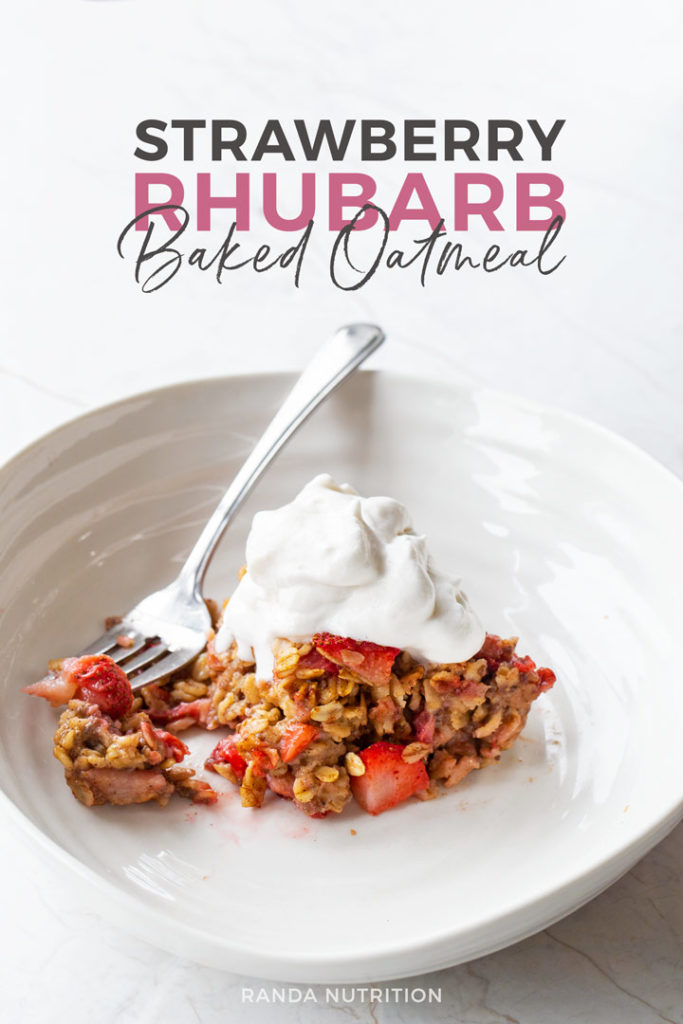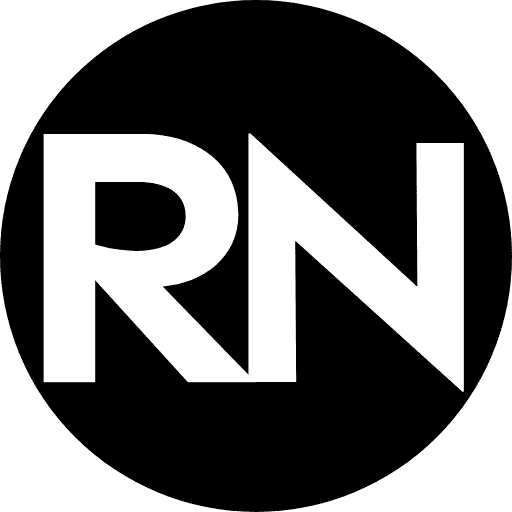 Save This Recipe!
Enter your email below & I'll send it straight to your inbox. Plus you'll get great new recipes every week!

Disclosure: This post contains affiliate links for your convenience. As an Amazon Associate, I earn from qualifying purchases.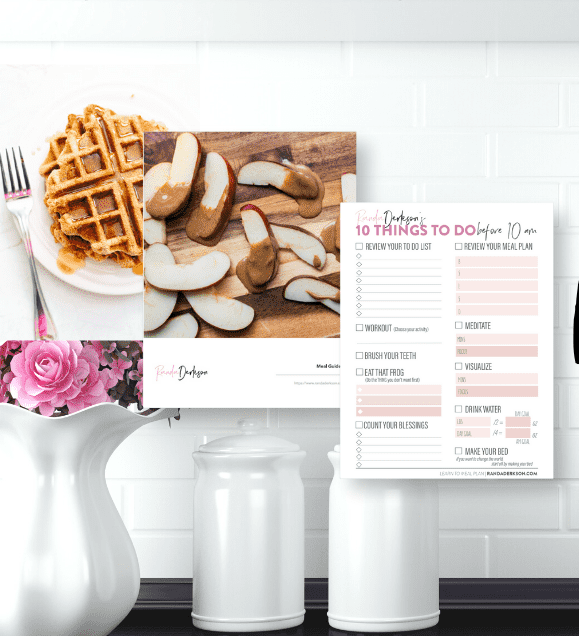 Get Access Free
Exclusive Nutrition and Healthy Living Library
Strawberry Rhubarb Baked Oatmeal
I've been going through the baked oatmeal recipes. First the blueberry baked oatmeal here on Randa Nutrition, then last week I made a Apple Baked Oatmeal for the Nutrition Guide.
It's too easy to not make. You can replace the fruit with any fruit you like and go from there.
This is also a super tasty vegan baked oatmeal recipe too! All you have to do is swap the honey for maple syrup to make this vegan friendly.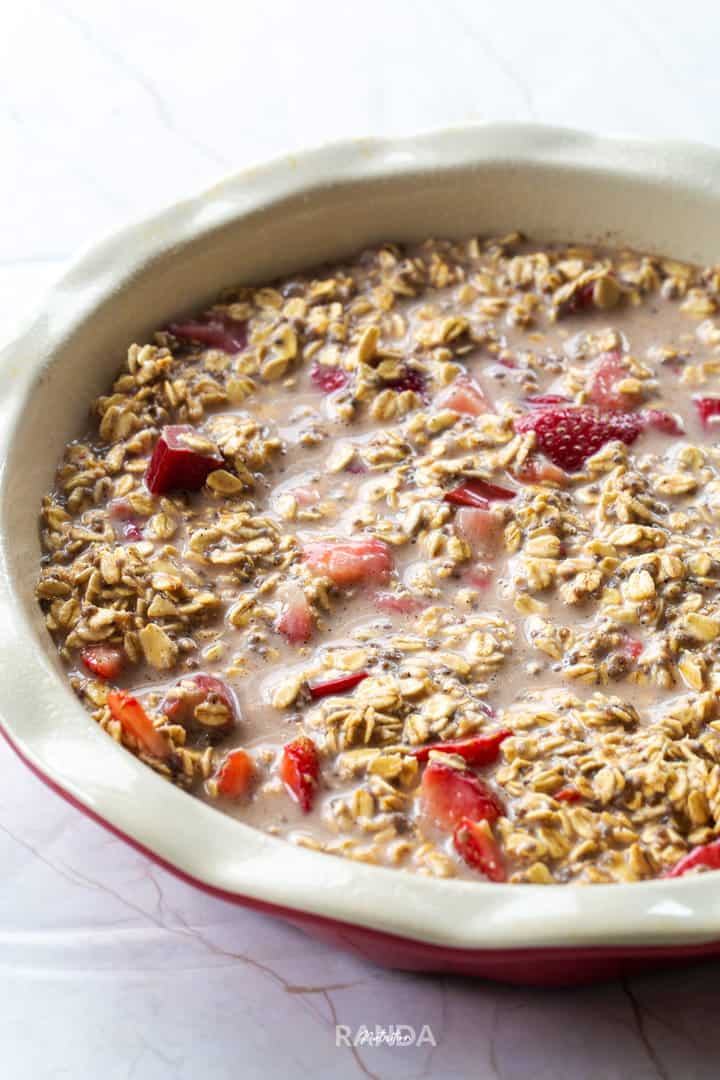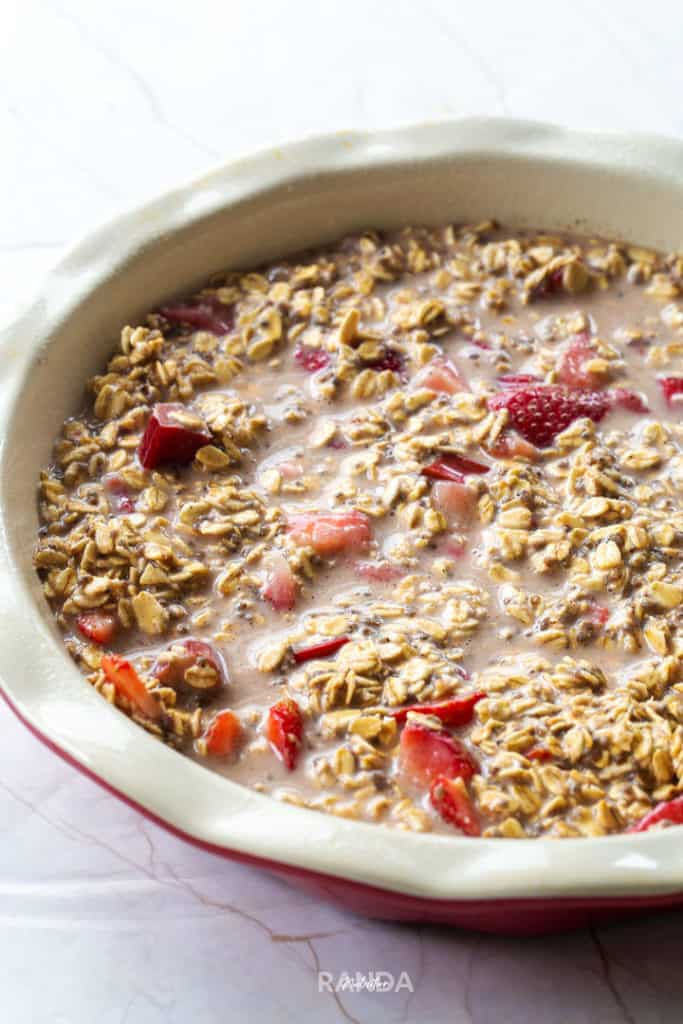 What Type of Oats to Use for Baked Oatmeal?
You'll want to use rolled oats for this recipe. If you can't find rolled oats at your store, they're also known as old fashioned oats.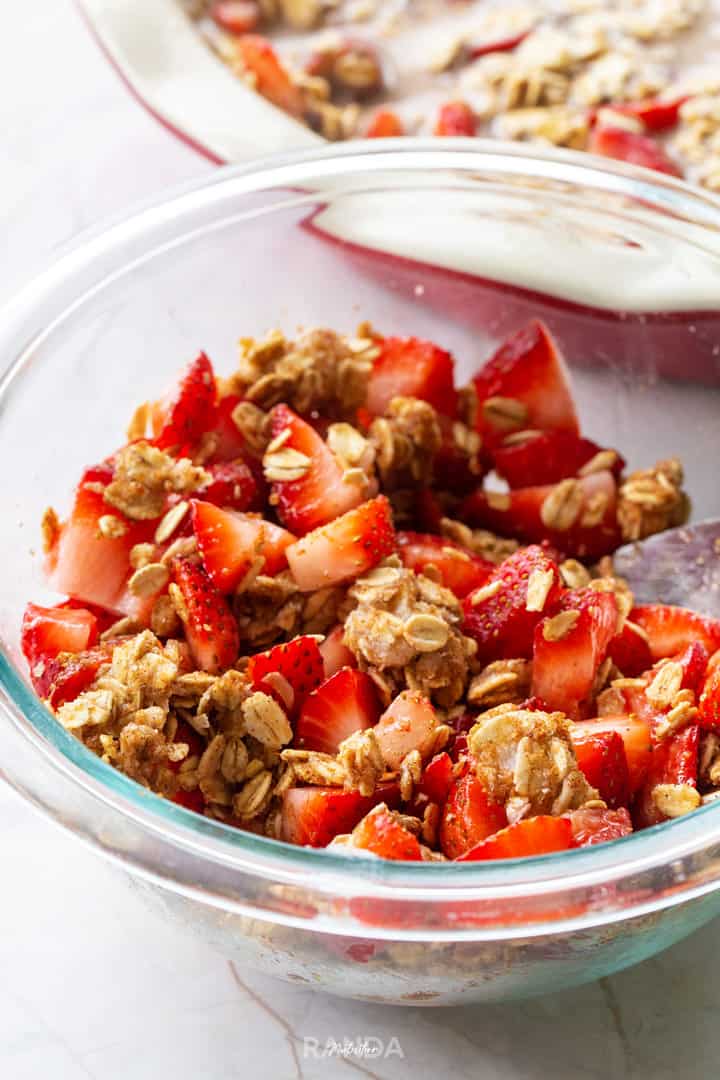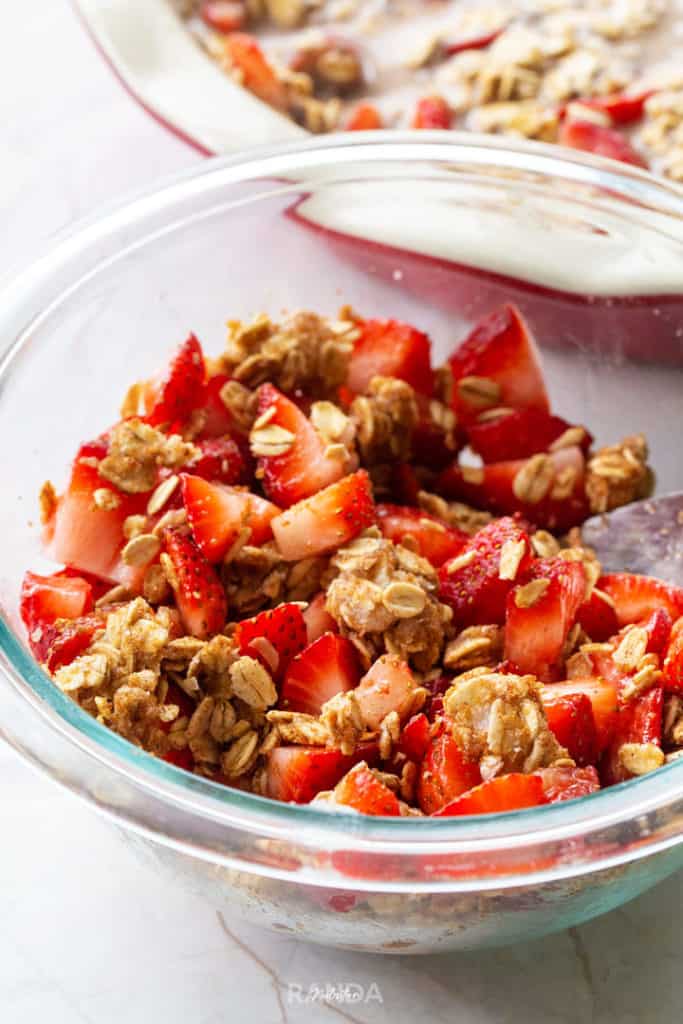 What are the Health Benefits of Rolled Oats?
Rolled oats are what's known as "good carbs" (which by the way, can we please stop labeling foods good or bad?). Here are some of the benefits?
They are less processed and contain more nutrients vs quick oats.
Contains pre-biotics for gut health.
Oats are a source of fiber (thanks to the soluble fiber beta-glucan).
The beta-glucan can reduce blood glucose and insulin spikes (source).
Oats are gluten free (as long as they're processed in a gluten free facility if you have an allergy look for the gluten free label).
Even though they're known as a carbohydrate, they have a decent amount of protein.
Rolled oats are a great way to start the day because they're filling and give you lasting energy (bonus point if you mix it with a healthy fat like peanut butter).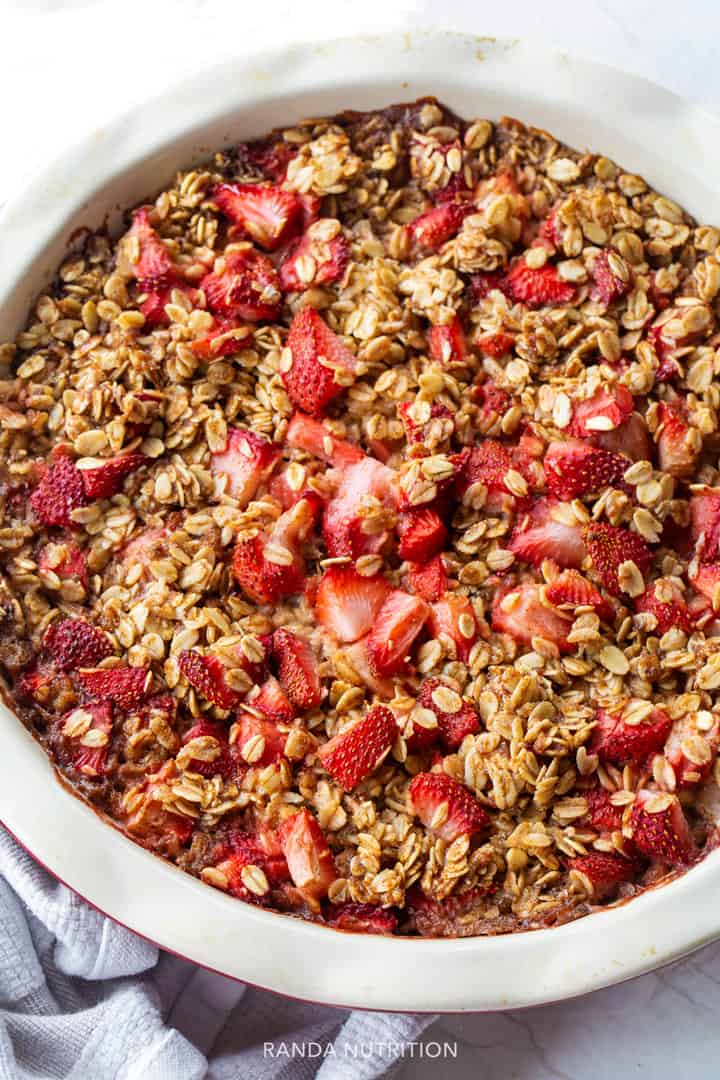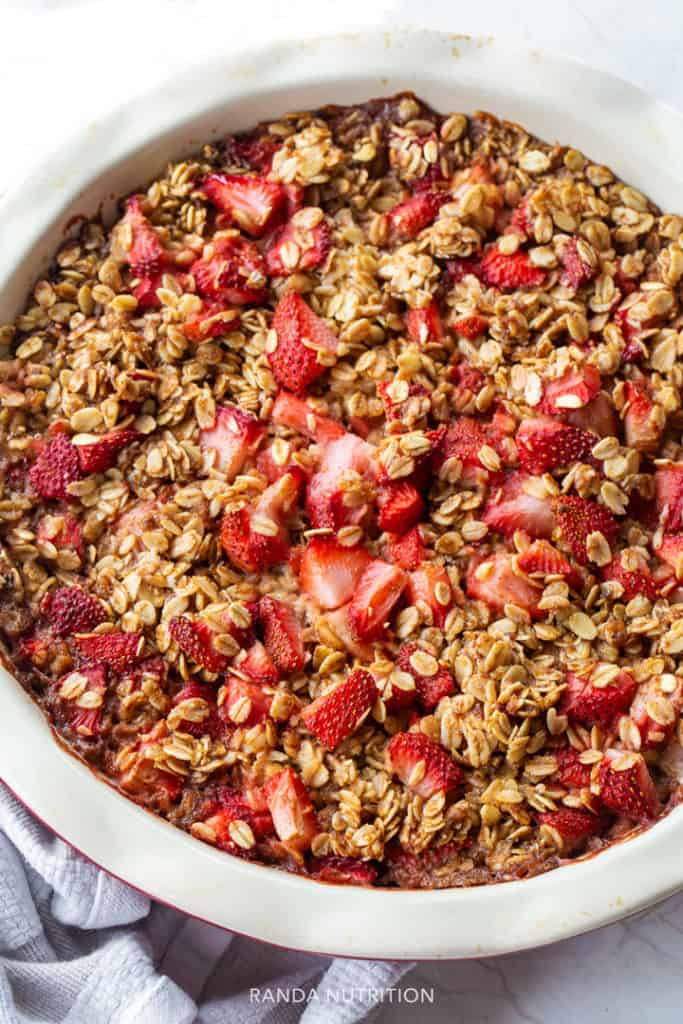 Baked Oatmeal for Meal Prep
One of the reasons I love baked oatmeal? It makes an amazing meal prep breakfast recipe.
Breakfast is tough around my house, we're usually busy running around in the morning getting ready. I don't have time to make a nutritous breakfast every morning.
What I do have time for is to put together this baked strawberry rhubarb recipe and keep it in the fridge all week (or until it runs out depending on how many you're feeding).
You can also make this into strawberry rhubarb oatmeal bars by baking them in a 9×9 square pan and cutting them into squares.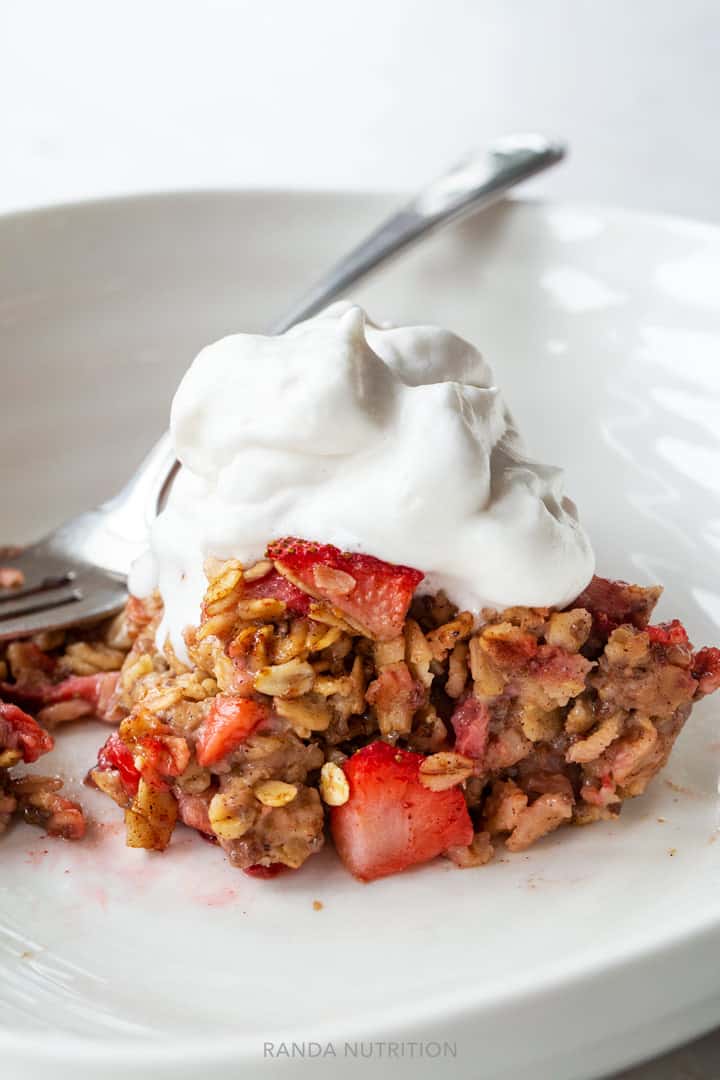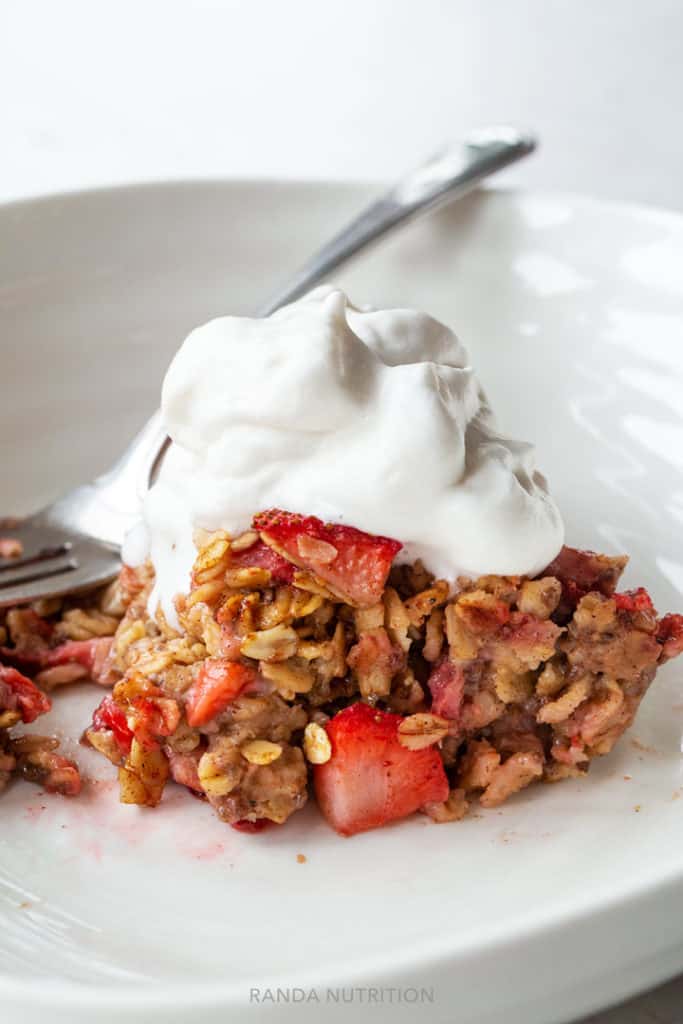 Substitute for Vanilla
Whether it's for strawberry rhubarb oatmeal crisp, baked oatmeal, or even a smoothie I have a budget friendly hack for vanilla.
Don't forget to join the 30 Days to a Healthier You Challenge. Stop starting over when it comes to your health because you're overwhelmed with ALL THE THINGS. Instead, ease into it with this step-by-step challenge.
Here's where you can find vanilla bean powder.
Low Sugar Breakfast Idea
Think of this recipe as a low sugar strawberry rhubarb crumble with oats, at least that was my inspiration for this dish.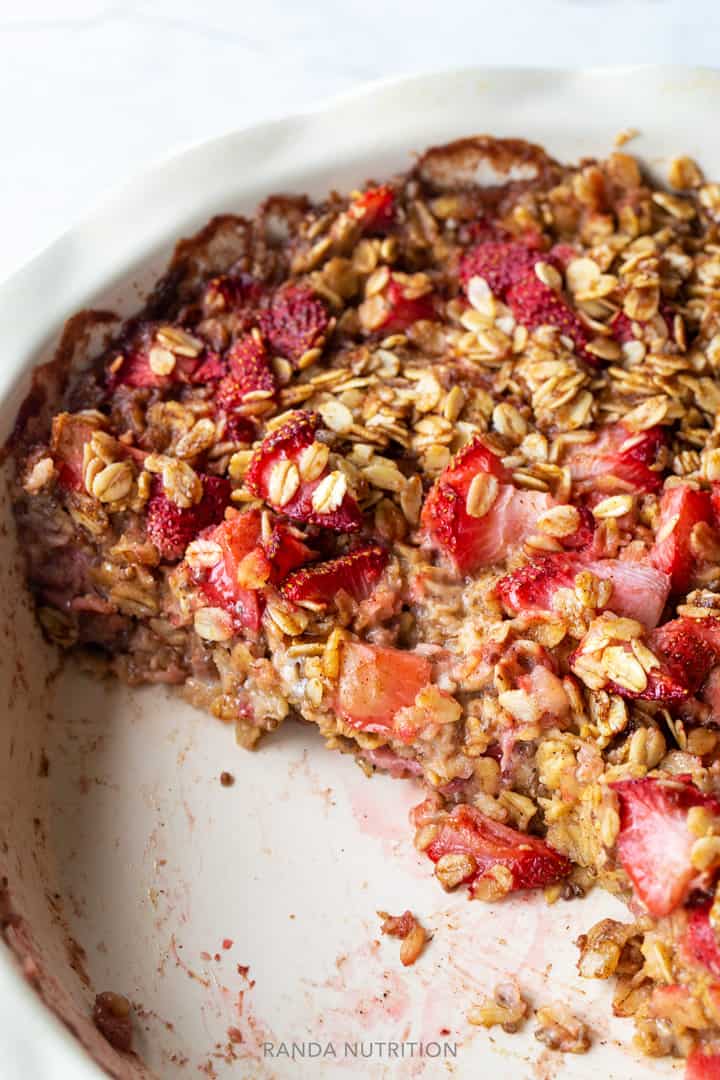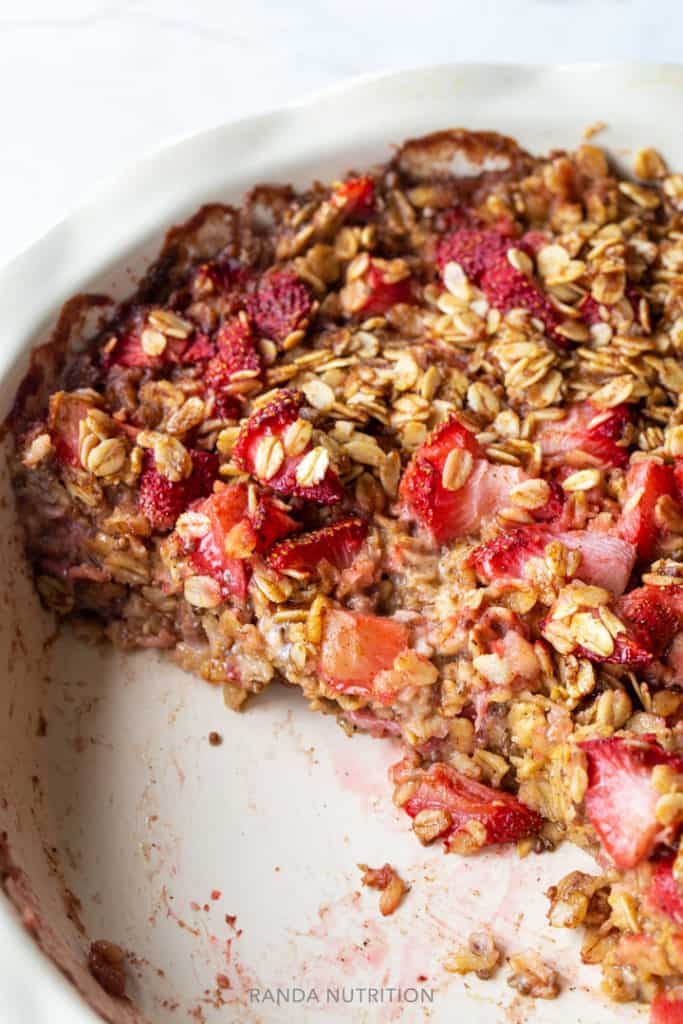 I didn't want to overload our first meal of the day with sugar, so I used a little honey (and coconut sugar in the topping).
An awesome tip for lowering sugar intake? Cinnamon. I was able to reduce the amount of sugar by using cinnamon (which helps tricks our taste buds for food to taste more sweet). I also found that the natural sugars from the rhubarb and strawberry helped as well.
How to Serve Strawberry Rhubarb Baked Oatmeal
If you're used to sugary flavors, this may come as a bit of a shock. Feel free to drizzle a teaspoon of honey or maple syrup if needed.
Personally, I prefer to top the warm oats with a tablespoon or two of Coco Whip (I use the So Delicious brands). It's amazing. You have to give this a try.
You can also top it with a little bit of vanilla yogurt.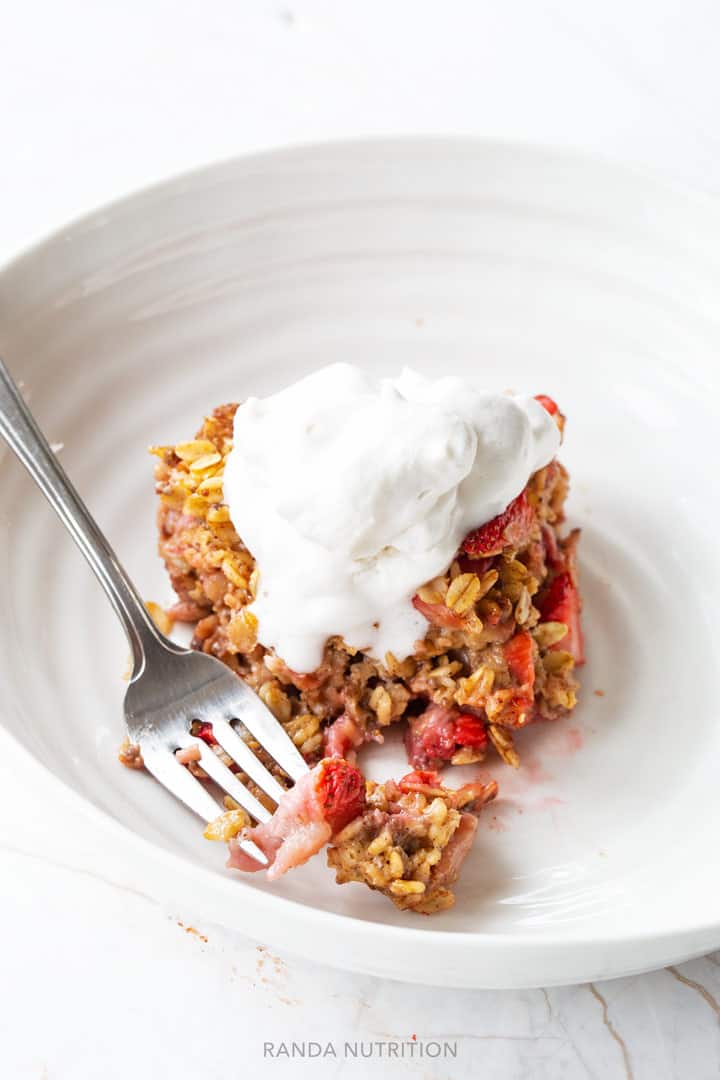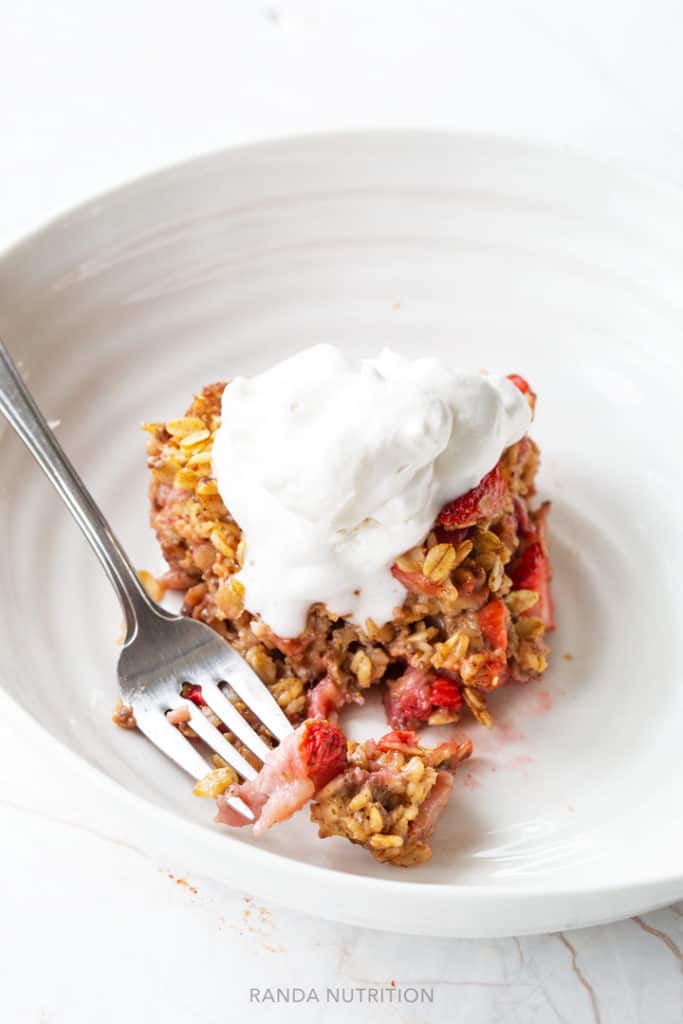 How to Make Strawberry Rhubarb Baked Oatmeal
The best part of this recipe? It's insanely easy.
All you have to do is mix the first set of ingredients in a bowl, let it sit for 10 minutes and transfer to a baking dish (I have used both a 9×9 pan and a pie dish).
In a separate bowl you will add the oats, cinnamon, coconut oil, coconut sugar, and remainder of the fruit. If you like a more tart flavor, add the rhubarb. If you prefer a strawberry flavor, leave the rhubarb out.
Top the dry oat mixture on top of the wet oats and bake for 45 minutes.
Then all you have to do is let it cool. Let it cool completely, otherwise it will fall apart.
PS: Like Strawberry Rhubarb? Try this healthy strawberry rhubarb sauce recipe.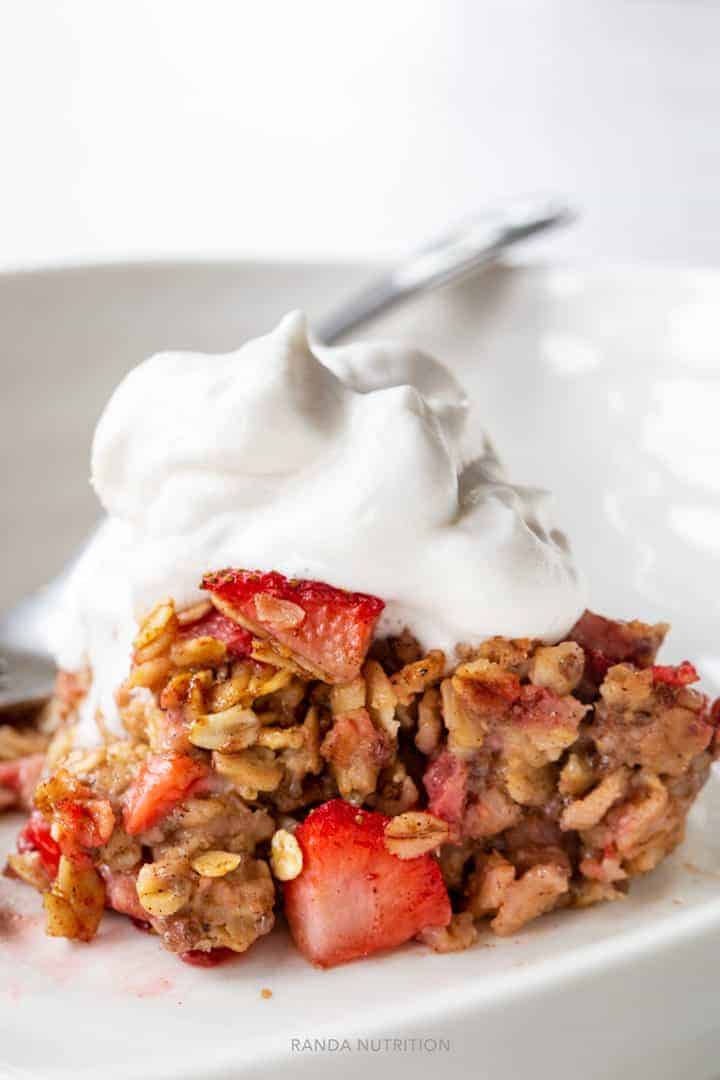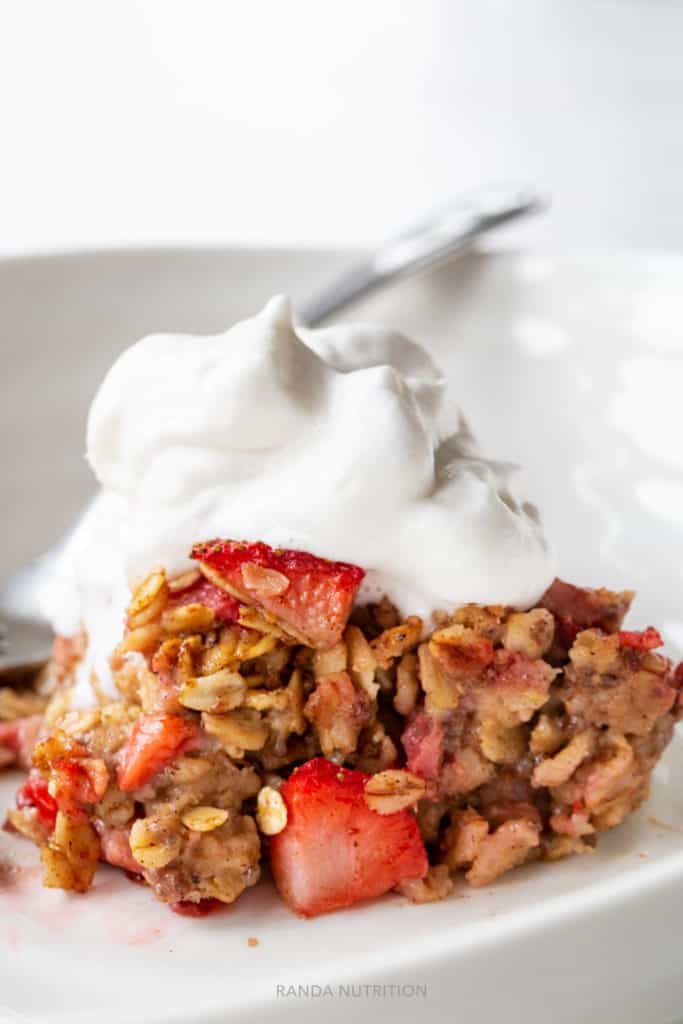 Simple. Easy. Delicious.
More healthy breakfast recipes: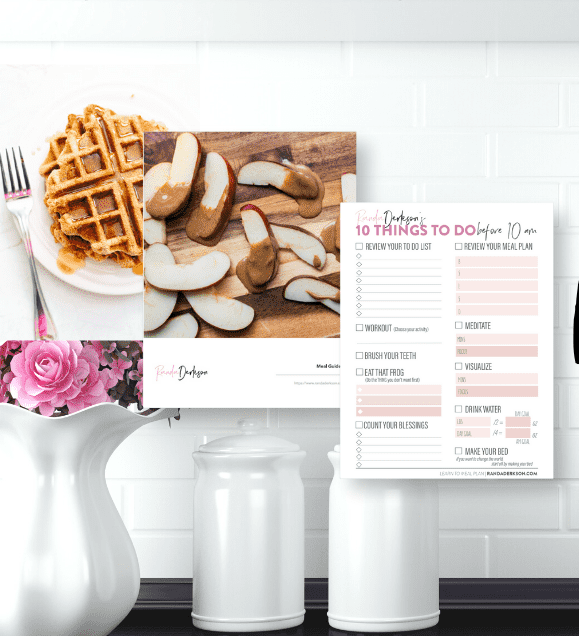 Get Access Free
Exclusive Nutrition and Healthy Living Library
Strawberry Rhubarb Baked Oatmeal
If you love strawberry rhubarb then you are going to love this strawberry rhubarb baked oatmeal recipe. It's a perfect summer breakfast meal prep idea.
Ingredients
For the topping:
1/2

Cup

oats

2

tablespoons

coconut sugar

1/2

teaspoon

cinnamon

3

Tbsp

cold coconut oil

1

cup

strawberries

1/2

cup

chopped rhubarb
Optional toppings
coconut whipped cream, vanilla yogurt, honey
Instructions
Preheat oven to 350F. Spray your baking pan with coconut oil.

Add 1 cup strawberries, 1/2 cup rhubarb, cinnamon, chia seeds, oats, almond milk, honey and vanilla to a bowl. Mix together. Let the mixture stand for 10 minutes for the oats to absorb the liquid.

While the mixture is sitting, make the oat topping. Mix all the topping ingredients (except for the fruit) in a bowl with your hands to get evenly mixed together. Add the fruit, stir.

Pour the mixture into a baking dish. Top with the oat topping.

Bake for 45 minutes. Remove from the oven and let cool completely.

Slice and top with optional coconut whipped cream.
Nutrition
Serving:
1
serving
Calories:
214
kcal
Carbohydrates:
32
g
Protein:
4
g
Fat:
9
g
Saturated Fat:
5
g
Sodium:
91
mg
Potassium:
199
mg
Fiber:
5
g
Sugar:
13
g
Vitamin A:
16
IU
Vitamin C:
22
mg
Calcium:
127
mg
Iron:
1
mg