I love a good strawberry rhubarb recipe, in fact, I've been on a bit of a kick with these ingredients lately (they're perfect for summer). This strawberry rhubarb chia pudding recipe uses homemade pie filling that is made ahead of time for an easy to assemble breakfast for meal prep.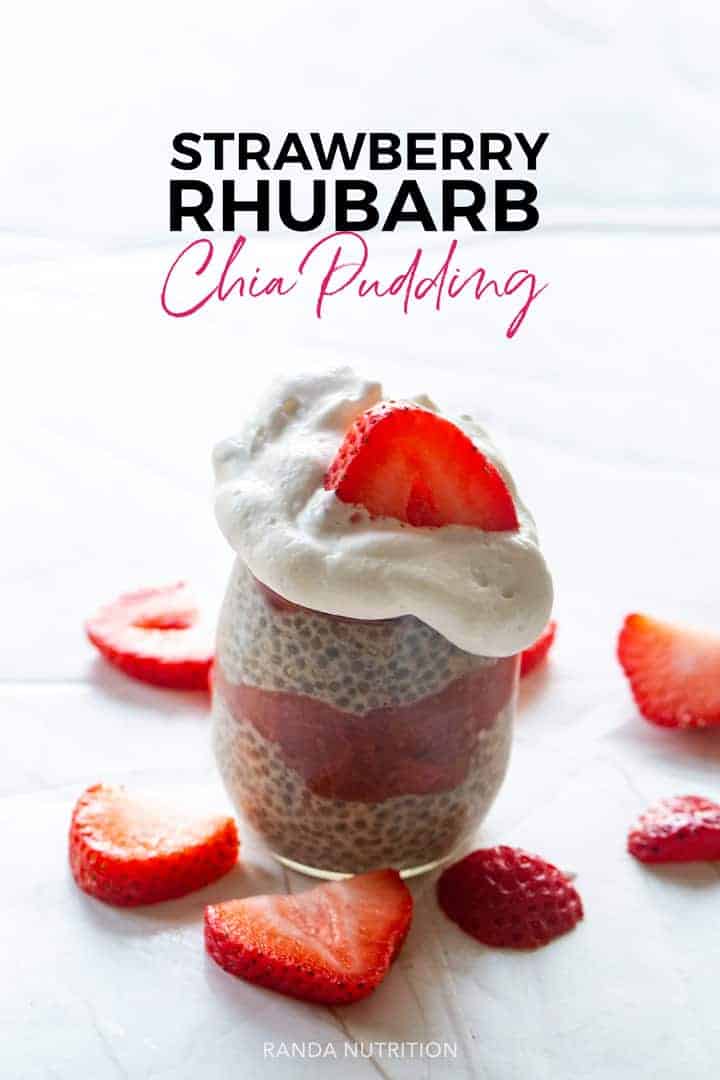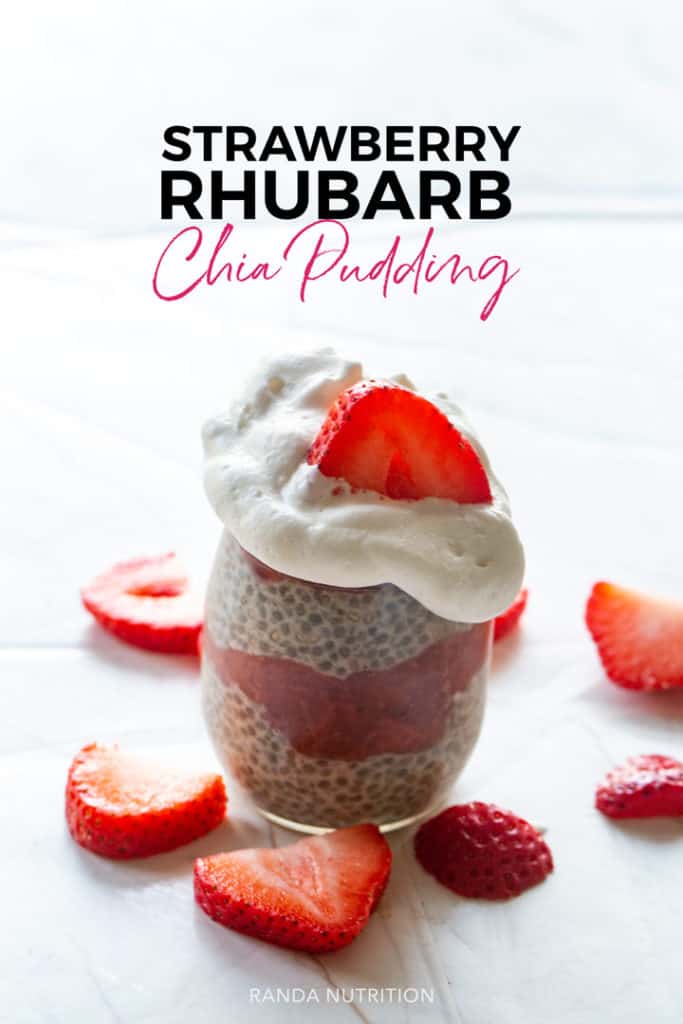 Disclosure: This post contains affiliate links for your convenience. As an Amazon Associate, I earn from qualifying purchases.
Strawberry Rhubarb Chia Pudding
This is one of my favorite chia seed puddings I have made. It didn't last long after shooting the photos, maybe ten minutes. The whole family devoured it (especially my toddler).
I call that a huge win, especially right now when my two year old is turning her nose up at most foods (some she used to love). Parenting is hard guys…there are so many plot twists.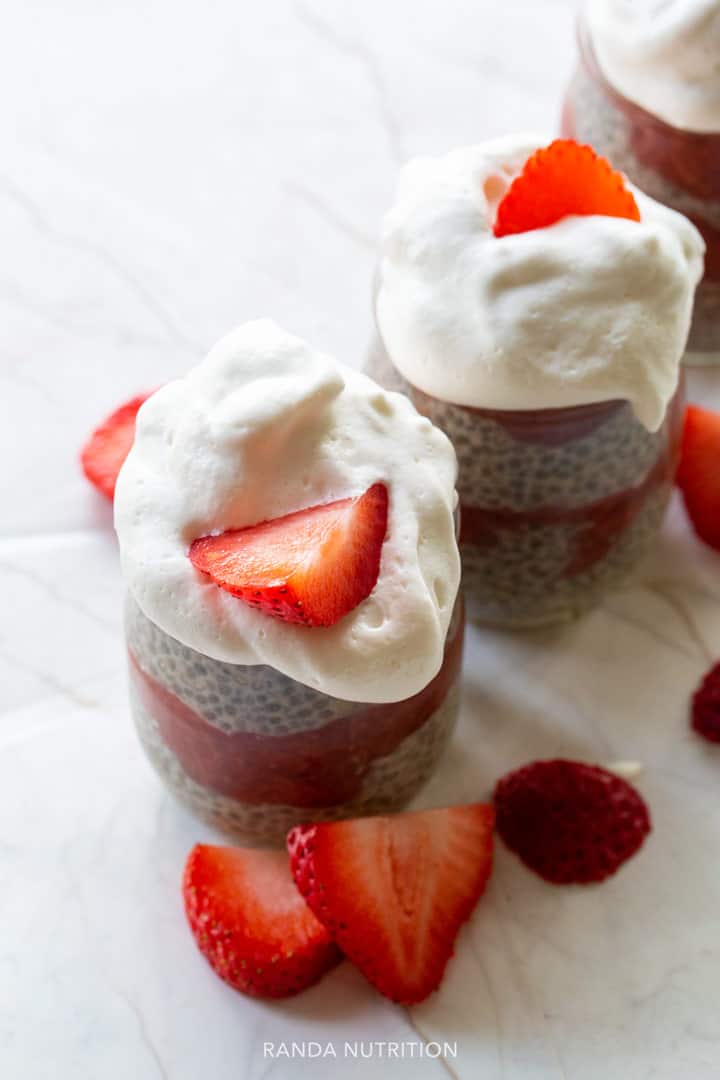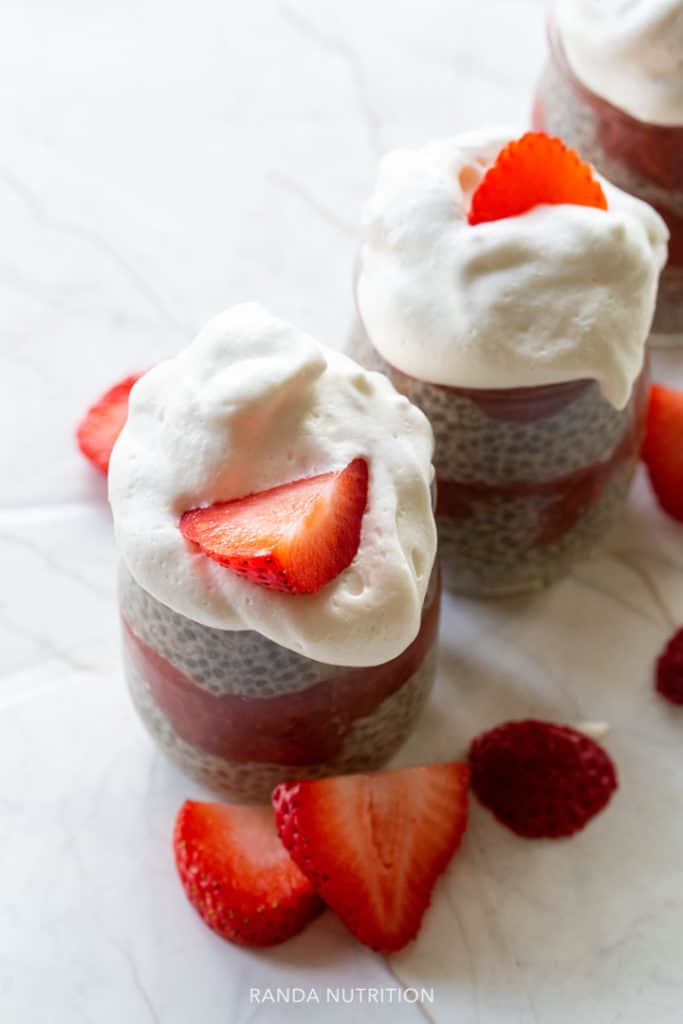 Is Chia Pudding Good for Breakfast?
I love making chia pudding for breakfast, because it's effortless.
Technically, I make it the night before (or a few days before if I did it during my meal prep) which makes it perfect because I simply don't have time in the mornings to make breakfast fresh and from scratch.
Speaking of I do recommend overnight chia pudding. It takes seconds to throw together and it will be ready for your in the morning. It can stay refrigerated for 4-5 days.
What Milks Can I Use for Chia Pudding?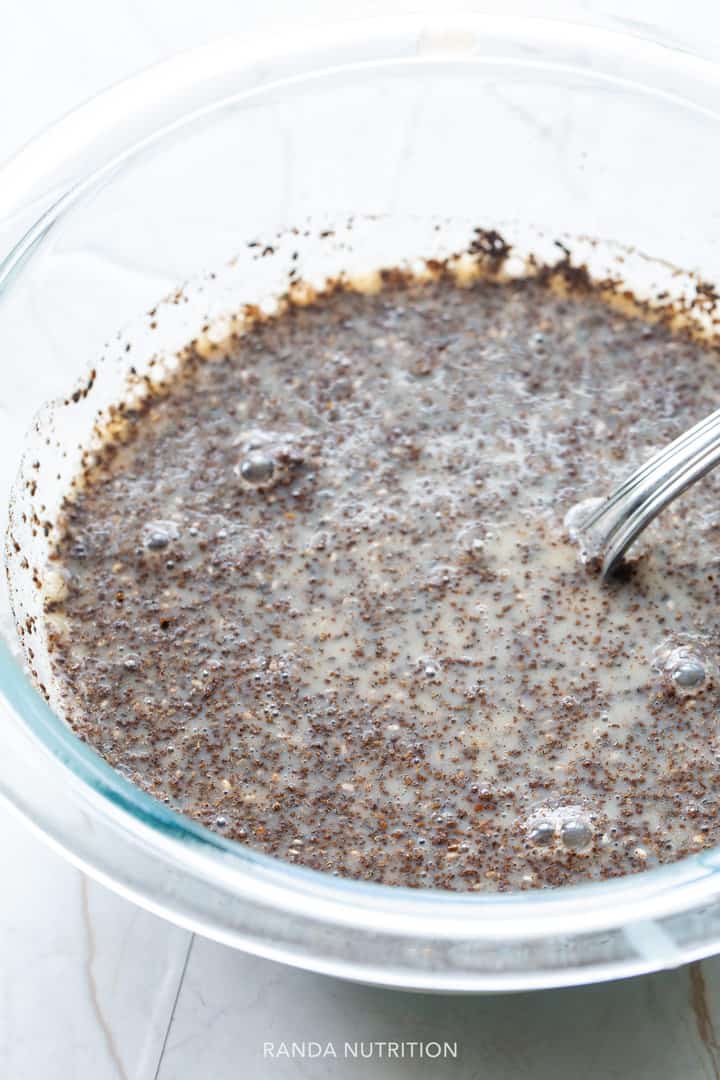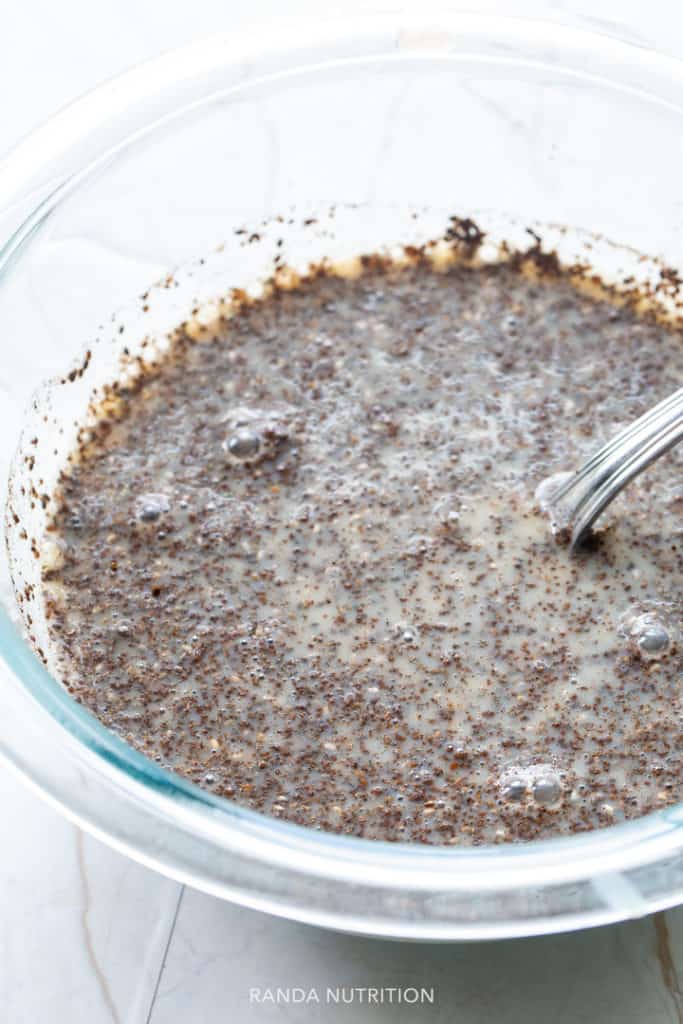 Short answer: you can use whatever milk you have on hand.
For a vegan chia pudding use unsweetened nut and oat milks. Think cashew, almond, coconut, etc. You can also use soy, but remember when sweetening the pudding to skip the honey and sweeten with maple syrup or coconut sugar instead.
I prefer unsweetened almond milk with my puddings, but it's up to you.
Is Chia Pudding Good for You?
There are so many chia seed health benefits. Two tablespoons of chia seeds have 138 calories, 9 grams of fat, 10 grams of fiber, and 5 grams of protein.
These little seeds pack a punch of brain health thanks to the healthy fats.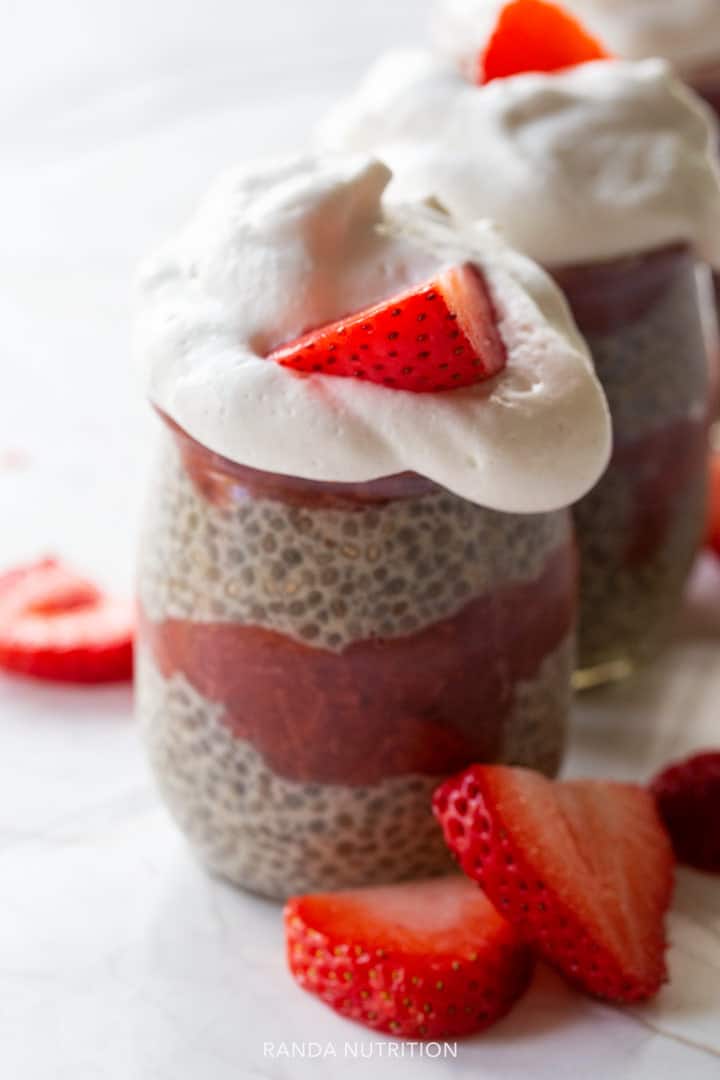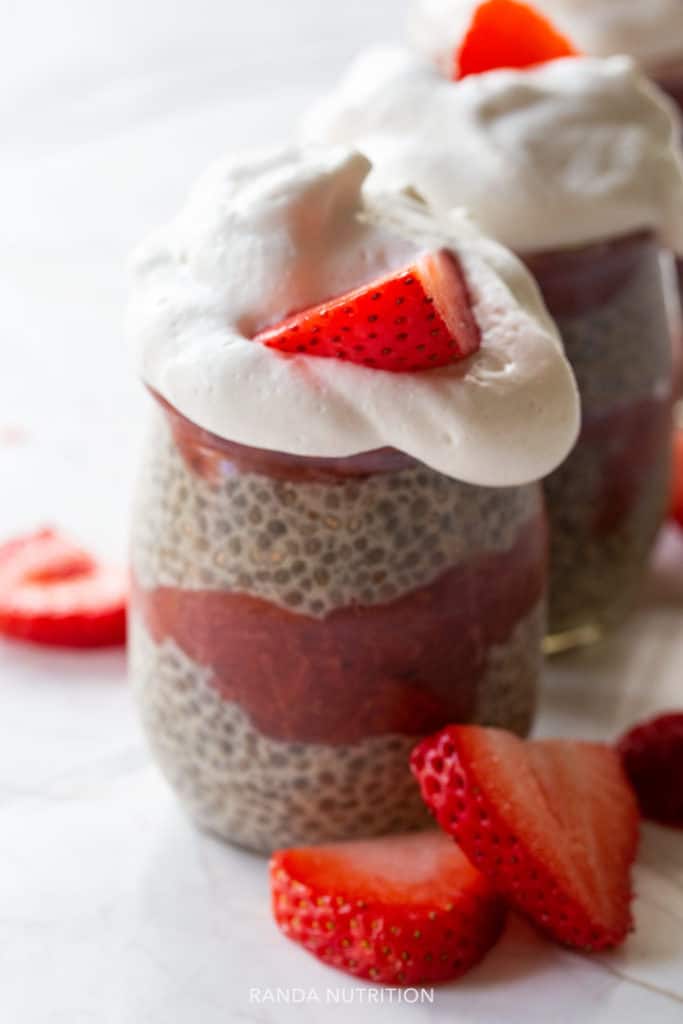 Is this recipe paleo?
To make chia pudding paleo you would have to use natural sweeteners like honey or maple syrup. This recipe is paleo by the way (if you skip the store bought coconut whipped cream and make your own).
How to add more protein
For a boost in protein add a scoop of protein powder or collagen to beef it up (no pun intended) a bit.
Calories in this recipe.
The full-calorie and nutritional information include Coco Whip (So Delicious Brand). 177 calories, 26g carbohydrate, 2g protein, 8 gram fat, and 15 grams sugar.
If you do not use the Coco Whip the calories are 147 calories, 22g carbohydrates, 2g protein, 6g fat with 13g sugar.
What is the Ratio of Chia Seeds to Liquid?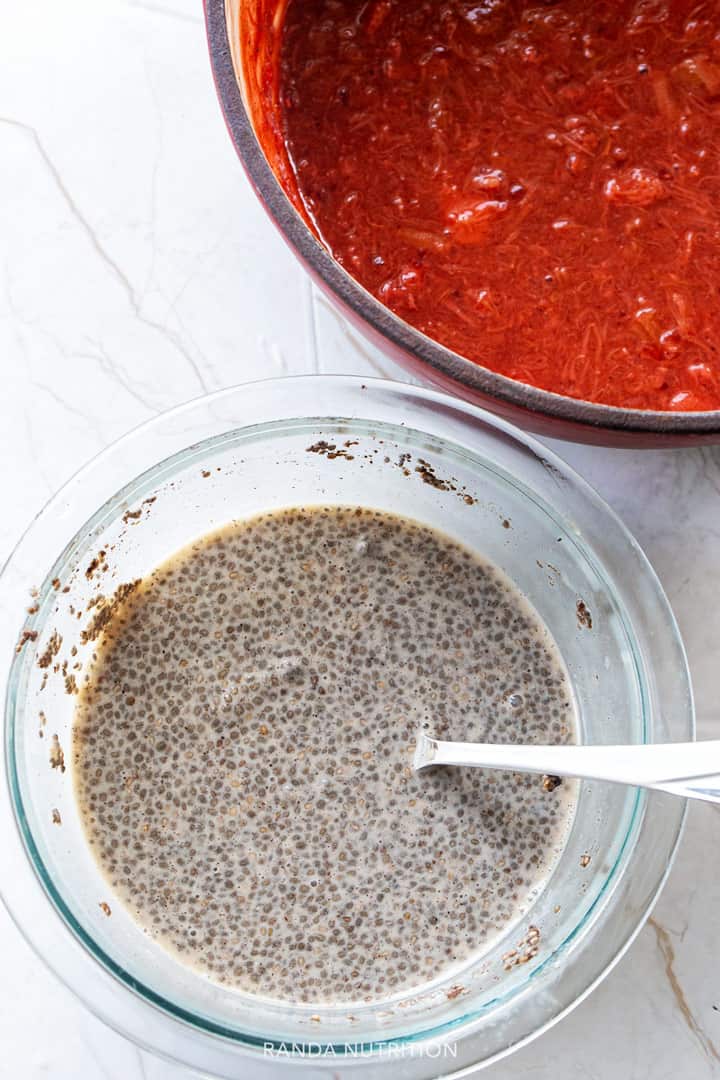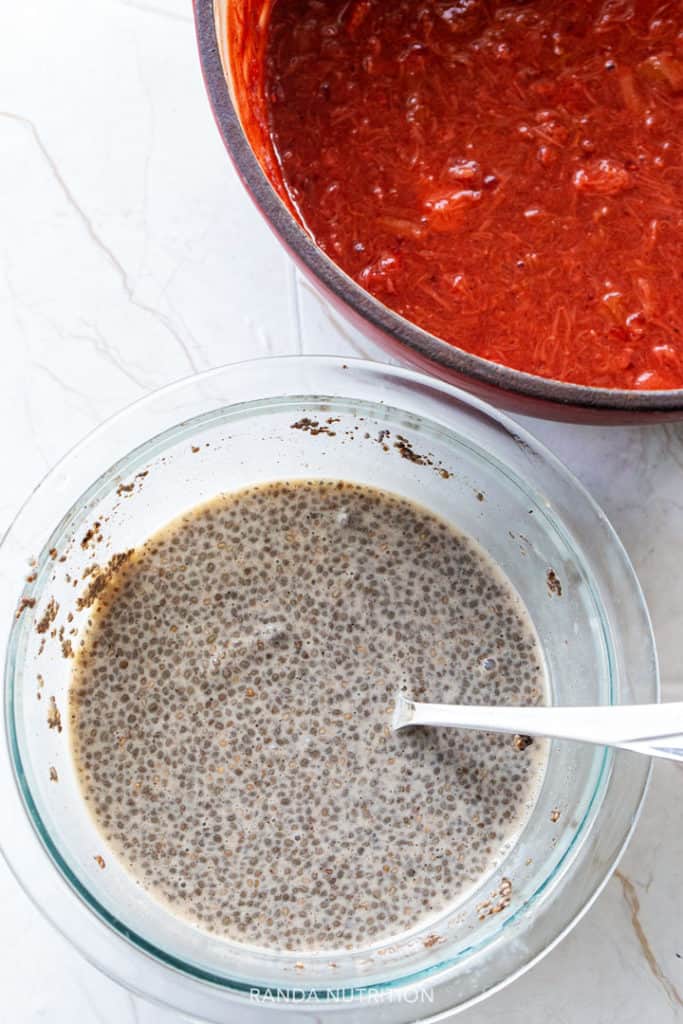 1/4 cup chia seeds to 1 cup of liquid (whether it's a milk, water, coffee, etc).
If you prefer it not as thick you can either use less chia seeds or more liquid. Play around with it to make it your own. I perfer the 1/4 cup to 1 cup liquid method.
Pudding Topping
This particular recipes I used a homemade strawberry rhubarb sauce but you can also use raspberries, jam, chocolate sauce, etc.
The base of the pudding recipe is the same regardless of the flavor your want, but you can add lemon zest or chocolate to infuse more flavor.
Experiment and see what works best for you.
PS: If you don't want to make a homemade sauce, you can use a store-bought pie filling. Simply compare ingredients to find the best one for you and your family.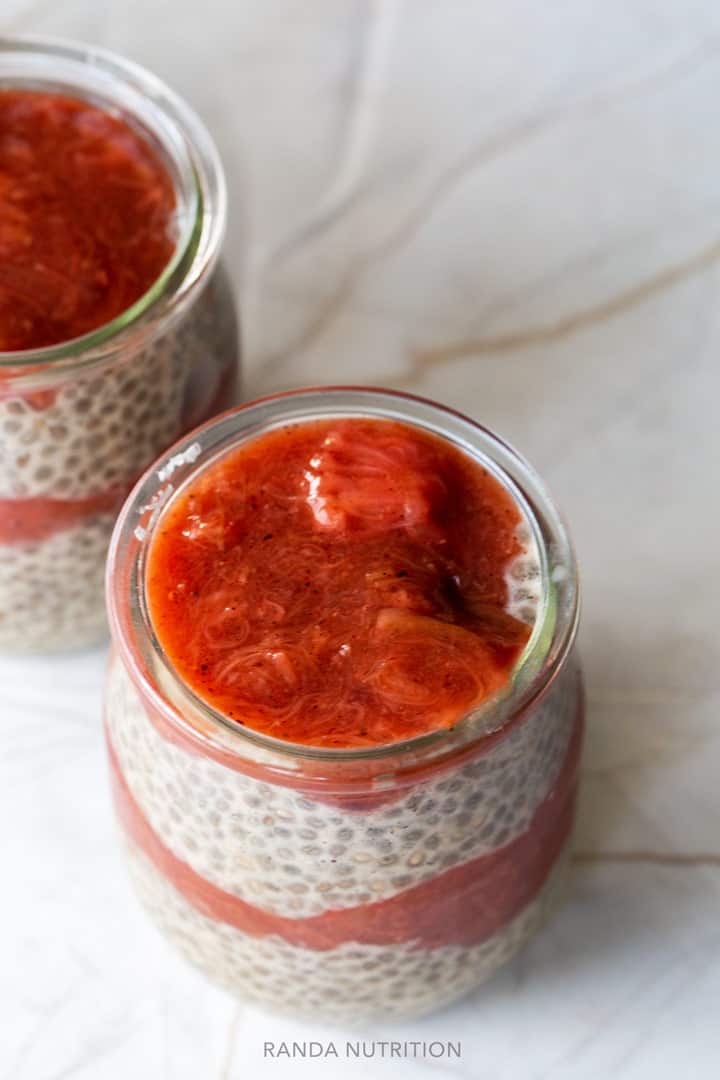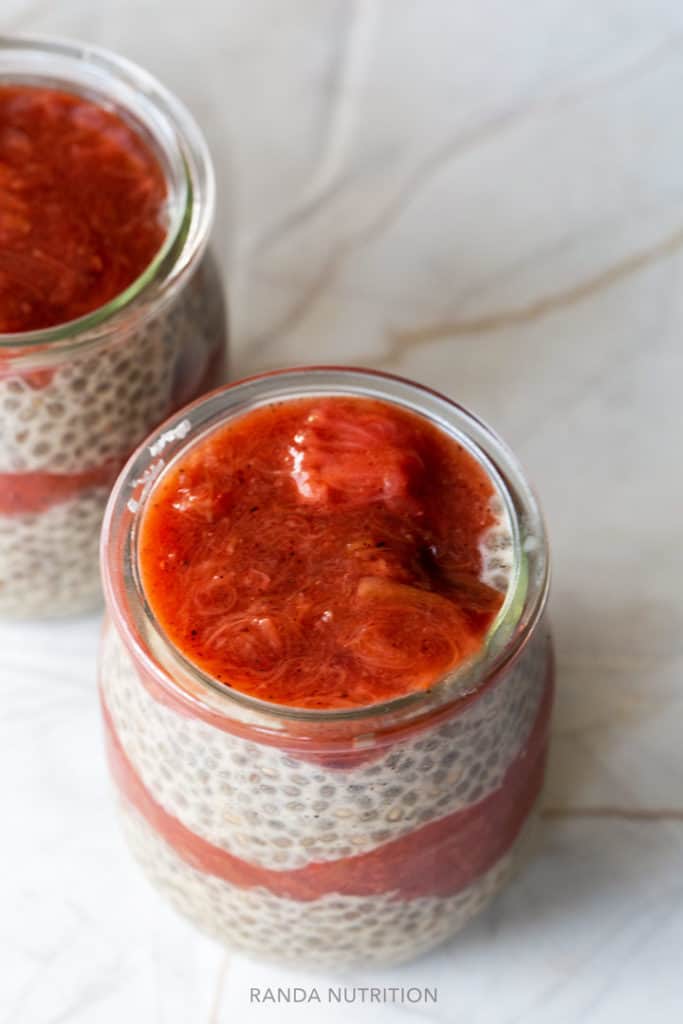 Strawberry rhubarb recipes
There is nothing better in the summer than a strawberry rhubarb dessert. I went on a little bit of a healthy strawberry rhubarb kick here on Randa Nutrition and here's what I've come up with (so far).
How to Make this Easy Chia Seed Pudding Recipe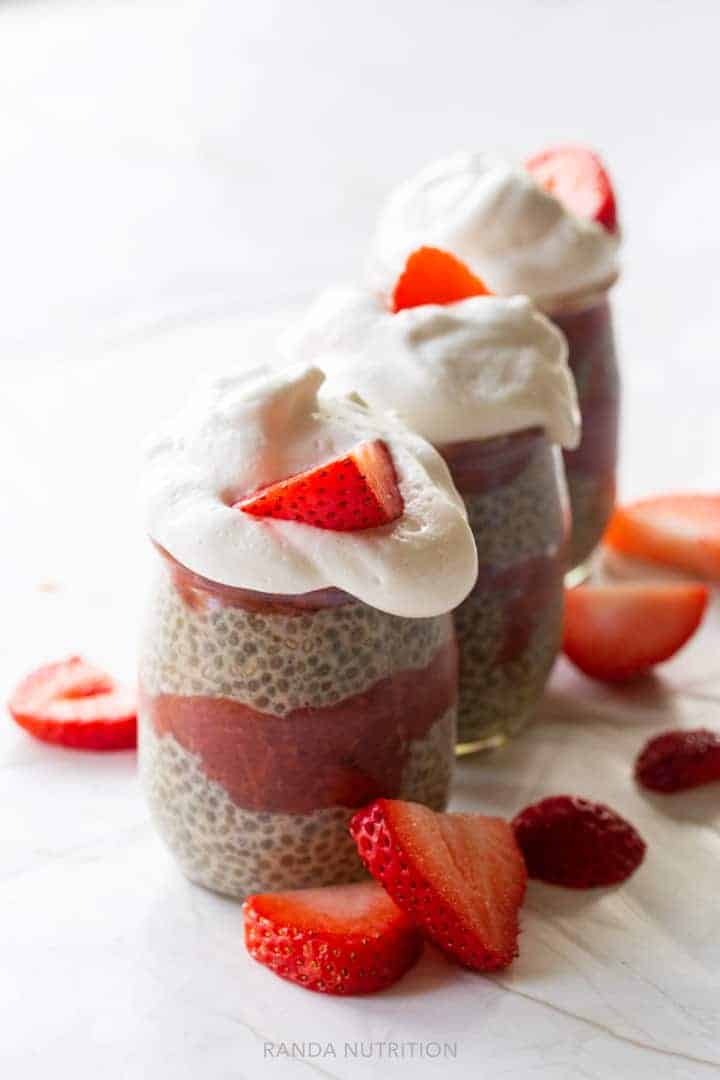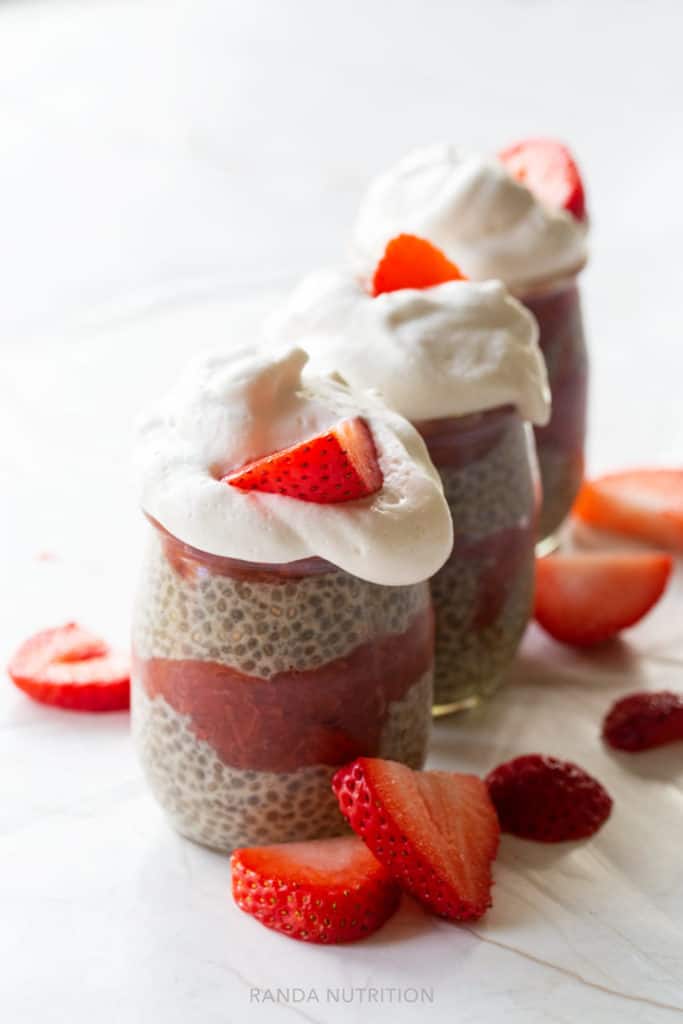 More healthy chia pudding recipes
I love a good chia seed pudding. Here are a couple that I've shared on the blog in the past that I think you'll love.
Strawberry Rhubarb Chia Seed Pudding
If you love strawberry rhubarb then you're going to go nuts over this strawberry rhubarb chia pudding recipe. It's easy, and is a delicious meal prep idea.
Ingredients
1

cup

almond milk

1/4

cup

chia seeds

2

tablespoons

maple syrup

1

teaspoon

vanilla

or vanilla bean powder

1/2

cup

rhubarb sauce

1/2

cup

coconut whip
Instructions
In a medium bowl mix together the almond milk, chia seeds, maple syrup, and vanilla. Cover and let sit in the fridge for at least 2 hours, but you can let it sit overnight.

Once the chia pudding has set, layer the chia seed pudding with the strawberry rhubarb sauce (2 tablespoons per serving) and top with coconut whipped cream.
Notes
Calorie information includes coconut whip (so delicious brand).
If you do not use the CocoWhip: are 147 calories, 22g carbohydrates, 2g protein, 6g fat with 13g sugar.
Nutrition
Serving:
1
serving
|
Calories:
177
kcal
|
Carbohydrates:
26
g
|
Protein:
2
g
|
Fat:
8
g
|
Saturated Fat:
4
g
|
Sodium:
106
mg
|
Potassium:
119
mg
|
Fiber:
4
g
|
Sugar:
15
g
|
Vitamin A:
12
IU
|
Vitamin C:
9
mg
|
Calcium:
165
mg
|
Iron:
1
mg
The nutrition information is calculated using a third party resource. The accuracy varies on the brands used, weight, portions, etc. This resource should be used as a guide. If you want more accurate information, weigh in grams and log in MFP.
Don't forget to join the 30 Days to a Healthier You Challenge. Stop starting over when it comes to your health because you're overwhelmed with ALL THE THINGS. Instead, ease into it with this step-by-step challenge.