Lemon Poppyseed Chia Pudding Recipe
If you're looking for a healthy chia seed pudding recipe that tastes like dessert – this is it. Stop searching. You found it. Not only is this lemon poppyseed chia pudding recipe easy, but it's a great way to boost your fiber intake!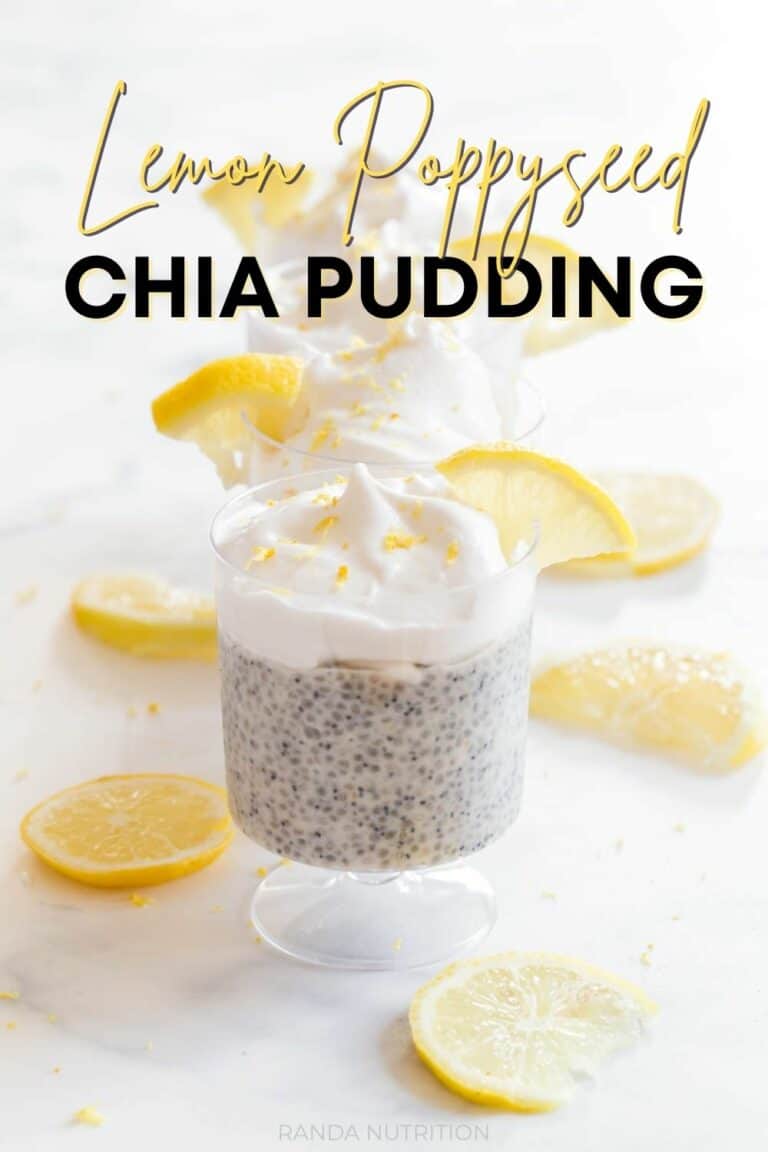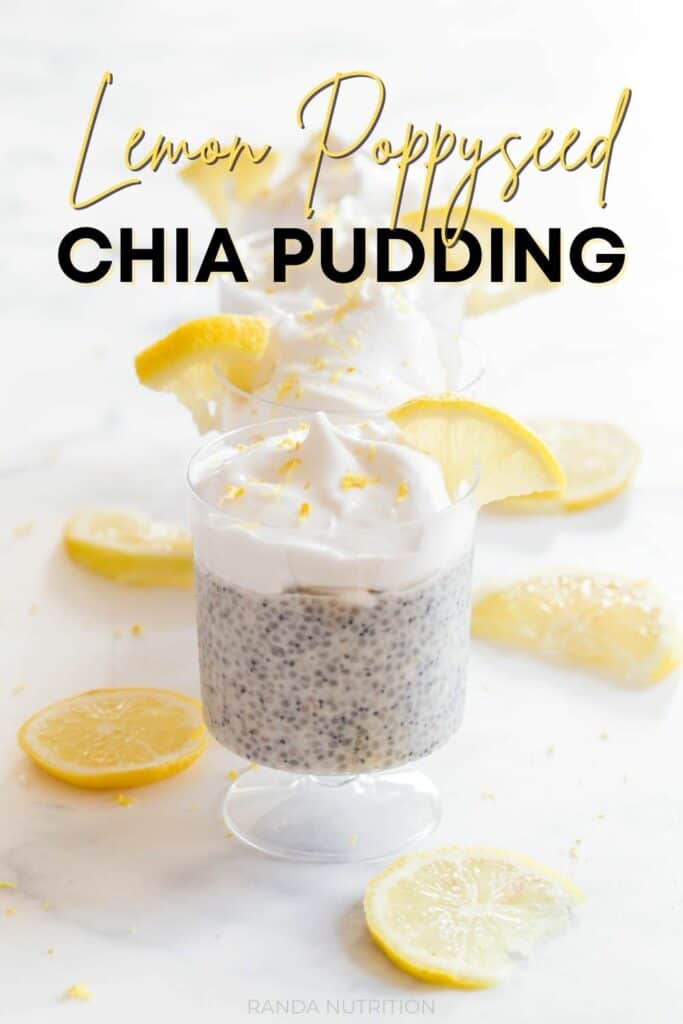 Disclosure: This post contains affiliate links for your convenience. As an Amazon Associate, I earn from qualifying purchases.
Lemon Poppyseed Chia Pudding
I went on a little bit of a lemon poppyseed kick this weekend. First, it was the lemon poppyseed overnight oats, then lemon poppyseed muffins, and now the chia pudding recipe.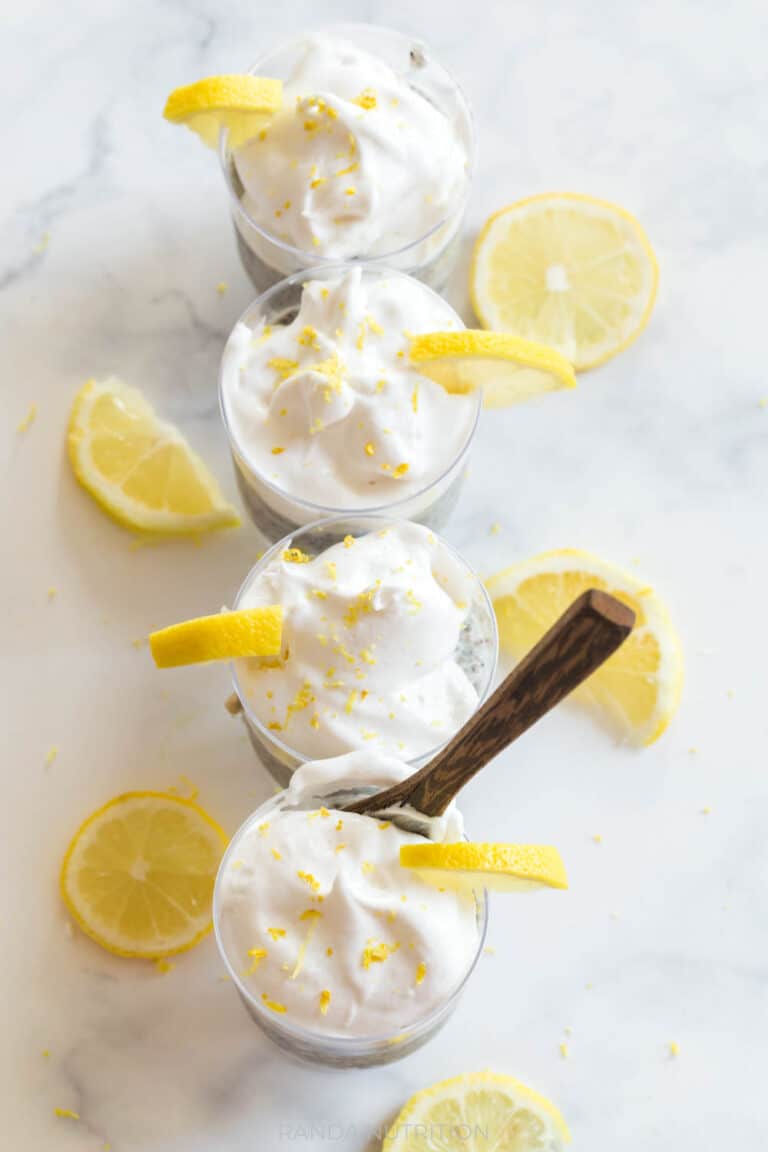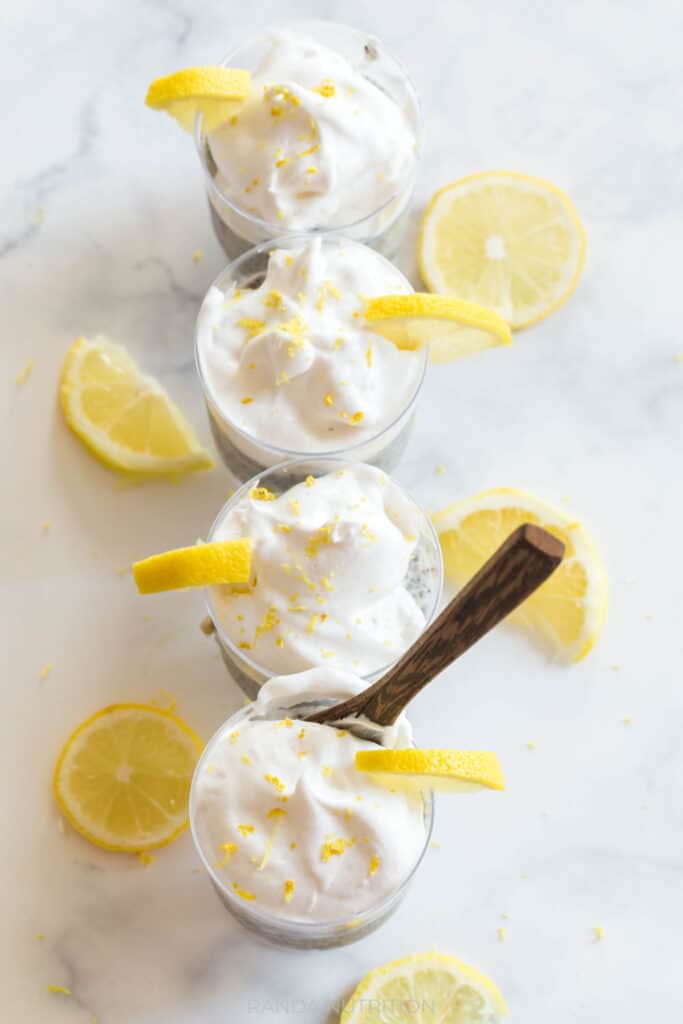 Is Chia Pudding Healthy?
I'm often asked if chia pudding is healthy and the answer is, it depends. It depends on what other ingredients you mix it with. As a food, chia seeds are a nutrient powerhouse. (I love it for the fiber), like I share in this post: The Health Benefits of Chia Seeds.
This recipe is really low-calorie and is more a snack than a whole meal.
The lemon poppyseed chia pudding nutrition is for 1/4 of this recipe: 116 calories, 15g carbs, 4 grams protein, 5 grams fat, and 4 grams fiber.
If you would like to have it for breakfast, I recommend doubling the recipe and serving it with some fruit or a side smoothie. Or you could just eat the whole bowl.
Keep in mind that if you add the coco whip, that is in addition to the nutrition numbers I provided above and in the recipe card.
Chia Seed Pudding Ratio
Here's a helpful tip when it comes to making this healthy dessert-style snack. Use the same ratio of chia seeds to liquid (water, milk, etc).
The chia seed to liquid ratio is 1 cup liquid to 1/4 cup chia seeds.
That's the general base of a good chia pudding, then you can play with the flavors and adjust where needed.
For example, I added greek yogurt and lemon juice to this recipe. Although I originally added 1/4 cup of chia seeds in the beginning, I saw after 2 hours of it setting in the fridge, it needed more. Play around with it, just remember when you add more liquid, you will have to up the chia.
How long do chia seeds need to soak for?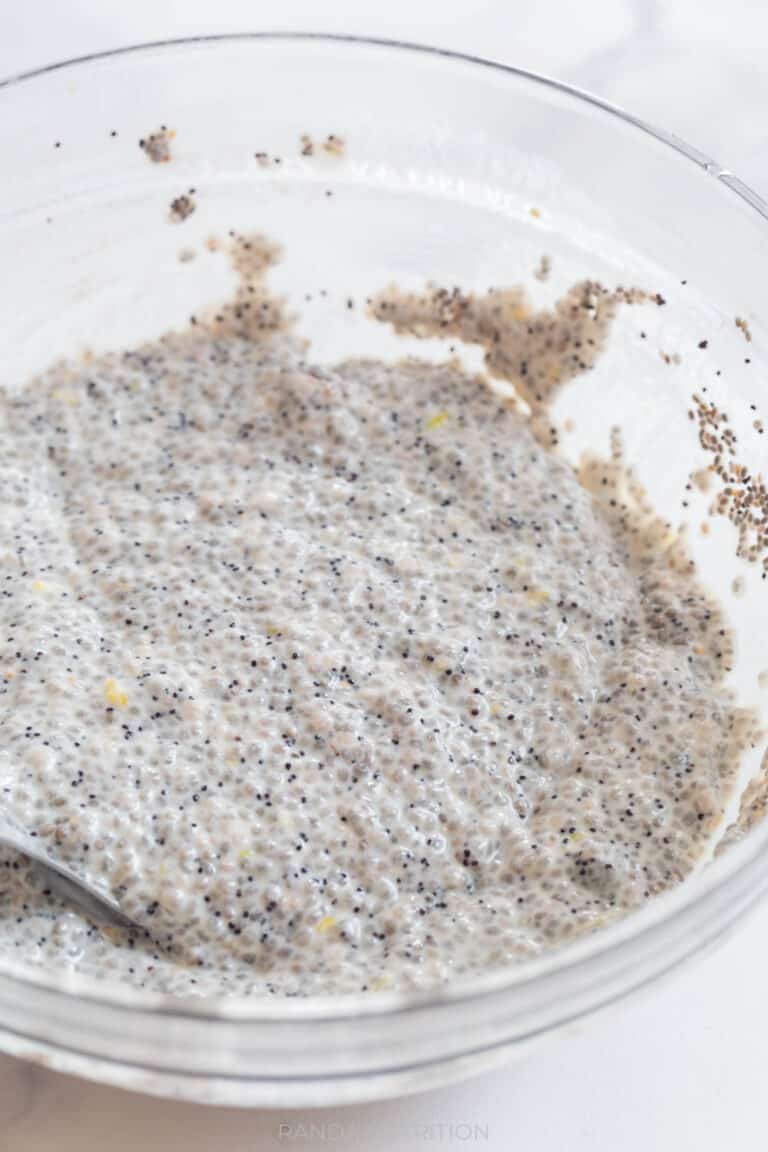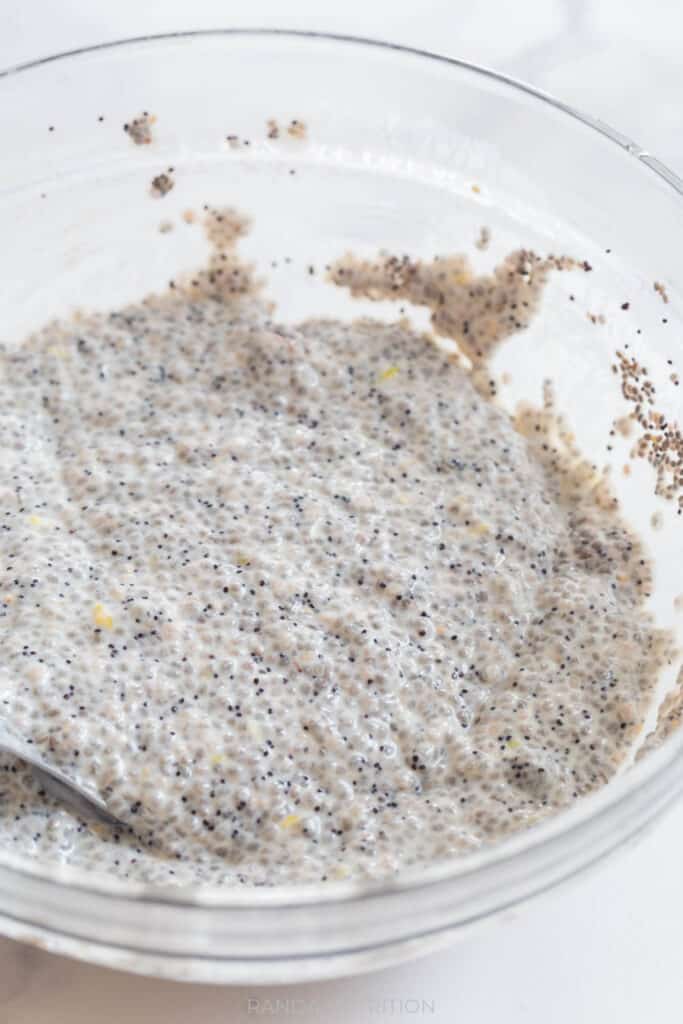 Chia seeds need to soak in the liquid for at least 2 hours in order for it to get that gelled up, pudding consistency. Even at two hours, you'll still find they have a bit of a crunch but if that doesn't bug you, go for it.
Personally, I like to meal prep the chia pudding and let it sit overnight.
Meal Prep It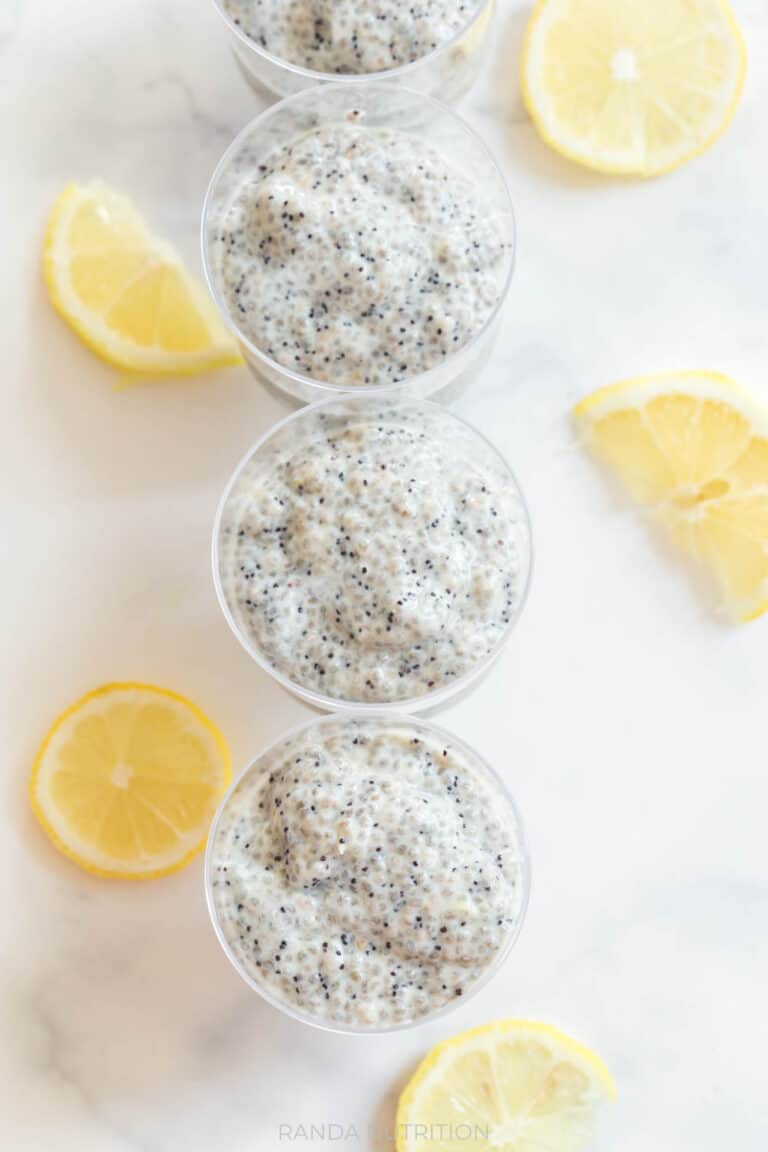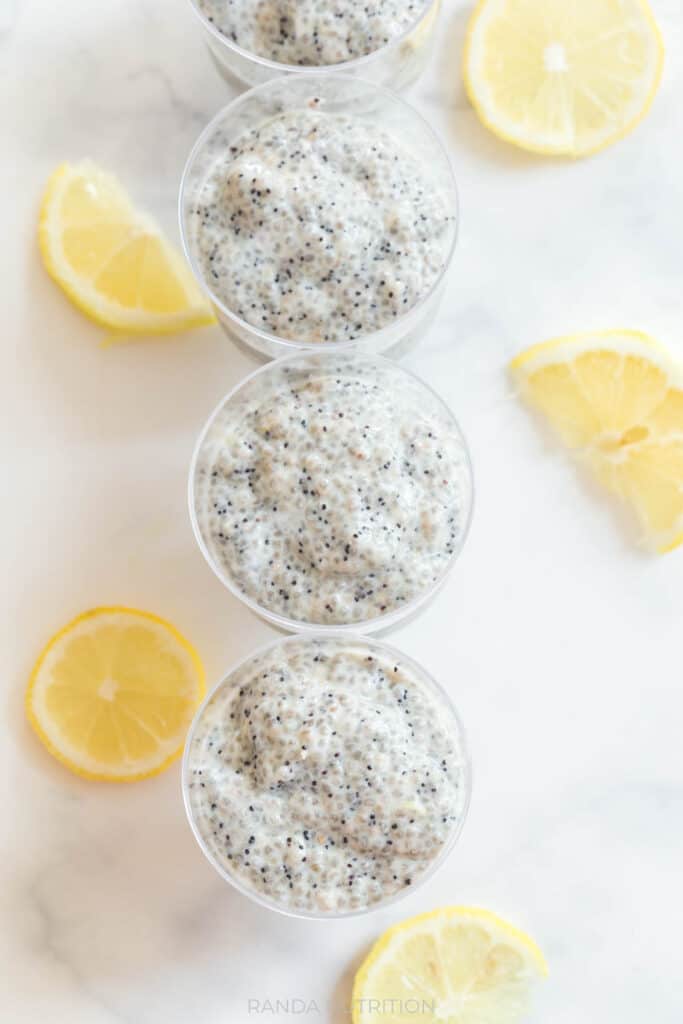 You can meal prep chia pudding easily. Toss it all in a bowl and let it soak, serving the pudding throughout the week from the bowl.
Another option is to portion it out in your serving glasses and refrigerate from there so it's grab and go for the next few days.
Chia Pudding Meal Prep Tips:
Double (or triple) the recipe so you have a done for you snack for the whole week (for you and the kiddos).
If you portion it out ahead of time, make sure the jars have lids that are easy to store. I recommend these small Weck jars or jelly mason jars. I reuse the Riveria pots from their yogurt, but it doesn't come with the lid. I used plastic wrap, but it's a mess if it falls over.
How to Make Lemon Chia Pudding
This lemon chia pudding is so stinkin' easy. Add everything to a bowl, mix, cover, refrigerate and you're done.
This ingredient list is a little different than my previous pudding recipes as I made this chia seed pudding recipe with yogurt (0% greek yogurt) for a little extra protein and to add some creaminess.
Lemon Poppyseed Chia Pudding Ingredients Needed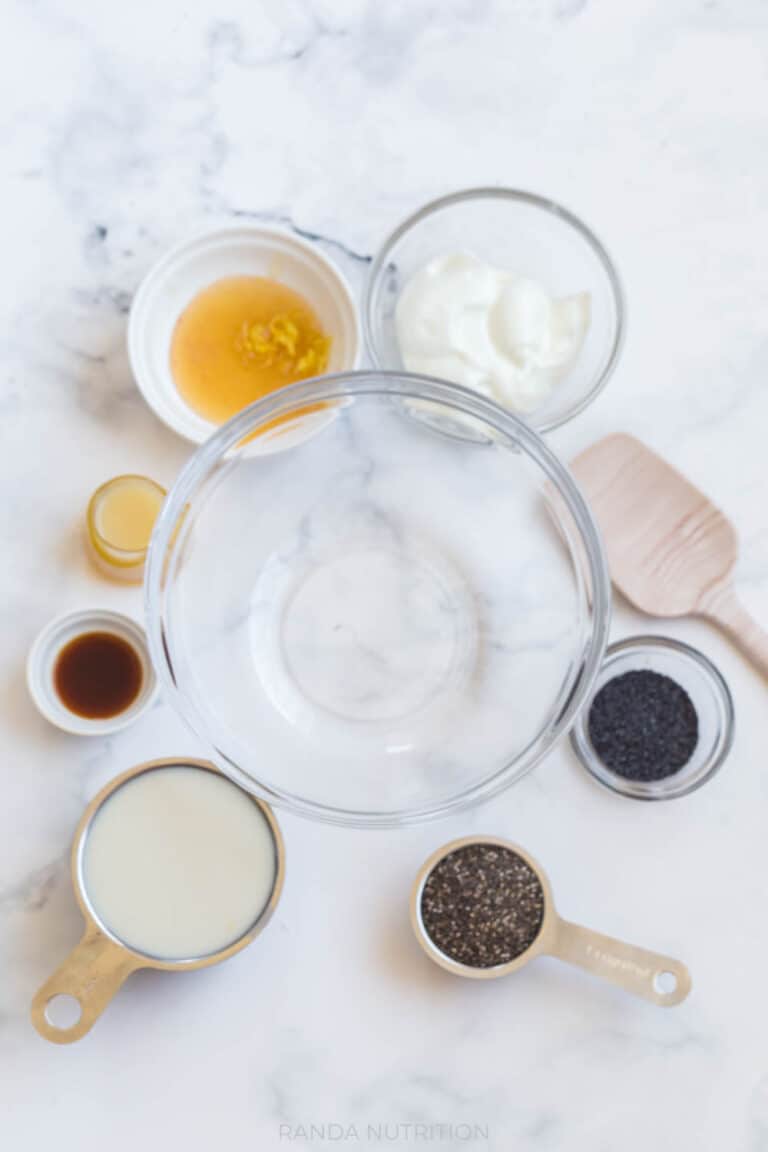 milk of choice, I used unsweetened almond milk. You could also use cow's milk, macadamia, soy, coocnut, cashew, oat (there's a lot of milks out there).
0% plain greek yogurt, if you have a higher fat option that's fine. Just keep in mind it will change the nutritionals a little bit.
fresh lemon juice, please don't use the concentrated stuff. If you want prepacked, jarred lemon juice try the Santa Cruz lemon juice.
sweetener of choice. I used honey but you could use maple syrup if you're vegan.
poppyseeds
lemon zest
coconut whipped cream optional but highly recommended (the So Delicious brand is my favorite).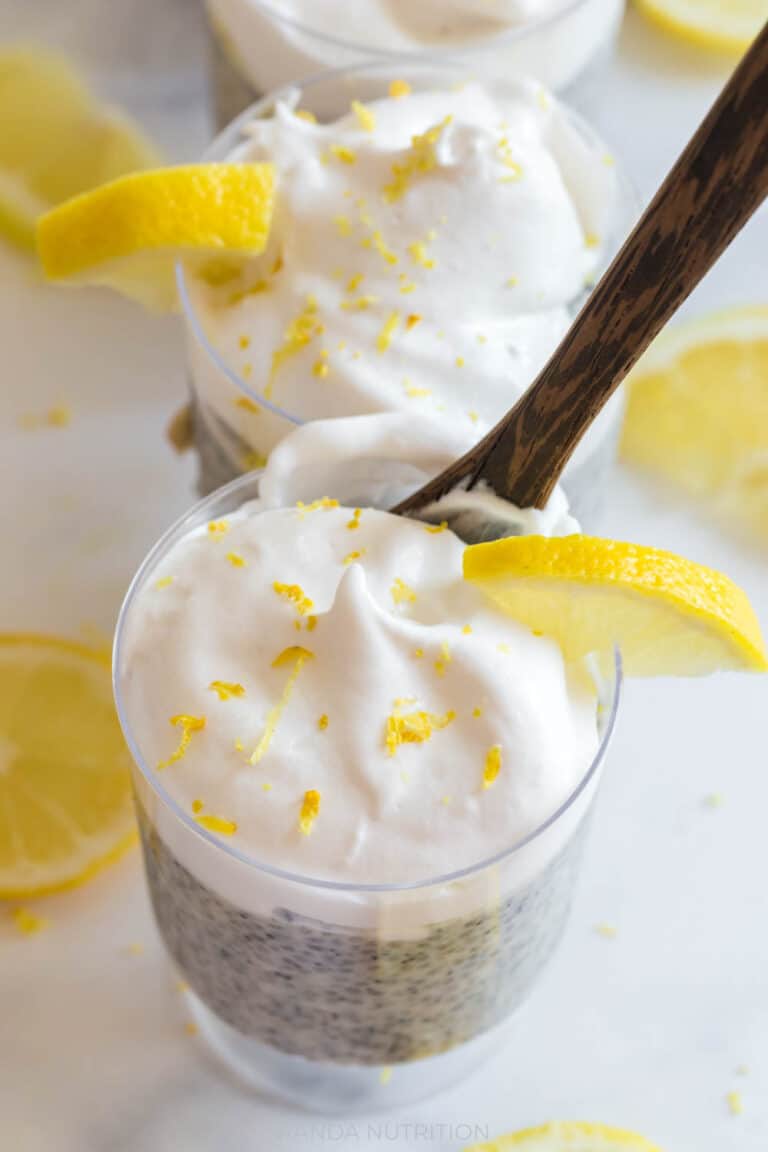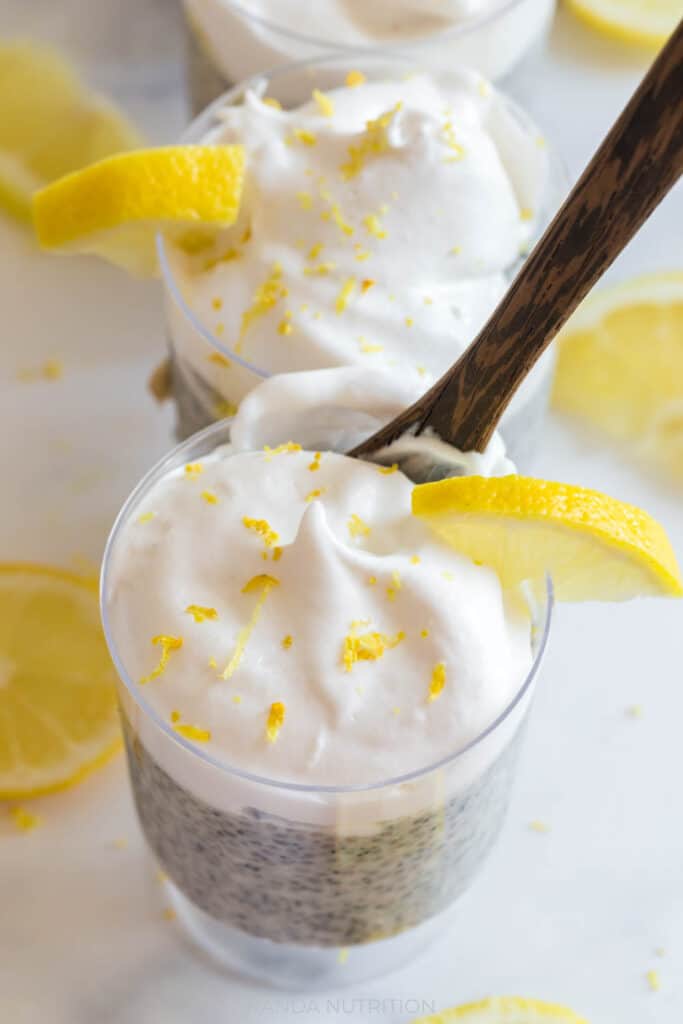 Chia Pudding Recipes
If you want to check out more of my chia seed pudding recipes, I'll list them below: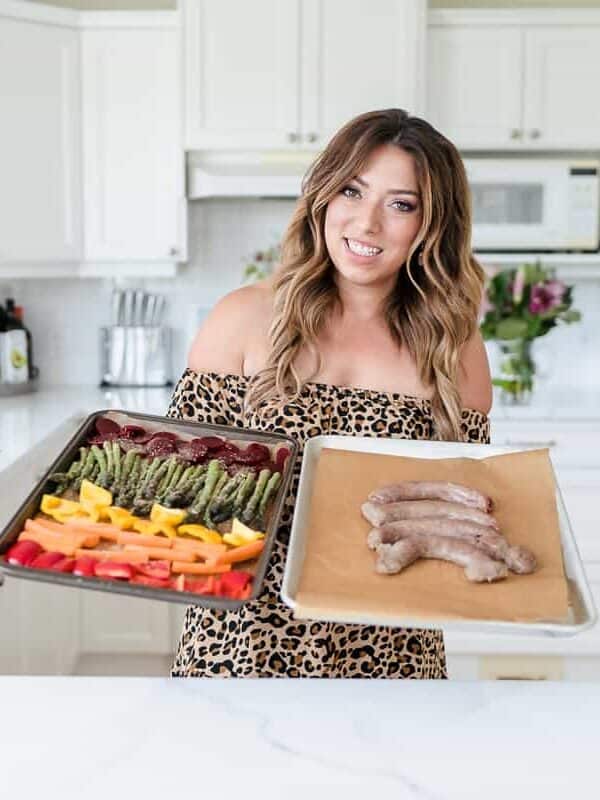 Get Your Nutrition Back On Track
Sign up for FREE 3 Day Challenge
Learn the customized nutrition for your specific needs.
How much you should really be eating.
and so much more.
Lemon Poppyseed Chia Pudding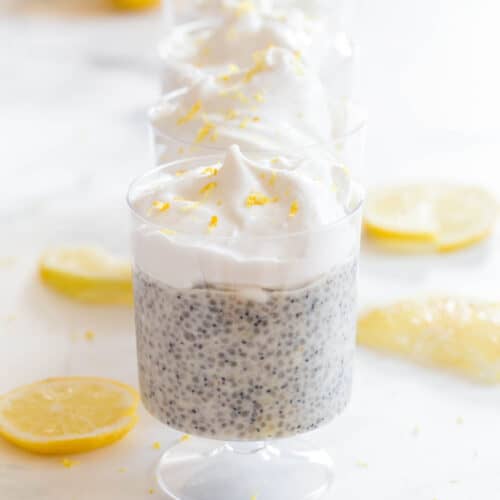 This creamy lemon poppyseed chia pudding recipe is one of my favorite healthy snacks that's low calorie and packed with fiber. Not only is it quick to whip up but it's so delicious even my picky 3 year old reaches for it when she wants a snack.
Ingredients
1

cup

unsweetened almond milk

or any milk of choice

1/4

cup

chia seeds

1/4

cup

0% plain greek yogurt

2

tablespoons

fresh lemon juice

2

tablespoons

honey

or maple syrup if vegan

1

tablespoon

poppyseeds

1

teaspoon

vanilla extract

1/2

teaspoon

lemon zest

1/4

teaspoon

salt

coconut whipped cream

optional but highly recommended
Instructions
Combine all ingredients into a mixing bowl and whisk together with a fork. Cover the bowl and refrigerate for at least 2 hours, but overnight is best.

Divide the chia seed pudding between 4 small serving cups.

Top with optional coconut whipped cream and sprinkle extra zest on top.
Notes
I use So Delicious Coco Whip to top the chia pudding, it's my favorite.
Nutrition
Serving:
1
serving
Calories:
116
kcal
Carbohydrates:
15
g
Protein:
4
g
Fat:
5
g
Saturated Fat:
1
g
Polyunsaturated Fat:
4
g
Monounsaturated Fat:
1
g
Trans Fat:
1
g
Cholesterol:
1
mg
Sodium:
234
mg
Potassium:
92
mg
Fiber:
4
g
Sugar:
9
g
Vitamin A:
7
IU
Vitamin C:
3
mg
Calcium:
190
mg
Iron:
1
mg