If you need a good meal prep breakfast this recipe for lemon poppyseed overnight oats is it. The recipe is for a single serving but it's easy to layout a few mason jars and do a bunch at a time.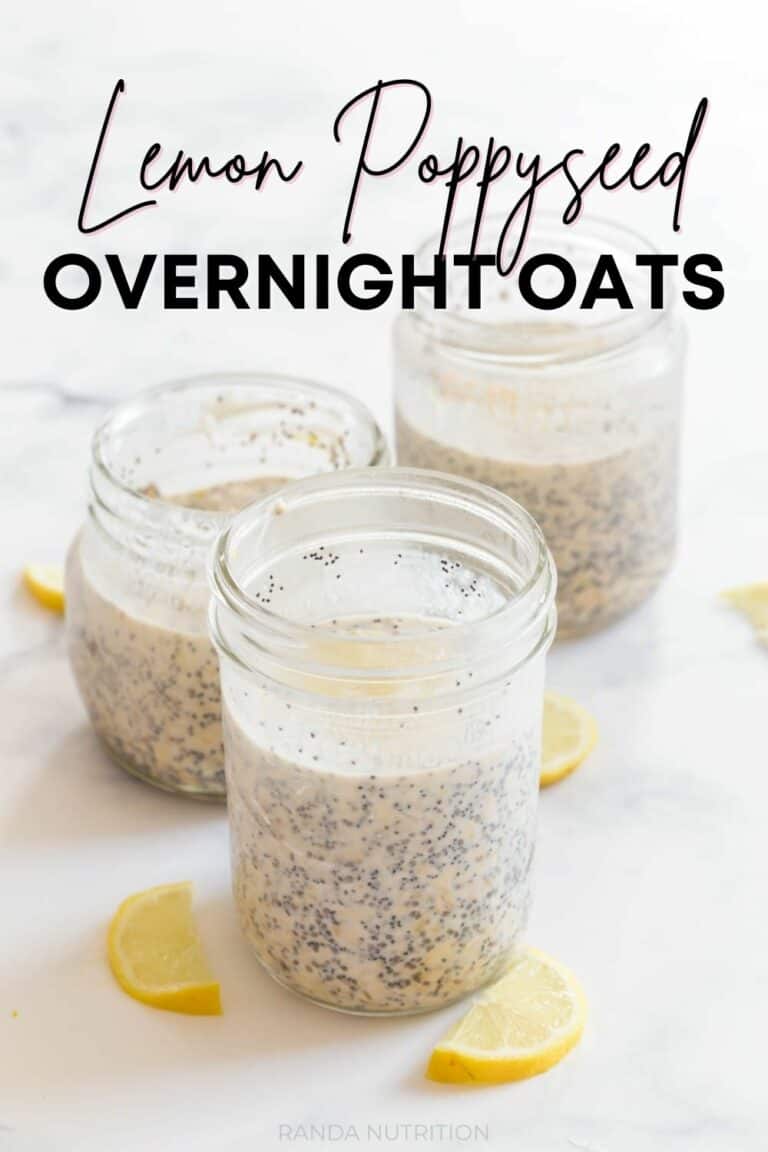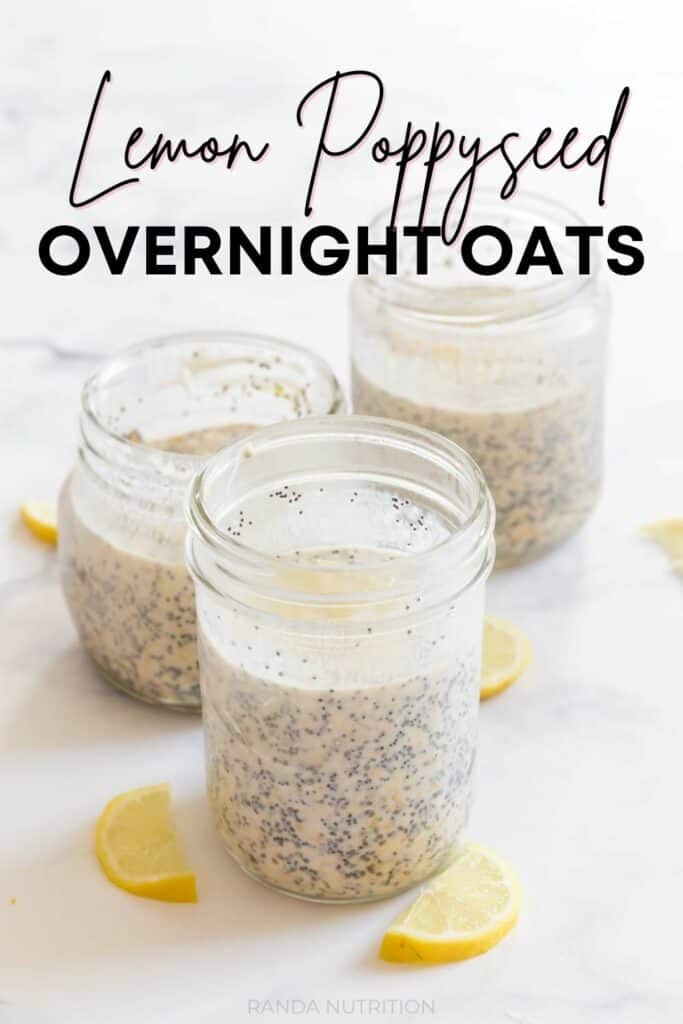 Disclosure: This post contains affiliate links for your convenience. As an Amazon Associate, I earn from qualifying purchases.
Lemon Poppyseed Overnight Oats
Some of the best overnight oats recipes that I've created have been inspired by cake, pie, or muffins. What can I say, I'm a dessert fan.
I ordered a massive bag (by accident) of poppyseeds so I knew I had to get creative with some recipes. First, I made the Lemon Poppyseed Chia Seed Pudding recipe, then I made some muffins, and now we have the oats.
My creativity ends there. I may make some lemon poppy seed oatmeal but now that's it's basically fall, I'll probably stick to fall flavors like pumpkin.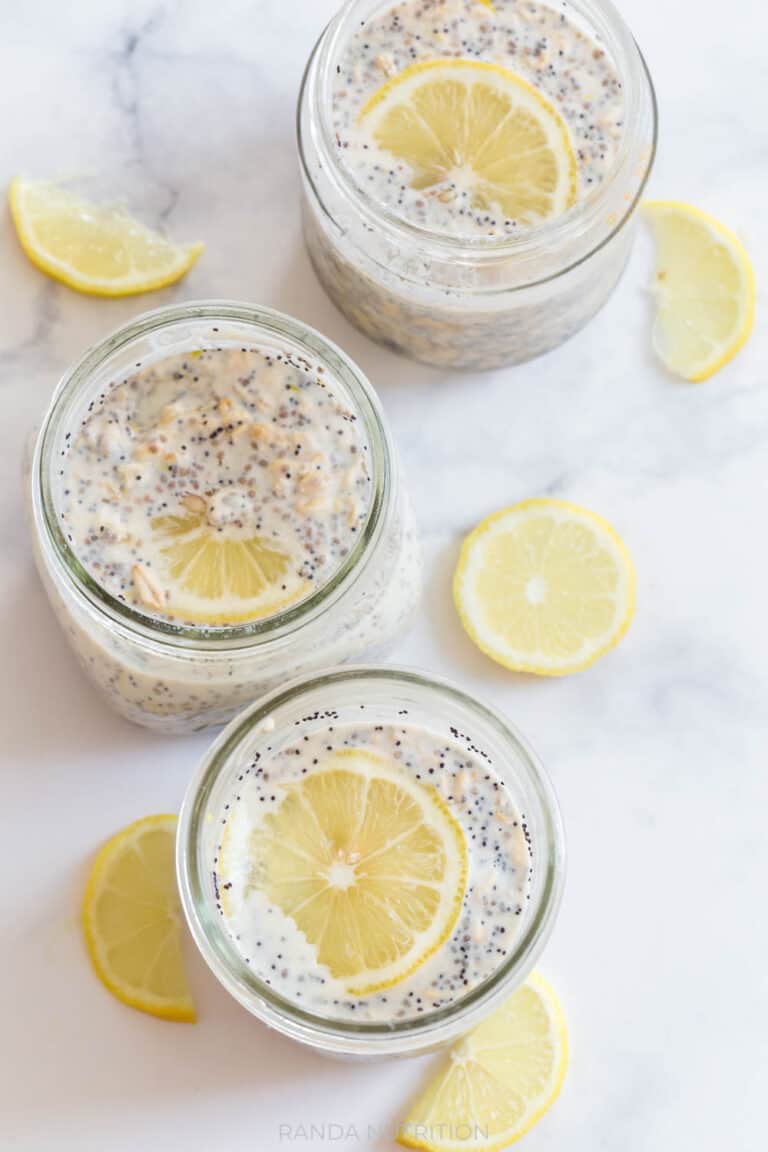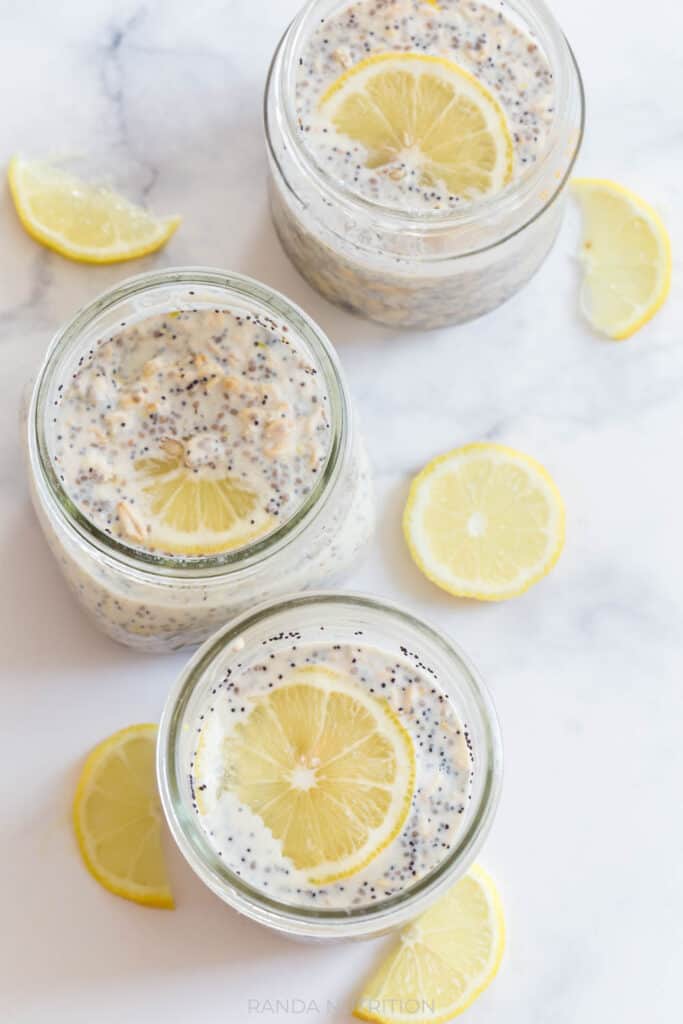 Meal Prep Overnight Oats
Here's how to meal prep these creamy lemon overnight oats.
Grab a conatiner (or 2-4). I use mason jars but you could use resealable bowls (like these meal prep containers).
Add the ingredients to each container (this recipe is for one, just do it each time for each container).
Stir together, put on a lid, and put it in the fridge.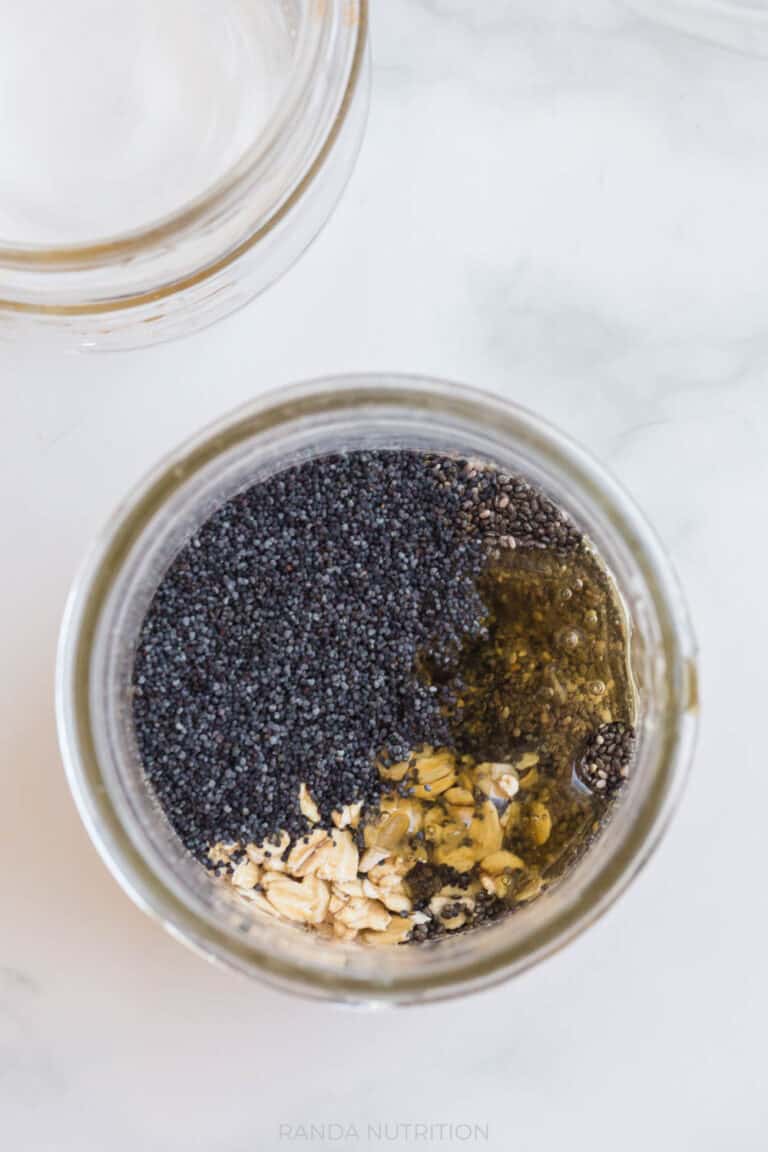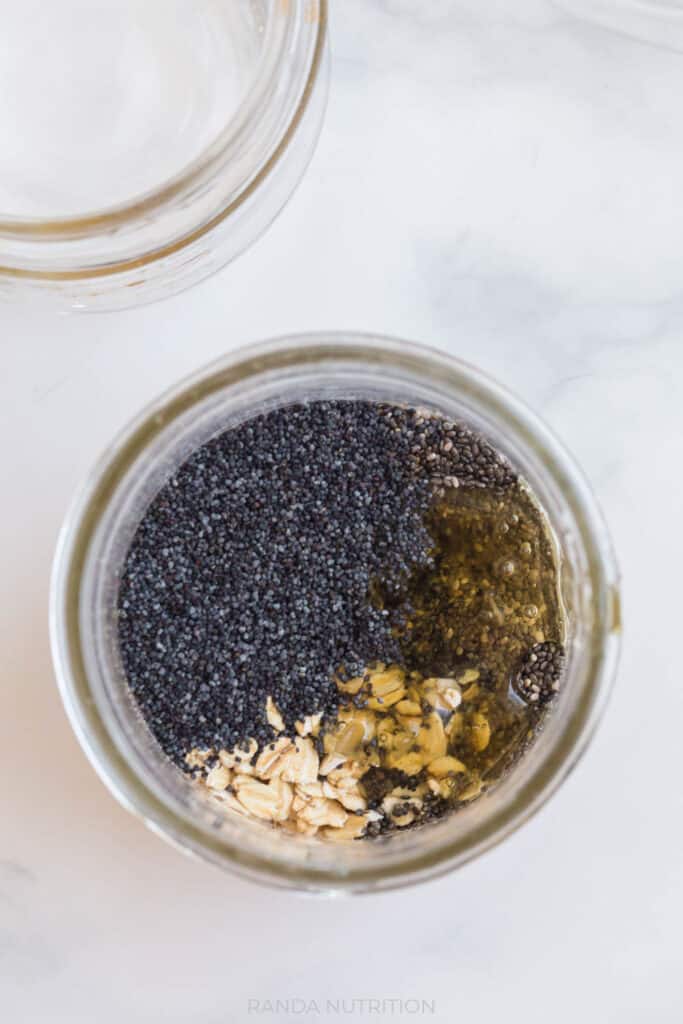 That's it. You're done.
I added coconut whipped cream to each jar and it held up well. If you want it sweeter, hold up until you serve it and sprinkle another 1-2 teaspoons of honey or maple syrup on top.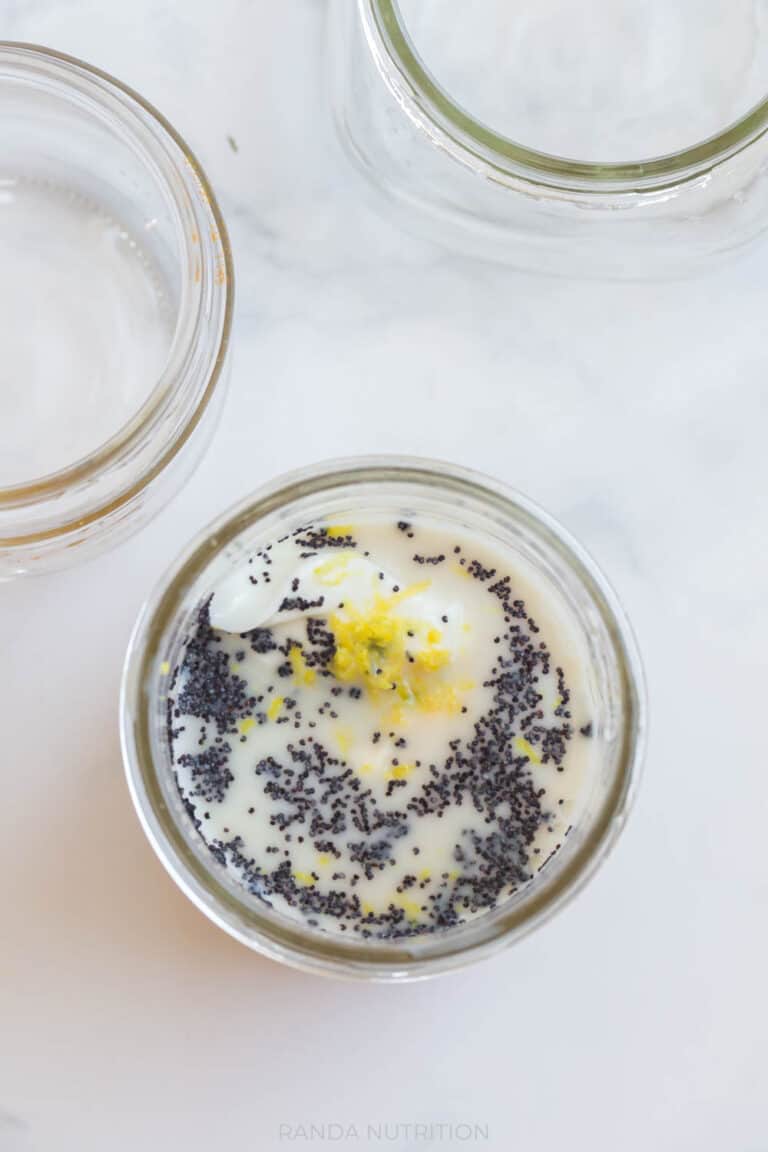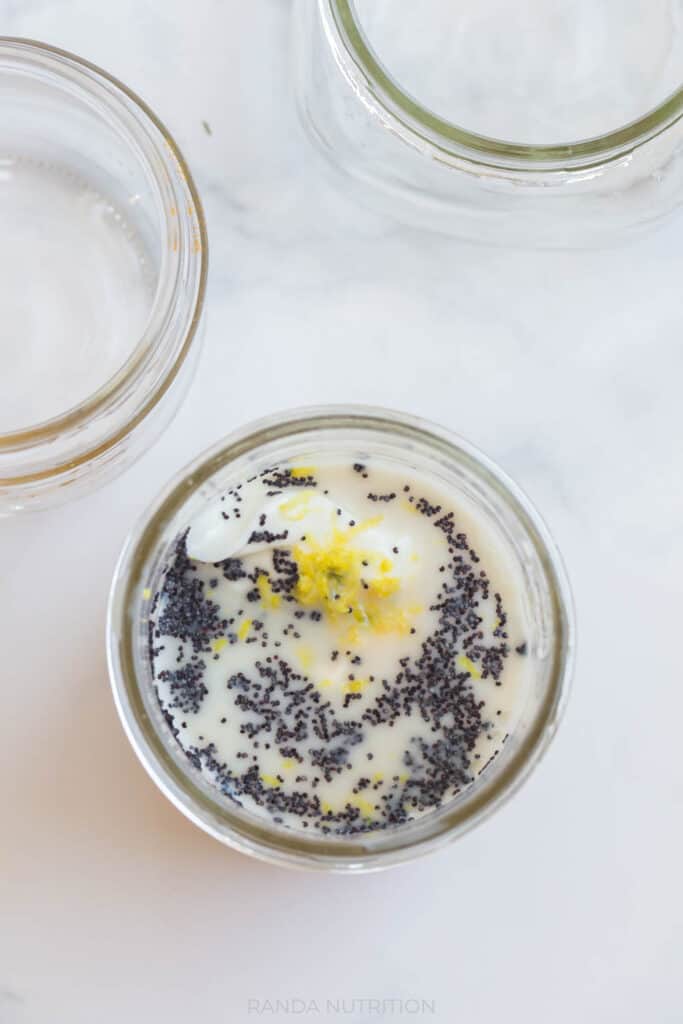 Want an extra protein boost? If you're adding protein powder (read the note below in the protein powder section) you can stir it in now, but I like to wait.
If you want to turn this into hot oats. You can either heat it in the microwave (stir the protein powder in after then) or make some oatmeal meal prep but toss it all in a pot, bringing to a simmer, cook, and store.
How long do overnight oats last in the fridge?
You can make enough overnight oats to last 5 days stored in the fridge.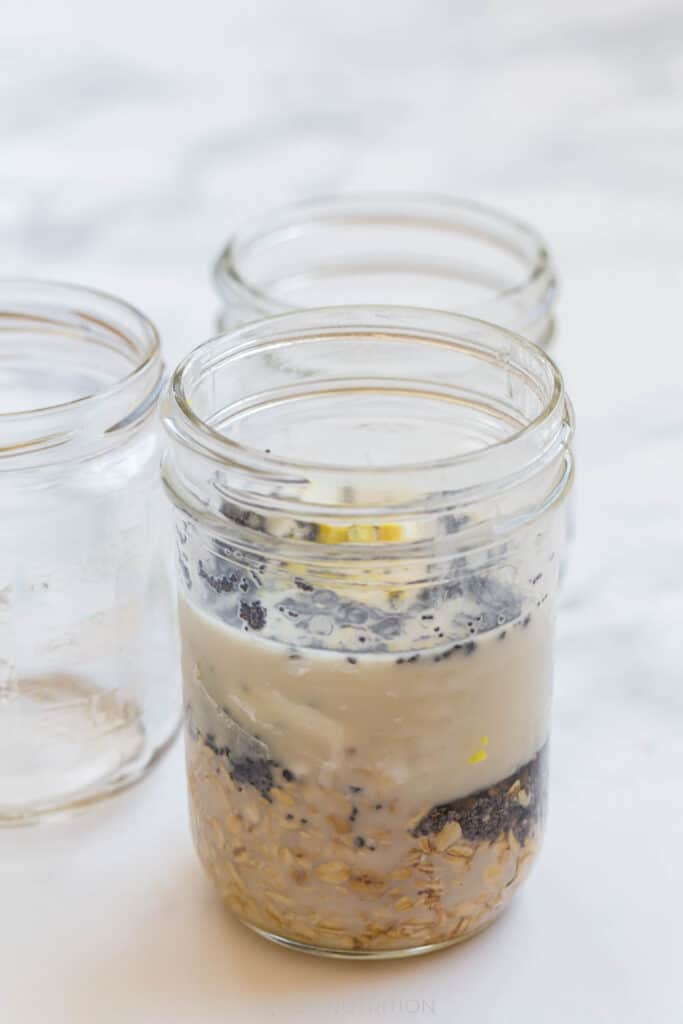 Can I add protein powder to overnight oats?
Yes, you can. When I put together this recipe, I made three different versions.
The recipe listed below in the recipe card.
Recipe with 1/2 scoop of vanilla protein powder added before serving.
The recipe with 1/2 scoop of lemon merignue pie protein powder added before serving. Canadians I have a link to this protein powder here.
All of them were delicious in their own way. I will say that they add sweetness so don't drizzle any excess honey or maple syrup after.
Without the protein powder, the oats are not too sweet and I added another teaspoon of honey over my oats.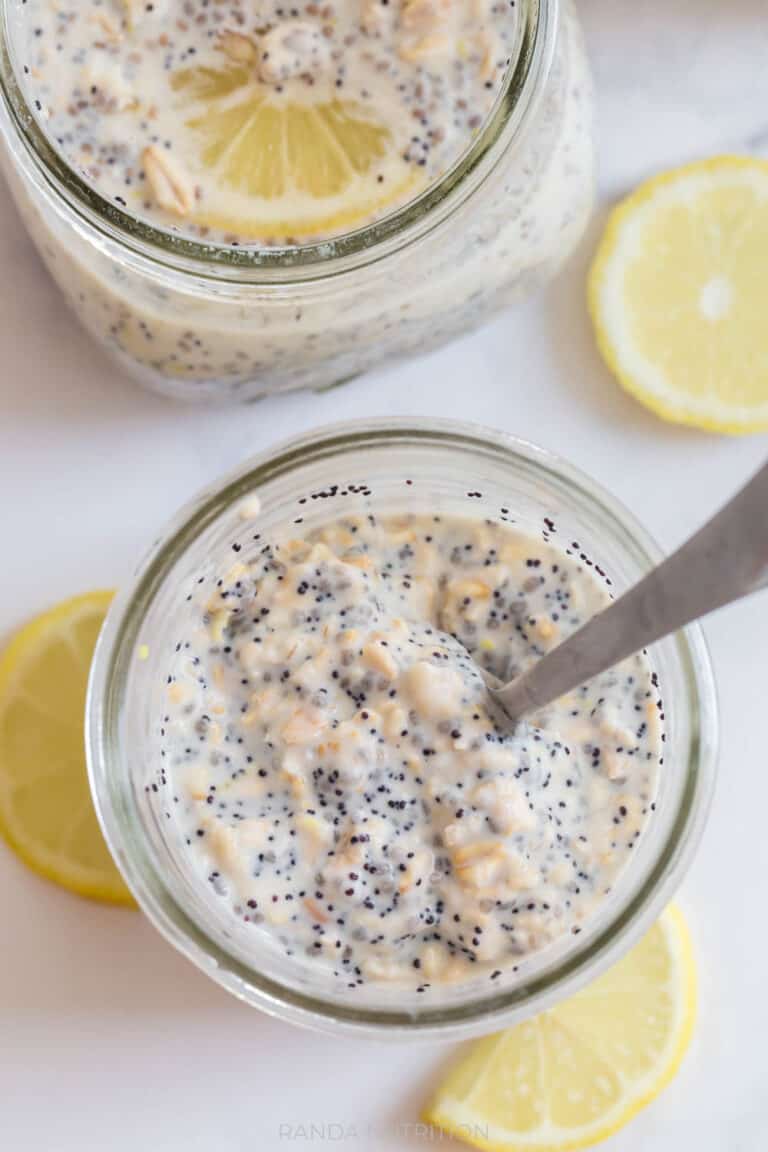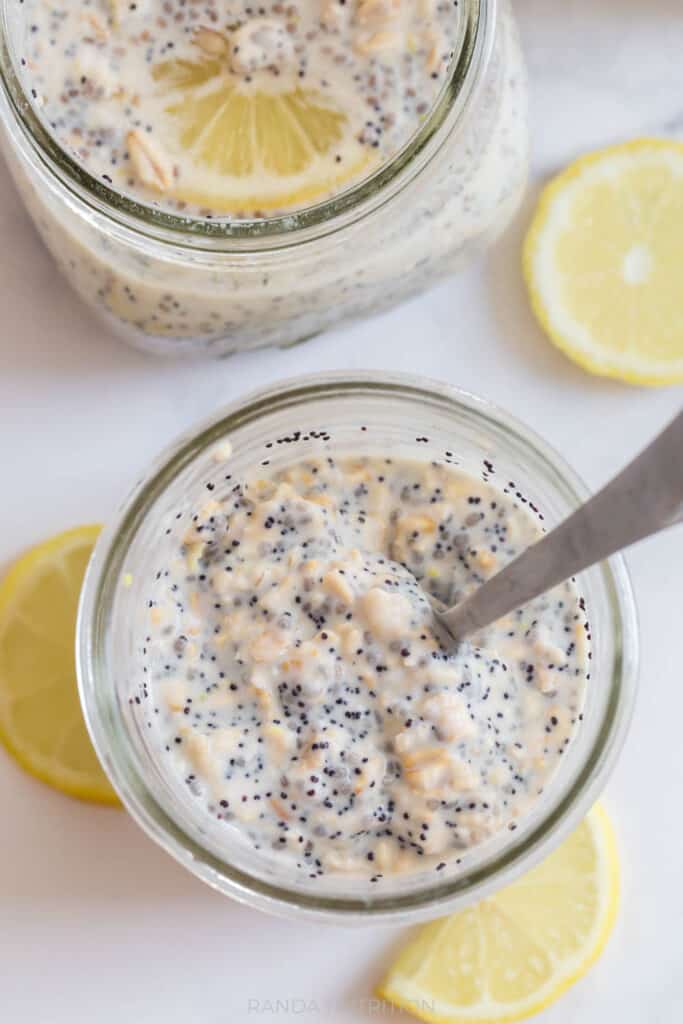 Lemon Overnight Oats Ingredients
rolled oats or large flake oats/old fashioned oats
0% greek yogurt
unsweetened almond milk or milk of choice
lemon
honey or maple syrup if vegan – more to drizzle when serving if you like it sweet.
What Kind of Oats to Use for Overnight Oats
To make overnight oats, don't use quick oats. They'll soak up too fast and get soggy.
You'll want rolled outs. If you're in Canada they're also known as old-fashioned oats or large flake oats.
Steel-cut oats don't work the best for overnight oats. They'll have a bit of a crunch left, which if it doesn't bug you – fly at it.
Healthy Oatmeal Recipes
Here are a few more overnight oats and healthy hot oatmeal recipes you can find on the blog:
I also have some delicious oat-based recipes in the Real Food Real Life Nutrition Guide.
How to Make Overnight Oats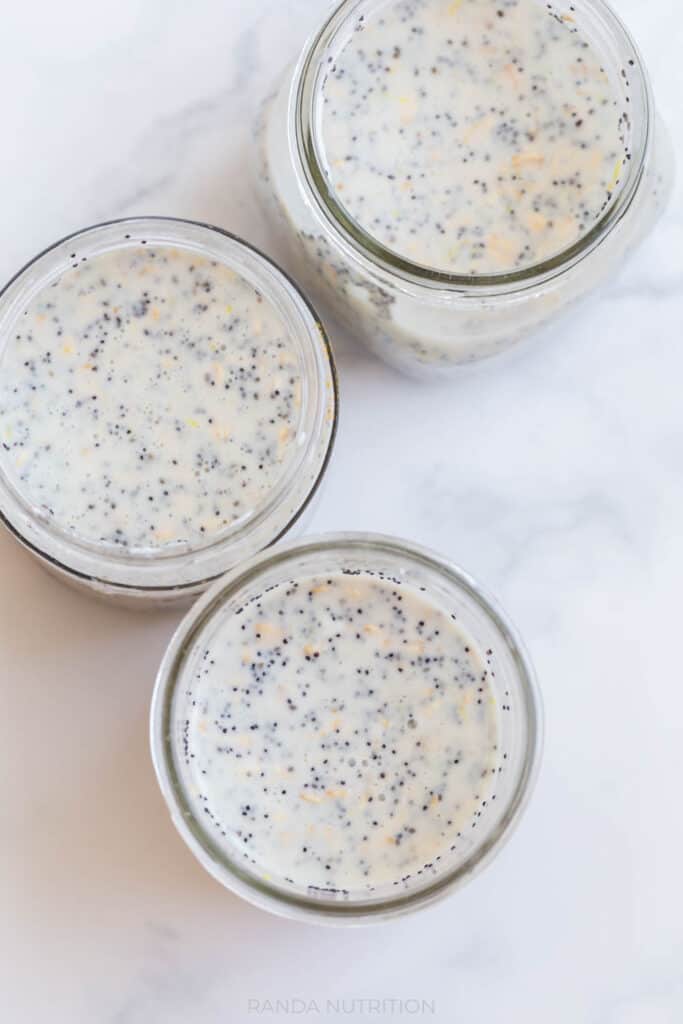 You're going to love these easy overnight oats, not only are they creamy and packed with flavor but they're just so stinkin' easy.
Use a base of oats, greek yogurt, almond milk, vanilla, and chia seeds. Then make it your own by adding whatever flavors your want.
In this one, we did poppy seeds and lemon. It's instant dessert for breakfast (which is my kind of breakfast).
Lemon Poppyseed Overnight Oats
This healthy recipe for meal prep lemon poppyseed overnight oats is so easy! All you have to do it put the ingredients in a jar, stir it, cover, and refrigerate and you have a grab and go breakfast for the week. Gluten free and made with greek yogurt for a boost of protein.
Ingredients
1/2

cup

rolled oats

or large flake oats/old fashioned oats

1/4

cup

0% greek yogurt

3/4

cup

unsweetened almond milk

or milk of choice

2

tablespoons

fresh lemon juice

1

tablespoon

honey

or maple syrup if vegan – more to drizzle when serving if you like it sweet.

1

tablespoon

chia seeds

1

tablespoons

poppyseeds

1

teaspoon

lemon zest

1/2

teaspoon

vanilla extract

optional: 1/2 scoop protein powder of choice

see notes

optional: slice of lemon to make it pretty.
Instructions
Add all the ingredients to a mason jar or container. Mix together well, cover and refridgerate over ight.
Notes
I have tried both the Lemon Meringue Pie from Alani Nu and a vanilla protein powder in the overnight oats. Both bring something different, both good. I used 1/2 scoop.
If you like the oats sweet, serve with an extra teaspoon or two of honey drizzled over top.
Nutrition
Serving:
1
jar
|
Calories:
392
kcal
|
Carbohydrates:
57
g
|
Protein:
15
g
|
Fat:
13
g
|
Saturated Fat:
1
g
|
Polyunsaturated Fat:
7
g
|
Monounsaturated Fat:
3
g
|
Trans Fat:
1
g
|
Cholesterol:
3
mg
|
Sodium:
270
mg
|
Potassium:
379
mg
|
Fiber:
11
g
|
Sugar:
21
g
|
Vitamin A:
11
IU
|
Vitamin C:
15
mg
|
Calcium:
512
mg
|
Iron:
4
mg