If you're looking for a quick breakfast that works well for meal prep then this healthy apple cinnamon oatmeal recipe is for you.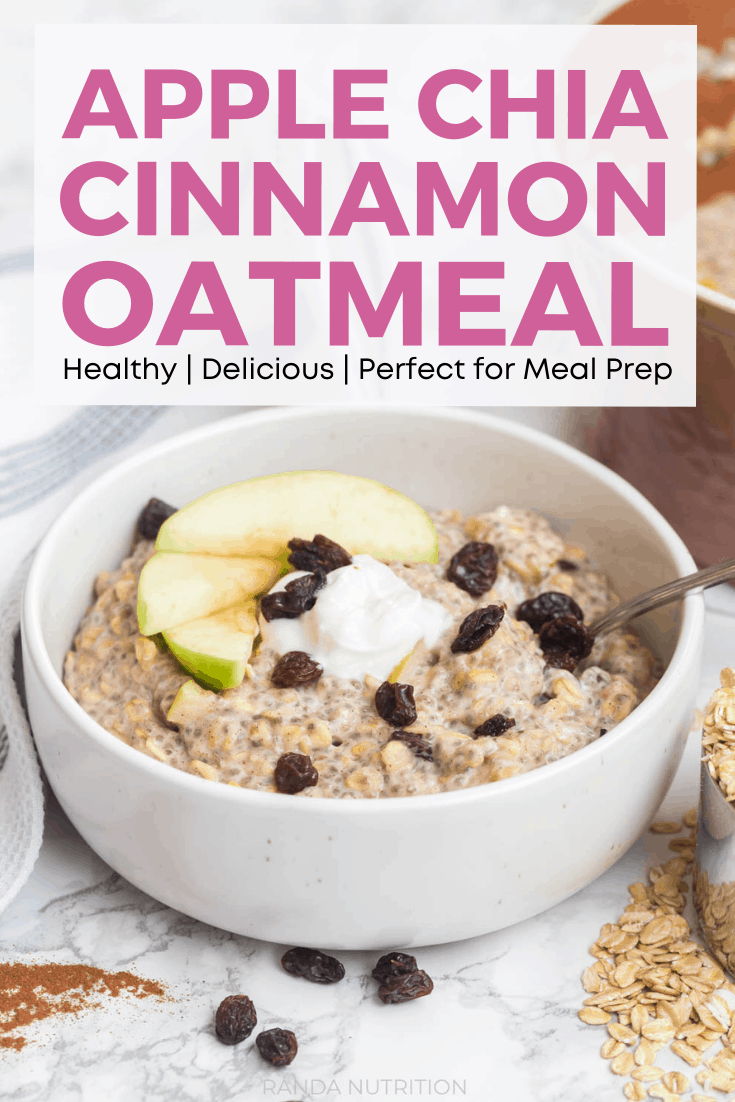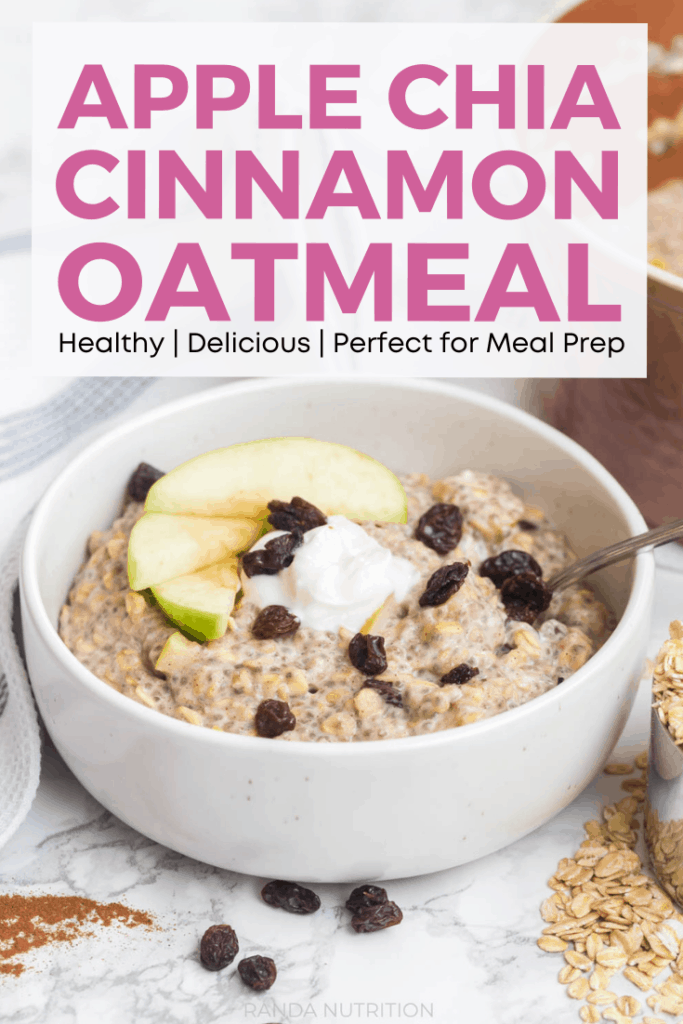 Disclosure: This post contains affiliate links for your convenience. As an Amazon Associate, I earn from qualifying purchases.
Apple Cinnamon Oatmeal
My two-year-old daughter loves this recipe for apple cinnamon oats, I meal prepped this for breakfast for two days but I ended up only getting one out of it as my daughter was adamant that she had some.
Which is fine, I don't mind because it takes no time at all to whip up.
It actually worked out for the best because making breakfast for the kids on school mornings is something I loathe doing. So to have two days of breakfasts for her done made the next two days even easier.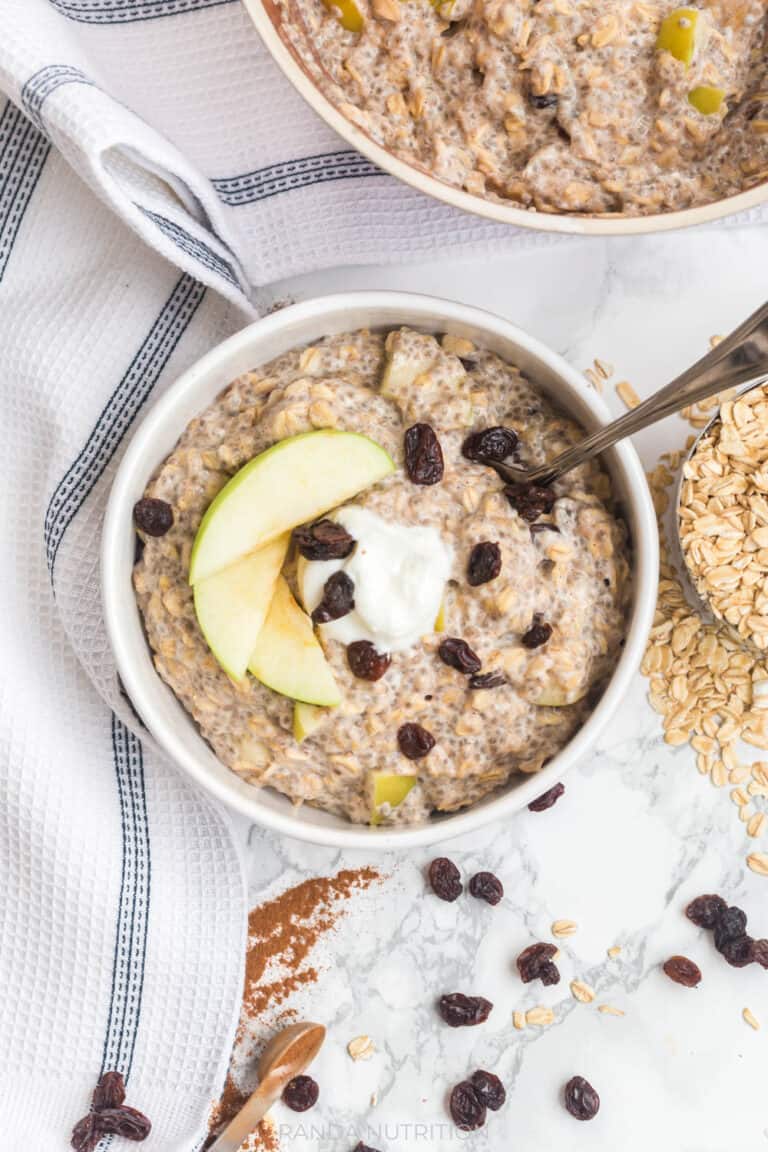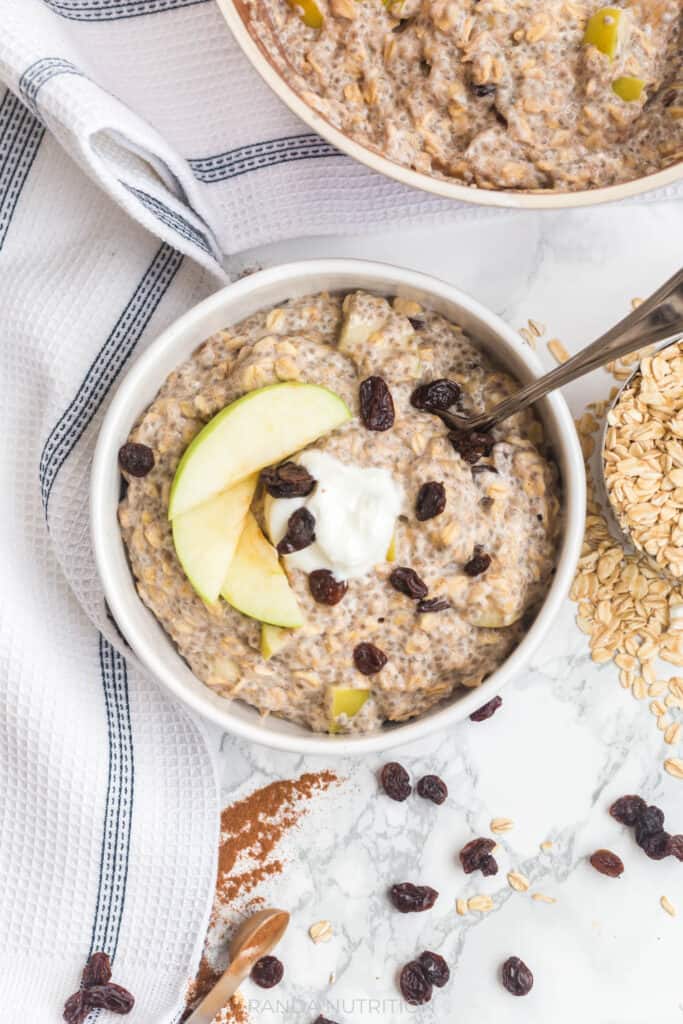 How to Make Apple Cinnamon Overnight Oats
This oatmeal recipe is also easy to turn into apple cinnamon overnight oats.
All you have to do is mix all of the ingredients together and store in the fridge.
That's it. It's insanely easy.
I like to store my overnight oats in a wide-mouth mason jar with the white plastic lid. It doesn't take up much room in the fridge and you can microwave them if you prefer warm overnight oats.
Ingredients Needed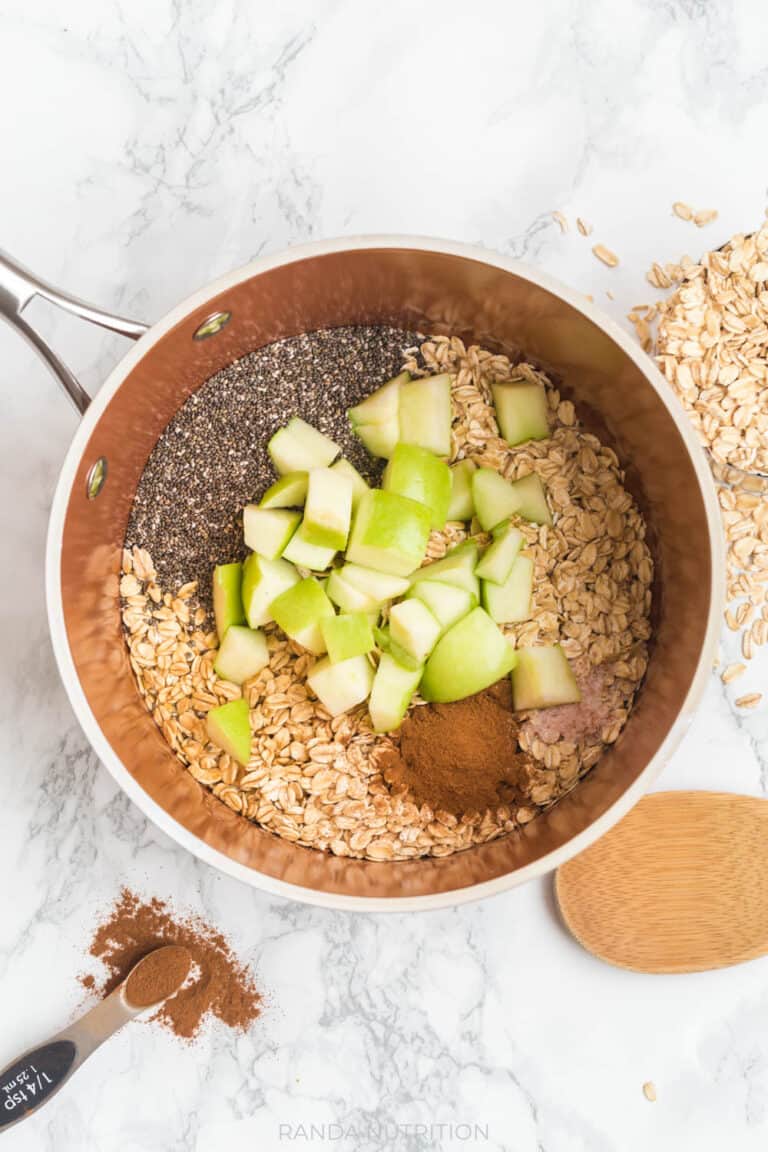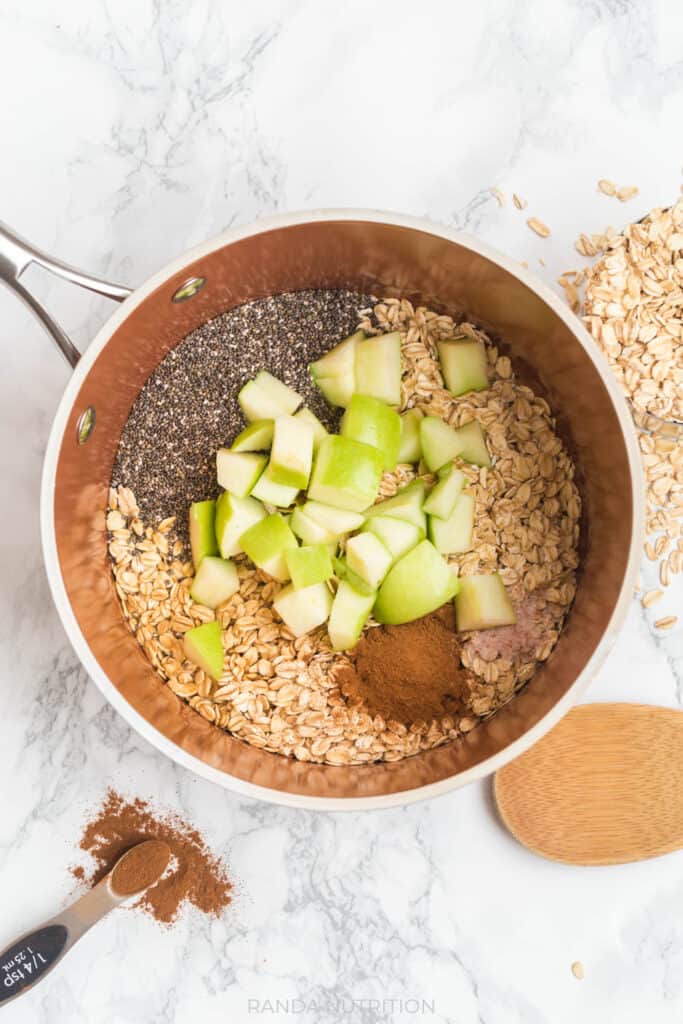 For this recipe I used the following ingredients:
Unsweetened almond milk
Granny smith apple
Chia seeds
Rolled outs (also known as old fashioned oats or large flake oats)
Cinnamon
Sea Salt
Maple syrup (can sub for honey or monk fruit sweetener if desired)
Vanilla extract
Raisins
Greek yogurt (can sub for Skyr or a dairy free alternative but look for no sugar added and a high protein count on the nutrition label)
What Meal Prep Containers to Use
It doesn't particularly matter what containers you use to divide up the apple cinnamon oats but I use these ones. They're glass, easy to clean, and are freezer and microwave safe.
If you're in a budget, use what you have to store (mason jars, plastic storage containers, etc). You can upgrade to glass anytime.
Add More Protein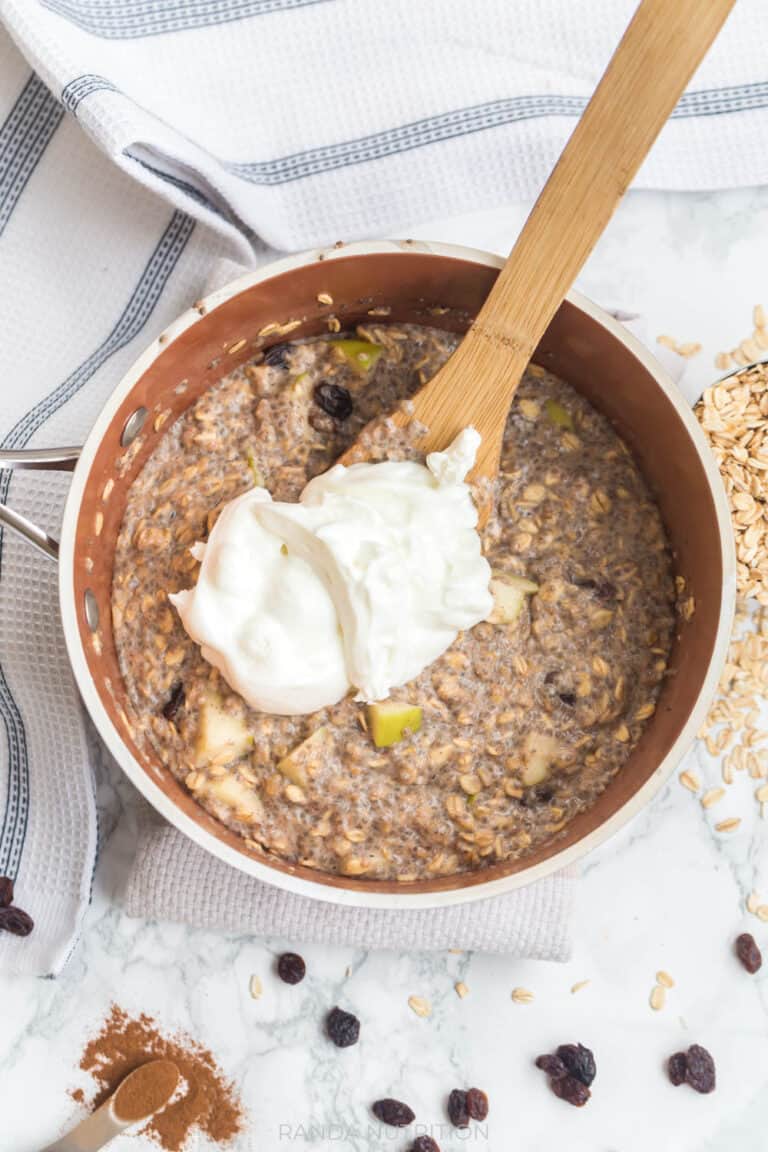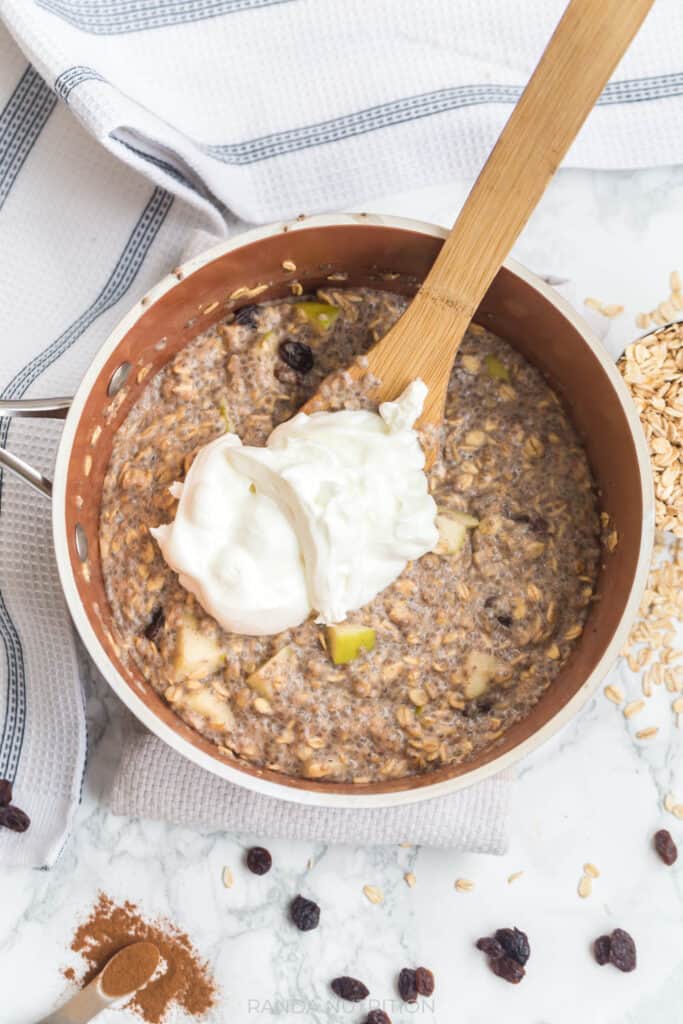 If you want more than the 11 grams of protein provided, stir in extra greek yogurt to the oatmeal or sprinkle 1/2 scoop of protein powder (although this will affect the taste).
I've been enjoying this protein powder lately (my favorite is Real Coffee and Coconut Coffee + MCT).
Substitutions
If you want a dairy free oatmeal, you can substitute the greek yogurt for coconut or almond yogurt (often called "coconut cultures", Silk has both in the natural aisle in most grocery stores).
Not dairy free? Try Skyr yogurt for a thicker yogurt. Look for plain, this has no sugar added.
I used almond milk for this recipe but you can use any milk you have on hand: cow, soy, coconut, cashew, oat milk, etc.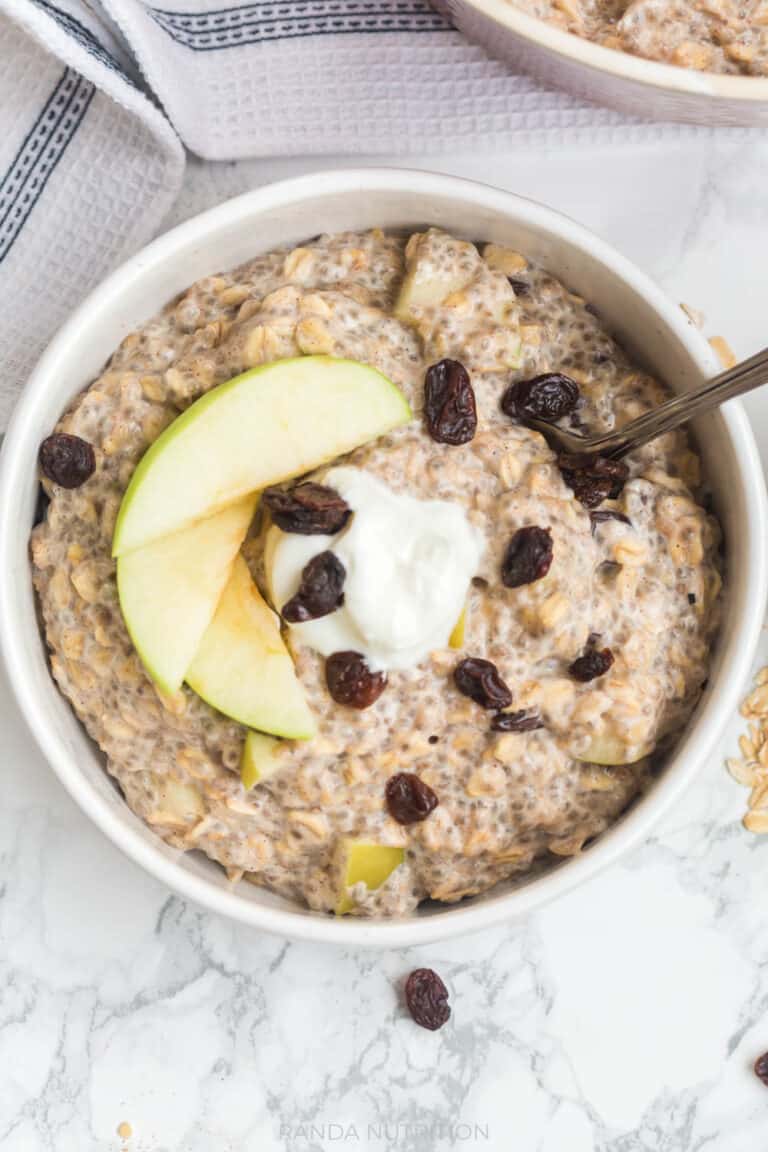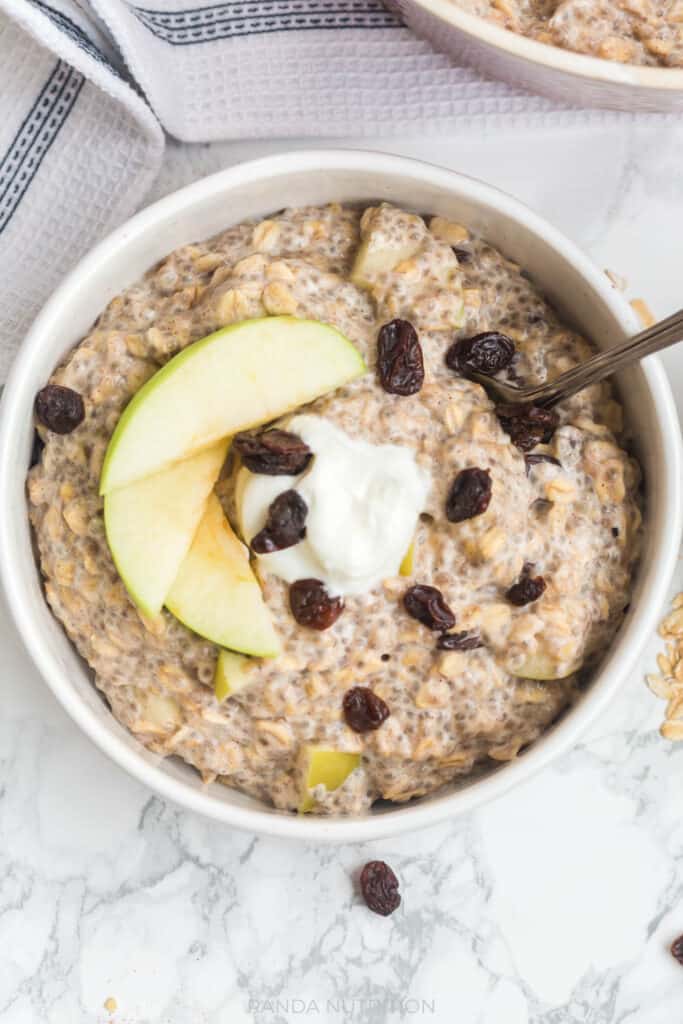 Is Oatmeal Healthy?
Yes, oatmeal is healthy but you do need to consider what you put in it and what the serving sizes are.
This apple cinnamon oatmeal calories is 328 calories for 1/3 of the recipe. One serving is high in fiber with 11 grams of fiber (which is awesome).
It will not only satisfy you in the moment but keep you satiated (full) until your next week thanks to the fiber, healthy fats, protein, and carbohydrates working together.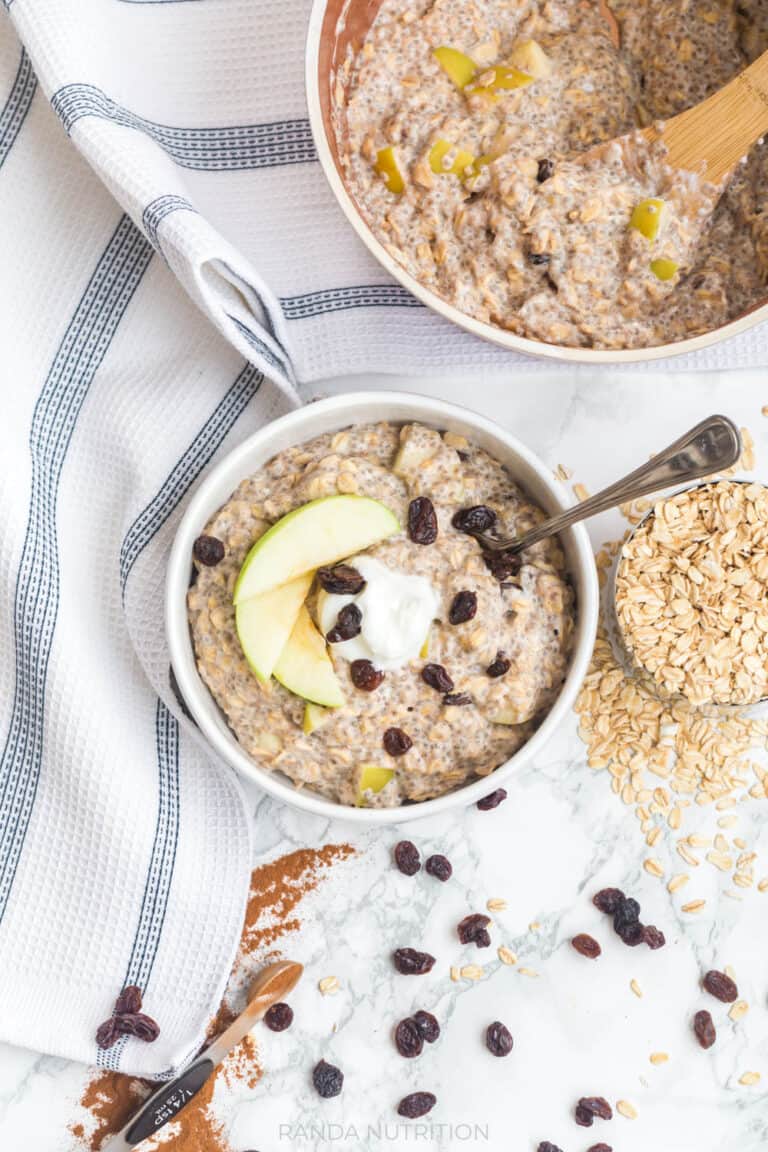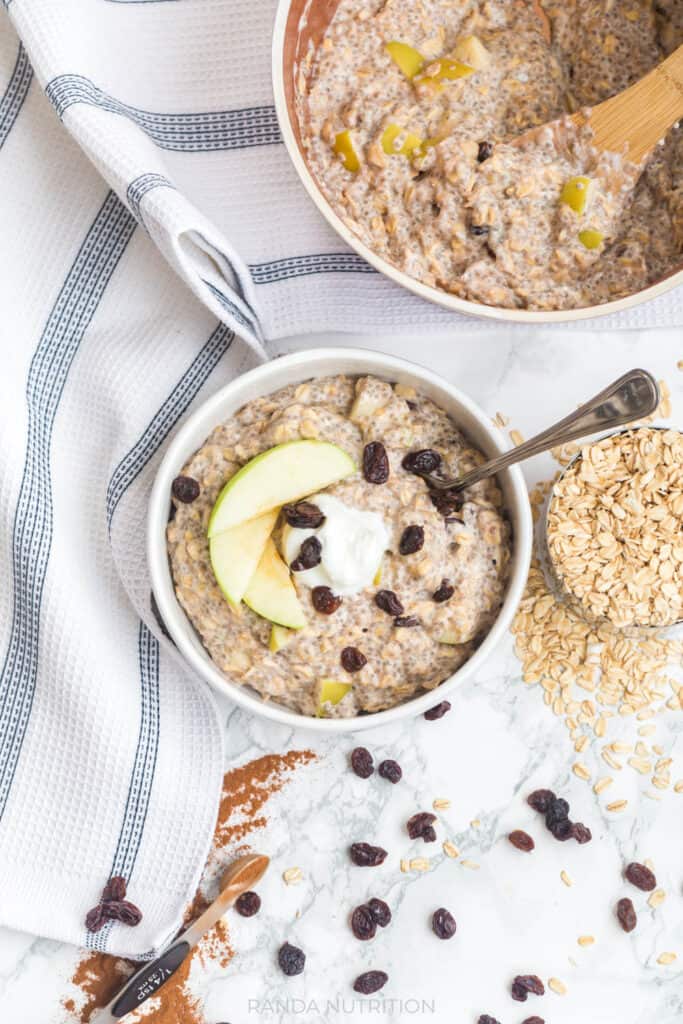 Healthy Apple Cinnamon Oatmeal Recipe
It's so easy to make apple cinnamon oatmeal from scratch, I simply throw everything in a pot over medium heat and stir.
10 minutes later, I'm eating.
I haven't made this in the Instant Pot yet, but once I do I will update the blog post and include pressure cooker instructions.
More Healthy Breakfast Recipes
Apple Cinnamon Oatmeal
This apple cinnamon oatmeal is a delicious way to start the day. Make it once and have breakfast for the next three days!
Instructions
Add all of the ingredients, except for the greek yogurt, to a medium sauce pan. Stir together and bring to a simmer over medium heat.

Once the oats start simmering, stir until the consitancy you desire, roughly 8-10 minutes. If it dries out, add more liquid.

Remove from heat once the oats are cooked and stir in the greek yogurt. Serve with additional (optional) yogurt and a sprinkle of cinnamon.
Nutrition
Serving:
1
serving
|
Calories:
328
kcal
|
Carbohydrates:
54
g
|
Protein:
11
g
|
Fat:
9
g
|
Saturated Fat:
1
g
|
Trans Fat:
1
g
|
Cholesterol:
2
mg
|
Sodium:
486
mg
|
Potassium:
400
mg
|
Fiber:
11
g
|
Sugar:
16
g
|
Vitamin A:
43
IU
|
Vitamin C:
4
mg
|
Calcium:
415
mg
|
Iron:
3
mg
The nutrition information is calculated using a third party resource. The accuracy varies on the brands used, weight, portions, etc. This resource should be used as a guide. If you want more accurate information, weigh in grams and log in MFP.