This high protein pumpkin spice overnight oats recipe is the perfect fall breakfast. Not only does it take seconds to whip up, but you can also make multiple servings to meal prep your breakfast for the whole week.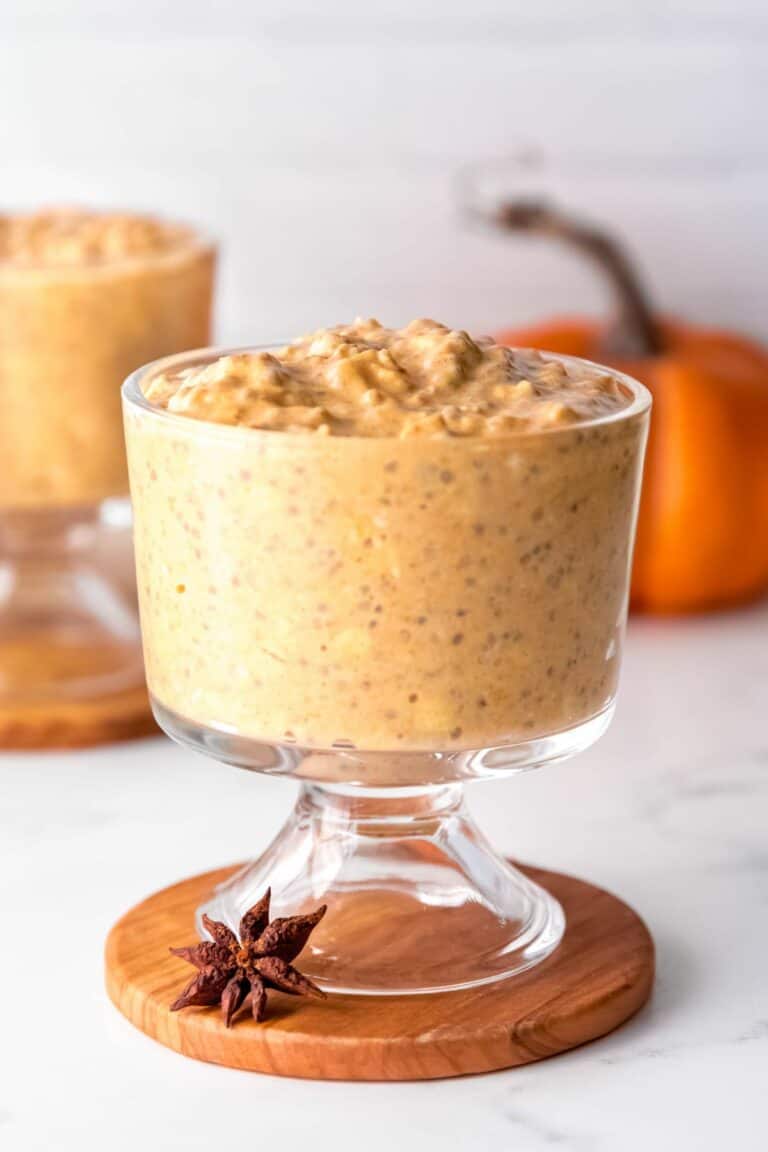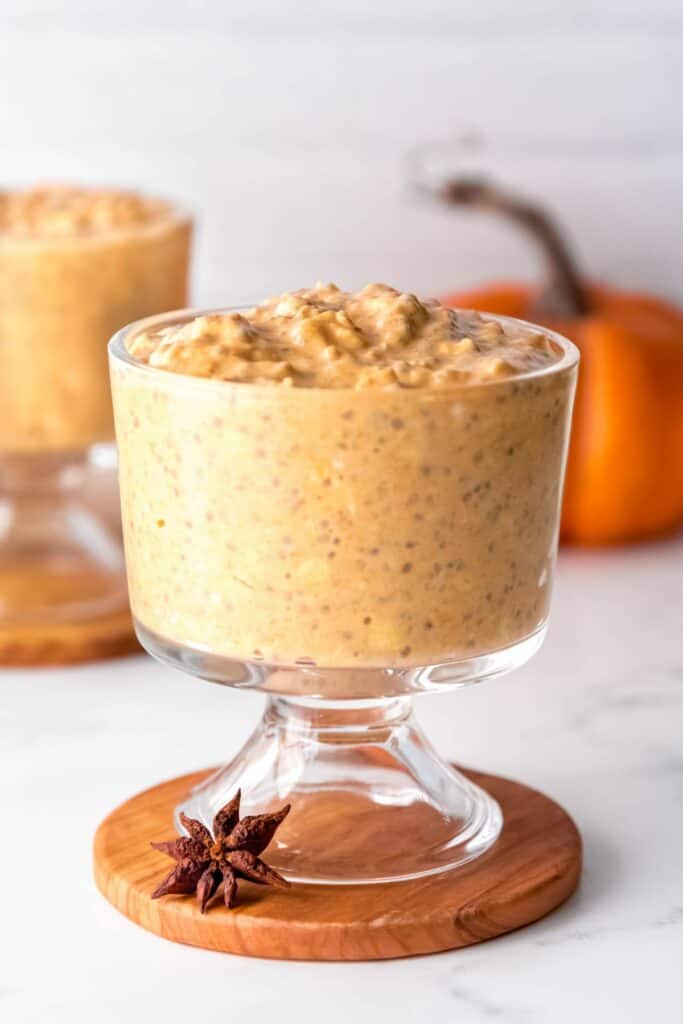 Disclosure: This post contains affiliate links for your convenience. As an Amazon Associate, I earn from qualifying purchases.
Pumpkin Spice Overnight Oats
If you're looking for an easy fall breakfast recipe that takes less than a minute to meal prep, this is it my friend, this is it.
Pumpkin spice overnight oats are a creamy and delicious gluten free way to begin your day. They're high in protein and fiber so they'll keep you full for hours.
Ingredients for Pumpkin Overnight Oats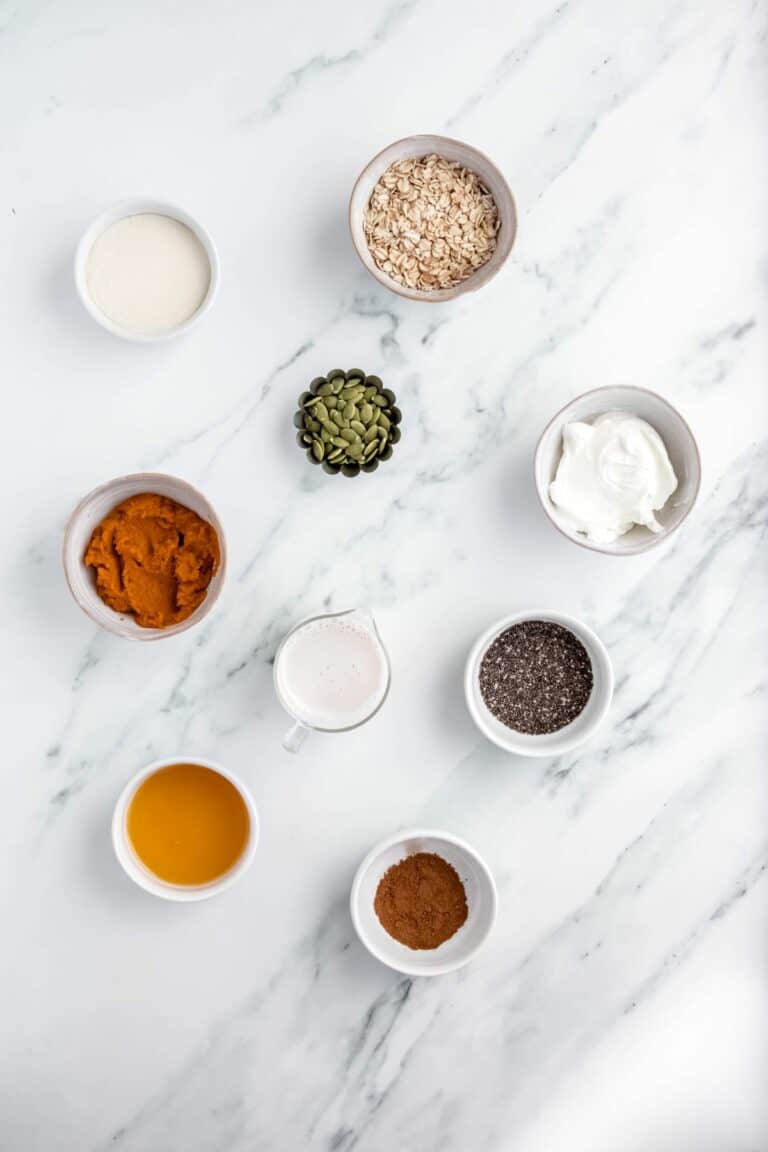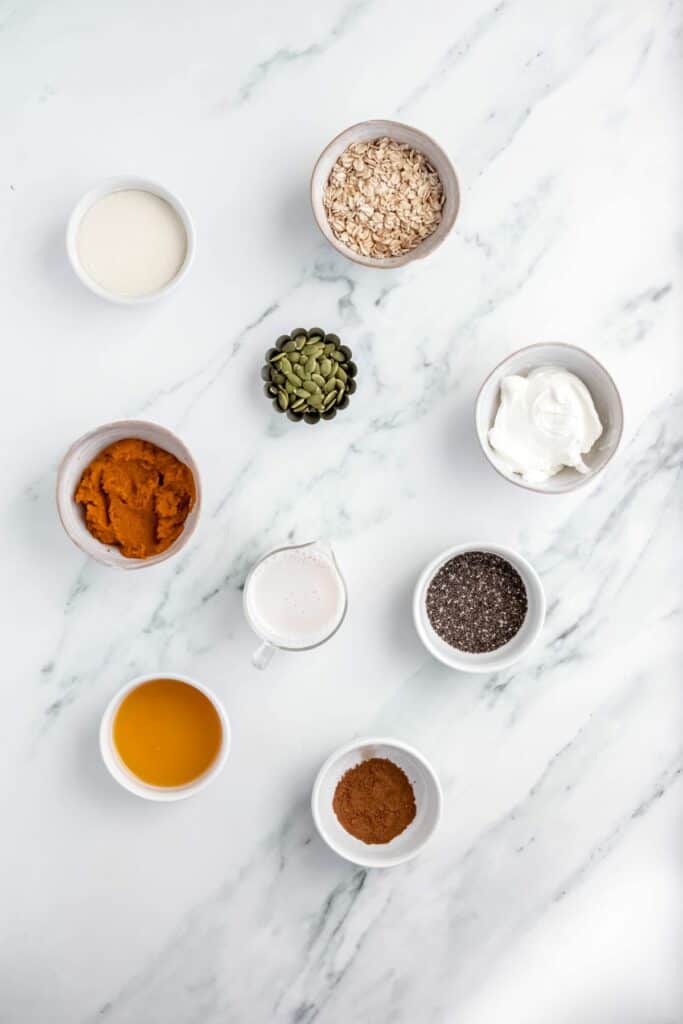 Rolled oats. Rolled oats are always best in overnight oats (aka large flaked oats or old fashioned oats in Canada), but if you only have quick oats they will also work.

Unsweetened almond milk. You can use whatever milk you have on hand. If you're using a nut milk like cashew milk or coconut milk make sure it's unsweetened.

Plain Greek yogurt. 0% unsweetened Greek yogurt is high in protein and makes these pumpkin pie overnight oats delicious and creamy.

Pumpkin puree. You'll want to use pumpkin puree, not pumpkin pie filling. This is just the pumpkin, blended, which allows us to add your own spices and sweetener.

Pure maple syrup. This will be your sweetener.

Chia seeds. Chia seeds are a powerhouse. These tiny seeds have a lot of protein and fiber for such a small serving.

Pumpkin pie spice. This spice makes me think of fall and it smells amazing.

Vanilla protein powder. Use whatever protein powder you have, I like to use Vanilla but if you have a cinnamon roll or even a sugar cookie flavor that would taste delicious.

Pumpkin seeds. Pumpkin seeds are also called pepitas and are a healthy topping option for this meal prep breakfast recipe.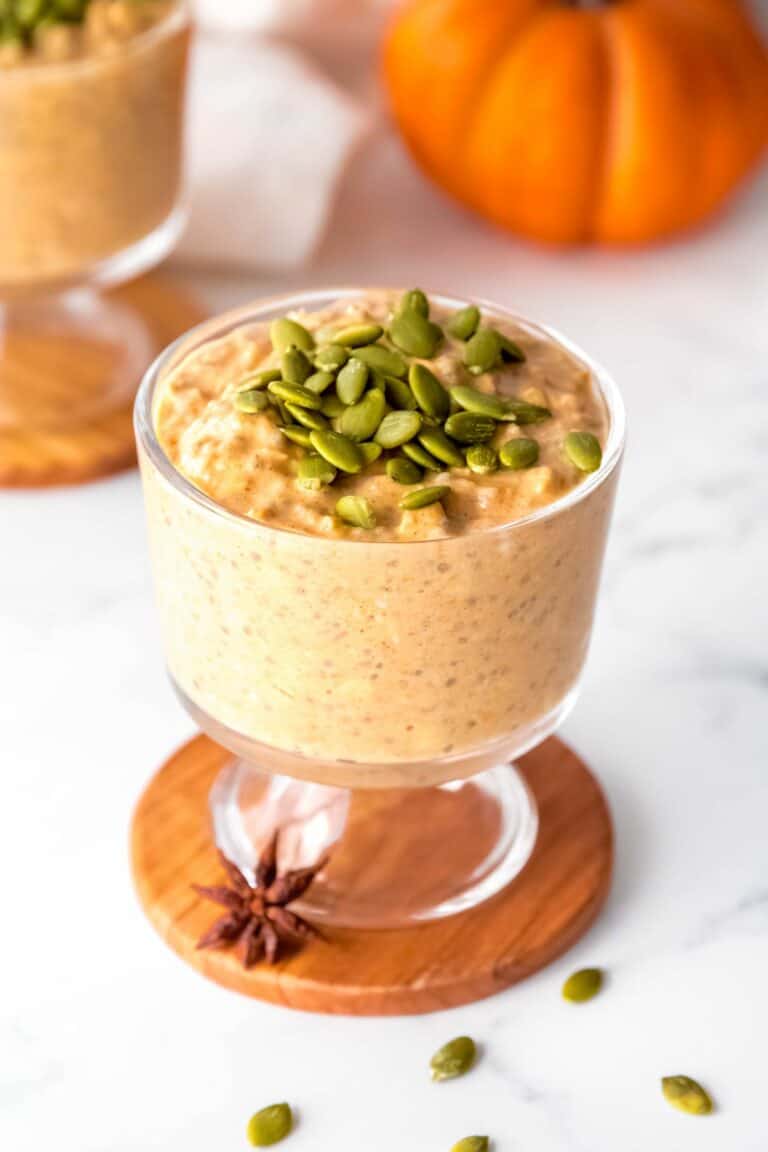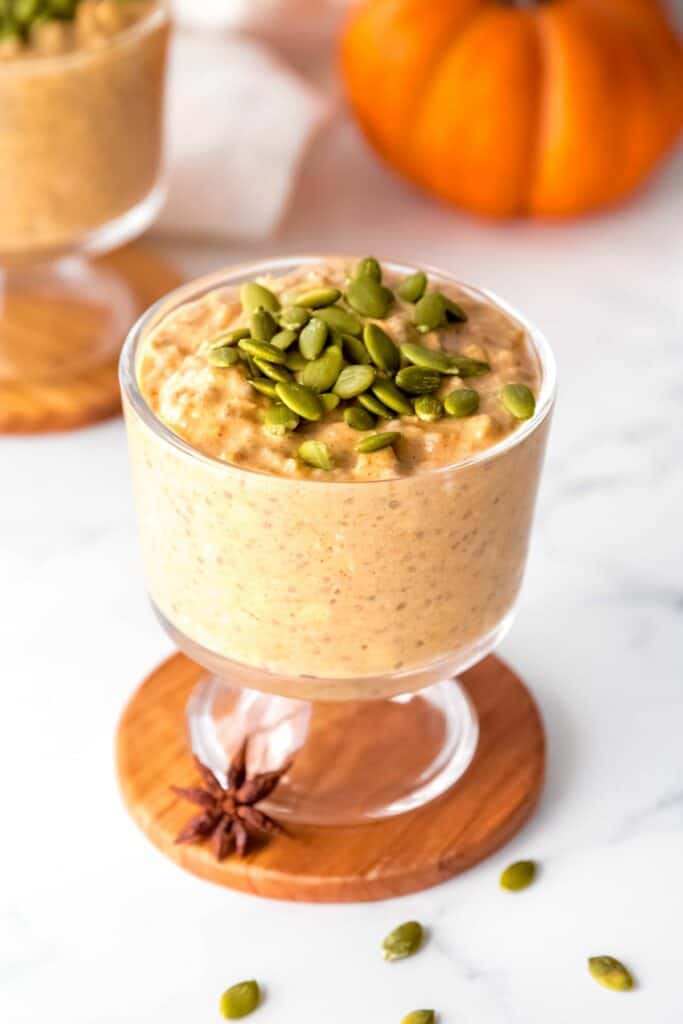 Recipe Variations and Swaps
Can I use different milk for overnight oats?
Yes. Use whatever milk you have on hand, it will just change the nutritional information a bit.
What toppings can I put on pumpkin spice overnight oats?
I like to top it with extra cinnamon, maybe some crushed pecans, pumpkin seeds, and a tiny bit of whipped cream (or coconut whip) every once in a while.
What sweetener can I use with overnight oats?
This recipe uses maple syrup. You can use honey or a monk fruit blend in place (brown sugar Swerve is amazing). lf you would like it sweeter, you can add more.
What can I substitute for chia seeds in oats?
You can use ground flaxseed instead.
What can I substitute pumpkin pie spice with?
You can simply use cinnamon. Pumpkin pie spice is a blend of cinnamon, ginger, nutmeg, allspice, and cloves but since this recipe uses so little you can just use cinnamon.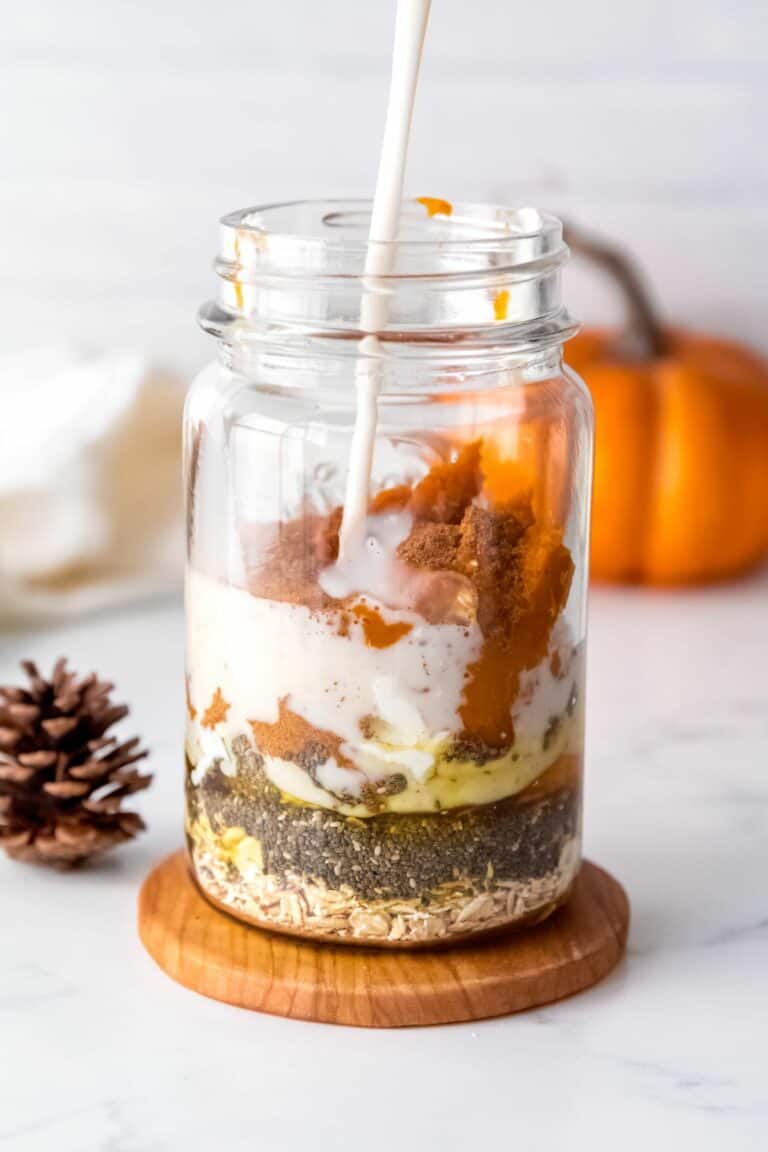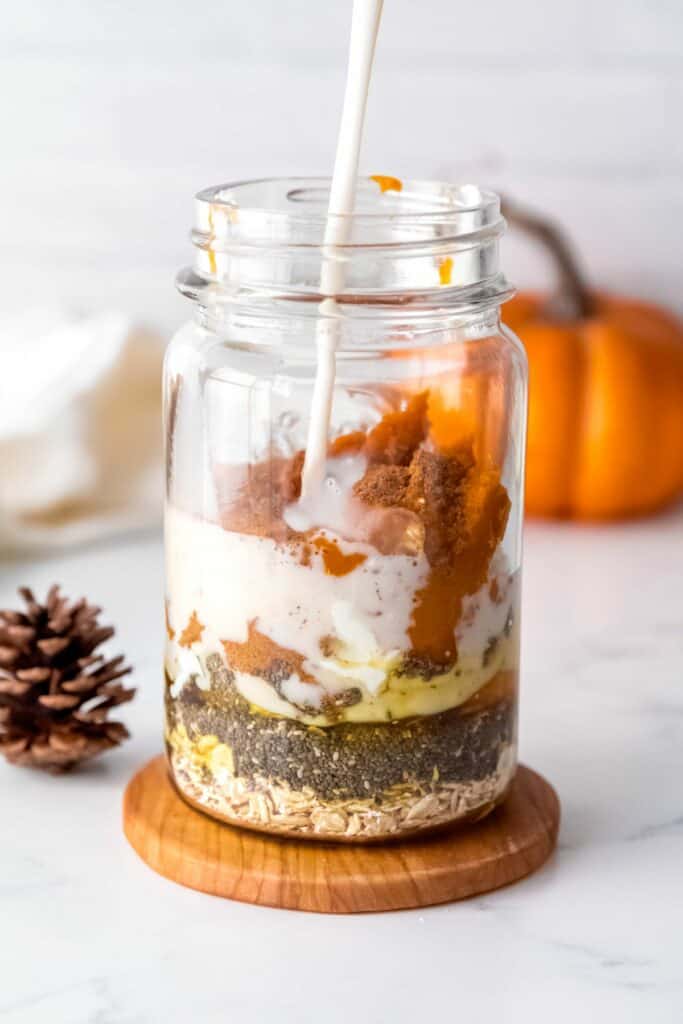 How to store overnight oats
I recommend using wide mouthed mason jars with the reusable plastic lids. It takes up less room in your fridge and they're easy to wash.
You can also use simple meal prep containers or bowls and wrap them before you chill in the fridge.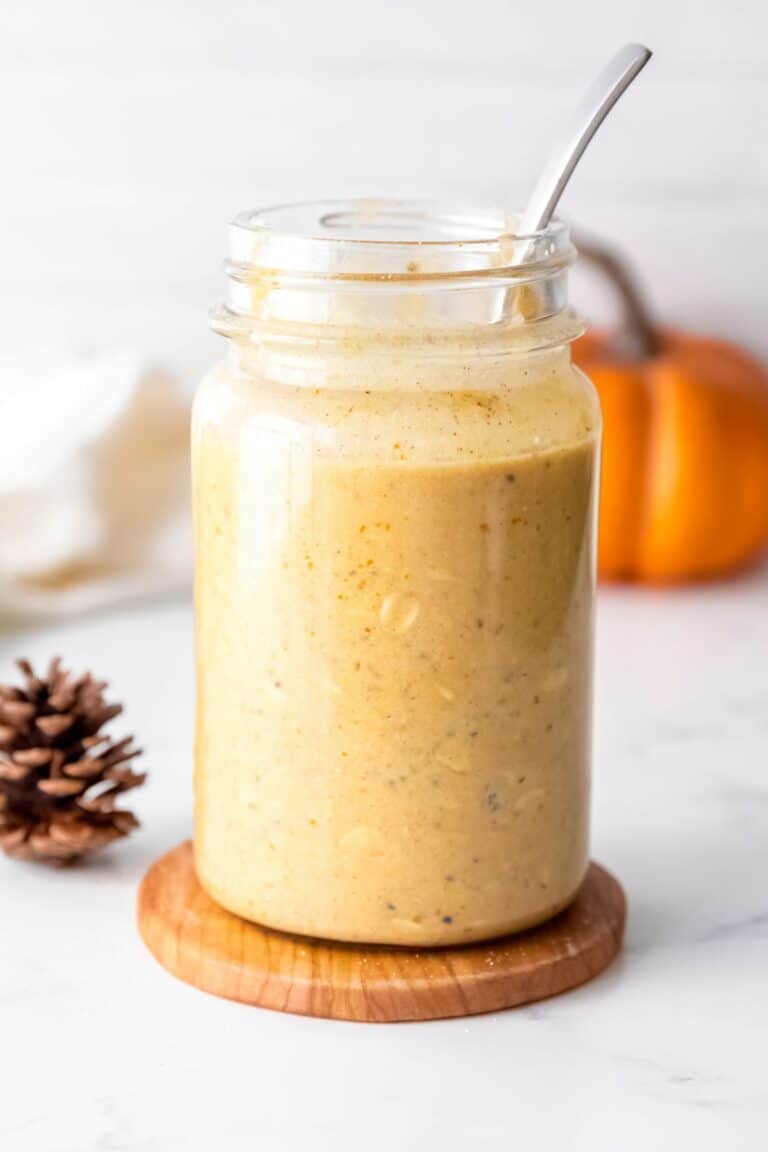 How long do overnight oats keep in the fridge?
You can keep overnight oats in the refrigerator for up to 5 days, but the texture does get a little mushier after the third day.
Can you heat overnight oats?
If you prefer warm oats, you can pop it into the microwave and heat it up. Be sure to give the oats a good stir every 30 seconds or so.
Nutrition Information
What I love about overnight oats for breakfast is that they start your day with a boost of protein and fiber, which means that you'll stay fuller for longer (no sugar spikes).
They're portable so you can eat them at the table, at work, or on your commute (as long as you're not driving, obviously).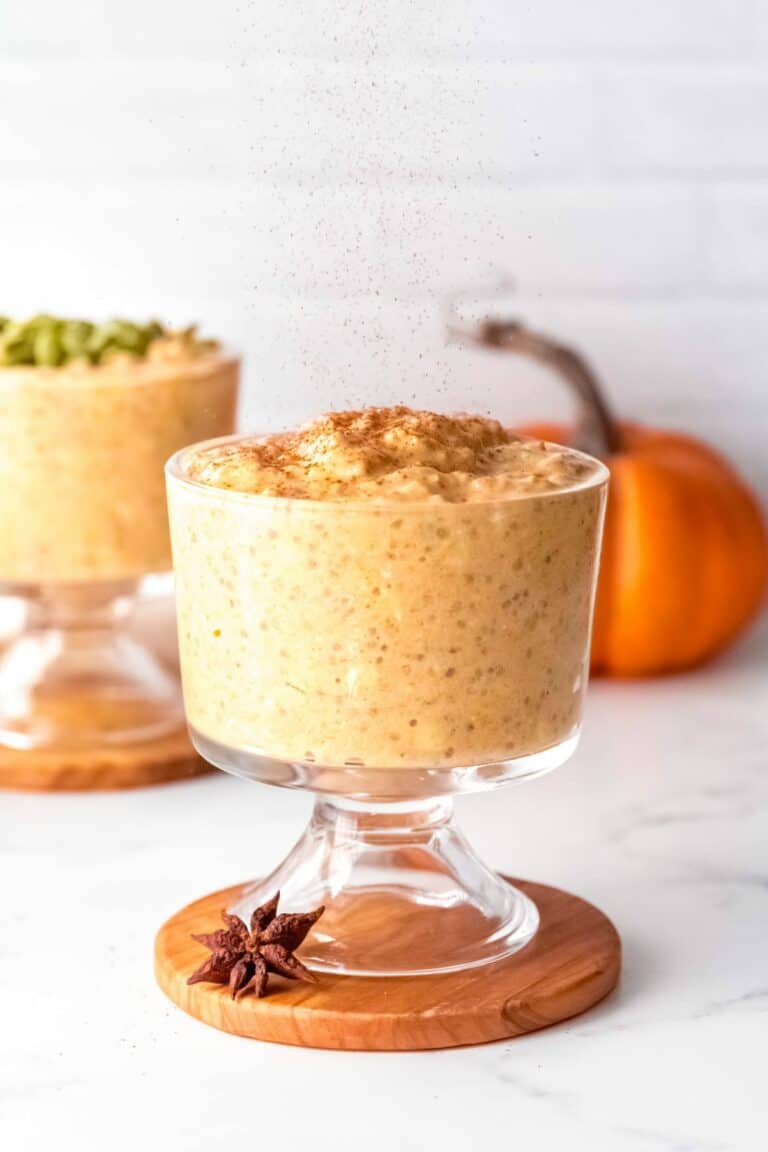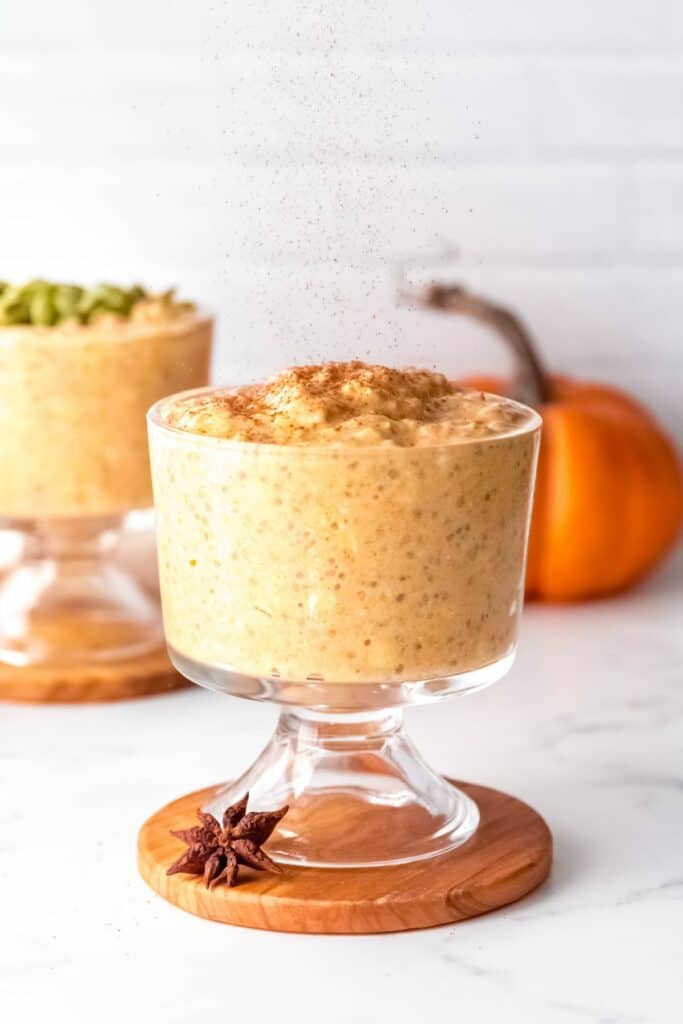 There are 418 calories in this recipe and the macros are:
52g carbohydrates
34g protein
9g fat
12g fiber
You can lower the calories by substituting maple syrup for monk fruit sweetener (I like Swerve's brown sugar blend) and depending on how your day is looking you could probably reduce the oats to 1/4 cup.
Play around with the recipe and make it work for your healthy goals. It's a great breakfast macro recipe.
More Overnight Oats Recipes
If you're as big of a fan of overnight oats as I am, then check out the below recipes (the strawberry cheesecake is my favorite). You can check out all my overnight oats recipes here.
More Pumpkin Recipes
The recipe archives are not exploding with pumpkin recipes (yet) but here are a few to get you started for the fall's hottest flavor.
Pumpkin Spice Overnight Oats
Pumpkin Spice Overnight Oats are a great fall breakfast that's quick, easy, and healthy. This high protein breakfast recipe serves one but can be easily be multiplied.
Instructions
Place all ingredients in a mason jar and stir until well combined.

Refrigerate overnight, then top with pumpkin seeds (if using) and eat cold or warm!
Notes
The sweetness will depend on your protein powder. If you need it sweeter, you can add more or add some brown sugar swerve for a lower calorie option.
Any type of milk works for this recipe!
Top with pumpkin seeds, sliced almonds, pecan halves, cinnamon, or more pumpkin spice!
You can use honey or monkfruit (you may have to use more liquid)
This is the vanilla protein powder used to test the recipe, which tasted great in this recipe.
If you don't have pumpkin spice, cinnamon can be substituted.
Ground flaxseed can be used in place of the chia seeds.
This recipe can be made up to 3 days in advance. After that, the oats get kind of mushy and don't have quite the same texture.
Pro tip: add 2 tbsp mini chocolate chips, cocoa nibs, or substitute chocolate protein powder for chocolate pumpkin overnight oats!
Nutrition
Serving:
1
serving
|
Calories:
418
kcal
|
Carbohydrates:
52
g
|
Protein:
34
g
|
Fat:
9
g
|
Saturated Fat:
1
g
|
Polyunsaturated Fat:
5
g
|
Monounsaturated Fat:
2
g
|
Trans Fat:
0.02
g
|
Cholesterol:
58
mg
|
Sodium:
367
mg
|
Potassium:
522
mg
|
Fiber:
12
g
|
Sugar:
19
g
|
Vitamin A:
9545
IU
|
Vitamin C:
3
mg
|
Calcium:
637
mg
|
Iron:
3
mg
The nutrition information is calculated using a third party resource. The accuracy varies on the brands used, weight, portions, etc. This resource should be used as a guide. If you want more accurate information, weigh in grams and log in MFP.