Calling all pickle fans, this is the best dill pickle hummus. Loaded with pickle flavor, this easy dip os a sure fire hit. Serve with your favorite veggies, ripped up pita, or pretzel chips for a healthy dip recipe you'll make over and over.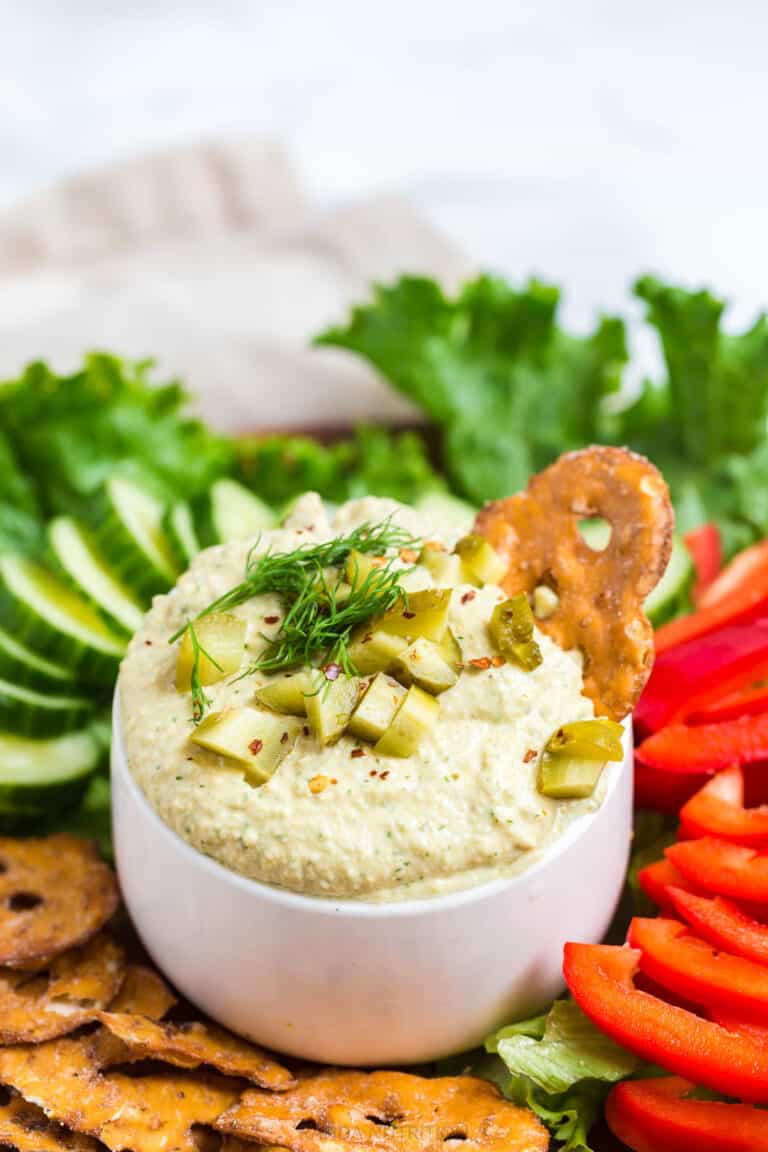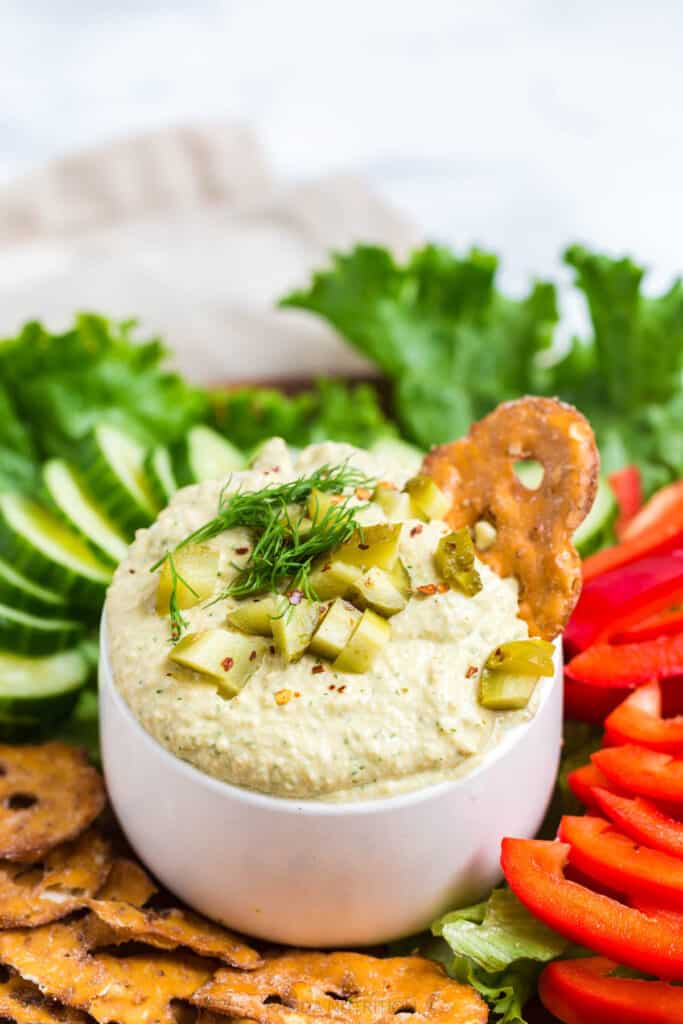 Disclosure: This post contains affiliate links for your convenience. As an Amazon Associate, I earn from qualifying purchases.
CALCULATE YOUR MACROS IN SECONDS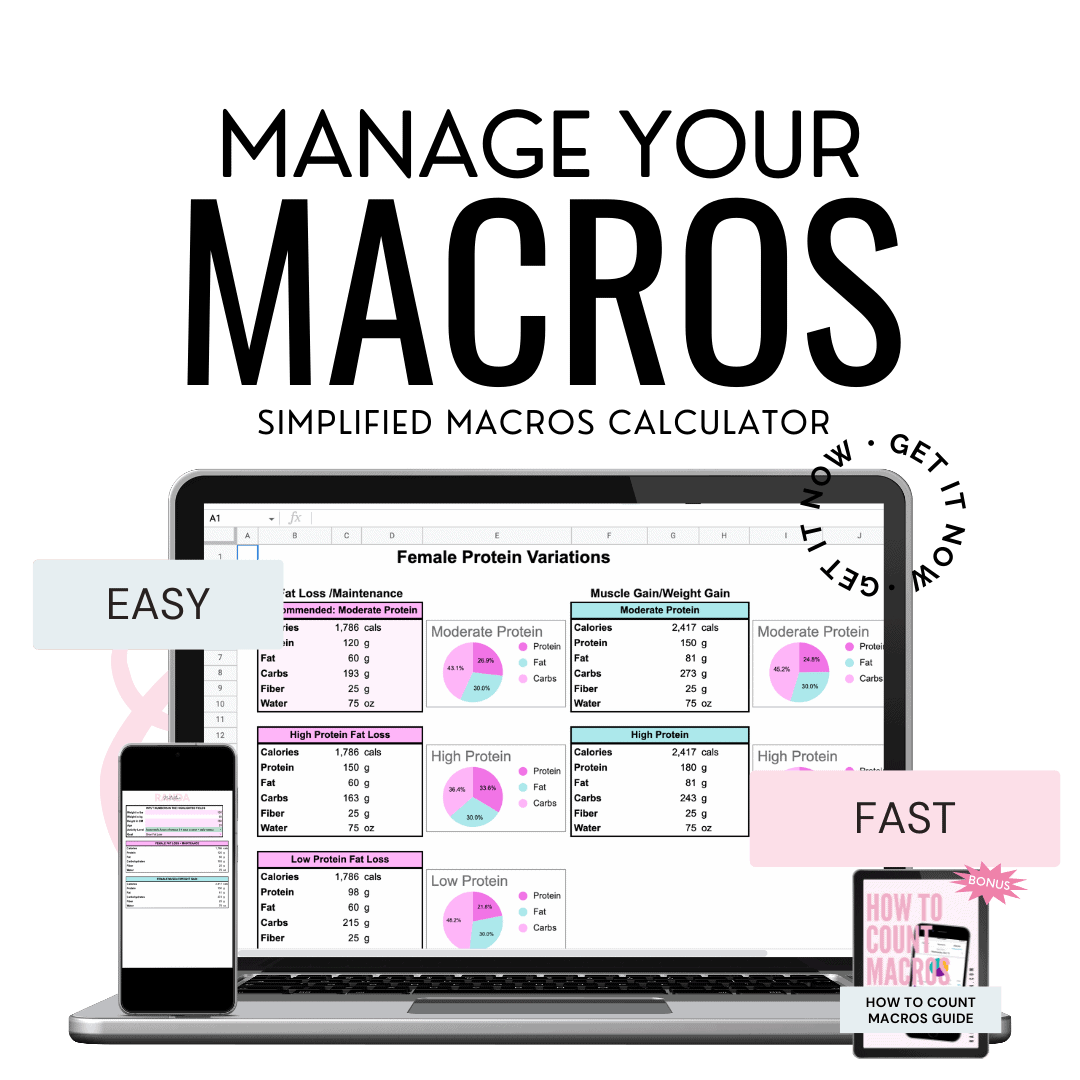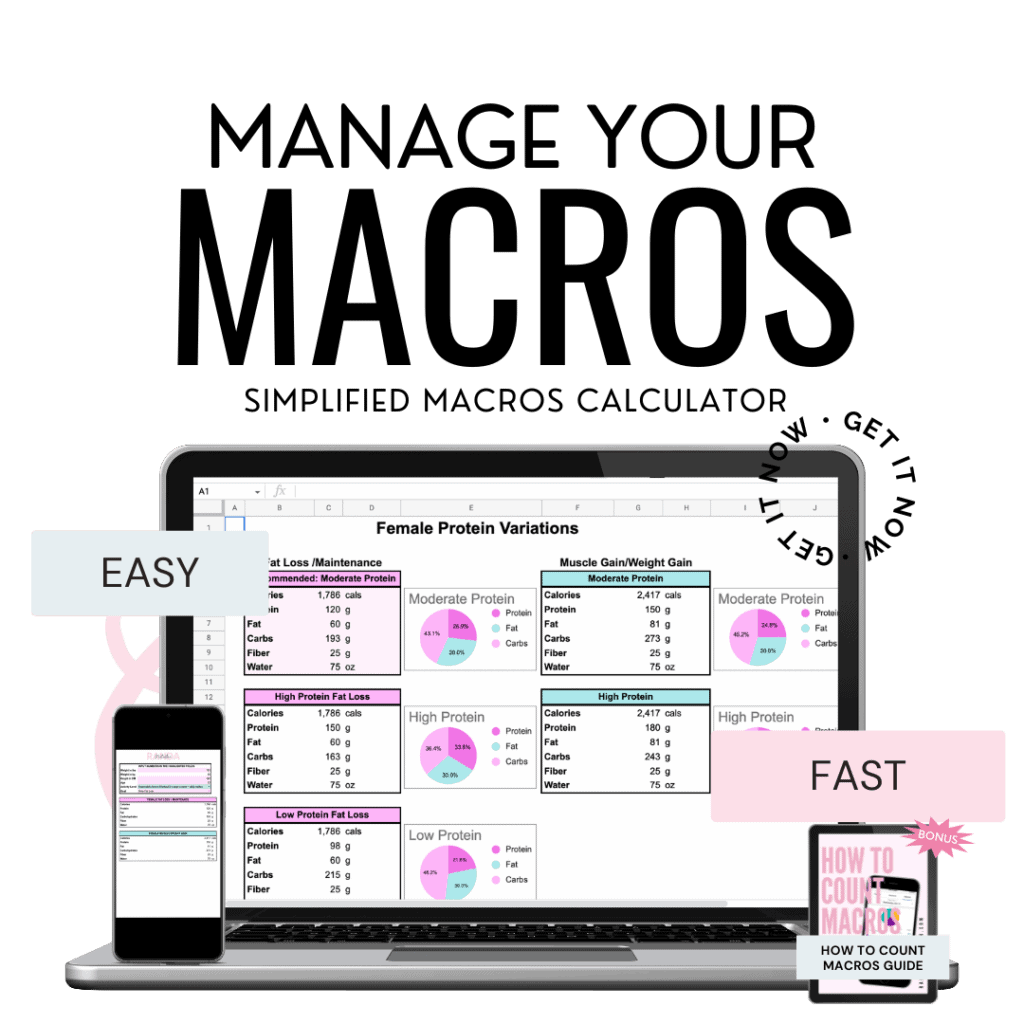 Ready to calculate your macros in seconds?
Stop guessing and flip-flopping between diets. Finally have a roadmap with this proven method!
This spreadsheet makes figuring out your macros, a piece of cake.
Is this a Summer Fresh Dill Pickle Hummus copycat recipe?
A few months ago, I had a client tell me that I had to try the dill pickle hummus from Summer Fresh. So naturally, I did and it's delicious. I knew it was something that I could make from home and here we are.
It's been on my list for months now, and I finally had a spare few minutes to make it, shoot it, and now here I am writing.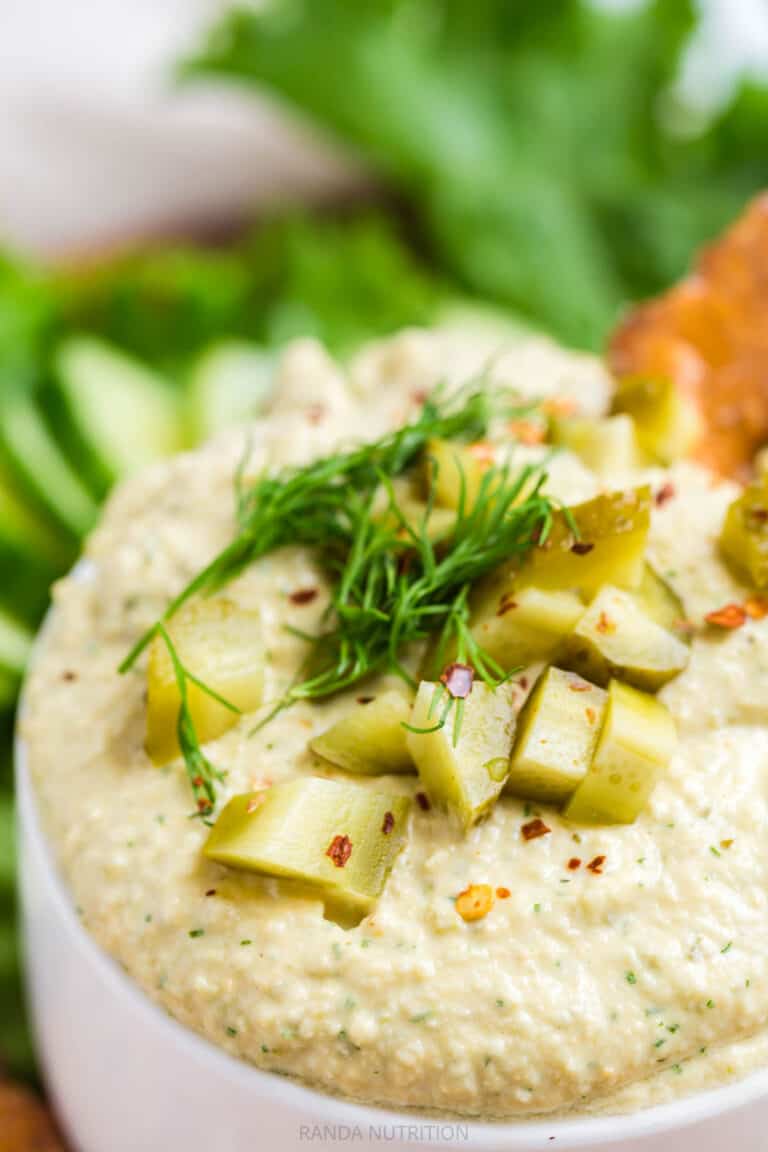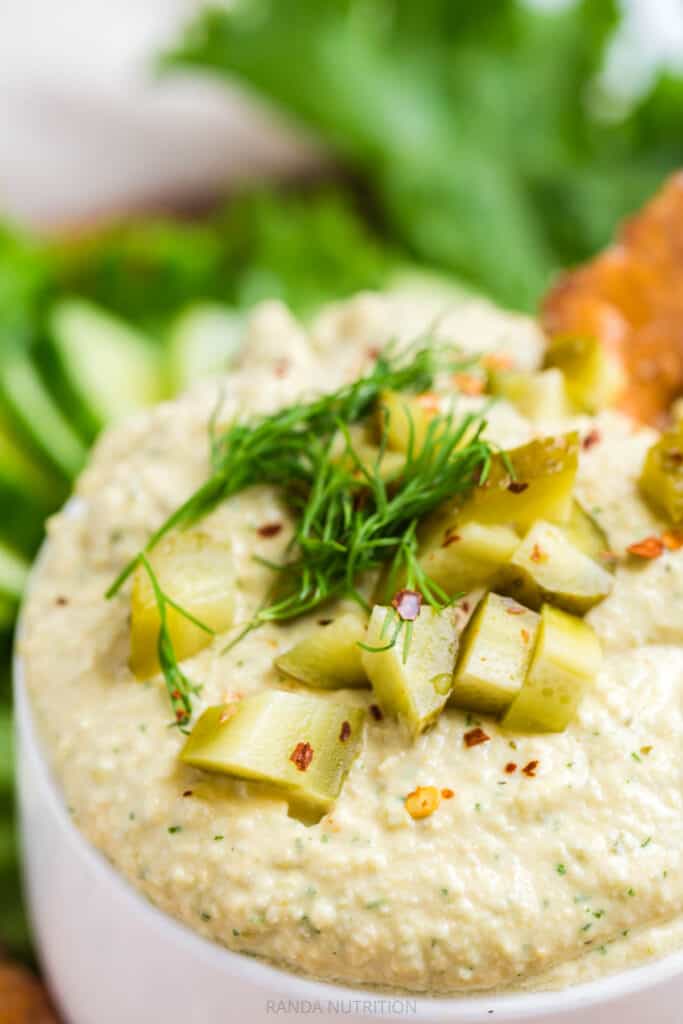 Is it a copycat recipe? No, it doesn't taste just like the store bought version but it's close.
Summer Fresh uses a dill pickle chip seasoning, citric acid, dextrose, etc.
I did my best to keep the ingredients as simple as possible.
Ingredients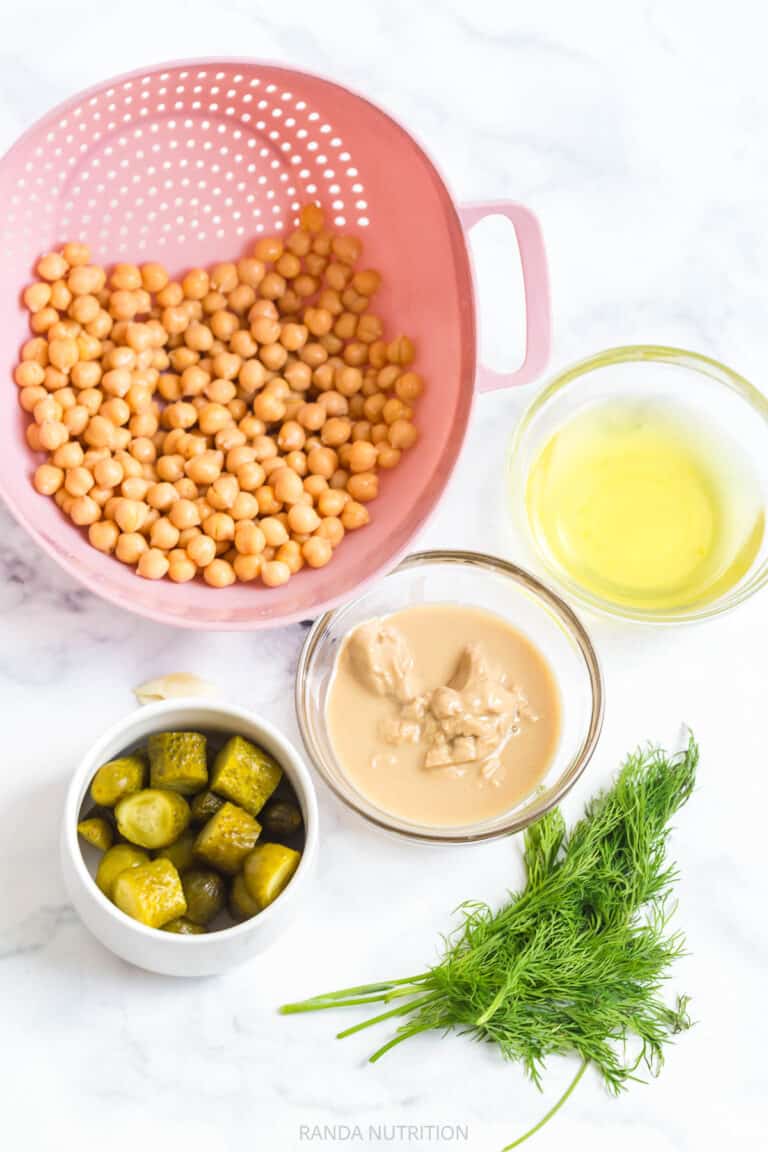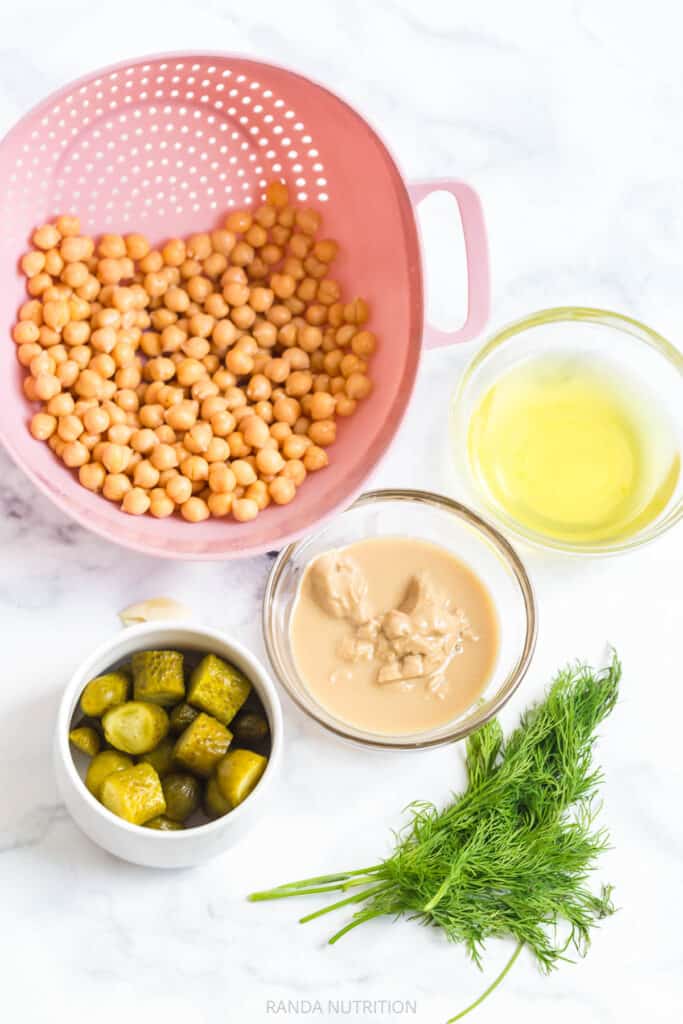 After tasting and adjusting the recipe, I knew it needed something sweet. I used a monk fruit sweetener blend, as it's what I had in my pantry but you could use cane sugar or honey. I would start small with those options (a teaspoon over a tablespoon).
Equipment Needed for Homemade Hummus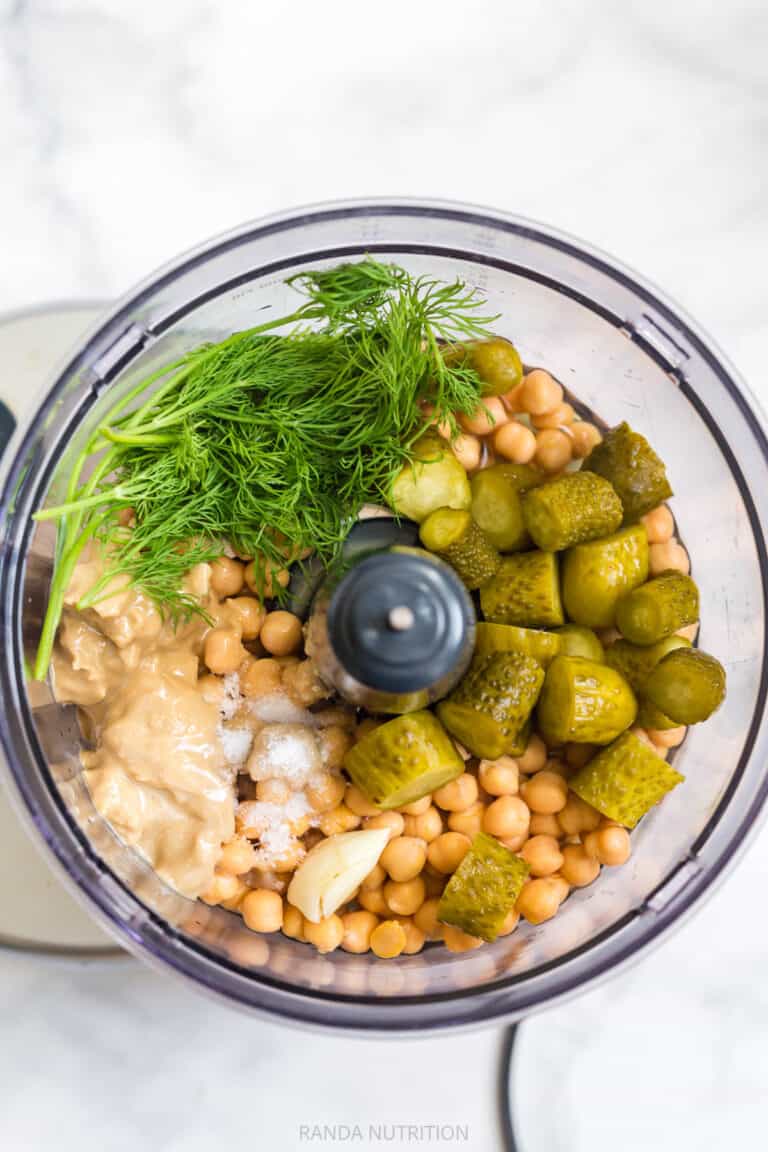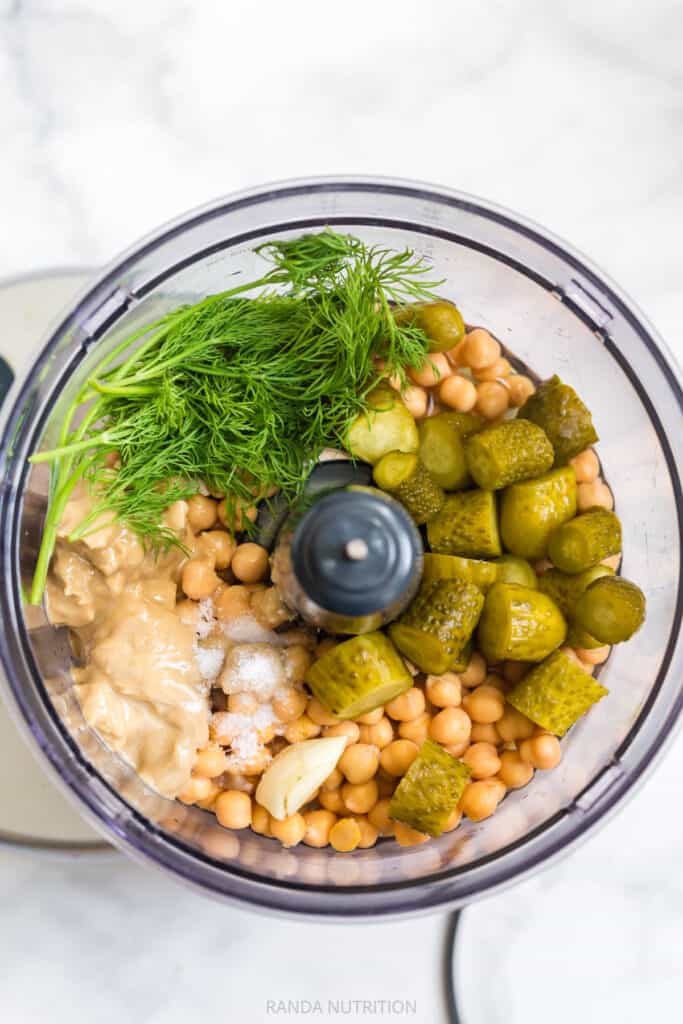 In order to make smooth consistency hummus, you will need one of the following:
Food processor (here is the one I have)
I have both a Vitamix and a food processor, but when I make things like homemade ice cream or hummus the food processor works better (and quicker).
How to Serve Hummus
There are so many ways to serve up hummus, it's more than just a dip. Here are my favorite ways to eat hummus.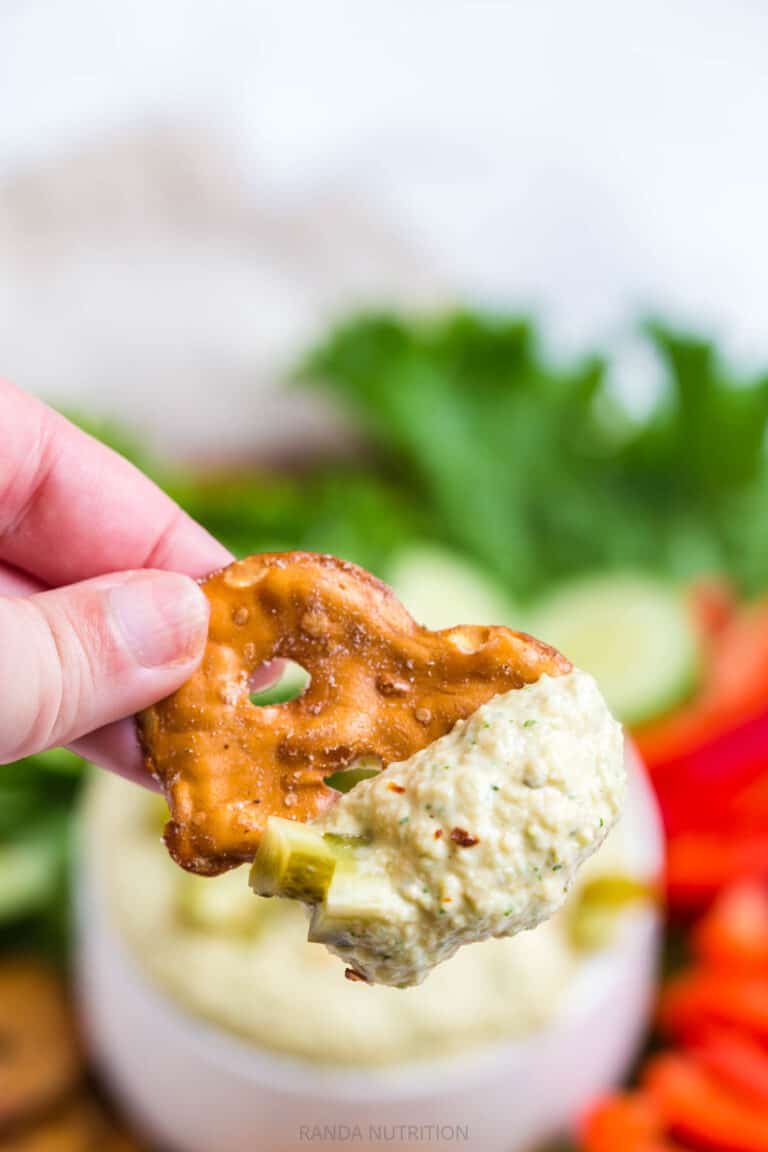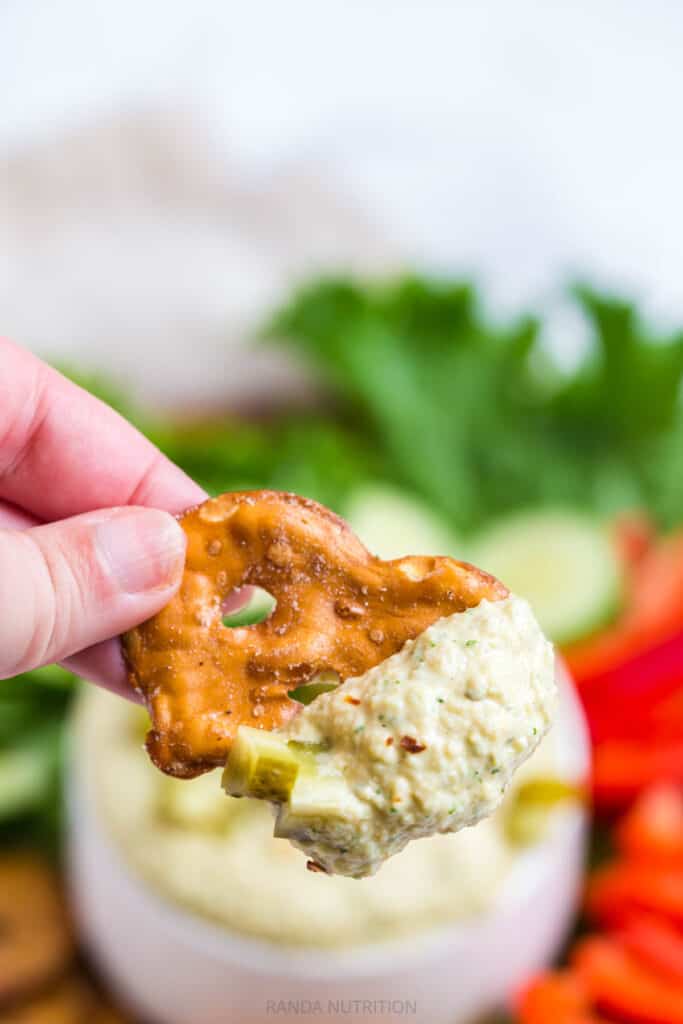 As a dip (duh). Served with tortilla chips, pita chips, pretzel chips, crackers, carrots, bell peppers, cucumber slices, etc.
In place of a sandwich spread (a pita with hummus, turkey, carrots, lettuce, and pickled onions is so good).
On a salad or a bowl. Sometimes it will replace salad dressing, sometimes I serve it on top of it all.
Over warm potatoes. Try it, it's delicious.
Baked over cauliflower or broccoli.
How to Make Dill Pickle Hummus
In addition to a tasty snack this hummus recipe is also:
vegan
gluten free
dairy free
It's a pretty safe party food to bring to a bbq or serve for girl's night.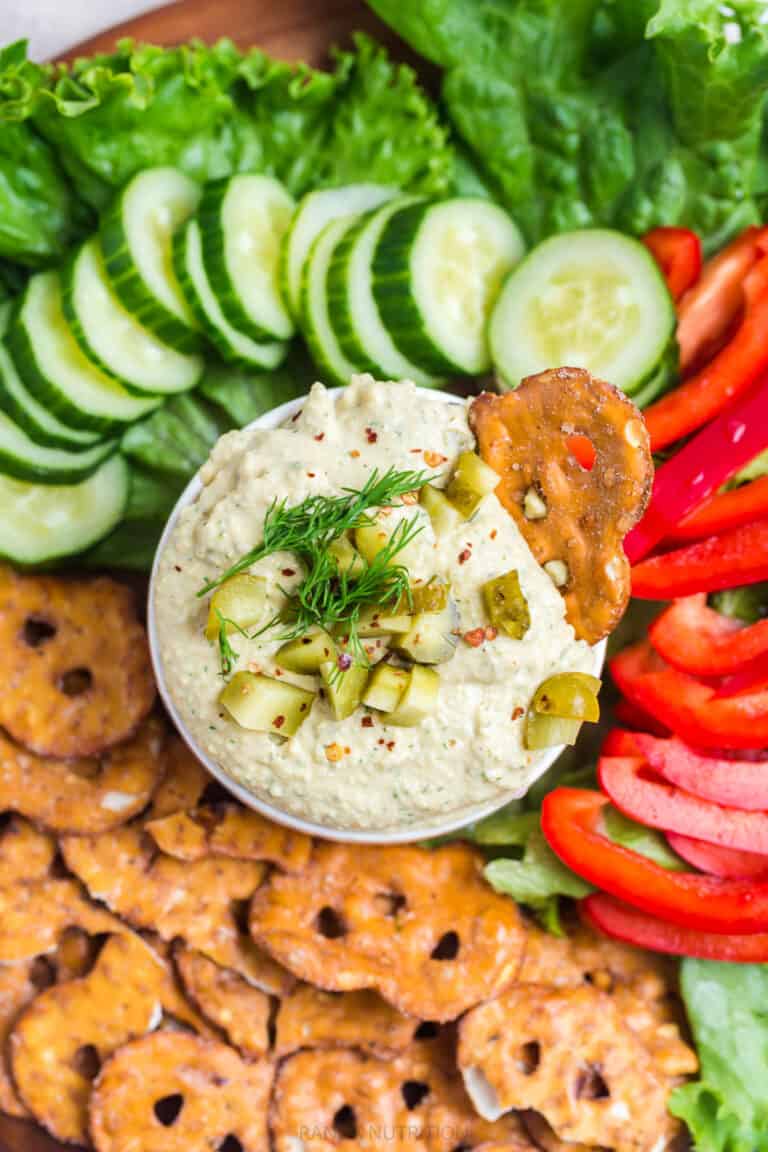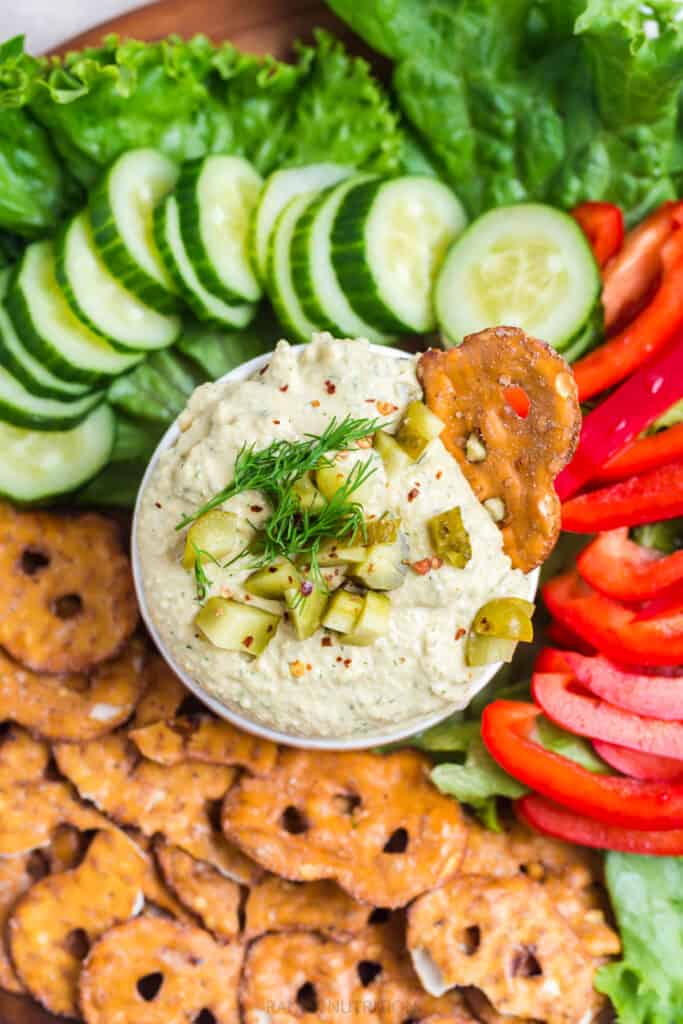 Want more tasty snack food? Try these healthy dip recipes: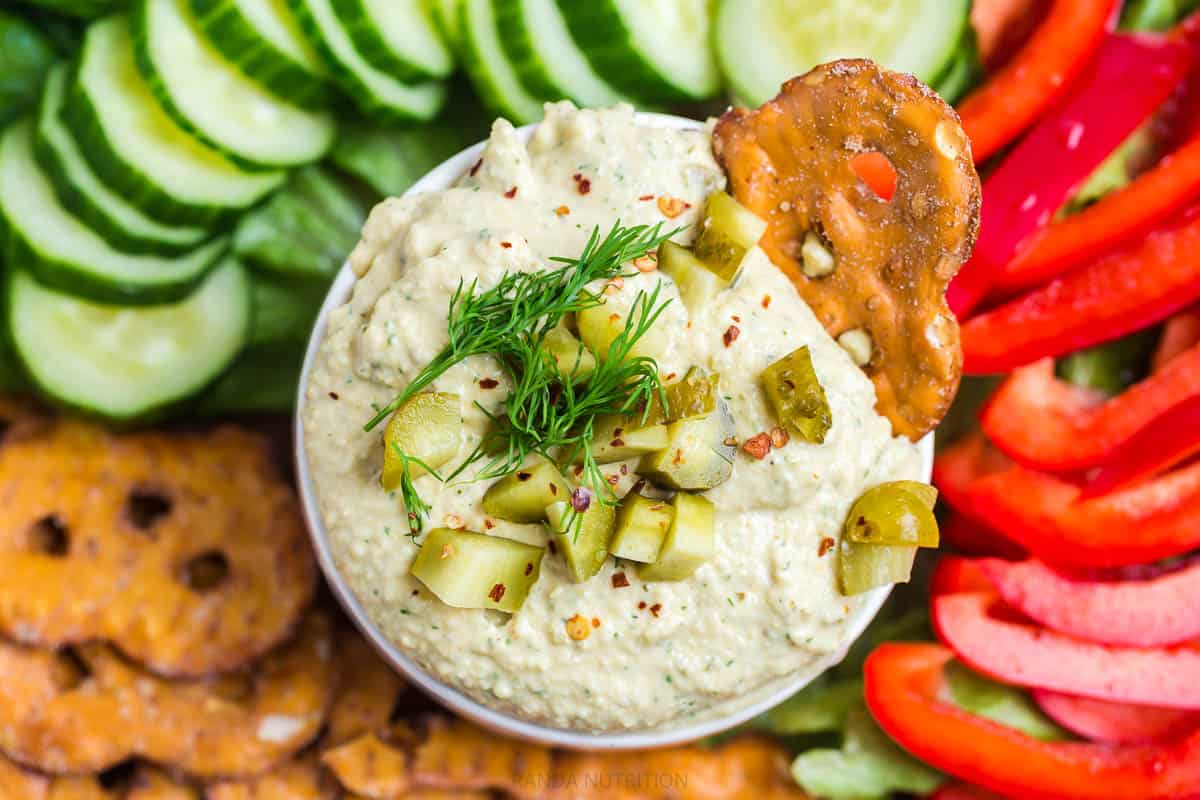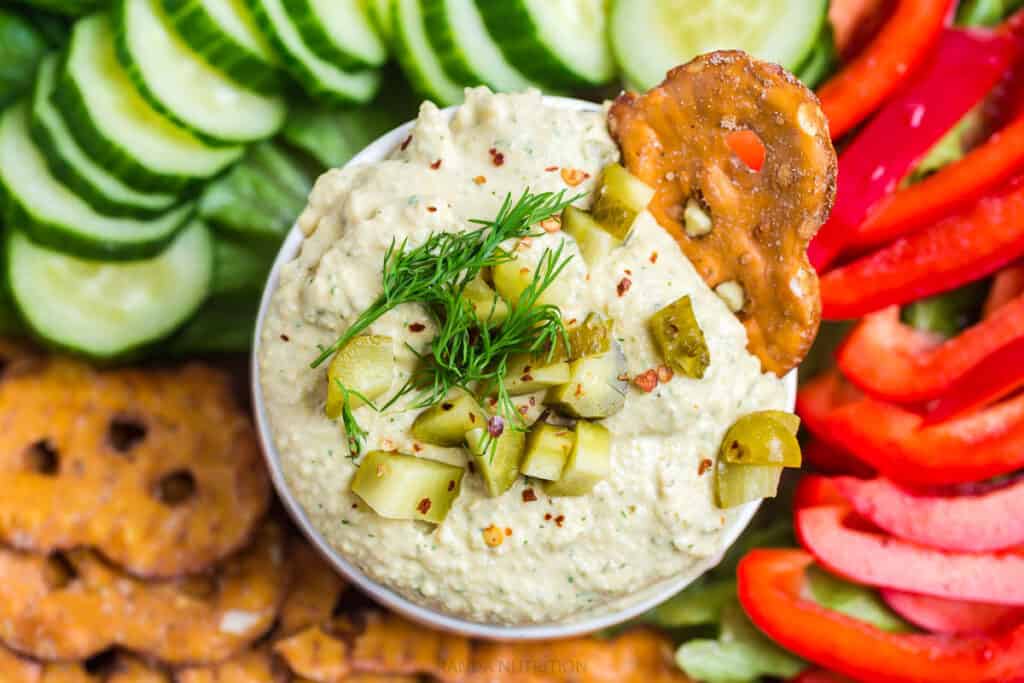 Dill Pickle Hummus
This recipe for Dill Pickle Hummus is a must for your next party or potluck. It's delicious and made with ingredients you probably already have.
Instructions
In a food processor add all the ingredients and puree until smooth (about 1-2 minutes). Taste and adjust seasonings.

Use a spatula to pour the hummus into a serving bowl and top with extra chopped up dill pickles and fresh dill. Serve with vegetables and crackers.
Notes
This recipe makes roughly 2 cups.
One serving is 1/4 cup.
Nutrition
Serving:
1
serving
|
Calories:
119
kcal
|
Carbohydrates:
10
g
|
Protein:
4
g
|
Fat:
8
g
|
Saturated Fat:
1
g
|
Polyunsaturated Fat:
2
g
|
Monounsaturated Fat:
4
g
|
Sodium:
547
mg
|
Potassium:
134
mg
|
Fiber:
3
g
|
Sugar:
0.2
g
|
Vitamin A:
57
IU
|
Vitamin C:
1
mg
|
Calcium:
40
mg
|
Iron:
1
mg
The nutrition information is calculated using a third party resource. The accuracy varies on the brands used, weight, portions, etc. This resource should be used as a guide. If you want more accurate information, weigh in grams and log in MFP.