You won't believe how easy it is to make a healthy homemade hot chocolate. This recipe is for a single cup but you can easily make this into a homemade hot chocolate mix for future use.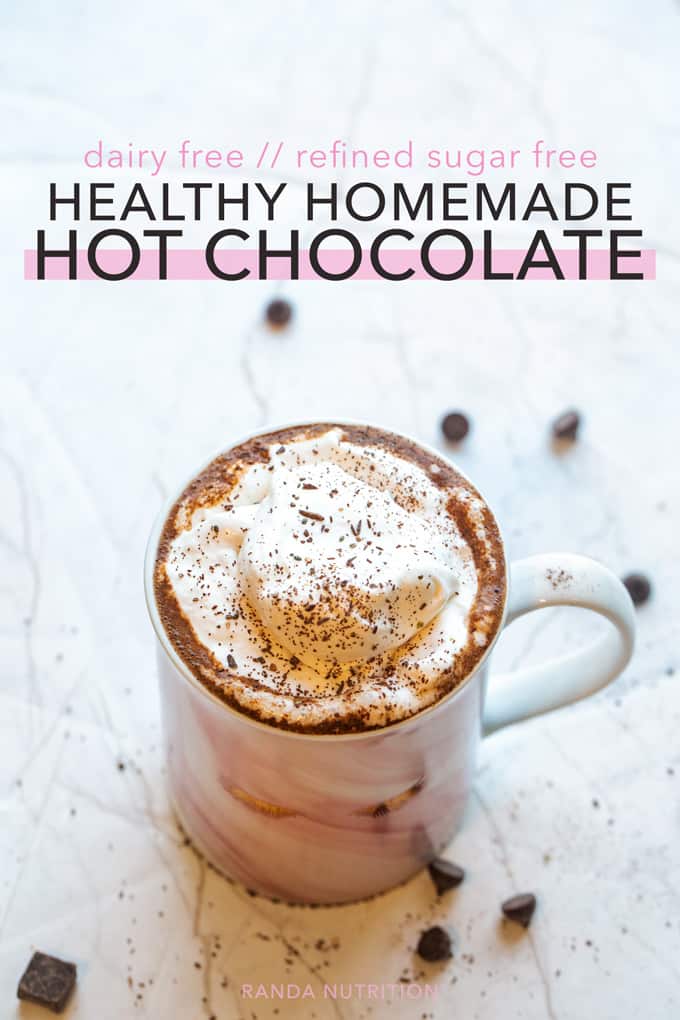 Homemade Hot Chocolate
Disclosure: This post contains affiliate links for your convenience. As an Amazon Associate, I earn from qualifying purchases.
This healthy hot chocolate is a rich and deep winter drink that I have fallen in love with.
I have been sipping on this cocoa every day for the past week as a pick me up treat after school pick up, it's amazing.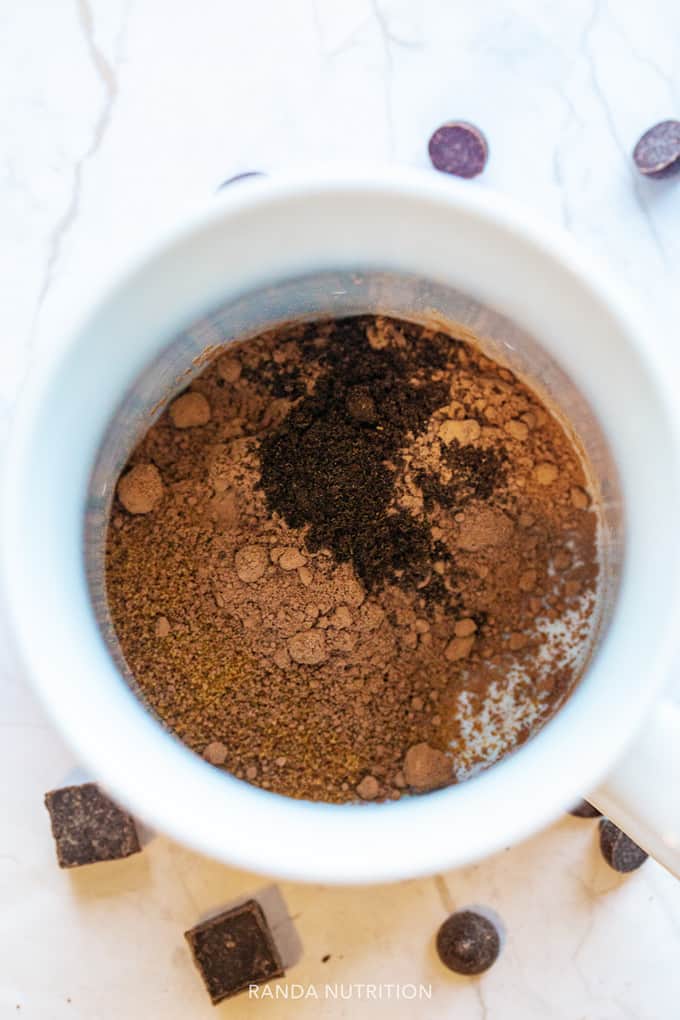 I top it with coconut whip cream for an added treat and serve it with a mid-afternoon snack.
As I said, it's rich and deep. It's more cocoa-y than the store-bought hot chocolates so if you are used to a supersweet version, you may have to add a little extra coconut sugar.
I highly recommend adding a little cinnamon (this helps you reduce your sugar intake) if you're not into a deep chocolate taste. This cinnamon sugar reducing hack is something I teach in the 30 Days to a Healthier You Challenge and it works every time when I need to train my tastebuds to crave less sugar.
Another tip: add a tablespoon or two of whipped coconut cream (more details on what I used below).
Give it a few goes and soon you'll be enjoying this recipe as is.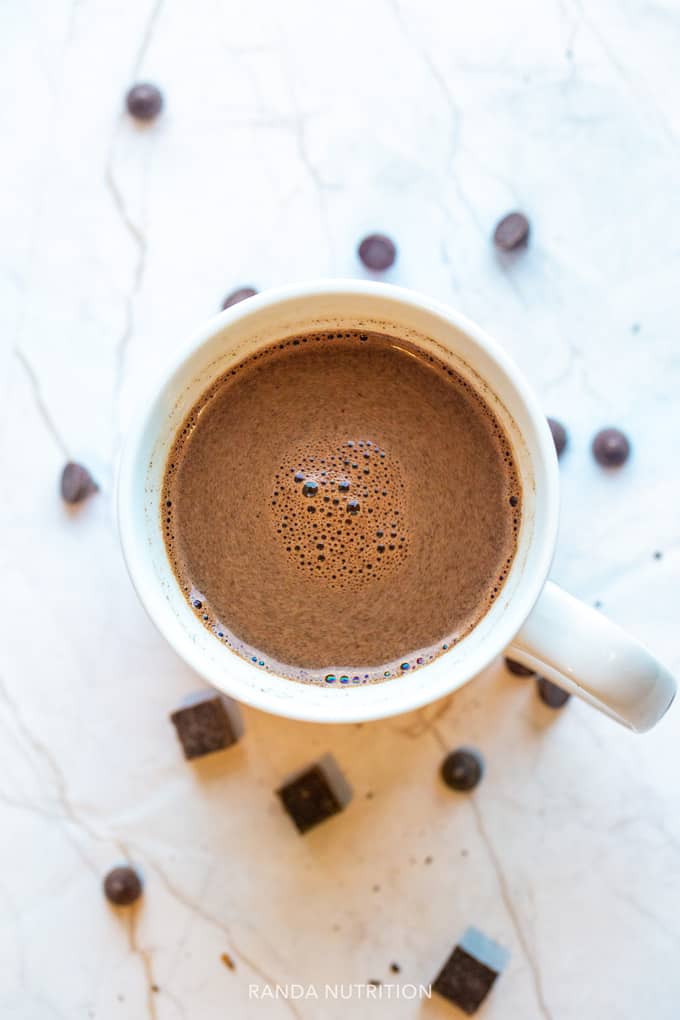 Sugar Free Hot Chocolate
This recipe for homemade hot cocoa is refined sugar free since it uses coconut sugar but here are a few other variations you can use if you want to use natural sugars:
Swap the coconut sugar for honey
Swap the coconut sugar for maple syrup
I've tried all three (over the last few days – yum) and my favorite way to make this healthy hot chocolate mix is with coconut sugar, but to each their own.
Try all three and let me know what you prefer.
If you use the coconut sugar you can store this homemade hot cocoa mix in a mason jar and just scoop out two tablespoons for your serving.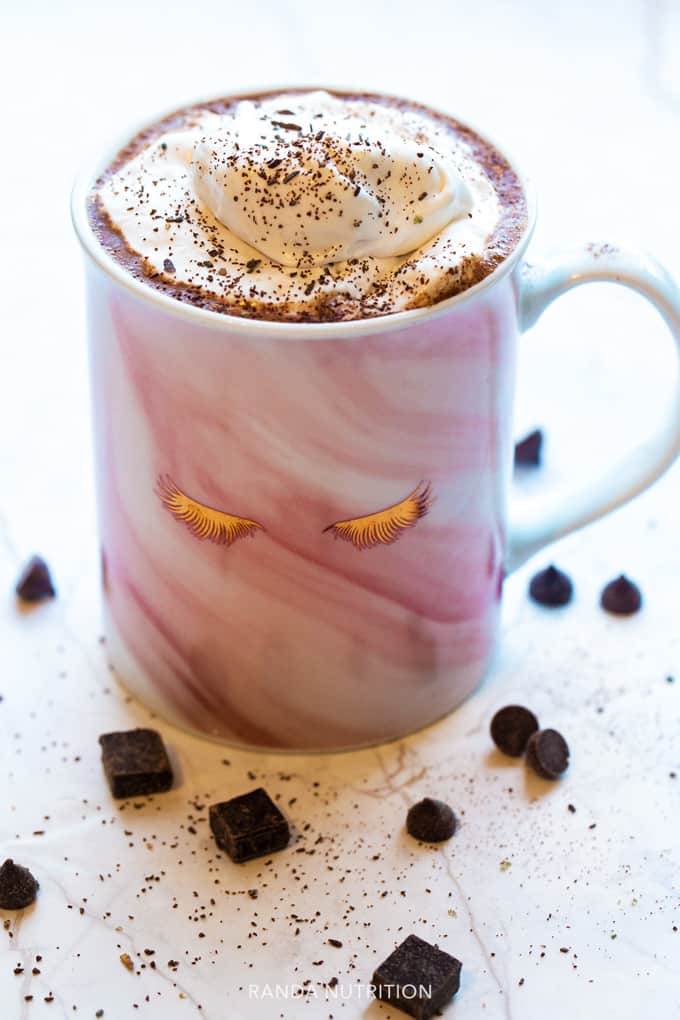 I know a lot of you are wondering where I got this mug. My amazing hairstylist gifted it to me. I can't find it on Amazon but I did find these cute lash mugs.
Toppings for Hot Chocolate
I recently tried the So Delicious coconut whipped cream (find it in the freezer area of the natural section) and its hands down the best hot chocolate topping, but you can also try the following:
Whipped cream
Chocolate sauce
Sprinkles (both colorful and chocolate)
Chocolate shavings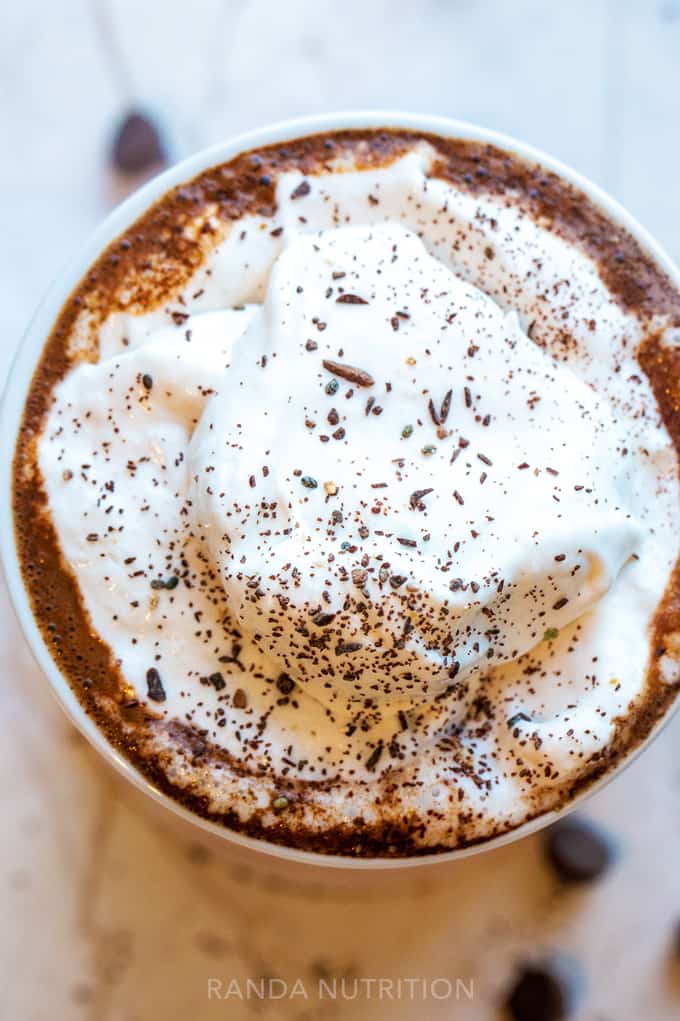 Snacks to Serve with Homemade Hot Cocoa
What's Vanilla Powder?
With the cost of pure vanilla extract reaching insane prices (my once $8.99 bottle from Costco is now over $40), I've decided to get creative.
I now substitute vanilla powder for vanilla extract in my baking and sweet recipes. Yes, there is a subtle difference (vanilla bean powder has the beans grounded in whereas extract is vanilla beans soaked in alcohol) but I find this works fine.
1/2 tsp of vanilla bean powder is the same as 1 tsp of vanilla extract.
I bought this vanilla bean powder off Amazon and I love it.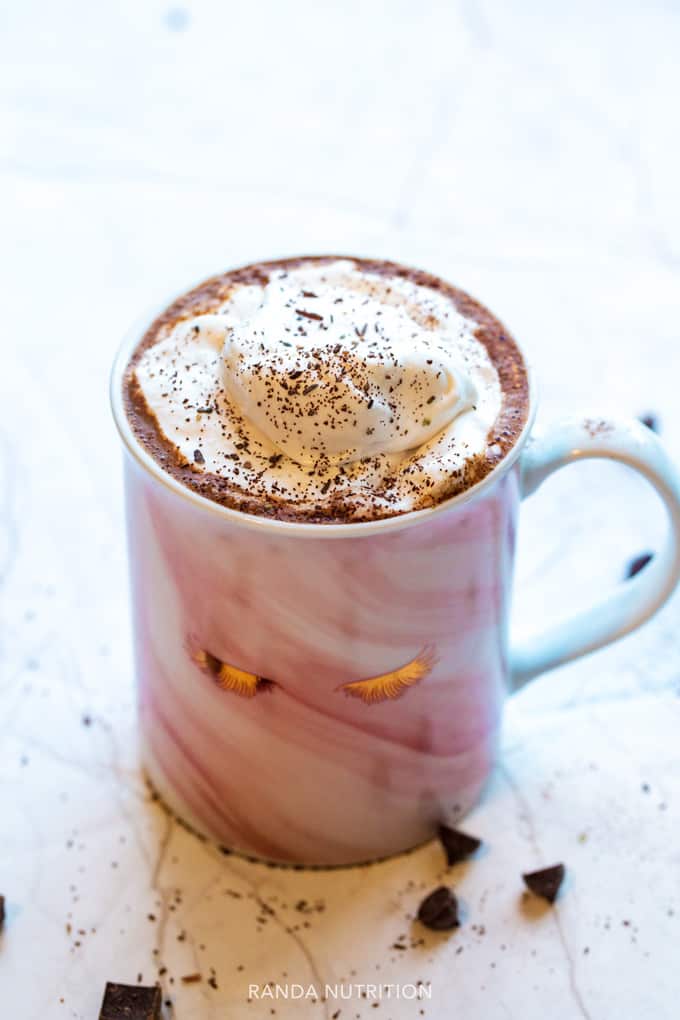 How to make healthy hot cocoa
I personally make this with boiled water from a kettle but I have also tried it with unsweetened almond milk for a slightly creamier version.
No almond milk? Use cashew milk, oat milk, soy milk, etc.
Try this Healthier Pumpkin Spice Latte with Oat Milk too.
Healthy Homemade Hot Chocolate
I can't believe how easy it is to make a healthy homemade hot chocolate. This recipe is for a single cup but you can easily make this into a rich cocoa mix.
Instructions
Add the cocoa, coconut sugar, and vanilla powder to your mug.

Bring the water to boil in a kettle, or if you're using almond milk bring to simmer in a saucepan or heat in the microwave for a minute.

Pour the water or almond milk (or half of each) into the cup and mix well. Top with coconut whip, cinnamon, shaved chocolate.
Notes
Add 1/4 tsp cinnamon if you're new to using less sugar.
Nutrition
Serving:
1
cup
|
Calories:
87
kcal
|
Carbohydrates:
15
g
|
Protein:
2
g
|
Fat:
4
g
|
Saturated Fat:
1
g
|
Sodium:
351
mg
|
Potassium:
76
mg
|
Fiber:
2
g
|
Sugar:
8
g
|
Calcium:
300
mg
|
Iron:
1
mg
The nutrition information is calculated using a third party resource. The accuracy varies on the brands used, weight, portions, etc. This resource should be used as a guide. If you want more accurate information, weigh in grams and log in MFP.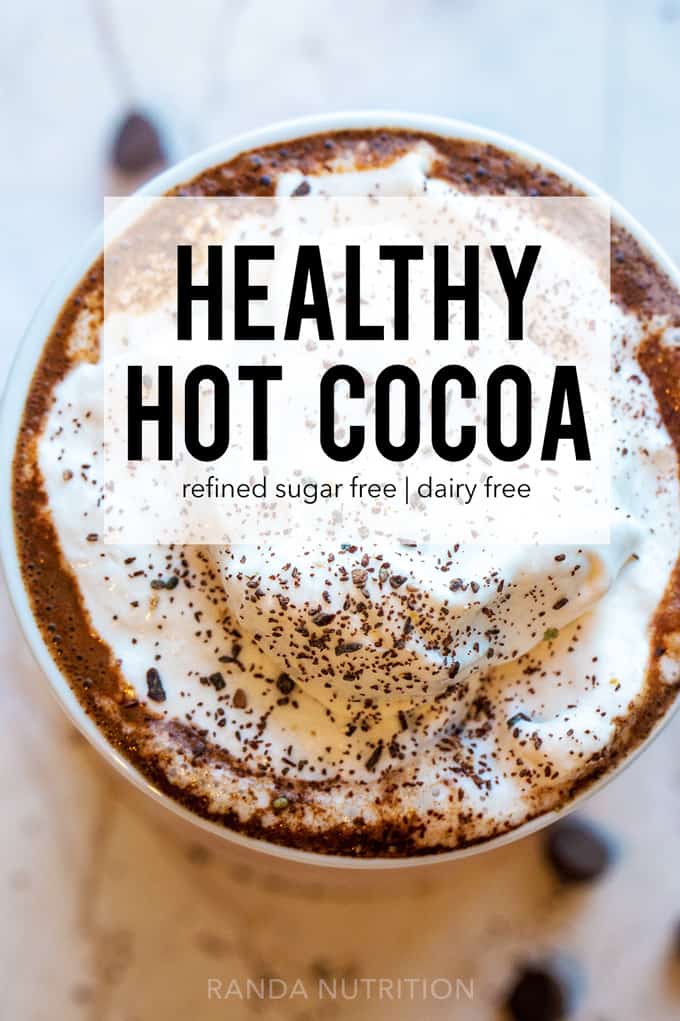 Don't forget to pin this recipe.