Whole30 Essentials To Get You Started
The Whole30 is one of my favorite ways to reset the body and get back into rhythm and routine with my nutrition. I put together some Whole30 Essentials to get you started and make the next 30 days simple.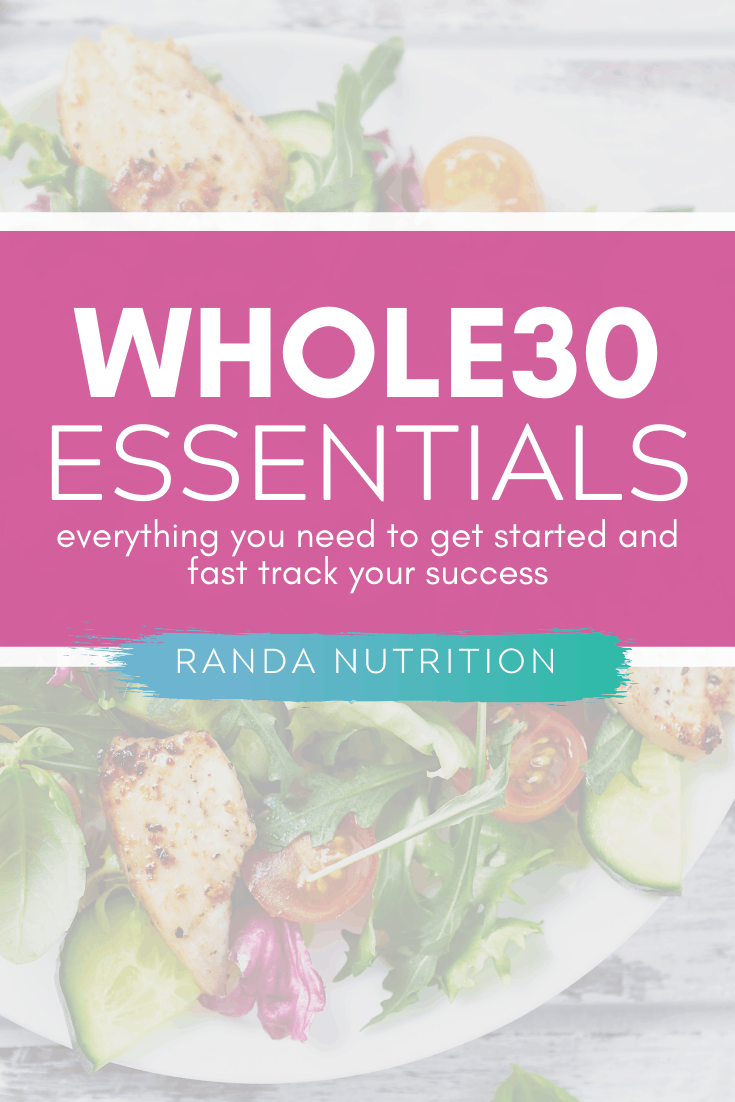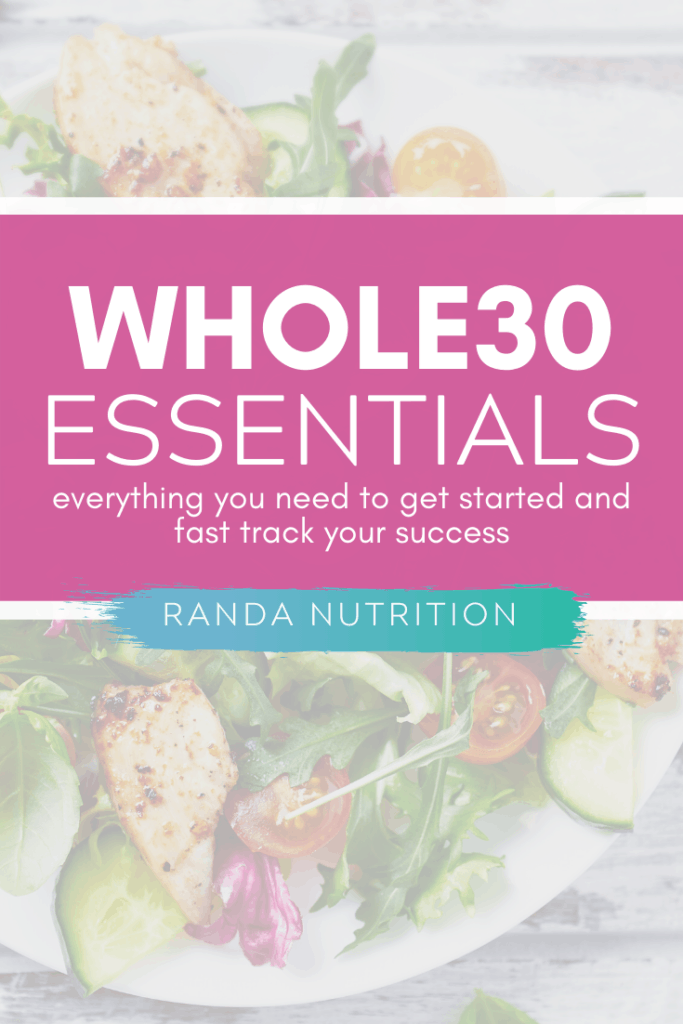 Whole30 Essentials
Disclosure: This post contains affiliate links for your convenience. As an Amazon Associate, I earn from qualifying purchases.
I'm often asked as a nutrition expert who preaches to dump your diet what I think about the Whole30.
I'm all for it.
Wait a minute…but Randa you say it's bull to restrict your food choices and skip the pizza, chocolate, etc.
Yes, that is my food philosophy but the Whole30 is different. Whole30 is about finding foods that trigger your body to respond in a negative way (inflammation, hives, etc). I love Whole30 because you're eating whole foods and learning to listen to your body.
Yes, there are restrictions, but it's in the name of experimenting. You add them back in later and see how you react. The Whole30 is basically a kick-ass elimination diet.
Must Have Whole30 Essentials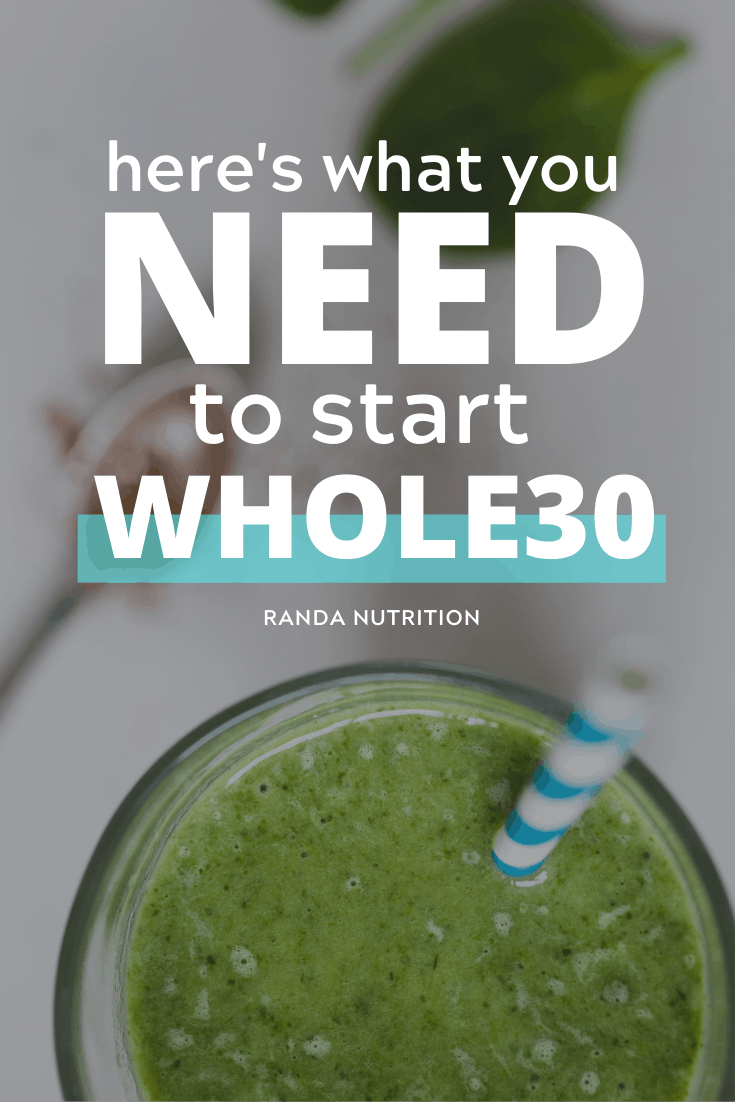 What do you need for Whole30?
The number one requirement for a Whole30 beginner is a mindset shift. You are going to be challenged but you can do this! There are so many amazing Whole30 resources out there to ensure your success.
I can't recommend the Whole30 book and the Whole30 Cookbook enough. Yes, there are so many free resources out there but it's helpful to have everything in one place that you can flip through with easy access.
Top Whole30 Essentials
I'll begin with all the Whole30 books and cookbooks. They're a must-have for Whole30 success and they're all available on Amazon.
Whole30 Meal Prep Supplies
Having your meals prepared and ready is another success tip with Whole30. Standing in the kitchen to make everything from scratch every day is daunting.
I recommend precooking a few ingredients (your proteins, side of veggies) and having all produce washed, cut up, and ready to go.
Here are a few prep supplies that I love:
Whole30 Compliant Foods
The Whole30 website has an official can I have XYZ on Whole30 guide that you'll find very helpful (I still refer to it when I make Whole30 recipes).
Some foods may be on the border of compliance. For example, one brand of dijon mustard may have added sugar, so it's out. But there is another brand out there that is perfect. You'll have to read labels, but the Whole30 guide will help you navigate it.
Hot Tip: If you don't want to be in the kitchen all day, every day. Double a few of the recipes so you can have leftovers of Whole30 freezer meals.
Thrive Market has a ton of Whole30 compliant foods and so does Amazon. Having accessibility on Amazon is particularly helpful for Canadians (as a Canadian I can attest to this.
More Whole30 options are coming out up here in the great white north in our local stores but I always order from Amazon.
Whole30 Foods On Amazon
Here are a few Whole30 essentials that are easily found on Amazon:
Top Whole30 Recipes
I have a ton of Whole30 recipes over on The Bewitchin' Kitchen but some of my favorite Whole30 recipes that are found on both of my blogs are:
Whole30 Shopping List
I put together a simple Whole30 shopping list of the basics to have stocked in your fridge and pantry.
Are you a Whole30 expert? Please leave me a comment with your Whole30 essentials and must-haves.