BLT Pasta Salad with Creamy Avocado Dressing
Take a classic bbq favorite and put a healthy twist on it and make this BLT pasta salad for your next cookout. Tossed with a creamy avocado dressing, this simple side dish has healthy fats, extra protein, and a ton of flavor.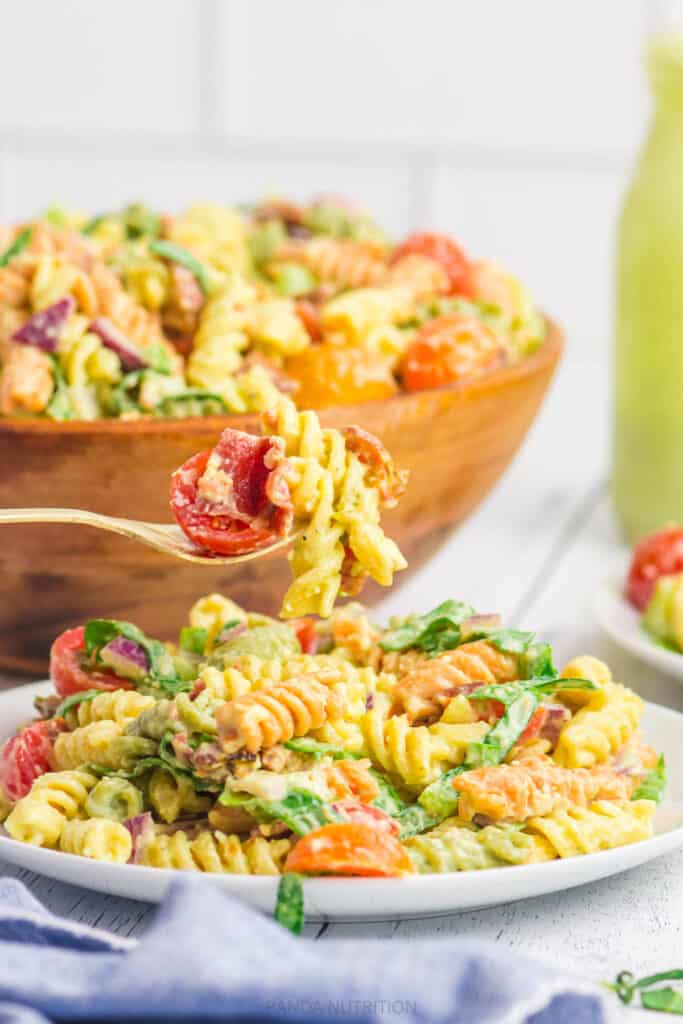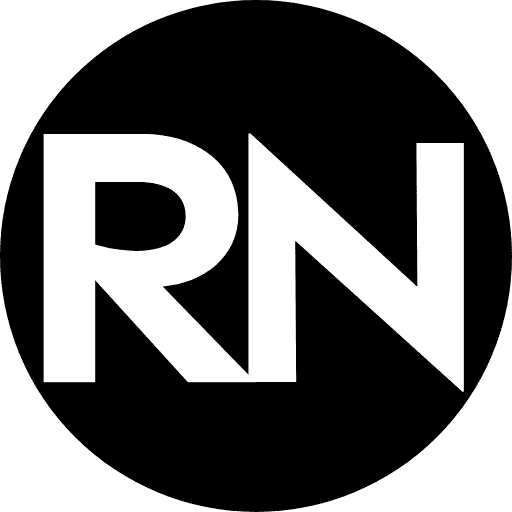 Save This Recipe!
Enter your email below & I'll send it straight to your inbox. Plus you'll get great new recipes every week!

Disclosure: This post contains affiliate links for your convenience. As an Amazon Associate, I earn from qualifying purchases.
Pasta salad recipes are a staple at any summer gathering, they're one of my favorites! That's why I wanted to share with you a BLT pasta salad recipe with a healthy swap (switching out mayonnaise for a Greek yogurt and avocado dressing).
Ingredients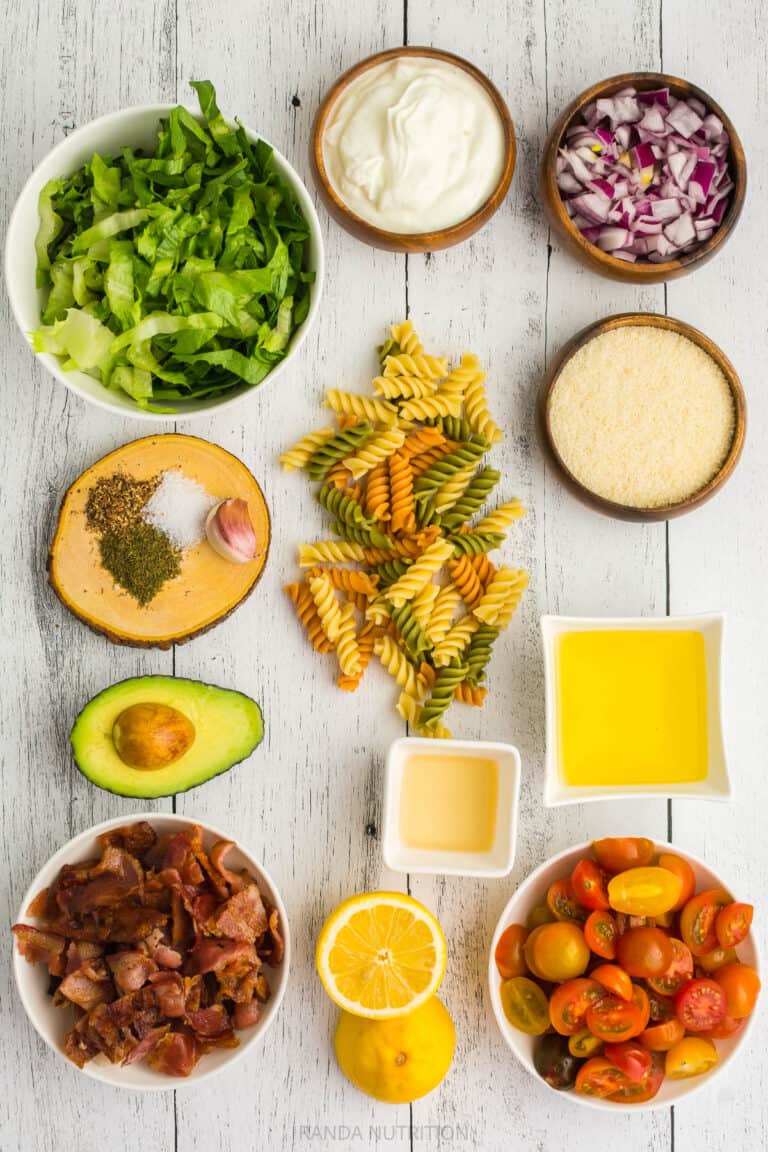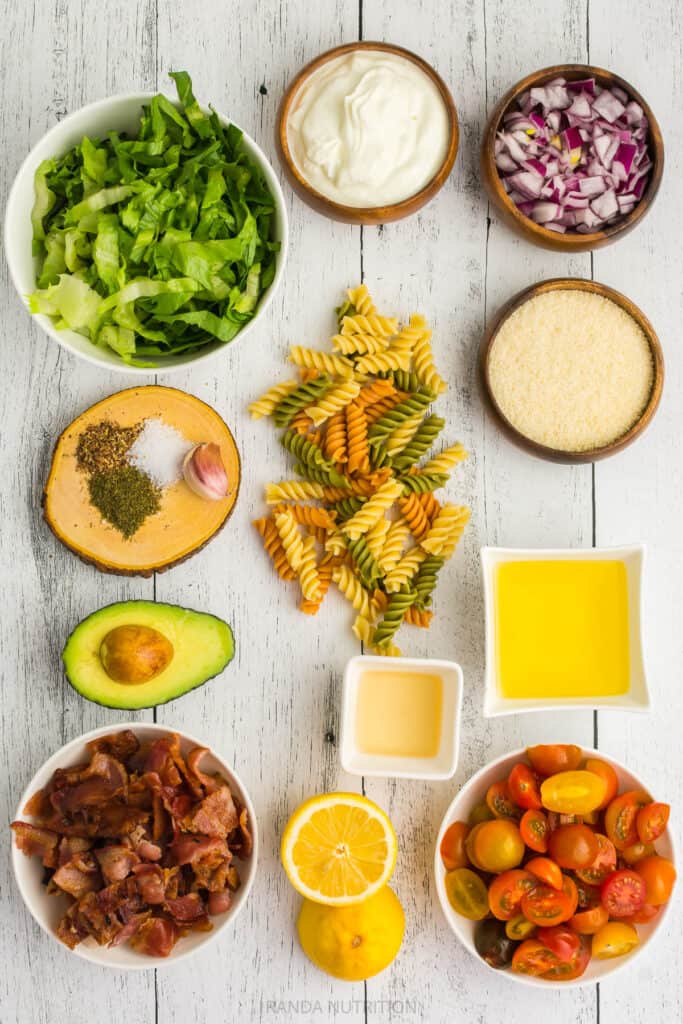 To make this, you're going to need a large bowl. The ingredients take up a lot of volume so if you want to easily stir the salad together without making a mess, grab a large mixing bowl to prep it all.
Pasta Salad
tri-color rotini pasta (you will want to cook this to the package directions and rinse with cold water to stop the cooking process)
cooked bacon

grape tomatoes

(if you don't like fresh tomatoes like me, sub it for sundried)

shredded romaine lettuce

red onion

grated parmesan cheese
Creamy Avocado Dressing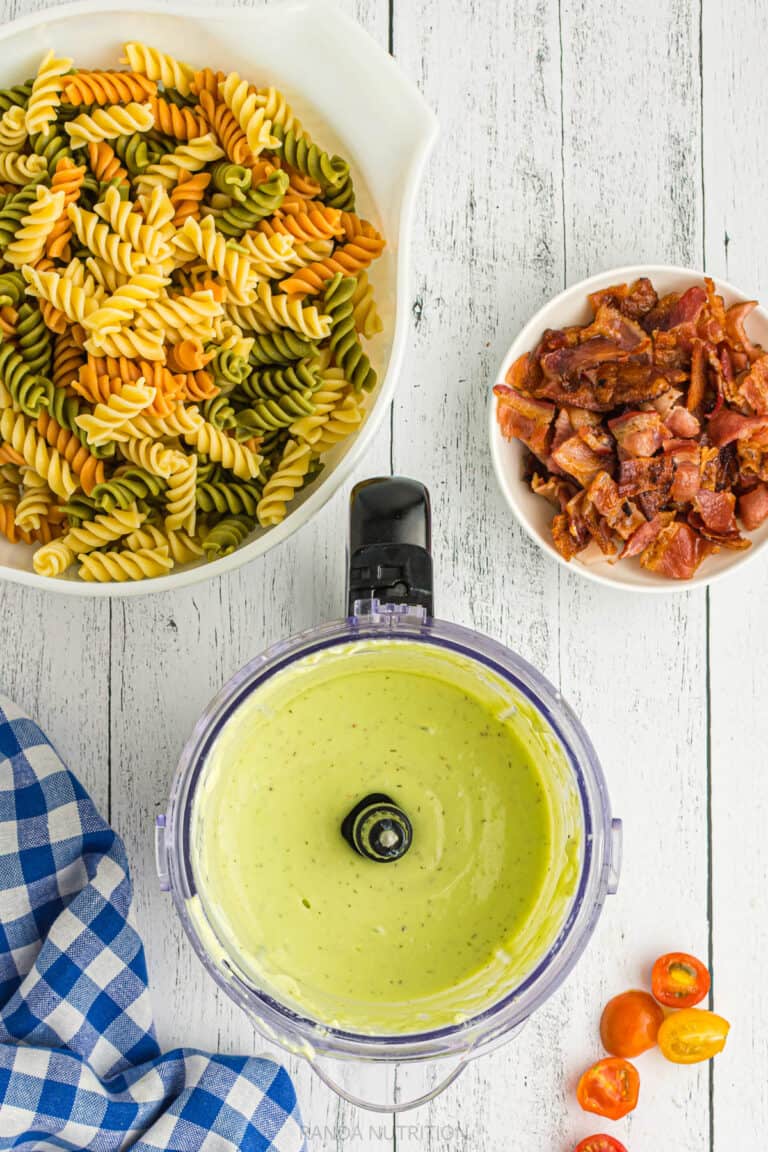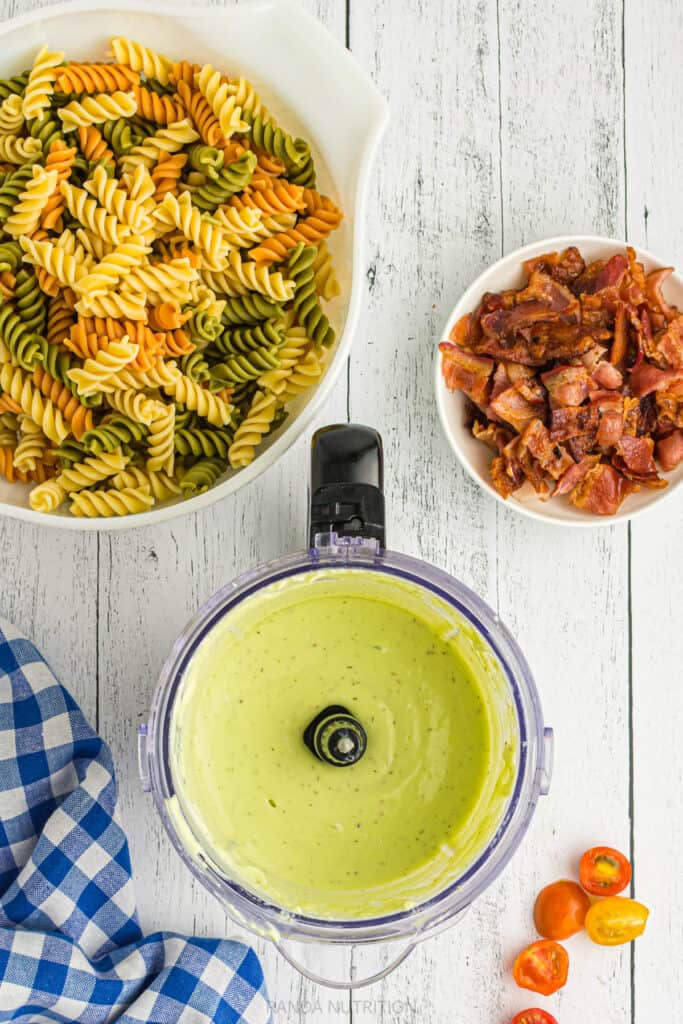 ripe avocado
fresh lemon juice

garlic

plain greek yogurt

(0% has a high concentration of protein, but you may need to add more vinegar or water as it's thicker)
salt
black pepper

water (to thin it out to your desired consistency)
Pasta Salad Storage
It's important to store the pasta salad (and any leftovers) in the fridge. It shouldn't be out at room temperature for more than two hours (per food safety guidelines).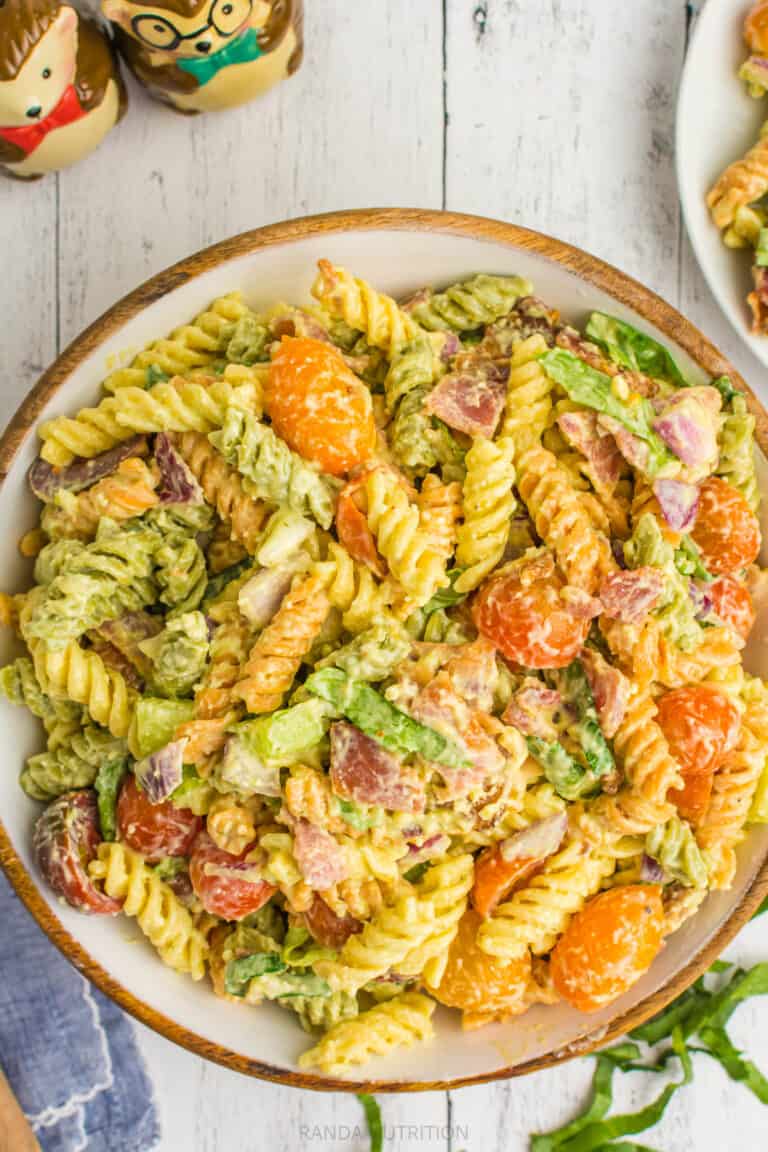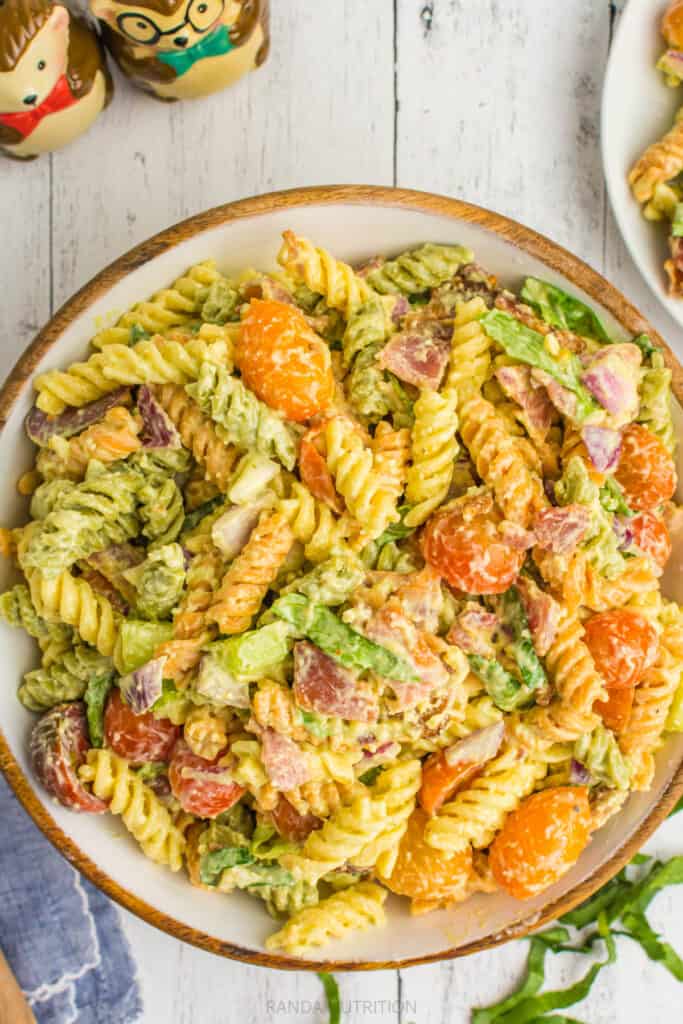 The avocado sauce has dairy in it (Greek yogurt) which needs to be refrigerated.
If it's being served outdoors at a potluck, consider a serving bowl that chills your food. Take a look at serving bowls like this one. It has an ice tray under the serving bowl that keeps it cool. Another option is to use a bowl with ice and place your serving bowl over top.
Also, don't forget to keep it covered so bugs don't fly in!
How Long Will It Keep?
The creamy avocado dressing will keep 3-5 days in the refrigerator in an airtight container.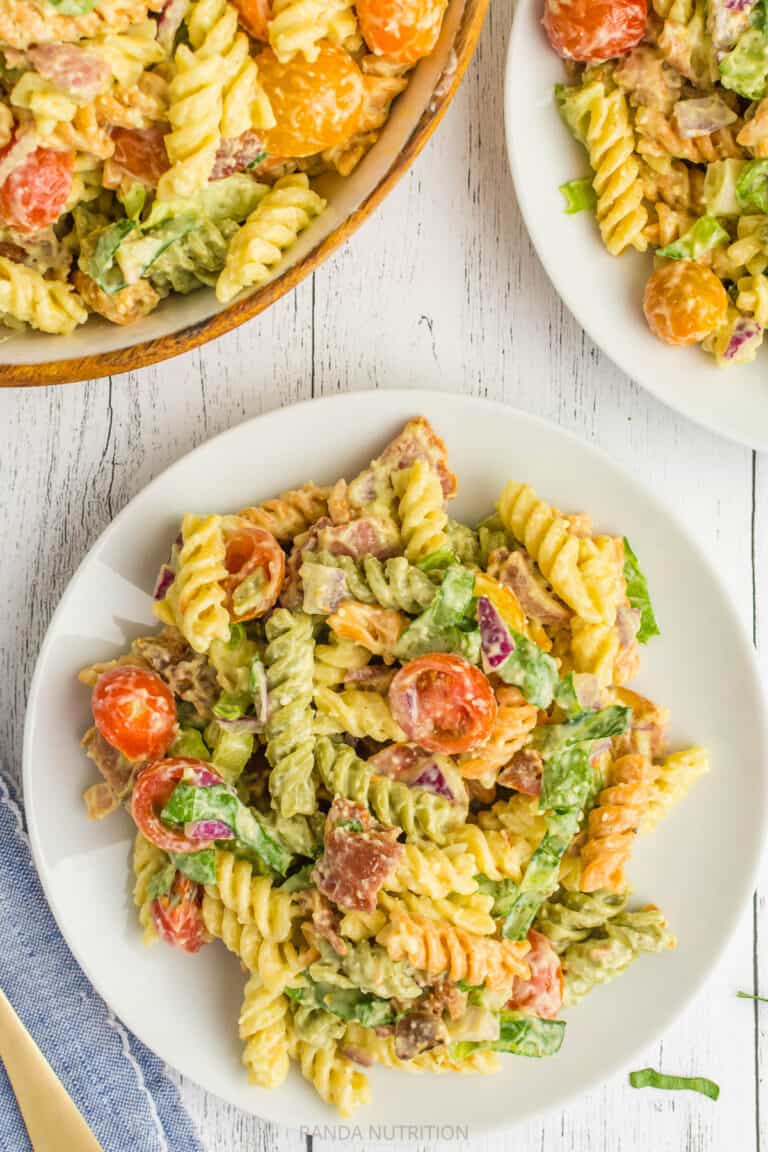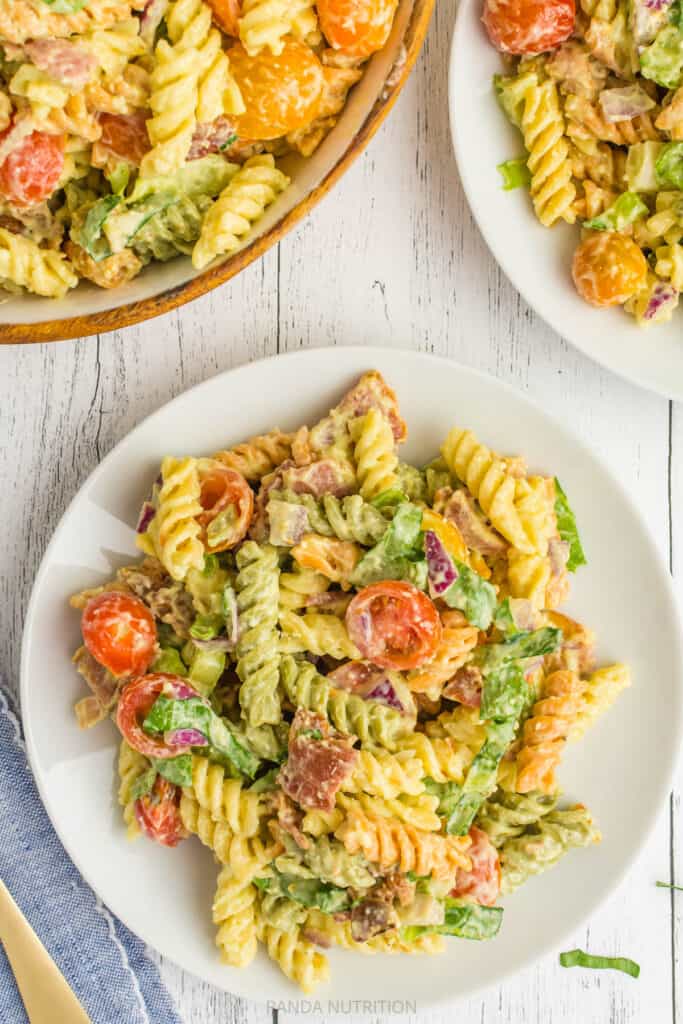 Nutrition Information
Making a healthy pasta salad doesn't have to be daunting. Pasta is healthy! It's been villainized for the past few years over the low carb craze. Yes, it's easy to overeat it so remember your portions.
Some healthy swaps made for this BLT Pasta Salad:
Swapped mayo or sour cream for Greek Yogurt. This lowered the calories and added extra protein. This along with the dill and other spices created something similar to a homemade ranch dressing.
Added Avocado. Gives the salad a creamier texture while adding in extra fiber (avocados are a great source of fiber, surprisingly) and some healthy fats.
Whole wheat pasta. You can use a whole wheat pasta or swap it for protein pasta if desired (using chickpea pasta will change the texture as it's a little grittier and tougher FIY). Remember that after you drain the pasta to rinse it with cold water so it stops cooking.
How many calories in BLT Pasta Salad
In 1/10th of the recipe, there are 481 calories. Chances are you'll be taking less than that if you're dishing up at a bbq but I wanted to give you a bigger serving (just in case).
BLT pasta salad macros: 39g carbs, 14g protein, 30g fat (see the first substitution to see how you can reduce the fat).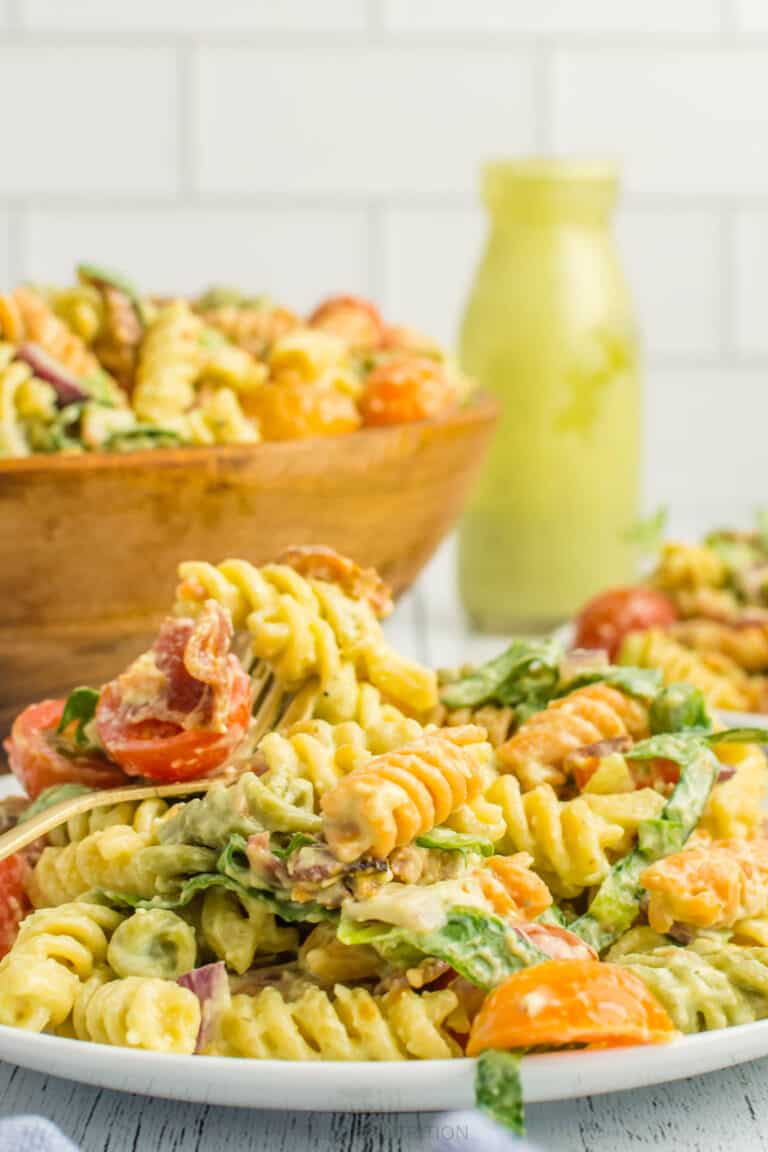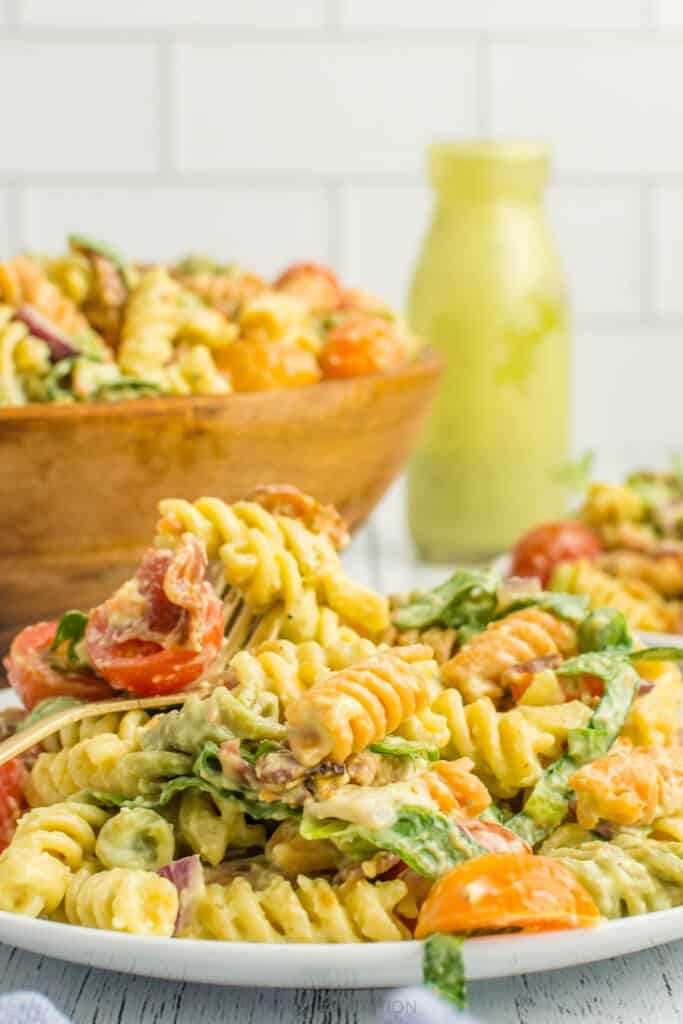 Healthy Pasta Salad Substitutions and Variations
If you want to swap ingredients to make it your own, I always encourage it. I would keep the base the same but here are some simple swaps you can make.
Swap crispy bacon for turkey bacon. Turkey bacon is a lot leaner. One strip is 35 calories and a lot less fat (this is the Butterball brand I'm referring to). The downside is that the turkey bacon taste doesn't pack that bunch that regular bacon has, so keep that in mind.
Substitute cherry tomatoes. If you're like me and don't like raw tomatoes, you can substitute them for diced red pepper (yes, I guess it's not technically a BLT but we do what we can). You could also try some sundried tomatoes for another twist.
Add more protein. You can add chicken if you want to boost the protein intake and make this more of a balanced meal vs a side dish.
Baby Spinach. You can swap lettuce with spinach to add more even nutrition density with every bite.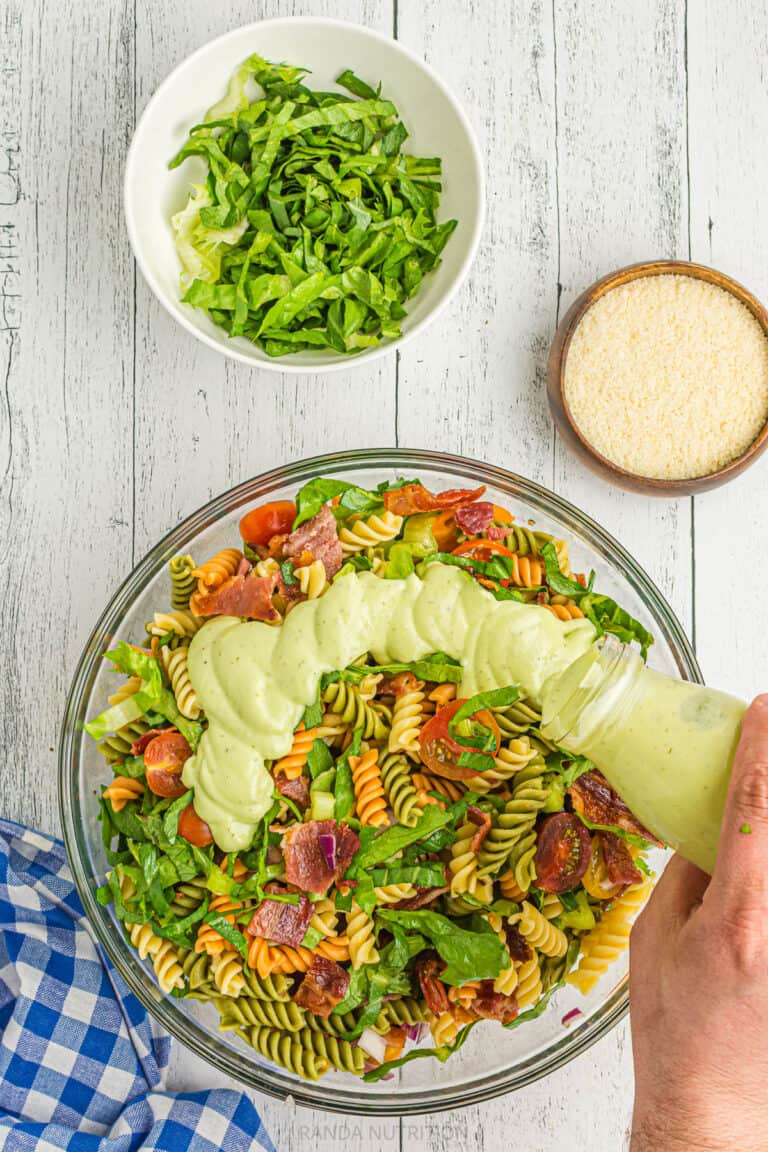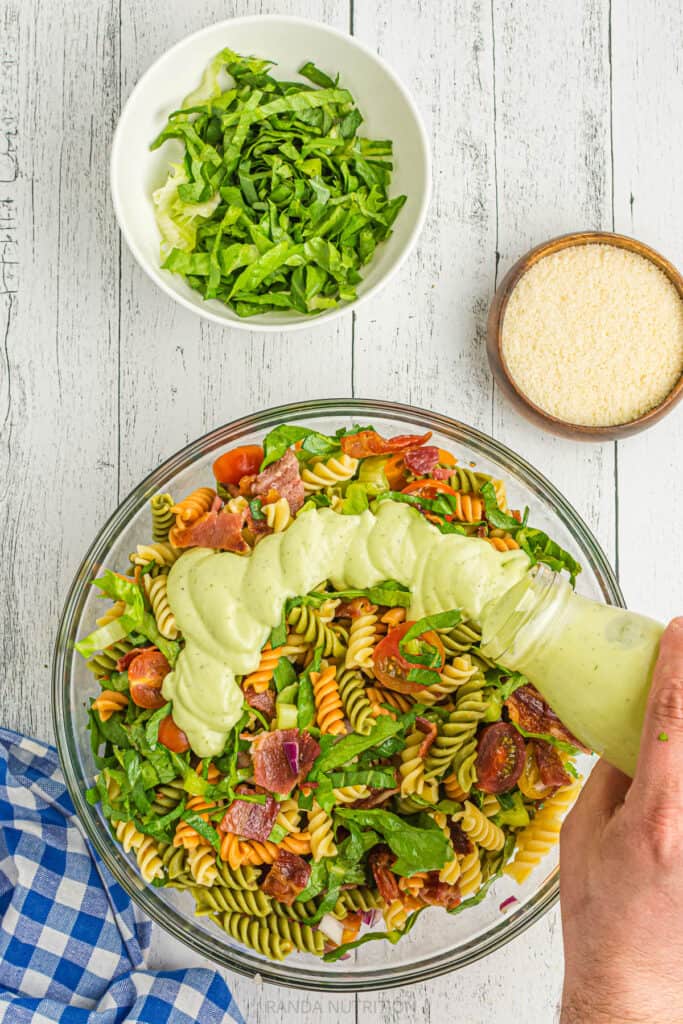 BLT Pasta Salad Recipe
If you love a classic BLT sandwich, then you'll love this easy pasta salad recipe. Pack it along for picnics, serve it with dinner, or bring it to a family bbq this summer.
The instructions are easy, but before you make it check out these healthy recipes for your summer bbq:
BLT Pasta Salad with Creamy Avocado Dressing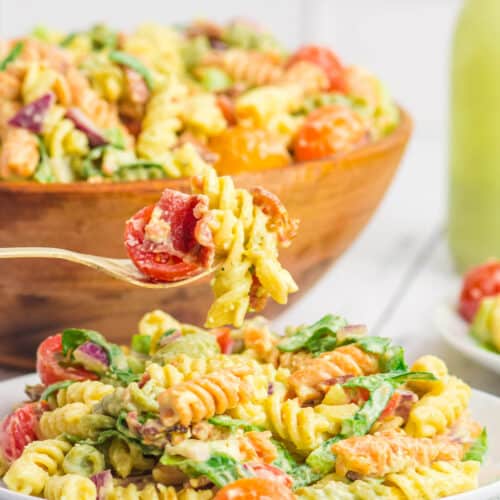 Creamy avocado dressing provides a healthy and delicious twist to BLT pasta salad. Serve it at your next BBQ or potluck for a healthy pasta salad side dish.
Ingredients
Creamy Avocado Dressing:
1

avocado

ripe

juice from one lemon

1

tablespoon

apple cider vinegar

1

Garlic clove

1/3

cup

olive oil

6

tablespoons

plain greek yogurt

1/2

teaspoon

salt

1/2

teaspoon

pepper

1

teaspoon

dried dill

4-6

tablespoons

water

to thin it out to desired consistency
BLT Pasta Salad:
1

lb

tri-color rotini pasta

cooked according to package, rinsed with cold water

1

lb

bacon

diced and cooked

1

pint

grape tomatoes

halved

1

cup

shredded romaine lettuce

1/2

red onion

diced

1/4

cup

parmesan cheese

grated
Instructions
For the creamy avocado dressing:
In a blender or food processor add all the ingredients and blend until smooth, about 1-2 minutes.

Slowly start adding the water to thin out the dressing to your desired consistency (a little at a time).

Store in an airtight container (like a mason jar with a lid) and place in the refrigerator.
For the BLT pasta salad:
In a large mixing bowl add all the ingredients (except the parmesan cheese) and toss.

Next, add half the avocado dressing, the shredded parmesan cheese and stir until evenly combined.

Cover and refrigerate for at least 1 hour or up to 5 days. When ready to use, mix in the rest of the avocado dressing and serve.
Notes
The creamy avocado dressing will keep 3-5 days in the refrigerator in an airtight container.
Nutrition
Serving:
1
serving
Calories:
481
kcal
Carbohydrates:
39
g
Protein:
14
g
Fat:
30
g
Saturated Fat:
8
g
Polyunsaturated Fat:
4
g
Monounsaturated Fat:
15
g
Trans Fat:
1
g
Cholesterol:
32
mg
Sodium:
468
mg
Potassium:
442
mg
Fiber:
4
g
Sugar:
3
g
Vitamin A:
876
IU
Vitamin C:
9
mg
Calcium:
65
mg
Iron:
1
mg