10 Macro Friendly Subway Options
Let's be real here, there are days when you have to hit up fast food restaurants or a drive thru and I'm here to help you navigate that. Here are some macro friendly subway options.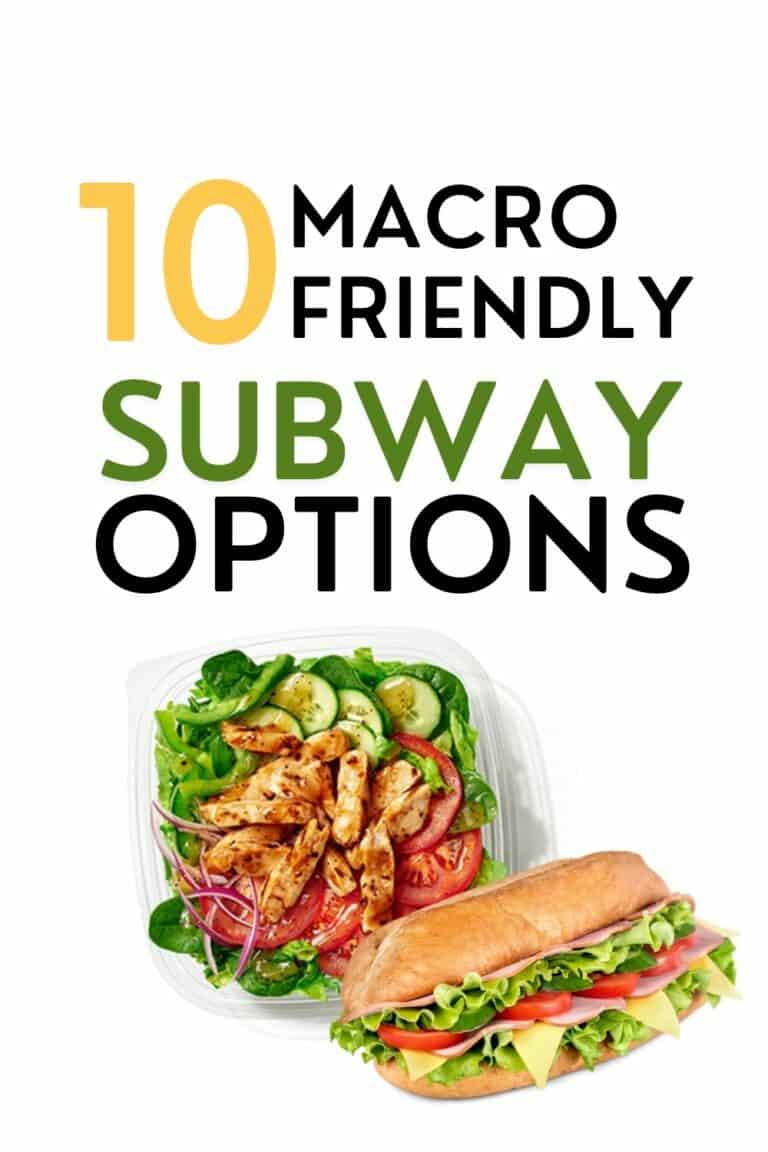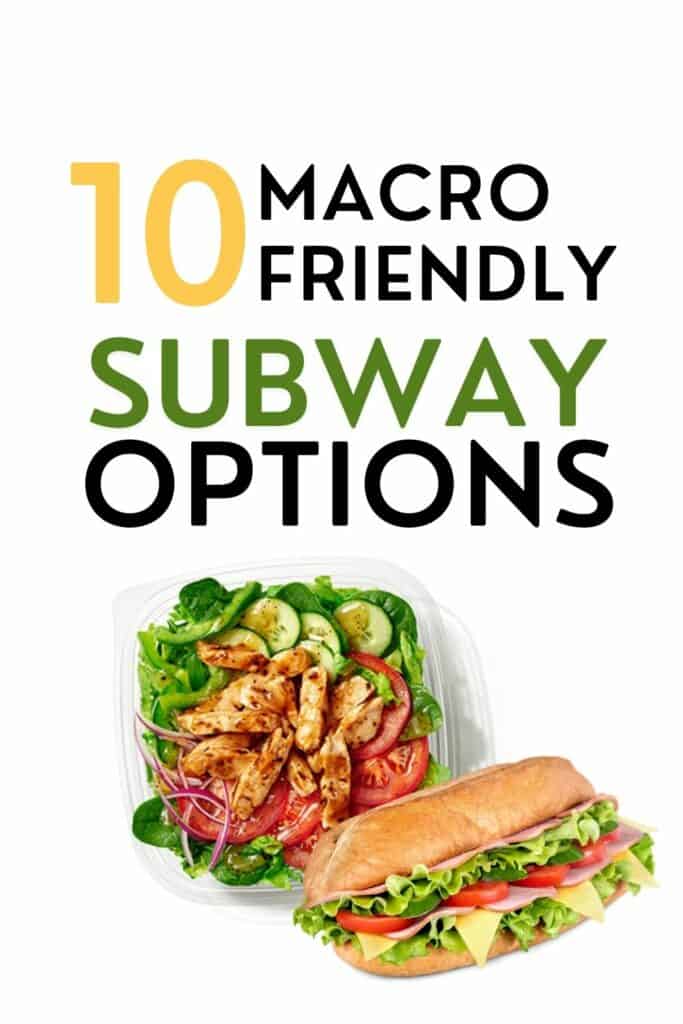 Learn How to Track Macros
with this step-by-step guide when you sign up for our emails
Macro Friendly Subway Ideas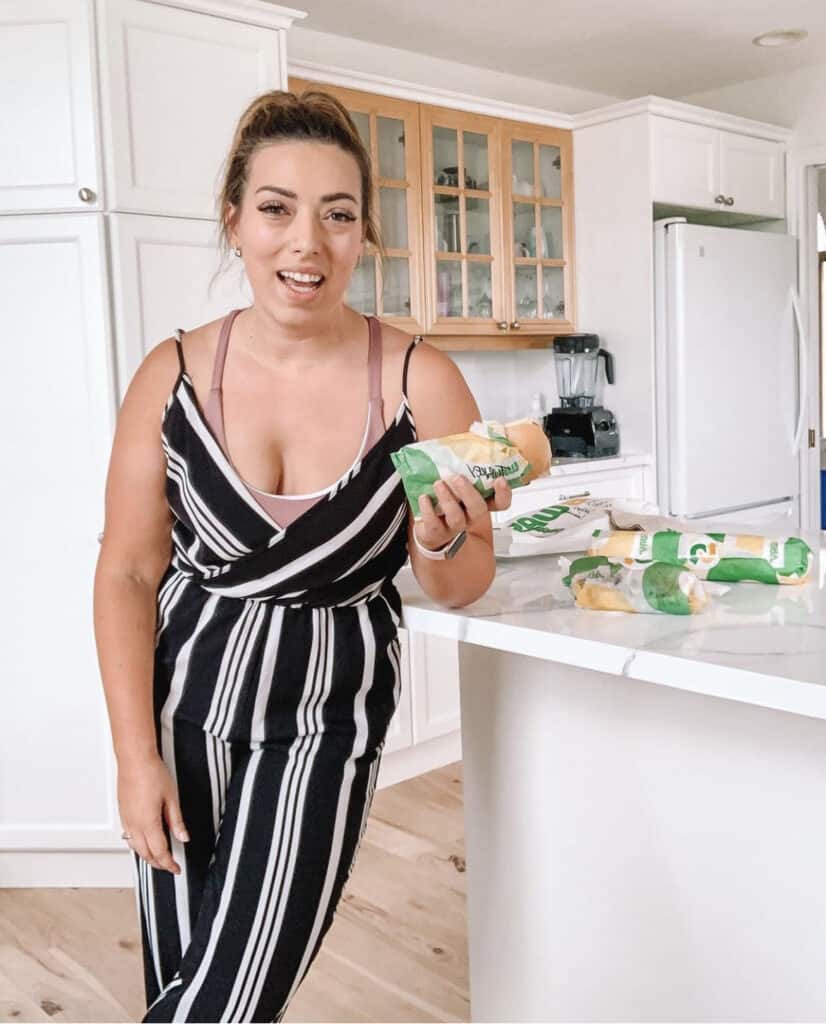 Subway can be great because the ball is in your court, you can fully customize whatever you order.
You can order something off the menu but add more vegetables, extra protein, etc.
You can find all the nutrition information about Subway here. They also have a nutrition calculator so you can customize the sandwiches and see the 12-inch sub options as well.
What I love about macros is that it's flexible.
If you're at the end of your day and see that 30-50 grams of carbs are out of the question then you can order a salad instead of a sandwich. Otherwise, eat the freaking bread (it's so much better than a lettuce wrap)!
You know I'm all about having what you want and not restricting, so if you want the bread – get it!
No restriction is the best way to reach your goals (whether it's for weight loss, muscle gain, or maintenance).
6 Easy Ways to Start Tracking Macros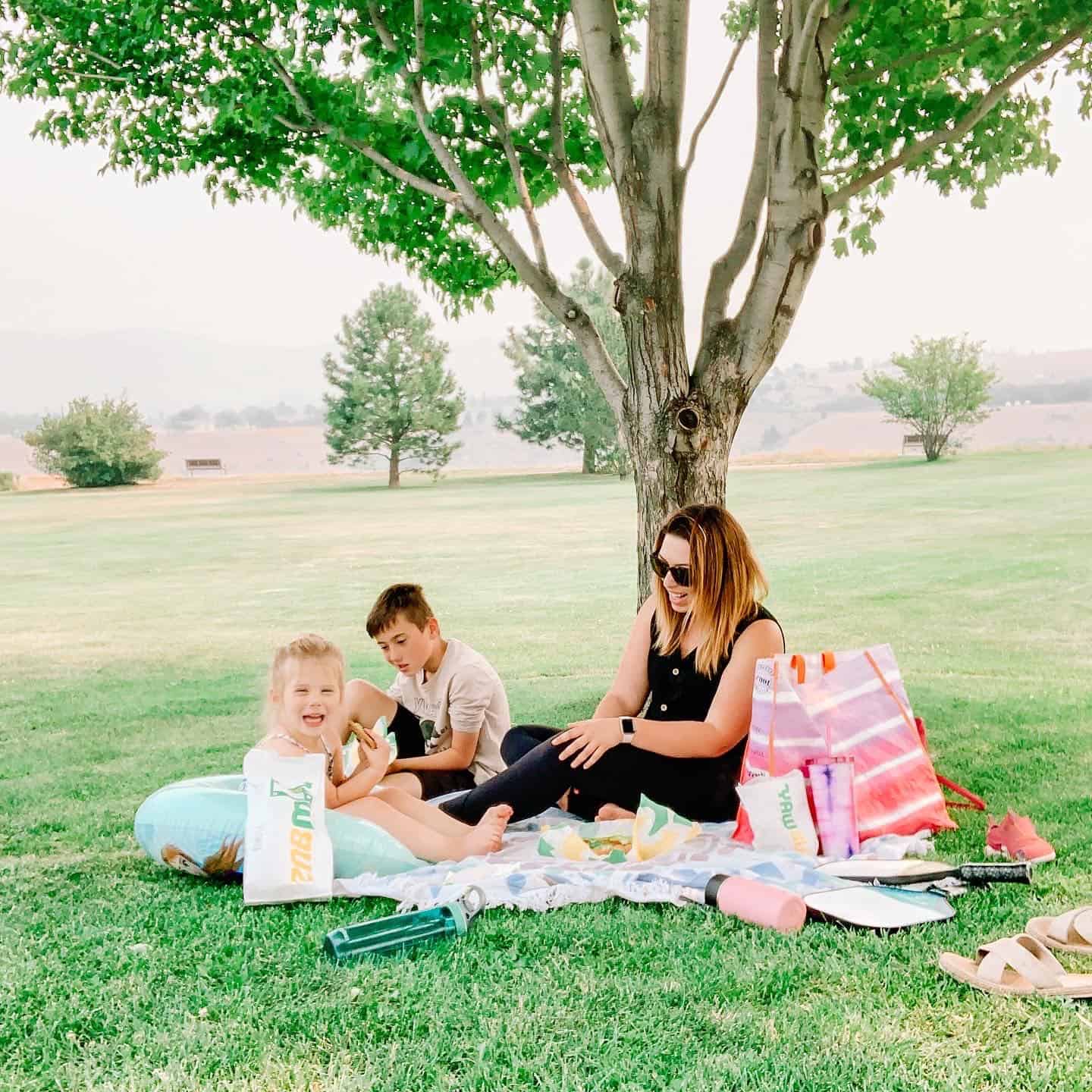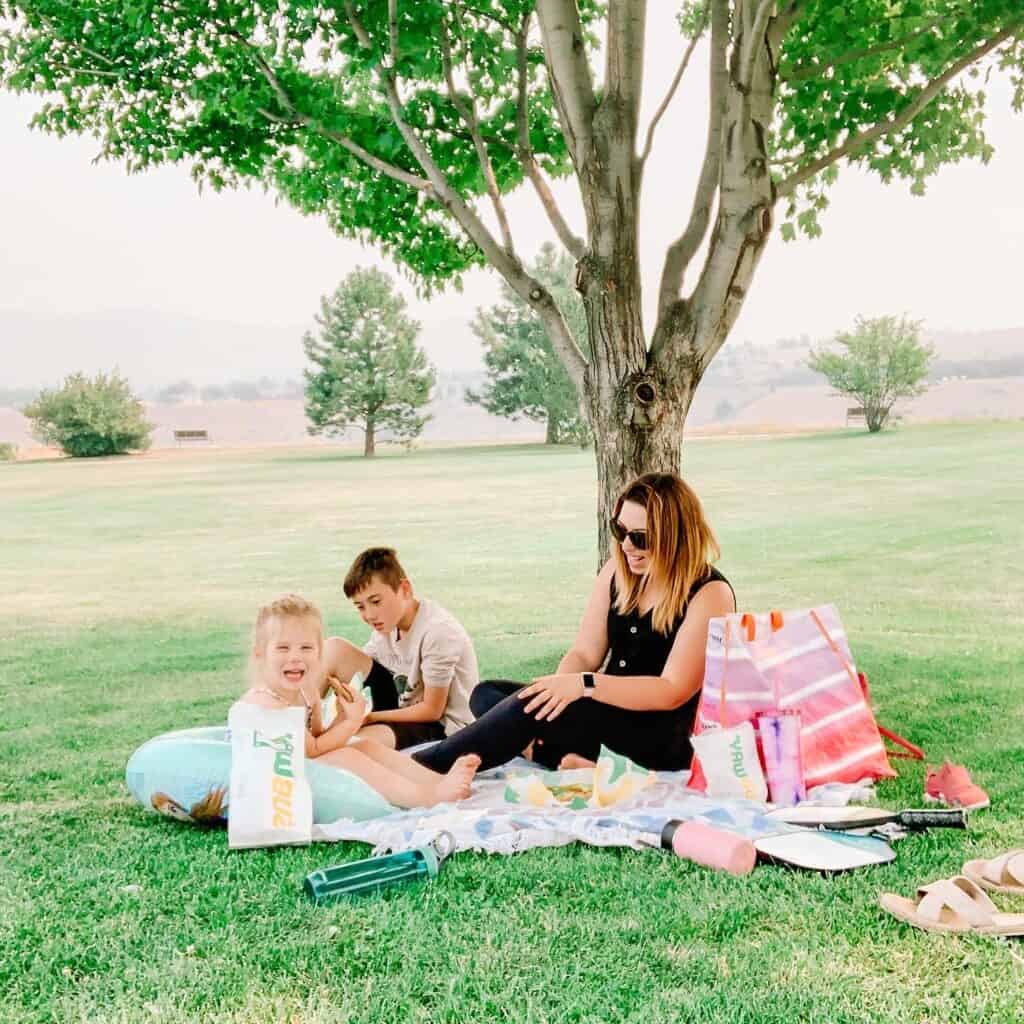 Macro Friendly Subway Sandwiches
All of the nutrition facts below are for 6-inch subs. I recommend adding as many vegetables as possible to boost the fiber and create healthier options.
The menu items will change over time but focus on protein and veggies. If you like mayo, go light, and don't smother your sandwich with it.
Another option: start with a base of a Veggie Delite and add protein (chicken breast, tuna, cold cuts, steak, etc).
If your favorite sandwich is meatball marinara and it's not on this list, don't let it stop you from having it! The beautiful thing about macros is that you can eat what you want (within reason) and make it work for you. Even if it's not the healthiest Subway sandwich.
Buffalo Chicken Sandwich
A 6″ buffalo chicken sandwich from the Subway menu is a great option.
Macros: 330 calories, 22 grams of protein, 38 grams of carbs, 11 grams of fat, and 2 grams of fiber.

I would up the volume by adding green peppers, spinach, and switch to multigrain bread. That doubles the fiber to 4 grams and boosts the protein to 25 grams as well.
Grilled Chicken Sandwich
6″ multigrain, cucumbers, green peppers, lettuce, red onions, spinach tomatoes, and grilled chicken.
Macros: 280 calories, 21g protein, 43 grams of carbohydrates, 4.5g fat, 4g fiber.
Maplewood Smoked Bacon and Ham
This Subway order has the following: double black forest ham, bacon, lettuce, pickles, red onion, tomatoes, and smoky honey mustard on 6″ multigrain bread. I reduced the calories and fat by leaving out the cheese.
Macros: 370 calories, 15g protein, 41g carbs, 16g fat, 4g fiber.
Sweet Onion Chicken Teriyaki
This is typically my go-to sandwich: 6″ multigrain bread, oven roasted chicken, sweet onion sauce, green peppers, lettuce, spinach, pickles, and light mayo.
Macros: 330 calories (420 for double meat), 23g protein (38g for double meat), 49g carbs, 4g (6 with double meat) fat, 4g fiber.
Chipotle Chicken Sidekick
Sidekicks are small sandwiches, this would be a great option if you had a side salad.
Macros: 190 calories, 10g protein, 22g carbs, 6g fat, 2g fiber.
Macro Friendly Subway Salads
Did you know that you could turn your favorite sandwich into a salad?
Subway offers salad creations or protein bowls you can build yourself with whatever you feel like that day.
This is a great way for a low carb option at Subway and if you want to boost the protein you can double the meat.
Chicken Bacon and Peppercorn Ranch Salad
The Subway recipe for this salad goes as follows: chicken, bacon, shredded Monterey cheddar, cucumbers, green peppers, lettuce, red onions, spinach, and tomatoes.
Macros: 310 calories, 26g protein, 8g carbs, 19g fat, 3g fiber.
Steak and Cheese Salad
Recipe as per the website: cheddar, steak (or roast beef), black olives, cucumbers, green pepper, lettuce, red onions, spinach, and tomatoes.
Macros: 280 calories, 22g protein, 12g carbs, 9g fat, 5g fiber.
Sweet Onion Chicken Teriyaki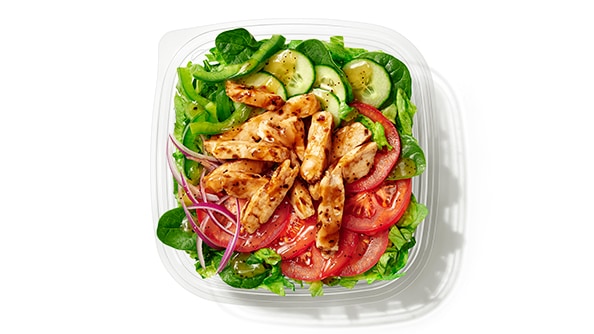 This is my personal favorite fast food healthy meal, I will share the Subway recipe and then another option of what I like to do for a high protein salad option.
Black olives, cucumbers, green peppers, lettuce, red onions, spinach tomatoes, sweet onion sauce, and chicken.
Macros: 220 calories, 18g protein, 30g carbohydrates, 3g fat, 4g fiber.
My recipe: banana peppers, green peppers, lettuce, spinach, red onion, sweet onion teriyaki sauce, double meat.
Macros: 290 calories, 33 grams of protein, 30g carbohydrates, 4.5 fat, 3 grams fiber.
Macro Friendly Breakfast Options at Subway
The breakfast menu options are fairly high calorie and the lower-calorie options don't have as much protein as I prefer my clients to have but if it's your only option here are my top choices.
You can also boost the protein a bit by adding deli meat to your egg sandwiches like black forest ham or turkey breast. Some Subway restaurants have egg whites as an option, look to see if that's a choice.
I didn't include vegetarian options for the salads and sandwiches (it's hard to find high protein options at Subway for vegetarians to be totally honest), but there are options for breakfast.
Simply leave out the bacon and sausage and just have an egg and cheese sidekick (add some veggies too).
Bacon and Egg Sidekick
Macros: 300 calories, 14g protein, 23g carbs, 4.5g fat, 2g fiber.
Egg and Sausage Sidekick
Macros: 370 calories, 16g protein, 23g carbs, 24g fat, 2 g fiber.
Is Subway Healthy?
The term healthy is subjective. Everyone has different goals and what may be "healthy" to me, may not be to you.
My philosophy is that if you can eat a variety of foods that not only provide nutritional benefits but also gives your life balance. You're living a healthy lifestyle.
Remember 80% healthier options (fruit, vegetables, lean proteins, whole grains, etc) and 20% treats and splurges.
Conclusion
At the end of the day, you do you but these macro friend Subway options are there to give you a guide. You can use it at Subway or any sandwich shop as the base knowledge is the same.
If you need help getting started with tracking macros, download my beginner's macros tracking guide.
What's your favorite Subway order?