This easy gluten free oatmeal cookie recipe is the perfect sweet treat to bake for a crowd (especially when you don't know who has allergies or who doesn't). Whether you make them with raisins, chocolate chips, or serve them plain this recipe is delicious.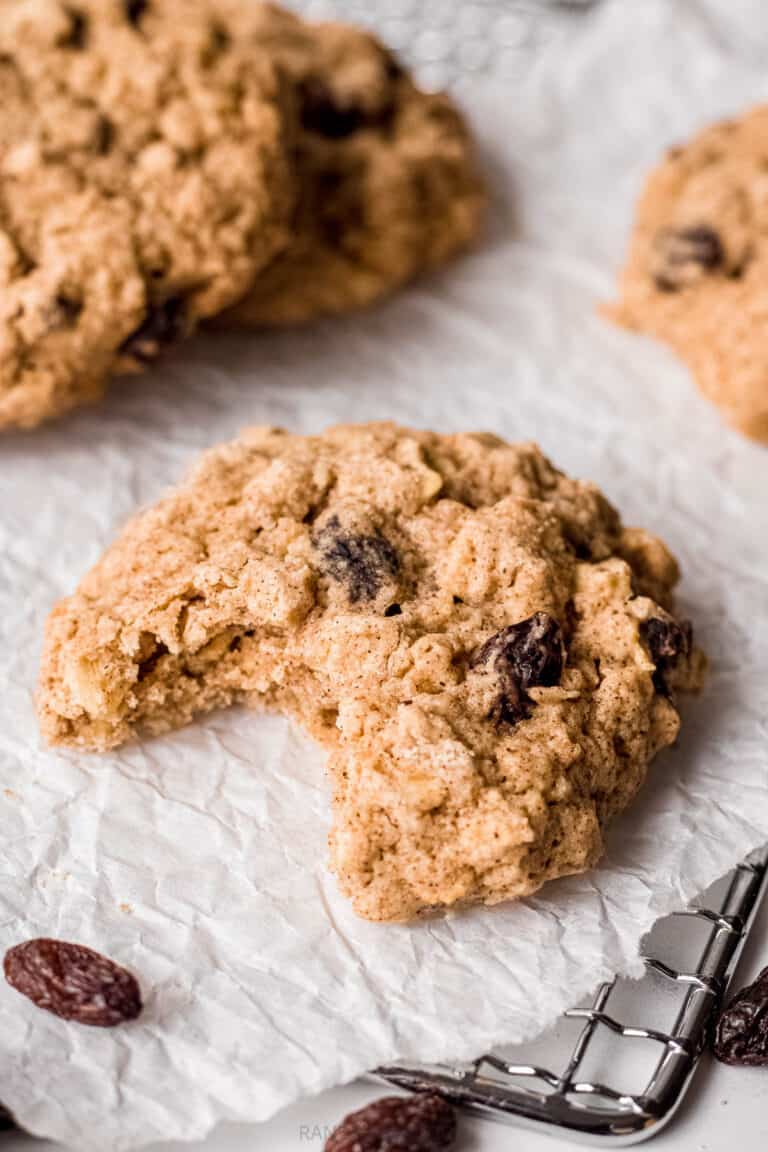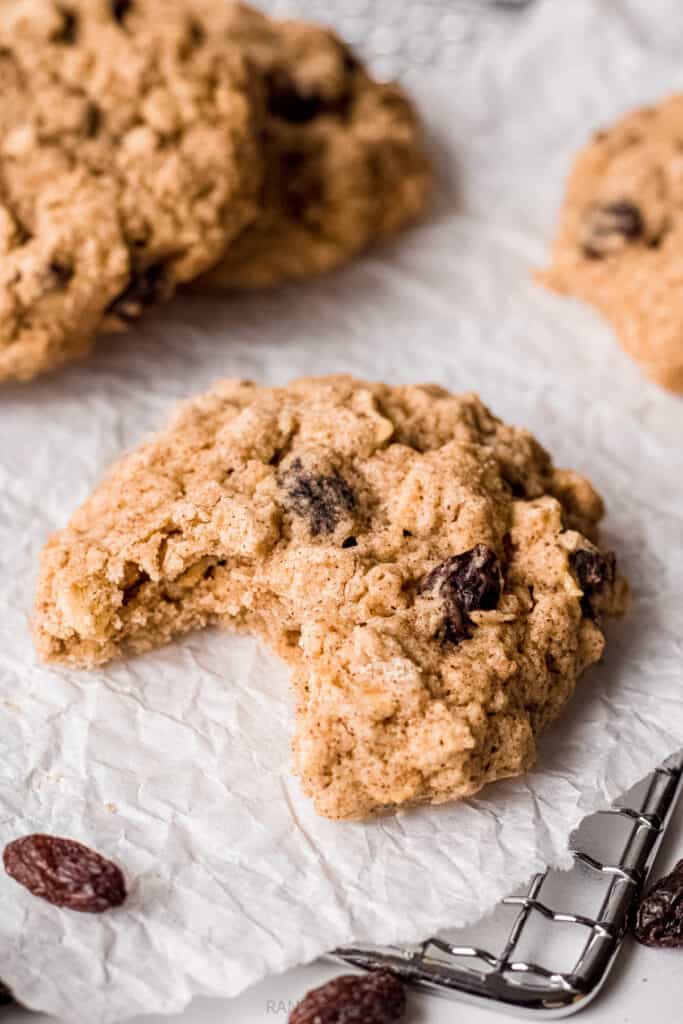 Disclosure: This post contains affiliate links for your convenience. As an Amazon Associate, I earn from qualifying purchases.
Gluten Free Oatmeal Cookies
I'm a sucker for classic oatmeal cookies, they're comforting and a family favorite.
However, there is always a debate about raisins vs chocolate chips, so I have both options for you so you can choose your favorite version.
If you're curious, I'm team raisins.
Ingredients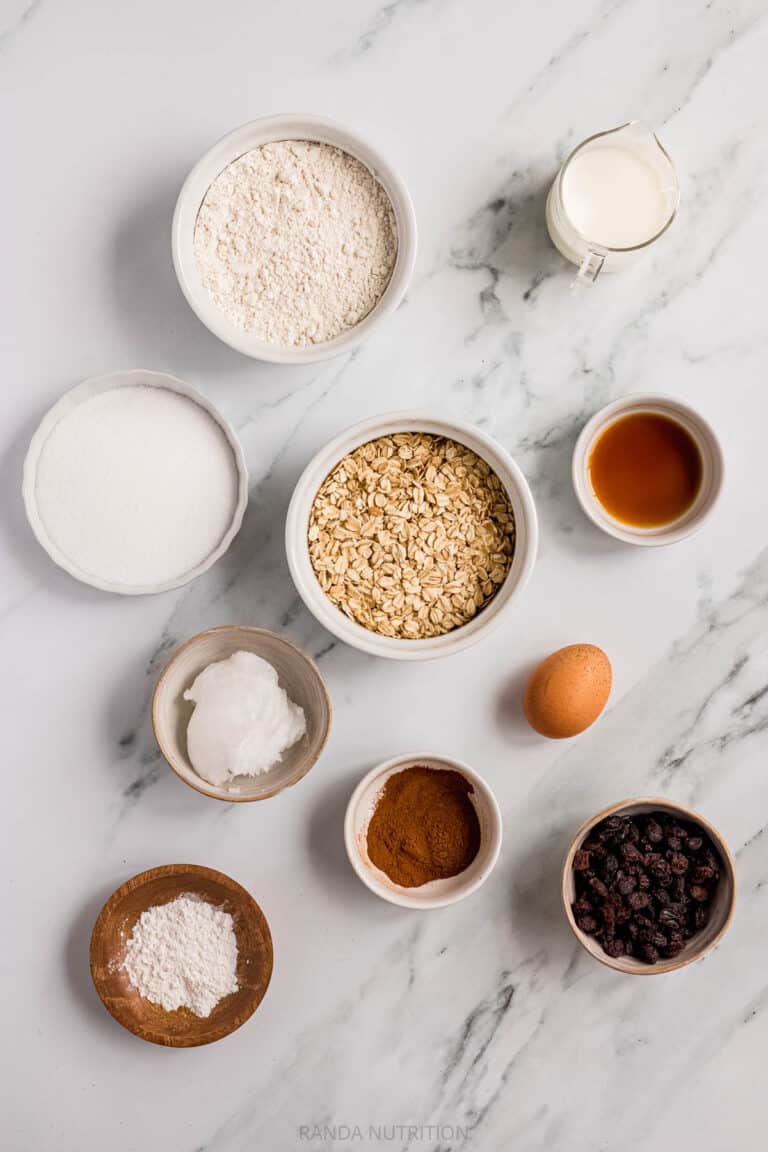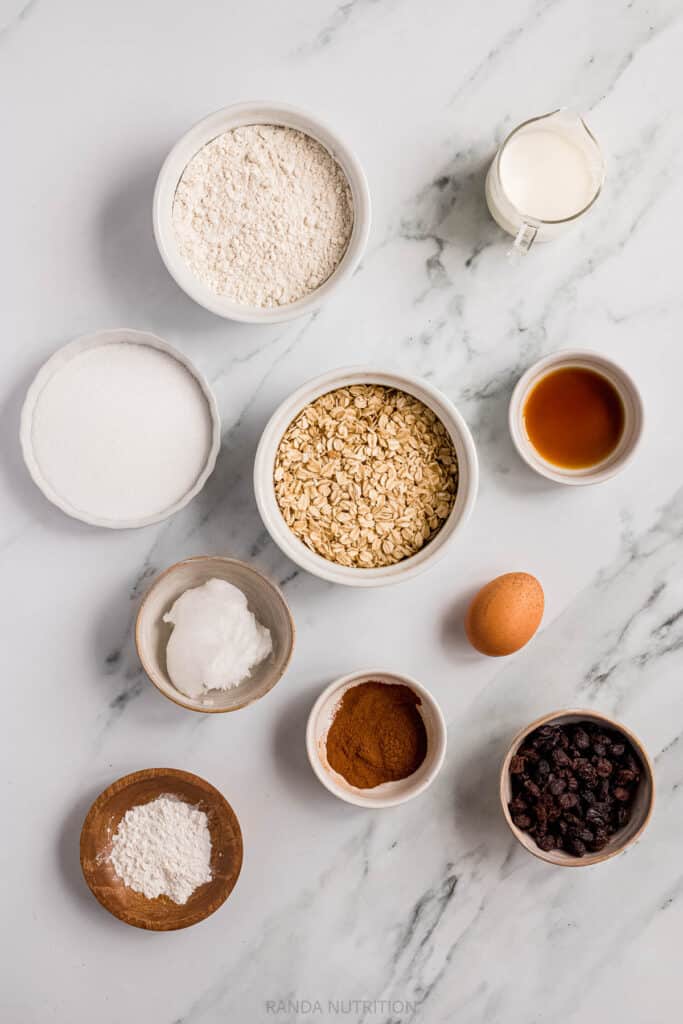 Here's what you need for the best gluten-free oatmeal cookie recipe:
Gluten-free flour blend (this recipe uses Bob's Red Mill 1:1 Baking Blend (the blue bag)). When you use this particular variety of Bob's Red Mill, it already has xanthan gum and everything you need to use it for a one to one ratio, which means you can sub regular flour if you're not gluten-free too). It makes gluten free baking easier.
Rolled Oats (make sure they're gluten-free oats). They're also known as old-fashioned oats or large flake oats (do not use quick oats.)
Baking powder
Cinnamon
Monk fruit sweetener, I like Swerve. You can use regular granulated sugar, light brown sugar, or coconut sugar as well.
Melted coconut oil
Milk (almond, cashew, soy, coconut, cow's milk all work)
Egg
Raisins, chocolate chips, or whatever mix-ins you want.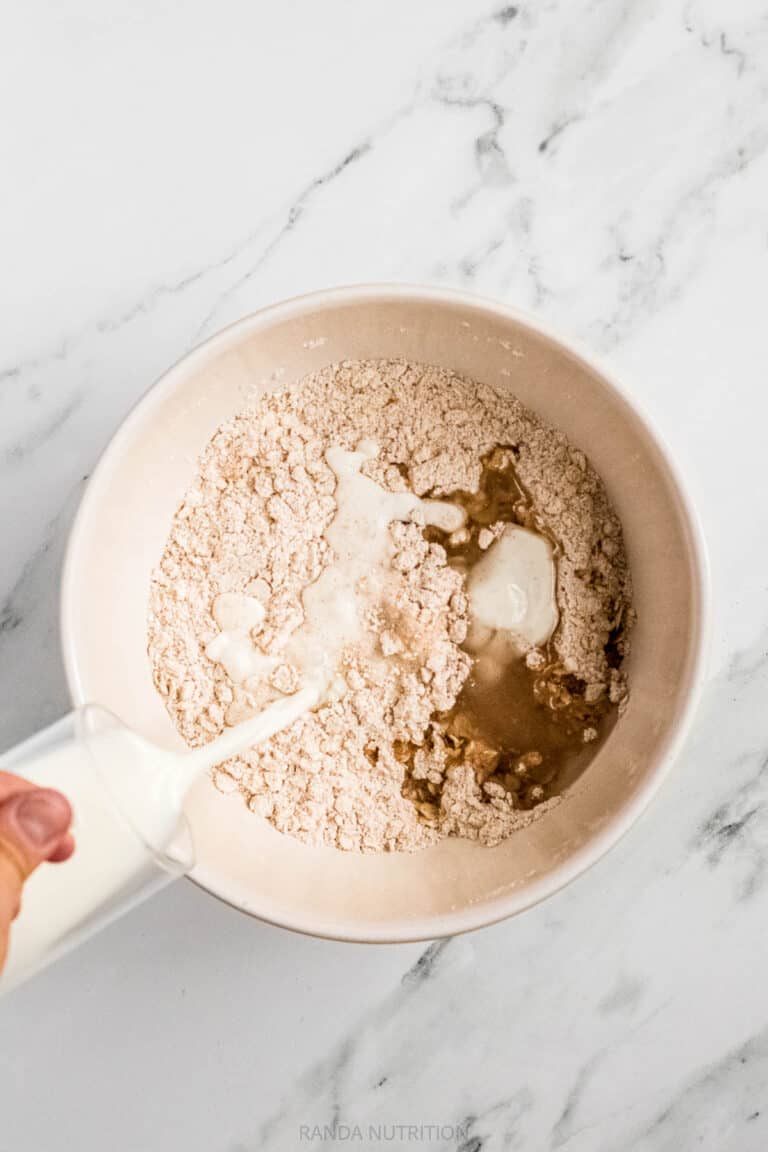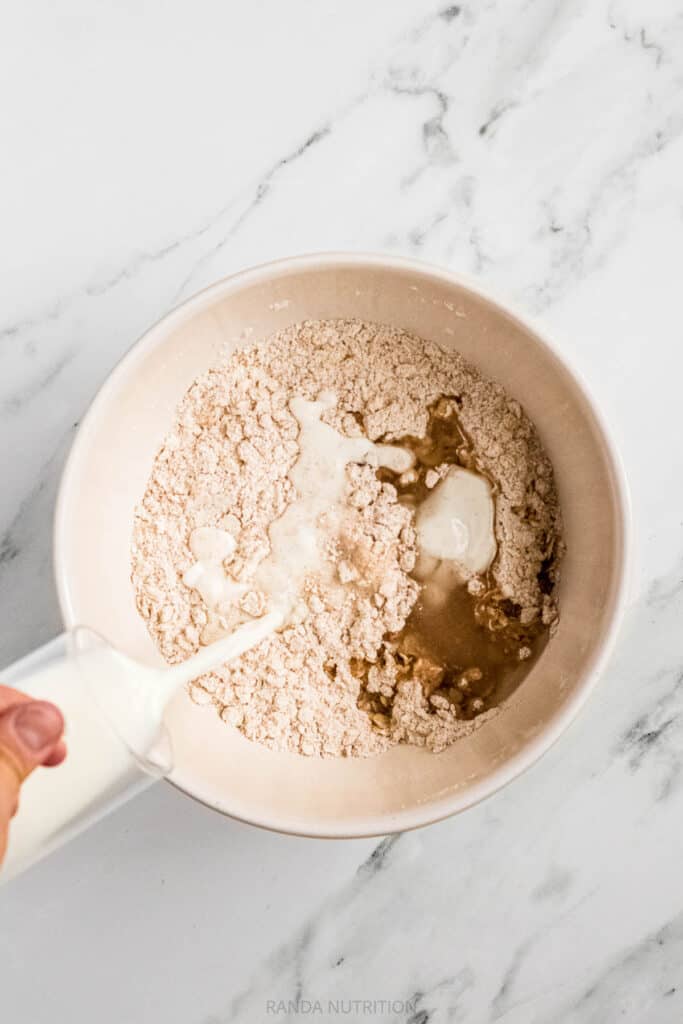 Supplies Needed:
Gluten Free Oatmeal Raisin Cookies
Here's a tip for creating moist and chewy oatmeal cookies: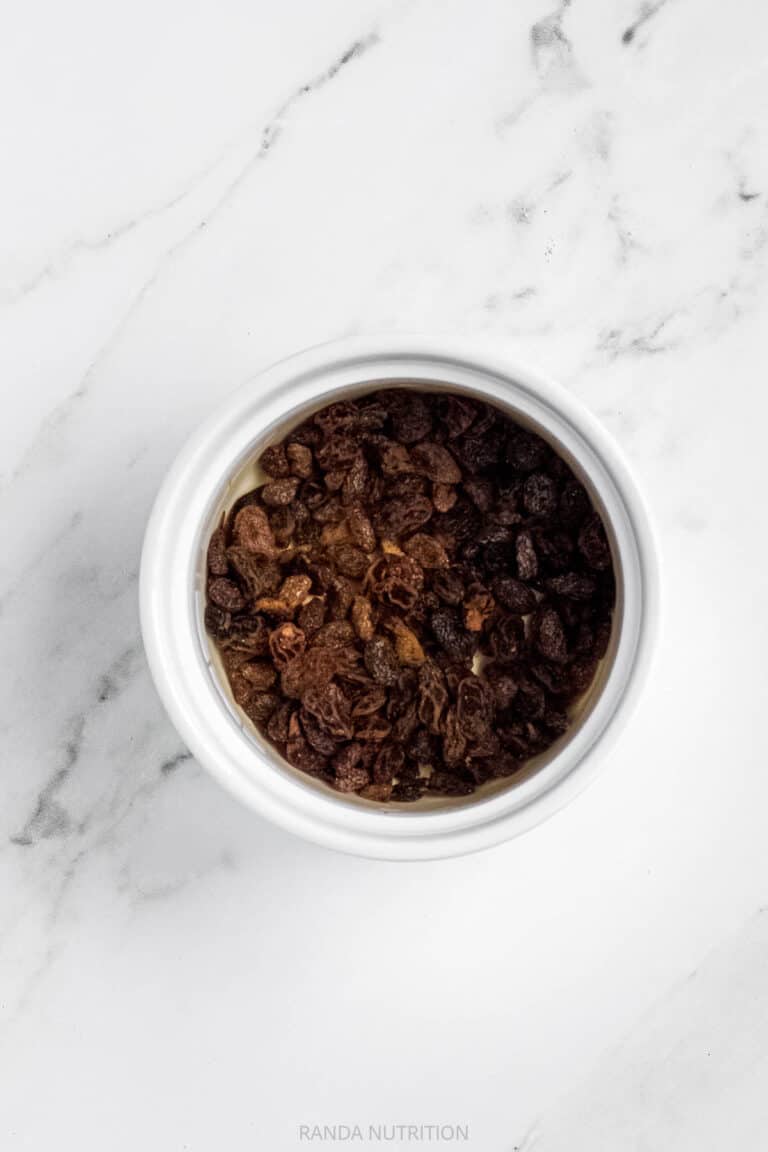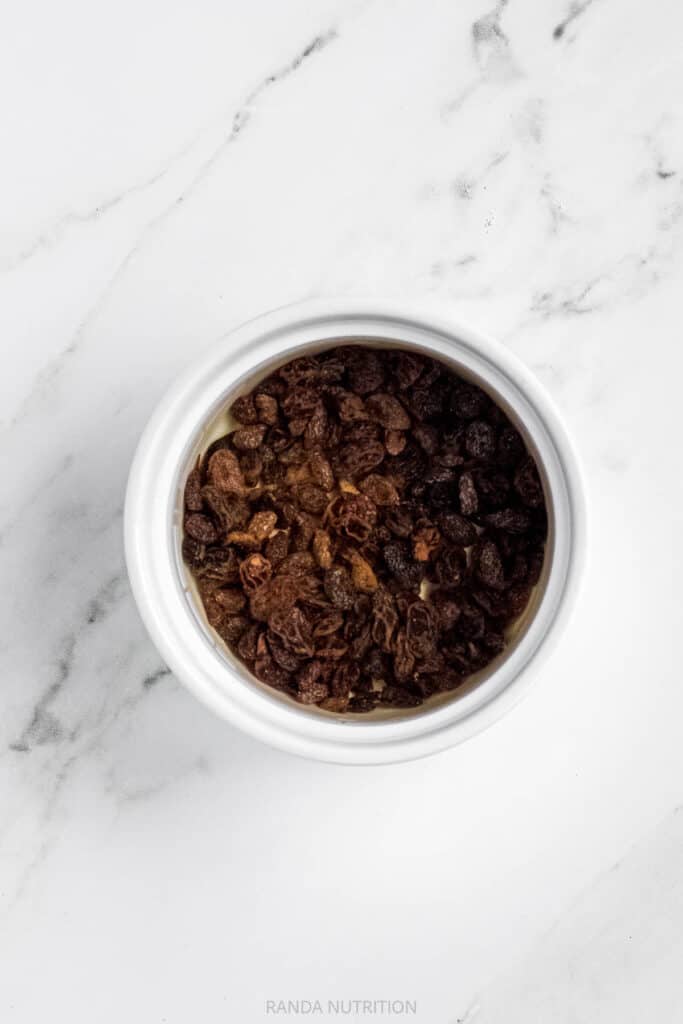 Soak your raisins for 5 minutes in hot water.
It plumps them up and keeps them from being little rocks in your cookies.
It's a game changer.
Gluten Free Oatmeal Chocolate Chip Cookies
You can also swap dark chocolate chips for white chocolate chips for a twist on this traditional recipe.
If you're looking for a chocolate chip that is sweetened with Stevia (less sugar and low calorie) try Lily's. Chocolate Chips.
If you want to go extra, white chocolate and dried cranberries would be incredible (and would be amazing on a holiday cookie platter).
Variations and Add Ins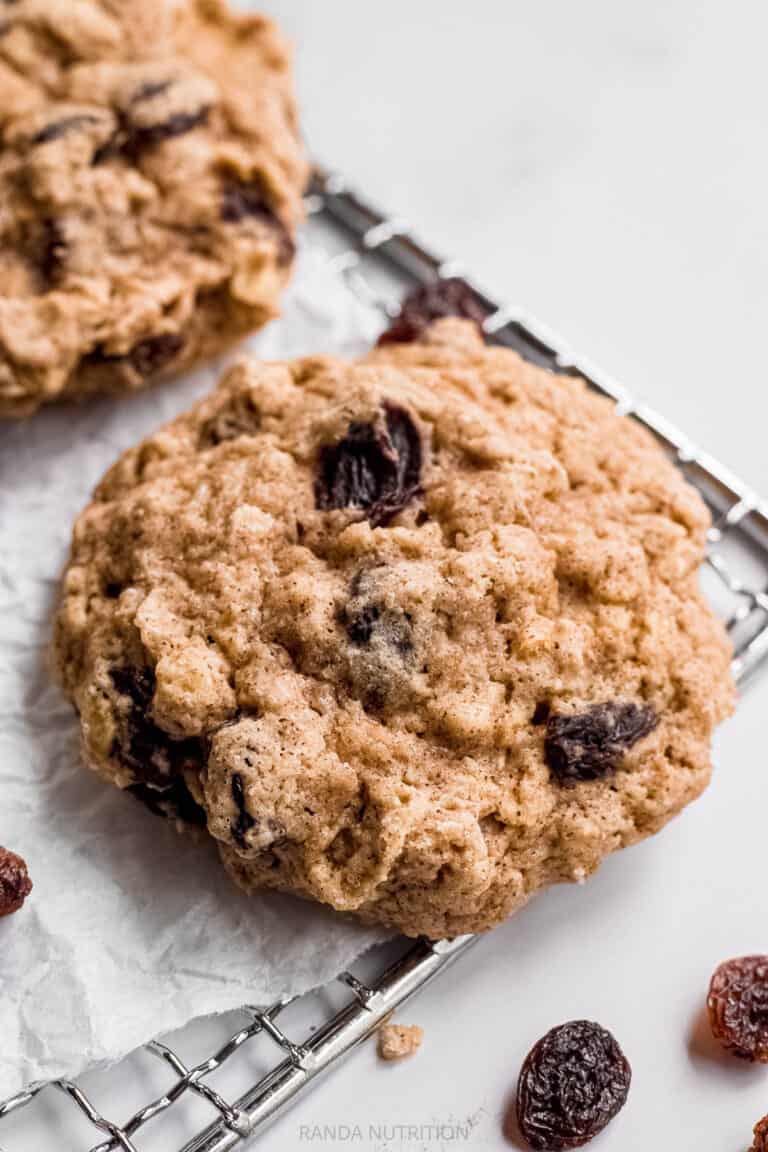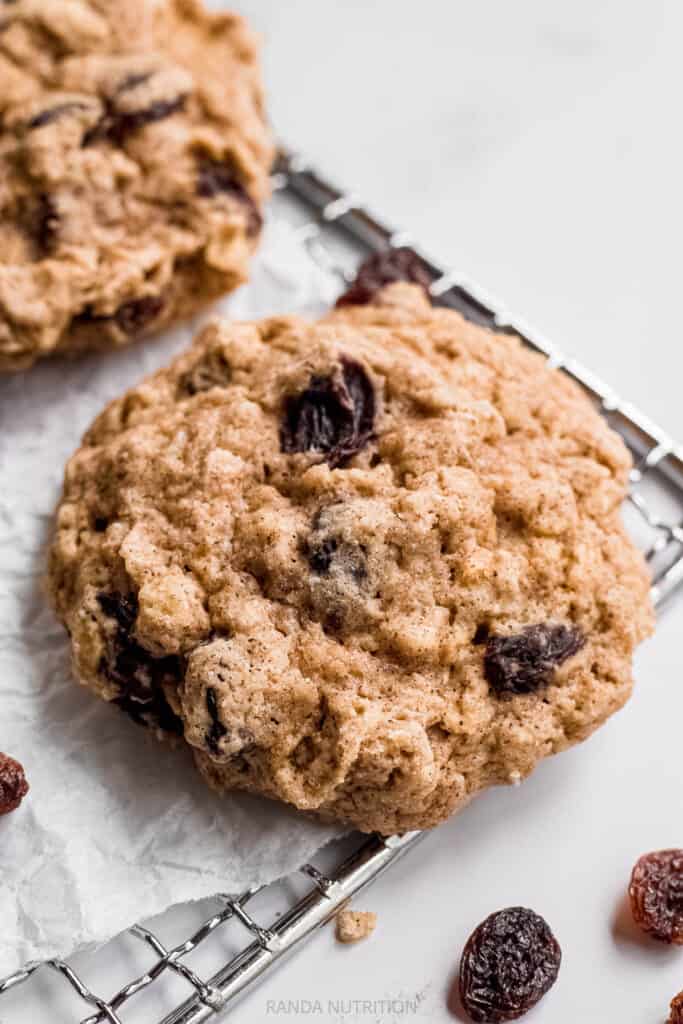 The base of this oatmeal cookie dough is neutral and is easy to jazz up and create something different every time you bake.
Here are a few other oatmeal cookie mix add ins:
M&Ms
Sweet and salty (add in pretzels with chocolate)
Walnuts, pecans, or pistachios
Flavored chocolate chips (peanut butter, butterscotch, etc)
Unsweetened coconut
Trail mix
Caramel squares
White chocolate and dried cranberries (as mentioned above under the chocolate section)
Ginger
Rhubarb
Swaps and Substitutions
You can swap white monk fruit sweetener for the brown sugar variety (this will give the cookie a rich taste).
Want to make a flax egg to make this recipe vegan? Go ahead, but the cookies will not be as chewy as it does alter the recipe.
Switch out the 2% milk for plant-based options (almond milk, cashew milk, soy milk, coconut milk, oat milk, etc).
If you're not gluten free, you can use all purpose flour for this recipe.
You can swap melted coconut oil for melted butter if you only have the latter.
Note: All the swaps and variations will play with the nutritional value, macros, and potentially the density of the cookie and if it's crispy or chewy.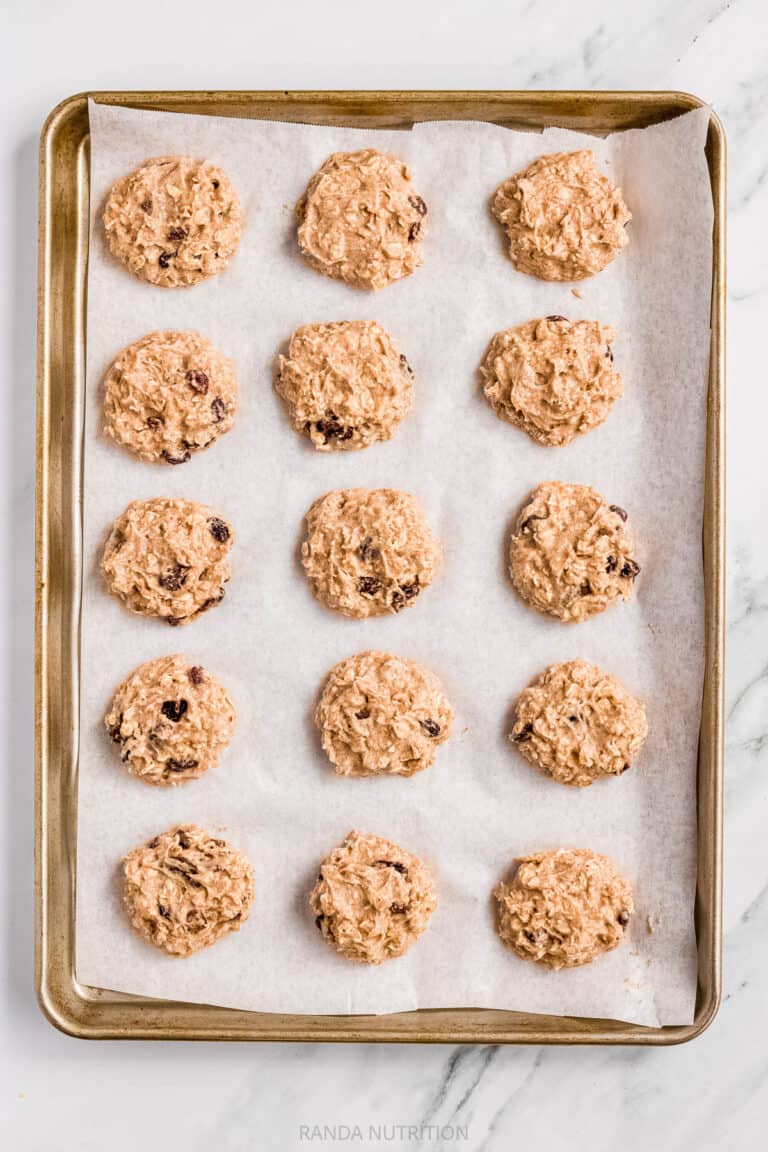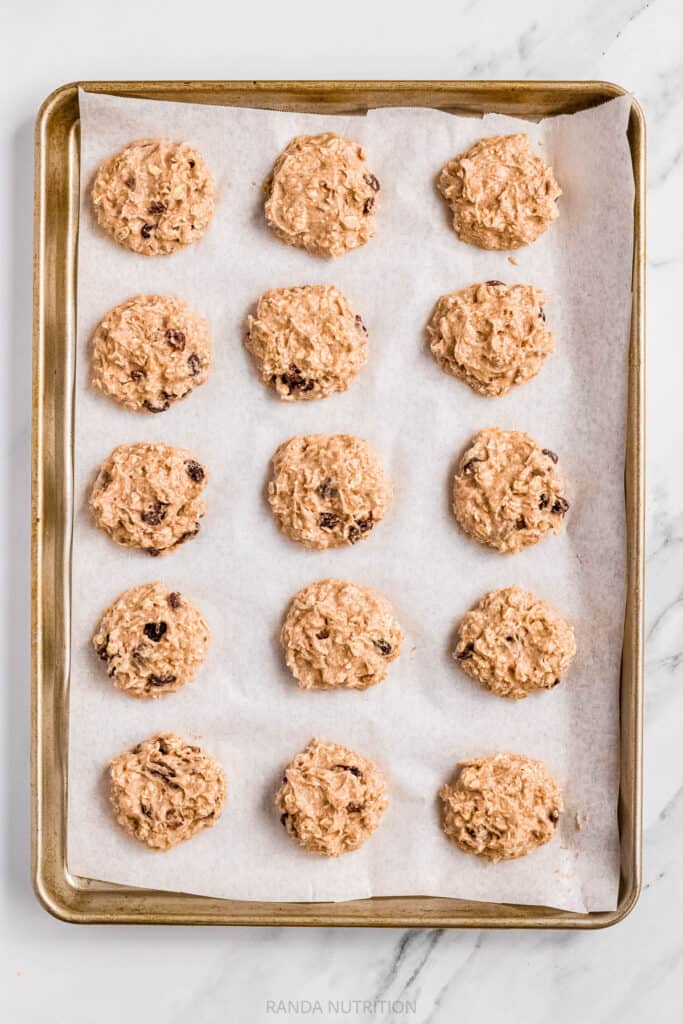 Storage & Freezing
To keep the cookies chewy and delicious, store them in an airtight container. They'll be fine at room temperature.
Please note that after the cookies come out of the oven, you will have to remove them from the cookie sheet to cool on a cooling rack until they're at room temperature. If you store them right away, the steam can create moisture in the container, which can cause them to mold.
To prevent your cookies from going moldy, let them completely cool first and then store them.
Freezer Storage
You can freeze these after they are completely cool by laying them in a resealable bag.
If you need to snack them, lay a piece of parchment paper in between each layer so they don't stick.
They should keep in the freezer for about 3-6 months.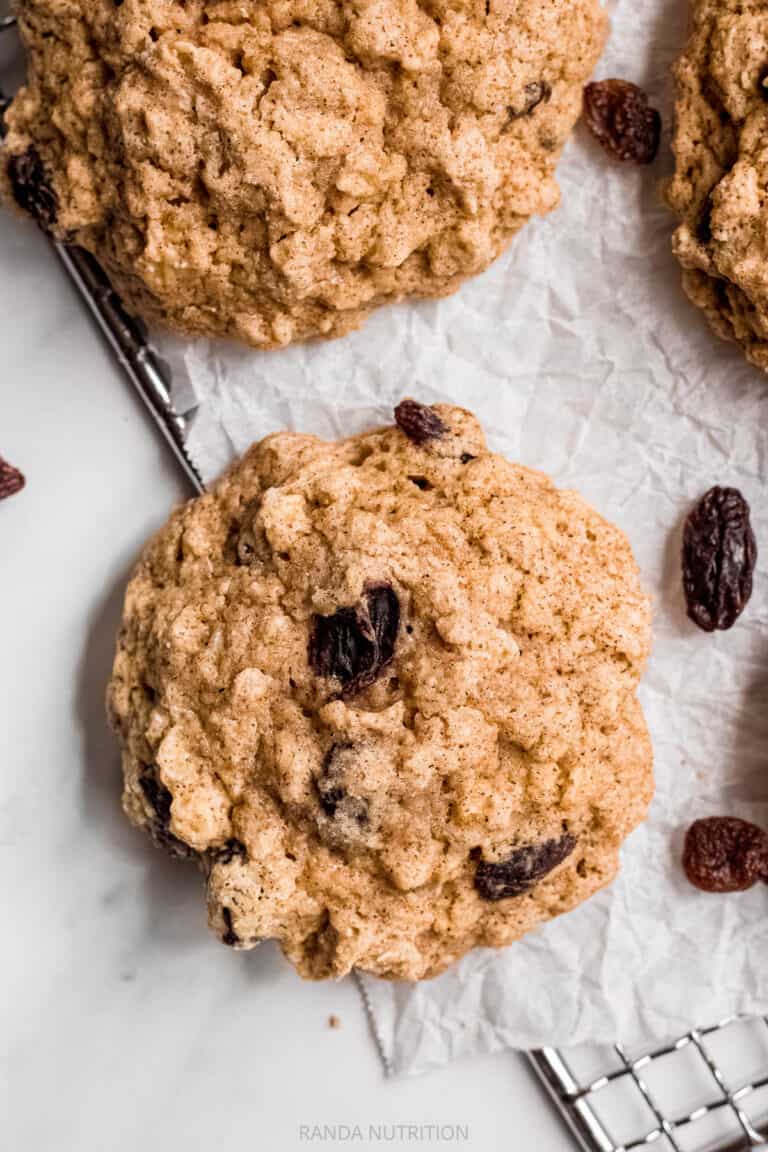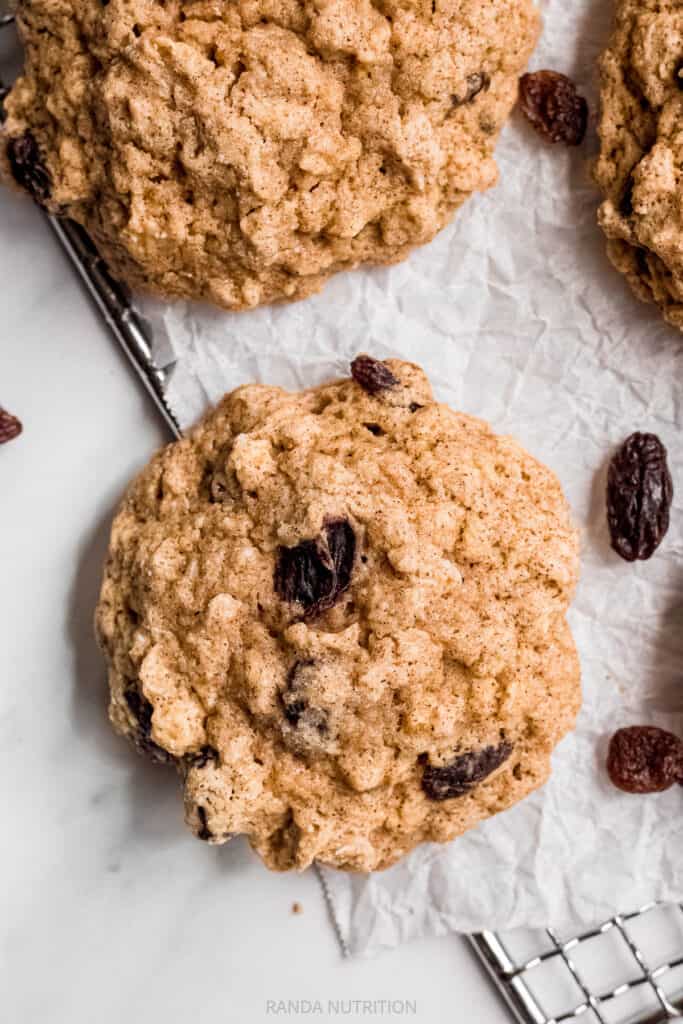 Nutrition and Macros
Thanks to the monk fruit sweetener, this is a low sugar cookie recipe (only 1 gram) so let's chat about the nutrition info for a second.
First, the nutritional calculations used on the recipe card below are done by a third party and they're not always accurate but it does give you an idea.
Gluten Free Oatmeal Cookie Macros
Per 1 cookie (1 1/15th of the recipe)
Calories: 120
Carbohydrates: 16g
Protein: 3g
Fat: 6g
Fiber: 2g
If you want a low calorie cookie recipe, just make the cookies smaller. 120 calories for a cookie isn't bad and it gives you that sweet treat you're craving without loading you with sugar. Take this win, my friend!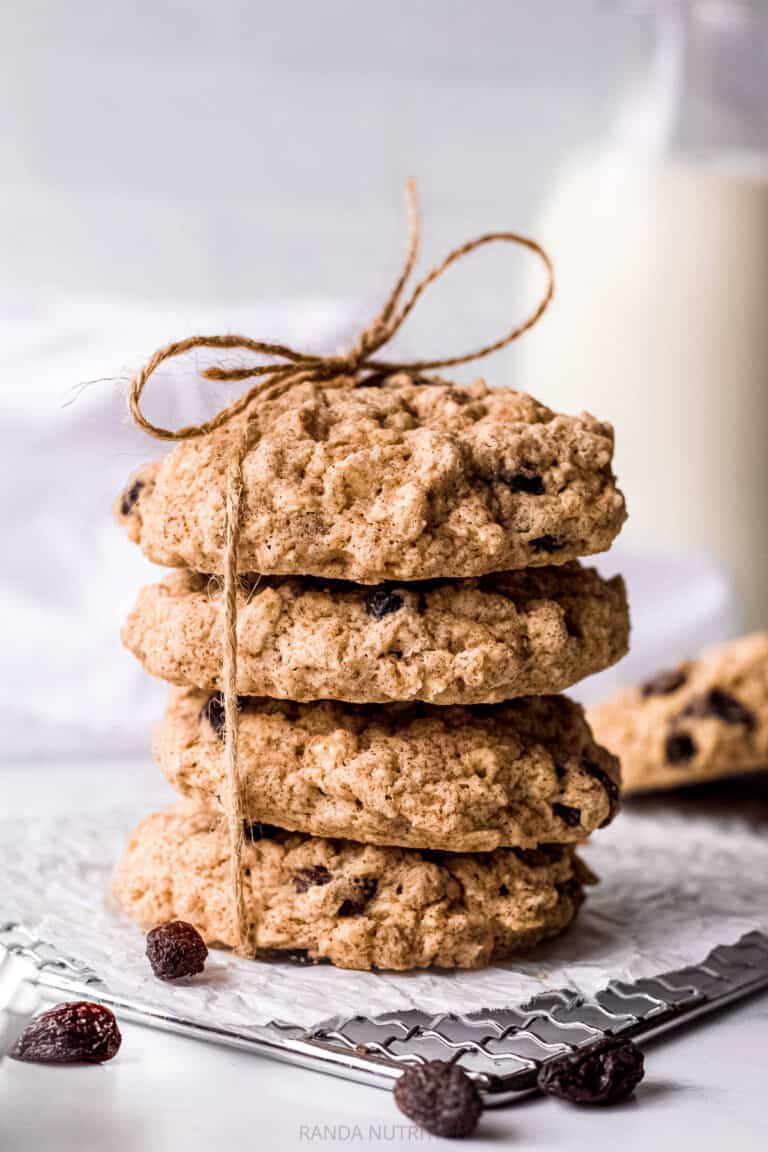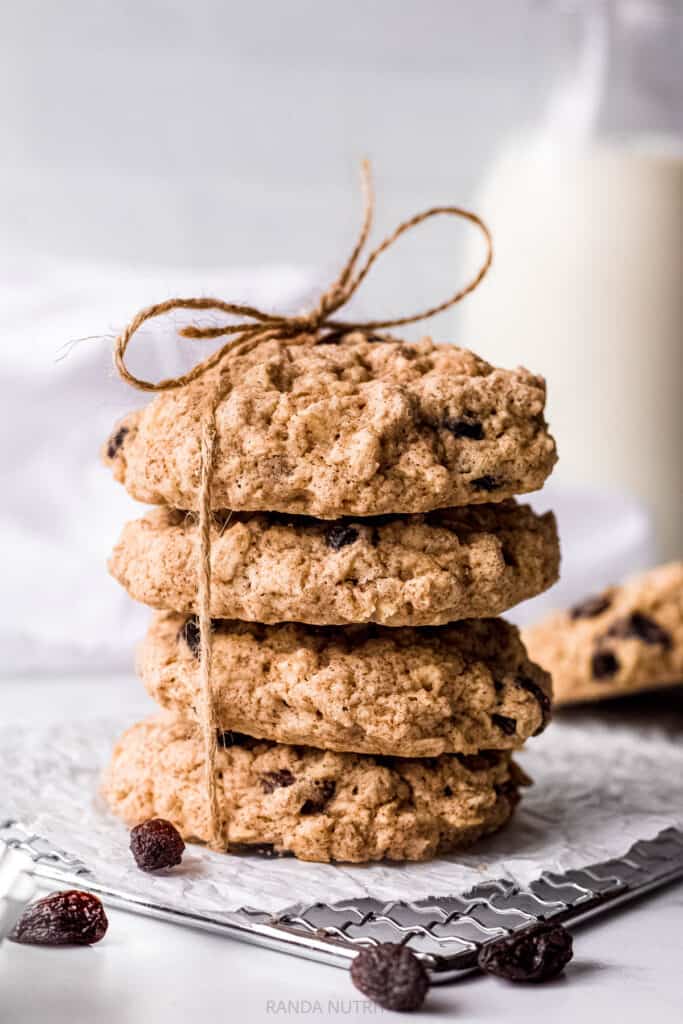 How to Make Gluten Free Oatmeal Cookies
Please remember that if you have Celiac Disease to ensure that your oats are certified gluten free.
The recipe instructions are below but I wanted to put a few tips and notes here.
Tip: To keep your cookies all the same size, use a cookie scoop to remove the dough from the bowl and then roll it. It keeps everything the same size for even baking.
The batter will seem too wet when you're rolling the cookies, and it will be messy. This is normal.
Have trust in the process, they will turn out so good!
Enjoy these chewy gluten-free oatmeal cookies!
More healthy baked goods to try:
Gluten Free Oatmeal Cookies Recipe (Oatmeal Raisin or Chocolate Chip)
This chewy gluten free oatmeal cookie recipe uses chocolate or raisins (or both). It's such an easy recipe and uses monk fruit for less sugar.
Instructions
Preheat your oven to 350 degrees.

In a large bowl, combine oats, flour, baking powder, cinnamon, and monkfruit sweetener.

Stir in the vanilla, melted coconut oil, and milk.

Add the egg, then stir until everything is well combined.

Fold in the raisins or chocolate chips until evenly distributed. (If using raisins, soak them in hot water for about 5 minutes before adding them to the batter to make them soft)!

Roll the dough into 1.5 inch balls, and flatten slightly on a lined baking sheet. Bake for 16-17 minutes, then allow them to cool completely before serving!
Notes
The batter will seem too wet when you're rolling the cookies, and it will be messy. But trust me, they turn out so good!
Nutrition
Serving:
1
cookie
|
Calories:
120
kcal
|
Carbohydrates:
16
g
|
Protein:
3
g
|
Fat:
6
g
|
Saturated Fat:
4
g
|
Polyunsaturated Fat:
1
g
|
Monounsaturated Fat:
1
g
|
Trans Fat:
1
g
|
Cholesterol:
12
mg
|
Sodium:
11
mg
|
Potassium:
134
mg
|
Fiber:
2
g
|
Sugar:
1
g
|
Vitamin A:
27
IU
|
Vitamin C:
1
mg
|
Calcium:
51
mg
|
Iron:
1
mg
The nutrition information is calculated using a third party resource. The accuracy varies on the brands used, weight, portions, etc. This resource should be used as a guide. If you want more accurate information, weigh in grams and log in MFP.
GET STARTED WITH MACROS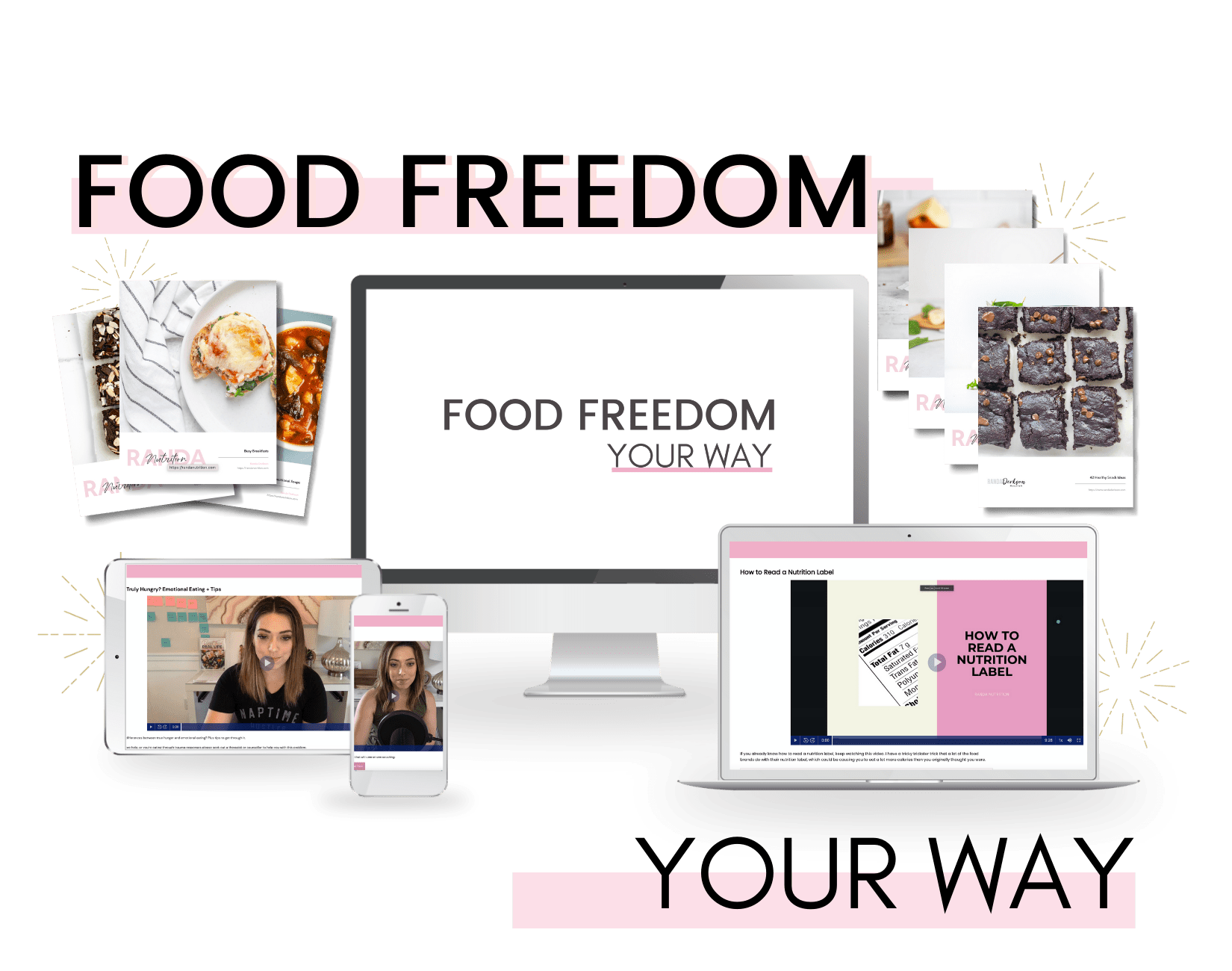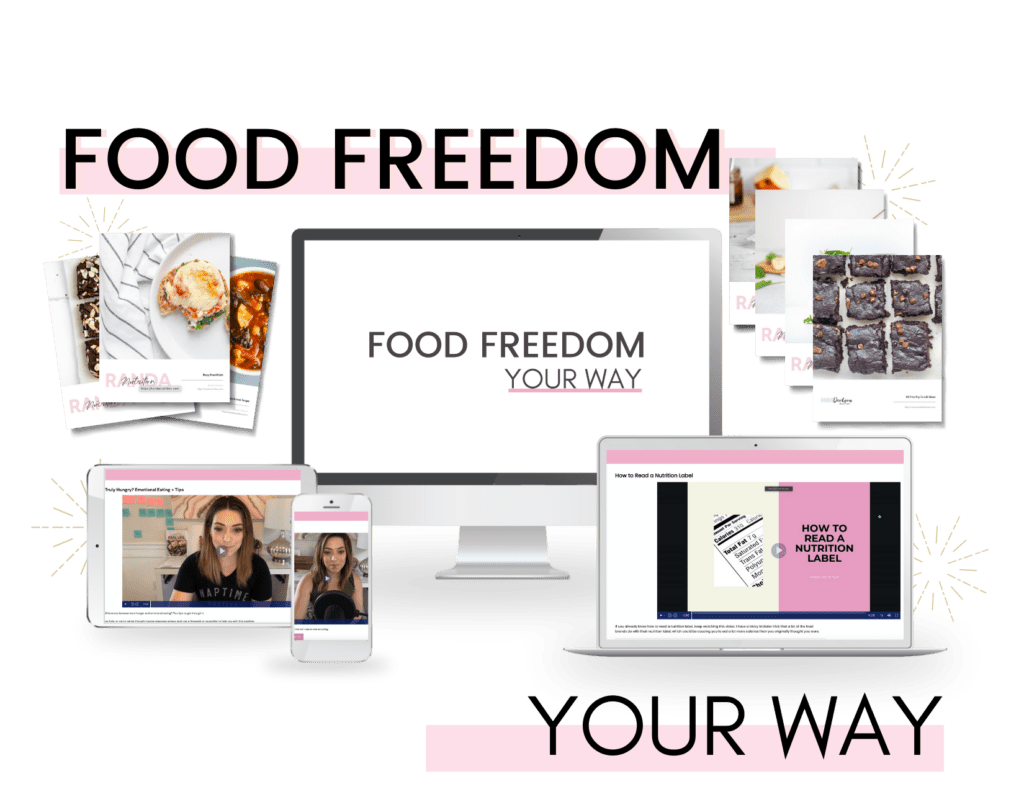 Want to know how to find your macros and get started without coaching?