Easy Chicken Apple Breakfast Sausage
These easy chicken apple breakfast sausage patties are one of my favorite meal prep breakfasts to make for a busy week ahead. Bonus? It's ready from prep to cooked in under 15 minutes.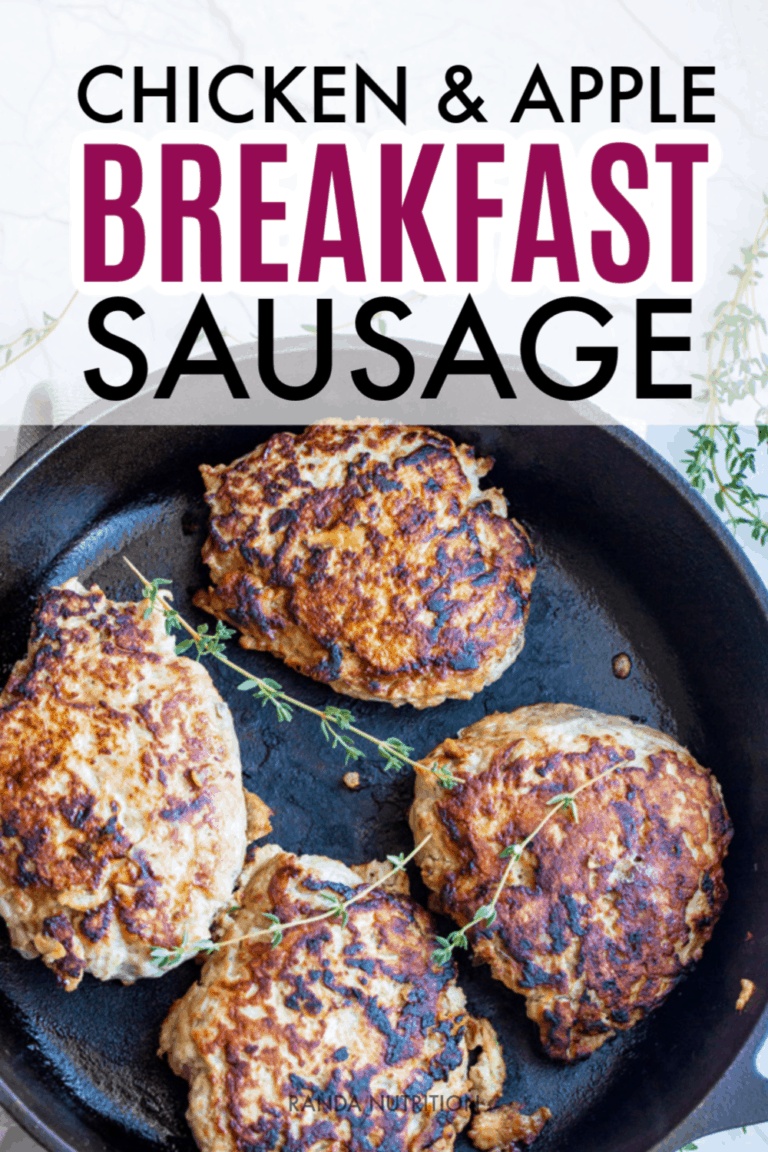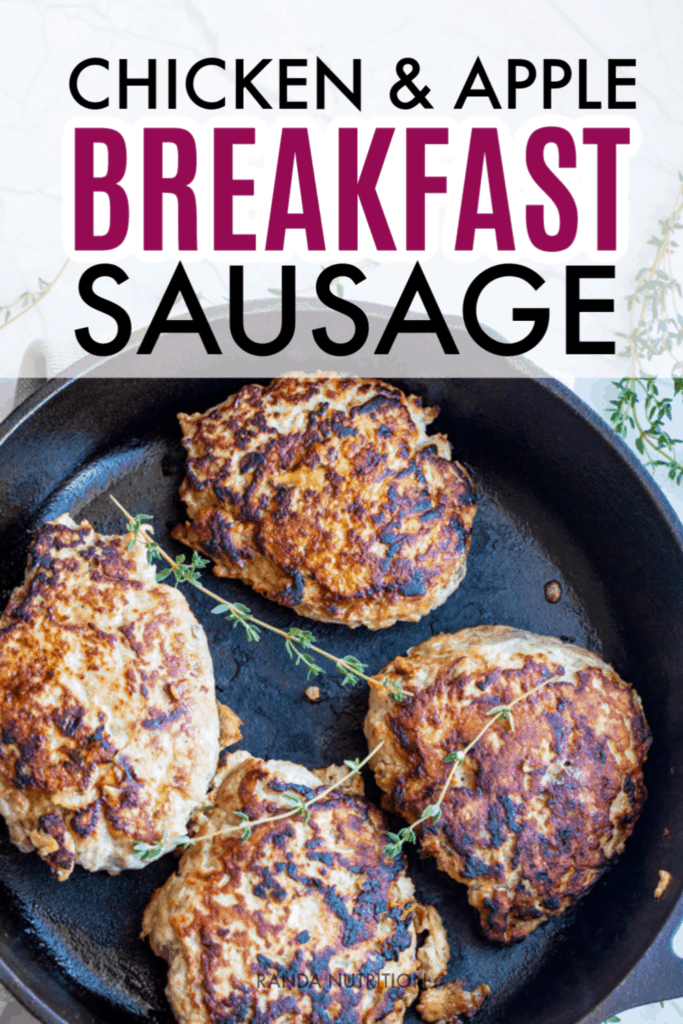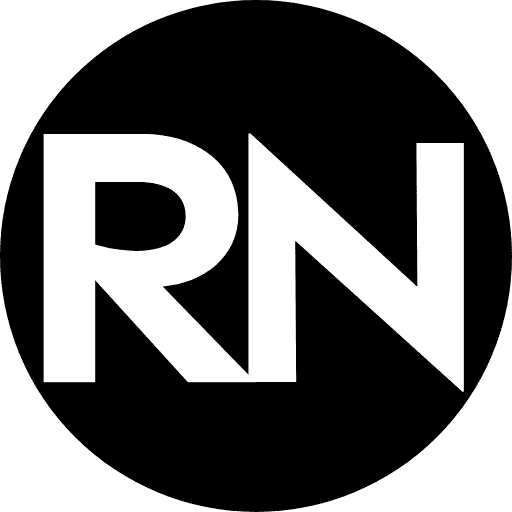 Save This Recipe!
Enter your email below & I'll send it straight to your inbox. Plus you'll get great new recipes every week!

Disclosure: This post contains affiliate links for your convenience. As an Amazon Associate, I earn from qualifying purchases.
Learn How to Track Macros
with this step-by-step guide when you sign up for our emails
Why You'll Love This Recipe
This post is from March 2020, but I updated it with a little more info for you.
I love these homemade sausage patties. Not only are they packed with flavor but they're also healthy. What a win!
I've been eating these chicken sausages in the mornings with a piece of toast and sautéed bell peppers before my workout. Not only does it give me energy for my new grueling workouts but they fit in the eating plan I'm following (I'm currently following 80 Day Obsession).
Don't forget, if you're looking to establish healthy habits (like adding more vegetables to your diet in fun and tasty ways) be sure to secure a spot in the 21 Days to a Healthy Habits Challenge.
What If You Don't Like Touching Raw Chicken?
If you're like me, you do everything you can to avoid touching the raw chicken when mixing the breakfast patties together.
I do this by using a spoon or fork to thoroughly mix the ingredients together and then I divide the mixture in the bowl into quarters (see image below). Then scoop it with a spoon and flatten it on the hot cast-iron skillet.
Voila! Clean hands.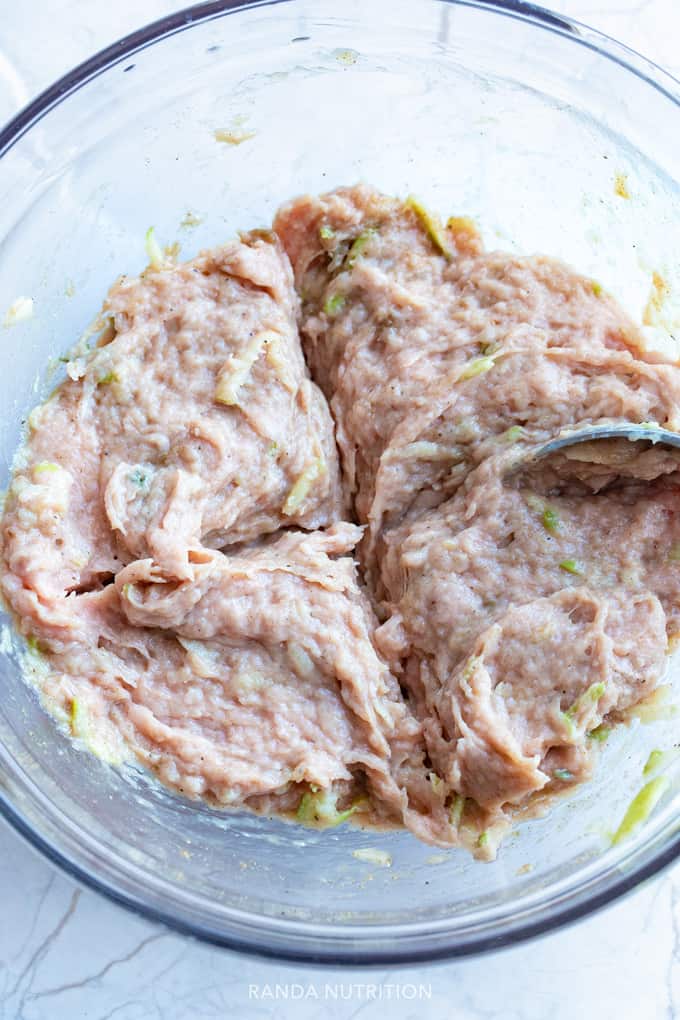 Equipment
You won't need any special equipment to make this sausage recipe.
I used a cast-iron skillet, but you can use whatever you have.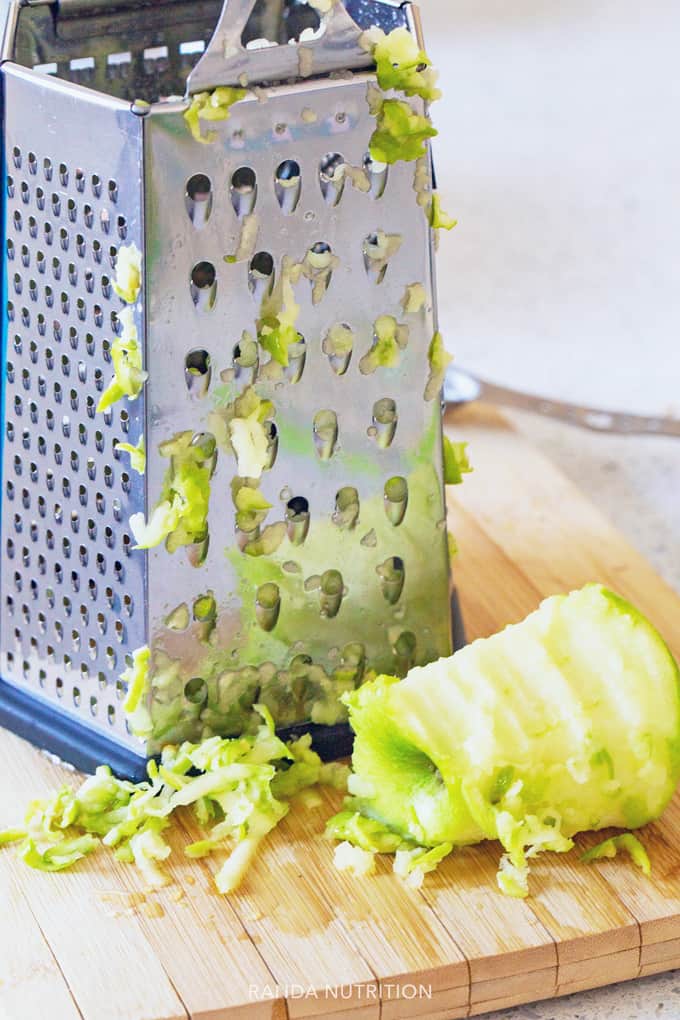 Ingredients
Ground chicken
Apple (I used granny smith)
Maple syrup (pure maple syrup)
Fresh thyme
Ground nutmeg
Ground pepper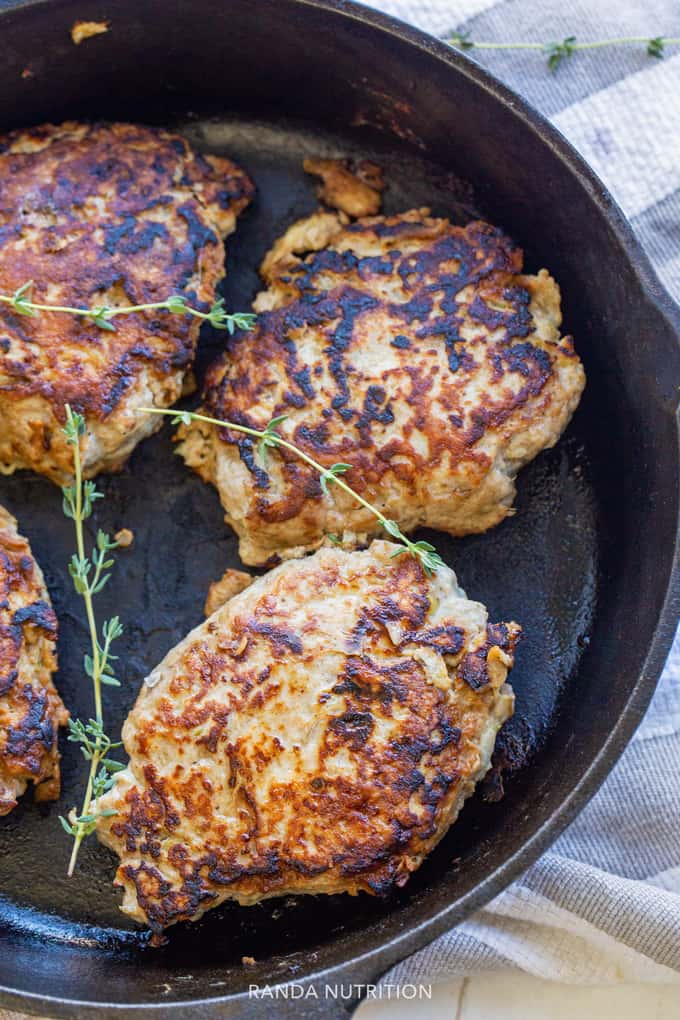 How To Make This Recipe
I'm not one for multiple steps and multiple dishes. I'm more of a throw it together and hope for the best kind of girl.
That's one of the reasons I love this recipe. I dump it all in a glass bowl, mix it up and cook it.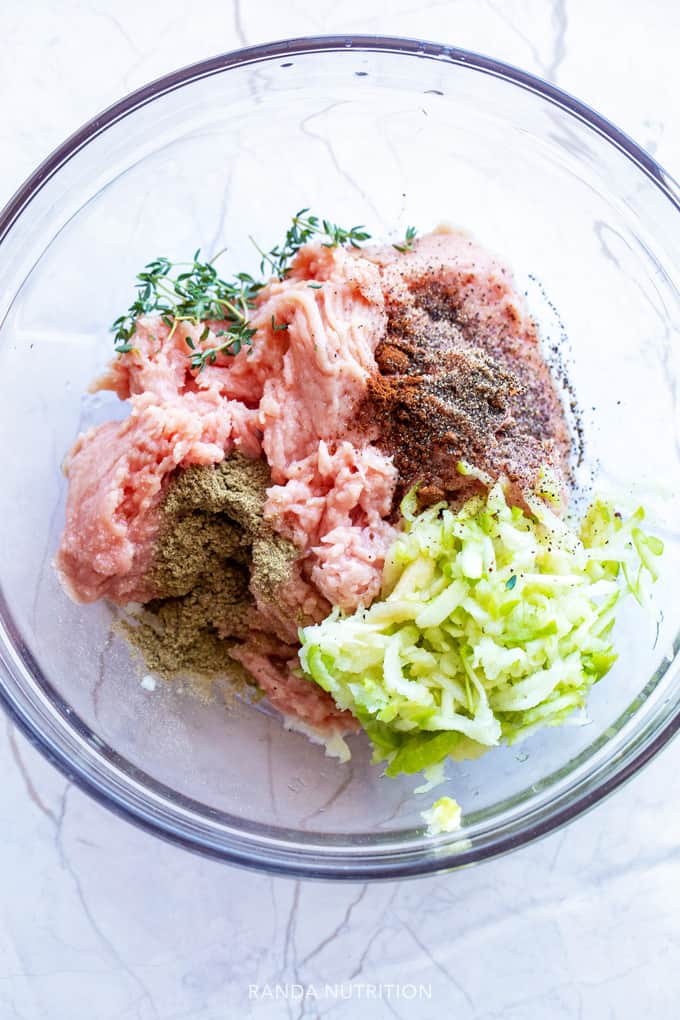 Serving Suggestions
I like these patties with a piece of toast or English muffin and sautéed veggies. (I typically do asparagus or bell peppers.).
Or try it with these Cauliflower Hashbrown Patties!
FAQs
Can I use dried sage in these chicken apple sausage patties?
Fresh is always best, but if you live in the north (like me) or in a remote area, your local grocery store may not have it in stock all the time. If you have fresh sage, roll the leaves together and chop it up. Use about 1 1/2 – 2 tsp worth. If you don't have fresh sage, you can buy ground sage. Use 1 tsp. It's a very powerful herb.
Is this homemade sausage patty recipe 21 Day Fix-compliant?
Yes it is. The full recipe is 1 purple, 4 red, and 3 tsps.
Per serving: 1/4 purple, 1 red, 3/4 tsps.
How can I make these chicken apple sausage patties Whole30-approved?
To make it Whole30-friendly, just leave out the maple syrup. Whole30 bans all sugar, including natural sources such as maple syrup and honey. It doesn't affect the taste as much, the chicken patties will be just as delicious.
Is homemade sausage healthier that store-bought?
Making your own sausage patties is a healthier option because you can control what goes into it. This recipe has no filler, no gluten, no preservatives.
How many calories and macros are in these chicken apple sausage patties?
For 1 sausage (which is 1/4 of the recipe) there's 197 calories, 9g carbohydrate, 20g of protein, and 9g of fat.
If you'd like the full macronutrient profile you can find it at the bottom of the recipe card.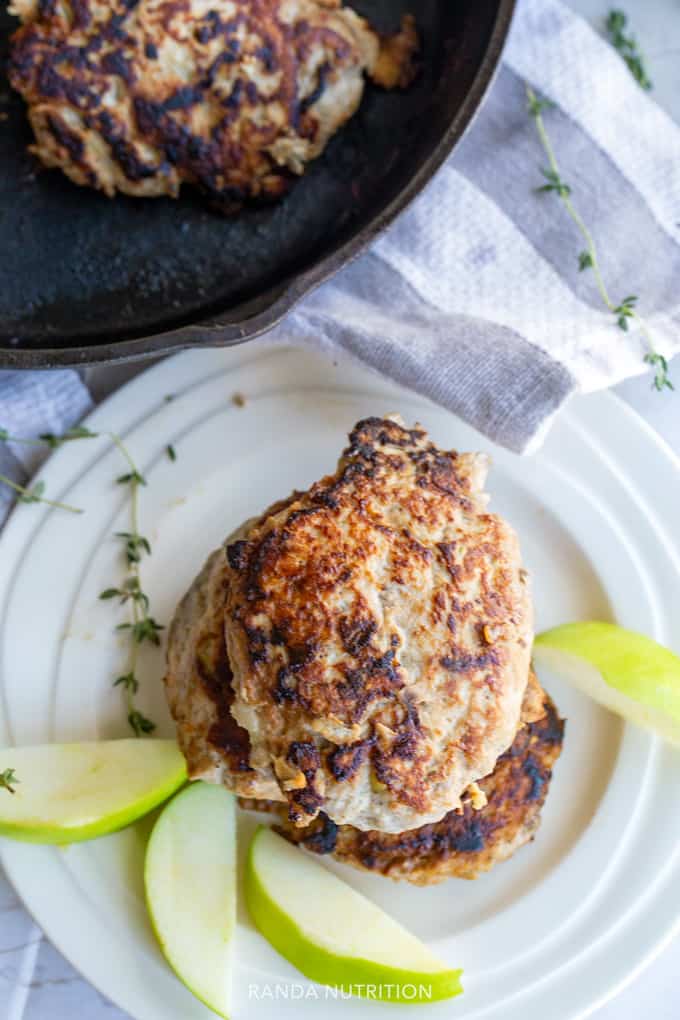 More Healthy Chicken Recipes
Chicken Apple Breakfast Sausage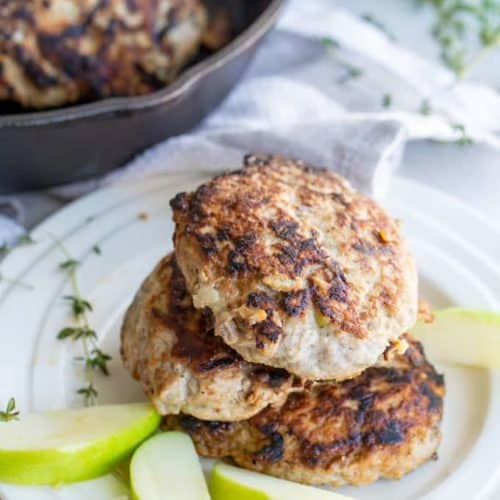 Chicken apple breakfast sausage is a tasty and healthy breakfast recipe. Not only are these homemade sausage patties Whole30 but they're also low carb and paleo friendly. They work with the the 21 Day Fix and portion container system as well. You'll love this easy breakfast recipe for meal prep.
Instructions
Heat cast iron skillet over medium heat. Give it a spray with avocado oil spray or use regular avocado oil.

Combine the rest of the ingredients in a bowl and mix together. Divide the mixture into four and add to the skillet.

Cook for four minutes per side or until full cooked.
Notes
Fresh sage is always best but it's not always available at my local grocery store. Ground sage works just as well. If you do have access to fresh sage, chop it fine and use about 1 1/2 tsp.
Make it Whole30 friendly
To make it Whole30 friendly, leave out the maple syrup.
Is this 21 Day Fix compliant?
Yes it is. The full recipe is 1 purple, 4 red, and 3 tsps.
Per serving: 1/4 purple, 1 red, 3/4 tsps.
Nutrition
Serving:
1
patty
Calories:
197
kcal
Carbohydrates:
9
g
Protein:
20
g
Fat:
9
g
Saturated Fat:
3
g
Cholesterol:
98
mg
Sodium:
650
mg
Potassium:
643
mg
Fiber:
1
g
Sugar:
7
g
Vitamin A:
44
IU
Vitamin C:
3
mg
Calcium:
12
mg
Iron:
1
mg
Learn How to Track Macros
with this step-by-step guide when you sign up for our emails