This gluten-free and healthy chicken fajita pizza takes your classic pizza recipe and gives it with a southwestern kick.
You're going to love this chicken pizza recipe!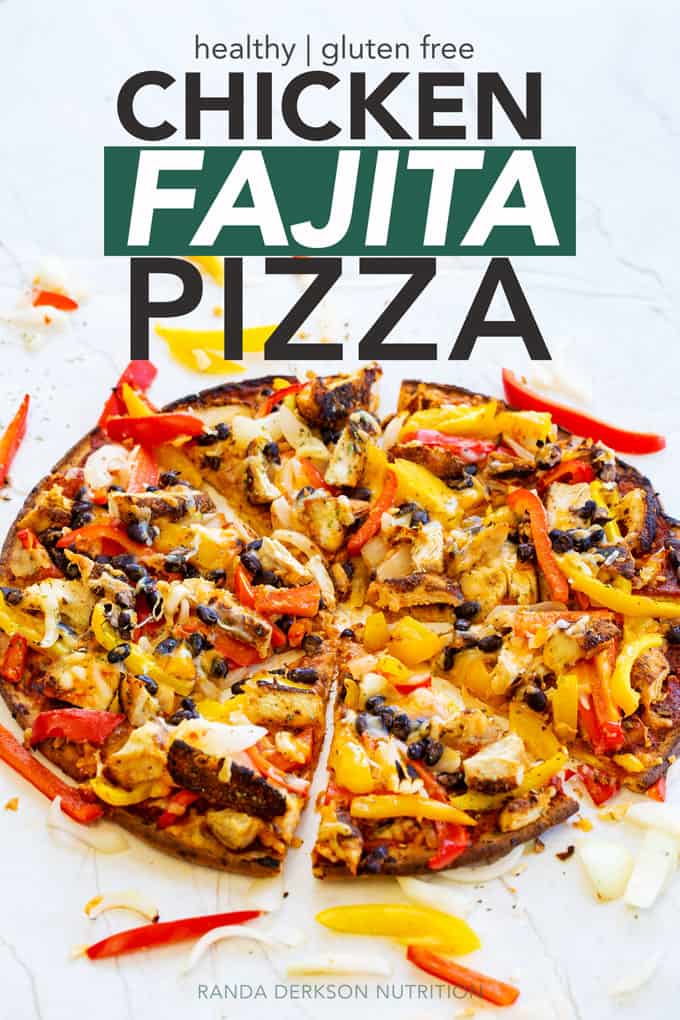 Chicken Fajita Pizza
Disclosure: This post contains affiliate links for your convenience. As an Amazon Associate, I earn from qualifying purchases.
I've been wanting to blog a chicken fajita pizza recipe for years. It's been in my "idea" note section since The Bewitchin' Kitchen was a baby.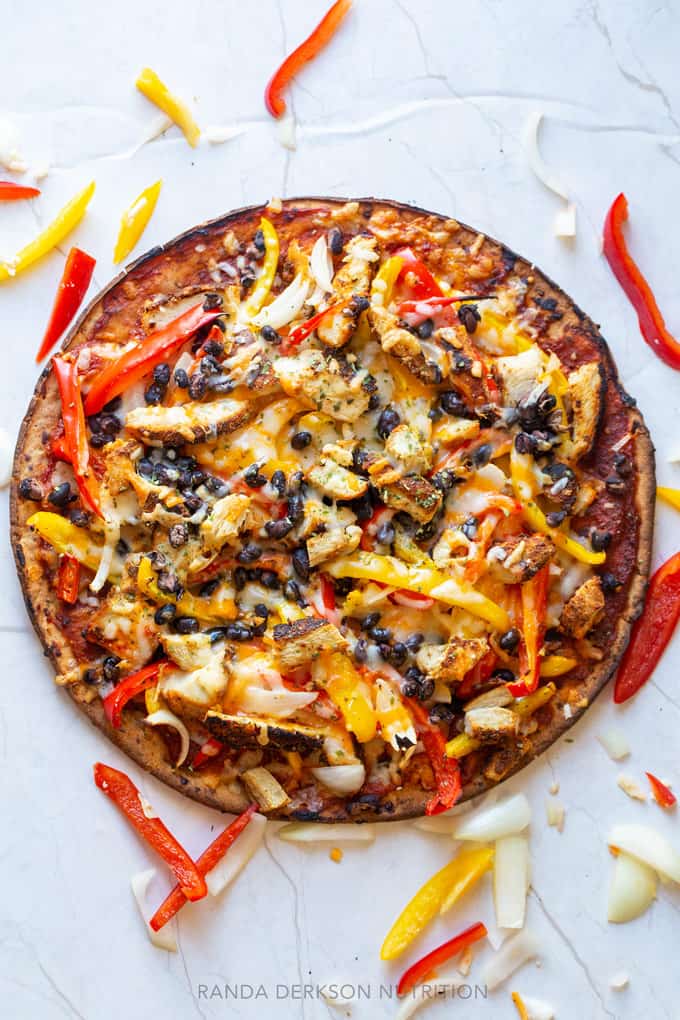 I was creating a chicken parmesan pizza recipe for The Bewitchin' Kitchen and the premade cauliflower crust happened to come in a pack of two.
Perfect.
So I blackened up a chicken breast and whipped up this delicious and healthy chicken fajita pizza on a cauliflower crust.
Gluten-free pizza crust options:
If you're not gluten-free, please feel free to use your favorite homemade pizza crust options or a frozen base.
If you are gluten-free you can do the following:
Make a gluten-free crust out of your favorite nut flours or rice flour.
Use a frozen cauliflower crust base (Caulipower is a popular one).
Make a homemade cauliflower crust. There are a lot of options, some made with cheese, some made with rice flour or a variety.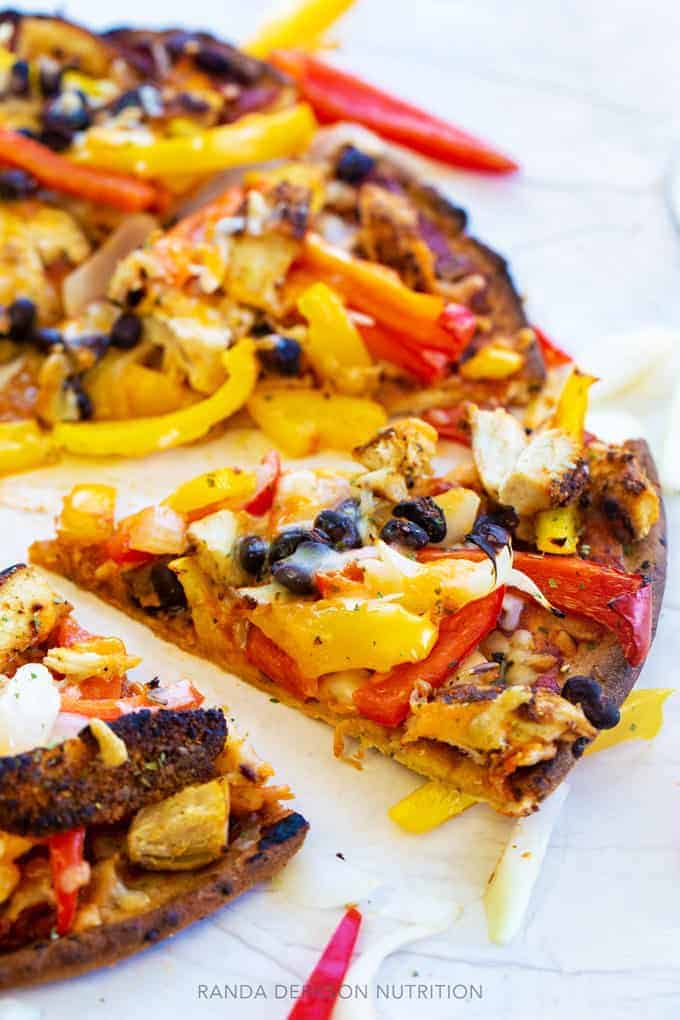 For this particular recipe, the crust I used was from Molinaro's Cauliflower Pizza Kit. It was available at Costco.
I was apprehensive about it at first as it wasn't refrigerated and some of the ingredients were processed but I thought I'd give it a try "for experiment's sake". It tastes fine, it's not certified gluten-free as the package did say it could contain some wheat.
Note: After eating a few slices, I do feel a little tingle in my nose (common with my wheat intolerance before it leads to hives) so I believe I was in contact with wheat.
Do I have to use blackened chicken
In this recipe, I blackened my chicken with almond flour and spices.
Although this step is totally optional, I recommend it as it gives it that "fajita flair".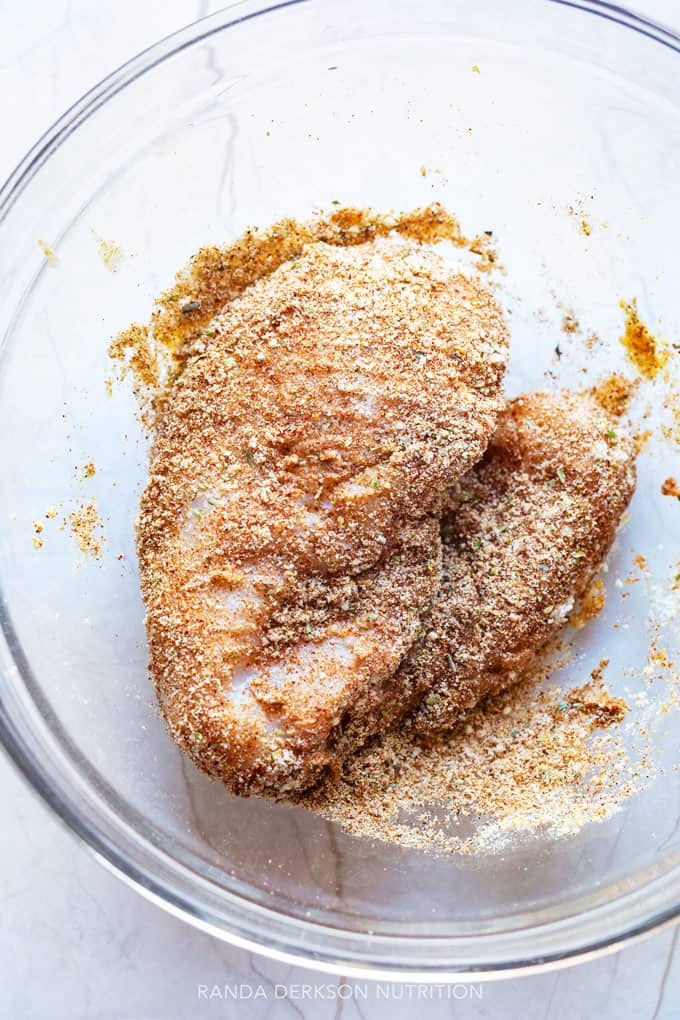 It was really easy. I used the steps for dredging and coating chicken but swapped the traditional dredging ingredients for almond flour, garlic powder, salt, chili powder, cumin, paprika, and oregano.
If you don't want to make it homemade, just mix this pre-done fajita mix up and sprinkle on your chicken before you cook it.
I also LOVE the Fajita mix from Flavor God. I sprinkled it over the sauce before I added my toppings.
How to make pizza healthy
As taught in my 30 Days to a Healthier You challenge, I firmly believe in eating what you like…just do it smart.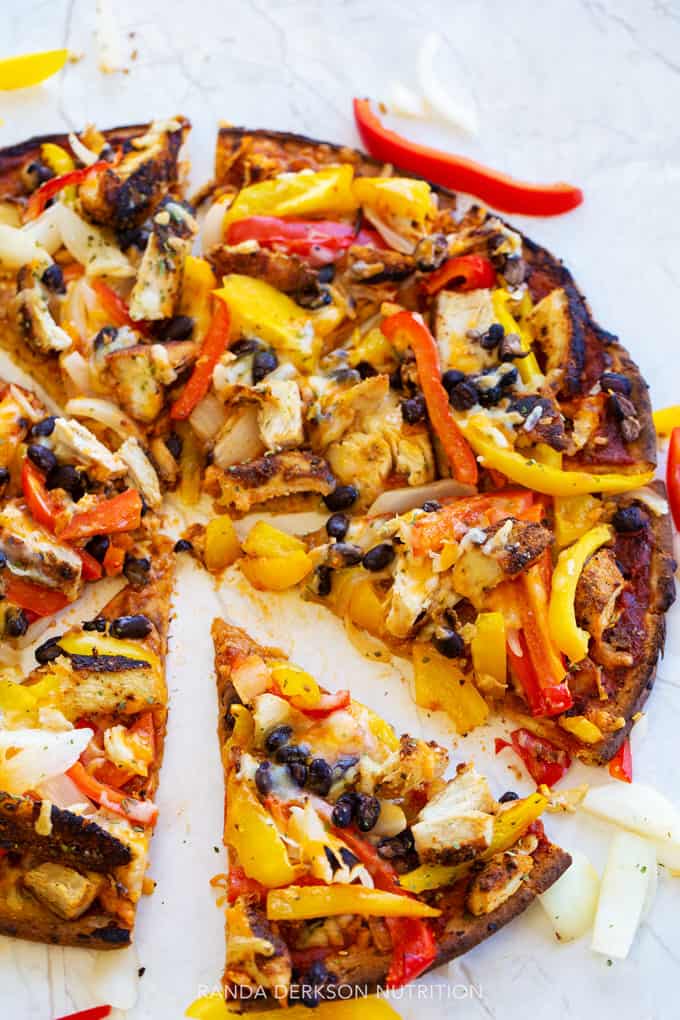 When it comes to creating a healthy pizza here are my best tips:
Eat one or two slices, serve it with a side salad or maybe some veggies and a bit of hummus or ranch. This is perfect if you're ordering delivery with a bunch of friends, or a family game night. Take out happens, that's life.
Don't eat the whole pizza. I know it's tempting, I get it – I am the QUEEN of polishing off a pizza.
When creating your own pizza, add extra veggies to the toppings.
Add a lean protein, like chicken, or plant-based like black beans.
Go easy on the cheese. Try to stick with 1 cup of shredded cheese. It may not look like a lot on the pizza, but your tastebuds won't notice much of a difference.
Change up the crust. Go thin crust, try a pita for individual pizzas, or try a cauliflower crust. In a rush? There are a lot of healthier crust options in the freezer section (try the natural freezer section).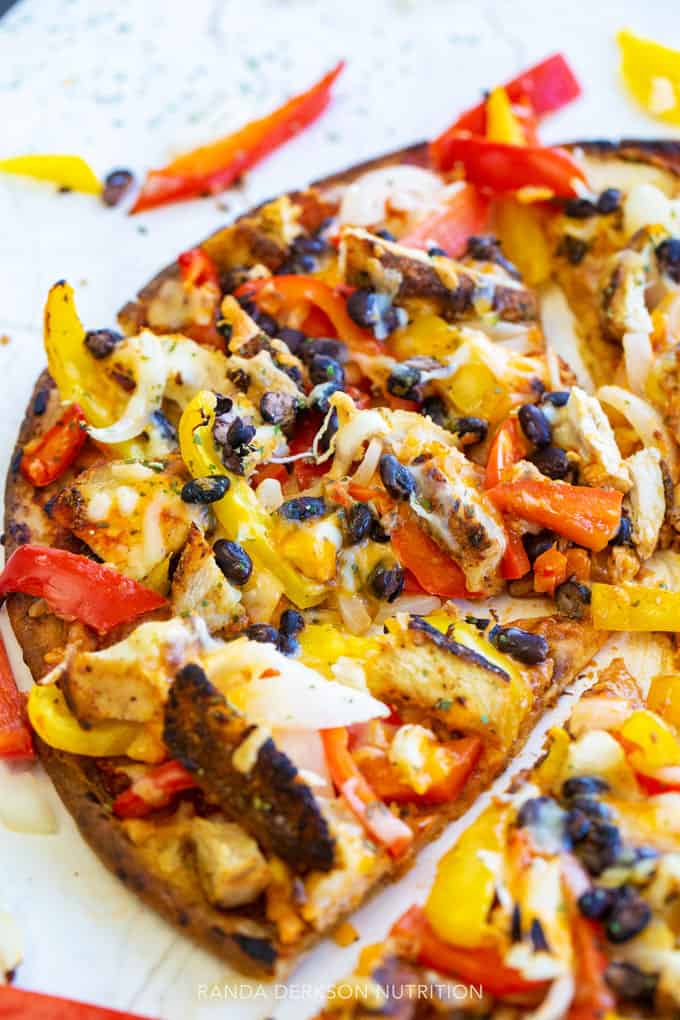 How to make fajita chicken pizza
All of my recipes are customizable so you can easily create your own healthy chicken pizza recipes but making whatever swaps and switches you want.
If you don't like certain vegetables, add them with another.
If you're vegan, you can make a vegan pizza but leaving out the chicken, using a vegan cheese or by omitting any cheese at all. Simply make sure you have a plant-based protein so you're satiated (black beans are great with this fajita chicken pizza recipe).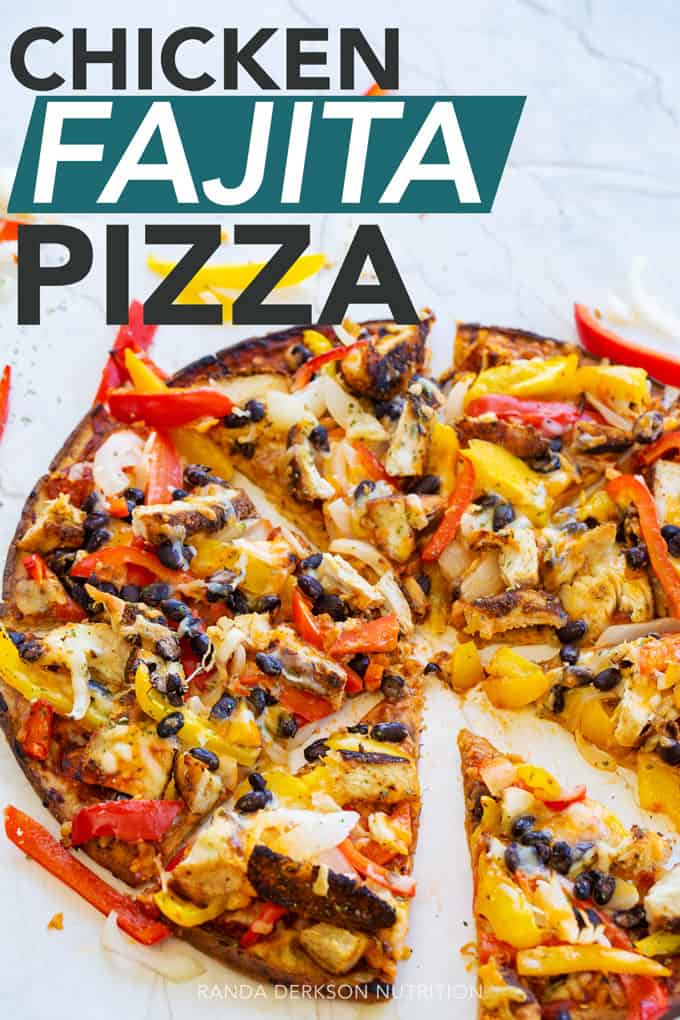 Healthy dinner recipes you should check out.
If you're looking for more healthy dinner ideas, here are a few I think you may like:
Don't forget to read up on these 11 healthy foods to have on hand to make cooking healthy easy!
Chicken Fajita Pizza
This gluten free and healthy chicken fajita pizza takes your classic pizza recipe and gives it with a southwestern kick.
Ingredients
For the blackened chicken
1

large chicken breast

1

egg

splash of almond milk

or whatever milk you have on hand

2

tbsps

almond flour

1

tsp

garlic powder

1

tsp

chli powder

1/2

tsp

cumin

1/2

tsp

oregano

1/2

tsp

paprika

1/4

tsp

salt
Fajita Pizza
1/2

cup

pizza sauce

2

bell peppers

red, yellow, green, etc

1

small onion

1/2

cup

black beans

1

cup

tex mex cheese

Optional toppings: 1 avocado

cilantro, etc
Instructions
For the fajita chicken
Heat a cast-iron pan over medium-high heat and give it a spray with avocado oil.

In a medium bowl add the egg, splash of almond milk and whisk together.

In another medium bowl mix together the almond flour, chili powder, garlic, cumin, salt, paprika, and oregano.

Take the chicken breast, dunk it into the egg mixture and then into the spice mixture. Coat it with the blackened fajita mix.

Add the chicken to the cast iron pan and sear on both sides for 3-4 minutes. Transfer to the oven and let bake for 25 minutes. Let it cool to touch and then slice.
For the fajita chicken pizza
Take your crust (pre-baked if needed) and add the pizza sauce. Sprinkle some fajita seasoning over the crust (this is optional, I used Flavor God's but you can sprinkle ¼ tsp each of chili, cumin, and garlic powder).

At this stage, I like to add a sprinkle (¼ cup) of cheese so the toppings have something to stick too.

Layer on the peppers, onions, chicken, and cheese. I like to add cheese in between each "layer" to act as glue. Top with the black beans.

Bake for 12-15 minutes. Slice up and enjoy.
Notes
To make this recipe quick and easy I used a pre packaged cauliflower crust and the nutritional information uses that crust. The crust I used was from Molinaro's Cauliflower Pizza Kit.
If you use a frozen or homemade crust that will affect the macronutrients and calorie count.
Nutrition
Serving:
1
slice
|
Calories:
200.76
kcal
|
Carbohydrates:
19.21
g
|
Protein:
13.1
g
|
Fat:
7.89
g
|
Saturated Fat:
3.08
g
|
Trans Fat:
0
g
|
Cholesterol:
54.34
mg
|
Sodium:
482.43
mg
|
Potassium:
315.06
mg
|
Fiber:
2.93
g
|
Sugar:
3.78
g
|
Vitamin A:
1263.9
IU
|
Vitamin C:
40.42
mg
|
Calcium:
132.56
mg
|
Iron:
1.24
mg
Tried this recipe and love it? Share a photo on IG
Tag me at @RandaDerkson
If you like this recipe, then please share it with your friends and pin it.