These easy rotisserie chicken tacos are the perfect way to use up chicken leftovers!
They're easy, quick, and customizable for a healthy, family dinner idea! Simple ingredients like shredded chicken, pickled onions, and Valentina hot sauce make this dish irresistible. They're also gluten free thanks to the corn tortillas (but you can use flour tortillas too).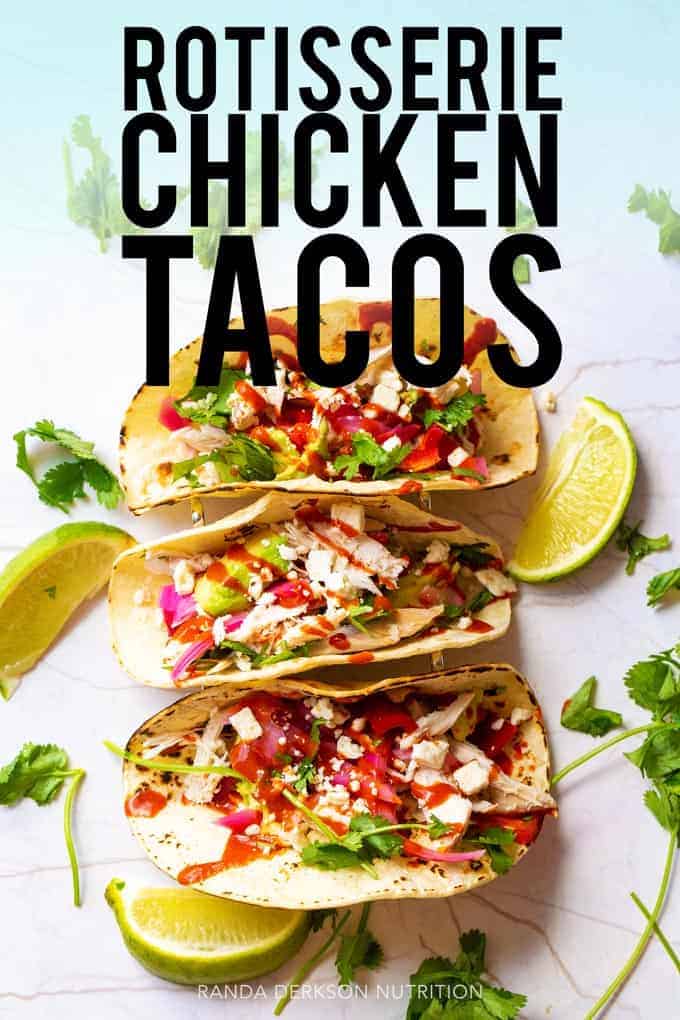 Rotisserie Chicken Tacos
Disclosure: This post contains affiliate links for your convenience. As an Amazon Associate, I earn from qualifying purchases.
Learn How to Track Macros
with this step-by-step guide when you sign up for our emails
I never had a real taco until 2015 at a chain restaurant. My world opened up that day.
Then I tried "street tacos" in Southern California during our first ever Disney trip and boom – I was hooked. There was no other way to have tacos.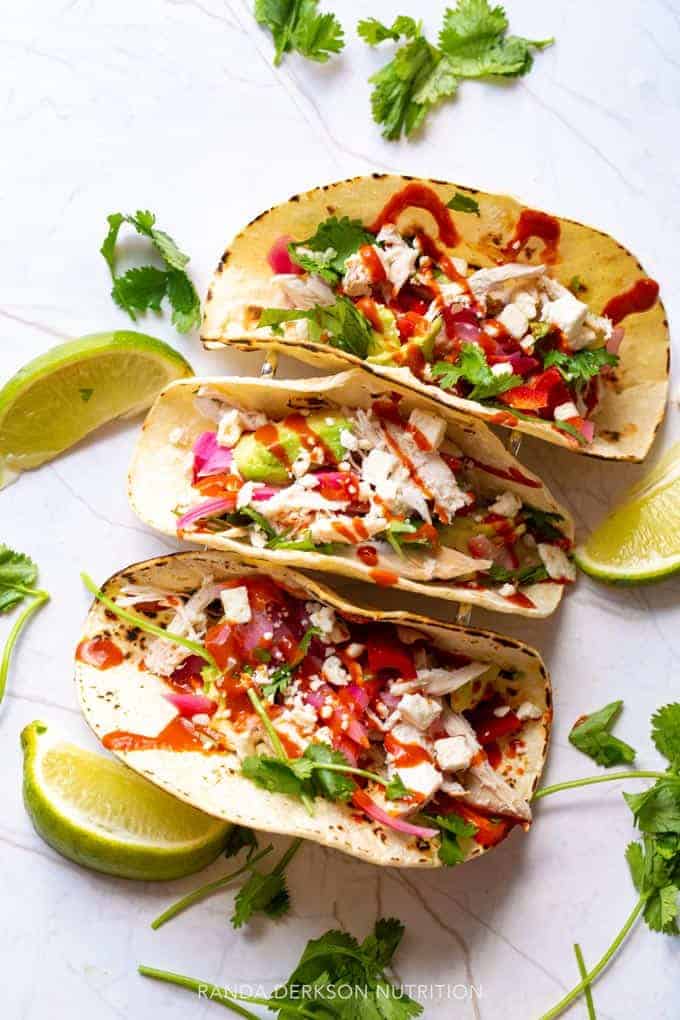 I grew up with tacos being ground beef with a store bought mix with cheddar cheese and salsa. I was never a big fan and I couldn't understand why people always said they loved tacos. No shame in that…but I've never looked back since I started making tacos with pre cooked chicken from the grocery store.
I wasn't having real tacos.
Now tacos are something that I could legit live off of.
They're so easy! You can add whatever you want and have a new flavor or style of taco every single day.
They're ideal for meal prep!
Chicken Taco Toppings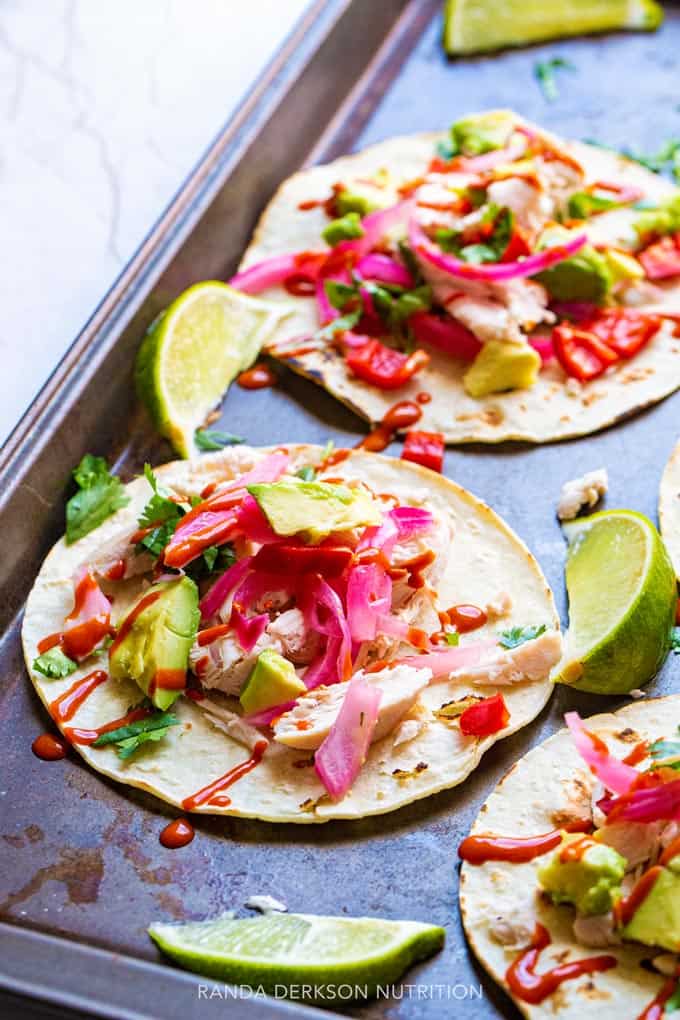 There are so many different toppings available for chicken tacos.
Seriously, you can make a different taco every meal.
With this simple recipe I used the following:
Pickled red onions (store bought or you could use the easy recipe I linked)
Cilantro
Red bell pepper
Leftover rotisserie chicken
Avocado
Mexican hot sauce (my favorite is Valentina)
You could also squeeze some fresh lime juice over top (this is how I got my picky eater to enjoy them).
Other chicken taco vegetables and toppings you could use:
tomatoes
lettuce
slaw (bagged coleslaw is easiest)
purple cabbage (this makes the color pop)
black beans
refried beans
chiles
queso fresco
cotija cheese
What chicken works best for tacos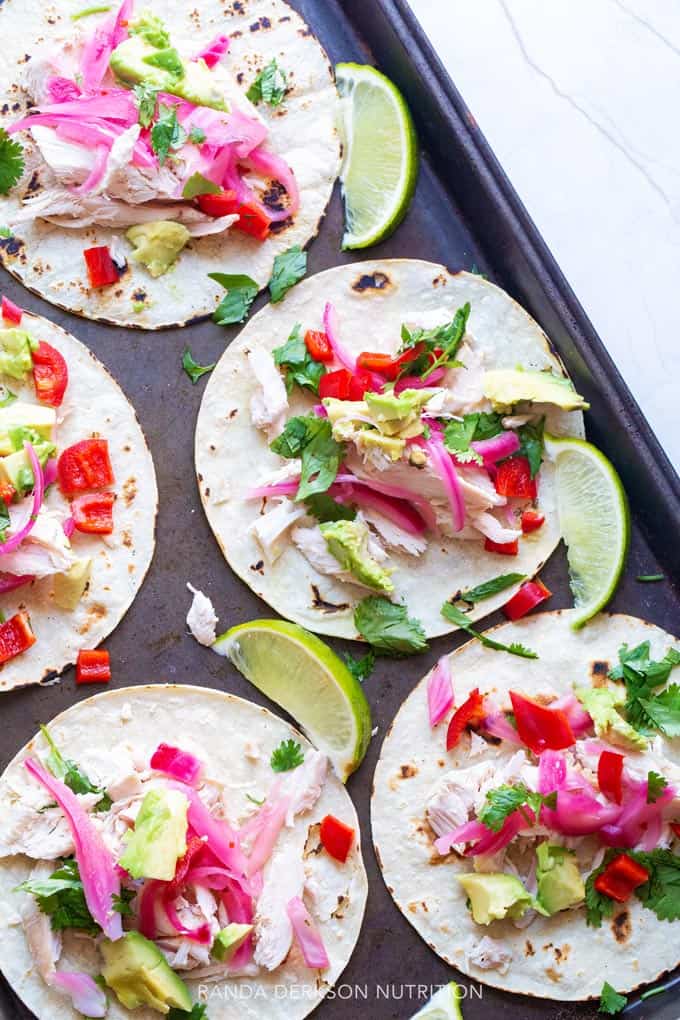 I am using leftover rotisserie chicken from the deli section at the grocery store (or Costco), but you can use:
Grilled chicken (grilled chicken tacos are always a win)
Baked Chicken
Chicken shredded in the crockpot (you can cook it with salsa for some extra and top your tortillas with this chicken mixture for easy meal prep)
The store-bought chicken I bought was seasoned with salt and pepper but you can roast your own as well with flavors such as chili powder, paprika, cumin, lemon, lime, etc. One of the stores I shop at has a BBQ roasted chicken and I am so tempted to make BBQ chicken tacos.
You can do whatever you want to the chicken to add whatever flavor you're craving.
I prefer using chicken breast, but chicken thighs are also great for chicken tacos as the meat is more tender (I'm trying to avoid the "m word" here)!
Why chicken tacos are perfect for meal prep
Listen, we just don't have time to be making elaborate meals all the time for our week, or at least I don't.
So I like to take as many shortcuts as possible and tacos are perfect for meal prep.
Whether you're batch cooking to make your week easier or prepping for your health and fitness goals, this method is perfect.
Meal prep chicken for tacos
Using a cooked rotisserie chicken from the supermarket means the cooking is done for you.
All you have to do is shred the chicken, and store it n containers in the fridge. You can season it if you want to give it some extra flavor.
You can do this without whatever protein you want. Chicken, tofu, ground turkey, beef, etc.
Meal prep for toppings
I tell clients all the time: prepare your vegetables as soon as you get home from the store.
This way everything is done and you can just toss vegetables into your salads, stir-fries, casseroles, or just have as raw snacks.
Peppers, tomatoes, lettuce: cut it all up and store them in the fridge.
Prepare your pickled onions at the beginning of the week (they're also delicious on salads and burgers) or try these pickled radishes.
Avocados are tricky and let's be honest, they tend to go bad the moment you turn around. To prevent this from happening I'll buy the mini guacamole (like Wholly Guacamole) in the plain variety. They're pre measured and I can just add them to the tacos or salads.
Adding black beans for extra protein? Simply drain them, rinse them, and store them in a container in the fridge.
Cilantro should be washed (herbs are so dirty) and put in a jar in the fridge (like flowers). They last longer this way. Place the plastic produce bag from the store over top of the leaves to keep the air from wilting the leaves.
How to make easy chicken tacos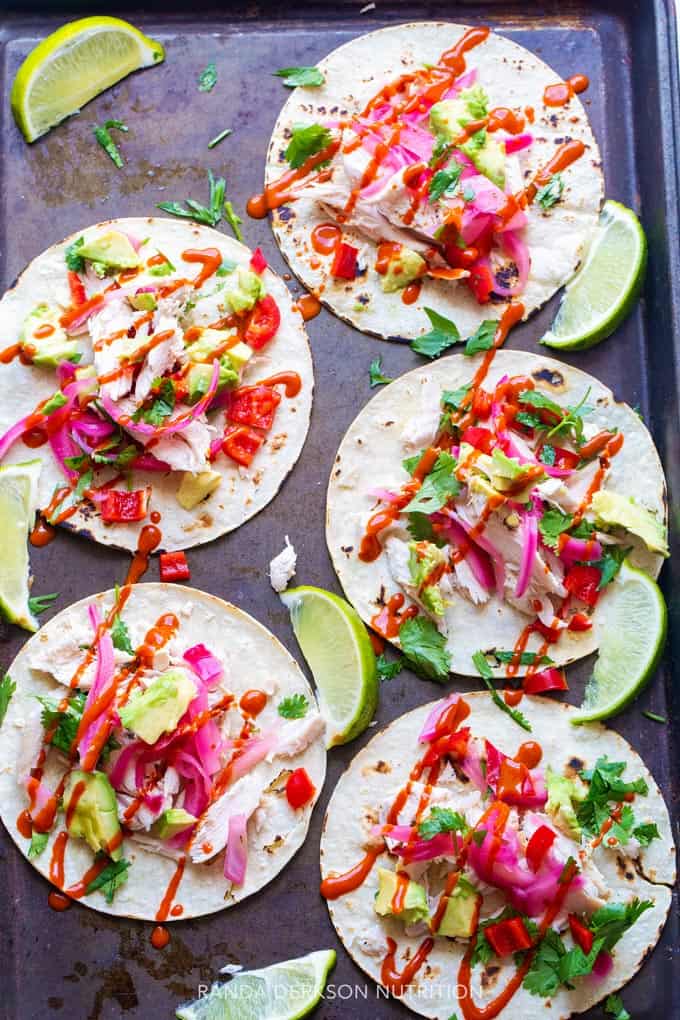 For this recipe, I used store bought corn tortillas and gave them a little color by warming them up on a cast iron skillet.
However, you can use this recipe to make homemade gluten free tortillas (aka corn tortillas).
Container Counts
If you follow me on Instagram, you know I'm not about these containers anymore and I was going to remove them but after many requests after a story poll, I'm keeping it…for now.
I do find portion containers to be restrictive and very diet-focused. Before you freak out, I get it … they "promote balance" but do they? They also make recipes difficult. Instead for myself and clients, we set daily targets that allow us to eat whole foods and treats and not worry about how many cups of something we're having. If you want more info you can check out the Food Freedom, Your Way program.
What I love about this recipe is you can alter the nutrition easily. If you want more protein, you can simply measure out the chicken on its own. The macros calories are totally flexible for your goals of the day.

If you still want the containers, here they are:
By popular request, I am slowly adding container counts for those of you following the Ultimate Portion Fix. This way you can see if it works for your plan for Beachbody programs like 21 Day Fix, LIIFT4, 80 Day Obsession, and 10 Rounds.
Full recipe given: 1 green, 2 red, 2 1/2 yellows, 2 blue.
Per serving: 1/5 green, 1/3 red, 1/2 yellow, 1/3 blue.
Tips to make it fit your containers: measure out the chicken, veggies, cheese in each container and make it fit for what you have allotted for dinner.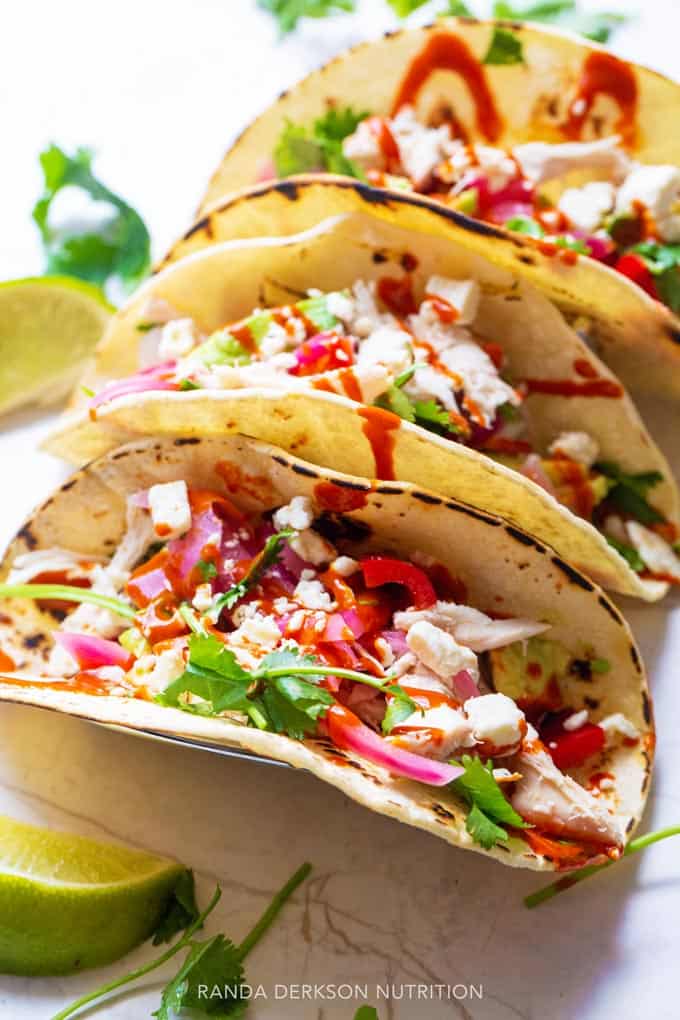 Tip: have the tacos sit up like in the photos, I used these taco stands.
How to Make Rotisserie Chicken Tacos
The amount of meat used in these chicken tacos depends on the size of the rotisserie chicken. I used half a chicken in mine as I was using leftovers. The meat I was able to pull was about the size of two small chicken breasts.
Note: I have Cojita cheese as an optional topping. Cojita isn't easy to come across in the area I live in (I have never seen it) so I topped it with some feta and it was delicious. Use what you have and make it work for you and your family's situation.
Healthy Chicken Recipes You'll Love
Don't forget to save this recipe by clicking the pin it button at the top (and bottom) of the post!
Rotisserie Chicken Tacos
Need an easy and healthy way to use up rotisserie chicken leftovers? These gluten free rotisserie chicken tacos are AMAZING! They're quick and customizable for a simple family dinner in 5 minutes fast!
Ingredients
5

corn tortillas

2

cooked chicken breasts

shredded (half of the rotisserie chicken)

1

cup

pickled onion

1/2

cup

cilantro

1

red bell pepper

1

avocado

diced

2

tbsps

Mexican hot sauce

I use Valentina

cojita cheese

optional
Instructions
Layout the corn tortillas on a sheet pan on taco stands (see note below).

Optional: If you want to char/brown them heat them up on a cast iron pan over medium-high heat for a minute or two on each side.

Since all the ingredients are either already cut up or pre cooked (like the chicken) all you have to do is arrange the taco to your liking. It's that easy, it seriously only takes 5 minutes to have everything good to go for your whole family.
Notes
Cojita cheese isn't easy to come across in the area I live in (I have never seen it) so I topped it with some feta and it was delicious.
These taco stands are awesome for keeping your chicken tacos upright!
Container Counts
Full recipe given: 1 green, 2 red, 2 1/2 yellows, 2 blue.
Per seving: 1/5 green, 1/3 red, 1/2 yellow, 1/3 blue.
Tips to make it fit your containers: measure out the chicken, veggies, cheese in each container and make it fit for what you have allotted for dinner.
Nutrition
Serving:
1
g
|
Calories:
227
kcal
|
Carbohydrates:
20
g
|
Protein:
19
g
|
Fat:
9
g
|
Saturated Fat:
2
g
|
Cholesterol:
44
mg
|
Sodium:
193
mg
|
Potassium:
488
mg
|
Fiber:
5
g
|
Sugar:
3
g
|
Vitamin A:
923
IU
|
Vitamin C:
41
mg
|
Calcium:
41
mg
|
Iron:
1
mg
The nutrition information is calculated using a third party resource. The accuracy varies on the brands used, weight, portions, etc. This resource should be used as a guide. If you want more accurate information, weigh in grams and log in MFP.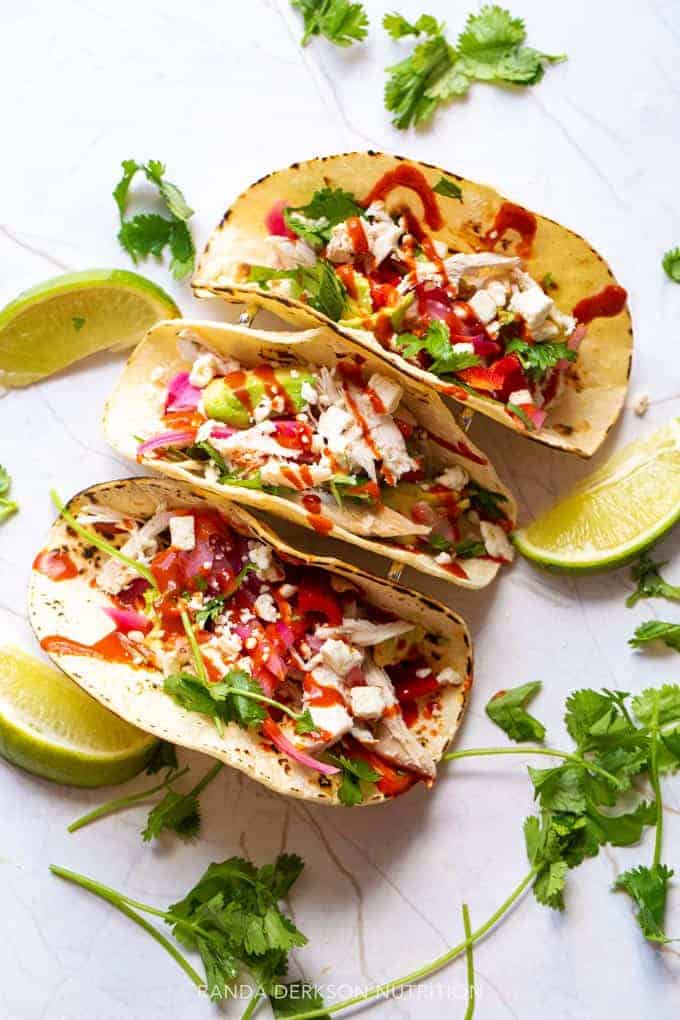 originally published July 30, 2019.