Strawberry Spinach Smoothie Recipe
I love a good smoothie recipe. Not only are they simple to throw together, but they're easy to add extra veggies too. This strawberry spinach smoothie is a simple smoothie that gives you an easy serving of vegetables to start your day with power.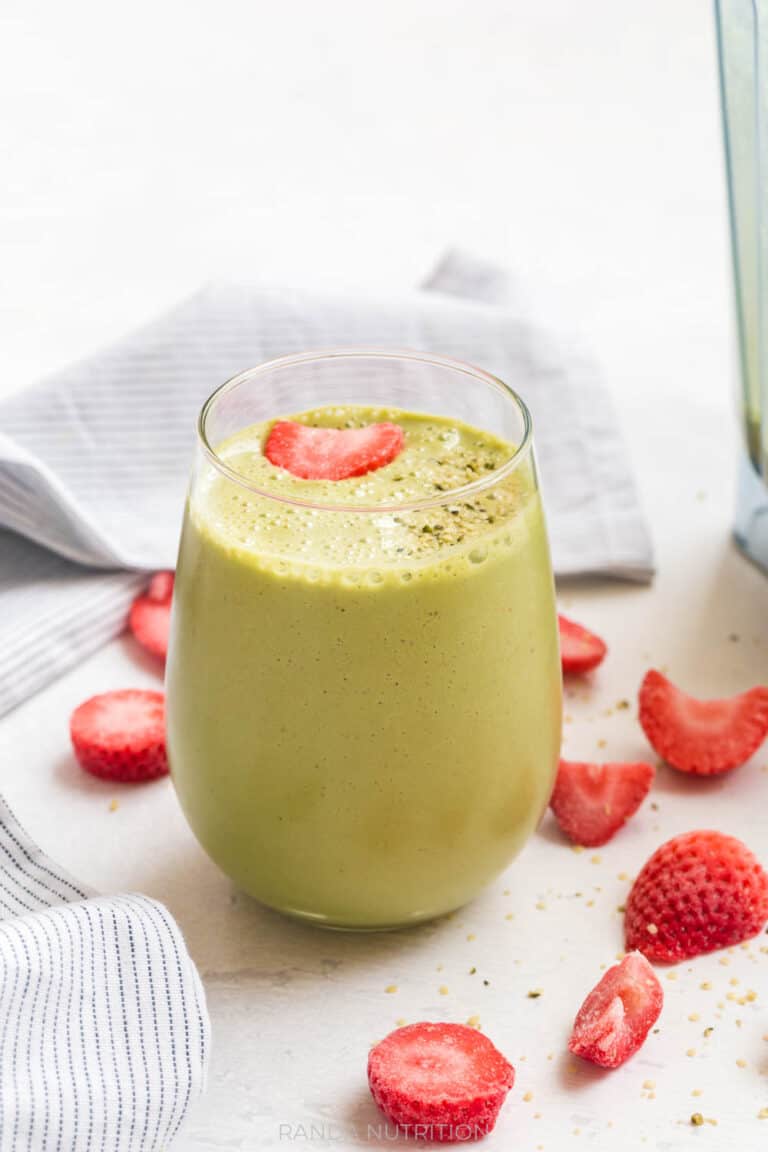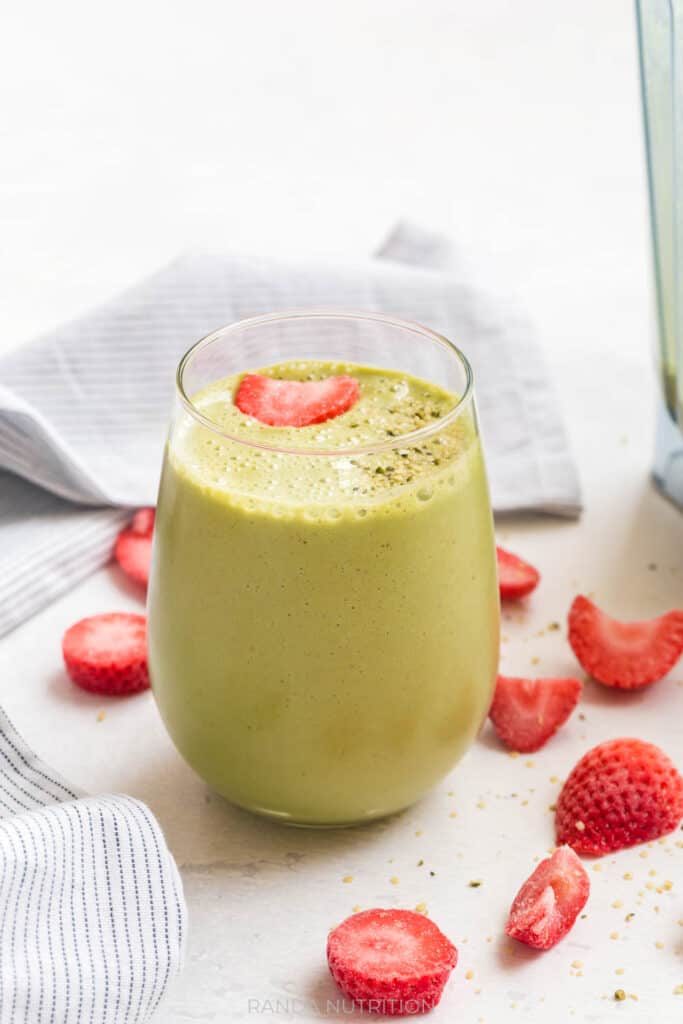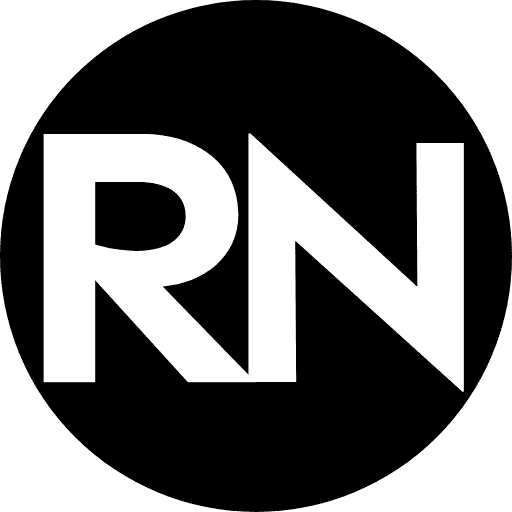 Save This Recipe!
Enter your email below & I'll send it straight to your inbox. Plus you'll get great new recipes every week!

Disclosure: This post contains affiliate links for your convenience. As an Amazon Associate, I earn from qualifying purchases.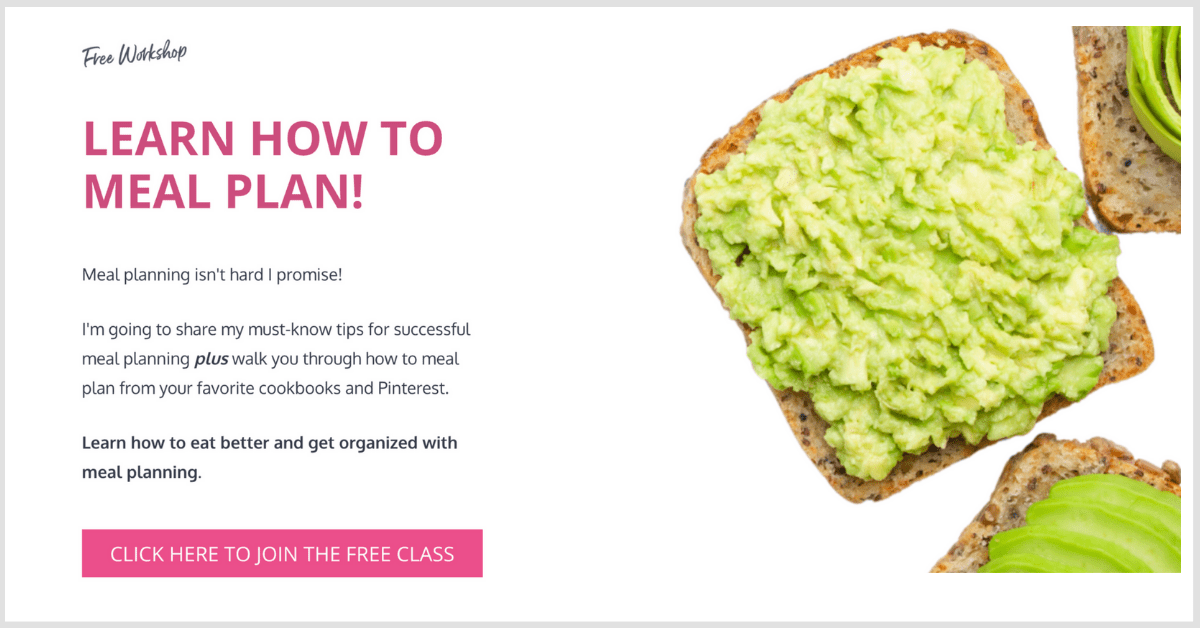 Strawberry Spinach Smoothie
Let's be honest, as moms (or as picky eaters ourselves), we like to sneak in veggies where ever I can, and smoothies are perfect for this. I often share on Instagram how I add spinach or cauliflower rice (or both) to my smoothies to add a boost of veggies. I tend to keep it there (I'm picky) but many clients add celery, beets, kale. The list is endless.
Whenever I suggest adding ingredients like cauliflower or spinach to smoothies, I get push back. Whether it's from sharing on my Instagram stories or from my one on one clients. I get it, it's weird but trust me.
The cauliflower has no flavor in the smoothie, it's just there to provide more nourishment. The spinach is pretty tasteless as well. It only adds a taste when you load your blender with it.
Green Smoothies for Picky Eaters
I like sneaking in veggies for my toddler, it makes me feel better that she's getting the vitamins and minerals needed.
I'll be honest, it's a mixed reaction. Not from the taste but from the look. Some days I can get her excited about a Hulk smoothie that will make her big and strong (that's what we call green smoothies here) and other days she associates green with veggies. That's why I also love adding cauliflower because it doesn't change the color (I linked a cauliflower smoothie recipe at the bottom of the post).
Smoothie Ingredients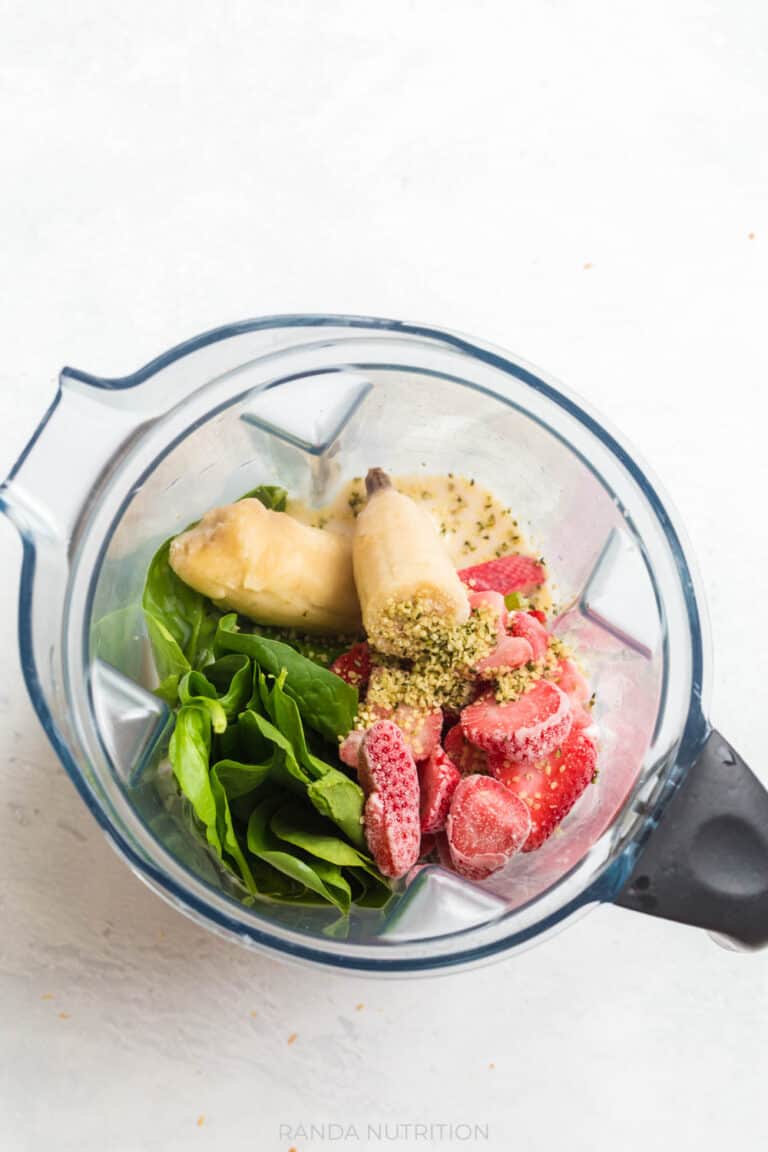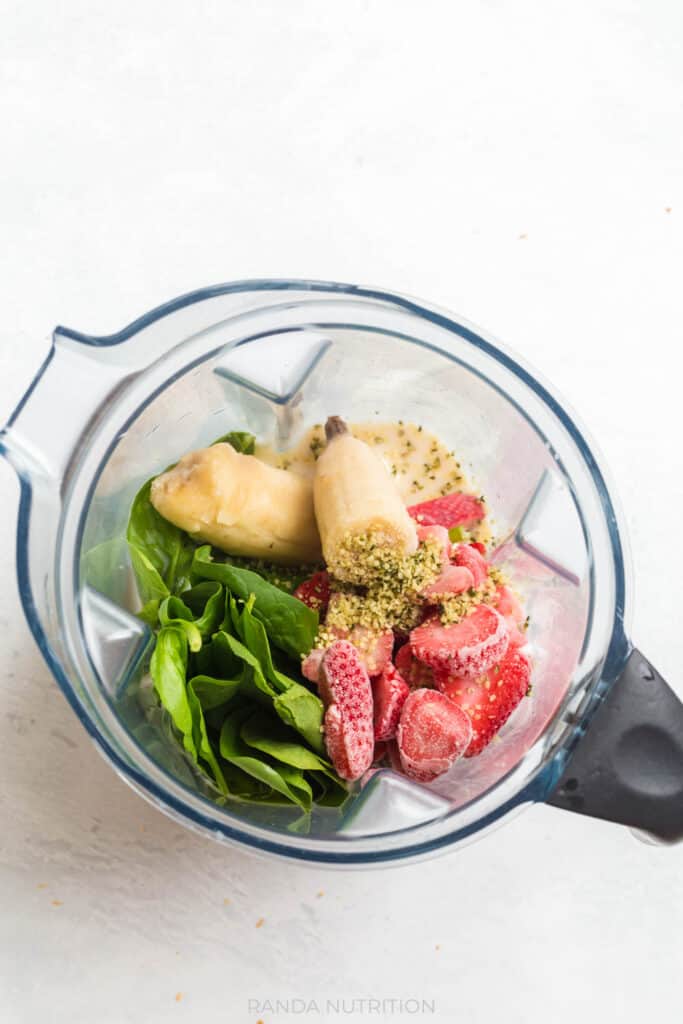 The ingredients for the strawberry spinach smoothie recipe are pretty basic. All you need are:
1/2 banana (I used frozen)
1/2 – 1 cup of spinach
1 cup strawberries (I used frozen, frozen fruit is my favorite as it thickens it up and makes it frosty)
1 cup of unsweetened almond milk (but you can use whatever milk you want: oat, dairy, coconut, soy, etc).
3/4 cup of Greek yogurt or you could use 1 scoop of vanilla protein powder if you wanted it without yogurt.
Optional: you can also add ice cubes if you want it to be extra icy.
You could easily make this vegan but opting to go no yogurt and use a plant based protein powder instead of whey. Need a vegan protein powder? Check out Nuzest, they're my favorite for plant based.
The Health Benefits of Adding Spinach to Smoothies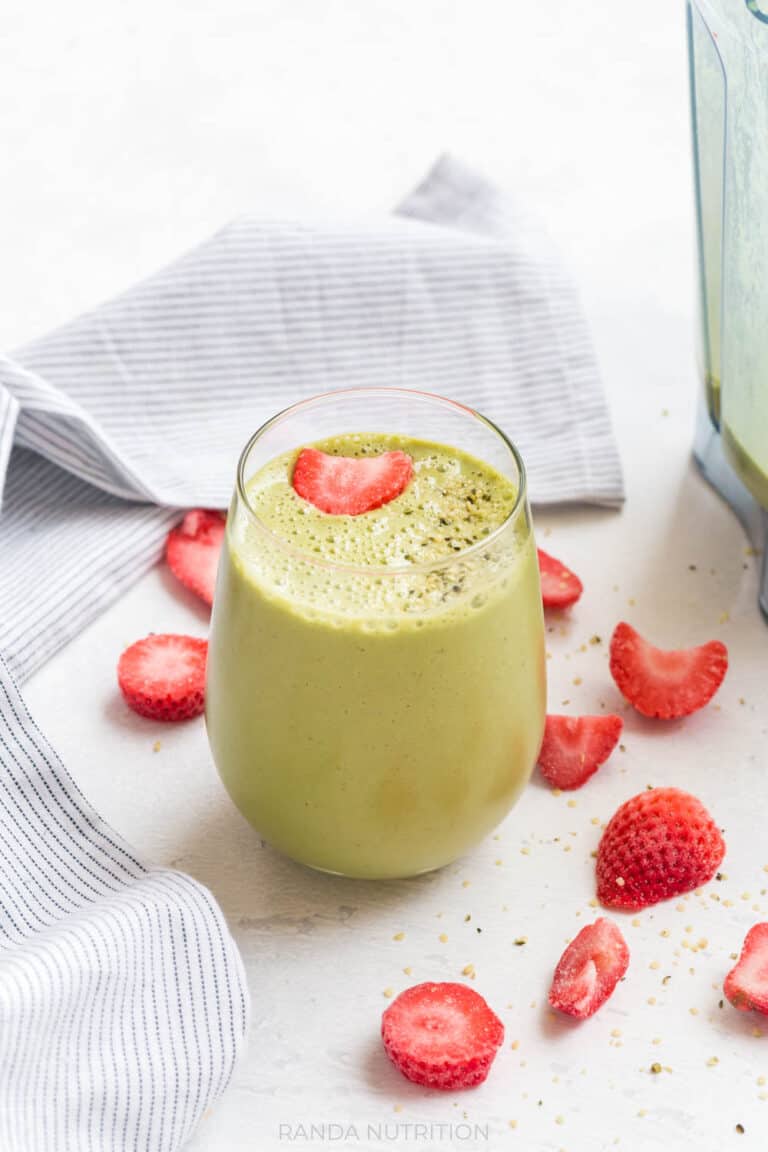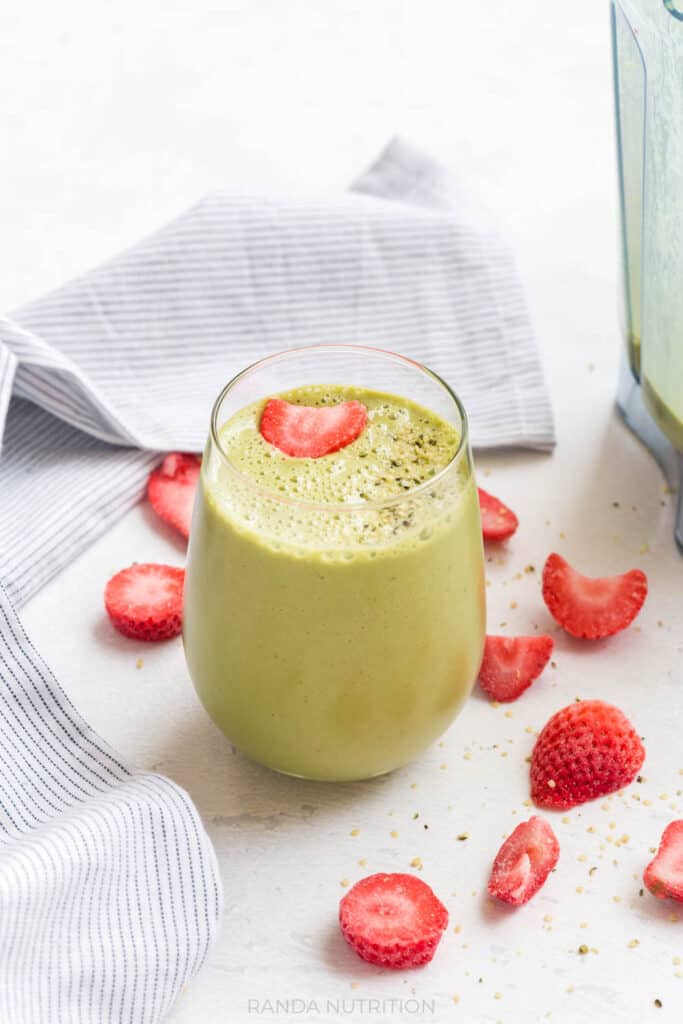 There are more health benefits of adding vegetables like spinach to smoothies like this strawberry spinach banana smoothie then just "adding an extra serving of vegetables".
Here are the benefits of spinach:
It's low-calorie. For a nutritional powerhouse like spinach, it doesn't take a lot to get the nutritionist. One cup is roughly 9 calories, and trust me you're not going to overeat spinach.
It's high in antioxidants (source).
Spinach is a source of fiber.
It's an excellent source of vitamin A, C, K (source).
Spinach is a great source of folate, iron, potassium, and calcium.
Common Questions about Spinach Smoothies
Are Spinach Smoothies Healthy?
As with anything, it really depends on what you put in it. If you're blending cookies, ice cream, but adding spinach I wouldn't really call that healthy.
However, if you add spinach, a fruit, and a protein like greek yogurt or protein power with a touch of sweetener (like honey), then yes! Spinach can be totally healthy.
It tastes too much like spinach, can I use less?
Absolutely. I actually recommend starting with 1/2 cup of spinach to not shock your tastebuds too much when you first try spinach smoothies. I don't want to turn you off from them. If that's too much, try 1/4 cup and work your way up. Make this recipe work for you.
How can I make it sweeter?
The banana does add a lot of sweetness but if you need a bit extra add a teaspoon or two of sweetener of choice (honey, maple syrup, monk fruit, etc).
Do spinach smoothies help with weight loss?
The only thing that helps with weight loss is being in a caloric deficit. Smoothies take up a lot of volume in your stomach, so it does help you stay full and the fiber in the spinach and fruits only help the cause. If you're concerned about weight loss and are unsure of where to start, check out my nutrition coaching and I will help you with that.
Do I need an expensive blender to make it work?
Not at all. I have a Vitamix and I love it but since this smoothie recipe is pretty easy to blend you could use your regular blender (although the Ninja blenders go on sale for a good price often and are high-powered).
Can I use protein powder instead of greek yogurt?
Yes, of course, make this the way that works best for you. It will change the taste but I'm sure it will be delicious.
Can I drink smoothies every day?
Absolutely you can! I recommend switching out the ingredients with different fruit and trying new ingredients to give a variety throughout your week but smoothies are one of the easiest ways to get more fruits and vegetables in your daily diet.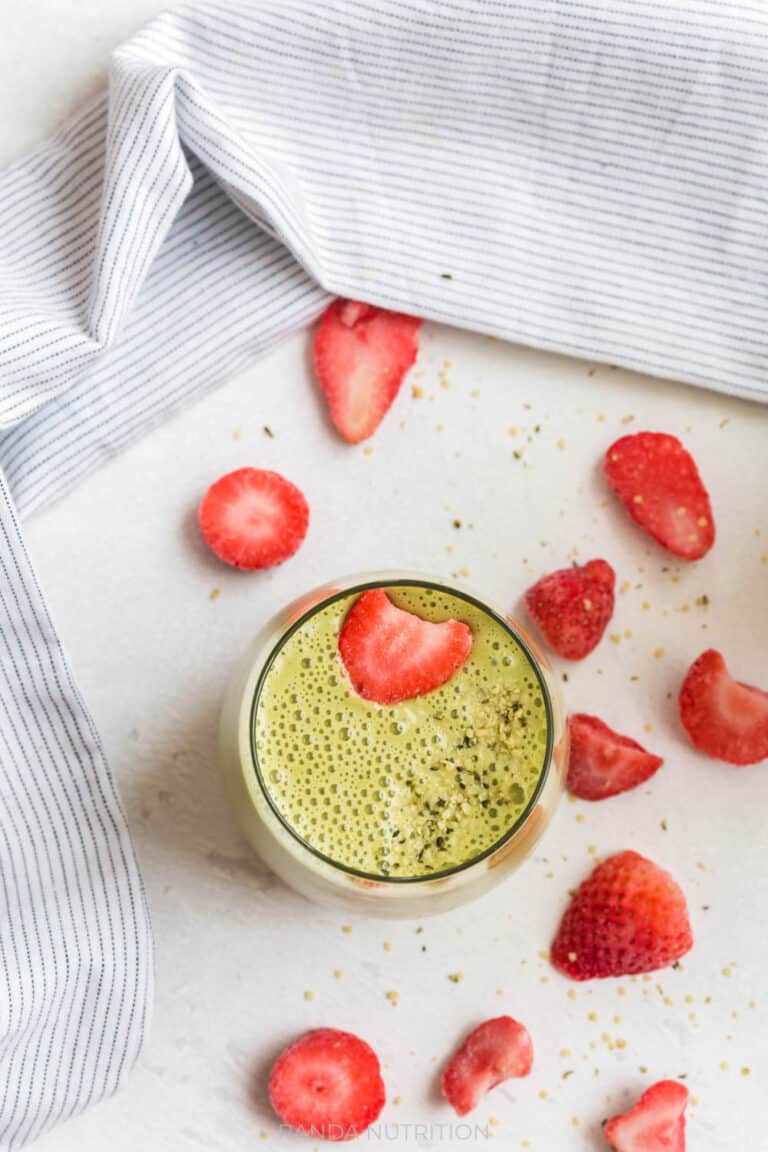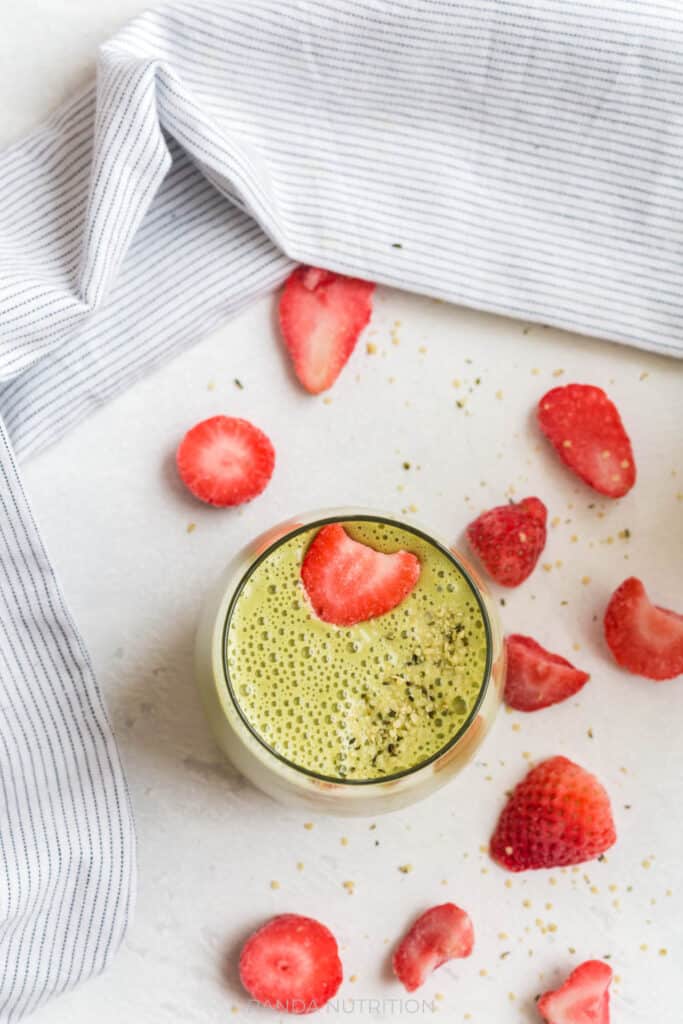 How to Make a Spinach and Strawberry Smoothie
Don't forget that you can alter this green smoothie recipe to make it work for you: less spinach, vanilla protein powder instead of greek yogurt, adding chia seeds for an extra boost of fiber and protein, the list is endless.
You could also make a spinach berry smoothie by subbing the strawberries for mixed berries, blackberries, raspberries, or blueberries.
Remember, when you change up the recipe it does change up the taste.
Whether you make this as an afternoon snack or as a perfect smoothie for after a workout to refuel your body with carbs and protein, I know you'll love it.
Healthy Smoothie Recipes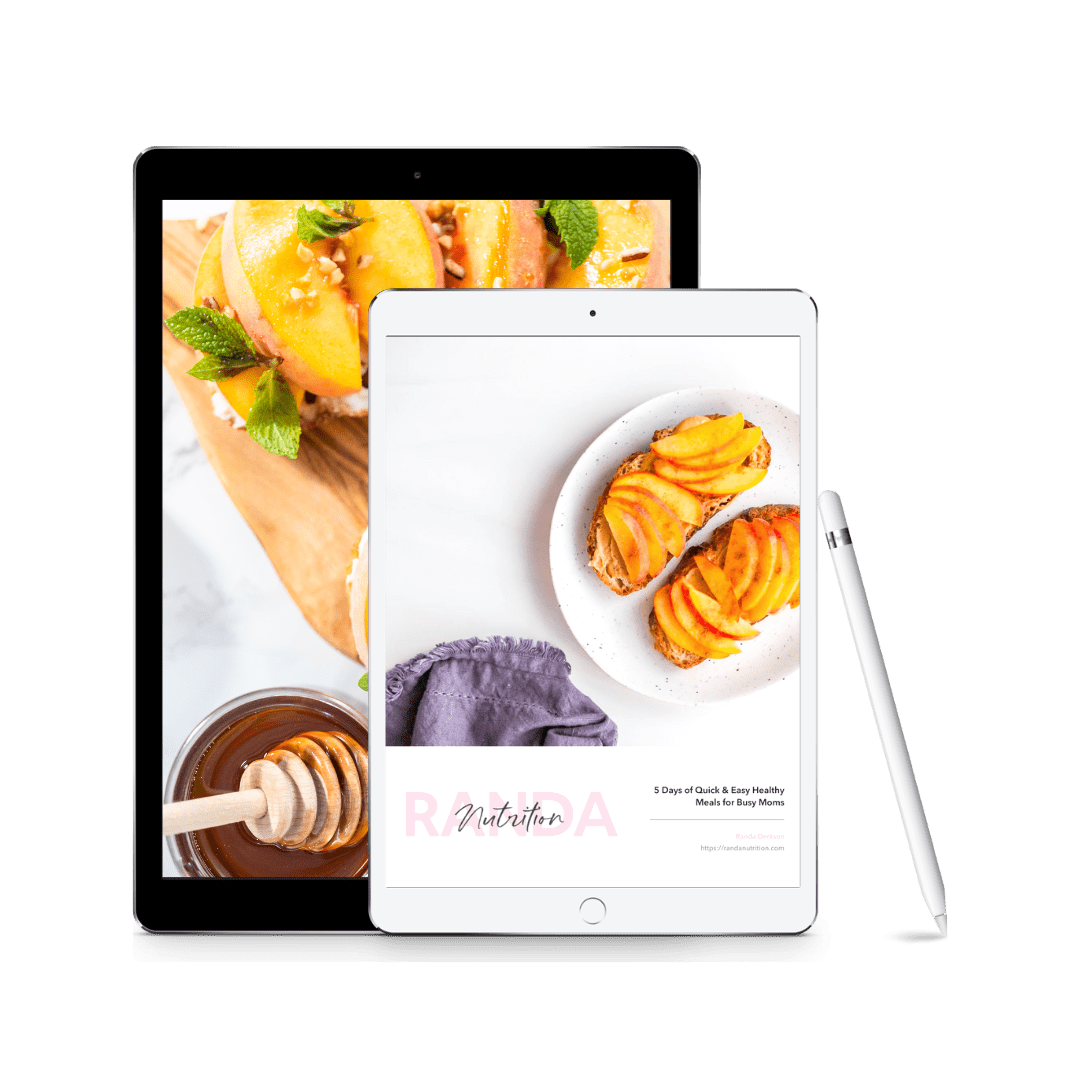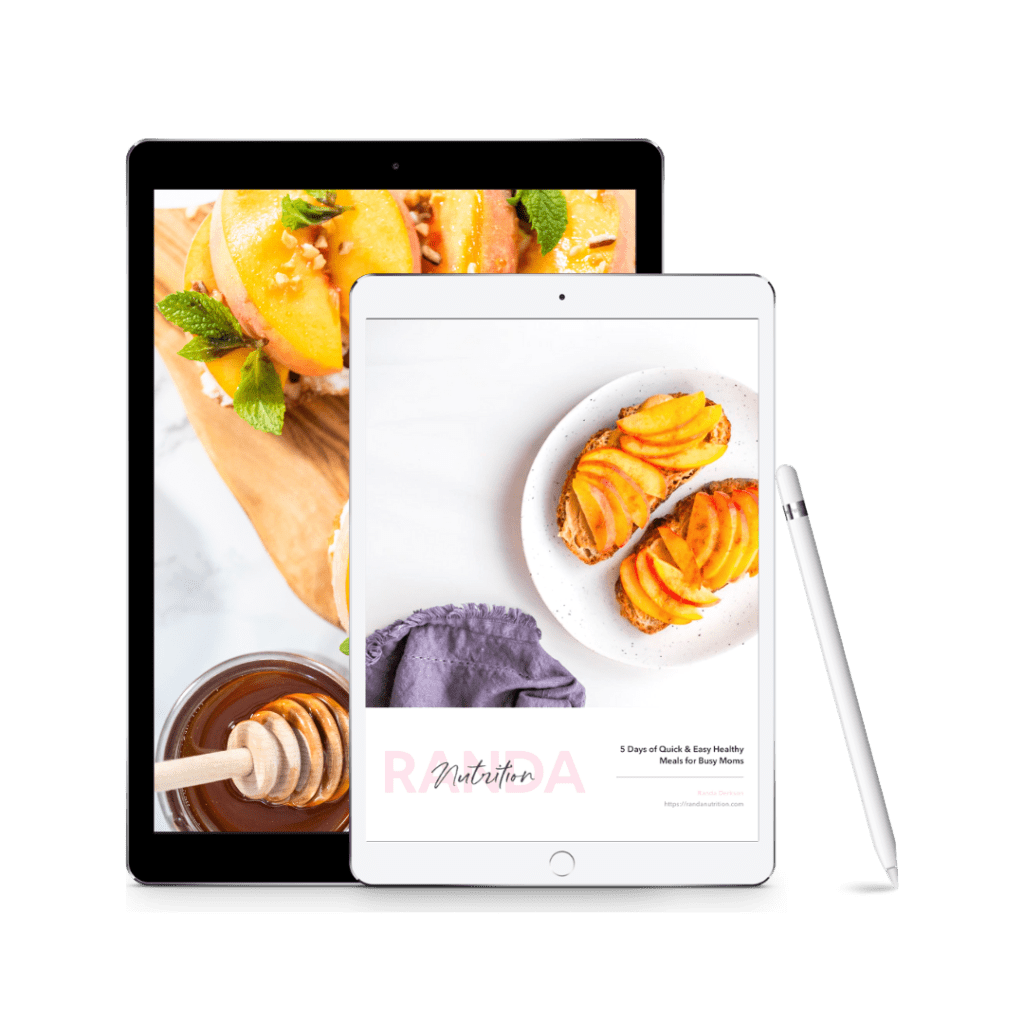 5 Day Meal Plan for Busy Moms
Download the free 5 day meal plan for busy moms by signing up for the Randa Nutrition email list.
Strawberry Spinach Smoothie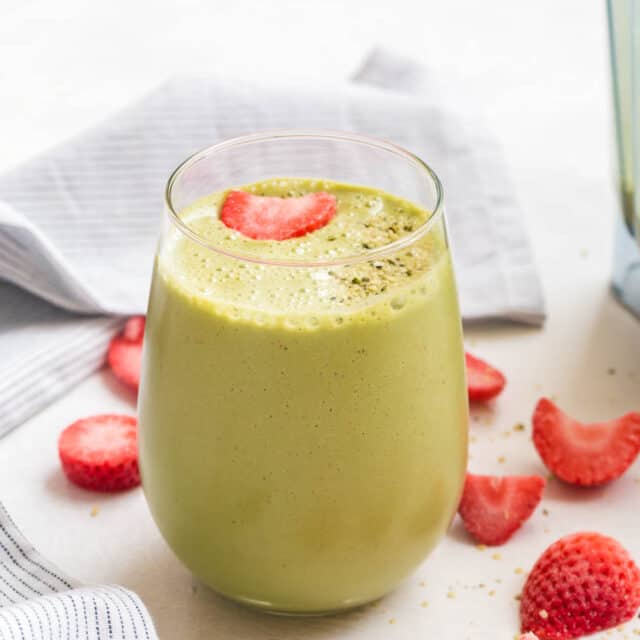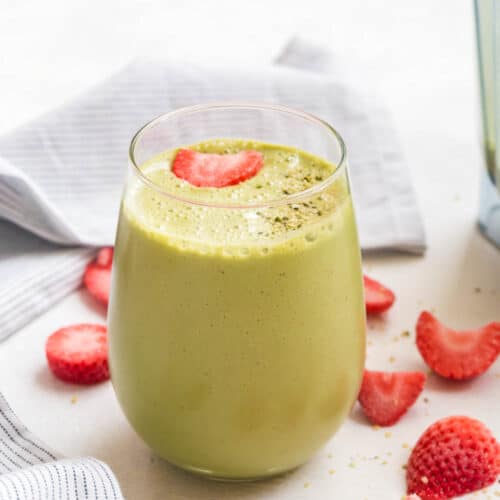 This strawberry spinach smoothie makes it easy to sneak in extra veggies in a healthy smoothie. Perfect for post workout or as a healthy snack.
Ingredients
1/2

banana

I used a frozen one

1

cup

frozen strawberries

1/2

cup

baby spinach

or 1 cup

1

cup

unsweetened almond milk

3/4

cup

plain greek yogurt

0%
Instructions
Add all the ingredients in a blender and blend until smooth.

Tip: blend the spinach with the milk first if you don't have a high powered blender to prevent pieces of spinach in the smoothie.
Nutrition
Serving:
1
serving
Calories:
226
kcal
Carbohydrates:
31
g
Protein:
19
g
Fat:
4
g
Saturated Fat:
1
g
Polyunsaturated Fat:
2
g
Monounsaturated Fat:
2
g
Trans Fat:
1
g
Cholesterol:
8
mg
Sodium:
393
mg
Potassium:
727
mg
Fiber:
5
g
Sugar:
19
g
Vitamin A:
1468
IU
Vitamin C:
94
mg
Calcium:
506
mg
Iron:
1
mg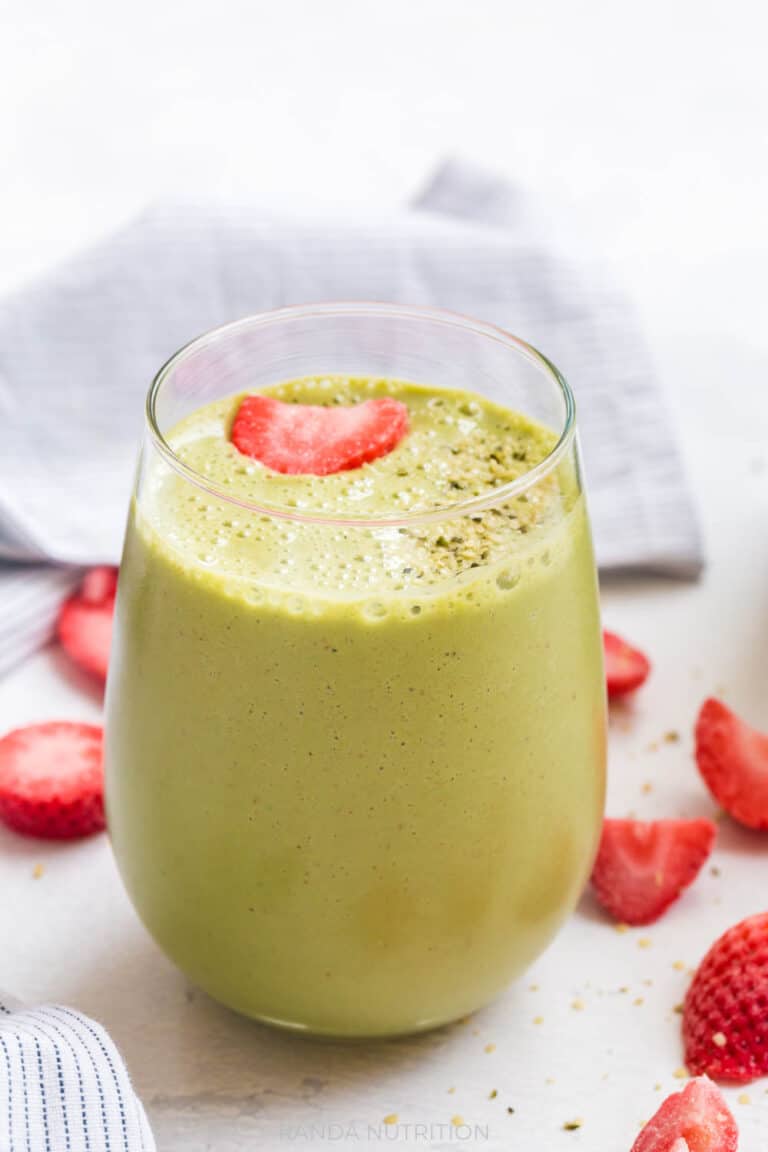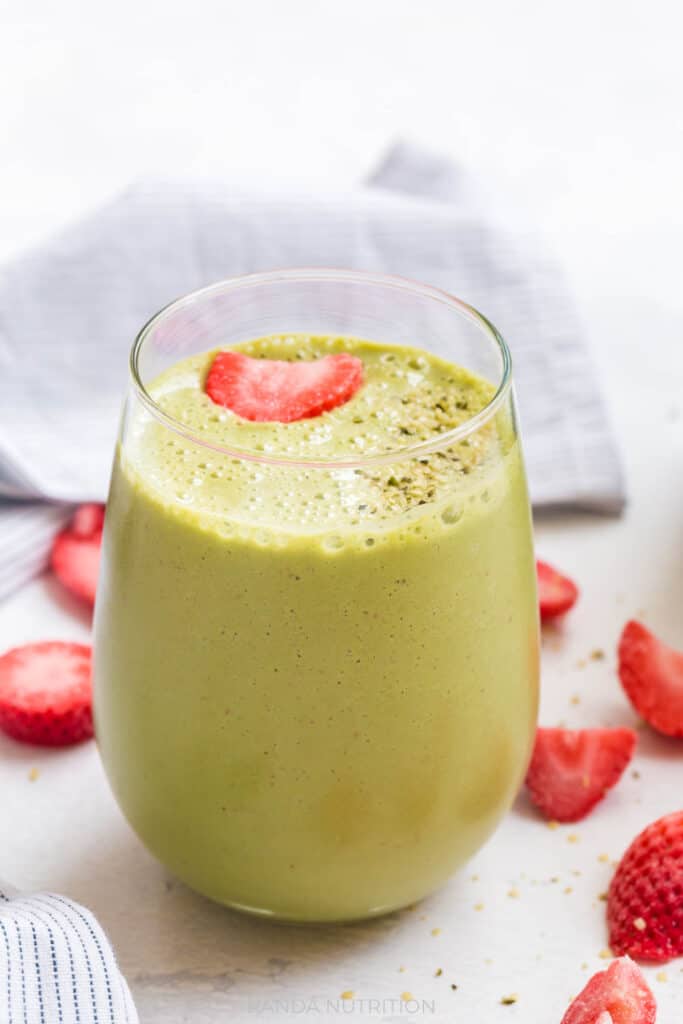 Originally published June 4, 2021.