Szechuan Green Beans Recipe
These Szechuan green beans are like candy and best of all, they're ready in a flash. Perfect for a flavourful side dish try them tonight with your dinner.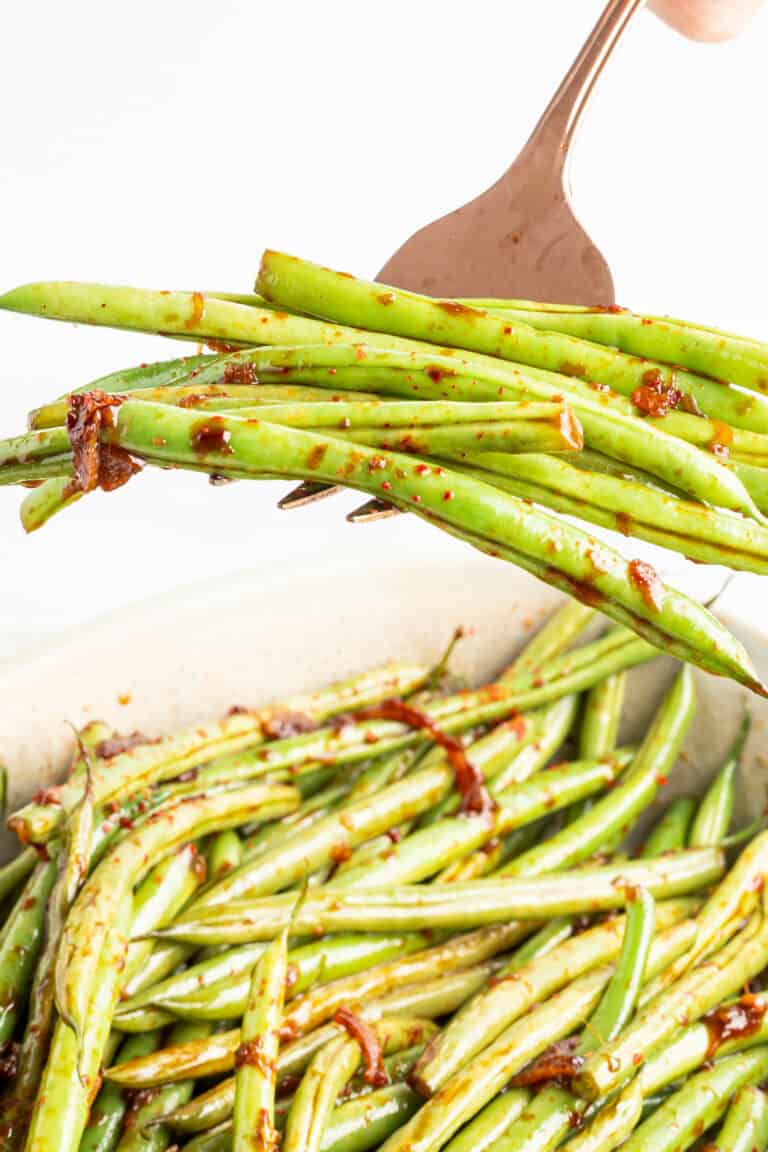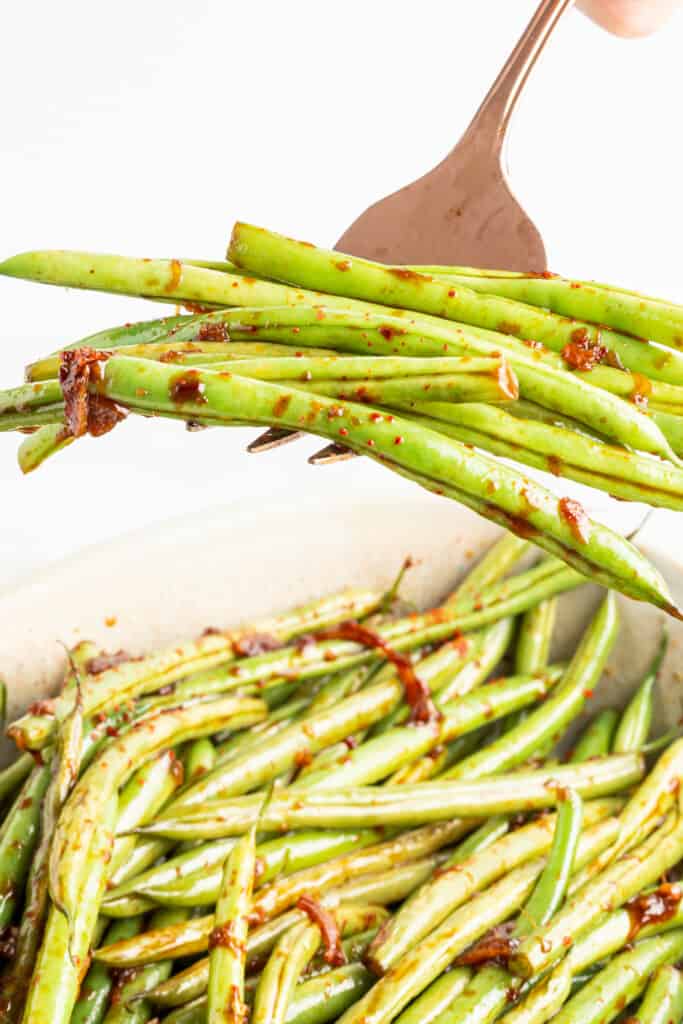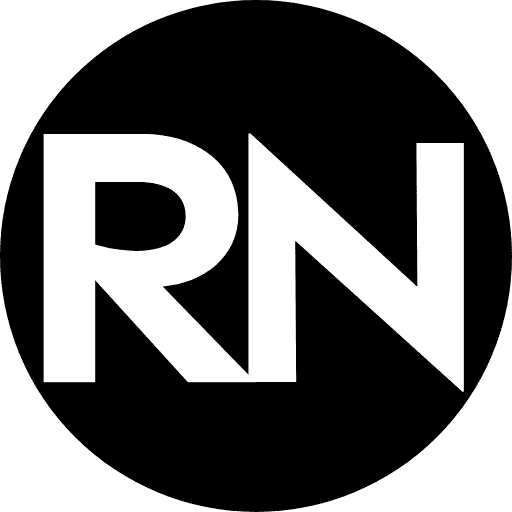 Save This Recipe!
Enter your email below & I'll send it straight to your inbox. Plus you'll get great new recipes every week!

Disclosure: This post contains affiliate links for your convenience. As an Amazon Associate, I earn from qualifying purchases.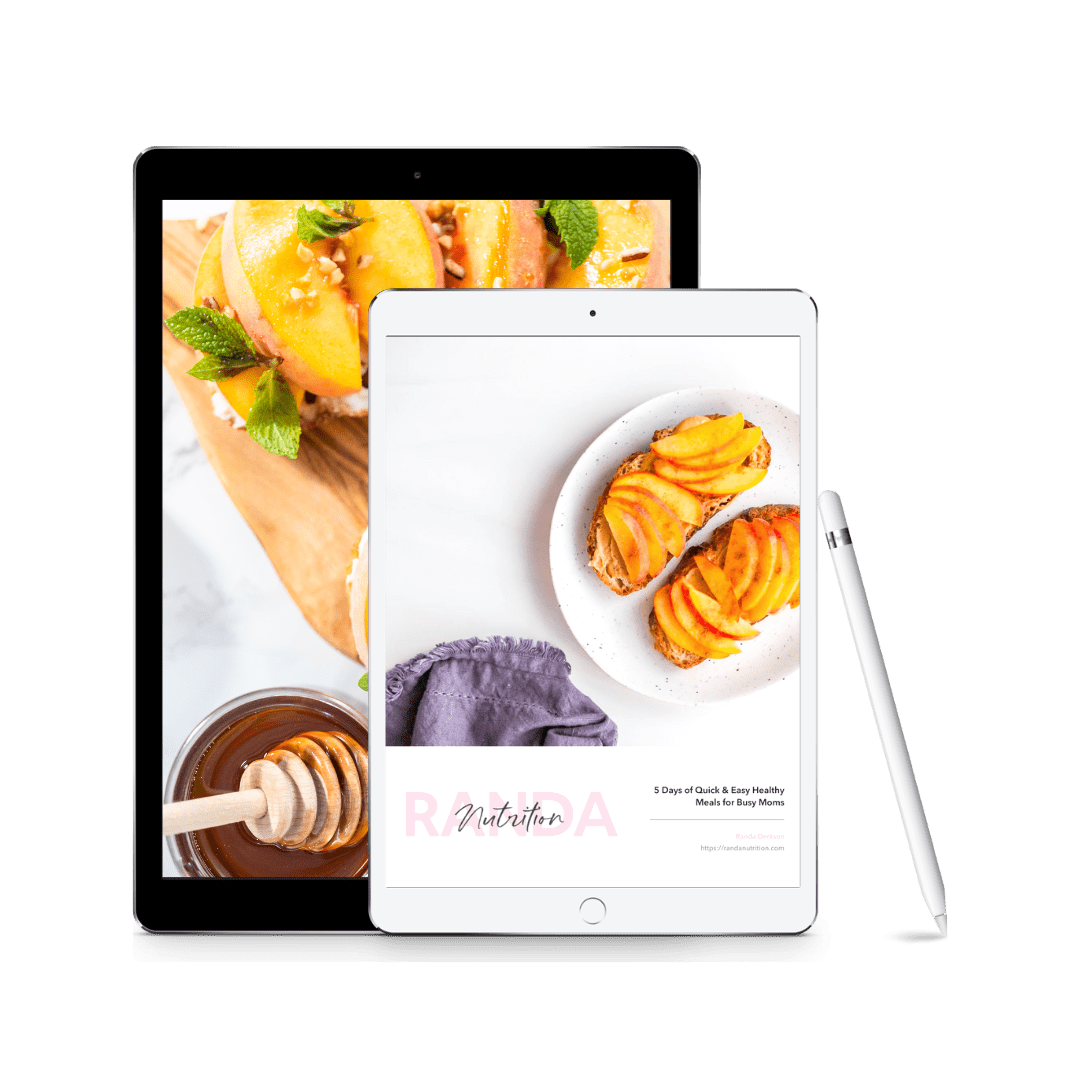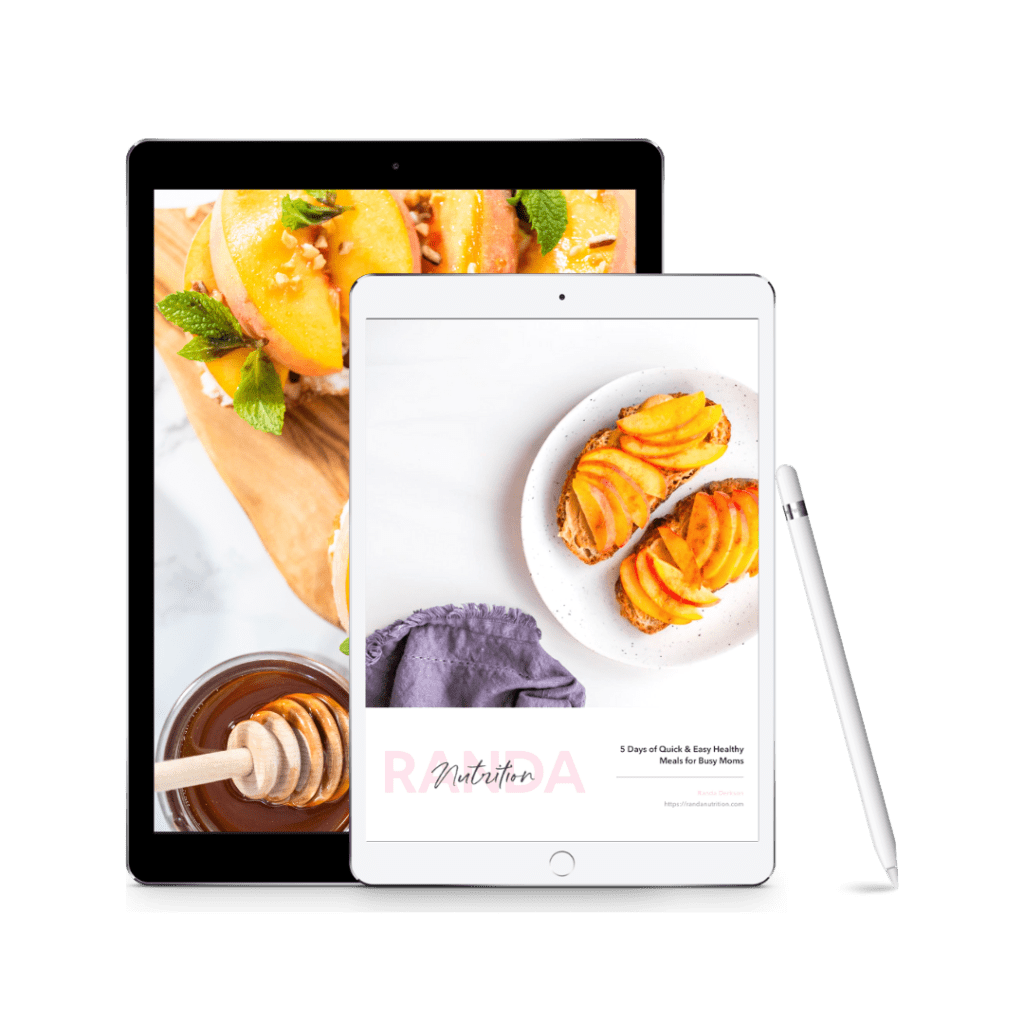 5 Day Meal Plan for Busy Moms
Download the free 5 day meal plan for busy moms by signing up for the Randa Nutrition email list.
Szechuan Green Beans
Before this, I've only had Szechuan green beans once, it was one of those kits you could buy from Costco and I was instantly hooked.
Naturally, every time I go back I can't find them but these are as close as it gets and it's easy too!
Ingredients Needed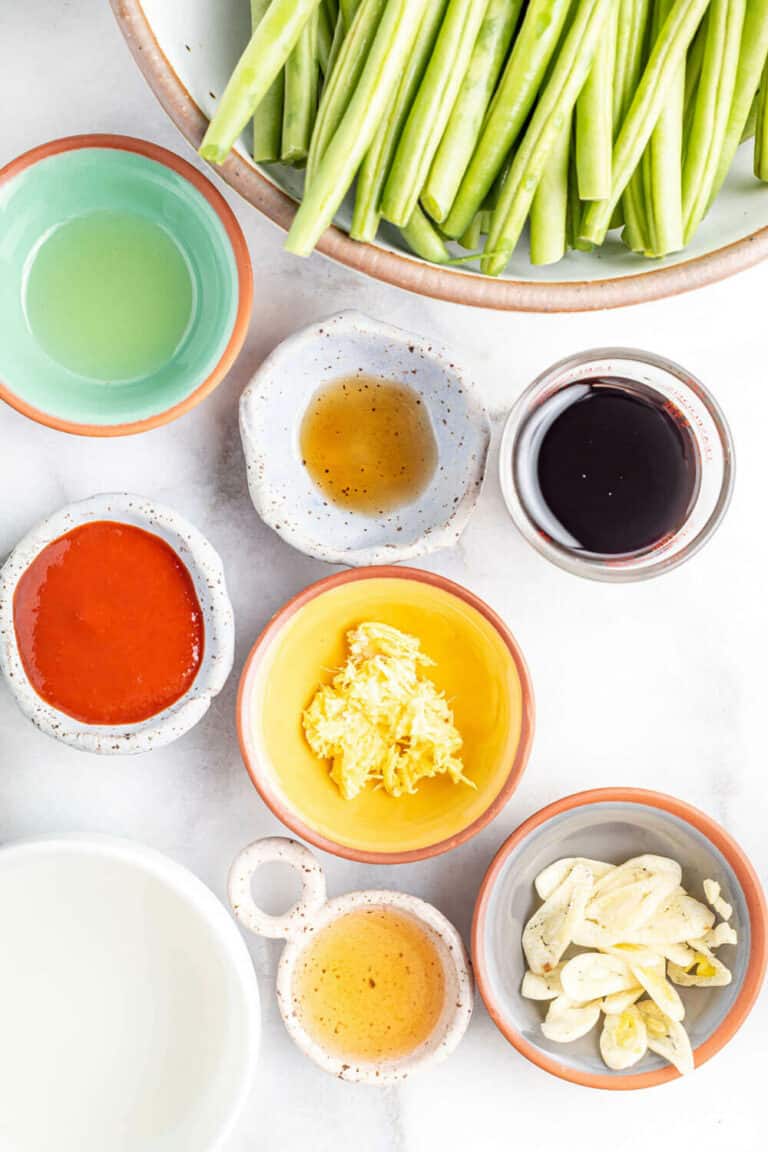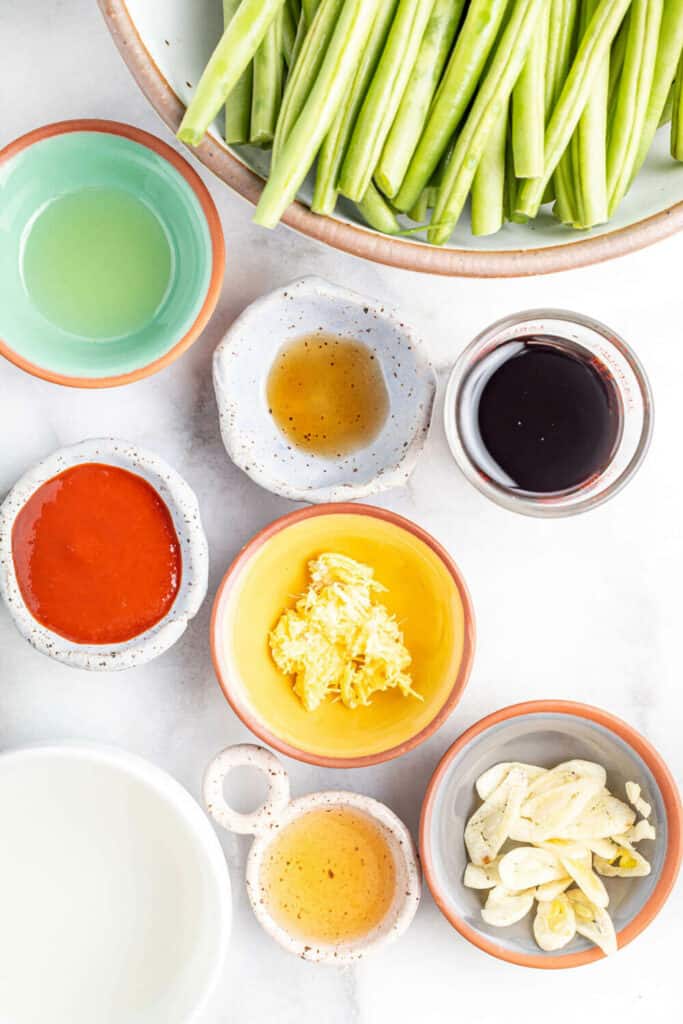 Substitutions and Variations
If you don't have garlic chili paste (like Sambal Oelek), there isn't much you can do. Google tells me you can try harissa sauce but I'm assuming if you don't have the chili paste, you won't have that either. I recommend going out and buying it. It brings a lot of flavor that you can reproduce with pepper flakes and garlic. Note: you can make it yourself, but you'll have to go to the store anyway. You may as well just buy it.
Replace the agave with another sweetner that you have on hand like honey or maple syrup. You can also try brown sugar.
Substitute the tamari with coconut aminos (coconut sauce here in Canada) or regular soy sauce.
Want spicy green beans? Add some red chili flakes to bring the heat up a little (a squeeze of sriracha always does the trick too). You can also add extra chili paste.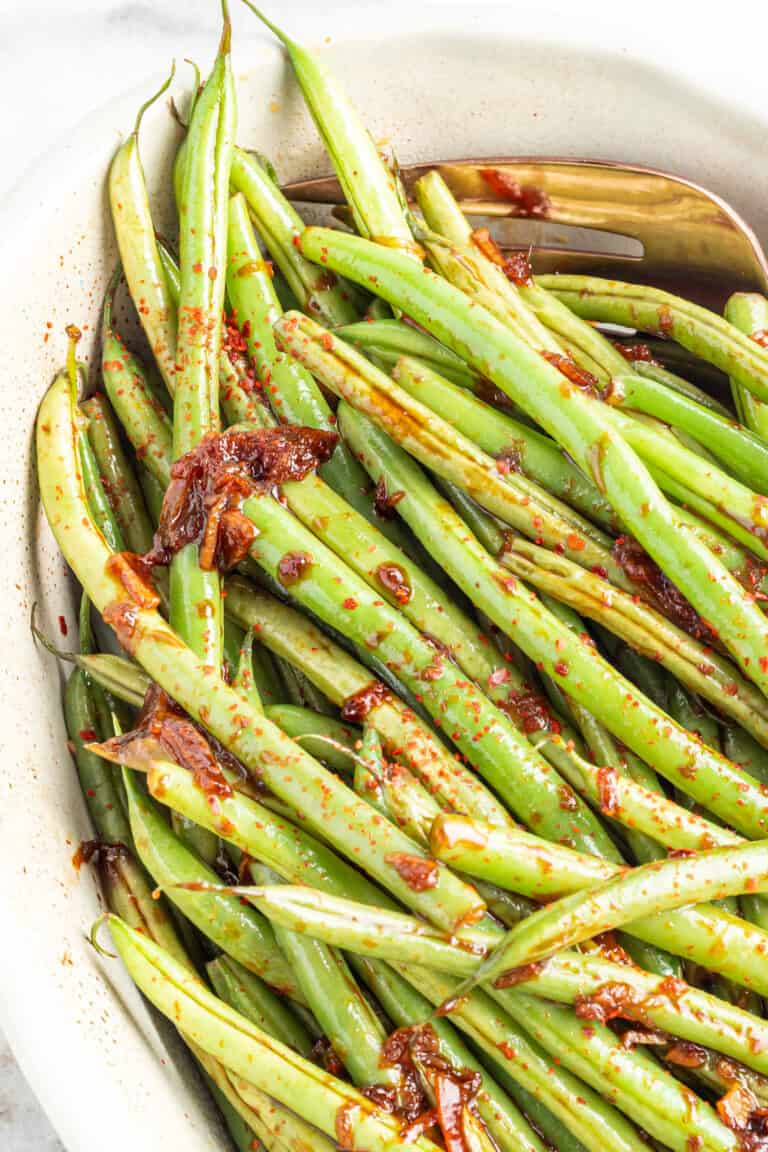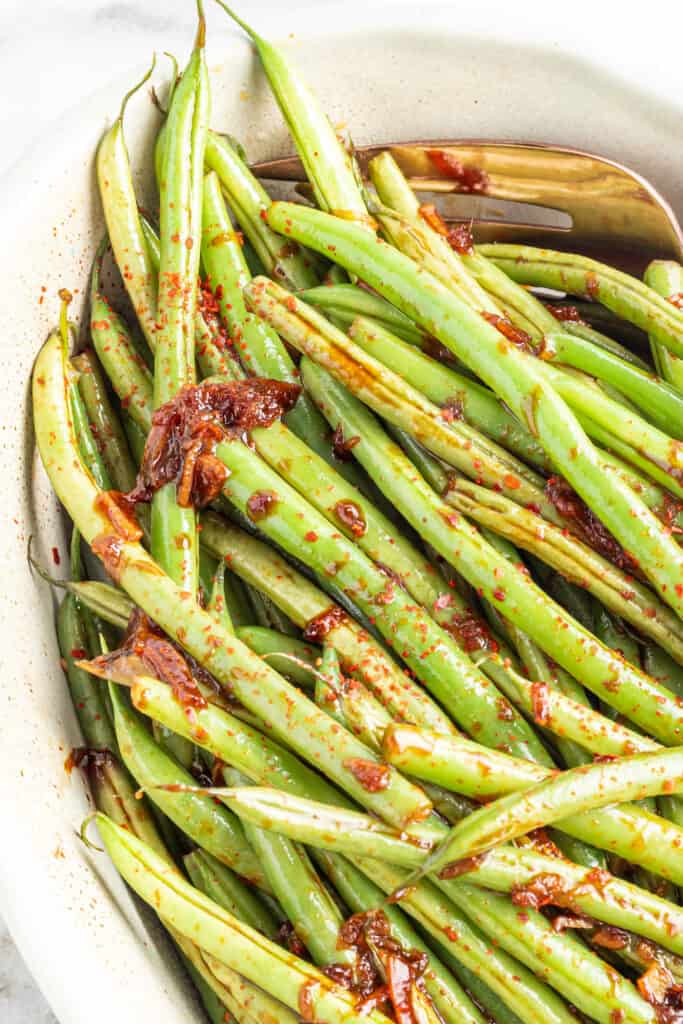 How to Make a Thicker Szechuan Sauce
If you want the sauce thicker, simmer it longer. It will get thick and sticky. I recommend removing the beans so they don't overcook.
Time Saving Tips
Buy the green beans pre washed (I still like to give them an extra rinse) and pre-trimmed (that means the ends are snipped). This saves you a few minutes in the kitchen, so you can just toss them in the skillet and go.

I'll also buy pre-peeled garlic from the store and chop it. It's pricier, but I hate peeling garlic. I also have minced garlic ready to go, but I find the flavour is better when you chop it yourself.

Buy ginger pre minced, it's usually in a paste. A lot have sugar added, so check the ingredients before you add it to your shopping cart. Another tip with ginger is to store it in the freezer, that way you only have to grate what you need without the rest of the root going to waste.
How to Make Szechuan Green Beans
As always, we have an easy recipe to whip here on Randa Nutrition.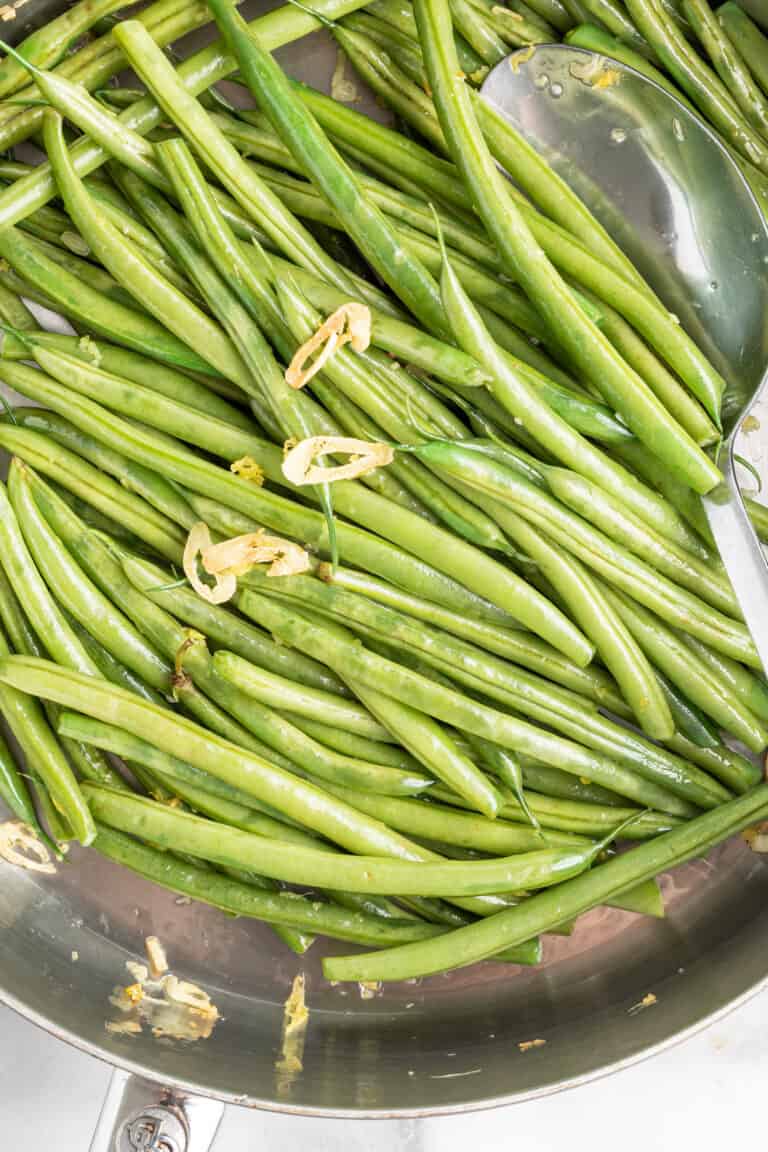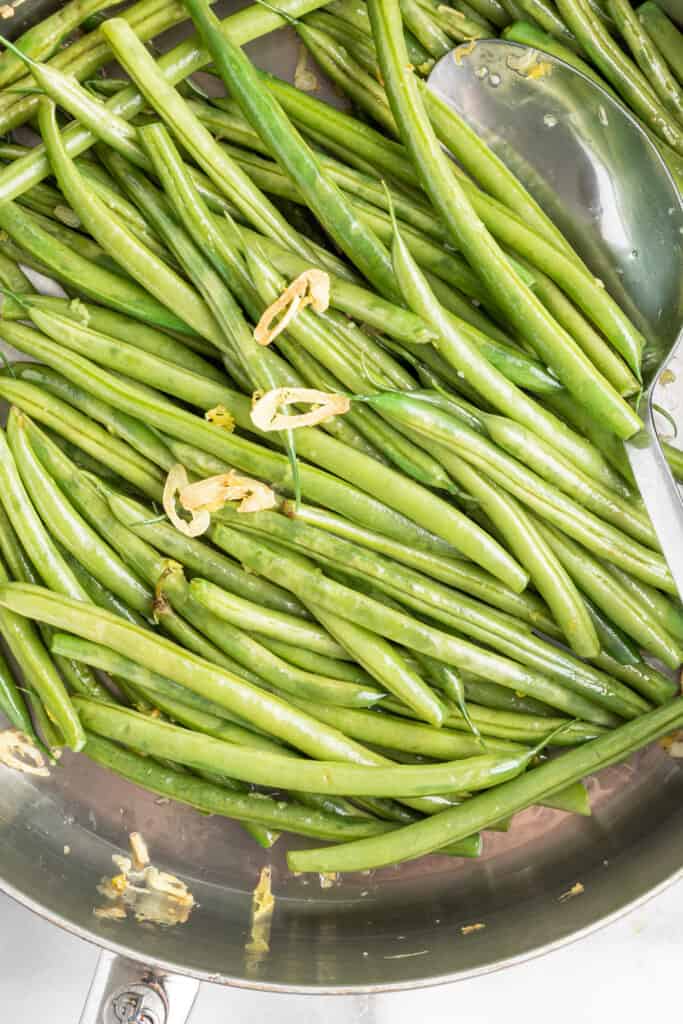 All you have to do is:
Mix up the sauce ingredients in a bowl.
Cook up the garlic, ginger and green beans.
Add the sauce, simmer, and serve.
It's seriously that easy.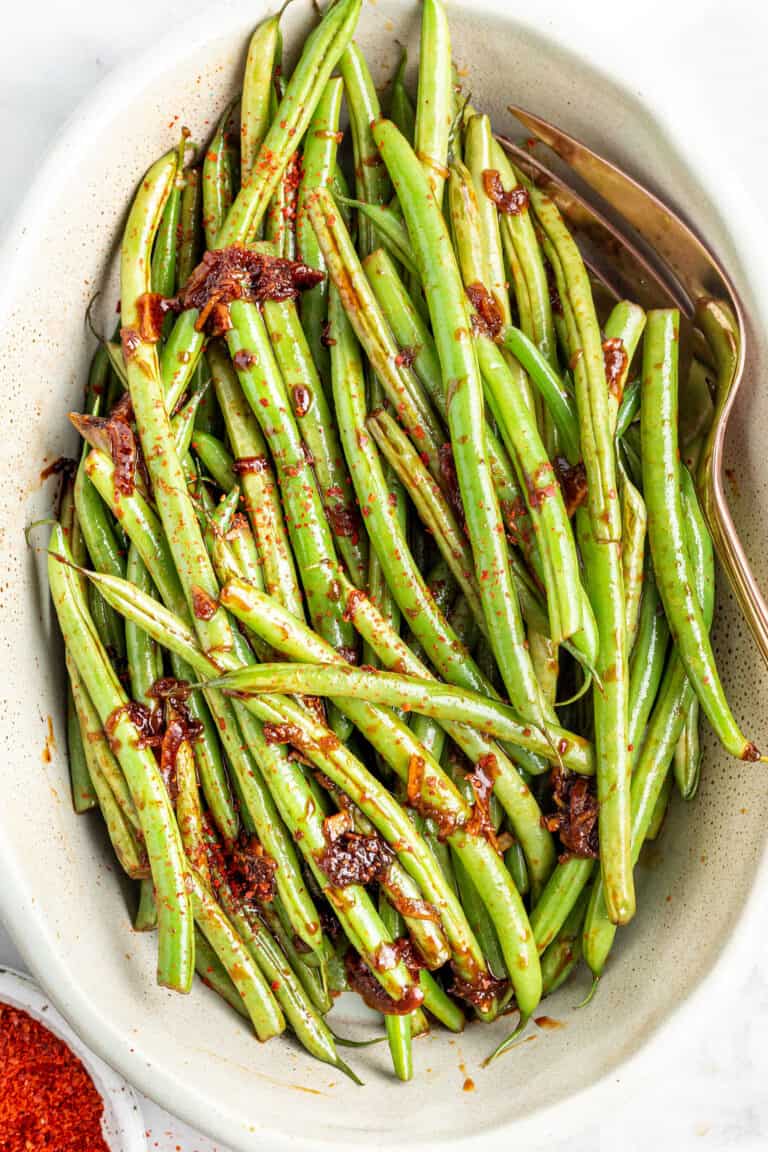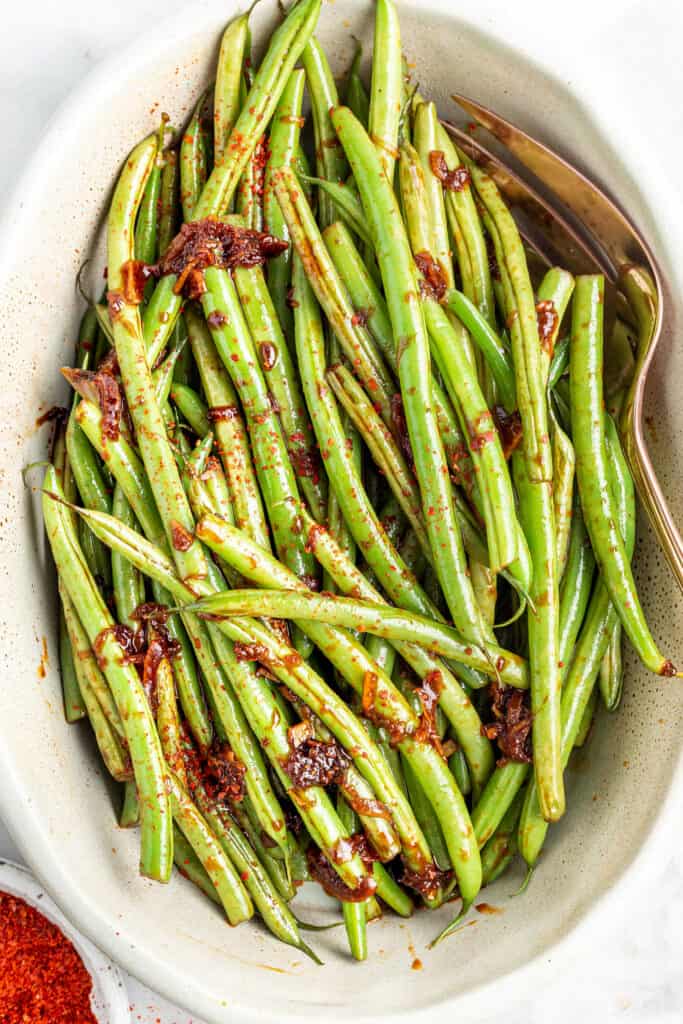 Healthy Side Dish Recipes:
Looking for more healthy side dish recipes? Check out these reader favorites: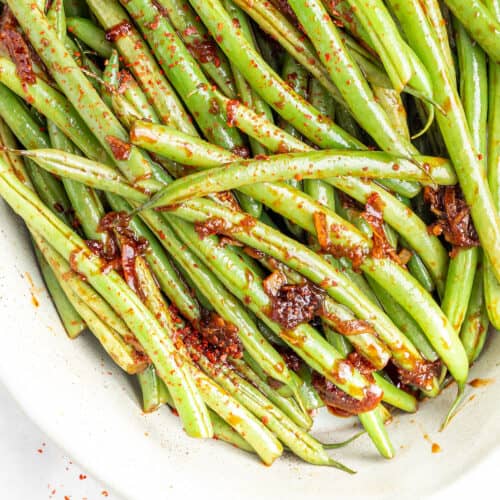 If you're looking for a quick and easy healthy side dish for dinner, try this homemade Szechuan Green Beans recipe. These are also delicious over salad.
Instructions
In a small bowl or jar, mix together the tamari, rice wine vinegar, garlic chili paste, sesame oil, and agave. Set aside.

Heat the oil in a large skillet over medium high heat. Once hot add in the garlic and ginger, saute 30 seconds just until fragrant.

Add in the green beans and saute 4-5 minutes until they begin to soften. Pour in the sauce mixture. Bring to a simmer for an additional 4-5 minutes until the sauce is thick and the green beans are tender. Serve immediately.
Nutrition
Serving:
1
serving
Calories:
100
kcal
Carbohydrates:
15
g
Protein:
2
g
Fat:
4
g
Saturated Fat:
1
g
Polyunsaturated Fat:
1
g
Monounsaturated Fat:
3
g
Sodium:
10
mg
Potassium:
309
mg
Fiber:
4
g
Sugar:
9
g
Vitamin A:
793
IU
Vitamin C:
15
mg
Calcium:
51
mg
Iron:
1
mg