Easy Quick Pickled Radishes Recipe – How to Make Pickled Radishes
If you're looking for ways to use up leftover radishes, I have the perfect solution: make this easy quick pickled radishes recipe. It's simple, it's fast, and it helps reduce food waste while bringing a whole ton of flavor to your salads, tacos, and sandwiches for the week.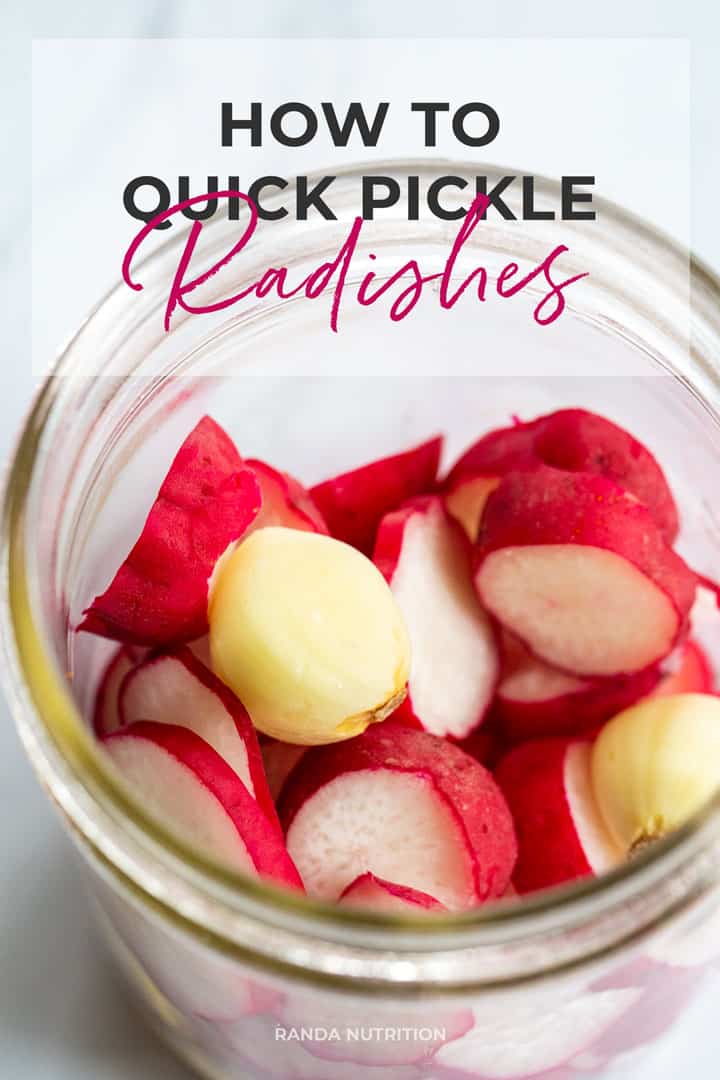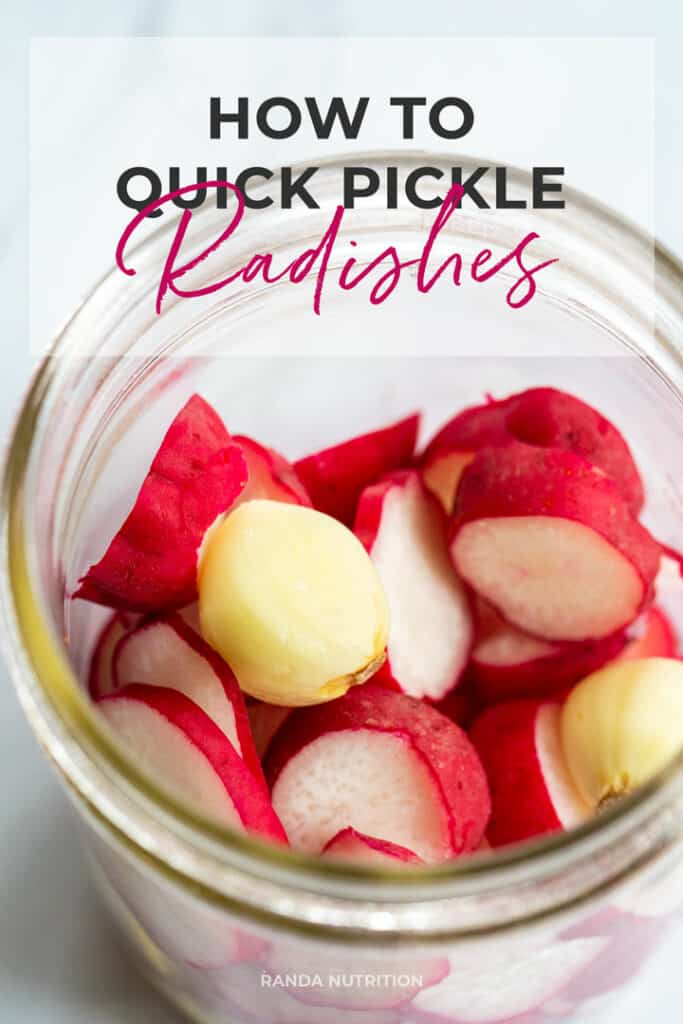 Disclosure: This post contains affiliate links for your convenience. As an Amazon Associate, I earn from qualifying purchases.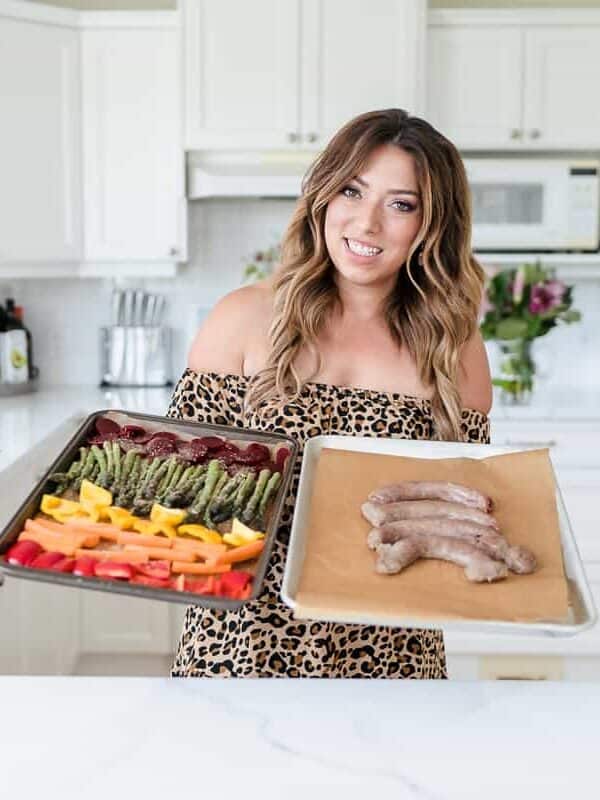 Get Your Nutrition Back On Track
Sign up for FREE 3 Day Challenge
Learn the customized nutrition for your specific needs.
How much you should really be eating.
and so much more.
Quick Pickled Radishes
I was never a radish fan growing up, I would pick them out or eat around them. I didn't like the crunch, the taste, anything.
Then I turned 30.
Actually, it wasn't until this year (32) where I started experimenting with them and finding them enjoyable.
I like to slice them thin to put on avocado toast with eggs, chop them in devilled eggs, and now I like to make refrigerator pickled radishes.
The first time I quick pickled a radish, was in a meal kit and I was hooked. It was such an easy way to completely change a recipe up and pack a ton of flavor in.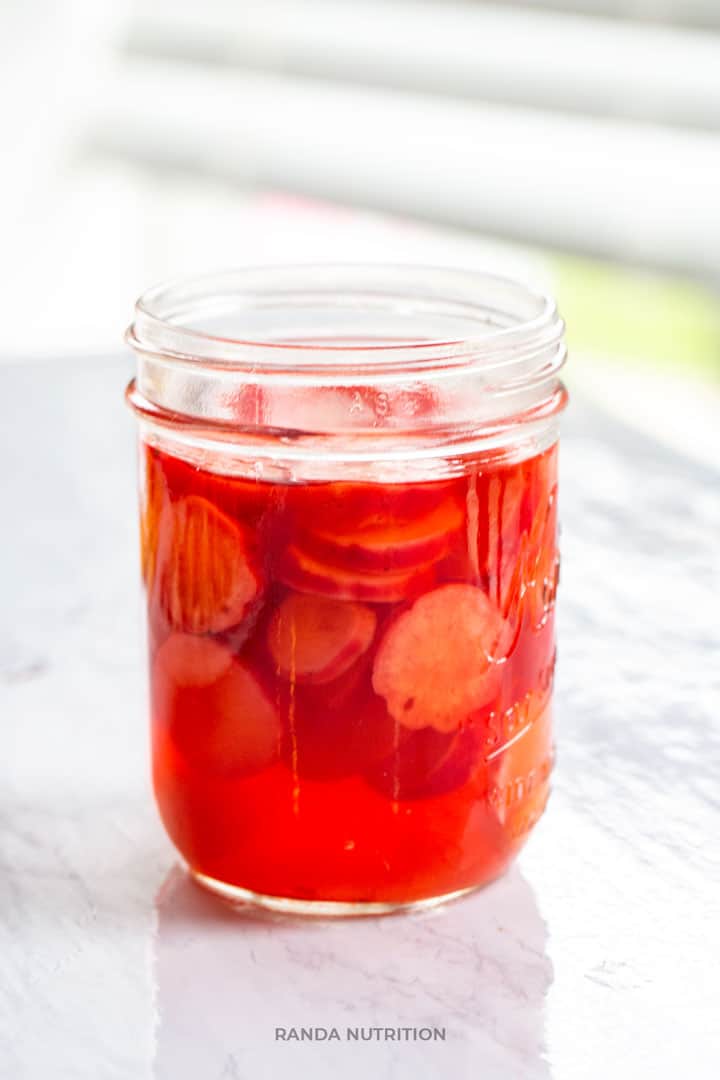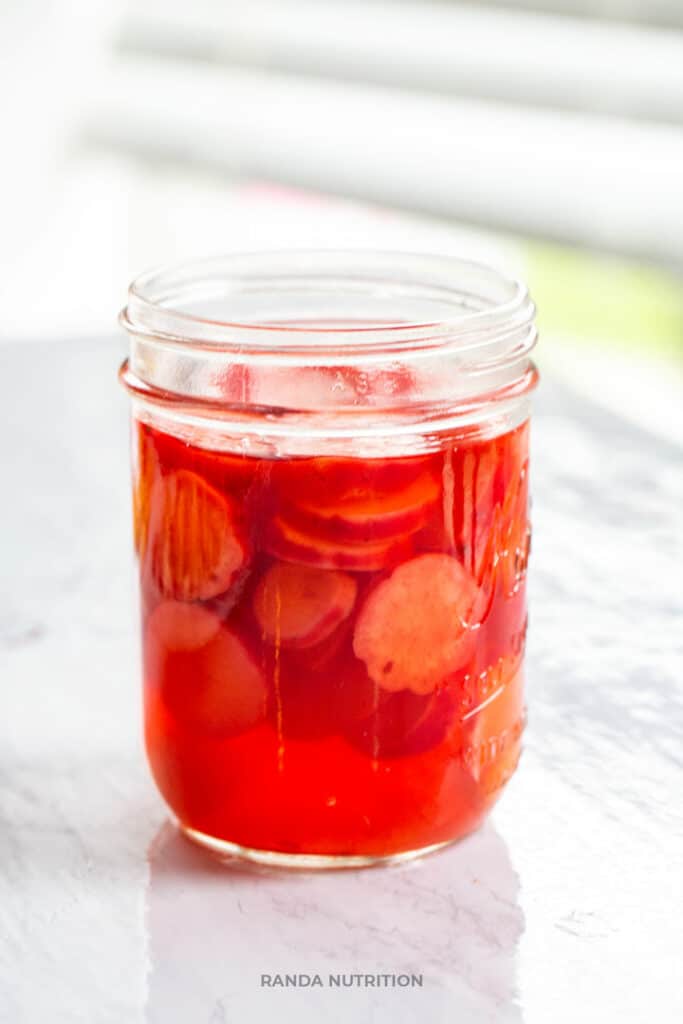 What is quick pickling?
Quick pickling is when you create a brine out of boiled vinegar, salt, and a little sugar and pour it over your vegetables (or what's being pickled).
It's also known as refrigerator pickling because the veggies pickle, while being refrigerated.
They're perfect because they're "quick" and you'll be snacking on your pickled veggies in no time.
They do differ from fermented pickles and canned. They don't last as long as canned pickles.
However, if you're looking for a quick way to add some zest and flavor to your dishes, give it a try.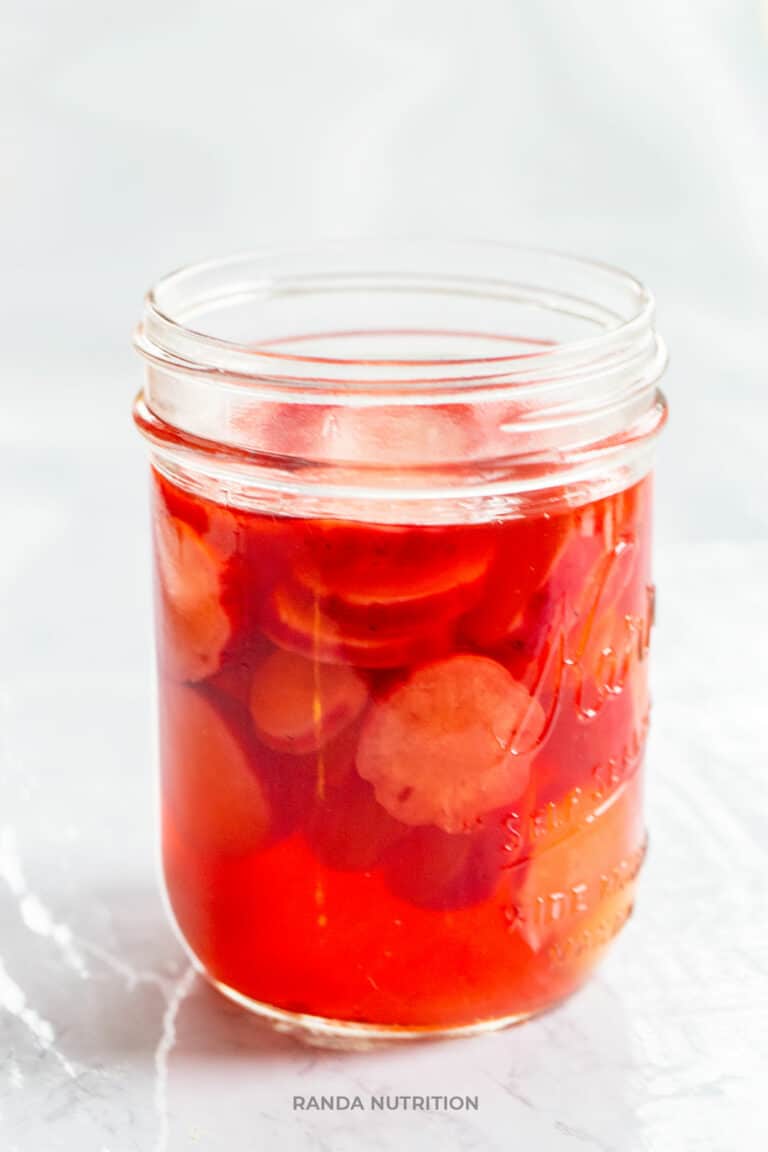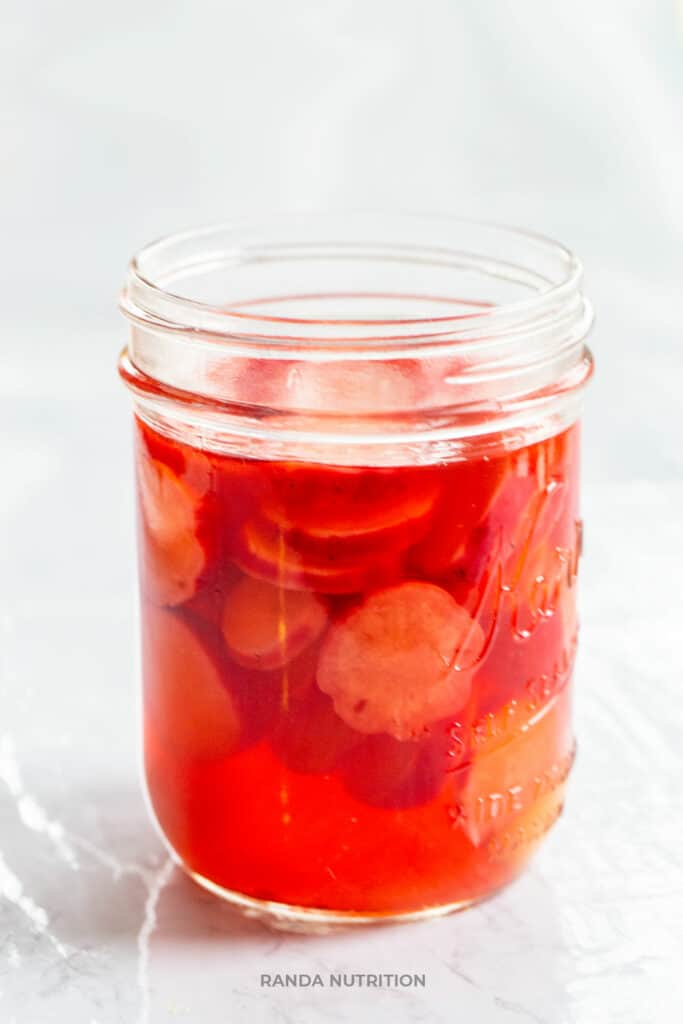 What do you do with pickled radishes?
My favorite use for them are salads. Pickled radishes are so delicious on a salad and add that zest and crunch that makes a salad or grain bowl great.
More pickled radishes ideas:
Salads
Grain bowls
Tacos
Avocado toast
Sandwiches
Burgers
Do you see where I'm going with this? They're a delicious topper!
How to add flavor to pickled vegetables
You can give your own little twist to this recipe by adding a variety of herbs and spices.
Here's some inspiration:
Dill
Garlic
Peppercorns
Red pepper flakes
Mustard seed
Hot chile peppers
You can add a variety of seasonings to make this work for you and your tastes. I personally love the medley of garlic, dill and red pepper flakes.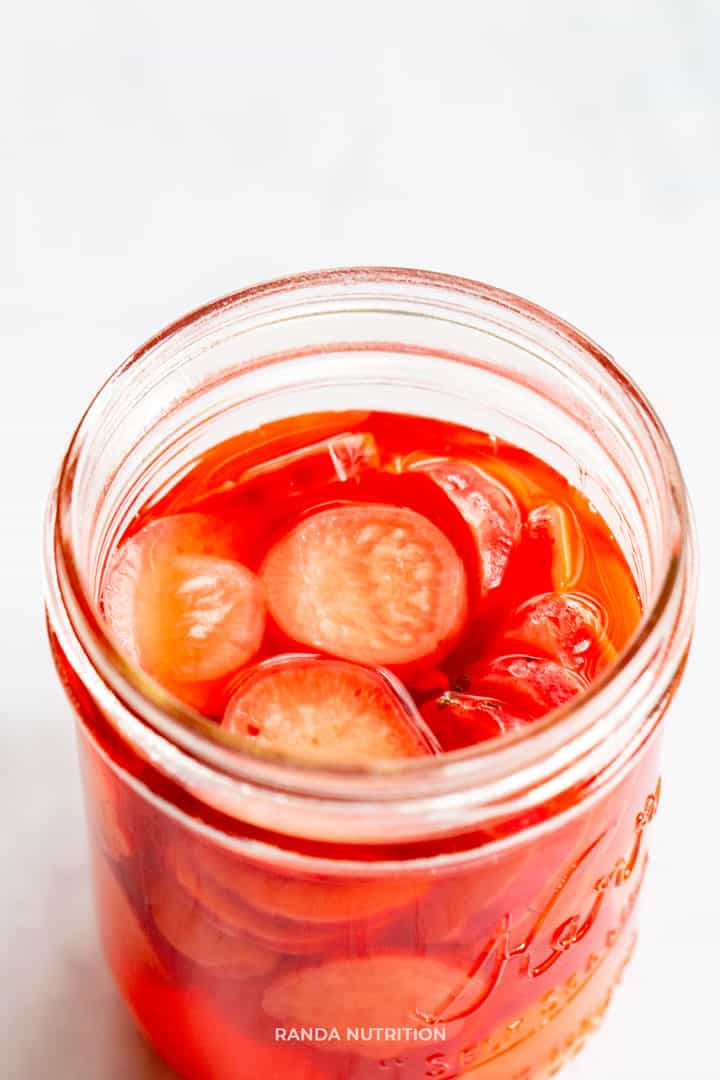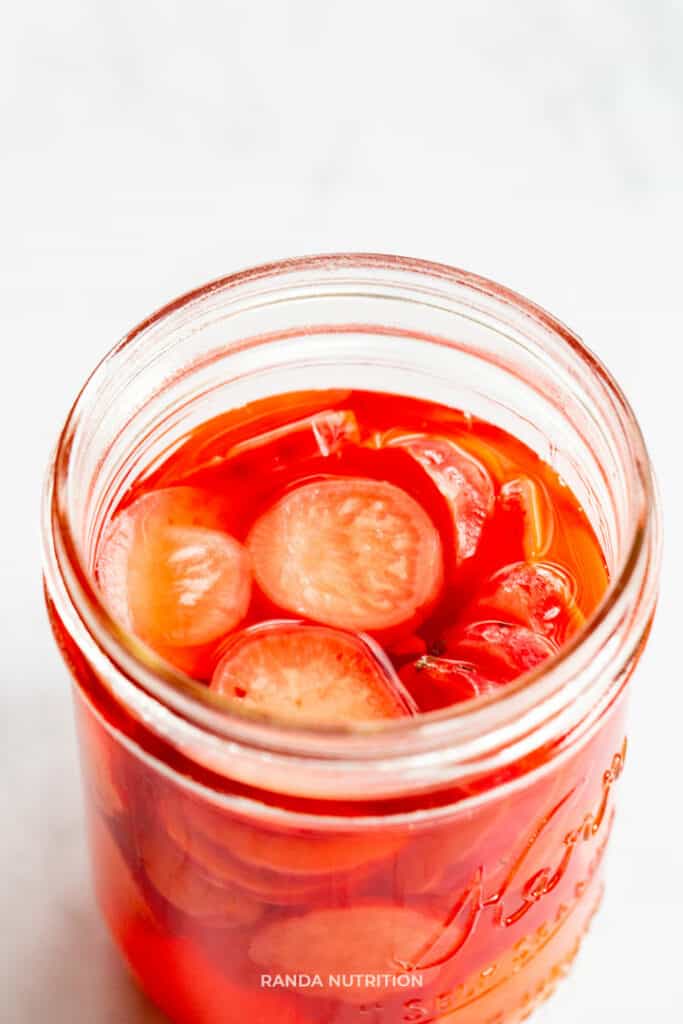 How long do quick pickled radishes last?
If you want to know how long quick pickled vegetable last, the general answer is 2-3 weeks.
I typically don't let them sit longer than two weeks (and honestly, they don't typically last that long since I put them on my daily salads).
If you want them to last longer, you will have to can them. However, please use a true canning recipe as there is a formula to canning and you want to have the right acidity so they don't go bad.
We save botulism for our fine lines and wrinkles, not the insides of our bodies.
I'm kidding…kind of.
Supplies needed for refrigerator pickling: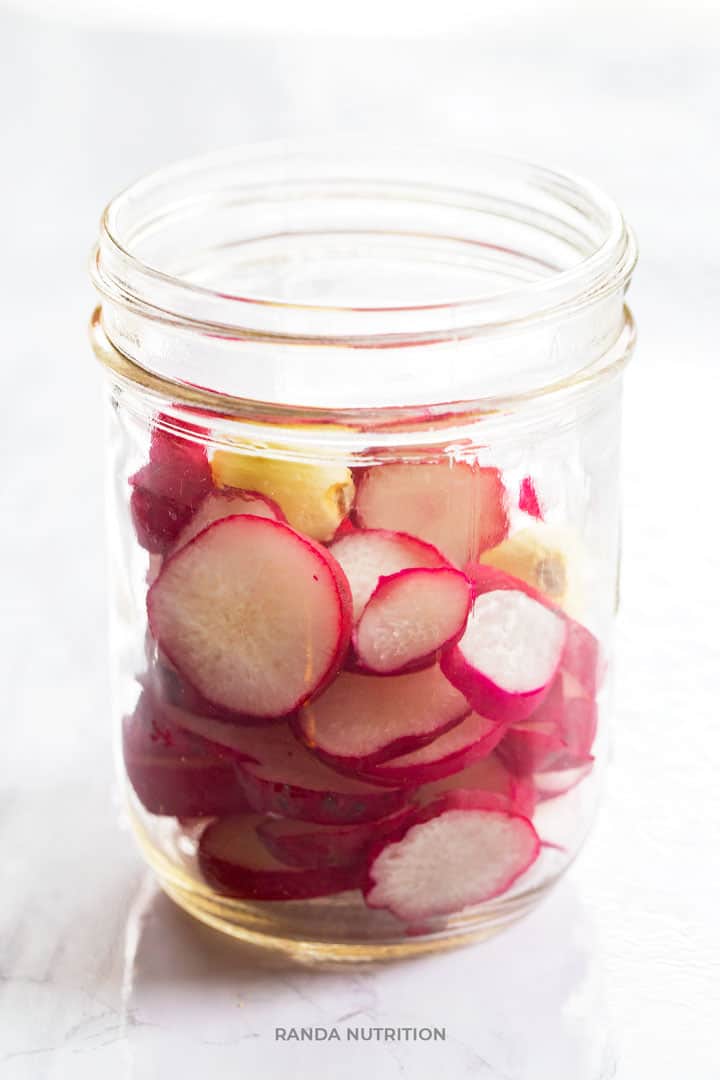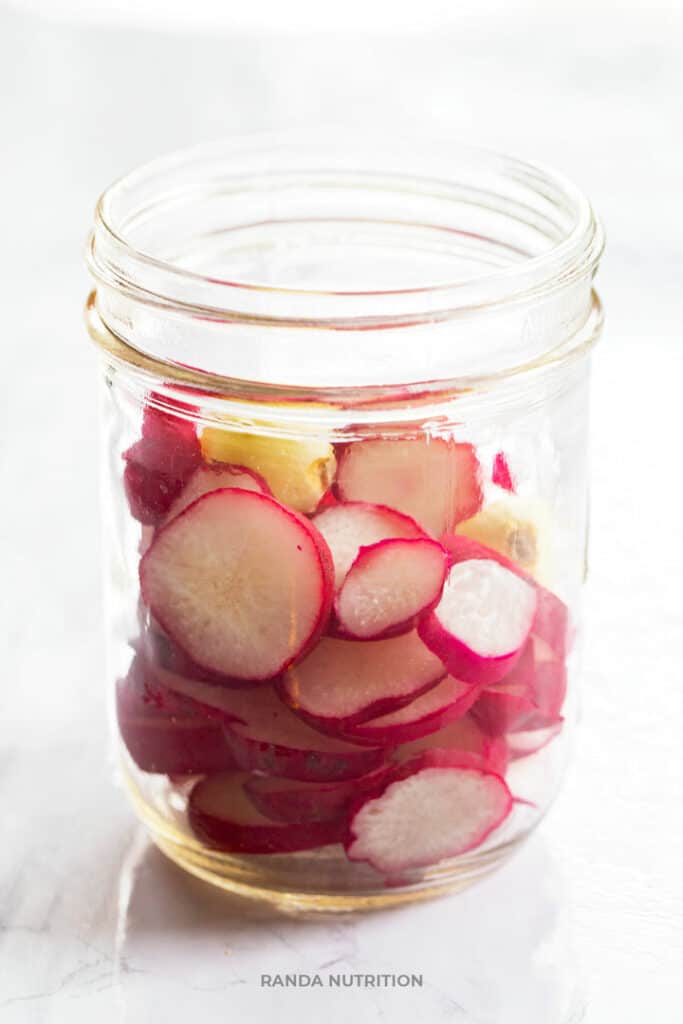 You don't need much to quick pick veggies:
What kind of vinegar?
I typically use regular distilled white vinegar but I ran out. So this time, I tried it with apple cider vinegar and it worked well. (Make sure the vinegar you use is at least 5% acid.)
More quick pickled vegetables recipes and resources: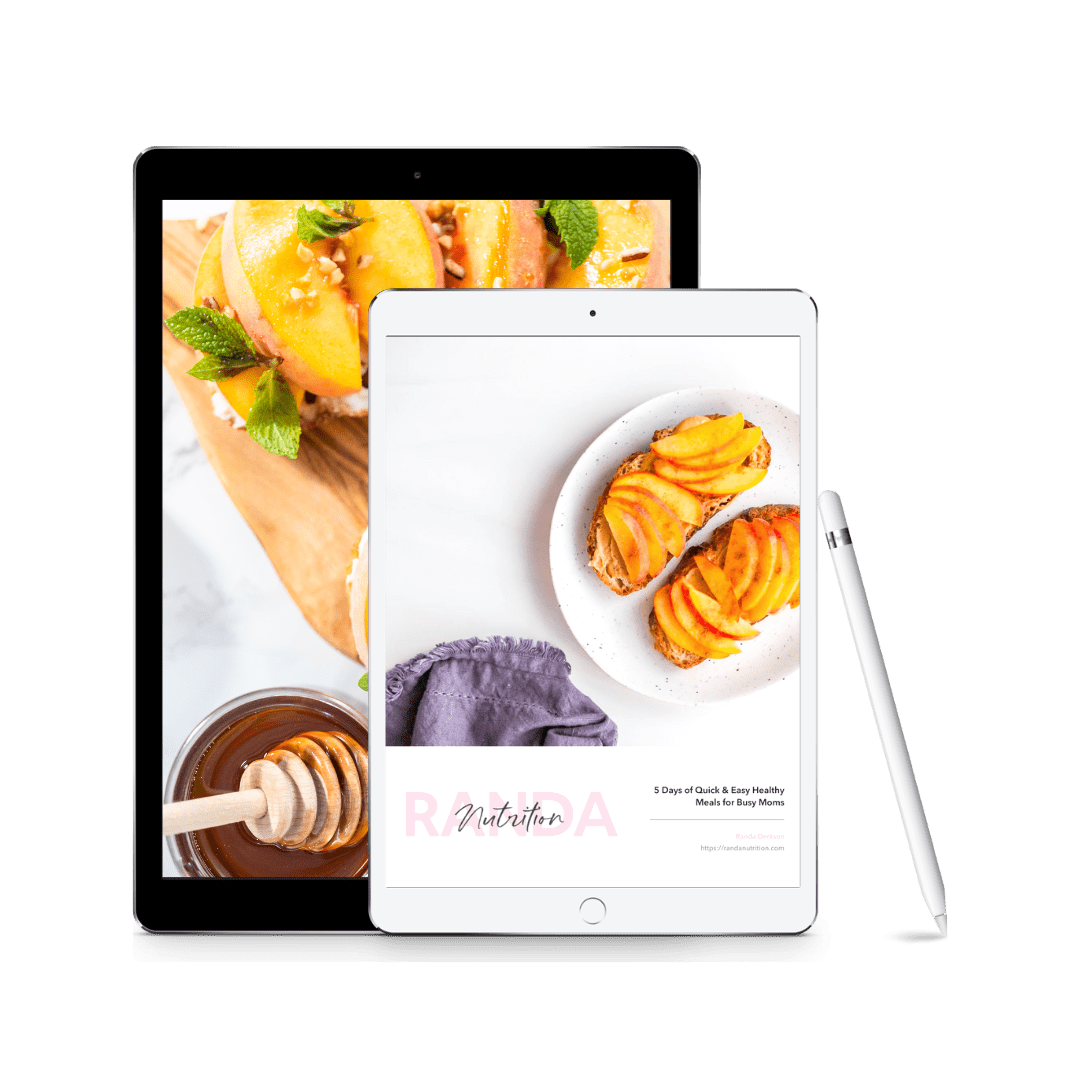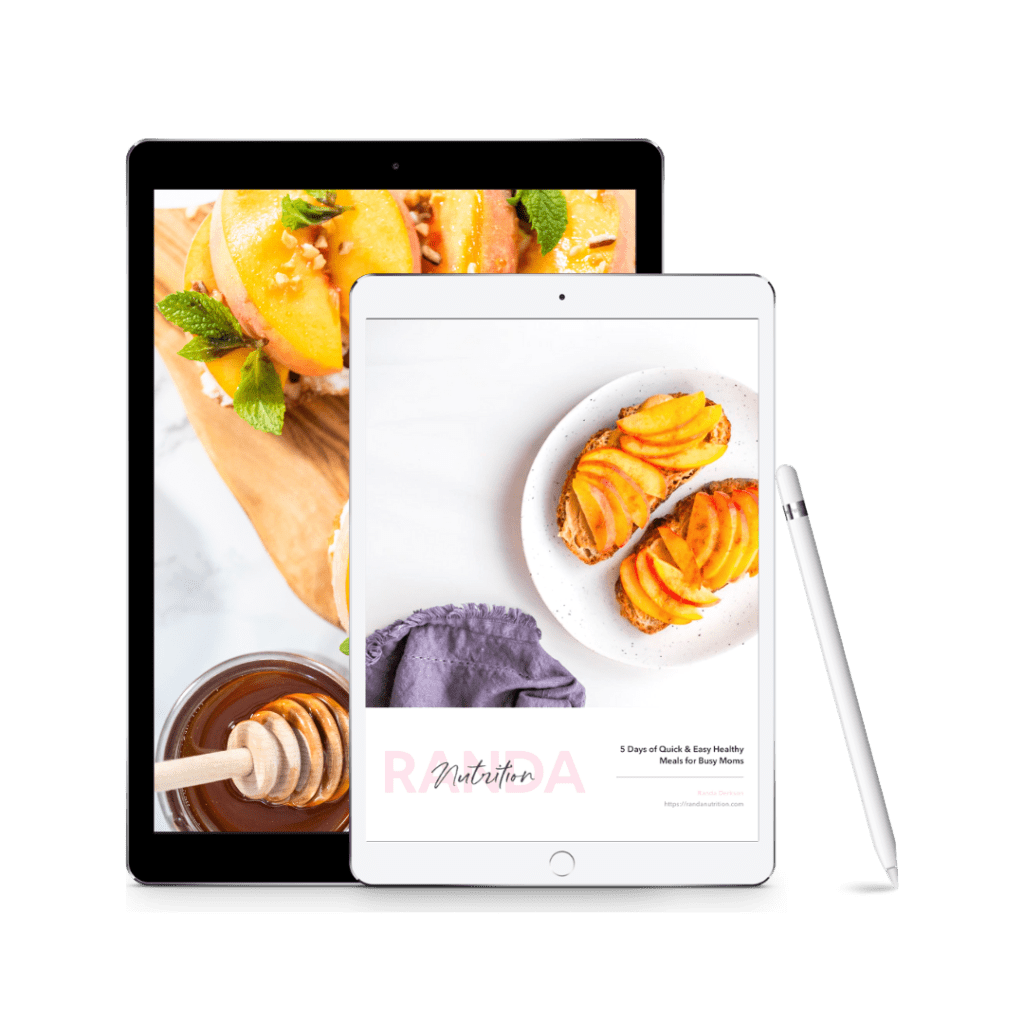 5 Day Meal Plan for Busy Moms
Download the free 5 day meal plan for busy moms by signing up for the Randa Nutrition email list.
How to Quick Pickle Radishes
You're going to love how easy this recipe is. Try it with all your favorite veggies.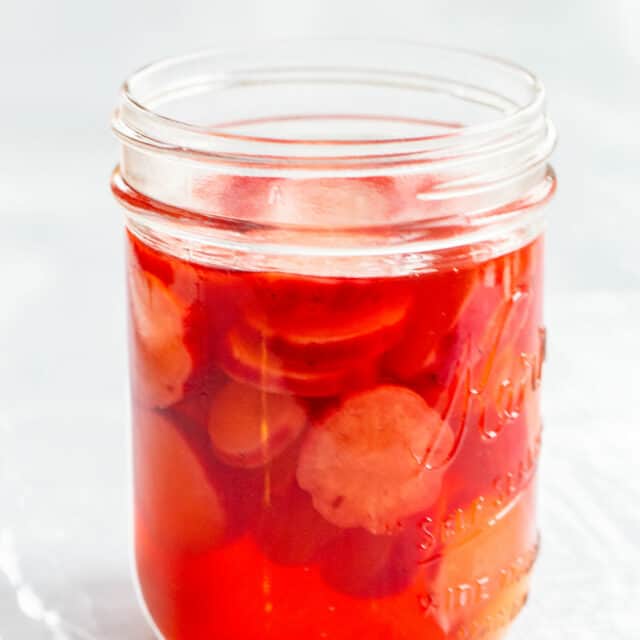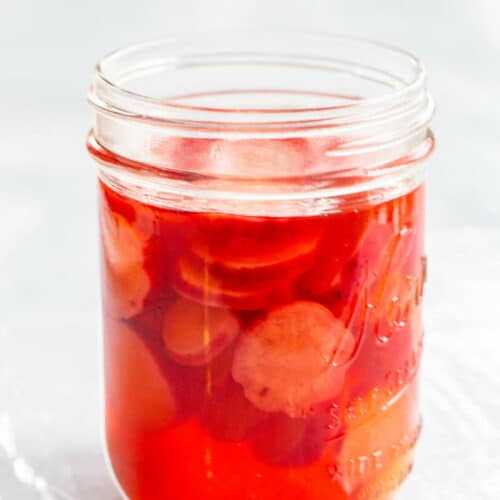 A quick and easy refrigerator pickled radish recipe. Serve these on salads, toast, and stir fries.
Instructions
Slice the radishes thin and add to a clean mason jar. Add the garlic clove.

Add the rest of the ingredients into a saucepan and bring to a boil. Once the sugar and salt are dissolved, remove from heat, and carefully pour the brine into the jar.

Let cool to room temperature (about 30-40 minutes), put a lid on the jar and chill in the fridge.
Nutrition
Serving:
1
serving
Calories:
12
kcal
Carbohydrates:
1
g
Protein:
1
g
Fat:
1
g
Saturated Fat:
1
g
Sodium:
782
mg
Potassium:
19
mg
Fiber:
1
g
Sugar:
1
g
Vitamin A:
25
IU
Vitamin C:
1
mg
Calcium:
4
mg