Easy Breakfast Meal Planning Ideas
Looking for easy and simple breakfast meal planning ideas? Here are some simple ideas that are small on the effort factor!
Breakfast is the most important meal of the day! It can also be the most stressful. Many of us do not have time to make a satisfying, protein filled breakfast that will leave you full until lunch.
Here are five easy make ahead breakfasts that take minutes to prepare in the morning, leaving you more time to get you and your family ready for the day!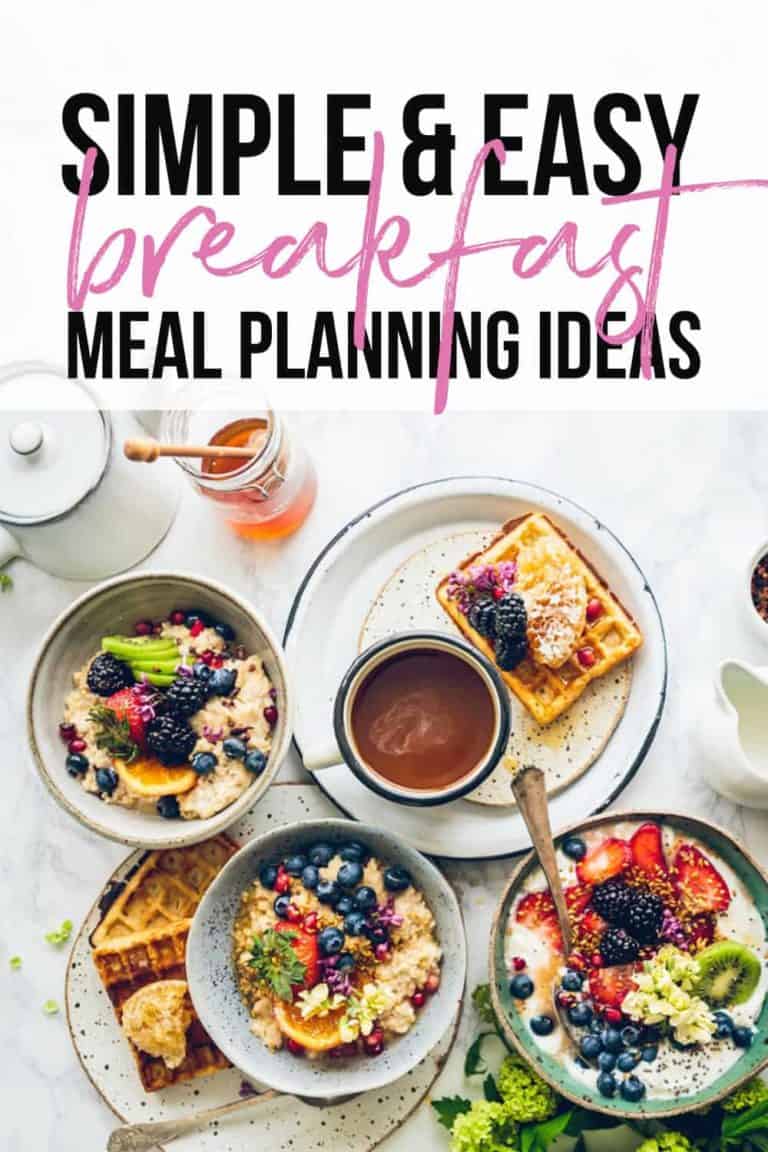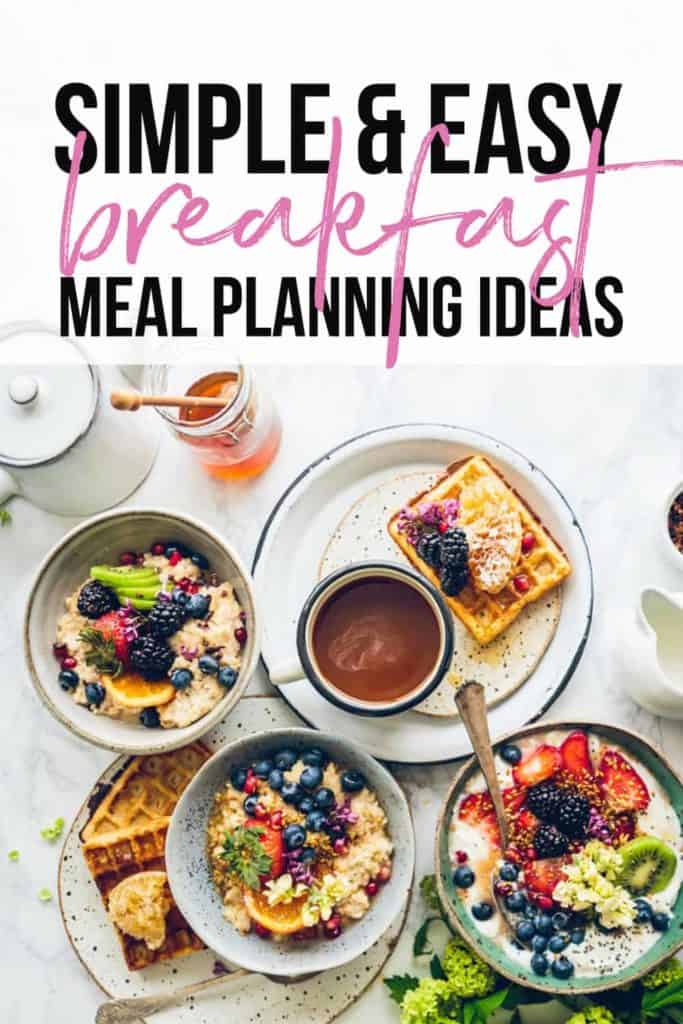 Easy Breakfast Meal Planning Ideas
Disclosure: This post contains affiliate links for your convenience. As an Amazon Associate, I earn from qualifying purchases.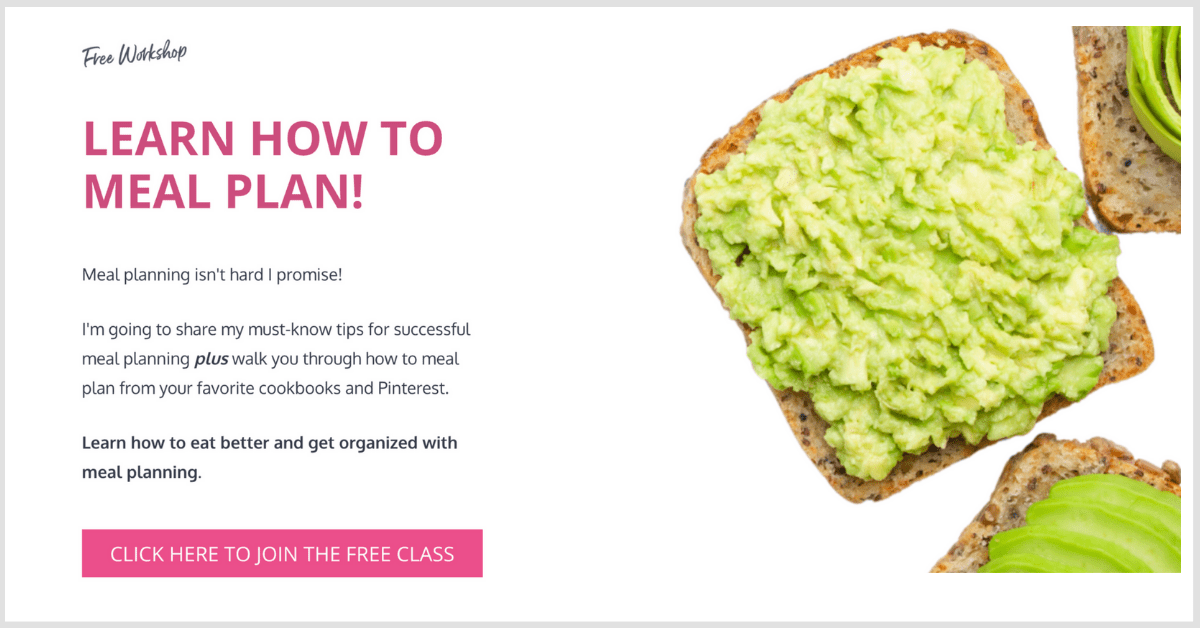 Overnight Oats
Overnight oats are incredibly easy and simple to customize. Start with a base recipe and then add toppings based on your own interests. Overnight oats keep for 3-4 days in the fridge, so make several on Sunday to grab and go throughout the week!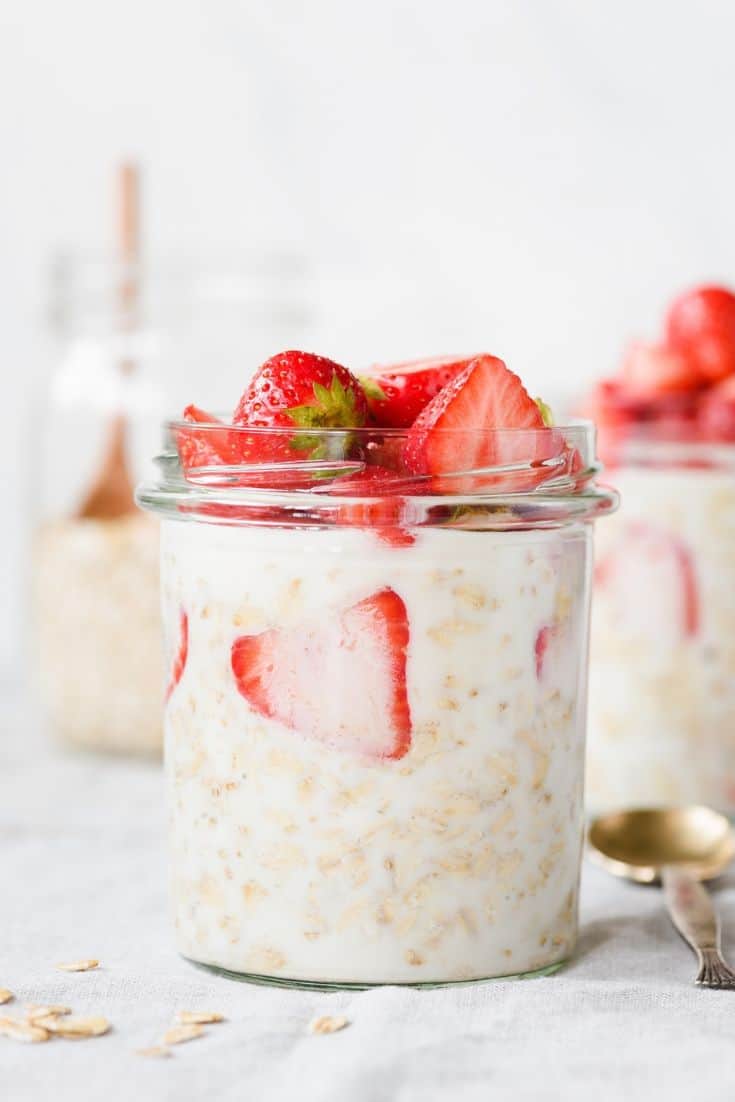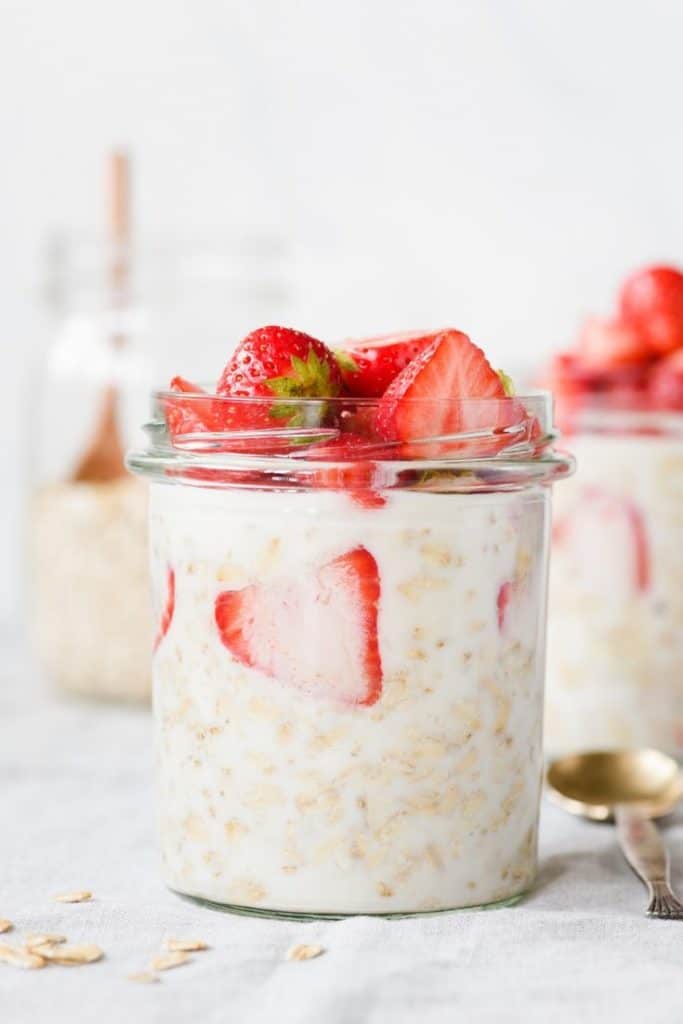 Base Recipe: Mix together in a mason jar
⅓ cup oats (whole oats – not quick cook)
⅔ cup milk (dairy or nondairy milk)
⅓ cup greek yogurt
1 tbsp chia seeds
½ tsp vanilla
Honey or maple syrup to taste
From there the options are endless! Add fruit, spices, cocoa powder, coconut, chocolate chip, etc. Play around with the combinations you like and see what inspires you!
Overnight oats recipes to try:
Egg Casseroles and Frittatas

Bake an egg casserole or frittata on Sunday, portion it, and reheat it throughout the week! You can put a variety of things in your egg casserole- vegetables, sausage, bacon, cheese, frozen potatoes.
Egg casseroles also freeze well- wrap up the squares in foil, label them, and put them in a freezer bag. Put one square in the fridge to defrost overnight and microwave it in the morning.
Voila! You have breakfast!
Try this Whole30 Spinach and Bacon Quiche.

Freezer Breakfast Burritos

For a quick, portable breakfast, make breakfast burritos and freeze them!
Start with a tortilla, eggs, meat (bacon or sausage), and cheese. Play around with adding peppers or broccoli, or even potatoes!
Make sure your fillings have cooled down to room temperature before rolling up your breakfast burrito. This helps to keep the burritos from becoming soggy.
Layer the cheese first- this acts as a barrier between the moisture from the other ingredients. After rolling them up, wrap them individually in foil.
When ready to eat, take them directly out of the freezer, take off the foil, and then wrap them in a damp paper towel. Microwave for 2 minutes or until warmed through.
If you have time to sit and eat, add some greek yogurt (in place of sour cream), salsa, or guacamole on the side!
This is one of the easiest meal planning breakfast ideas out there.

Sweet Potato Skillet

Sweet Potato Skillets are an easy breakfast to make on Sunday and heat up throughout the week.
Roast a couple of sweet potatoes in the oven with some onions and peppers, fry up some bacon or sausage and combine together in individual containers.
When you're ready to eat, fry up an egg while you reheat the potatoes and enjoy!
I recently bought a Ninja Foodi and it's PERFECT for sweet potato skillet. Simply add your sweet potatoes, peppers, and onions in the basket hit air crisp and walk away.
Make Ahead Smoothie Packs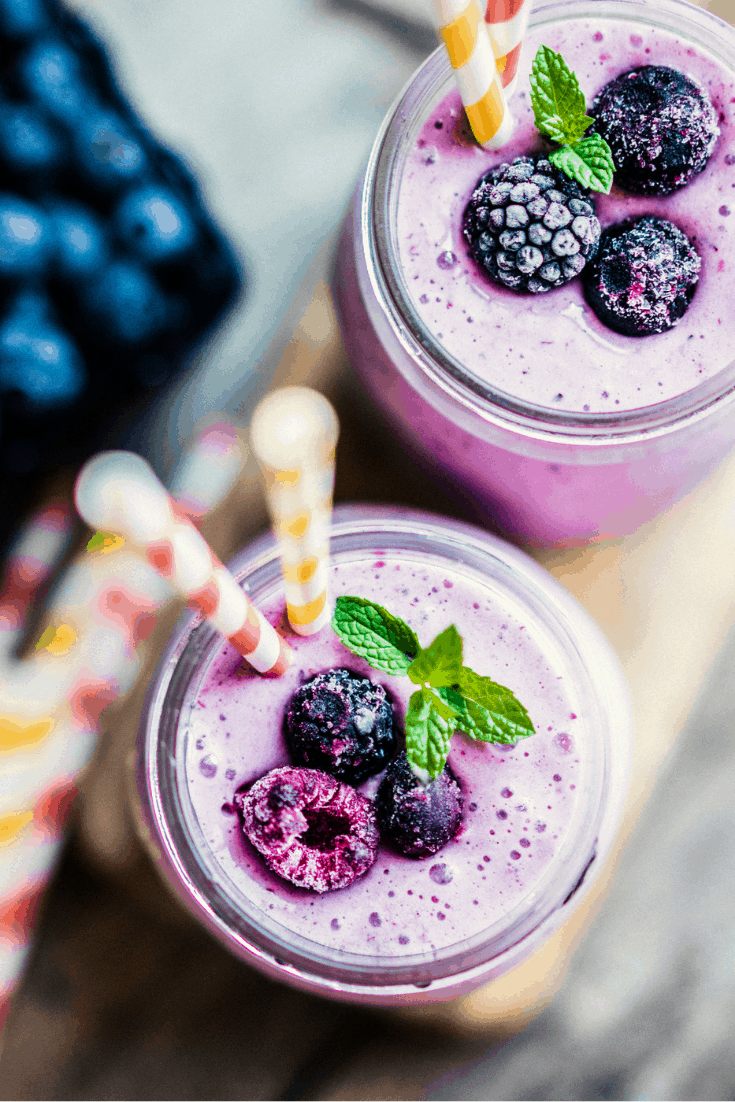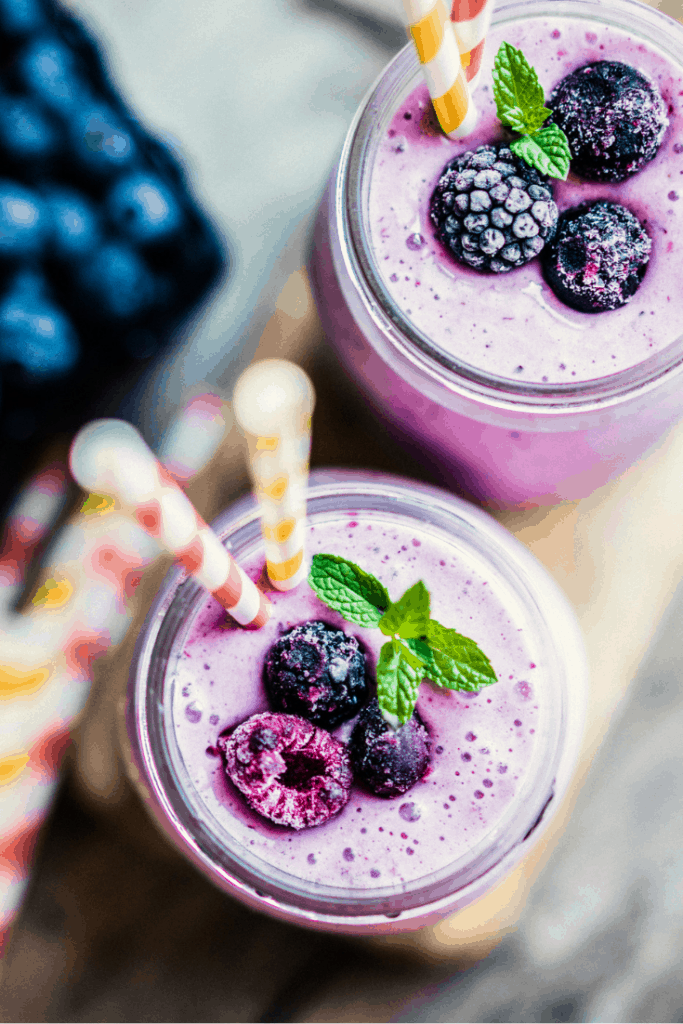 In a freezer bag, combine the fruit that you would use for a smoothie and freeze.
When you're ready to make your smoothie, blend the items from your bag with water or milk and a fresh banana.
Pour into your to-go cup and hit the road. Consider adding greek yogurt or protein powder for an extra boost of protein
I go back and forth between this protein powder and the plant-based version of this one (both are vegan blends).
Breakfast Meal Planning Resources
I hope these easy breakfast meal planning ideas have inspired you!