Pot Roast Soup in the Ninja Foodi (Pressure Cooker and Slow Cooker Option)
There is nothing better than soup, it's my ultimate comfort food. My favorite of all soups? Pot roast soup.
I love a beef broth-based soup that's hearty in vegetables. For this recipe, I made the pot roast soup in the Ninja Foodi (my favorite kitchen appliance) but I have instructions for a pressure cooker (InstantPot) and a slow cooker as well.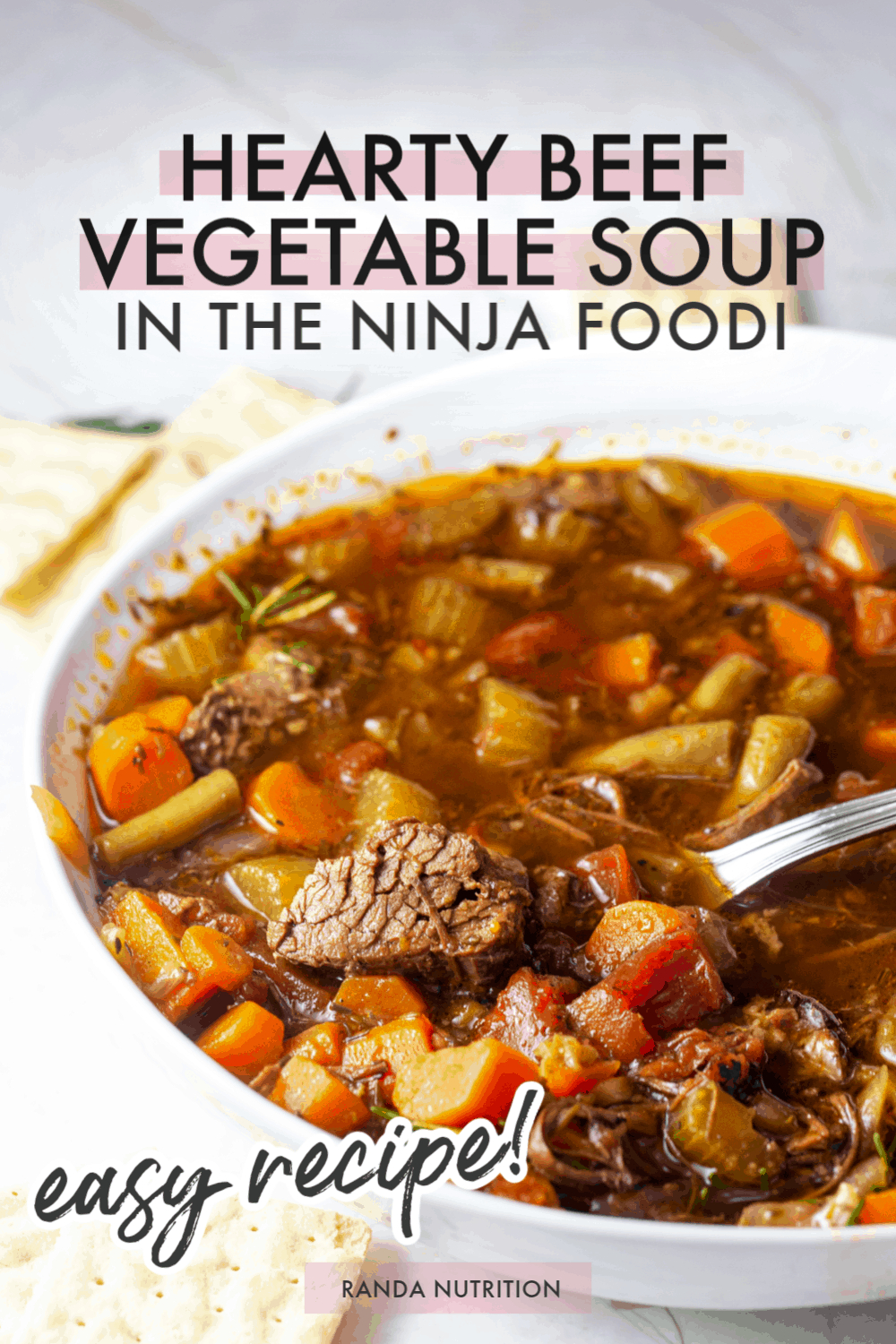 Pot Roast Soup in the Ninja Foodi
Disclosure: This post contains affiliate links for your convenience. As an Amazon Associate, I earn from qualifying purchases.
I bought my Ninja Foodi this past Amazon Prime Day and let me tell you, this baby gets used all the time. It's a pressure cooker, slow cooker, air fryer, roaster, and a few more things all in one.
I really like how you can crisp your food up after pressure cooking and/or slow cooking. It's perfect for quick wings or buffalo cauliflower bites.
Here are more healthy Ninja Foodi chicken recipes along with these delicious chicken Ninja Foodi Soup Recipes.
Grab the Ninja Foodi here with my affiliate link.
Here are the differences between Instant Pot and Ninja Foodi.
Anyway, before I carry on and on about how much I love this kitchen tool…let's get to the recipe and some helpful tips to help you get the most out of this recipe.
What's the difference between pot roast and roast beef?
Essentially pot roast soup is a hearty beef and vegetable soup. Pot roast itself is cooked in liquid and that's the main difference between pot roast and roast beef.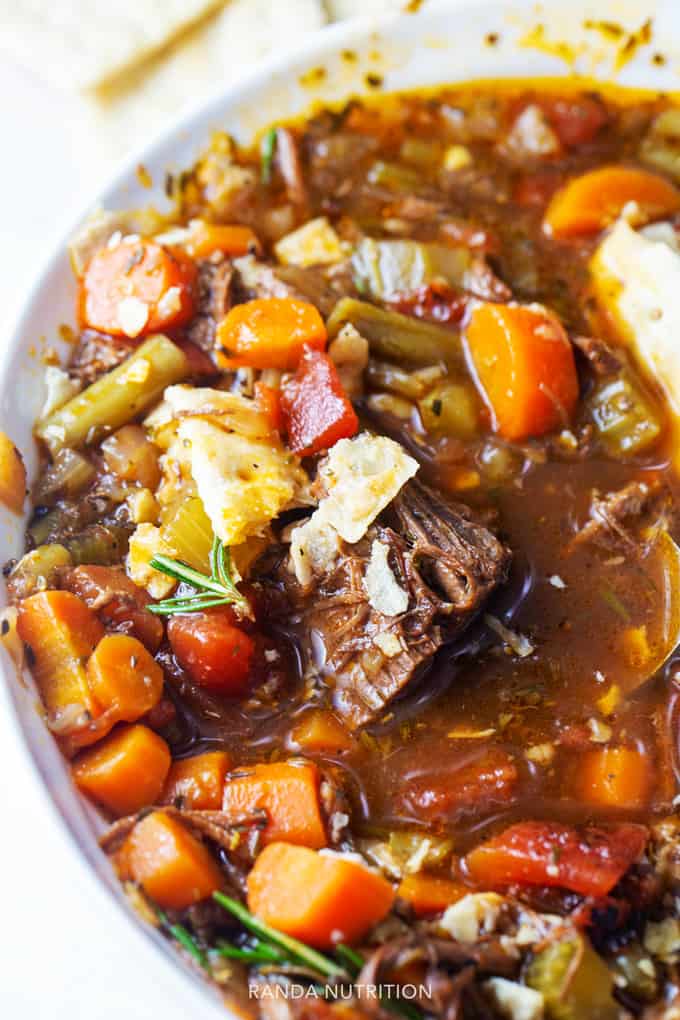 Can I use leftover beef in soup?
Of course, I highly encourage it as it reduces potential food waste. In this particular recipe, I used leftover brisket from Christmas dinner but you can use leftover chuck roast, sirloin roast, etc.
If you don't have any leftover beef you can use stew meat. I recommend you sear it first to lock in some flavor and start breaking down the fat. It should end up nice and tender by the time you cook it in the pressure cooker.
Either way, it's going to be a delicious Ninja Foodi vegetable beef soup.
How to thicken beef soup?
I keep soups fairly broth based but if you would like a thicker soup you can whisk in flour, arrowroot powder, or a bit of cornstarch (shake up the flours/starches with broth or water first before you add it so it mixes in well).
The soup itself will thicken naturally as it cooks but it's all a personal preference so do what you need to do to make it work for you.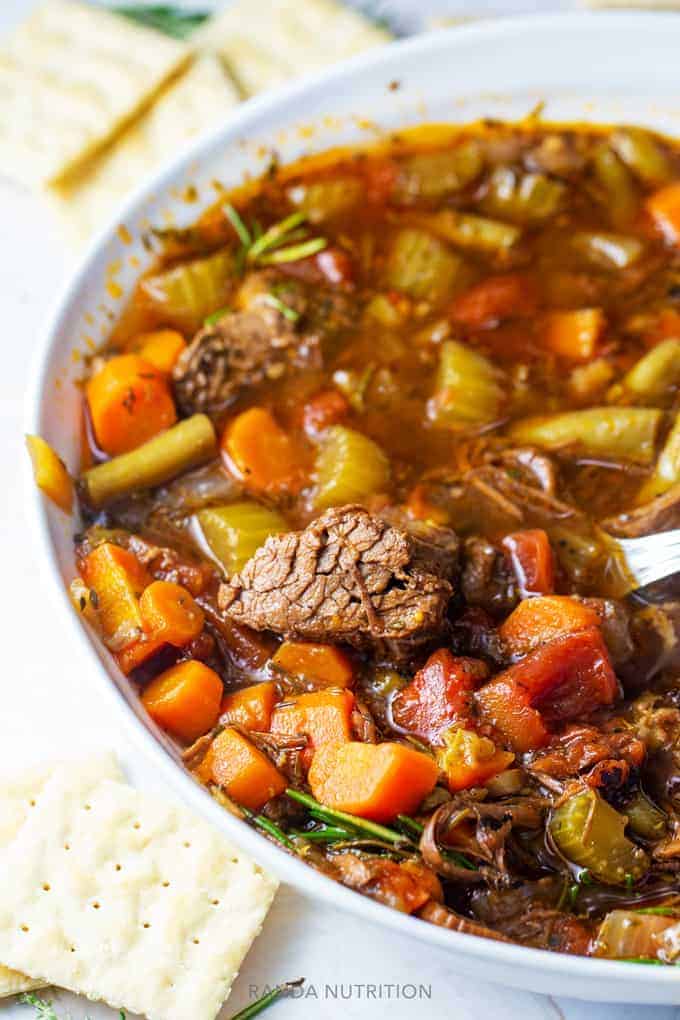 Is beef soup healthy?
Beef gets a bad rap, but it shouldn't. Yes, it's higher in saturated fat but as the saying goes – everything in moderation.
Beef is a healthy food to have in your diet. Again, in moderation.
The health benefits of beef are:
High in protein (depending on the cut there is roughly 26g of protein in 3.5oz).
A source of vitamin B12, B3, and B6.
A source of zinc, iron, selenium, and a few other minerals.
Combine some of those health benefits with the hearty vegetables added to the soup, and throw in the fact that you're upping your fluids with the broth. This pot roast soup is a delicious way to fill up and enjoy a fantastic healthy dinner recipe.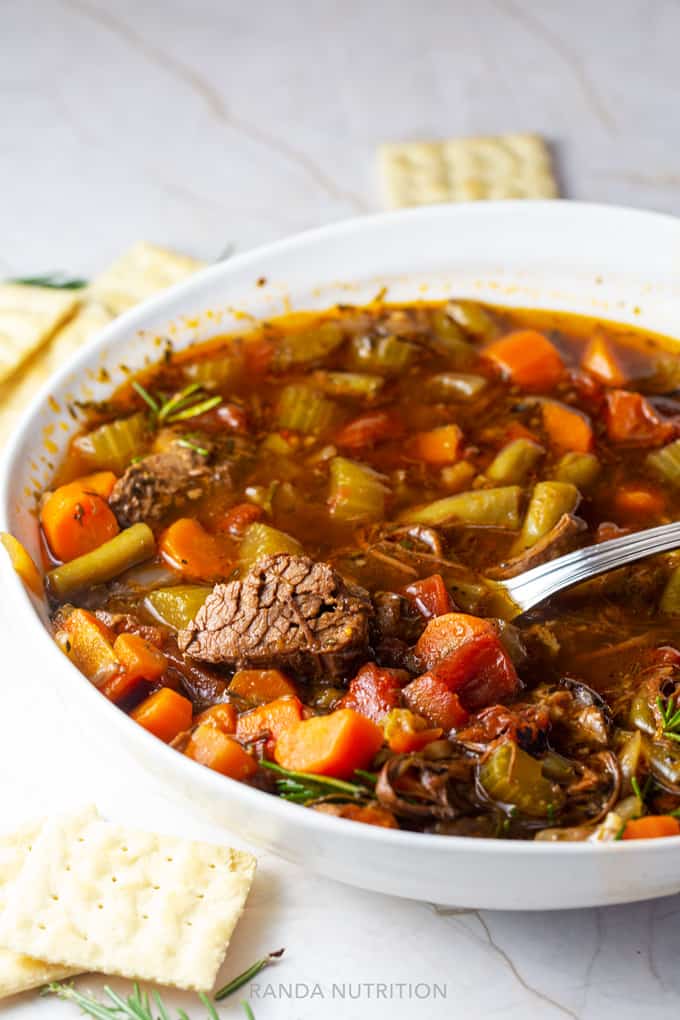 How many calories are in pot roast soup?
There are roughly 239 calories in 1/10th of this recipe. I say roughly as everyone's vegetables may be different sizes, different brands of broth, etc. However, the count will be close.
There are only 5 grams of carbs per serving, which makes this pot roast soup a low carb recipe (and it qualifies as a keto diet recipe for those of you looking for recipes that would qualify for that as well).
The fat content will change depending on the cut of beef you used. I used leftover brisket, which is quite fatty so the fat content will vary depending on the meat you want.
That being said, I'm a firm believer in having a rough estimate of what you're eating. It doesn't always have to be black and white. I teach more about that in the 30 Days to a Healthier You Challenge. You can register for the nutrition challenge or learn more about that here.
Is this recipe 21 Day Fix compatible?
Yes!
The counts for the whole recipe are 5 green, 4 red, 1 yellow, 6 tsps. The yellow is to account for the wine added to the recipe but it is minimal in each serving.
How to make beef vegetable soup low carb
A question I am often asked is how to make recipes low carb.
I generally don't add noodles, rice, quinoa, or potatoes to my soups and that's my version of low carb. I keep it simple with veggies and beef.
If you want to lower the carbohydrate count even further, then you will have to look at the vegetables I added (carrots, green beans, celery, etc) and see what you can leave out or swap. That being said, I personally don't recommend this route.
These are vegetables that are good for you, keep them. They provide nutrients for your body and they help make the soup what it is. Besides, with the vegetables, I have added one serving is roughly 5g of carbs. It's low enough already.
What vegetables go good in beef soup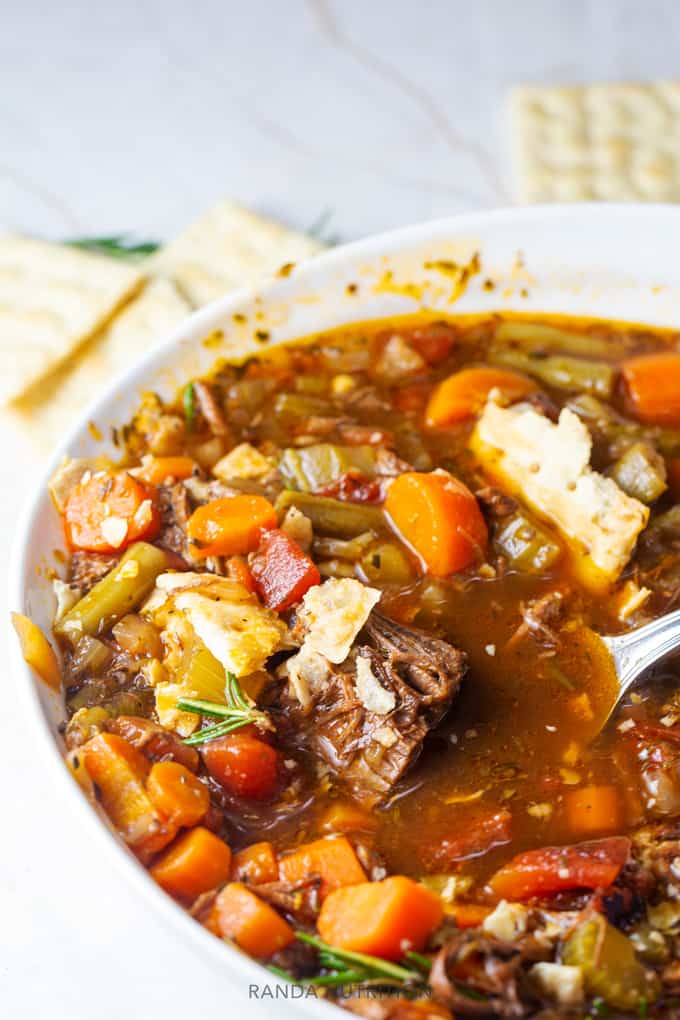 The other route you could go is to add whatever vegetables you have in the fridge to make this recipe your own. I've included the vegetables I've used plus a few others that I think would go great.
Feel free to experiment! Cooking is all about winging it.
Onions
Garlic
Carrots
Celery
Green beans
Mushrooms
Bell peppers
Broccoli
Potatoes
Leeks
Turnips
Tomatoes
Storage
You can store leftover soup in a sealed container in the fridge for 3-4 days (that's if it lasts that long).
Does pot roast soup freeze well?
Yes, this soup freezes really well. You can freeze it in containers or resealable bags (lay them flat so they take up less room).
How to make Pot Roast Soup in the Ninja Foodi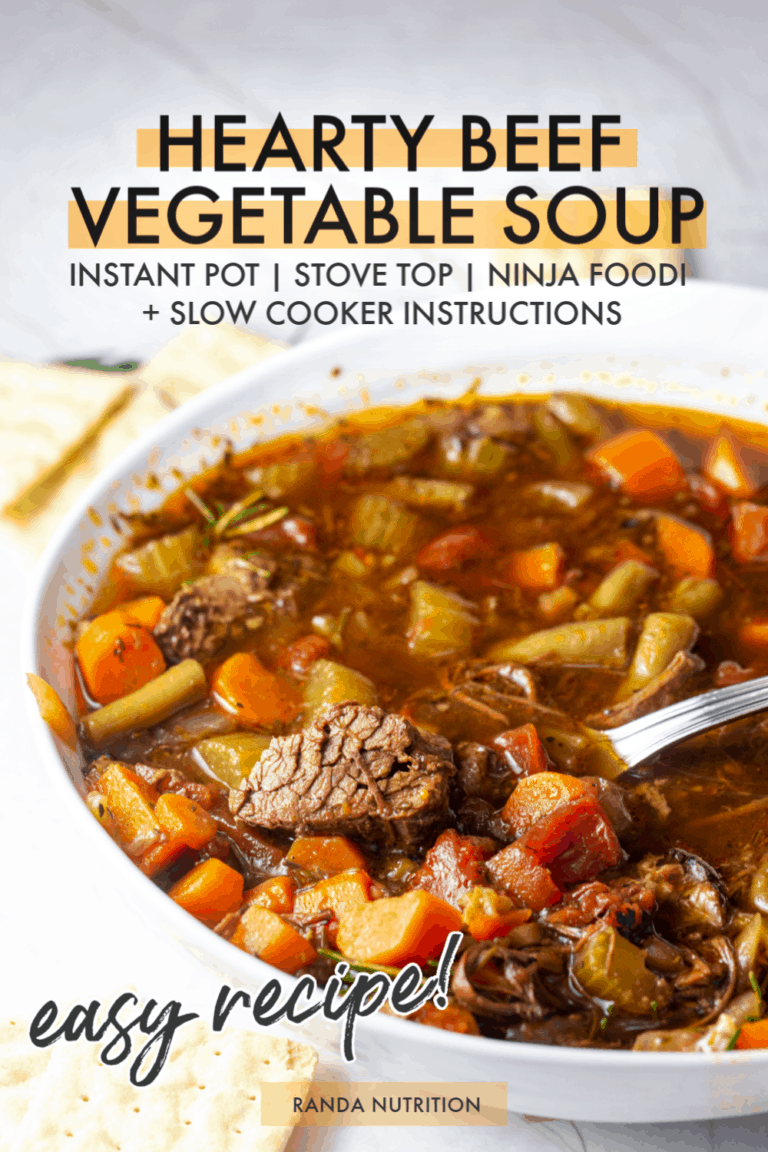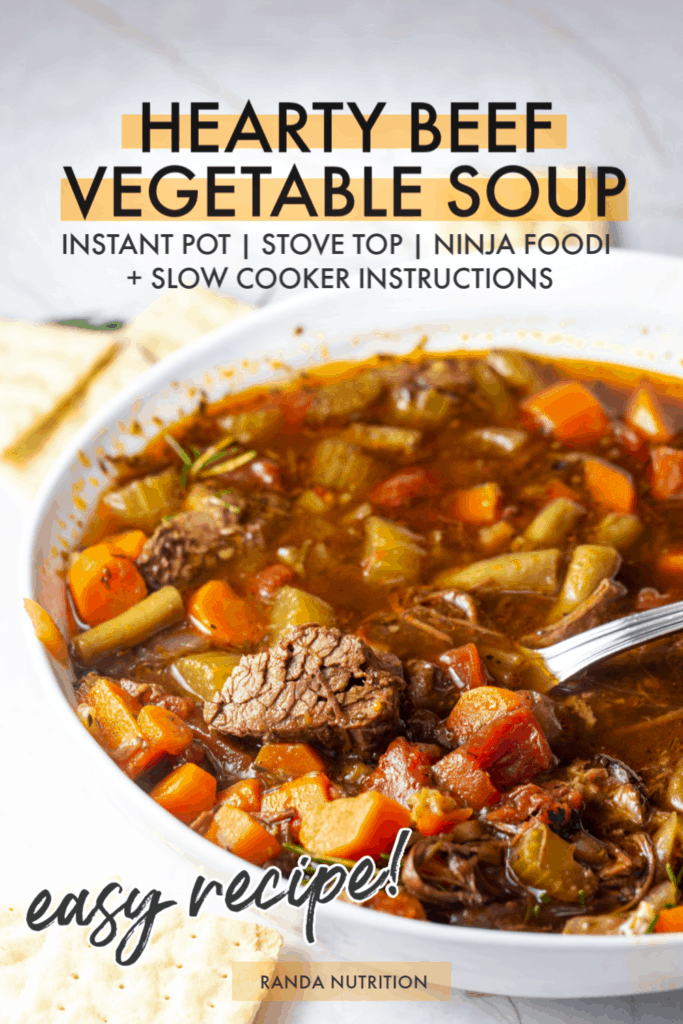 In the recipe below I have instructions for the Instant Pot (pressure cooker), Ninja Foodi (my favorite appliance), slow cooker, and stovetop.
I didn't add potatoes to the recipe but you can if you want.
You'll start the recipe out using the sauté mode on the Ninja Foodi (or whatever pressure cooker you have). This is to brown the meat (make sure the beef is in bite sized pieces) and soften up the vegetables.
After that you'll add the remainder of the ingredients, turn the lid to the seal position and cook to pressure.
Natural Release vs Vent
When it comes to releasing the pressure on the pressure lid you can either vent it or have it natural release.
The quick release is fine as there are no thick ingredients, starch, or foam that can clog the release valve.
If you're in a hurry, you'll be fine.
More healthy soup recipes you'll love: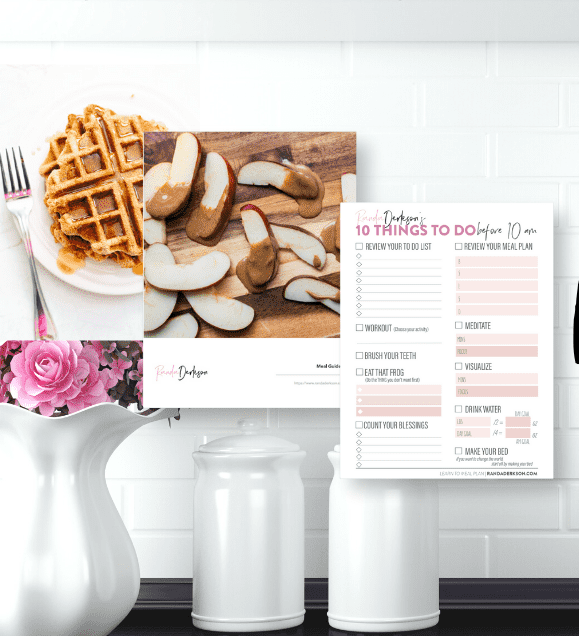 Get Access Free
Exclusive Nutrition and Healthy Living Library
Pressure Cooker Pot Roast Soup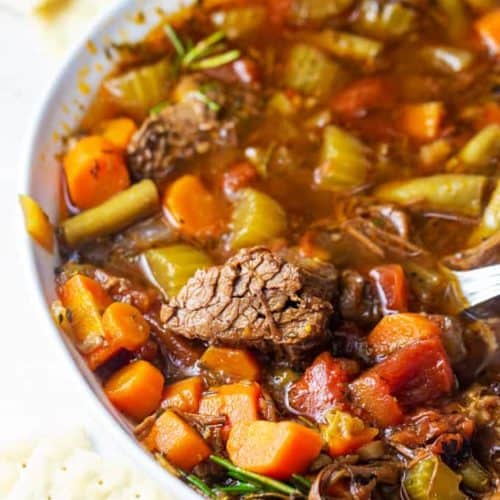 This pot roast soup hits your right in the soul. It's the comfort food that I personally crave the most.
Ingredients
2

tbsp

avocado oil

1

onion

diced

2

celery stalks

diced

3

carrots

peeled and diced

3

garlic cloves

minced

3/4

cup

red wine

1

cup

green beans

I used frozen

1/2

tsp

fresh rosemary

1

14oz can

fire roasted tomatoes

4

cups

beef broth

3

cups

beef

cooked (I used leftover brisket, but you can use whatever leftovers on hand or 1 1/2 lbs of raw stew meat).

1

ts

salt

1

tsp

pepper

2

tsps

oregano

1

tbsp

gluten free flour

or regular flour, optional (see notes)
Instructions
For the NinjaFoodi/InstantPot/Pressure Cooker
Turn on the saute feature and add the avocado oil. Please see the notes below if you're using raw stew meat.

Add the onions, carrots, and celery and saute until the vegetables have softened up (the onions should be almost see-through). Add the garlic next, stir until fragrant (about one minute).

Add the wine. Let it simmer a bit and reduce down, I let this go for about 3-5 minutes.

Add the rest of the ingredients. Turn off the saute feature and place the pressure cooker lid on top of the cooker.

Turn the valve to seal, and turn on manual pressure on high for 25 minutes.

Once it's done you can release the pressure manually but full disclosure: I totally forgot about it for an hour so it released on its own. Either or is fine.
Slow Cooker Instructions
Add everything to the slow cooker (see notes below for a browning option) and turn the heat to low. Cooker for 8-10 hours.
Stove top Instructions
Follow the pressure cooker instructions. However instead of adding the lid and sealing, bring the soup to a boil, then cover with a lid and reduce it to a simmer.

Let the soup simmer for 45 minutes, but the longer the better. I like to simmer for 1-2 hours depending on how much time I have.
Notes
Stew Meat Instructions
Pressure Cooker Instruction Notes:
If you are using raw beef (stew meat) I recommend browning it first.  Add the beef to the pan before the veggies and brown. Remove it and place it on a plate somewhere, then follow the instructions above. Add the beef back in after.
Slow Cooker Instructions:
You have the option to brown the meat as well but the slow cooker should break down the beef until tender.
Flour Instructions
If you would like the soup a little thicker, you can add a tablespoon of flour (or gluten free flour) mixed wth some beef broth to thicken. Simply thicken it to  your liking.
Containers:
The counts for the whole recipe are 5 green, 4 red, 1 yellow, 6 tsps. The yellow is to account for the wine added to the recipe but it is minimal in each serving.
Nutrition
Serving:
1
serving
Calories:
239
kcal
Carbohydrates:
5
g
Protein:
13
g
Fat:
17
g
Saturated Fat:
6
g
Cholesterol:
48
mg
Sodium:
650
mg
Potassium:
363
mg
Fiber:
1
g
Sugar:
2
g
Vitamin A:
3140
IU
Vitamin C:
4
mg
Calcium:
40
mg
Iron:
2
mg
Don't forget to share this recipe with your friends! I love seeing my recipes being shared on Facebook and Pinterest.