Christmas Charcuterie Board
If you're looking for a festive appetizer idea that's a crowd-pleaser this holiday, you're going to love this DIY Christmas charcuterie board. It's such a fun snack to serve at your holiday party.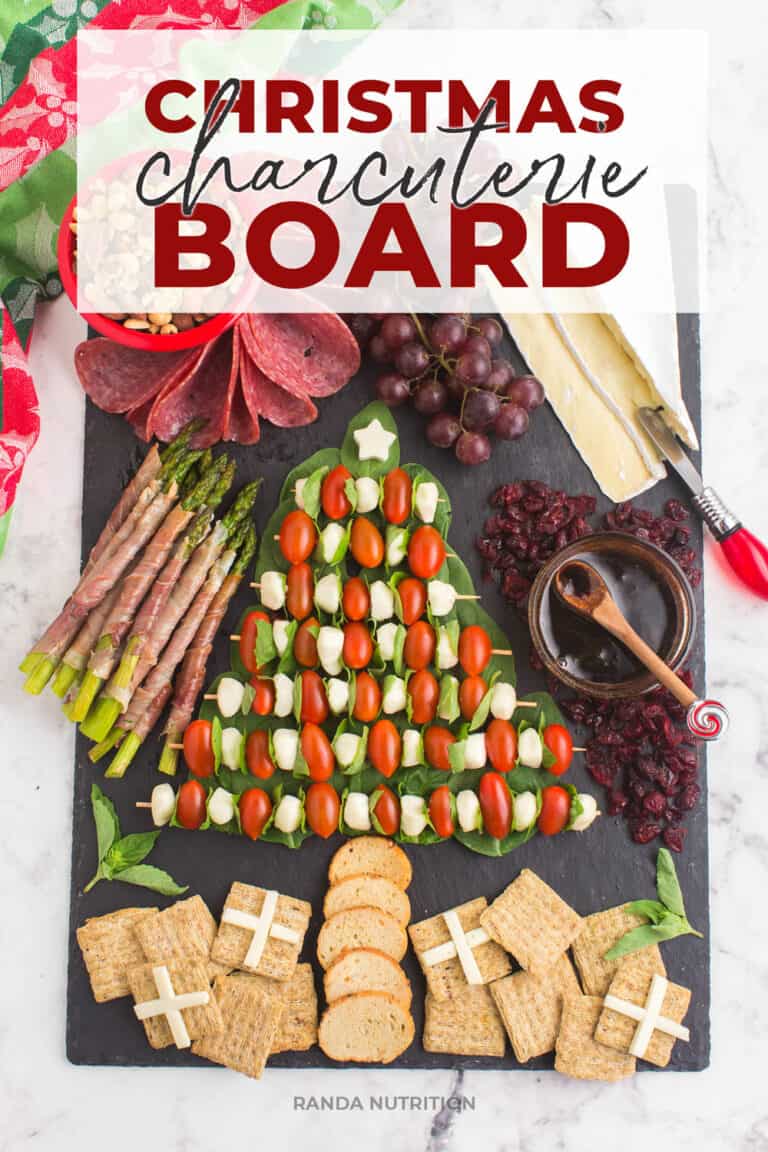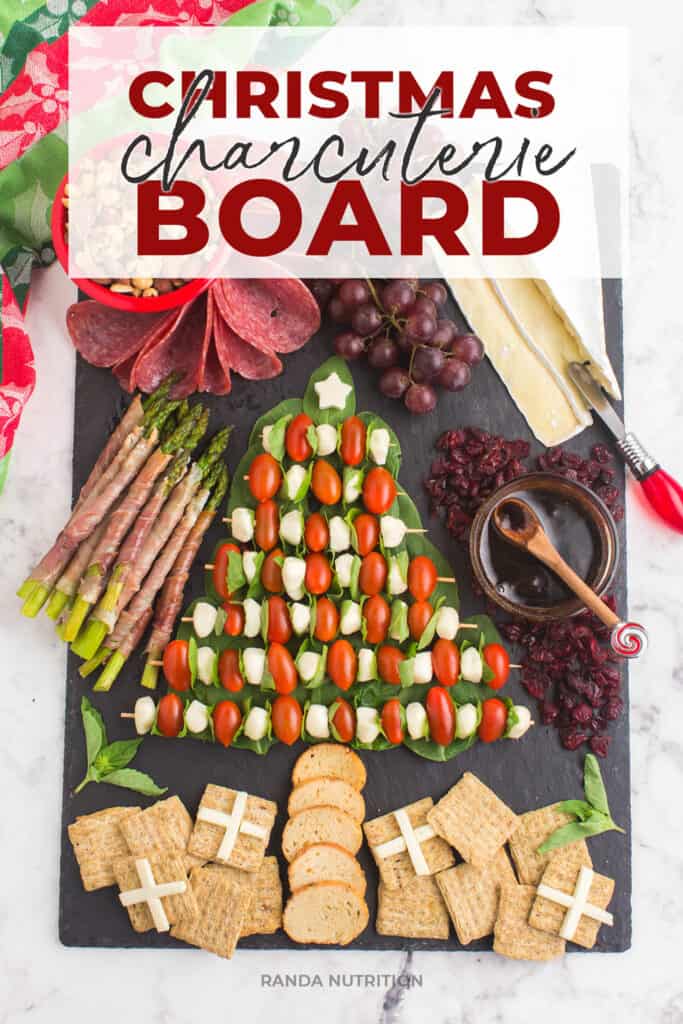 Disclosure: This post contains affiliate links for your convenience. As an Amazon Associate, I earn from qualifying purchases.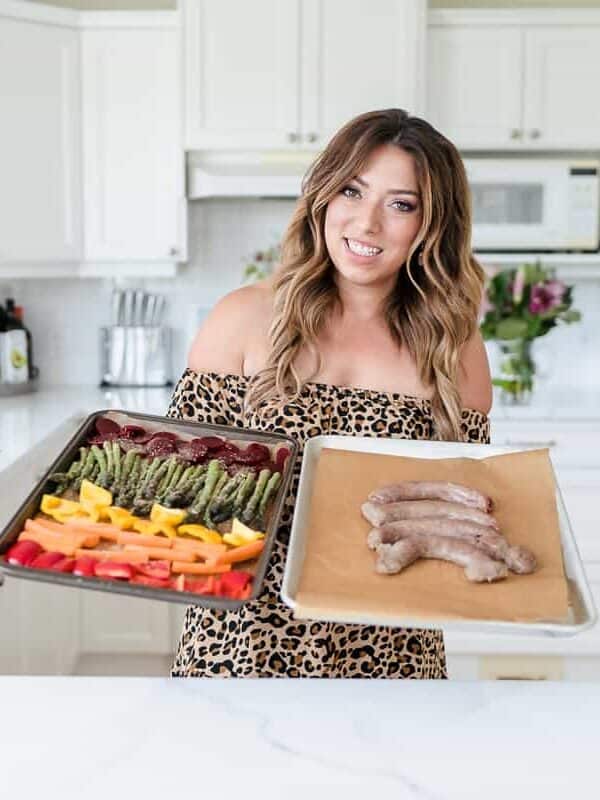 Get Your Nutrition Back On Track
Sign up for FREE 3 Day Challenge
Learn the customized nutrition for your specific needs.
How much you should really be eating.
and so much more.
What is a charcuterie board?
Who doesn't love a good graze board? It's the grown up Lunchables!
Essentially, a charcuterie board is a fancy meat and cheese platter that often includes fresh fruit, pickled veggies, and sweet bites. Let's be honest here. If you love meat and cheese boards, you're going to love this.
A charcuterie board is a platter of a variety of meats, cheeses, breads, pickled vegetables, and fruits. They often have nuts and a variety of spreads too.
They are seriously the best! I love preparing these for get-togethers, light lunches, easy dinners, and — of course — the holidays.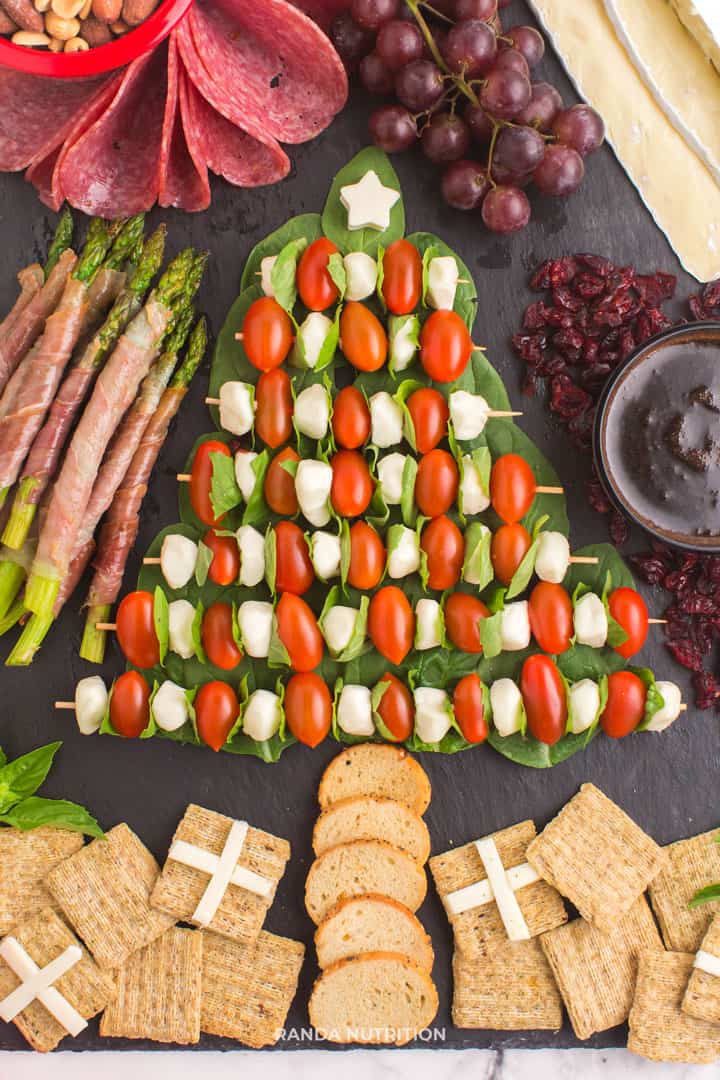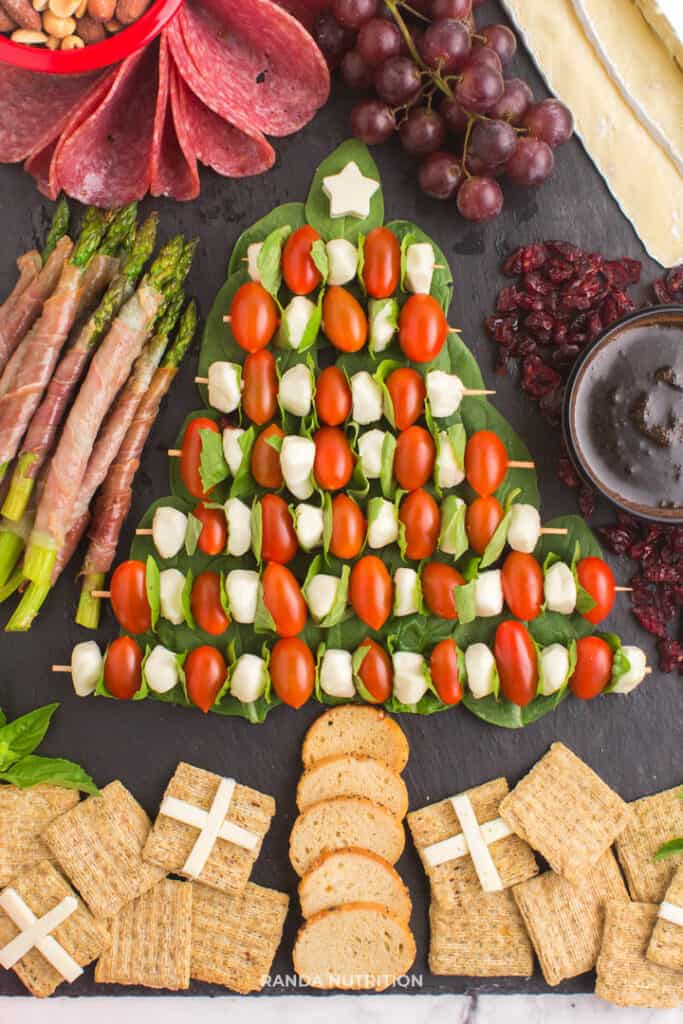 What's a caprese board?
A healthy caprese cheeseboard involves what you would see in a caprese salad: basil, mozzarella, tomatoes.
This party food board marries the two of them together for the best of both words. Feel free to add extra veggies like carrots and broccoli for even more of a healthy holiday option.
Holiday Charcuterie Board Ddeas
You can make a charcuterie board anytime during the year but this Christmas tree charcuterie board is such a festive spin for Christmas parties and holiday gatherings.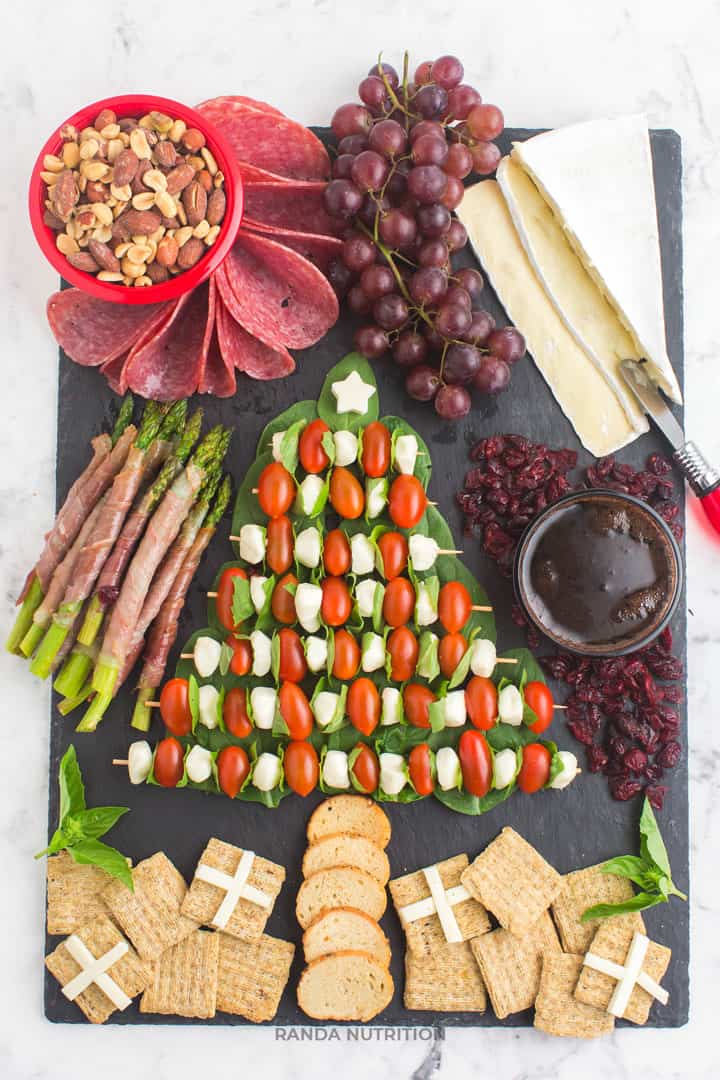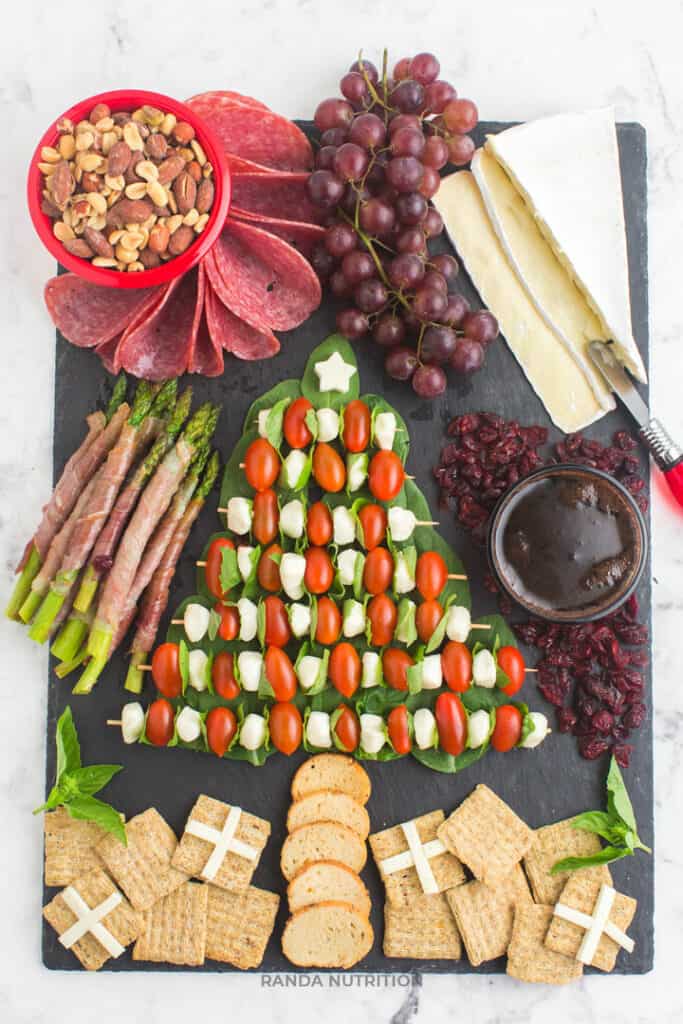 Charcuterie Board Shopping List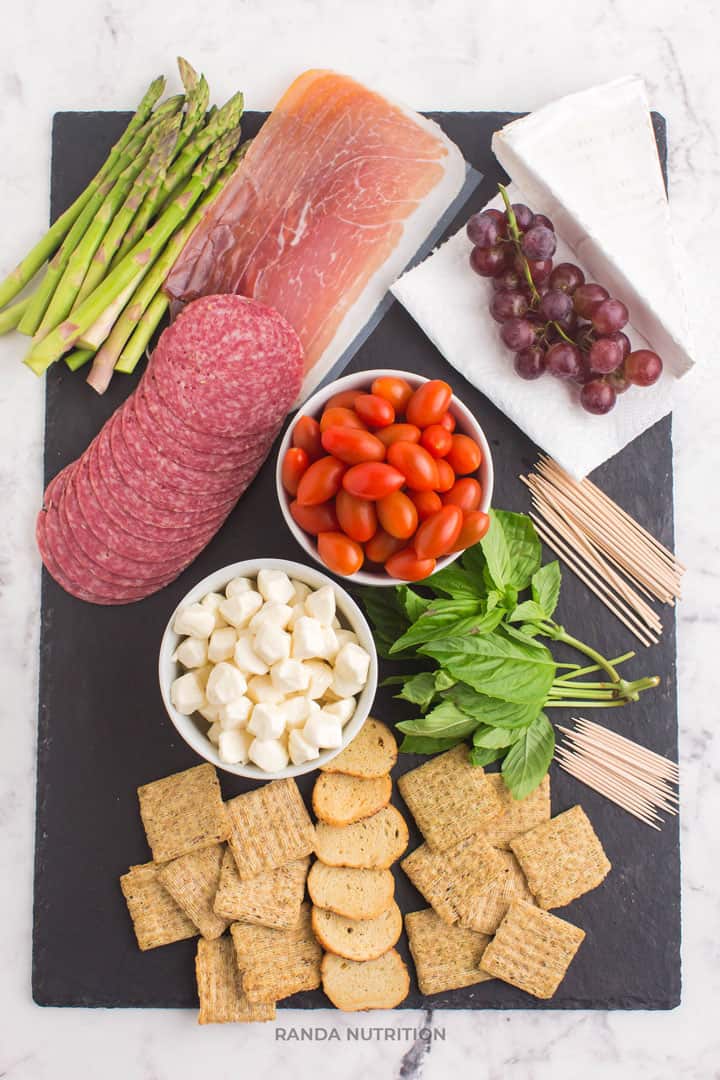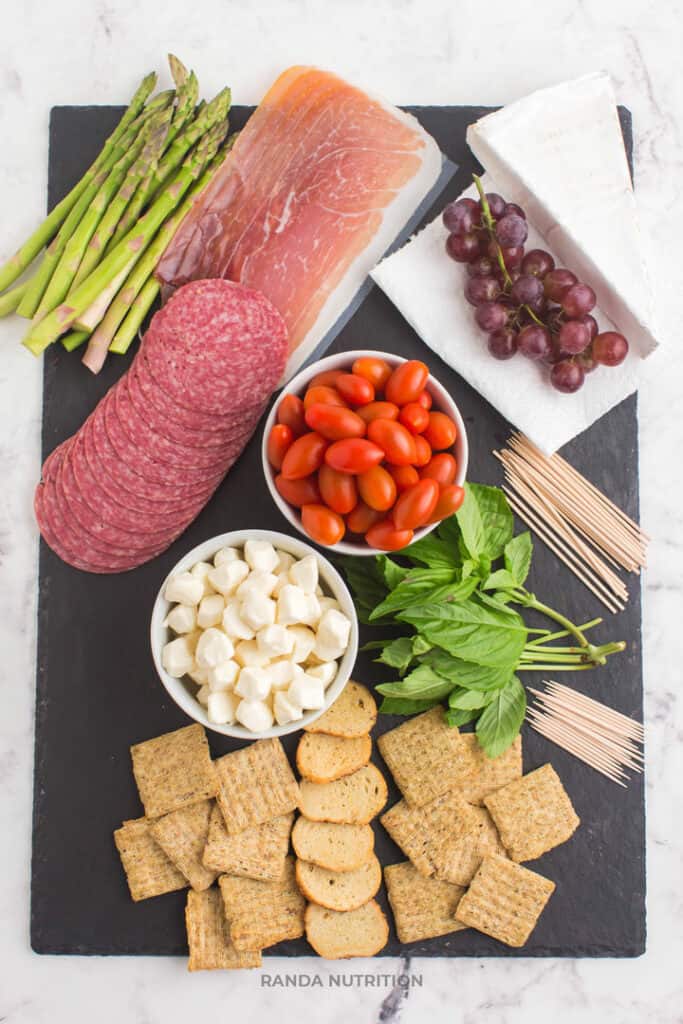 If you're looking for some Christmas Charcuterie Board ingredient ideas. Here's some off the top of my head:
Meats for Charcuterie Board
Salami
Prosciutto (try these prosciutto stuffed dates)
Calabrese
Cured sausages
Chorizo
Ham
Soppressata
Mortadella
Smoked fish like salmon
Charcuterie Board Cheeses
Brie
Blue cheese
Fresh mozzarella
Wine infused cheeses (aged cheddar with red wine infusion)
Cranberry brie
Goats cheese
Cheddar
Gouda
Havarti
Parmigiano Reggiano
Provolone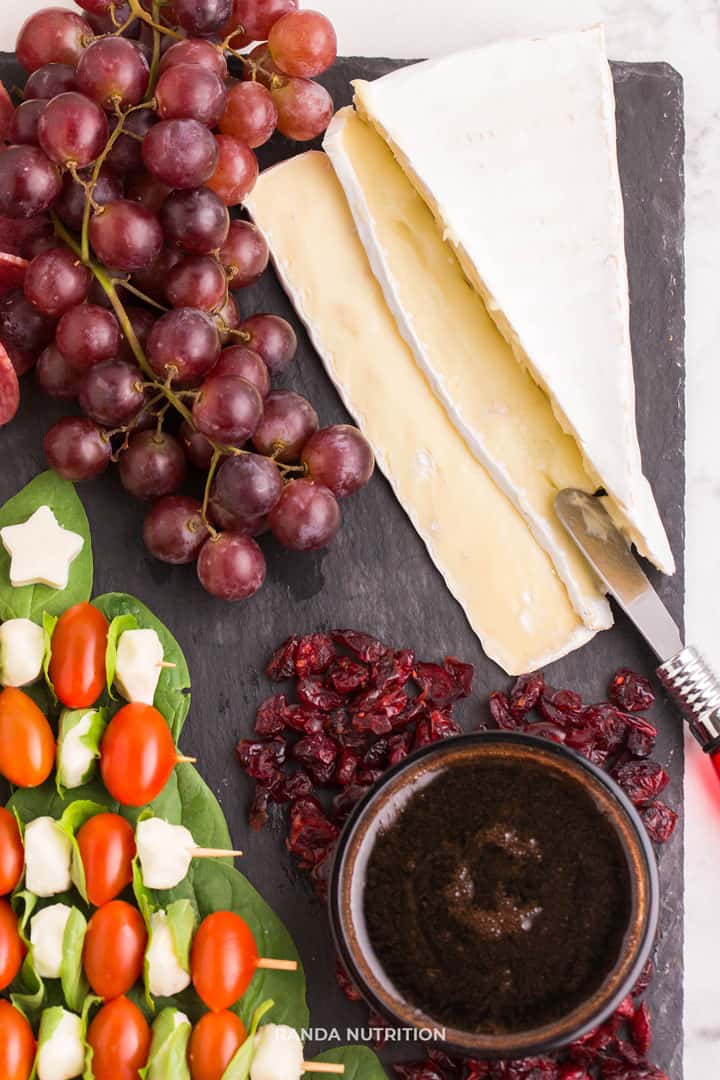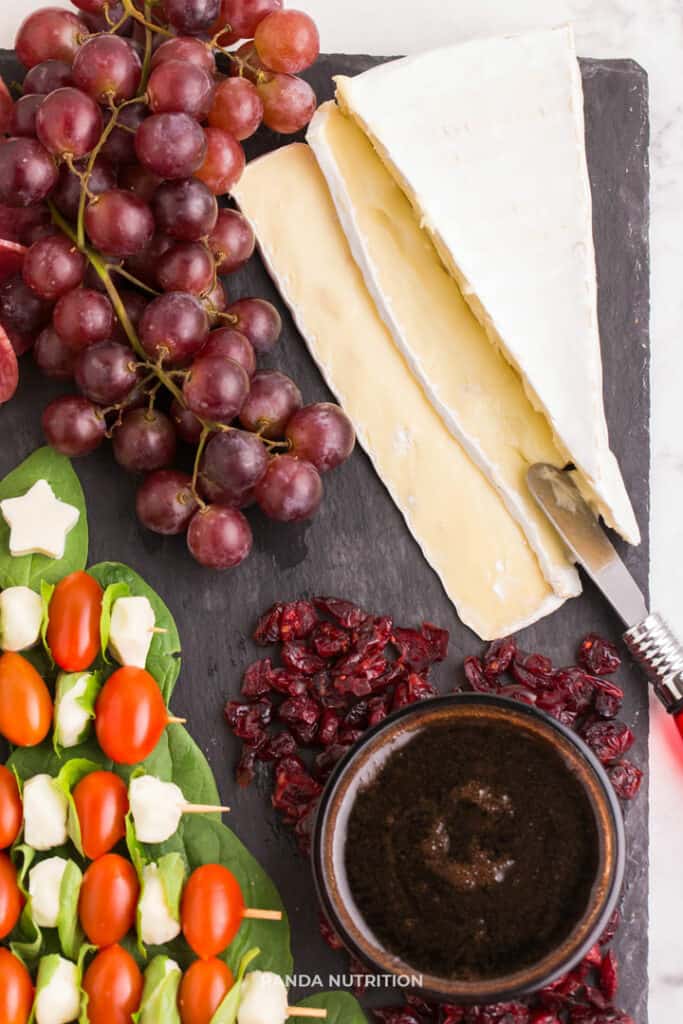 Charcuterie Board Spreads and Sauces
Balsamic Glaze
Hummus or beet hummus
Dijon
Fig jam
Relish
Chutneys
Pate
Red pepper jelly
Habanero jelly
Other Charcuterie Board Ingredients
Anything pickled! Pickled cauliflower, pickled radishes, pickled carrots. This includes pickles and cornichons.
Marinated chickpeas
Sundried tomatoes
Figs
Fresh fruit (balsamic strawberries are always a hit)
Fresh vegetables
Crackers (Triscuits, wheat thins, bagel chips, etc)
Breads (french, sourdough, rye, etc)
Nuts (almonds, pistachios, cashews, walnuts, etc)
Dates
Fresh herbs
Olives or stuffed olives
Pickled ginger
Pretzels (these pretzel chips are always popular)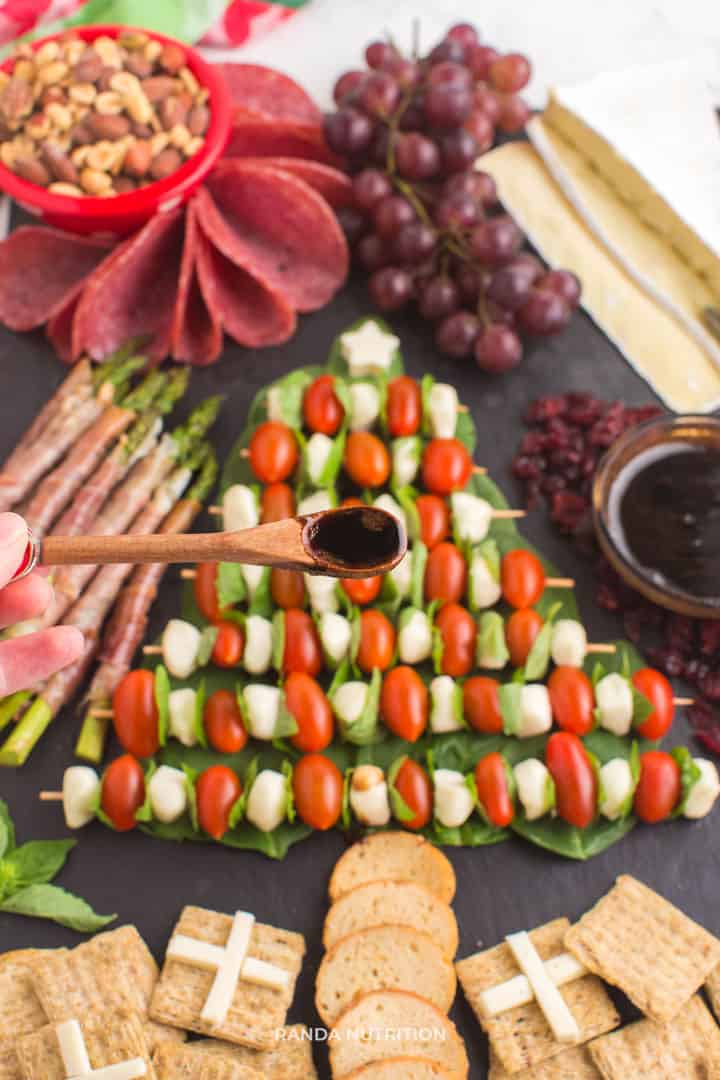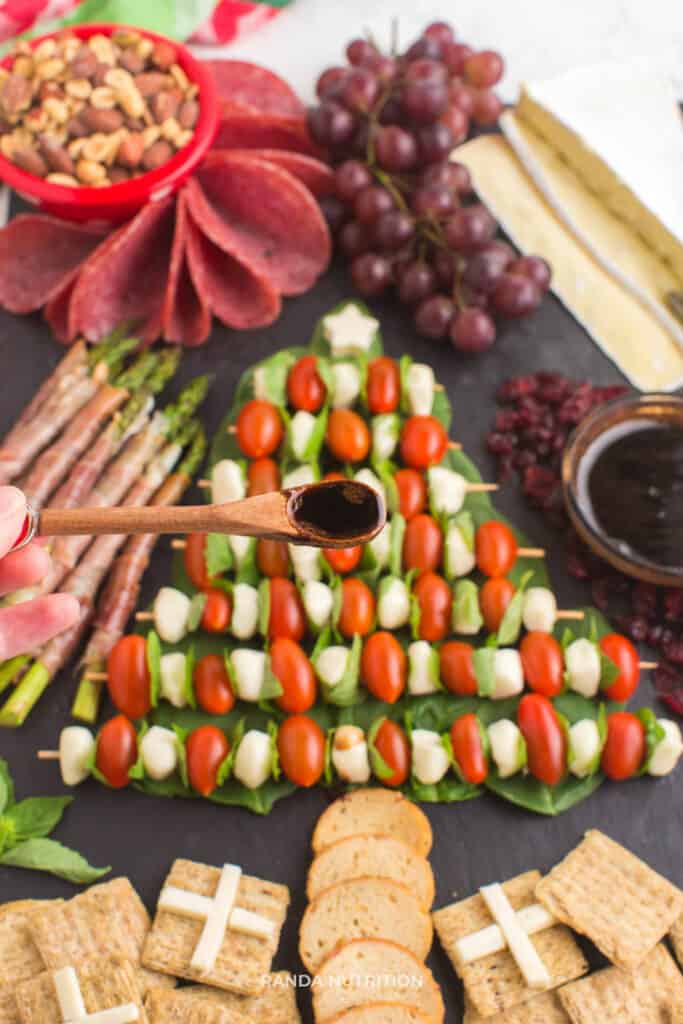 Supplies Needed:
How to Make a Charcuterie Board
In the recipe board below I break down the steps to create the charcuterie/caprese board.
That being said, I feel it's easier to take a look at the photos and recreate it.
Feel free to add new ingredients that are a must have on your list and take out ingredients from my meat and cheese platter that you may not like as much.
The idea will be the same, but with your own spin.
More Healthy Appetizers
What are you favorite charcuterie board ideas? What ingredients do you like to see?
I think these snack boards are so much fun to create (even funner to eat) so I'd like to add a few more on the blog over time. There are so many fun themes to create!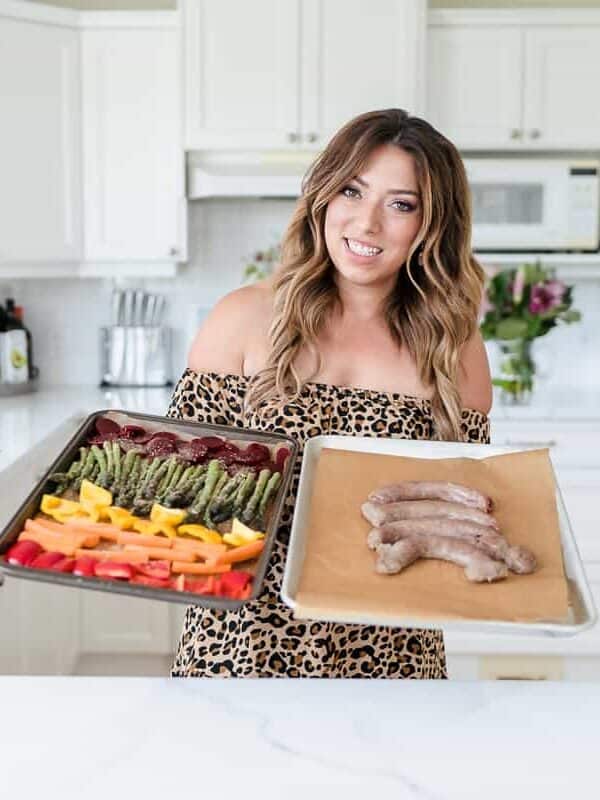 Get Your Nutrition Back On Track
Sign up for FREE 3 Day Challenge
Learn the customized nutrition for your specific needs.
How much you should really be eating.
and so much more.
Christmas Charcuterie Board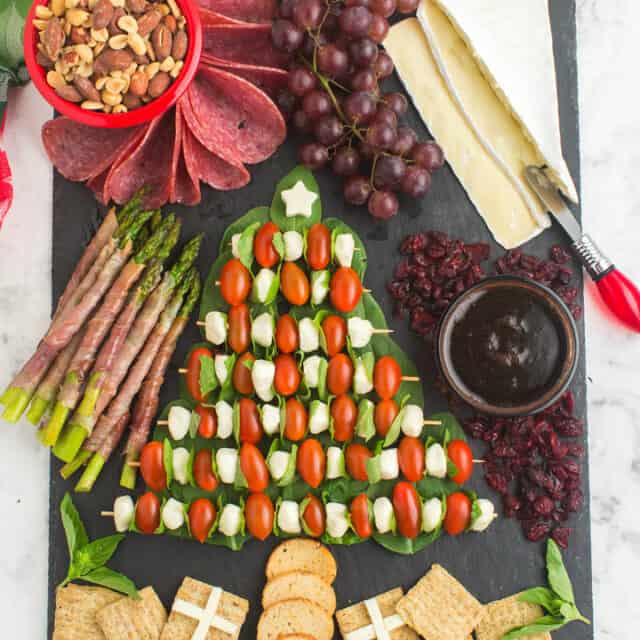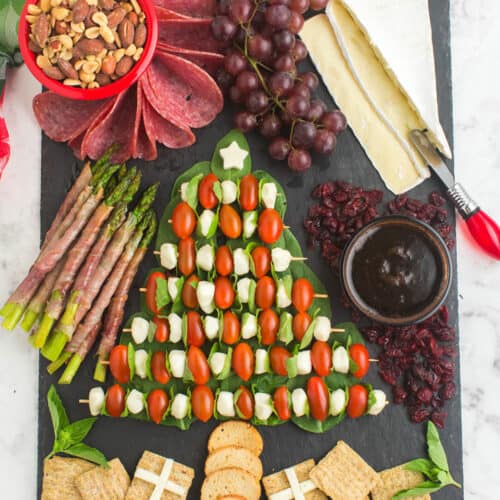 This simple DIY Christmas Tree Caprese Board is such an easy idea! If you're wondering how to make a charcuterie board that will appeal to a crowd (keto, healthy, and vegetarian) this holiday meat and cheese platter has something for every lifestyle that they can pick and choose.
Ingredients
For the Caprese Tree
2

cups

fresh spinach

with the stems cut off

10.5

oz

Cherry Tomatoes

1

large container of fresh basil

or 2-3 small ones

8

oz

mozzarella balls

*A mix of 4in skewers and regular toothpicks

1

cup

bagel chips

I used the everything flavor
For the Presents
8

oz

fresh mozzarella

1-2

cups

Triscuits

I used the basil and garlic
For the Balsamic Glaze
½

cup

balsamic vinegar

2-3

tablespoons

honey

Surrounded by ½ cup of dried cranberries
Top Right Corner
1

wedge of brie

1-2

vines of grapes
Top Left Corner
1-6

oz

package of good quality hard salami

1

cup

of mixed nuts
Left Side
1

small bunch of asparagus

6

oz

package of prosciutto
Instructions
For the Tree
Cut the stem off of full pieces of spinach and use it to make an outline of the tree on the cheese board. Remeber the star will go on the very top one so staggered the spinach to make the tree expand down.

Use the outline to figure out how long the skewers need to be. On the first row, I use a regular toothpick.

Alternate the mozzarella, basil, tomato, basil, mozzarella so that whatever you started with on the skewer, you end with to keep things symmetrical. Then go to a 4 in skewer for the second row. This time starting with a tomato.

For the third row, start with 4 in a skewer and then measure how much of a toothpick you would need, by laying it on the spinach.

Once you fill the skewer, stick the toothpick in the end and continue until your desired length. You could also just use regular toothpicks and lay them end to end if you do not want to make complete strands. That also makes it easier for people to snack on, but it also depends on how you want your tree to look. It is up to you!

Once the tree is full with the caprese strands, make the trunk by laying bagel chips underneath the tree in a domino effect.
For the Presents
To make the presents under the tree, lay the triscuits down and for a few of the "gifts" make a bow out of small slices of cut fresh mozzarella.

Use a star cutter to cut a star from the fresh mozzarella log for the top of the tree.
Balsamic Glaze
Combine the balsamic vinegar and honey into a small saucepan and allowed it to simmer for 20 minutes, stirring occasionally, until reduced. Pour it into a little serving bowl and surround it by dried cranberries

Or use a store bought option.
Right Corner
Place a wedge of brie and slice it. Some take the rind off, but it actually gives the brie a deeper flavor and is completely edible. Place a vine of grapes next to it.
Left Corner
In the left corner place the nuts in a festive bowl and fold salami around it.
For the Proscuitto Baked Asapragus
Cut the slices of prosciutto in half, lengthwise. Tightly wrap them around a trimmed piece of asparagus and place on a parchment lined baking sheet. Drizzle olive oil over them and bake at 400 for 10 minutes.

Remove from oven and place them on a cooking rack, so any extra grease can drip off before they are placed on your board.
Nutrition
Serving:
1
serving
Calories:
615
kcal
Carbohydrates:
44
g
Protein:
25
g
Fat:
39
g
Saturated Fat:
13
g
Cholesterol:
62
mg
Sodium:
925
mg
Potassium:
295
mg
Fiber:
4
g
Sugar:
11
g
Vitamin A:
1014
IU
Vitamin C:
9
mg
Calcium:
274
mg
Iron:
3
mg