How to Eat Healthy at Disney
When people think about the food at Disney, they are automatically transported to a magical culinary land. This land is full of gorgeous cupcakes, mickey shaped ice cream, freshly made churros and of course the infamous Dole Whip. While you may be wondering how to eat healthy at Disney with all these options, the truth is, it isn't impossible.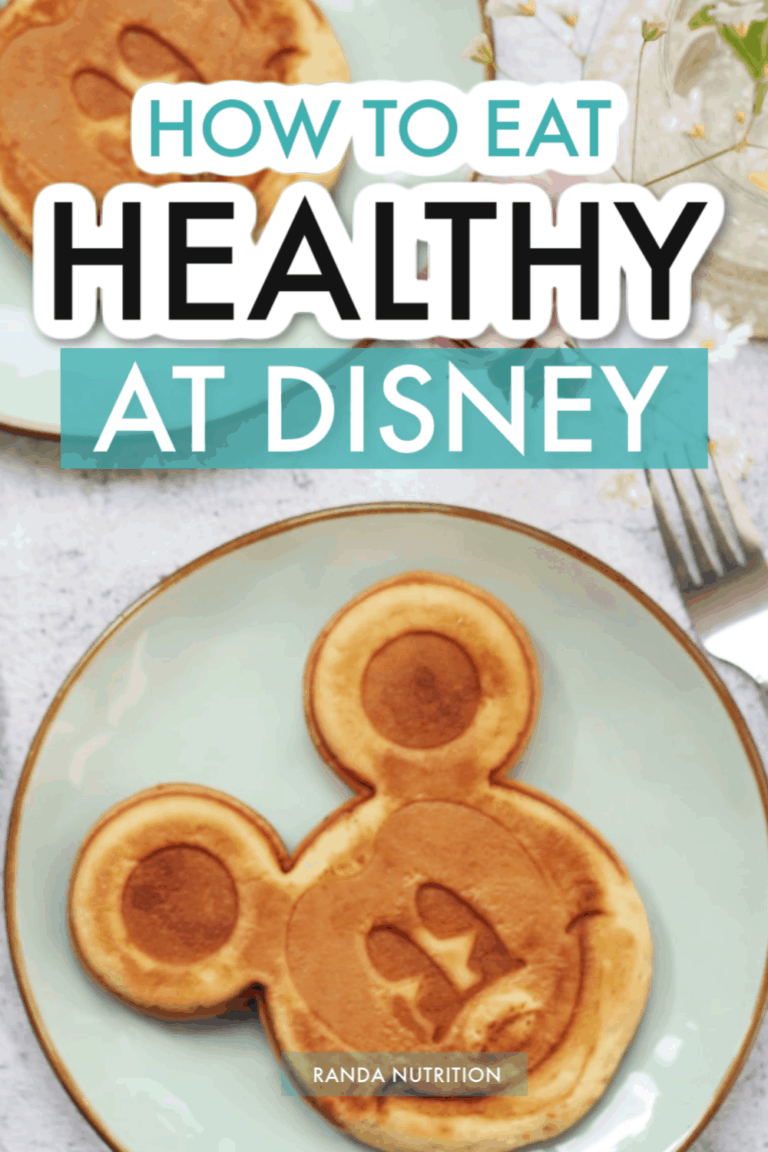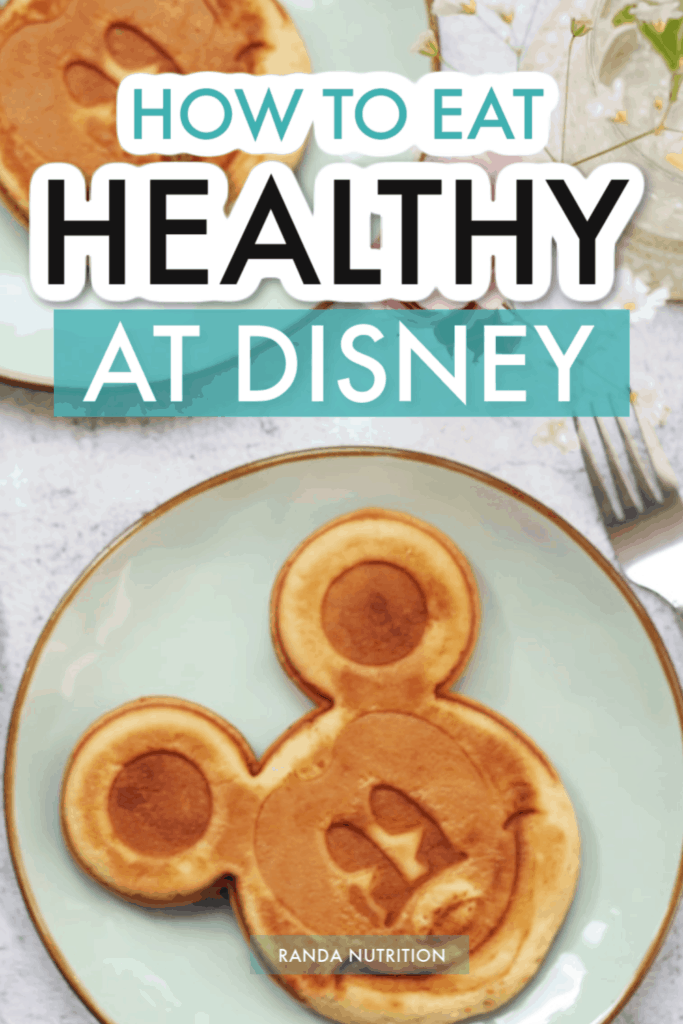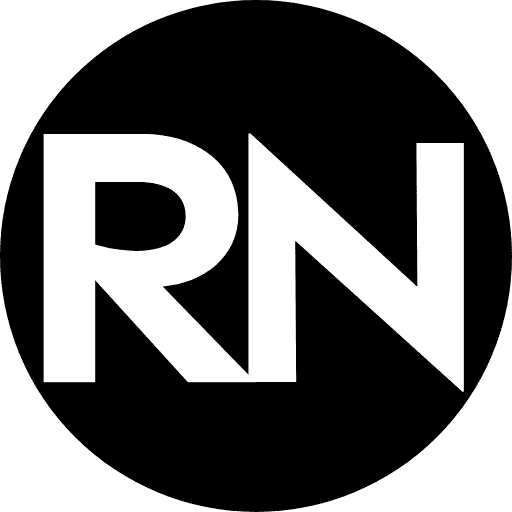 Save This Recipe!
Enter your email below & I'll send it straight to your inbox. Plus you'll get great new recipes every week!

How to Eat Healthy at Disney
Disclosure: This post contains affiliate links for your convenience. As an Amazon Associate, I earn from qualifying purchases.
If you are attempting to eat healthy at Disney all you have to do is know a few tips and tricks. In fact, if you search well enough and don't give into temptation, there are several healthy and yummy food options to choose from. No matter what Disney restaurant or dining experience you choose to take part in, there are healthy choices for everyone.
Whether you choose table service or fast service options, there are many food items you can enjoy that will help you stay healthy during your Disney vacation. Even some snack carts offer up some healthy choices. You just have to know where to look, and what you are looking for.
More Disney Posts:
Great Ways to Eat Healthy at Disney
Whether you are visiting Disneyland or a Disney World location, there will be plenty of healthful options to choose from.
The biggest feat is simply avoiding the temptation of all those not so good for your choices.
How to Eat Healthy at Disneyland and Disney World
When visiting the happiest place on earth (or the most magical place on earth if you're at WDW), you want to ensure that you are still making good food choices.
After all, no one wants to leave feeling bloated and unhappy.
Don't Skip Breakfast
It can be tempting to skip breakfast while on your Disney vacation. Especially since the park opens rather early. Don't though. You want to ensure that you are going into your day full of all things Disney with a tummy full of a healthy meal.
If you are staying at a Disney resort, it shouldn't be difficult to find a place to enjoy a nice big breakfast before you set off for the day. Consider high protein options like an egg white omelet and round it out with some fresh fruit.
I personally order options to my hotel (Amazon when I visit Disneyland or Garden Grocer when I visit Walt Disney World). I'm not a huge breakfast eater, but I'll always have something like a RXBar, LaraBar, or an apple.
Fellow Rope Droppers
We usually do rope drop, so if we don't go for breakfast I always have options in our backpack.
Focus on Fresh Foods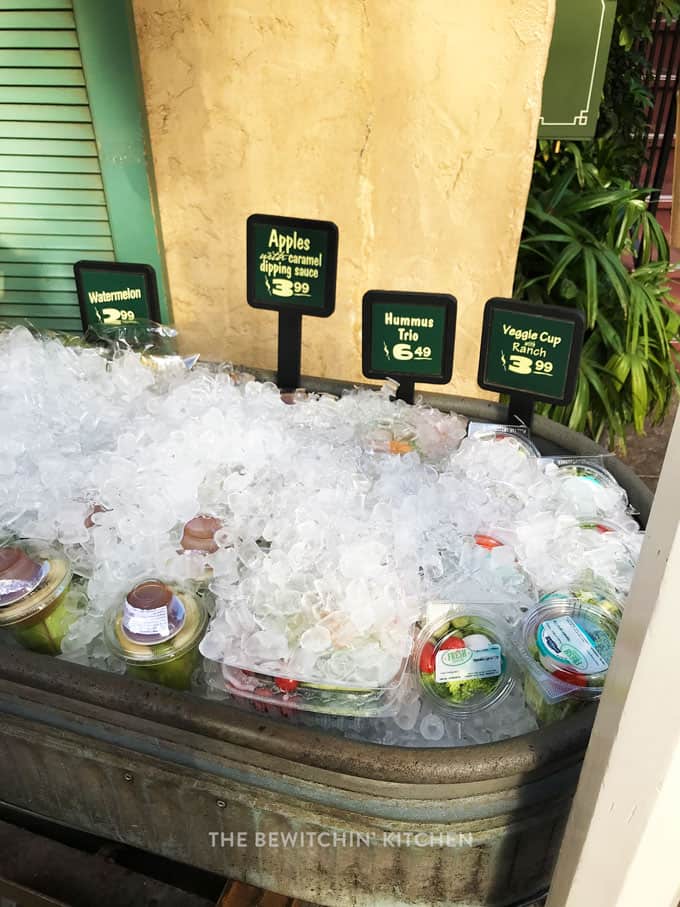 While it may be tempting to grab something from the quick service carts that have been fried and battered, stick to fresh items.
Many food carts throughout Disney will offer a variety of options like snack packs of hummus and vegetables, fresh fruits and even some lighter dessert fare like frozen bananas dipped in chocolate.
Pack a Lunch and Snacks
If you think the temptation of the quick service options will be too much for you, you can always pack your own lunch and snacks to take with you to the park. Just don't overpack your bag as it can get heavy to cart around the park all day.
Consider bringing things like granola bars, apple sauce and even a light salad you can mix up on your own.
Disney allows you to bring food into the park. However, they do not allow dry ice or loose ice. Grab a freezer pack (like this one) or a little lunch cooler (like this one) to put in your backpack or diaper bag.
Stay Properly Hydrated
Skip the large, sugary drinks and opt for water to stay hydrated. Bring a water bottle and fill it up at the fountains located around the area, or simply ask for a cup of ice at a quick service cart.
Water will also help to keep you fuller longer, so make sure you are drinking enough.
Looking for more help with staying hydrated? Here are 8 Ways to drink more water.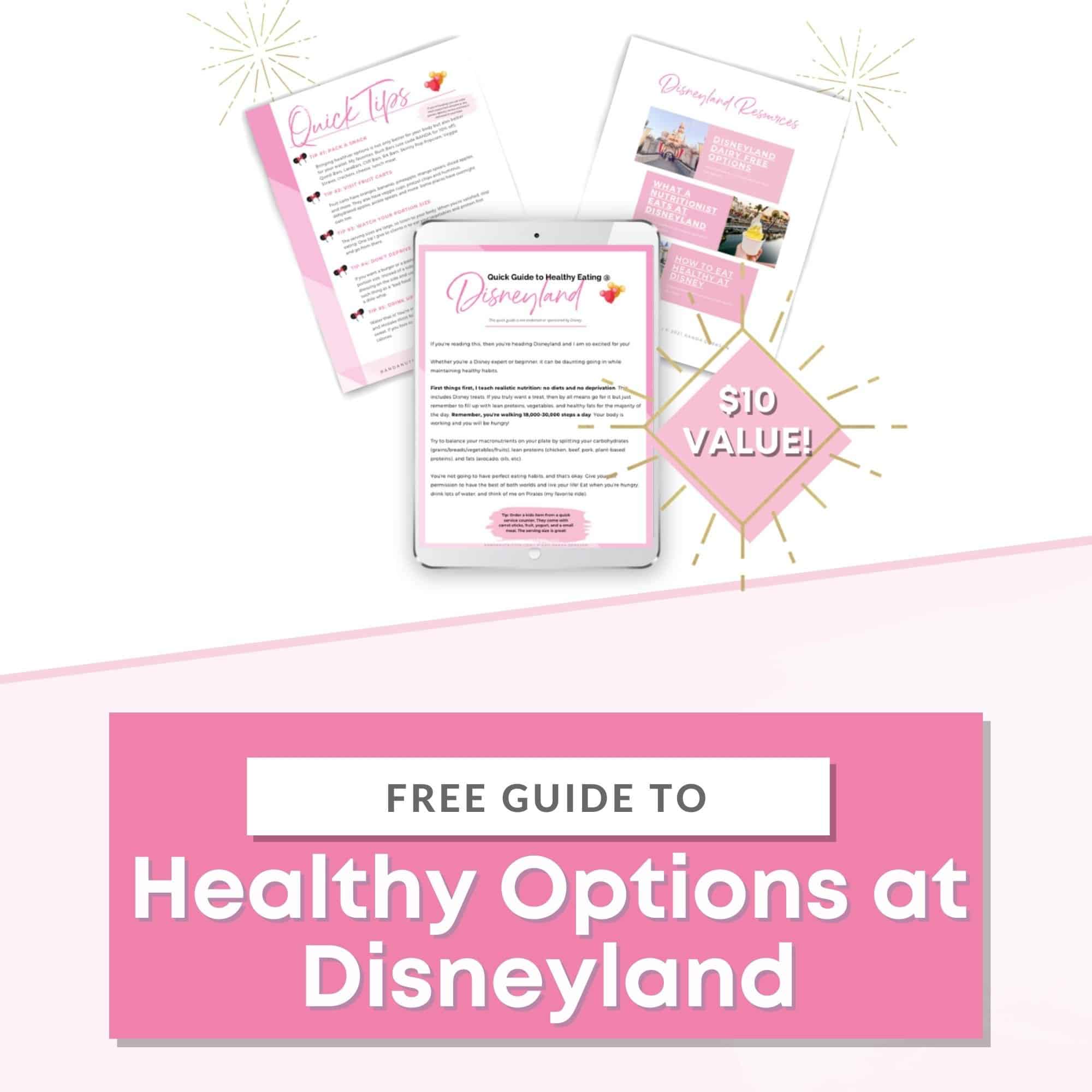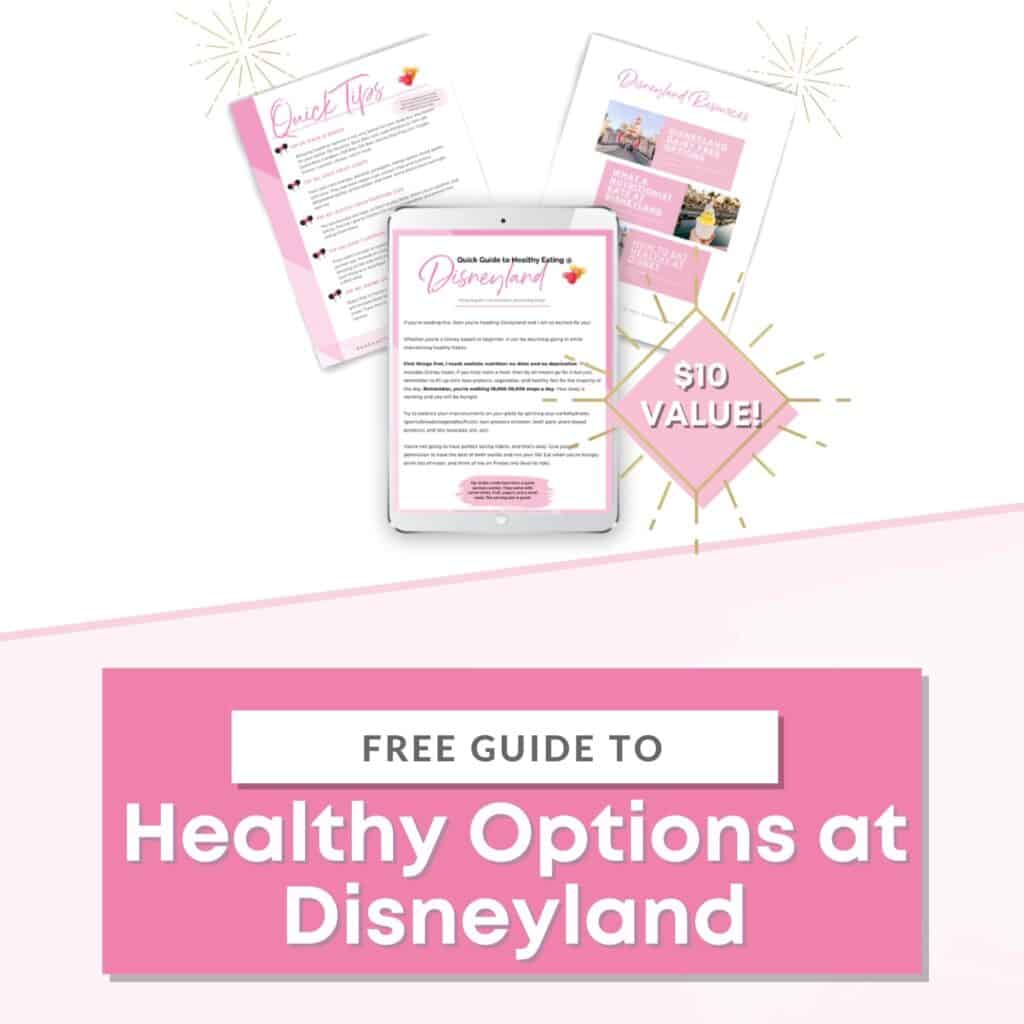 Eat Healthier at Disneyland
Download the free guide to navigate Disneyland food options with ease.
Plan Ahead
Do a little research before you go and pick out what you'll eat. You can do this on the Disneyland app or the My DisneyExperience app (depending on if you're in California or Florida).
If you have dietary issues, I'm happy to say that Disney does a great job at catering to allergies and intolerances. I have a post on The Bewitchin' Kitchen on how to eat Gluten Free at Disneyland.
Don't forget, if you're looking to establish healthy habits (like adding more vegetables to your diet in fun and tasty ways) be sure to secure a spot in the 21 Days to a Healthy Habits Challenge.
More Fabulous Ways to Eat Healthy at Disney World and Disneyland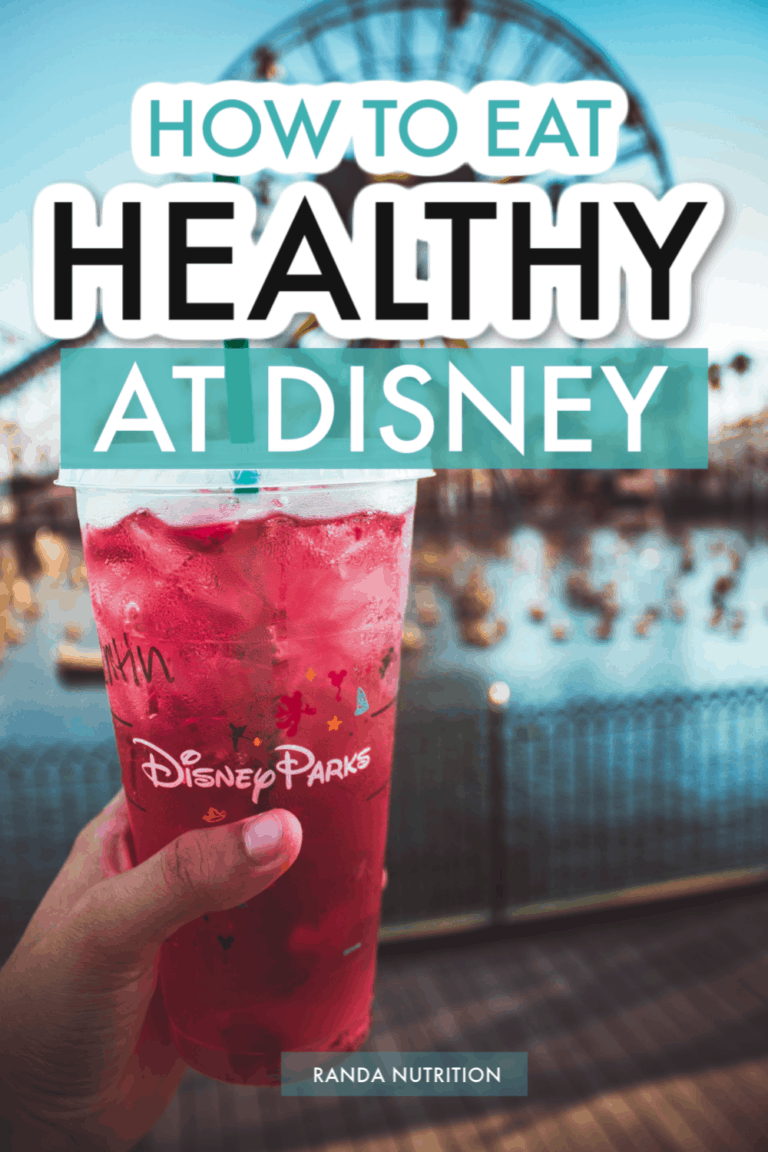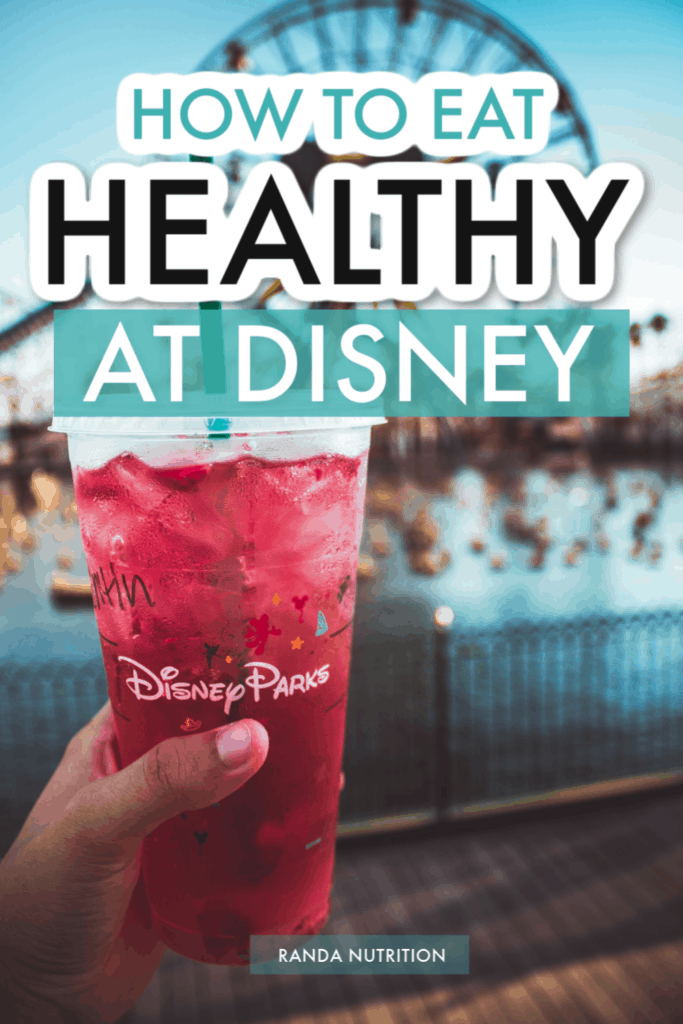 In addition to the suggestions above, there are some other ways to ensure that you are eating healthy at Disney World and Disneyland. Especially if you find yourself having to eat at restaurants and establishments.
Order Entrees Only
If you have to go to a restaurant to eat, even if it is a quick service cart, order only the entree. This will help to ensure that you are forgoing the french fries and other fatty sides.
A lot of the food at the Disney parks comes in large portions. You can usually share it with a friend or family member.
I do this often with my son with treats. We both get a treat but not an overabundance.
Order Meals Deconstructed
When ordering your meal, ask for the sauces, dressings, and toppings on the side.
For example, if you order a salad. Ask for the croutons, dressing, and cheese on the side. This will help you to control how much you use when eating.
Choose Leaner Proteins
If possible, choose to order leaner proteins like chicken and fish. If you are at a place that mostly has handheld options, you can remove the bread yourself (or do half like an open face sandwich) and choose to only eat the proteins and vegetables.
The truth is, when it comes to eating healthy at Disney, there are many ways to do that.
Just make sure to avoid temptation and make the best choice you can. Don't overly restrict yourself. You're on vacation. Enjoy that Dole Whip or Mickey Ice Cream Bar! Just don't go overboard with every meal.
What are your favorite healthy Disney eats?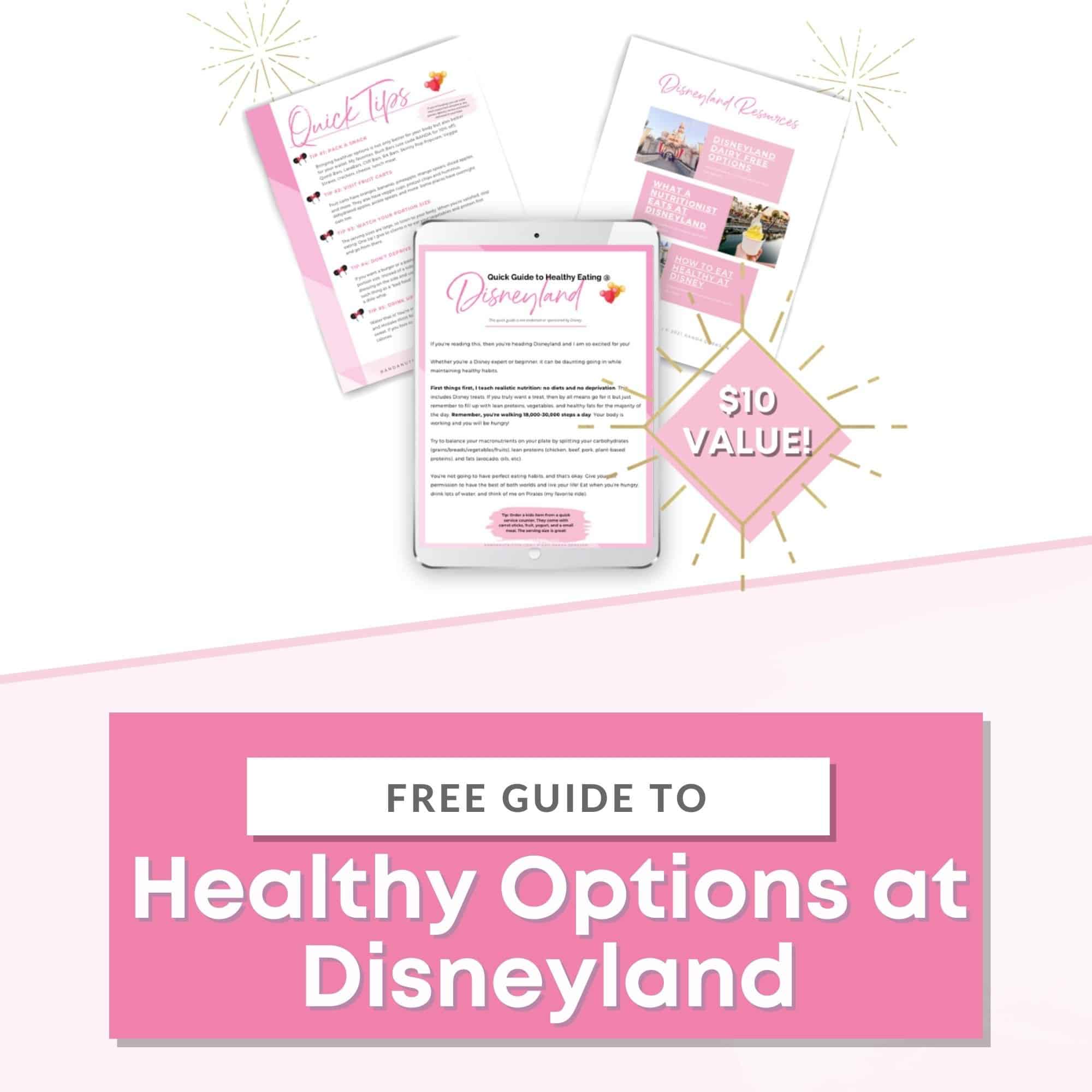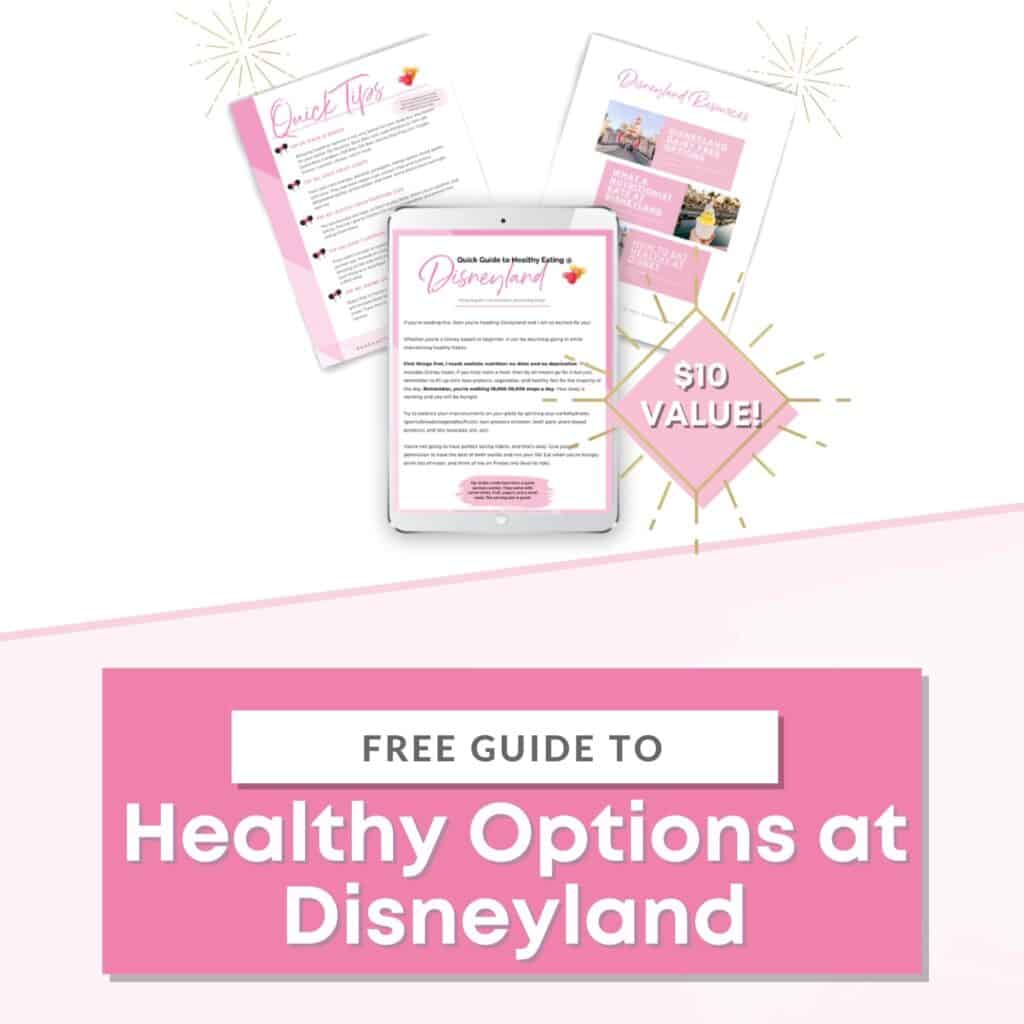 Eat Healthier at Disneyland
Download the free guide to navigate Disneyland food options with ease.