Back to the Disney series. Many of you know that my family and I are avid Disney Parks goers (well, as much as a Canadian can go) and I thought it may be fun to see what a nutritionist eats at Disneyland.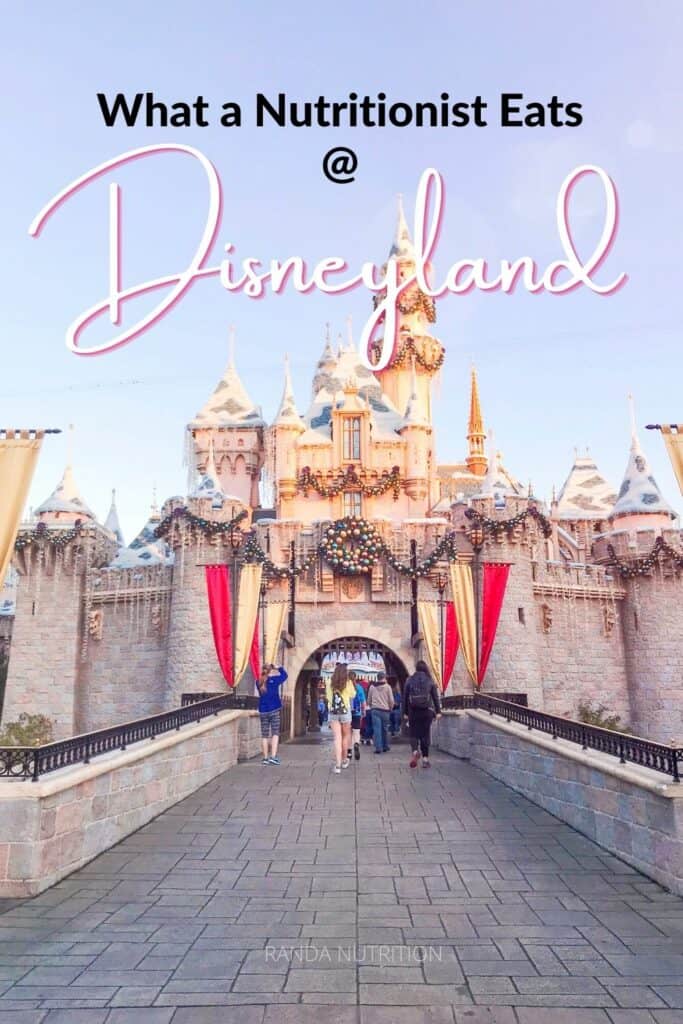 Disclosure: This post contains affiliate links for your convenience. As an Amazon Associate, I earn from qualifying purchases.
What a Nutritionist Eats at Disneyland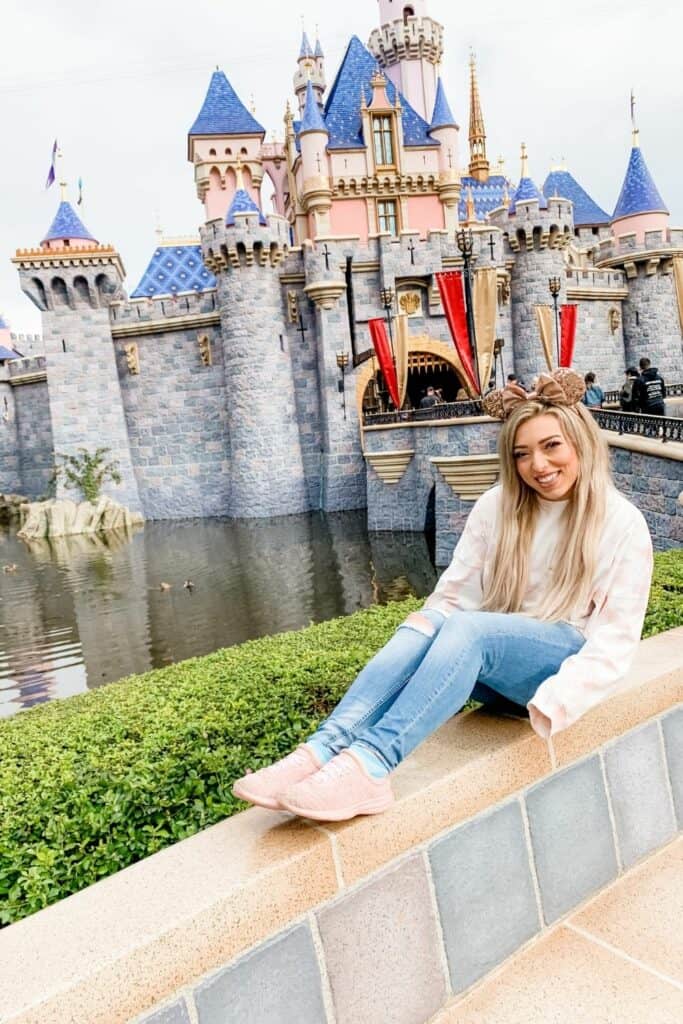 First of all, a little about me: I hold a few certifications: Certified Holistic Nutritionist, Natural Nutrition Clinical Practioner, and Certified Sports Nutrition Consultant (plus a few others). I love learning about nutrition and what it does to our bodies.
I also believe in balance. You won't find me promoting shady detoxes and standing on a soapbox preaching about whole foods for life. Have that pizza, just have some veggies with it. You know what I mean?
So do you want to know what a nutritionist eats at Disneyland? You may be surprised.
I'm going to go through a typical day of what I eat at Disneyland in California. You'll see treats, you'll see veggies. You'll see real life.
You guys, it's vacation. I'm gonsta enjoy myself (if you watch Brooklyn 99, you get it).
A Day of Healthy Eating at Disneyland
Morning Coffee
I typically start the day with a cup of coffee at the hotel. Whether it's the coffee in the Disney cups with the inspirational quotes, or hotel lobby coffee from a good neighbor hotel. It depends where we stay. I add cream and sugar.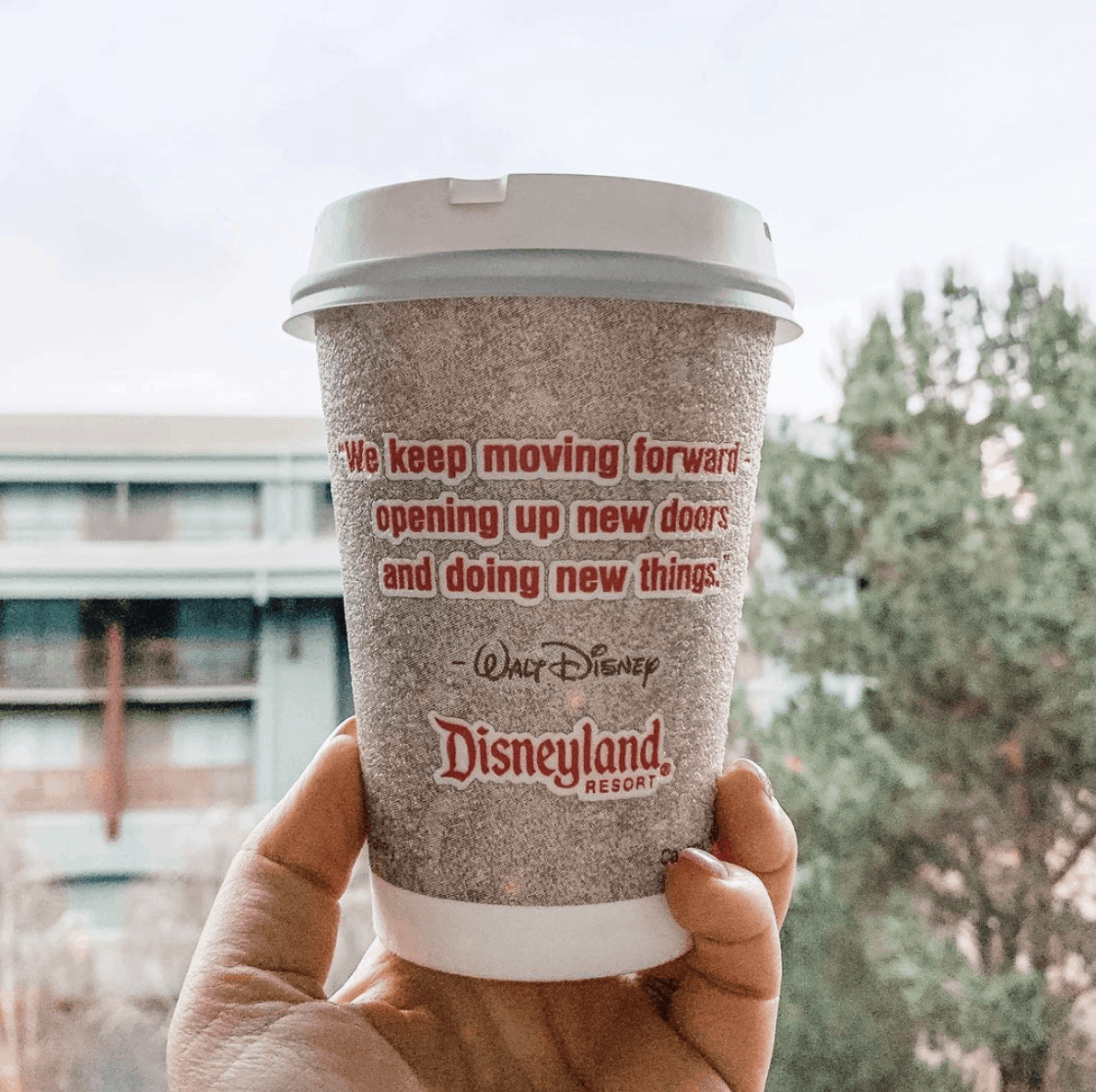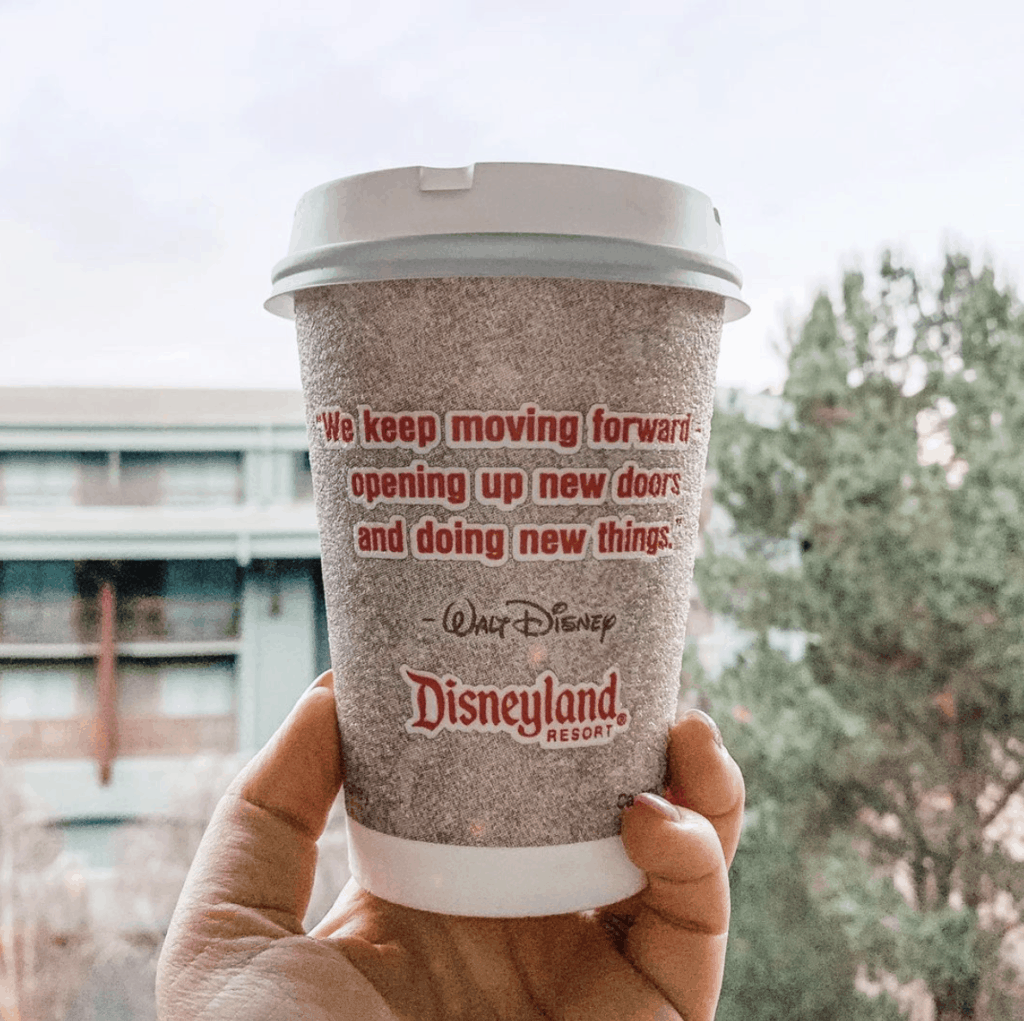 At home, I prefer Silk half and half and monk fruit sweetener with collagen powder. I don't pack that with me, so I use whatever I have access to. It's typically one packet of sugar (Splenda upsets my stomach) and 2 creamers.
If my husband makes a Starbucks run, I get a skinny latte of some kind or the honey flat white, half sweet. (Here are some healthy Starbucks drinks to check out).
I also want to start out by saying, drink a lot of water during your time at Disney. Stay away from sugary drinks.
Healthy Breakfast at Disneyland
I'm not a breakfast person, I'm not typically hungry enough for breakfast. This is true, especially at the parks. We're early Disney goers, show up for rope drop or Magic Morning so I don't want to "waste time" on food (ha). My husband and kids eat. Typically while I'm getting ready, they have breakfast to go in the room.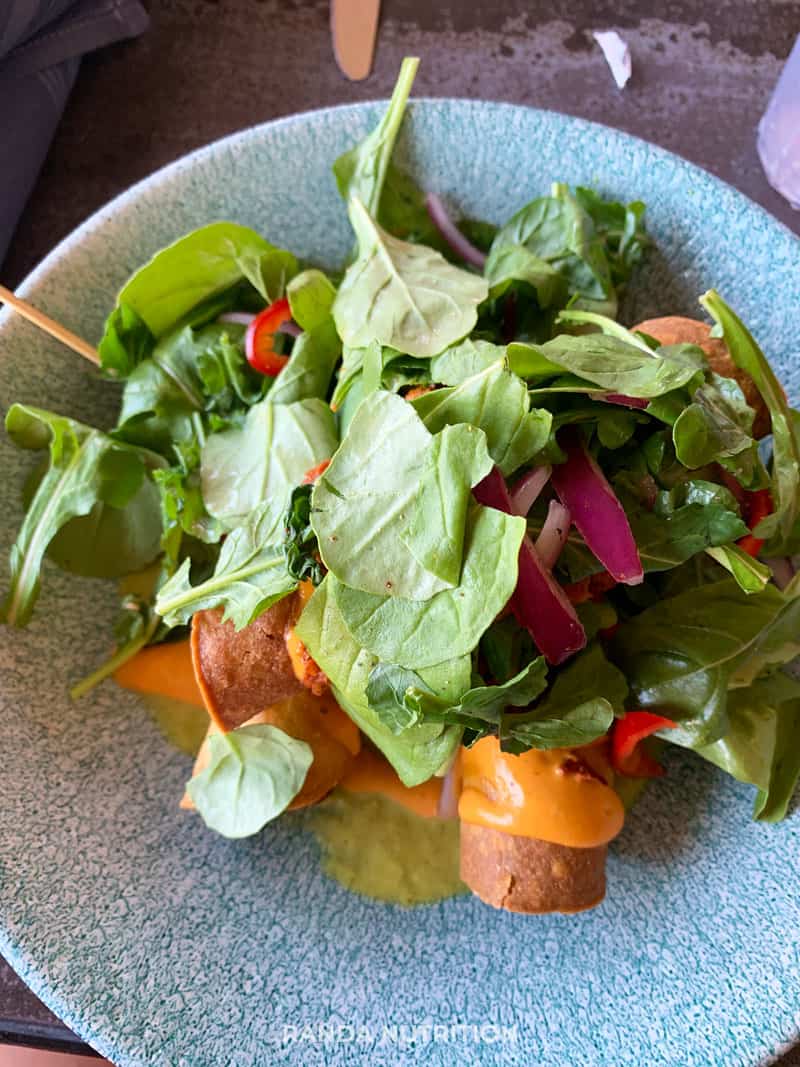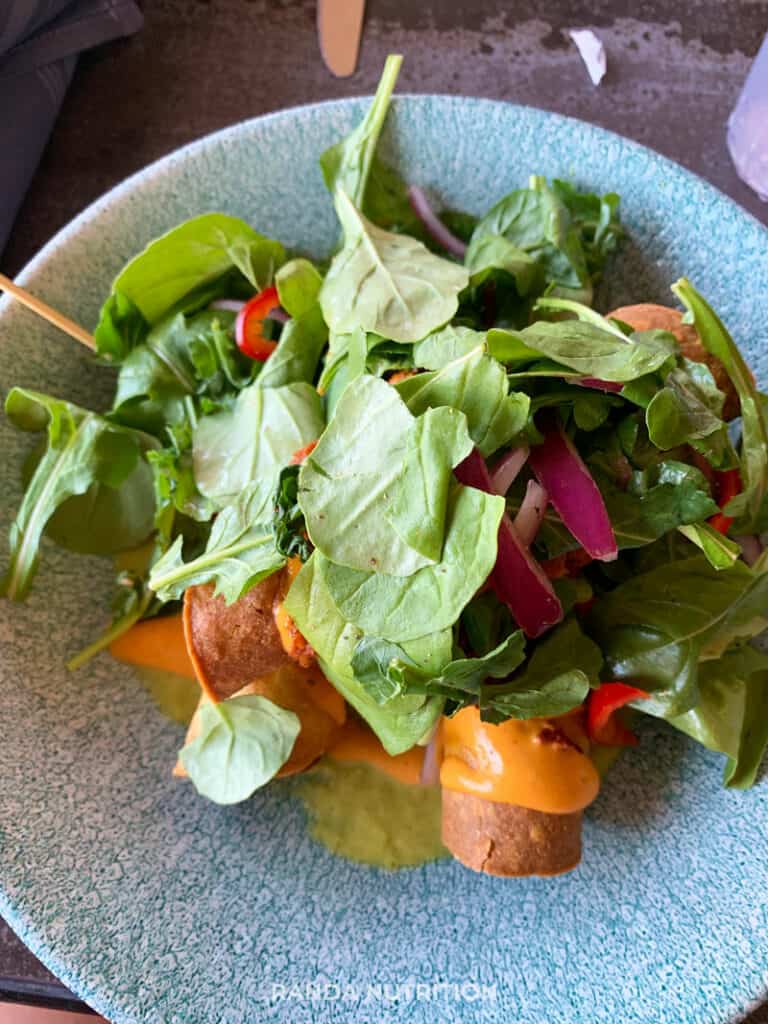 If we do brunch, that option works for me as I don't need a snack before lunch and can be full. Lamplight Lounge over at California Adventure has a great brunch menu. I had the Potato Flautas but only ate about half. Looking at the menu I would get the Avocado Toast next time, but see if I could customize an order with no potatoes and no steak (or share it with my husband).
Remember your portions, there is a lot served at the restaurants. I never realized that the flautas came deep fried so I picked around the shells for the most part.
Something I like to do is bring a bar of some sort in our backpack so I have something for my stomach (and snacks for the day) right after that first ride. I like to go for something light and lower-calorie for the morning (it's what works best for my body).
My go tos: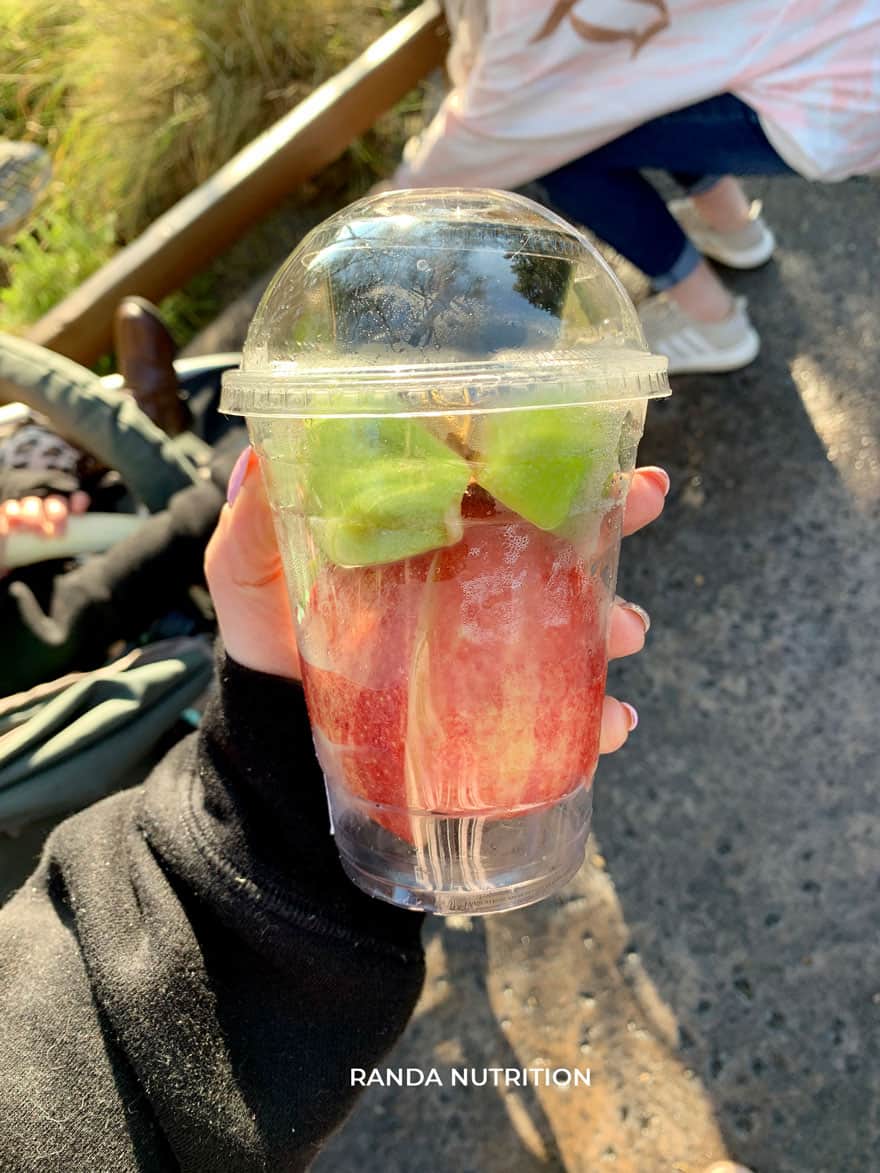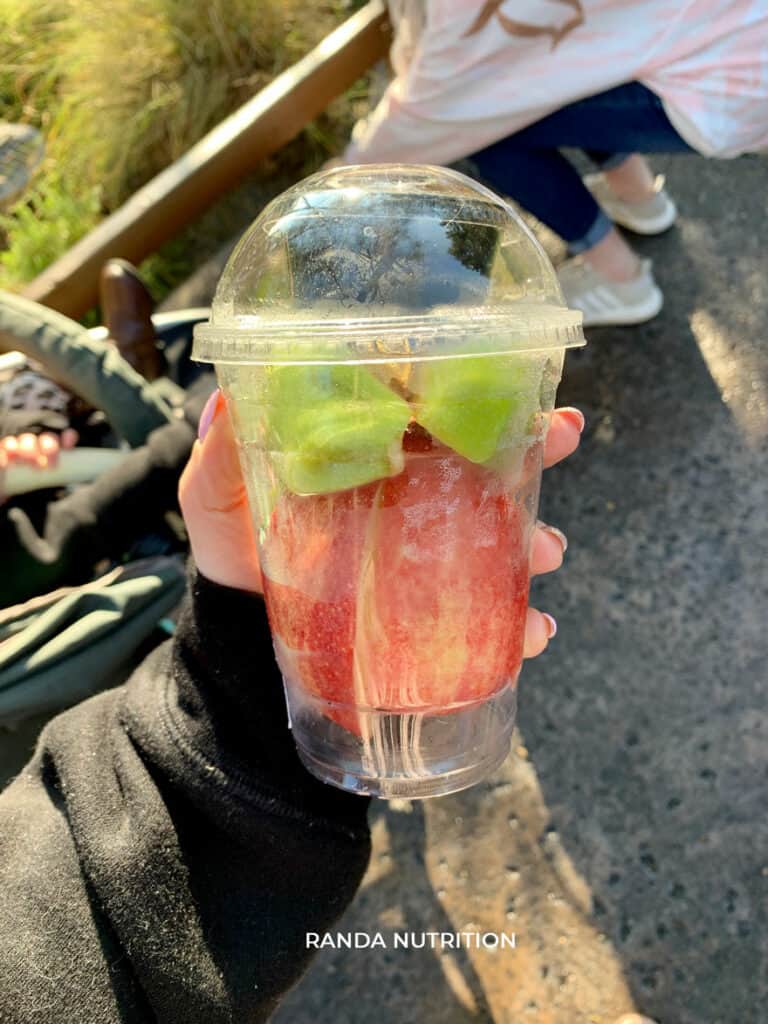 There are options for fruit at the park, but I'm not a fruit in the morning person. I listen to my body and what it wants.
First Snack of the Day
We pack snacks in our backpack and I like the individual Skinny Pop popcorn. They're easy to pack and hand out for the kids. I'll grab a veggie of some sort from a cart and wash it down with a Dole Whip.
Dole Whip's are my favorite and I have at least 1 a trip (more like 2-3).
You want to know what a nutritionist eats at Disneyland? Dole Whip. The end.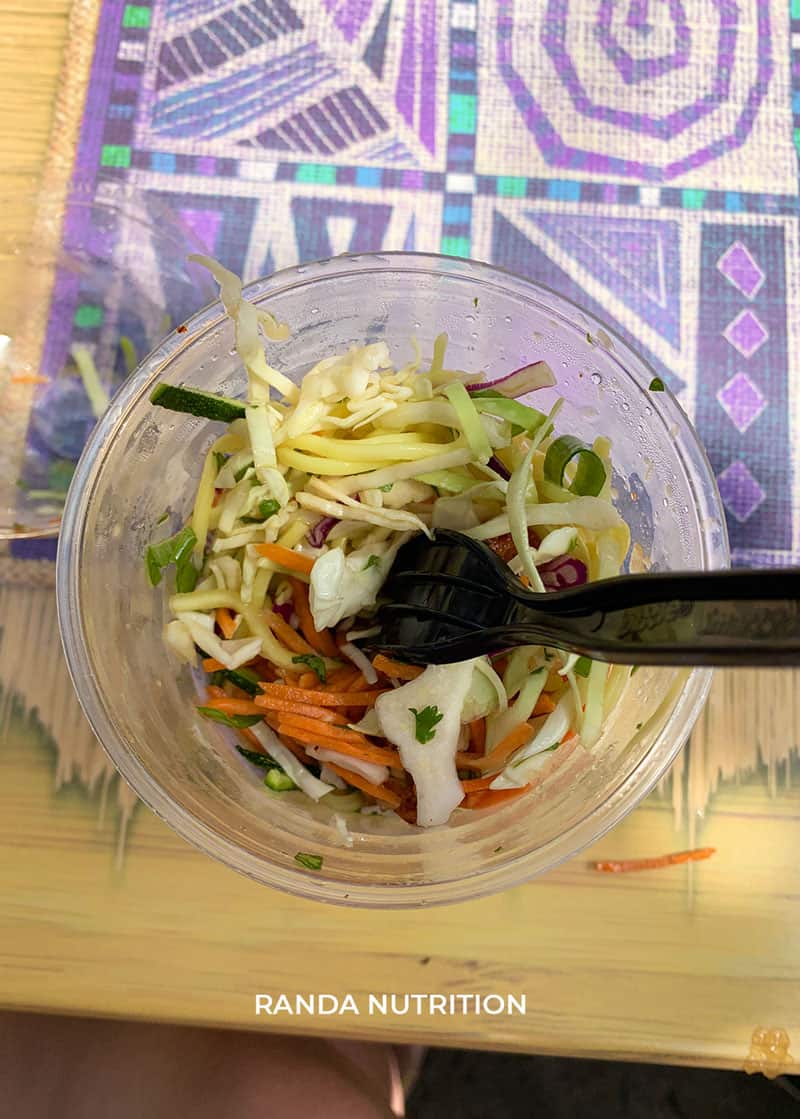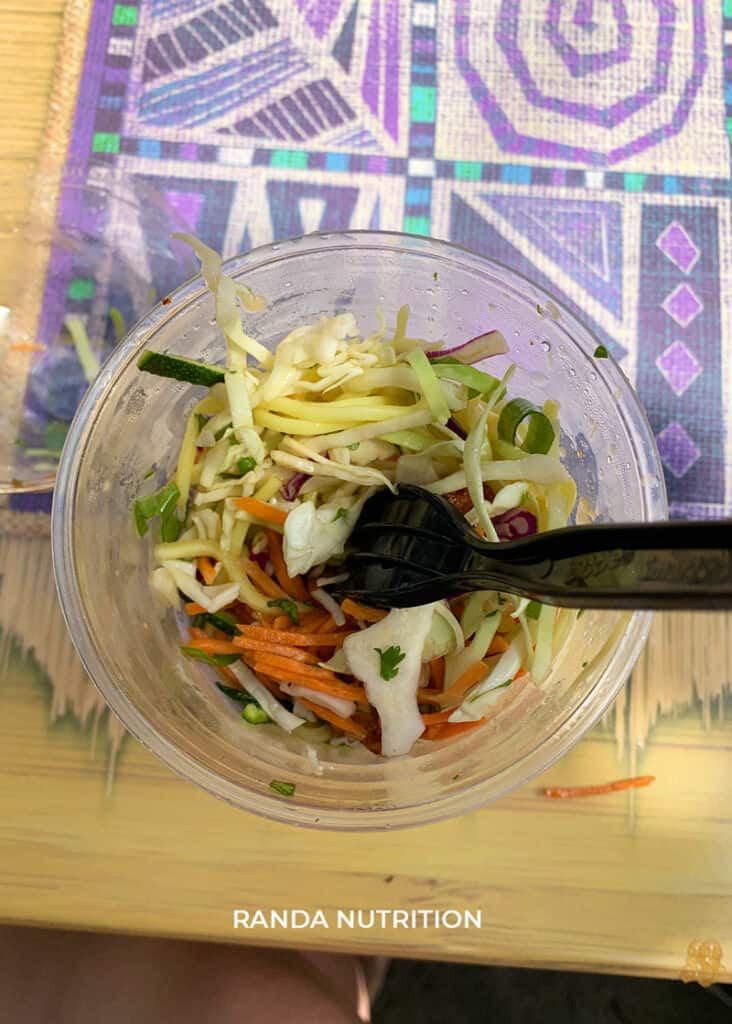 The Topical Hideaway (near the exit of The Jungle Cruise and beside the Tiki Room) is a great place for a quick bite. The baos are amazing and I found this veggie noodle salad that I loved. I don't see it on the menu currently, so let's hope they bring it back for my next trip.
Healthy Disneyland Lunch
Every day is different, but in this example I'm going to say we're having a quick service lunch.
I can usually find something on the healthier side whereever we go, so I like to let the kids choose what they want and go from there.
I typically look for a meal with chicken, a carb like corn tortillas or rice, and a veggie. If I can't find a veggie, there are plenty of fruit carts around and I can grab some veggie sticks and hummus there.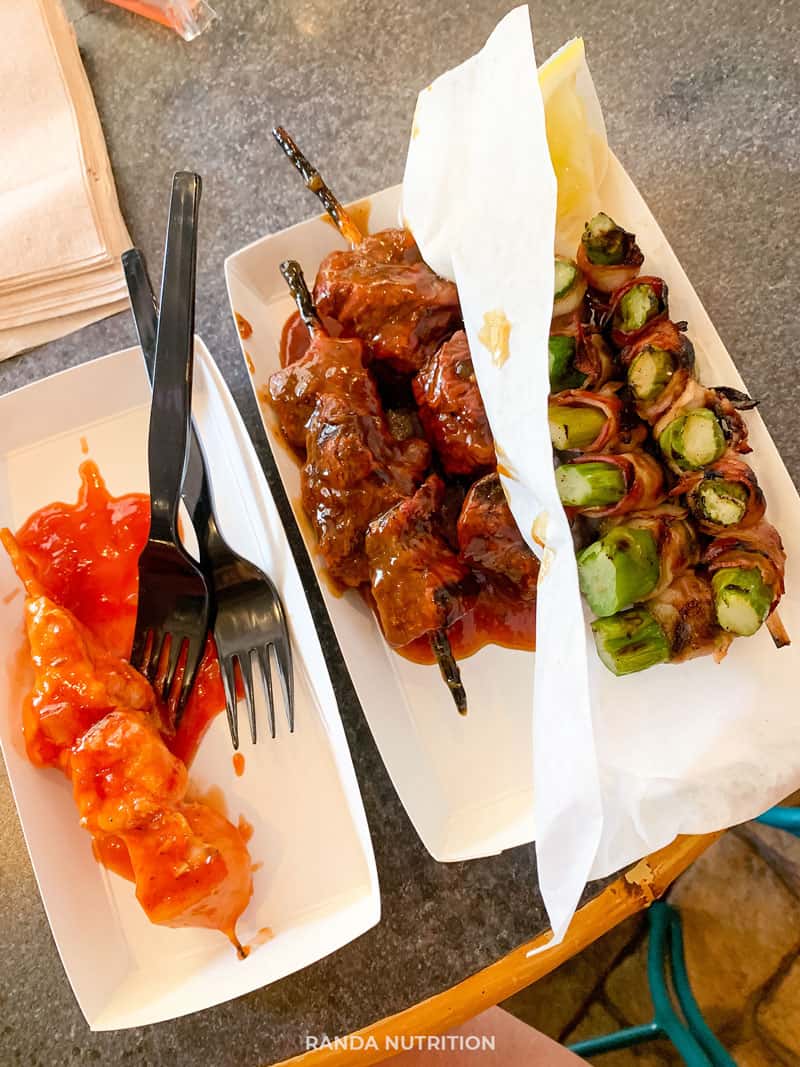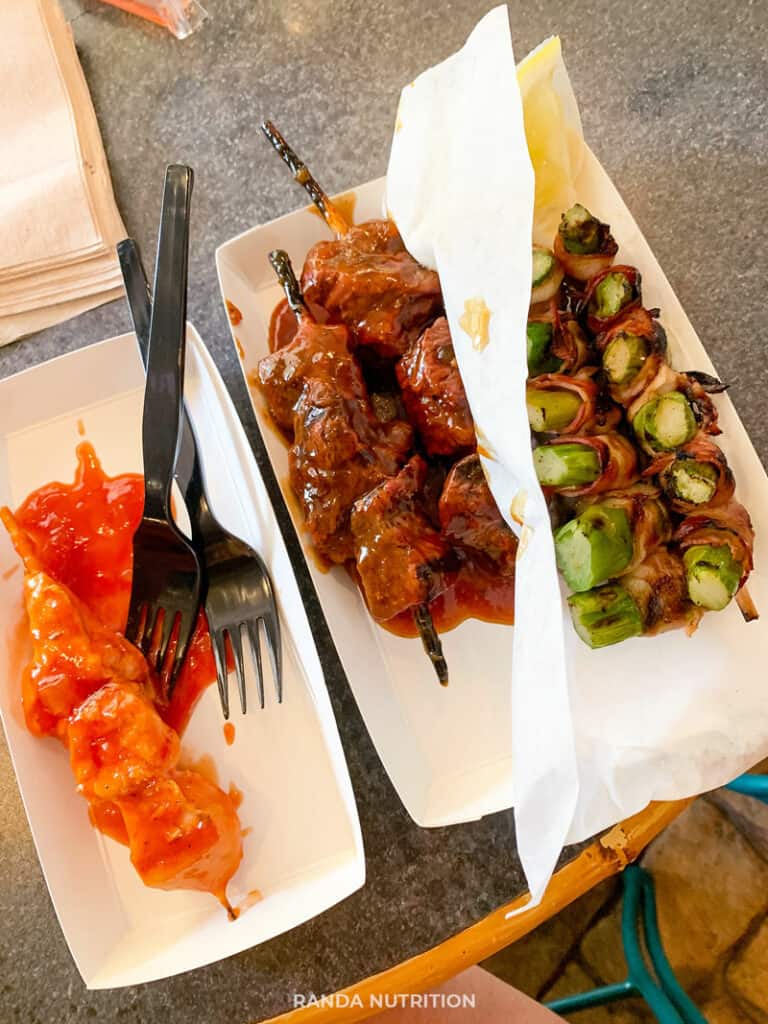 At Disneyland my go to is Bengal Barbecue (across from The Jungle Cruise). I get the chicken or steak and asparagus. It's delicious. It's typically our first step when we get to the park after we land and get organized in the hotel.
There are also plenty of tasty salads available as well. I just ask for dressing/vinaigrette on the side and control it. I usually do about half depending on the side of the container. As for protein, I usually go for chicken or steak. It depends on what I'm in the mood for. ESPN zone used to have an amazing steak salad but sadly that restaurant is gone now.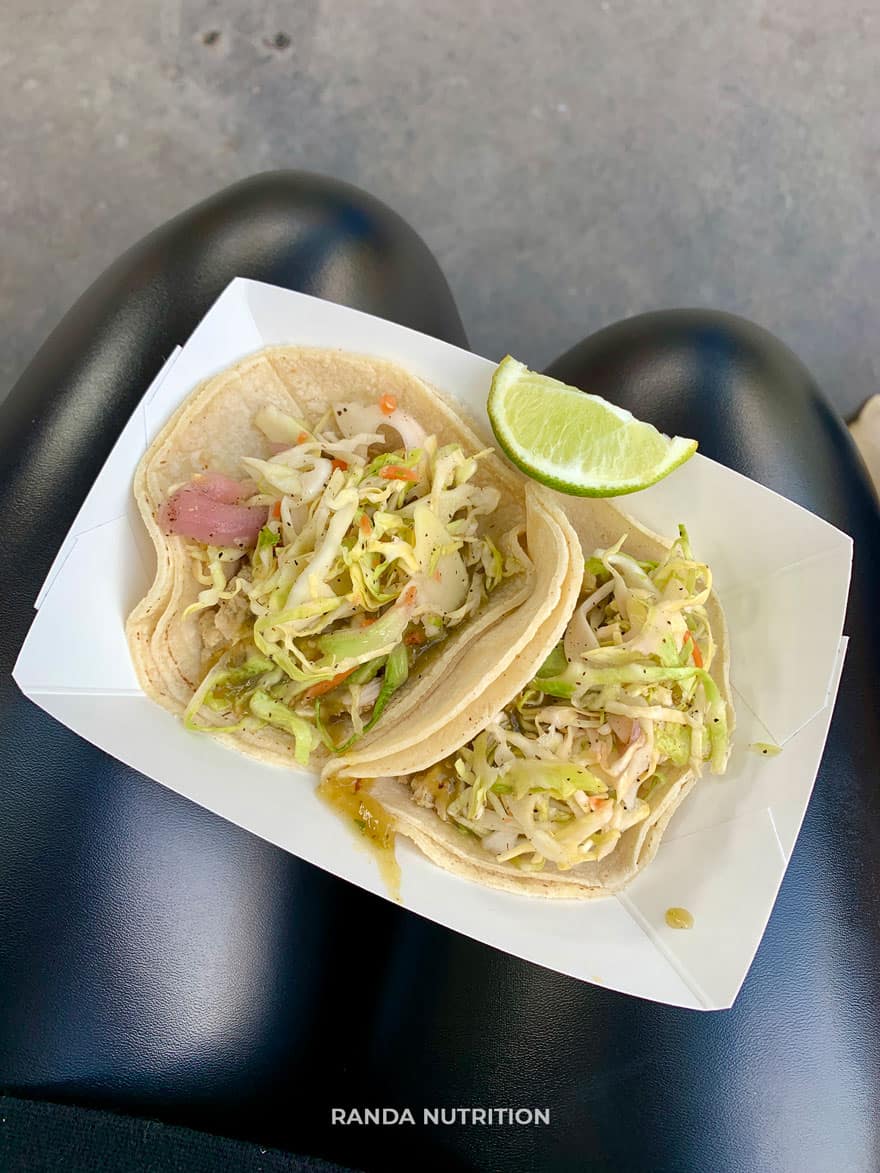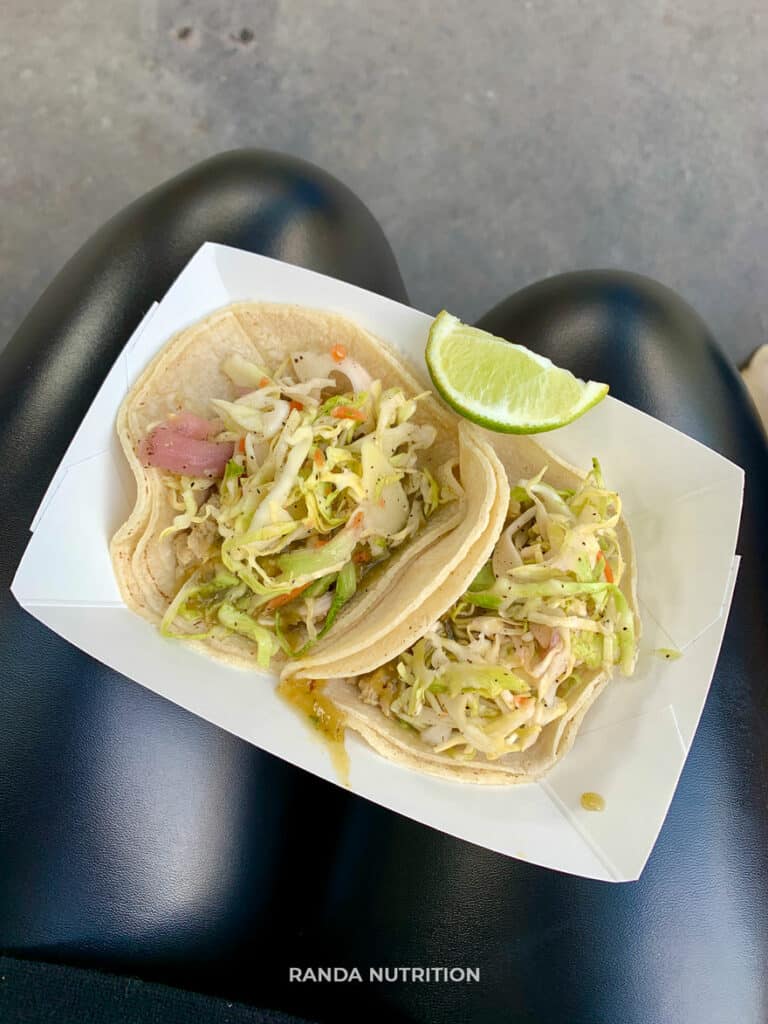 At DCA, Cocina Cucamonga is awesome (I love Mexican food) and I get the chicken street tacos (Pollo Asado). Paradise Garden Grill also has a yummy greek platter too.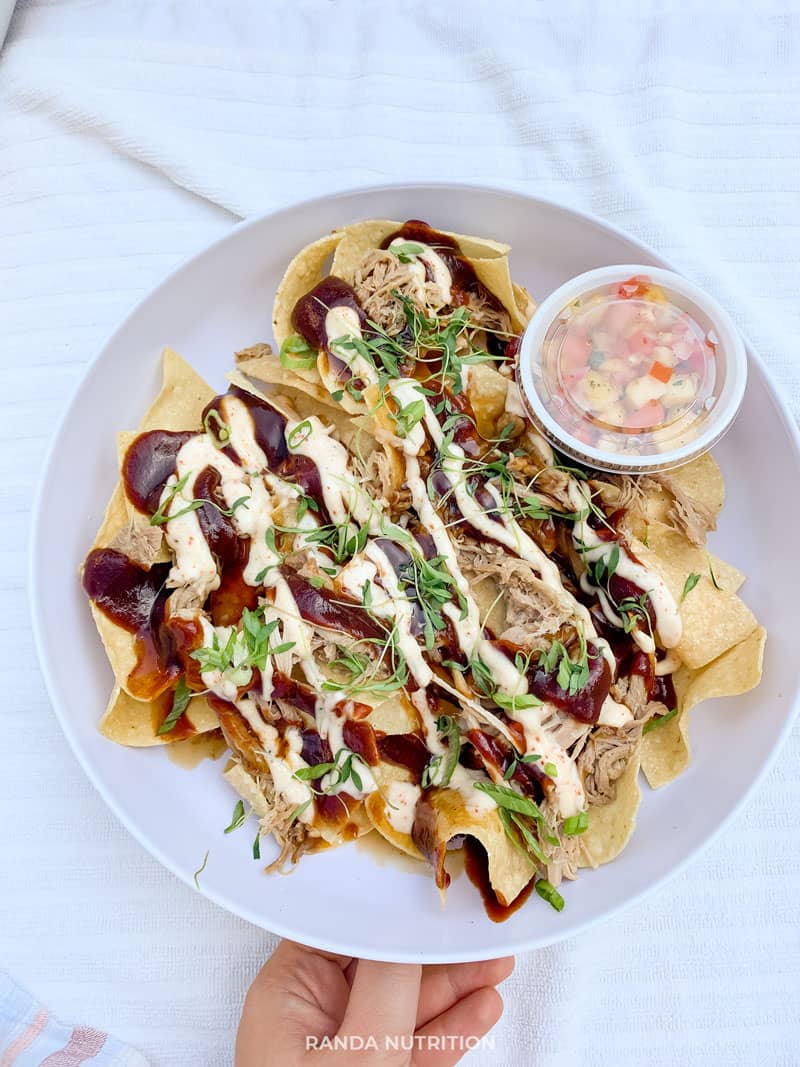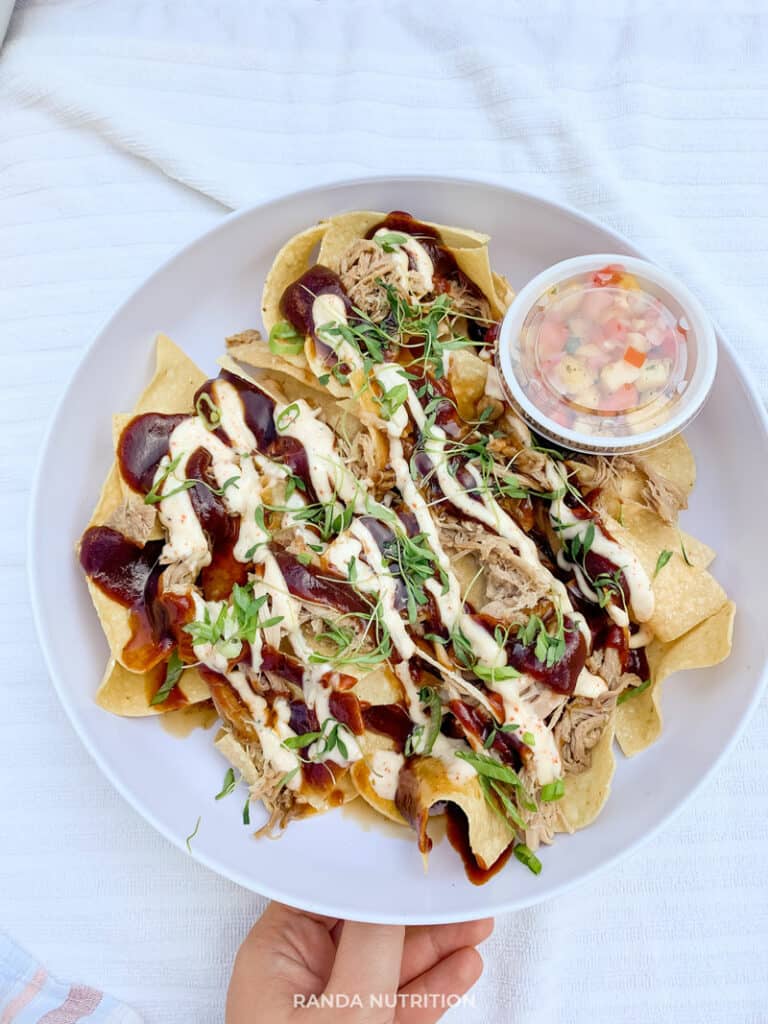 Then there are days where I share pulled pork nachos poolside with my husband. If I want a treat, and really want that treat I will eat it. As long as I know I won't feel sick after (I have a sensitive stomach), and a truly want it. Why not?
Disney Snack #2
I typically eat 5-6 meals a day at home, so I continue that while on vacation. They're not as spaced apart but I still listen to my body for when I'm hungry.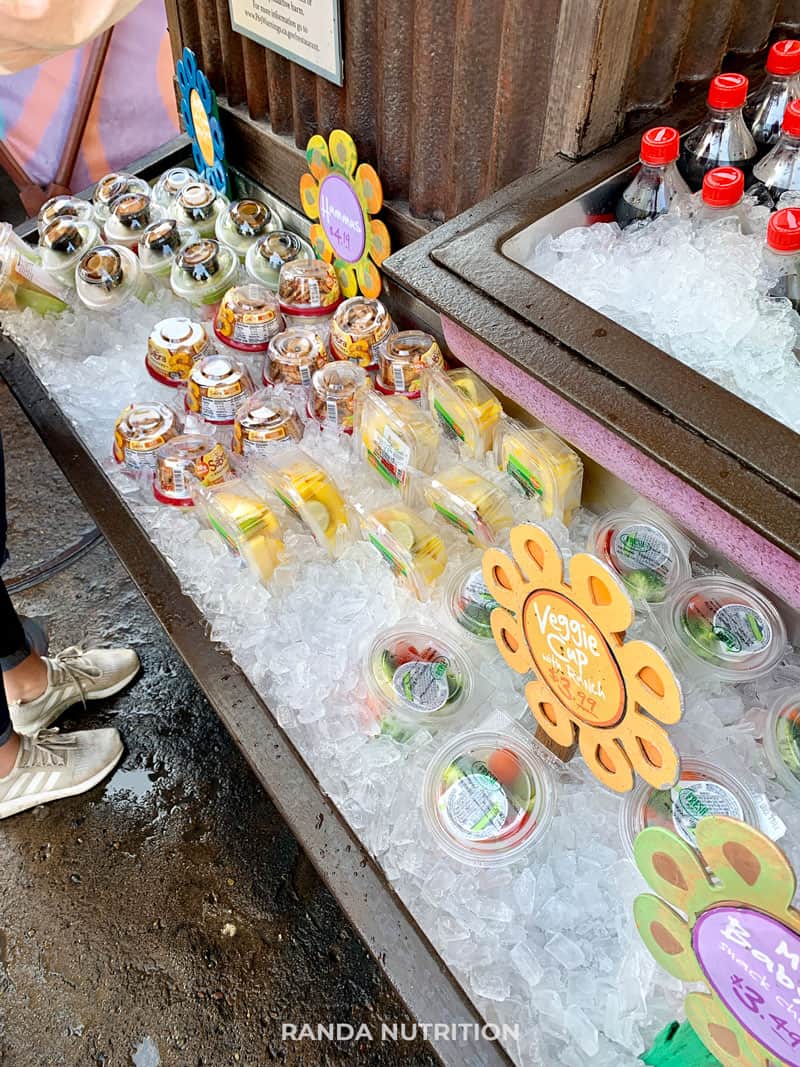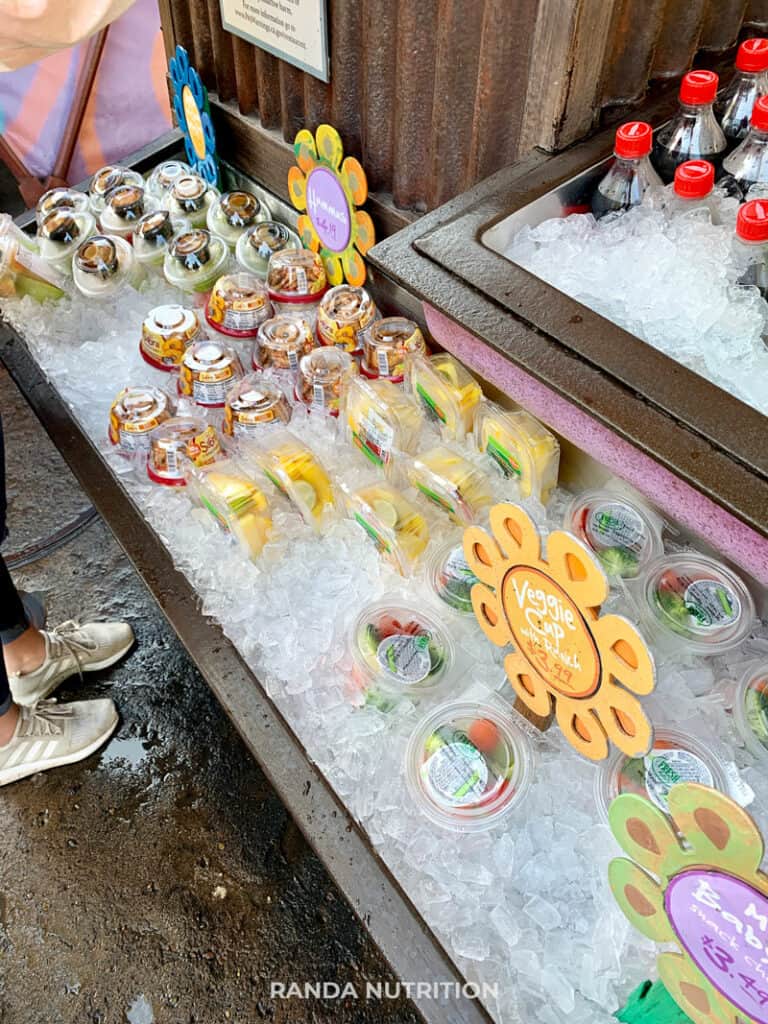 I don't have a specific formula for what I eat. If I feel like I haven't had many vegetables, then I'll opt for carrots or something. I do like to keep my fiber content up while I travel as my stomach can be a bit sluggish with all the change.
This snack may also be a treat. I probably already had a bite or two of my son's churro (that's all I need as I don't love them enough to eat a whole one myself).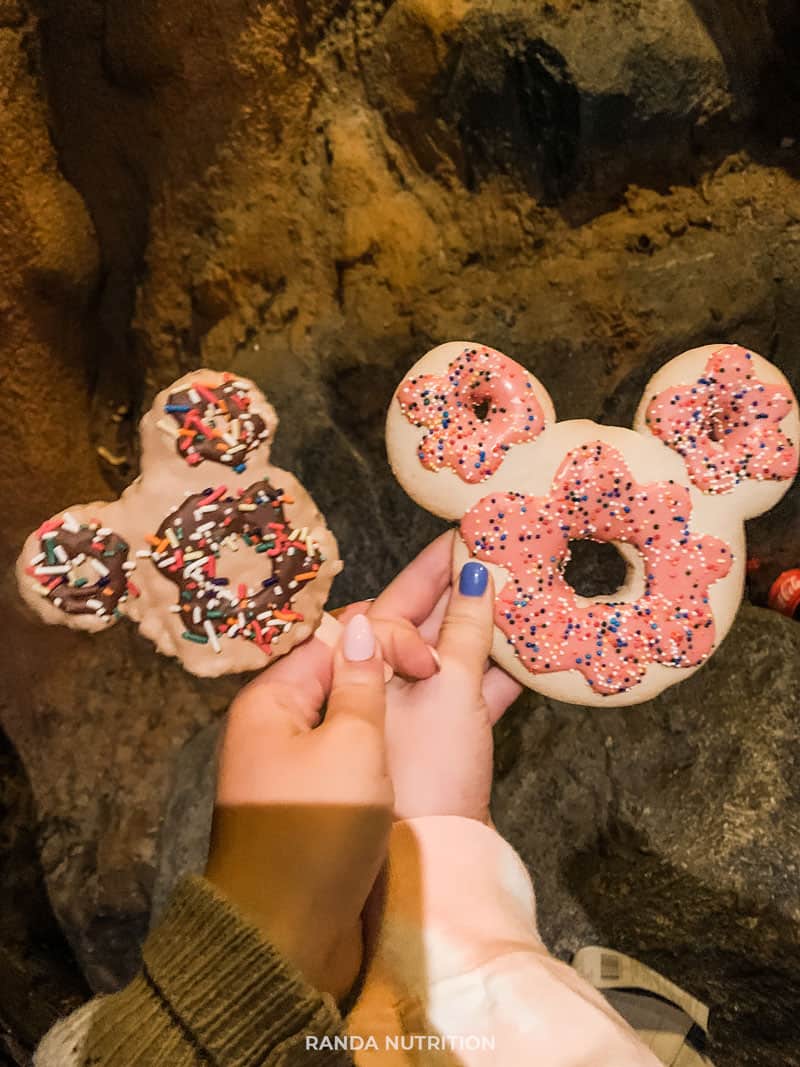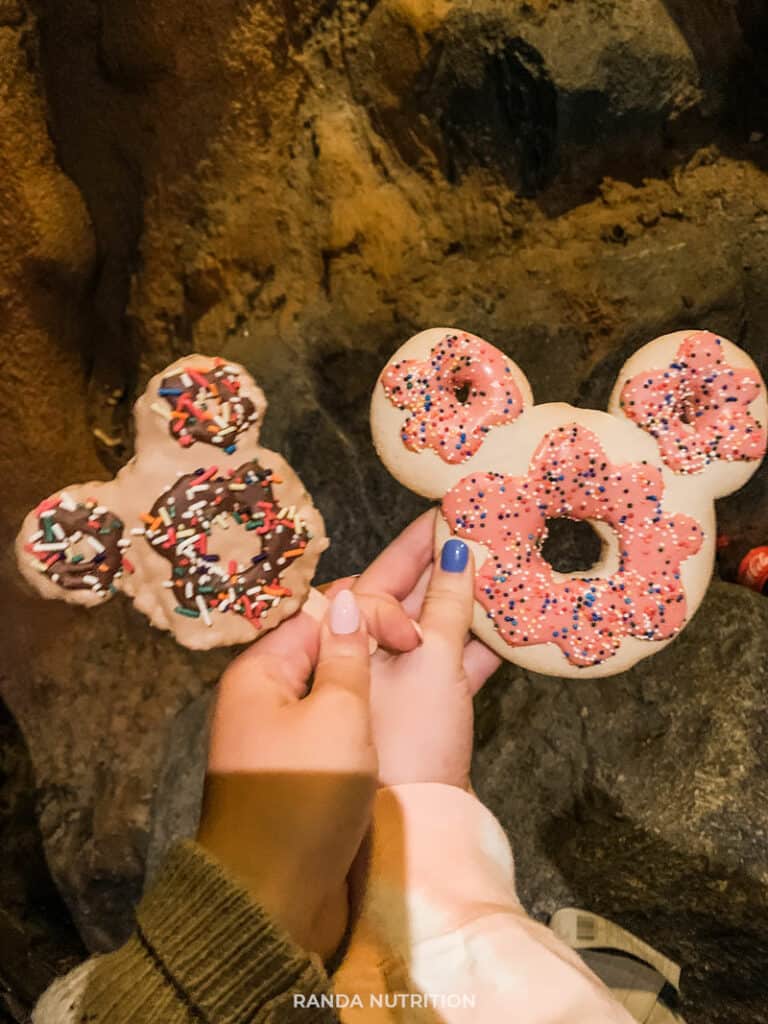 I love the Rice Krispie treats at Disney. Yes, I'm aware t's weird since I can have these at home anytime, but there is something fun about it having it presented with Disney magic.
Healthy Disneyland Dinner Options
When it comes to dinner I like to take a look at what I've eaten throughout the day, and I'm honest with myself.
If I look back and realize I probably could have had more vegetables. I'll order a salad of some sort or something with extra veggies. I'll look at options with whole foods and cooked optimally (not deep-fried).
If I feel like my nutrition was pretty good throughout the day and if I want pasta, I'll get that darn pasta.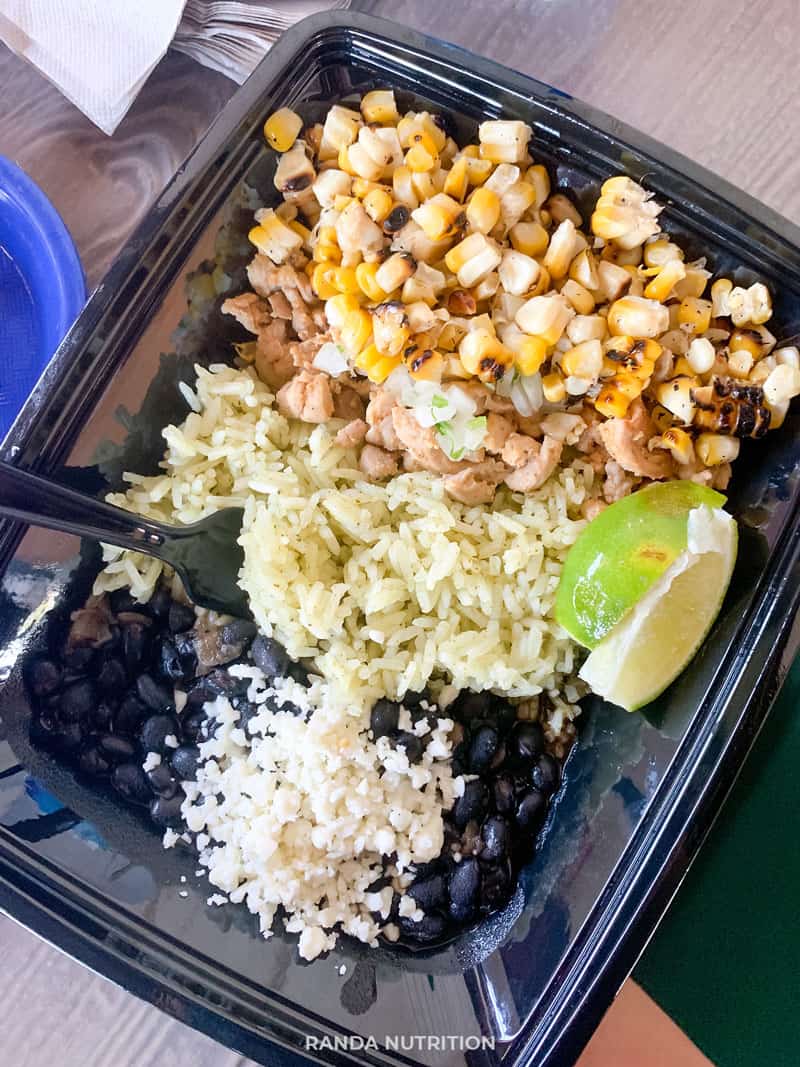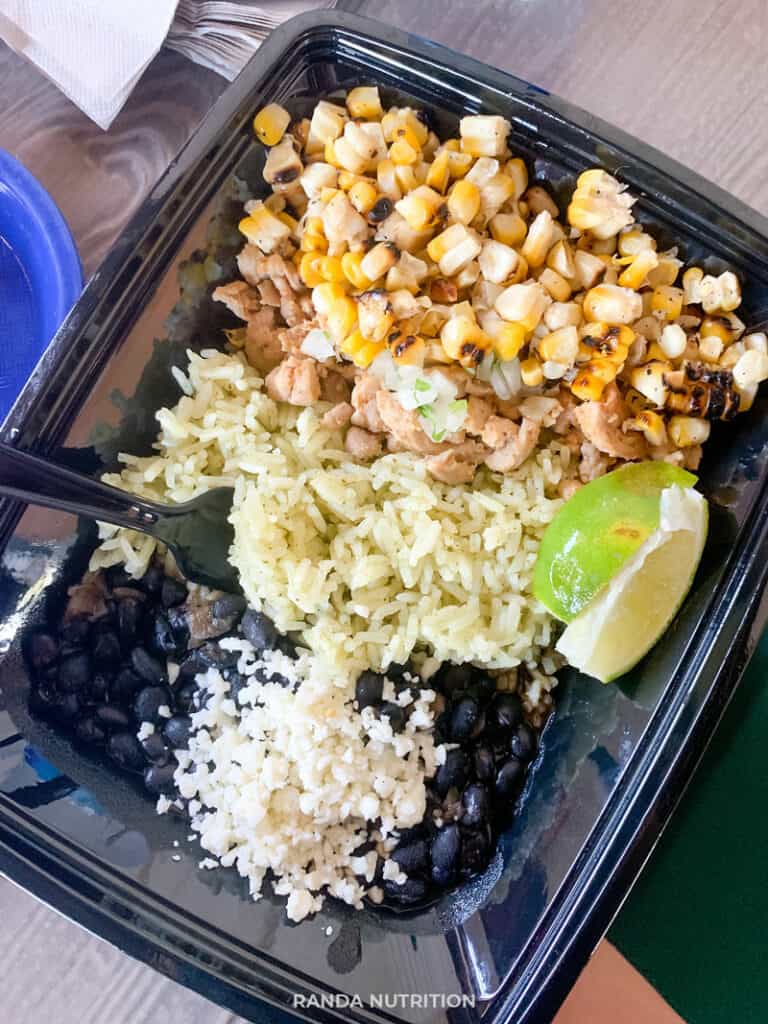 To make it simple, look for something that has balanced macro content. That means a protein, carb, and fat on your plate. Carbohydrates should be split, mostly being vegetables vs potatoes/rice.
Ordering a burger from Hungry Bear or a pulled pork sandwich from River Belle Terrace? Get a side salad with dressing on the side (use half the dressing). I like their coleslaw too.
Want a healthy option at Blue Bayou? Their gumbo is delicious and so is the citrus chicken.
I recommend you stay away from deep-fried mains as it packs on the calories and can leave you feeling sick. That being said if the fried chicken at the Plaza Inn is your favorite and you look forward to it once a year, then go for it. Just eat more vegetables throughout the day and keep the after-dinner snacks light.
So that's what a Certified Holistic Nutritionist eats at Disneyland. To recap, you want to keep up on your vegetable content throughout the day, balance your plate with healthy carbs, proteins, and fats, and don't forget to enjoy a treat or two.
More Healthy Disneyland Posts:
So tell me, what is your favorite Disneyland eat? Let me know in the comments.