This healthy recipe for protein tzatziki sauce is so easy to whip together. All you need are a few simple ingredients and you're set for a healthy, protein packed dip for your veggies, pita pieces, or a sauce for dinner.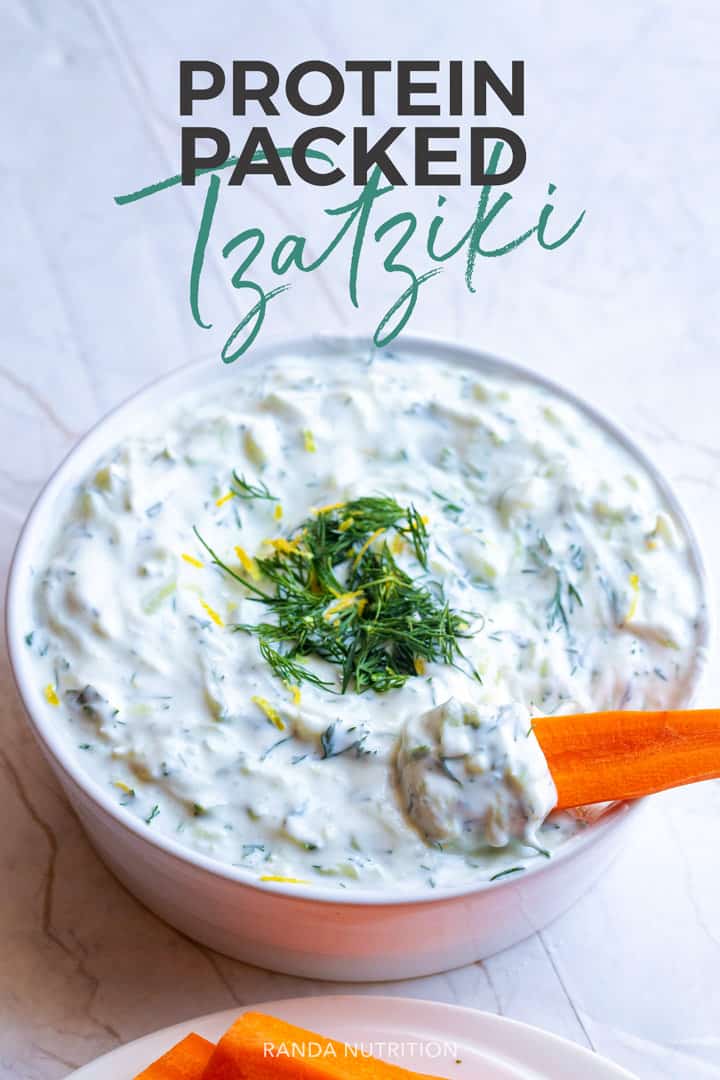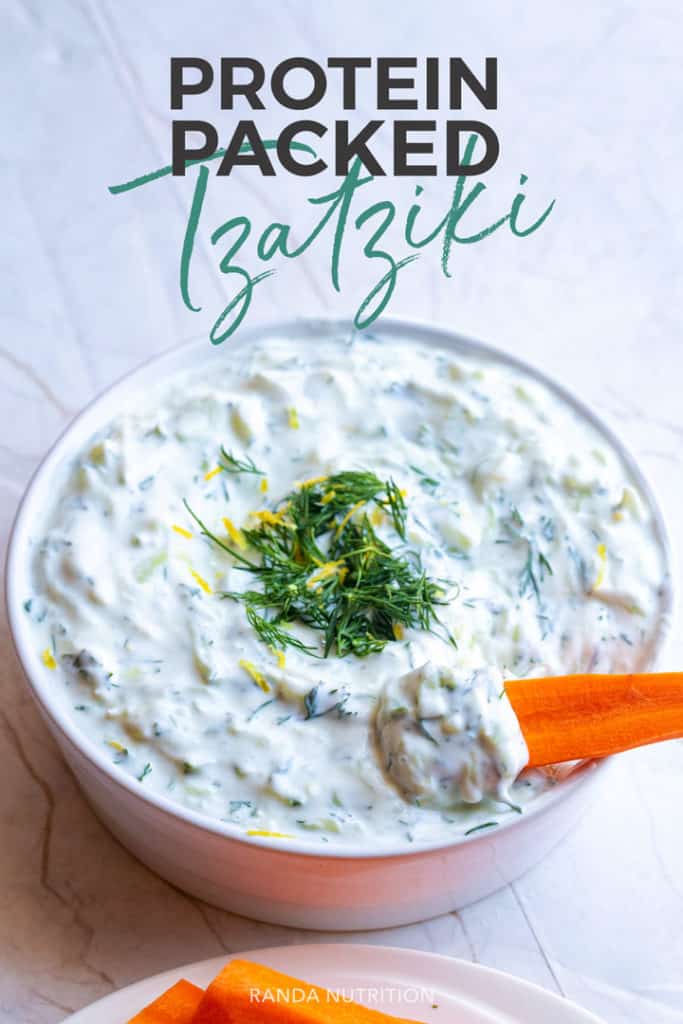 Disclosure: This post contains affiliate links for your convenience. As an Amazon Associate, I earn from qualifying purchases.
What is Tzatziki Sauce?
Tzatziki sauce is a Greek cucumber yogurt dip. It's made with yogurt (regular or Greek), cucumber, garlic, lemon, and dill. Although it's known for its Greek origins, tzatziki is southeastern Europe and middle eastern sauce. Each region has different twists on the recipe.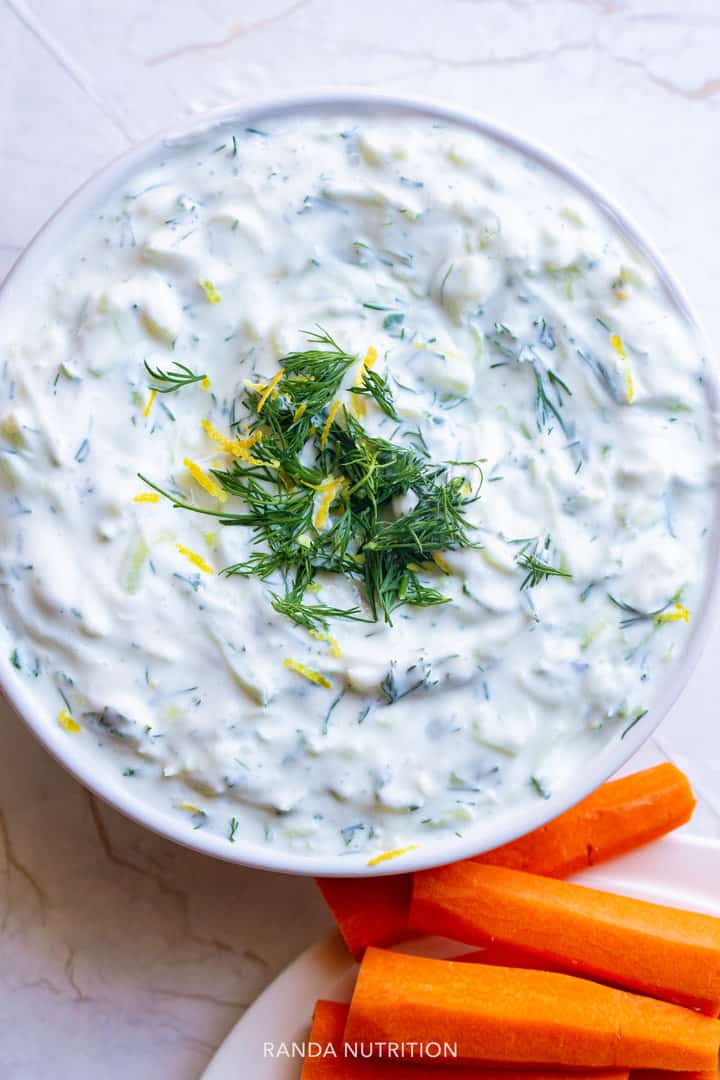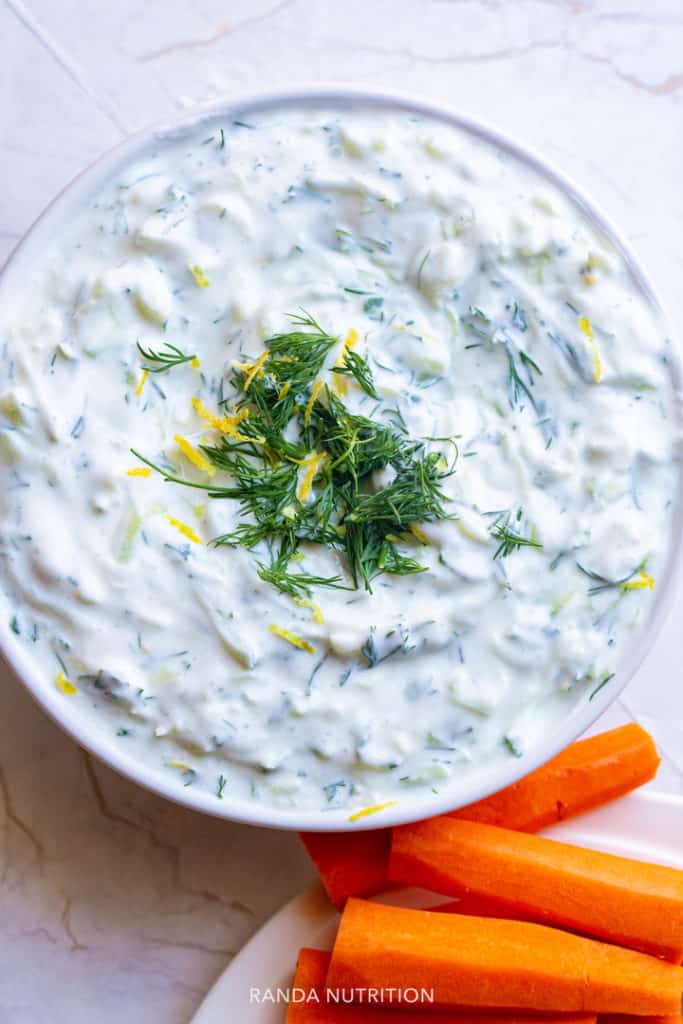 What to Serve Tzatziki Sauce With
There are so many uses for tzatziki sauce. Here are a few of my favorites:
A healthy dip for raw vegetables.
A sauce for roasted vegetables (I love it with zucchini and cauliflower).
Dressing for salad or over rice or quinoa.
A drizzle for greek inspired tacos or pizza.
Dip for pita bread.
Make chicken gyros or donairs!
Top your burgers with it.
You can eat tzatziki with anything. I like to dip chicken in it, crackers, you name it and I'll find a use for tzatziki with it.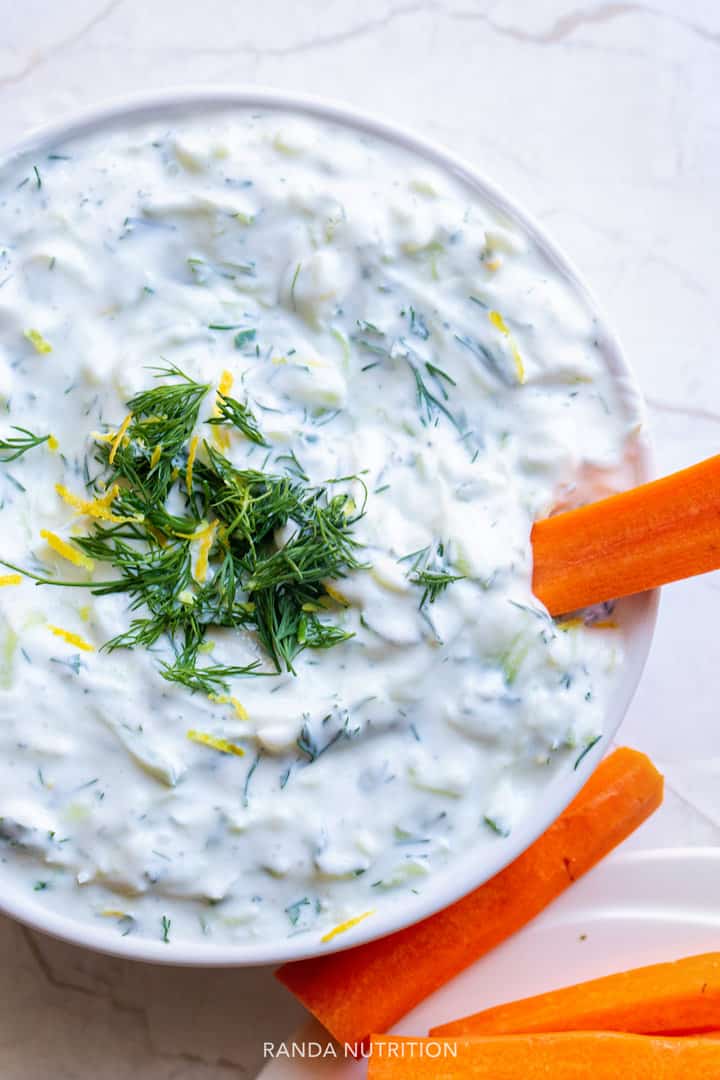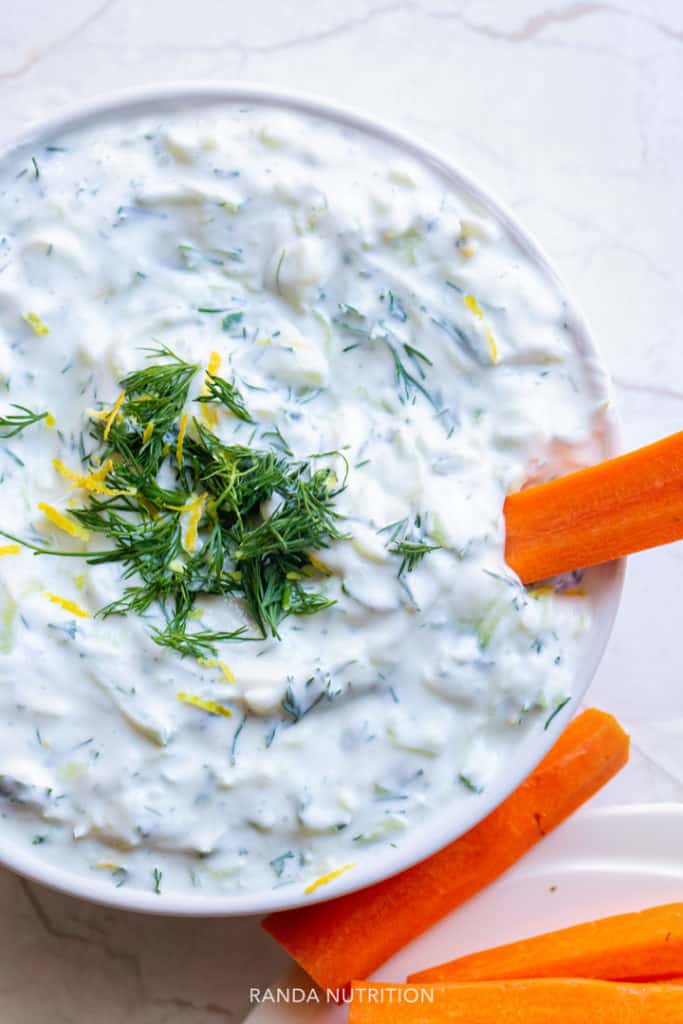 How Long Does Tzatziki Last in the Fridge?
This sauce will last 4 days, covered in the fridge. We ran out on that day as we were serving it with dinner every night.
How to Avoid Runny Tzatziki
If you use regular yogurt, you'll have a thin sauce. If you use Greek yogurt (like this high protein recipe suggests) you'll have a thick and creamy sauce.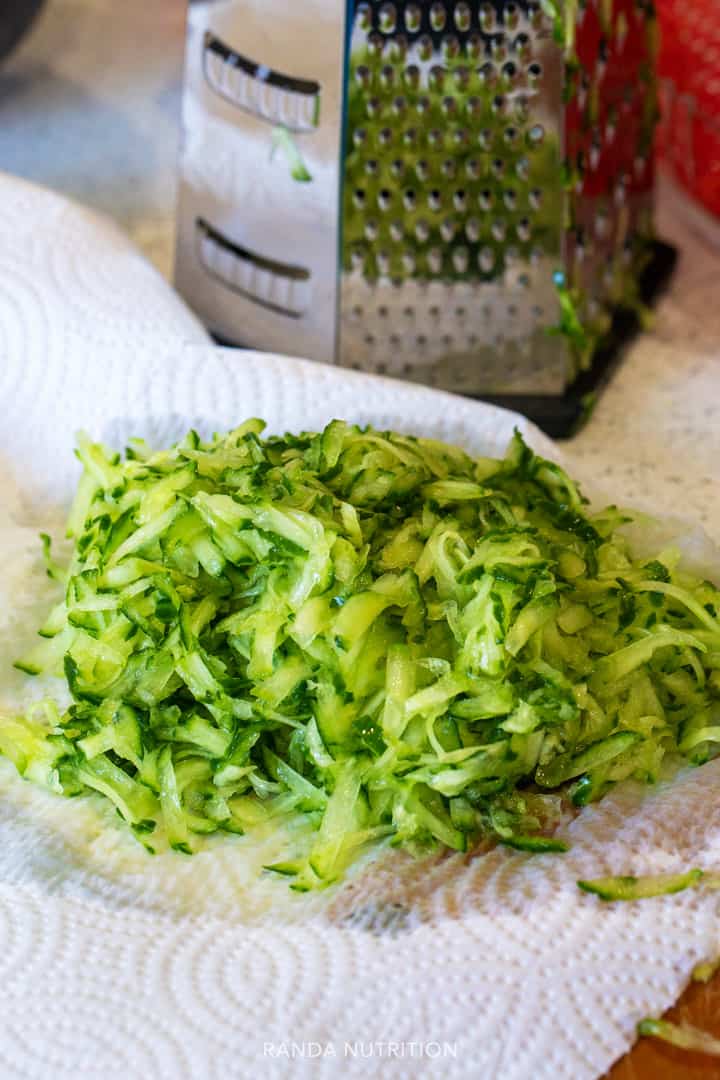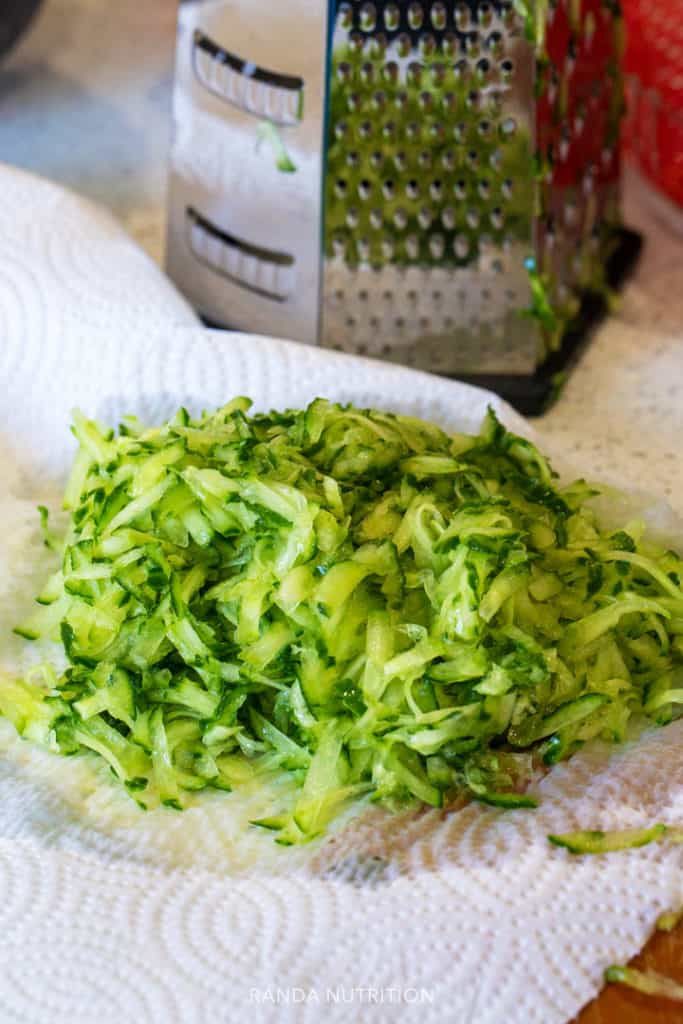 The next step is to squeeze any excess water out of the cucumber.
You can do this by squeezing the grated cucumber with a paper towel or a tea towel. Keep squeezing until all excess water is gone.
That's all you need to do to avoid watery tzatziki.
Is Tzatziki Sauce Healthy?
Whether you use it as a sauce or a dip, homemade tzatziki is healthy.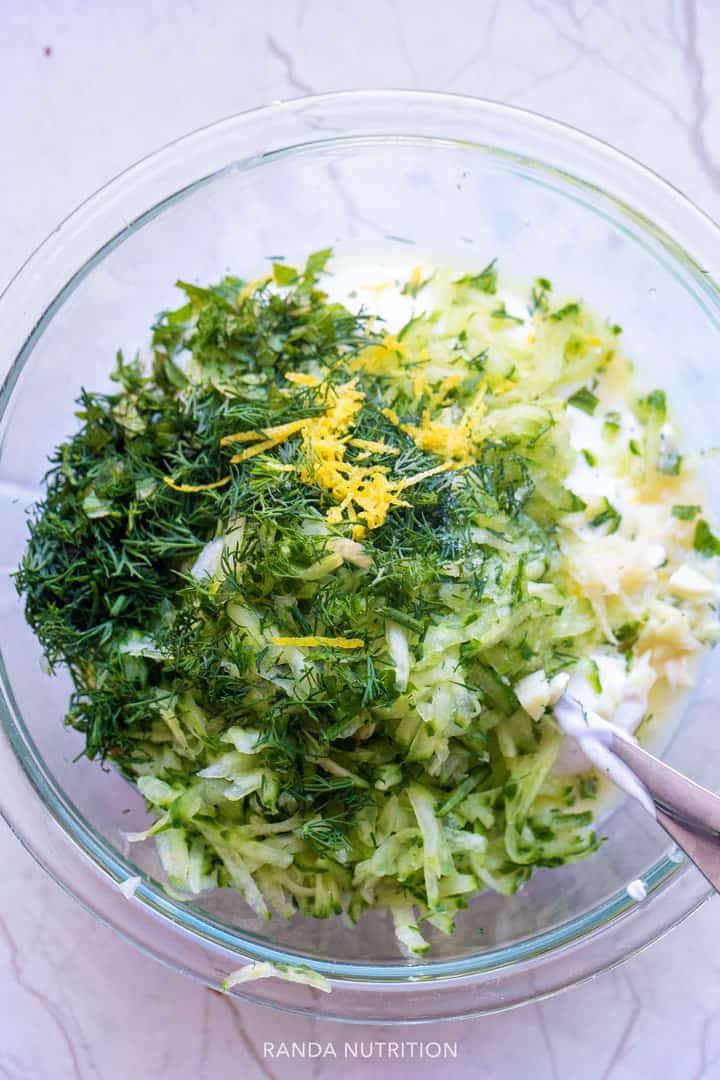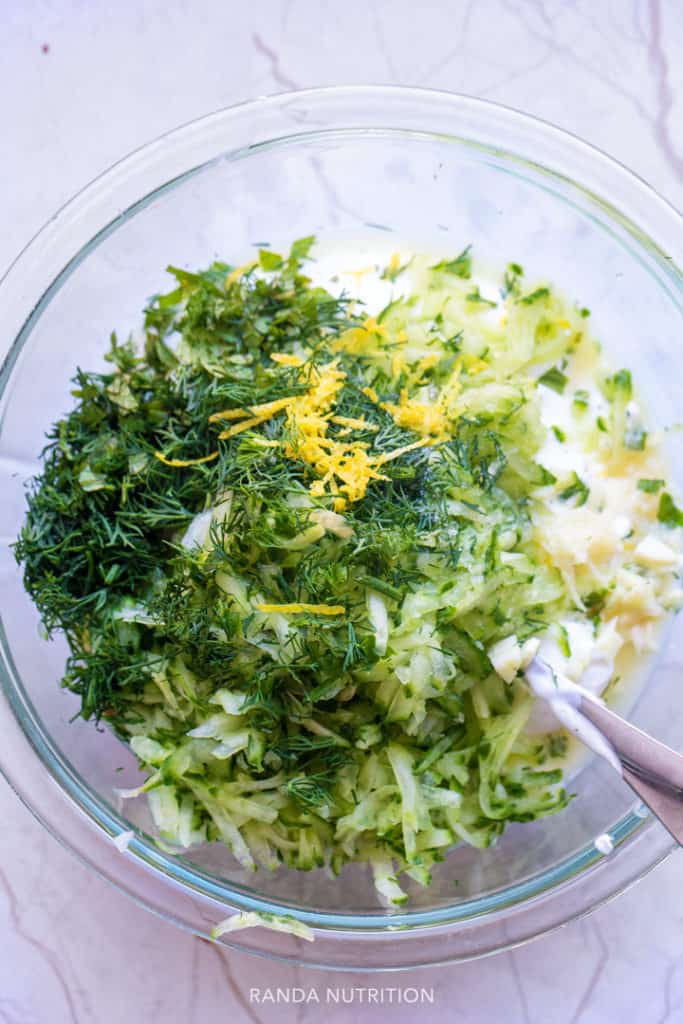 The ingredients are straight forward:
Greek Yogurt
Dill
Cucumbers
Mint
Lemon juice and zest
Garlic
Red wine vinegar
Salt
How Many Calories are In Tzatziki
1/8th of the recipe is only 36 calories, roughly 1/4 cup. It has 5 grams of protein which is incredible for a condiment.
It's a low calorie tzatziki sauce recipe that adds a ton of flavor to your dishes.
Don't forget to join the 30 Days to a Healthier You Challenge. Stop starting over when it comes to your health because you're overwhelmed with ALL THE THINGS. Instead, ease into it with this step-by-step challenge.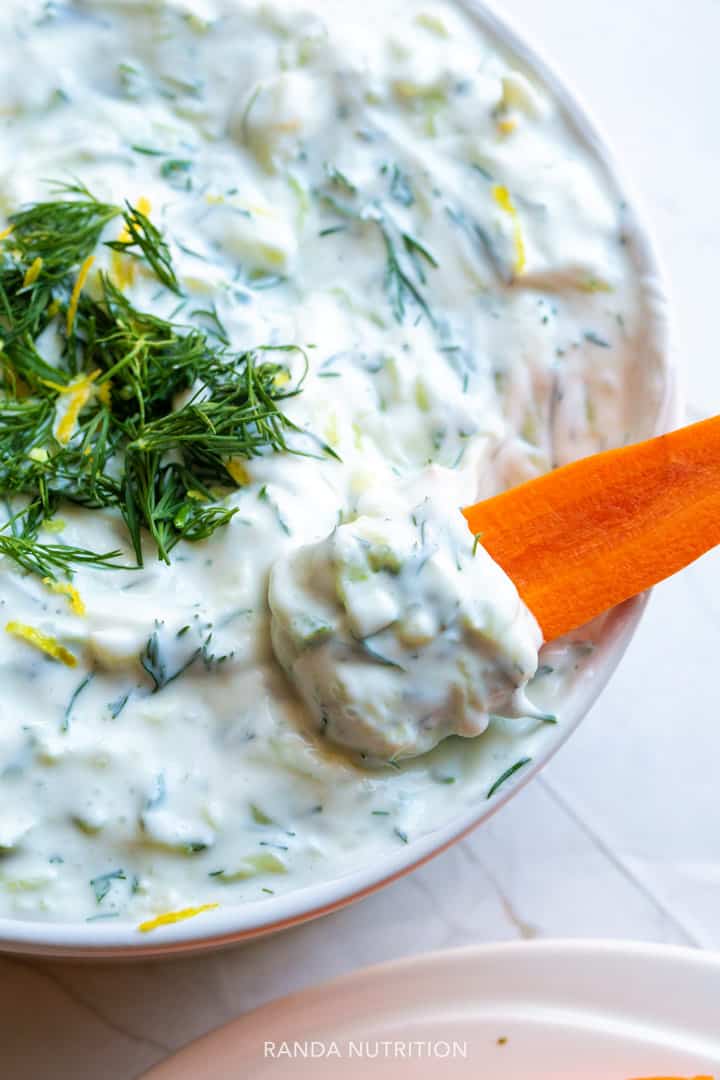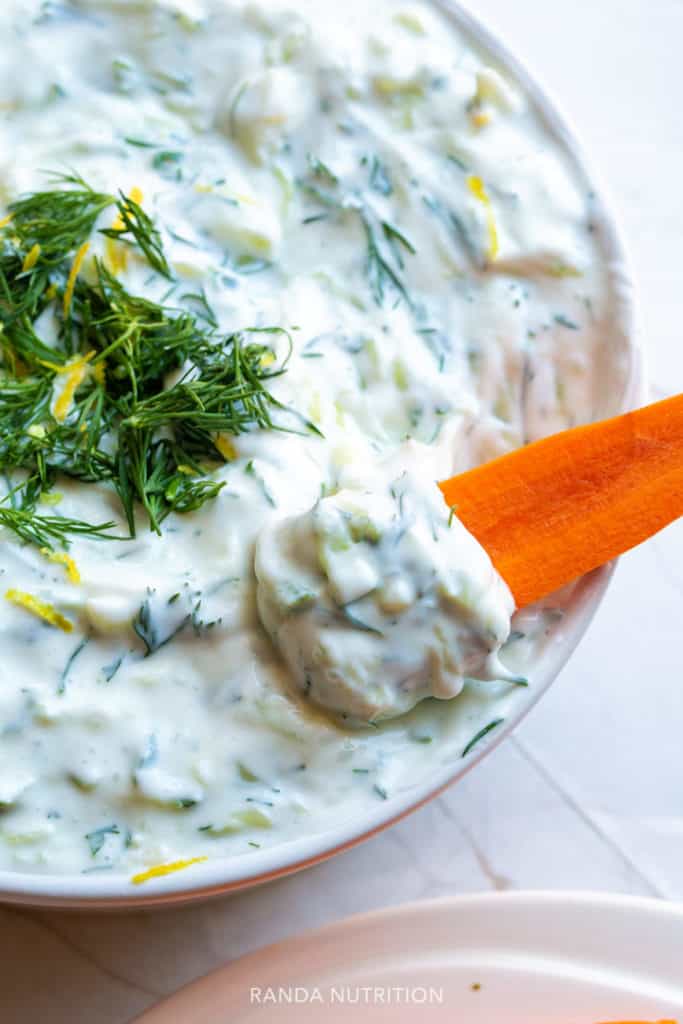 How to Make Protein Tzatziki Sauce
To make the greek yogurt sauce, you'll just need a grater (for the cucumber) and a mixing bowl.
After you mix it all together, cover it with beeswax paper or saran wrap, and let it chill in the fridge for at least 30 minutes.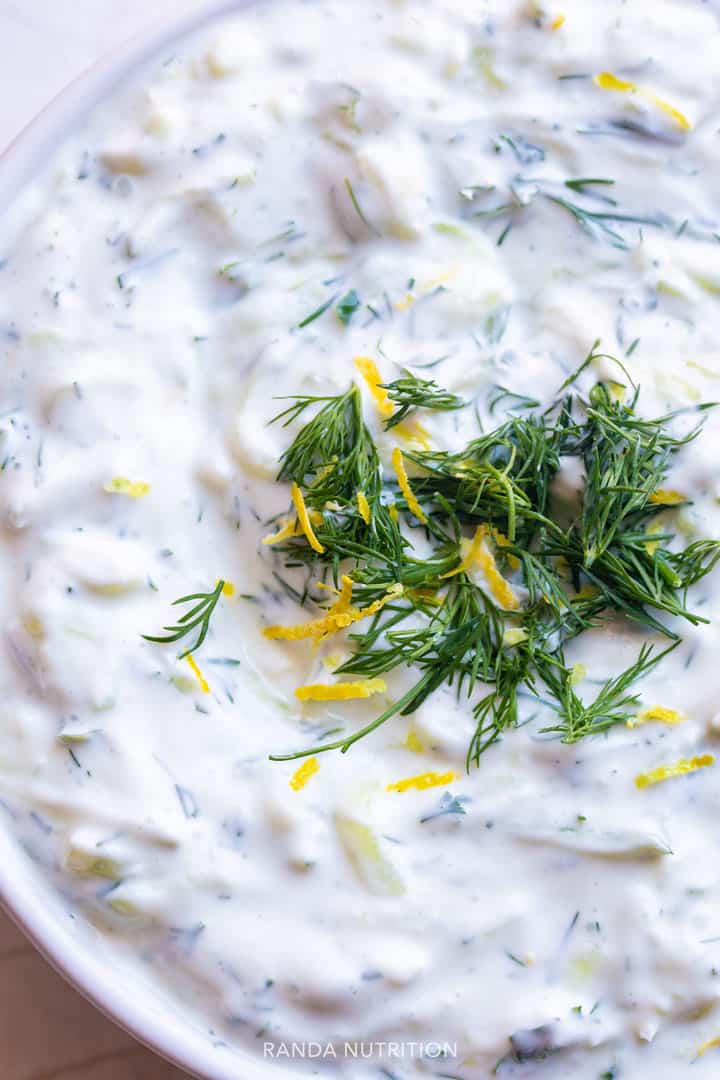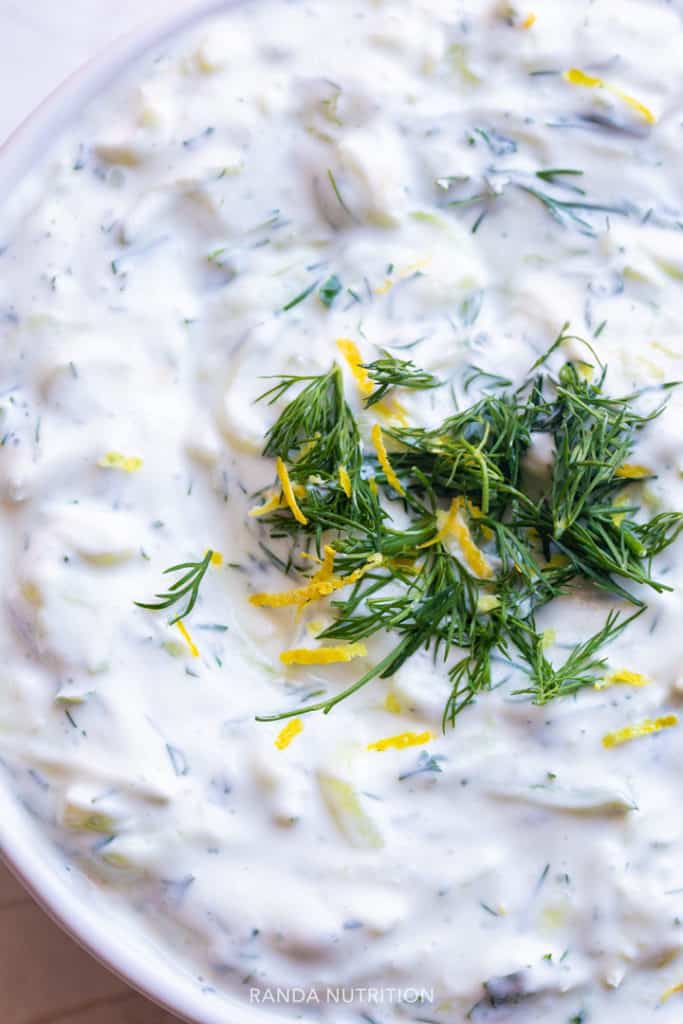 The longer you leave it, the better.
Letting it sit in the fridge helps the flavors meld together.
You'll notice the dip tastes different from the first moment you make it to even just a half hour. The flavors combine and mellow and soon you'll be enjoying a homemade and healthy tzatziki sauce.
Serve it with:
Protein Tzatziki Sauce
This high protein healthy tzatziki sauce recipe is a healthy dip for vegetables, pitas, or a sauce for rice and chicken. The best part? It's easy to make.
Ingredients
2

cups

plain Greek yogurt

full fat

1

large

cucumber

roughly 2 cups grated

1/4

cup

fresh dill

chopped

2

garlic cloves

minced

2

tablespoons

lemon juice

1

teaspoon

red wine vinegar

1/2

teaspoon

lemon zest

1/2

teaspoon

sea salt
Instructions
Grate a cucumber and lay it over paper towels to soak up the liquid. Squeeze over the sink or a bowl to get any excess liquid out.

In a bowl combine all of the ingredients. Stir together and let sit, covered, in the fridge for at least thirty minutes (overnight is best to have the flavors fully meld together). Remove from the fridge, taste and adjust seasonings to your liking.

Serve with veggies, ripped up pieces of pita, with chicken or lamb, or over rice.
Nutrition
Serving:
1
serving
|
Calories:
36
kcal
|
Carbohydrates:
3
g
|
Protein:
5
g
|
Fat:
1
g
|
Saturated Fat:
1
g
|
Cholesterol:
3
mg
|
Sodium:
165
mg
|
Potassium:
129
mg
|
Fiber:
1
g
|
Sugar:
2
g
|
Vitamin A:
139
IU
|
Vitamin C:
4
mg
|
Calcium:
64
mg
|
Iron:
1
mg
The nutrition information is calculated using a third party resource. The accuracy varies on the brands used, weight, portions, etc. This resource should be used as a guide. If you want more accurate information, weigh in grams and log in MFP.